How to Analyze Competitor's SEO Strategy
How to
You always have to keep in mind the strategy of other market players when optimizing your website. When you lag behind and see that you lose – run the analysis of your competitors.
It'll help find their weaknesses and strengths and give you an understanding of what path to follow.
When you outstrip the market – run the competitor analysis. Seems it has no sense: why watching others when you're on the bright side? Meanwhile, you can overlook the tactics that can help your competitors catch up to you.
In this blog post, we're dismantling the most critical stages of SEO competitive analysis and the ways of their implementation. Let's cut to the chase!
1. Identify Direct Competitors in the SERP

2. Keyword Analysis

3. Technical Optimization Analysis

4. Content Analysis

5. Design and Usability Analysis

6. Website Quality Indicators, Traffic and Link Equity Analysis

7. Social Media Activity Analysis

Let's Recap
1. Identify Direct Competitors in the SERP
Your competitors in the SERP are the websites that work in a similar or extremely close field and go for promotion by the same search queries.
Netpeak Checker
:
Open the built-in instrument 'SE Scraper.'
Enter the list of queries in the tab with the corresponding name.
Go to the 'Settings' to choose the search engines from which the data will be scraped. For more customized analysis, go to the tab with additional settings.
Set the needed number of results (up to 30 will be enough).

Press 'Start' to run scraping.
When scraping is completed, you'll see the pool of URLs on the requested keywords.
Hit the 'Transfer hosts' button to have only competitors' domains displayed in the main window table.

Export results.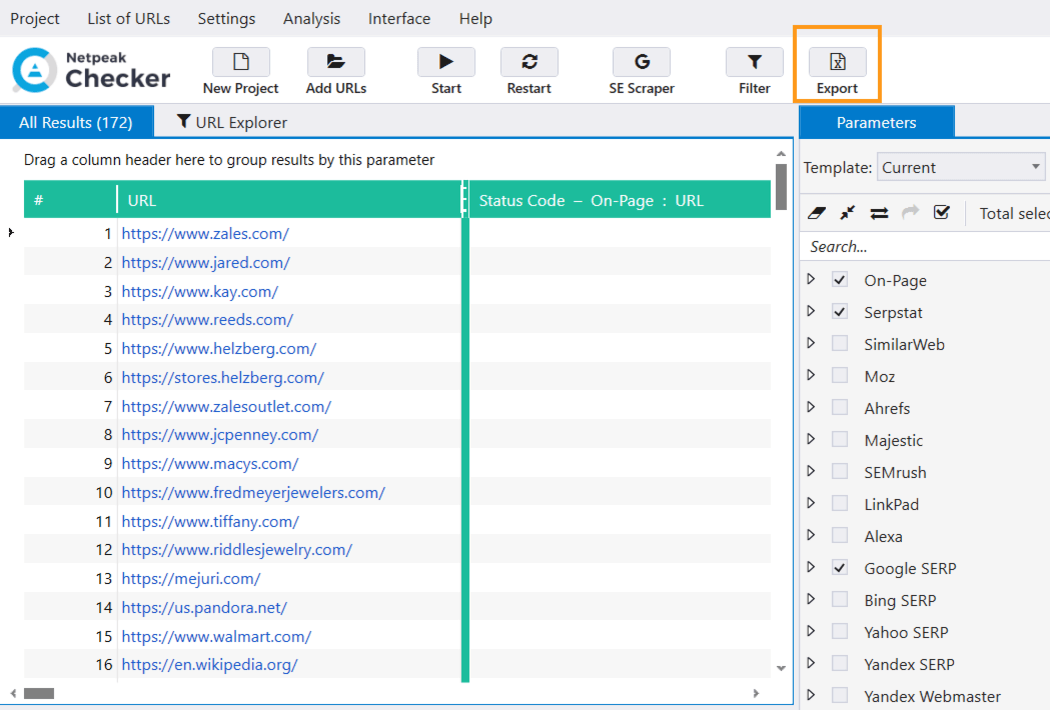 You also can search for competitors with the help of the Serpstat service. To do so:
Add a query or your website domain into the search bar and start searching.
Open the 'SEO research' tab and after that 'Competitors' one.
Export the results.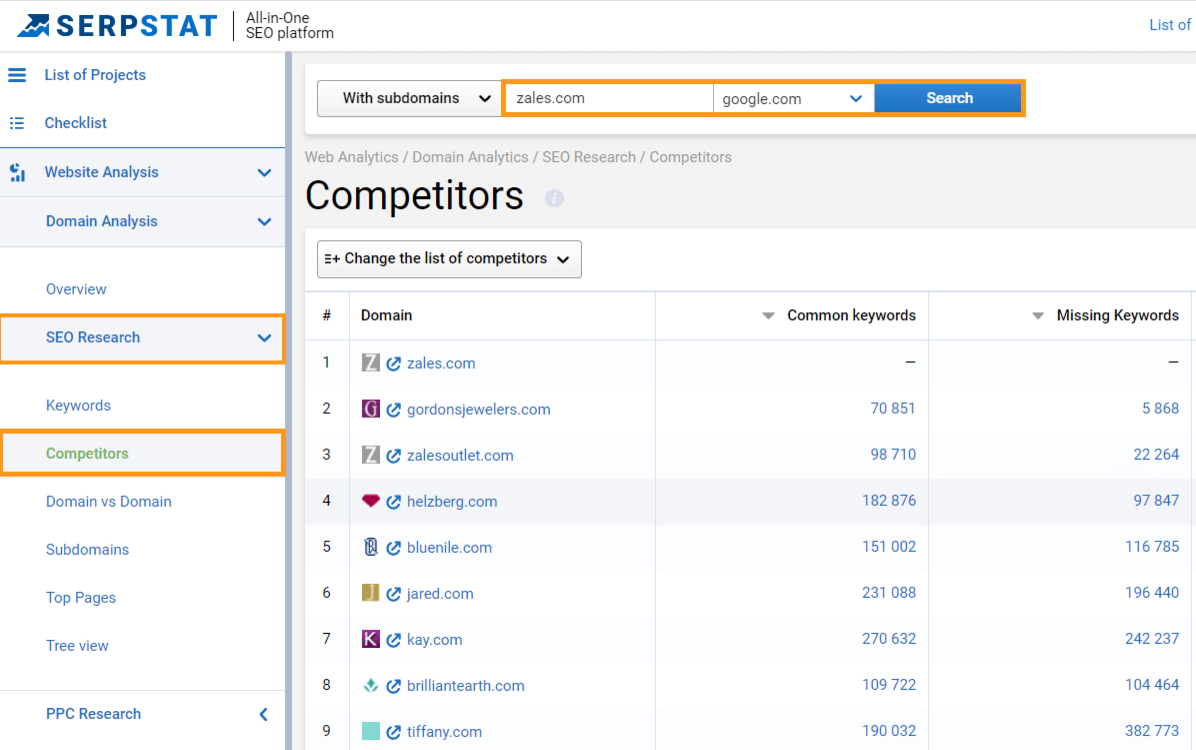 In a separate table on the computer, sort out data, and compile a list of your primary competitors.
2. Keyword Analysis
Thanks to the keyword analysis, you can find out what queries bring traffic to your competitors, expand the semantic core, and find the missed words and phrases, which you can fill the pages with.
Compare domains by keywords in Serpstat:
In the 'Site analysis' tab, open 'Domain analysis' → 'SEO analysis' → 'Compare domains.'
Paste domains into the domain name field and press 'Compare'.
Analyze keyword phrases.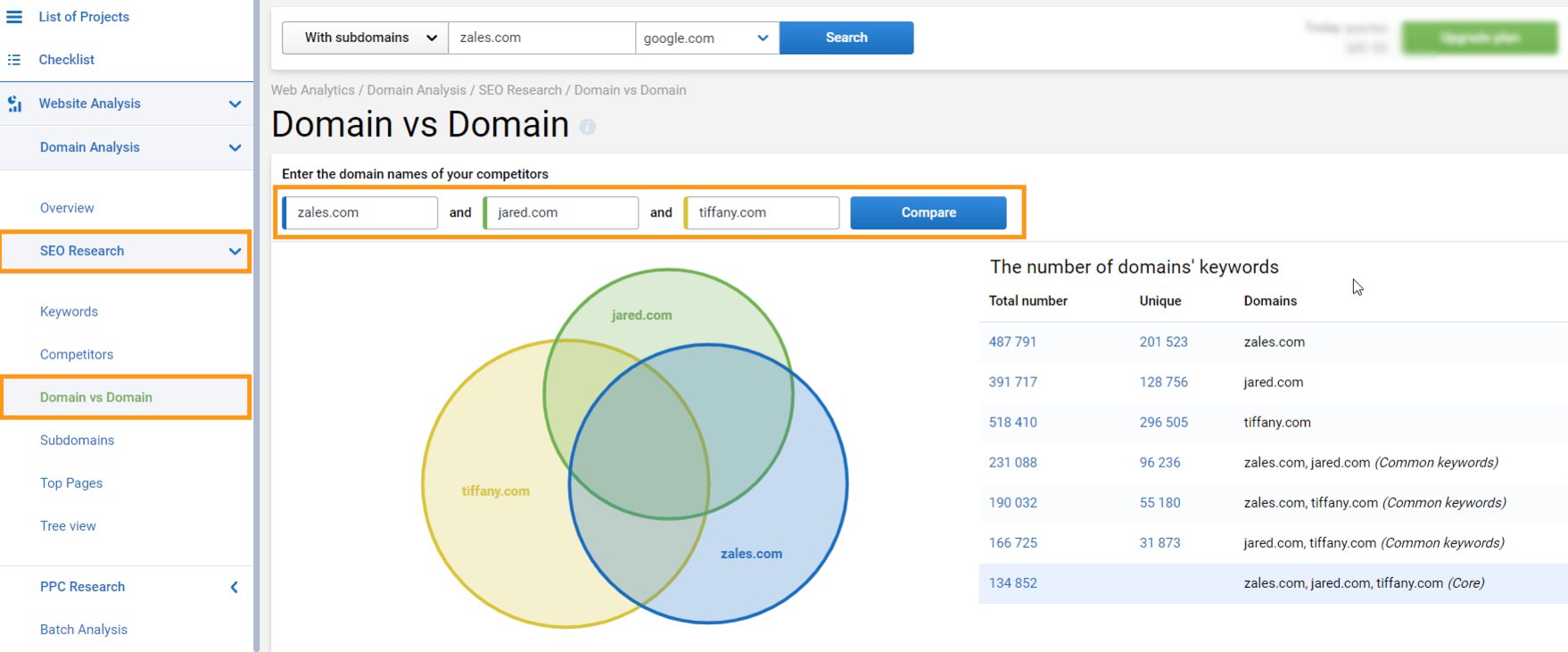 To find competitors' keywords and see the content gap, use Ahrefs. Enter the domain, select the 'Organic search' tab and 'Content gap.'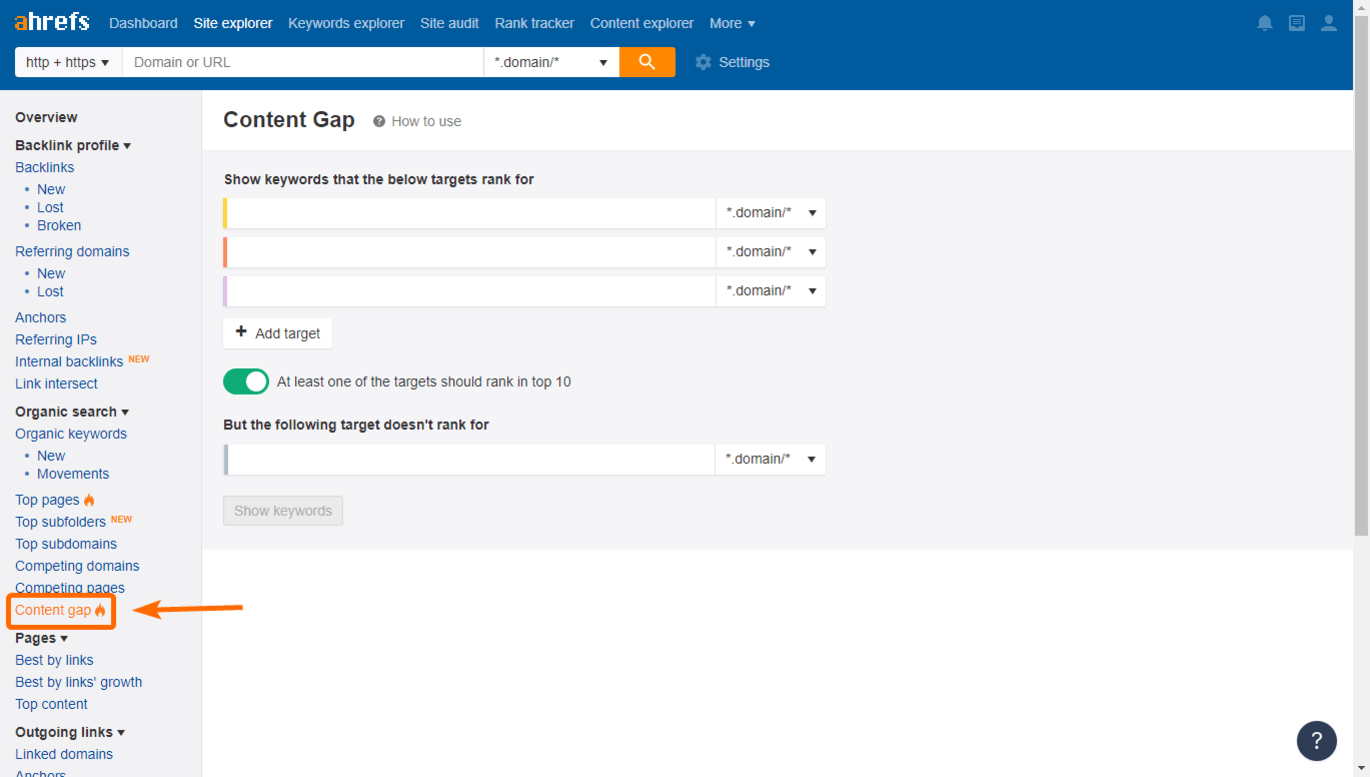 Analyze what competitors have more search queries and what less, what pages can be created based on the gap phrases, and what should be just optimized.
3. Technical Optimization Analysis
By doing technical optimization analysis of your stronger competitors, you can borrow their on-page techniques and optimize your website even better than they do.
First things first, determine the main parameters for analysis. Among them there are:
website structure
compliance and availability of the pages
websites that have SSL certificates
websites that have AMP version of the page
internal linking
response time
Let's check all these indicators in Netpeak Spider:
Tick the necessary parameters for analysis.

Collect all html pages on competitors' websites: home page, category page, product card, and / or article. Open 3-4 pages from each website in the crawler and crawl them → in this way you'll see major issues and techniques that your competitors use.
When completed, review the results and export them for further work.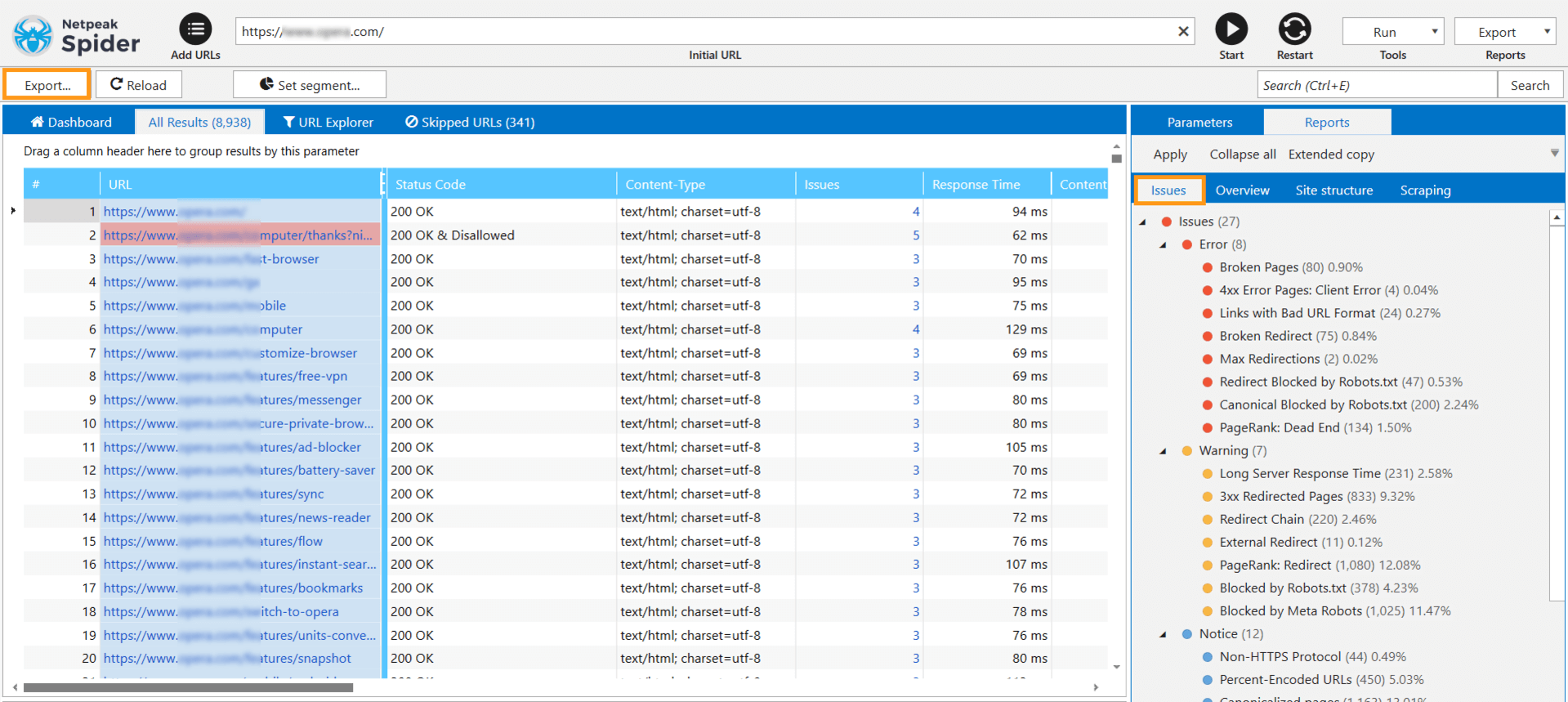 After a thorough analysis of the technical optimization of your competitors, gear up for changes on your website. Your fiercest competitors need your exceptionally watchful eye.
4. Content Analysis
It's worth checking what content pages are sought-after and what bring traffic to your competitors. It's as simple as that:
Go to the page with content on your competitor's site.
Find an engagement rate icon of your interest (it can be views, comments, shares, etc.) from the page source code and copy it into the selector.

Open 'Settings' → 'Scraping' in Netpeak Spider. Write in the thread name – it'll help you quickly navigate throughout the received scraping data. Fill the last column with a copied selector. In the middle column, choose the 'CSS-selector' crawling type from the drop-down list and tick the search space as an 'Inner text.'

Press 'OK' and close the settings window.
Export the list of pages or add a link to the blog, and tick the 'Crawl only in directory' item in the settings.

Hit the 'Start' button.
You can see the results in the 'Scraping' tab in a sidebar.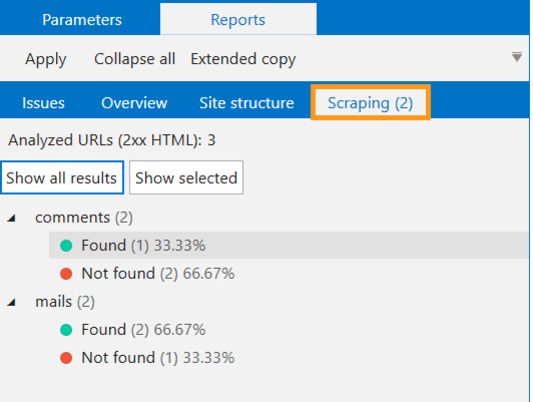 To find out what pages of competitors' websites lead the way by various indicators, go to the tab 'SEO analysis' in Serpstat → 'Top pages' and export pages from this report.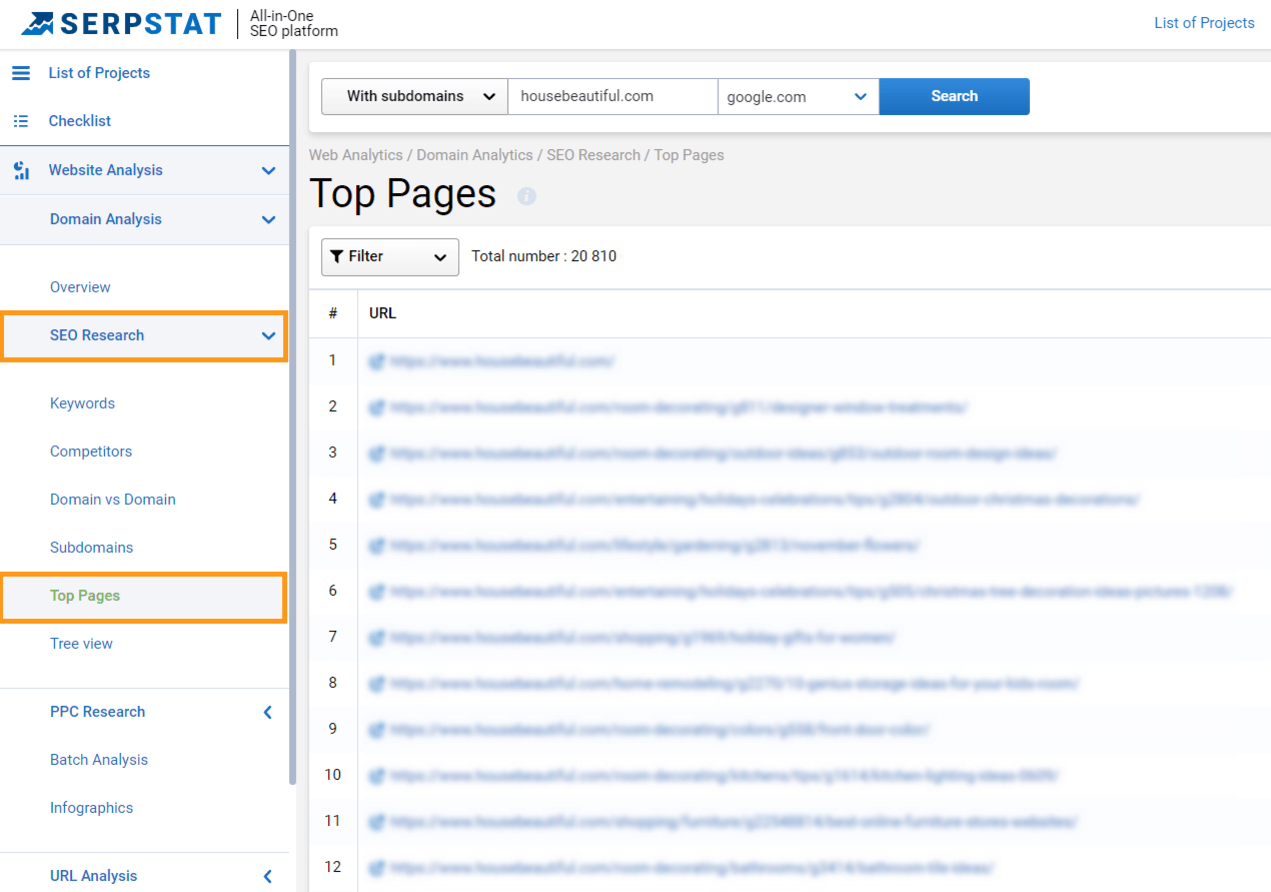 After you've gathered a list of URLs, knuckle down to competitor analysis: take a glance at what topics your competitors flag up, what tone of voice they use, etc.
To analyze the elements of content, you can use Netpeak Spider.
Upload the list of pages or select necessary parameters: metadata, h1-h6 headings, images, content-length, etc. in the 'Content' tab.

Start analysis and, in the end, export data for further analysis.
When you finished analyzing your competitors' content, it's time to set about surging the relevance of yours.
5. Design and Usability Analysis
Unlike the analysis of other indicators, usability analysis of the competitors' websites should be done manually.
Follow the promoted pages and dwell on the further hallmarks for a while:
design aesthetics
simplicity and convenience of the interface
location and design of the vital information (breadcrumbs, filters, linking)
location and design of buttons
original functionality
pop-ups and their design
multiple languages
feature for leaving comments
Considering these elements, you can assess the competitive environment and understand how your competitors interact with their visitors.
6. Website Quality Indicators, Traffic and Link Equity Analysis
To see the strengths and shortfalls of your competitors, and the strategy they use, scrutinize the following indicators and factors.
6.1. Backlinks and Referring Domains
To find out from which sites your competitors get backlinks and what domains refer to them, time and again, go to Serpstat. In 'Backlink analysis,' select 'Referring domains' and 'Referring pages.'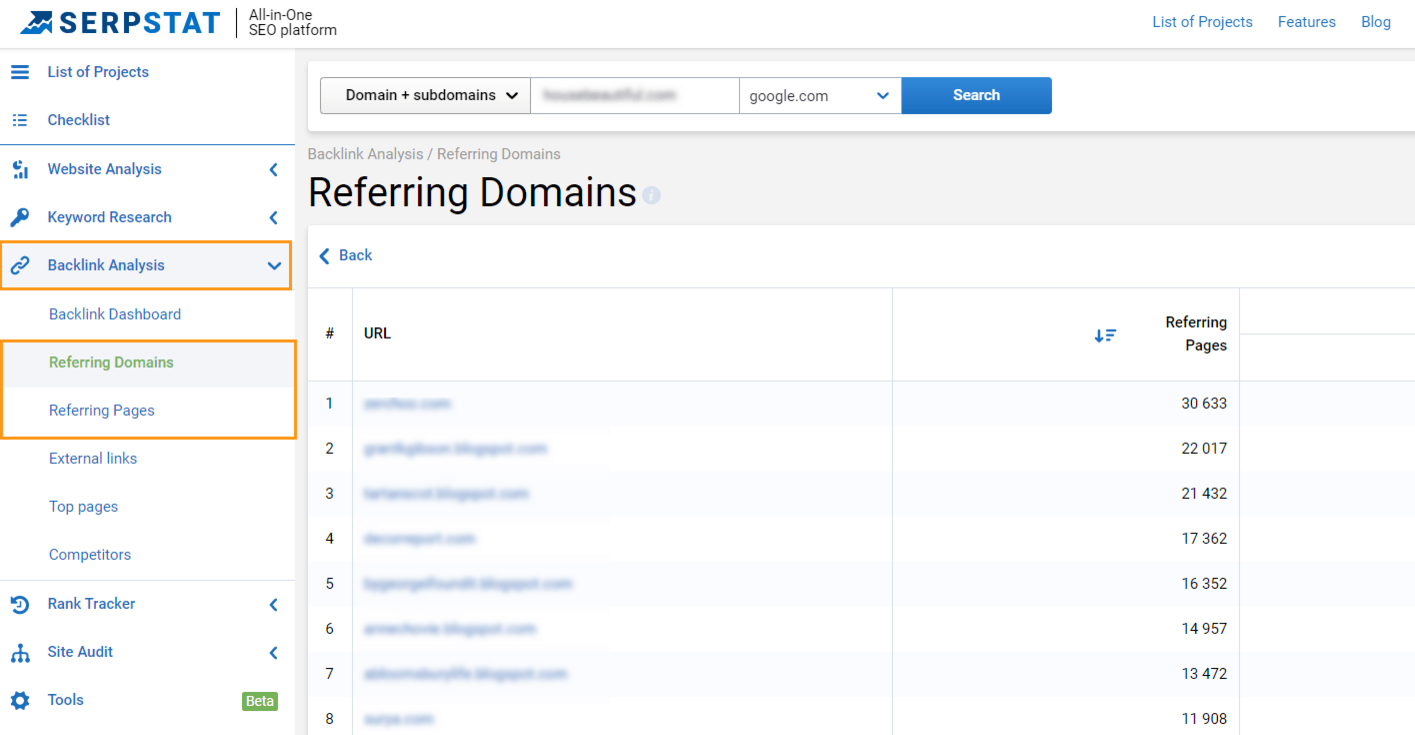 Also, you can see them in the Ahrefs instrument 'Site explorer.'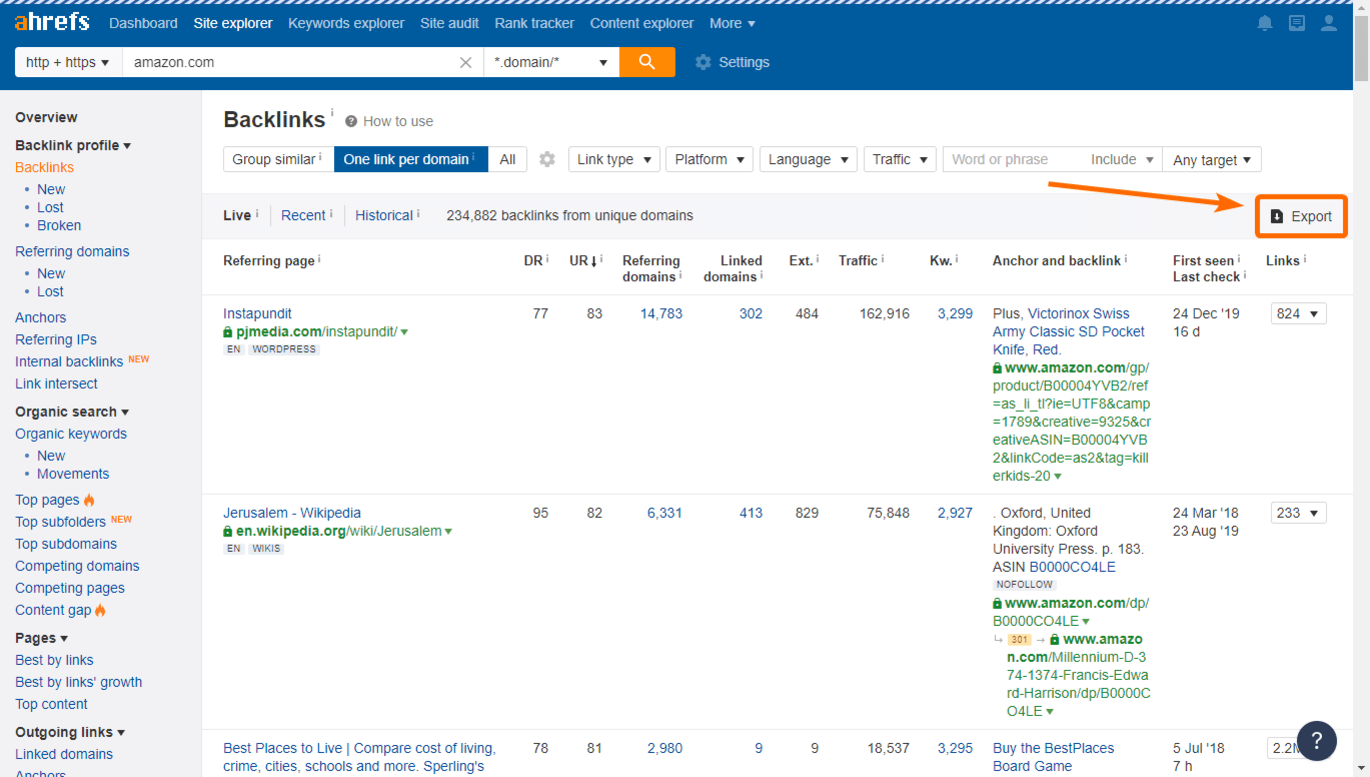 Compile the list of sites that refer to your competitors but don't include yours.
Also, remember to check the quality of domains that refer to your competitors (we touch upon it below). For this purpose, consider these criteria:
organic backlink profile (the number of links from domains with relevant topics)
relatively good domain authority (you can check it at Ahrefs, Moz, etc.)
indexing (more details wait for you below)
domain age
Separate quality domains and work only with them. Analyze how competitors got backlinks from them (by guest posting, affiliate agreements, etc.) and think about how you can get them too.
6.2. Domain Authority
Analyze the authority of your domain and the domains of your competitors. It might become a spur for positive changes on your site.
To evaluate the authority of several domains simultaneously, use Netpeak Checker:
Upload the list of competitors' sites.
In the 'Parameters' tab, select the metrics that will help you choose domains highly ranked by competent services:

Moz → Domain Authority. A ranking score developed by Moz that predicts how well a website will rank in search engines on the scale from one to 100.
Ahrefs → Domain Rating. Domain Rating according to Ahrefs which shows website's backlink profile compared to the others on a 100-point scale.
Majestic → Citation Flow. Metrics based on the number of websites linking to the domain on the scale from one to 100.
Alexa → Local Rank, Global Rank. Local and global rating of the website according to Alexa. The lower the number, the better.

Also, you can tick the 'Whois' item to know the domain age.
Start the analysis hitting the 'Start' button.
After the analysis is completed, export data.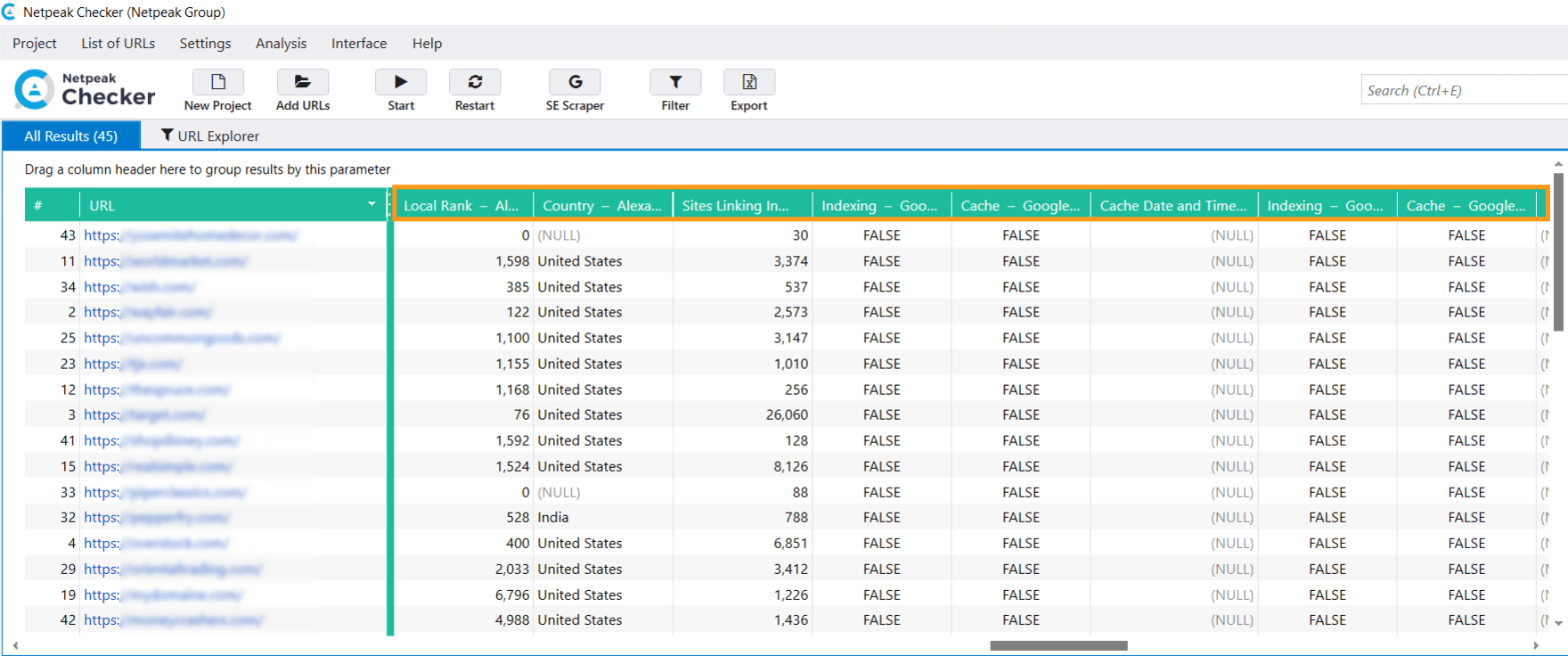 If your domain rating is lower than your competitors' one, you should work thoughtfully to:
increase the number of quality backlinks (it should be done gradually and organically)
increase the number of thematic links (links that go from the sites with related theme)
improve quality content
improve behavioral factors
6.3. Sources and Volumes of Traffic
To know how much traffic your competitors get and where it goes from, SimilarWeb service can come in handy.
In this service you can track:
approximate traffic volume, average visit duration, bounce rate

the sources of traffic

traffic share by countries

To gather data from several sites into one table simultaneously, use Netpeak Checker → for this purpose, you should have access to SimilarWeb. In the program, before crawling, tick all necessary items in the tab with the corresponding name.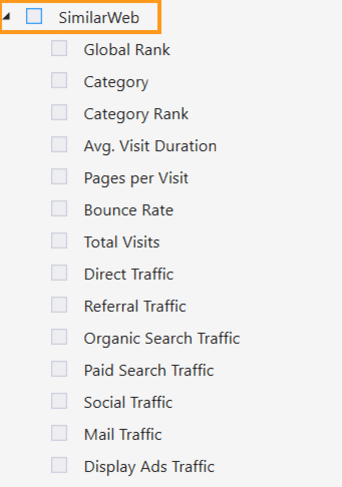 6.4. The Number of Indexed Pages
Indexing of pages is one of the essential indicators. If your competitors are the websites with a billow of pages, it doesn't mean that all their pages have been indexed by the search engines and received traffic. It'll be a good thing to know what pages they closed from indexing and figure out the reasons for such a decision.
The checks for indexing on websites with multiple pages can be done in the following way:
In Netpeak Spider gather the list of all pages on the site (to do so, disable all parameters, enter the domain, and press 'Start').
Paste the list of URLs into Netpeak Checker and in a sidebar tick the 'Google SERP' and 'Bing SERP' items, and start scanning.
6.5. Organic VS SEO Link Ratio
Even though SEO links are considered low-grade and dangerous, many sites continue using them.
To see how organic your competitors' backlink profile is, use the Megaindex service.
The purchase of SEO backlinks is believed to be a blackhat method of optimization. However, you can still find out whether your competitors do it or not.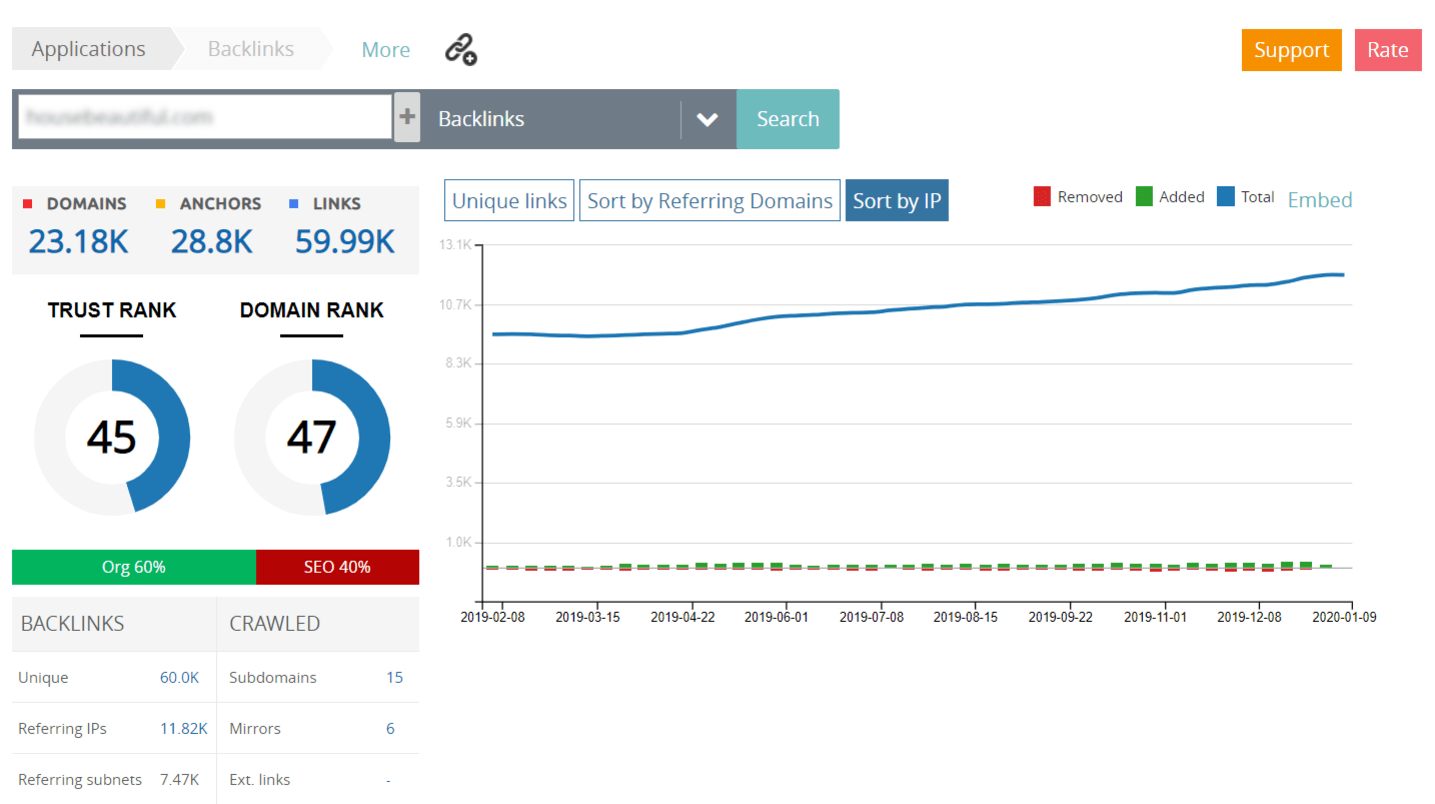 7. Social Media Activity Analysis
Social media is indeed a significant part of website promotion, one of the ranking factors and the source of good traffic and conversions. Peruse social media tactics your competitors use, assessing these criteria:
topics of posts / sections
frequency of publications
visual content of publications
competitions and engaging activities
Another no less important step is your competitors' communication strategy analysis: how actively they are engaged in the dialogue with subscribers, how quickly they answer the comments, how they react to the negative ones, etc.
Let's Recap
To conduct competitor analysis and their SEO-strategy, take the following steps:
Determine your direct competitors.
Research competitors' keywords.
Analyze technical indicators on the websites.
Conduct the analysis of your competitors' content.
Analyze website design and its usability.
Analyze website quality, traffic, and link equity.
Analyze your competitors' social media.
To automate the process, you'll need various services, among which you can find Netpeak Spider and Checker, Serpstat, SimilarWeb, Ahrefs, etc.
What else do you like peeking at other market players? Share your methods of competitor analysis in the comment section below.