How to Conduct Competitor Backlink Analysis for Quick Wins
How to

We all know that backlinks are important for rankings and organic traffic. In fact, Google has stated that backlinks still are a core ranking factor and weighted as within the top three most important ranking factors. But, there is still a lot of confusion around backlink metrics, how they work and how to acquire quality backlinks over quantity.
So in this post you'll learn such core points as:
How to run a competitor backlink analysis
Understanding backlinks vs. referring domains
A look into Domain Rating (DR)
Actionable strategy points to outrank competition
Sifting through and identifying the best backlinks to target for outreach
Let's jump right in!
1. What is a Backlink?
A backlink is an external link from an external website which links to your website. It is a clickable link which will send both user traffic to your website as well as link equity and SEO value. In theory, the more quality backlinks from credible websites point to you, the more you will rank for your core phrases and the more online visibility you will have. A backlink is considered as a vote of confidence in the eyes of search engines.
2. Some Bad History
Years ago, SEO's were able to build thousands of low-quality backlinks or take part in link farming and buy or exchange backlinks in bulk, and their websites would rank! Backlinks have always been an important element to Google ranking factors and as a backlink is seen as a vote of confidence, it is only natural that a website would rank with these tactics back in the day. But this is not the case today.
Google picked up that webmasters, SEOs and website owners were taking part in these kinds of link building tactics to manipulate the system and swift actions were taken. Google then changed various elements of their algorithm (Google does this daily) and various updates with penalty aspects were released in order to stop dodgy link building tactics.
If Google did not update core elements of its search algorithm on a frequent basis, we would be able to figure out how their algorithm works and manipulate it to get our websites to rank, therefore, they are constantly changing features and updates to ensure quality results and fair play.
There are many great SEO tools on the market that offer a wide variety of helpful metrics relating to SEO. After many years of testing and working with various tools, my personal preference especially for backlink metrics is Ahrefs. They have some great tools within their suite as well as good resources in their blog. Having said that, there are other great tools which you may be more used to working with, this is up to you and your exact requirement.
If you use not only Ahrefs, but also Serpstat, Moz, Alexa or Majestic and want to see the data from these tools in one place, you can check out Netpeak Checker for bulk analysis.
The biggest plus is that you can analyze backlinks even in the free version of Netpeak Checker that is not limited by the term of use and the number of analyzed URLs. Other basic features are also available in the Freemium version of the program.
To get access to free Netpeak Checker, you just need to sign up, download, and launch the program 😉
Sign Up and Download Freemium Version of Netpeak Checker
P.S. Right after signup, you'll also have the opportunity to try all paid functionality and then compare all our plans and pick the most suitable for you.
3. Domain Rating (DR)
There is an important metric known as Domain Rating (DR), which is a score calculated out of 100. This score is similar to the Moz Domain Authority metric which is also calculated with a score out of 100.
Domain Rating indicates your websites overall trust, authority, and power in the online world.
DR is largely impacted by the type of backlinks you have from unique websites and the quality of those backlinks. Therefore, a quality dedicated link building outreach strategy is essential.
In general, the higher your domain rating, the more your website will rank for 'seed' keywords and the more chance you will have of outranking your competition. There are quite a few factors that go into the calculation of your websites DR but at this stage we will keep it simple :)
DISCLAIMER:
Domain Rating is not the ultimate metric you should base your entire business strategy or marketing strategy upon. I would not suggest using DR as a primary KPI with your clients either as DR is specific to industry type and may vary depending on industry or any updates which Google make or updates that Ahrefs make to their DR algorithm. I use it as guide for competitor analysis as well as link outreach but not as a primary business objective or KPI.
4. The Anatomy of a Backlink
There are two types of backlinks, and one of them is more valuable in terms of SEO than the other. There are dofollow links and nofollow links. A dofollow link passes SEO value known as link equity (link juice) from the linking page to your page. These are the most valuable links to gain from an SEO perspective.
A nofollow link will still send users to your website but these do not provide SEO value as they do not pass link equity. You need more dofollow links from credible sources than nofollow links in order for your backlink profile to be effective and authoritative. But note that this is normal to have backlinks with nofollow attributes because it's inevitable part of a natural link profile.
5. Backlink vs. Referring Domain
A referring domain is a unique domain which is linking to you, this is a domain the backlinks are coming from.
As backlinks come from a referring domain, the more websites linking to you, the higher your website will rank in Google. Here is a visual example showing the unique domains linking to a website. The different coloured arrows are the backlinks coming from the referring domain: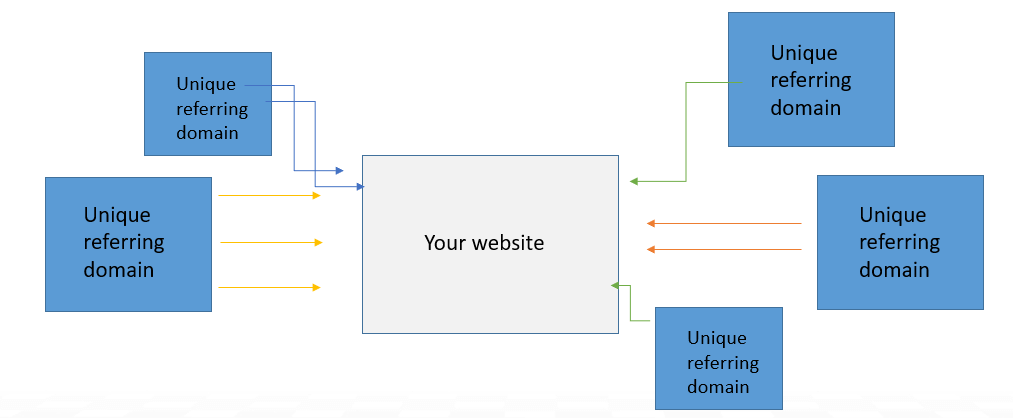 Here is an overview of a specific website within the Engineering Insurance industry taken from a scan in Ahrefs:

And here is a snapshot of a website within the beauty industry:

And further we'll talk what you can do with all this data.
6. Analysing Your Competitors Backlinks

It is essential to understand every aspect of your competitors marketing campaigns and, their backlink profiles in particular. By doing frequent scans of your competitors backlinks you can gain the following insights:
Entire list of backlinks coming from quality websites with a high Domain Rating for replication and outreach.
Any broken backlinks pointing to competing websites which you can try and grab for your site.
Top content which is gaining the highest number of backlinks, so you can understand what type of content is working and how you can leverage this.
Content ideas for your articles and posts.
A full list of backlinks to replicate and build yourself to your website.

6.1. Starting Analysing Competitors
Let's say you are writing content within the digital marketing or SEO space, here are the step by step tactics you should take to profile your competitors backlinks and build a unique strategy for your brand to dominate your niche.
If I wanted to write an article about the top SEO tools and SEO tools which are the best to use within my niche I can do a few things to start. Firstly, you could type in your keyword into Google search to see who ranks to get an idea for the competition. My search query for the below example was 'best seo tools 2018':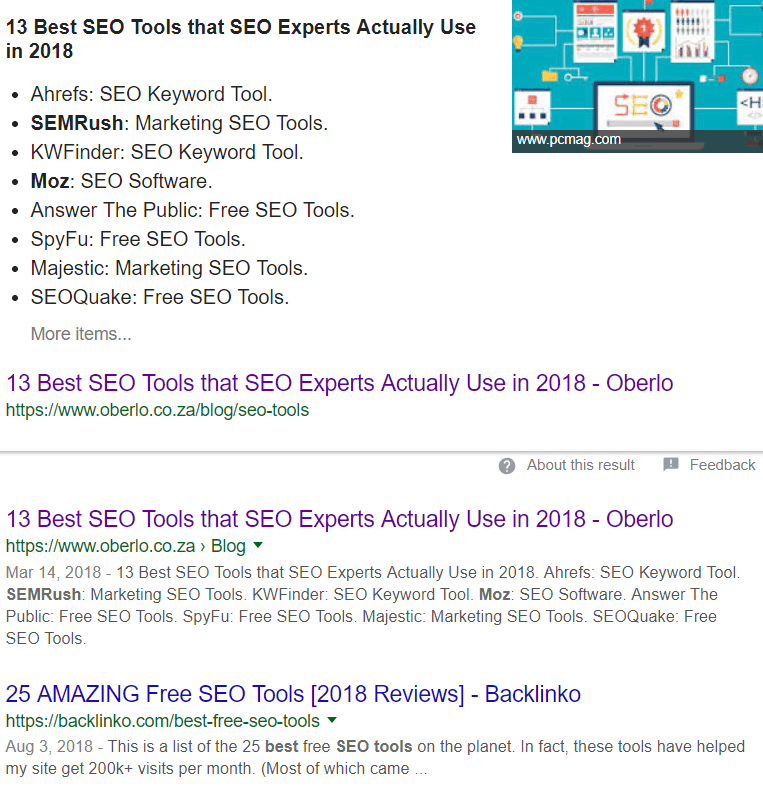 We see that the top three organic rankings are dominated by a really nice featured snippet from the first website, followed by a couple of other results. These sites are doing something right in order to rank within the top three for this search query, so let's take a look at exactly what they are doing here in terms of linking domains.
I am going to run each ranking domain through Ahrefs to get an idea of their Domain Rating, the total number of referring domains as well as the backlinks which are pointing to their page. Also, you can check out Backlink checker or Keyword tool if you want to vary your toolset.
As we work with Ahrefs, use the Ahrefs 'Site explorer' tool and paste the competing URL into the box and click search:

We will see a full overview of the pages Domain Rating, total number of backlinks, total number of referring domains as well as the number of organic keywords which Google have indexed for this specific page, plus loads of other essential information relating to many core metrics you can use:
Now, Brian Dean from Backlinko is a massive authority and influencer within the SEO world and, in particular, in the world of Off-Page SEO and link building, and therefore he gets loads of backlinks and mentions on any article he releases.
He has built up a solid brand presence and an authoritative name for himself in the digital world over the years. Always keep that in mind when referring to top competitors as many of them have been active for years and have done loads of research and work in their niche – never be put off by this.
Competition should drive you to be better and not bitter.
Side note: I strongly suggest signing up to authority websites and thought leaders within your niche and to read their content daily. I have found this very beneficial and inspirational over the years.
By viewing the history of backlink growth for this particular page, you can get an idea of when it started to gain positive traction in the search results as well as when the post started to gain backlinks. I assure you that this post will continue to grow in both quality traffic and backlinks, as most of Brian Dean's content is evergreen and super informative.

6.2. Diving Deeper
Once you have added your competitor's URL and analysed all metrics, it's time to see other ranking pages and what their backlink profiles look like. To do this, click on the 'Competing pages' option on the left-hand side of the dashboard: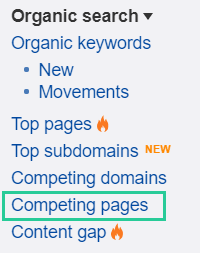 This will then pull up an entire list of competing pages which are ranking for your target keywords as well as pages competing for this keyword. This is a great help!
We can see a whole list of ranking pages, keywords which are unique to their page (keywords they are ranking for, but you aren't) as well as options to view the monthly search volumes, difficulty, and how many words are on each page.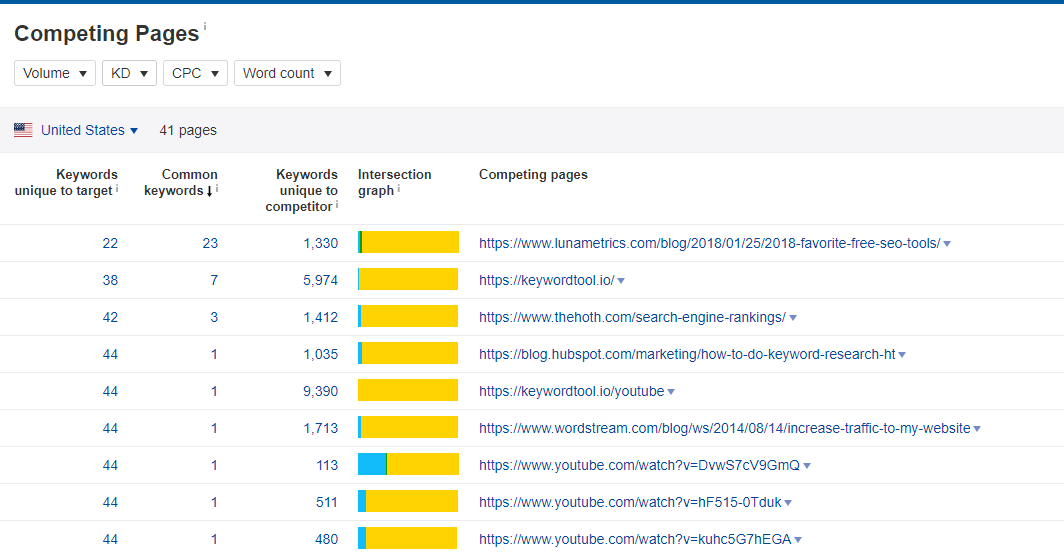 Practical tip
A quick method I like to implement when analysing ranking pages is to spend time looking through their content to get an idea for the exact messaging they are using to write their content, the total number of words on the page, any notable graphical elements as well as the overall user experience of the page.
I worked on a page once where all I did was expand the length of content on my page by explaining the product further and in more detail as the page which was outranking me had at least double the content. These kinds of tricks are simple to do and shouldn't take too much time.
Once you have identified the top-ranking pages, start analysing the backlinks pointing to each of these pages by clicking on the blue drop down arrow and opening the 'Backlinks' report in a new tab: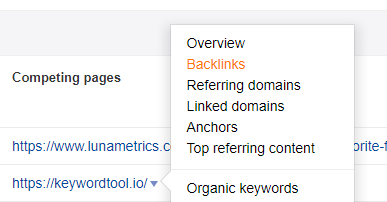 This will show you a full and extensive list of every backlink pointing to your competitors page, the individual Domain Rating of each referring domain and other metrics.
Depending on how competitive your niche is, you may find loads of backlinks pointing to your competitors page, and not all these backlinks will be relevant or of good quality.
To highlight the cream of the crop, you can use some filtering options that'll show you links in order of highest Domain Rating, the language of the referring page or even the total monthly traffic the linking page receives.
I like selecting the filter to see links which are dofollow only, as dofollow links will pass link equity and SEO value to my page.

Once I had applied filters to only see backlinks from a Domain Rating of 60 and above from websites which are written in English, the total amount of potential backlinks went down from the initial 85 backlinks to 32.
Before applying filters:

After applying filters:
From there, export all of the domains into Excel and start planning your outreach strategy. To do this, spend time reviewing each link and to see if the page is offering value, is it of high quality, and would you like to be associated with it.
It is essential that you understand their niche and the type of content they are creating so that you can be sure that it will be a good link for you and also so that you have a bit of background on the website and content when you reach out to them.
Your exported list should look something like this:

Once you have researched and spent time on every link from your Excel sheet you can now start the process of reaching out to them. Be authentic, genuine and don't spam them for a link. I get loads of emails on a daily basis asking for backlinks or link sharing, which, I don't have a problem with if the pitch is done in the right way and the content or topical ideas they have are valuable and interesting.
To read more about how to conduct effective outreach to site owners and webmasters to gain backlinks or to guest post, take a read through the below resources:
8. In a Nutshell
Staying ahead of the game and being aware of any activity within your own backlink profile is essential for boosting Domain Rating and backlinks. But, never forget to keep a close eye on your competitor backlinks as this is not only a great way to gain quick wins and lists of backlinks to build for your own website, but it will also help you understand your competitors' marketing strategies.
By using the tactics above you will be able to monitor quality backlink opportunities and growth. Be sure to set alerts within Ahrefs (or your preferred tools) so that you can be made aware of new backlinks as well as broken backlinks.
And let us know how do you analyse competitors' backlinks in the comments below ;)