URL Checker for SEO Parameters Bulk Check
Get valuable insights on your website's performance and SEO strategy with our powerful website checker.
For Windows
Integrations
Get page metrics from the most trusted SEO tools, search engines, and databases in one convenient place.
The Key Features You Get with Netpeak Checker
TOP Netpeak Checker Features
1.

Integration with 25 services to analyze 450+ parameters

Our URL checker enables integration with 25 SEO-related services to help you gather data on hundreds of parameters. The list includes Moz, SimilarWeb, Ahrefs, Serpstat, Google Analytics, and many more.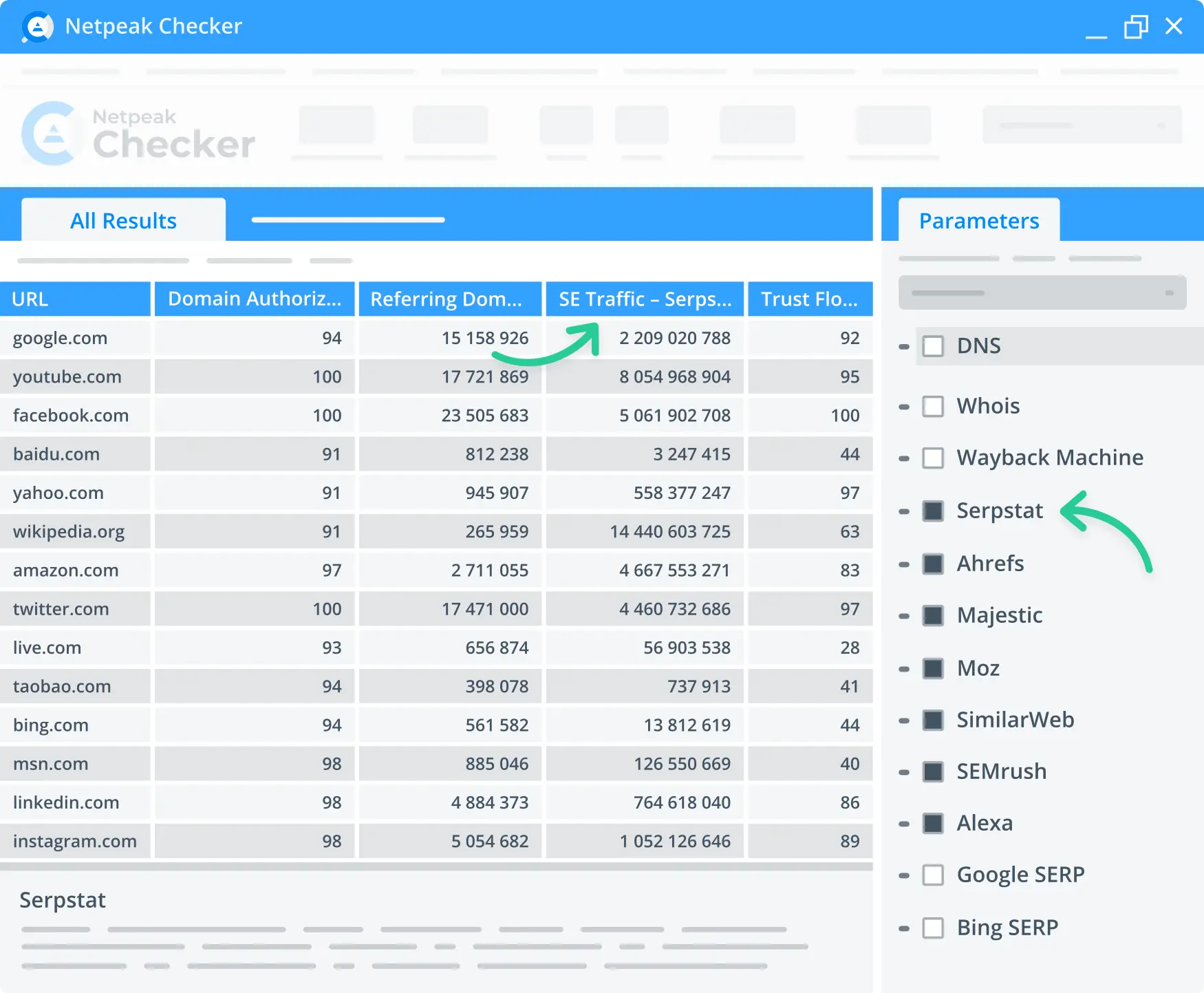 2.

Custom SERP Scraping for Google, Bing, and Yahoo

Easily retrieve search result insights using snippet types, language, geolocation, prefixes, etc.
3.

Bulk cache and index checkups

Our SEO checker analyses pages in Google, Yahoo, and Bing indexes, detects the date and time they were cached by a target search engine, and shows if they're merged with other URLs.
4.

Supporting proxy list and CAPTCHA auto-solving

Enjoy using various proxies and automatic CAPTCHA-solving services as you use our bulk URL checker or scrape SERP.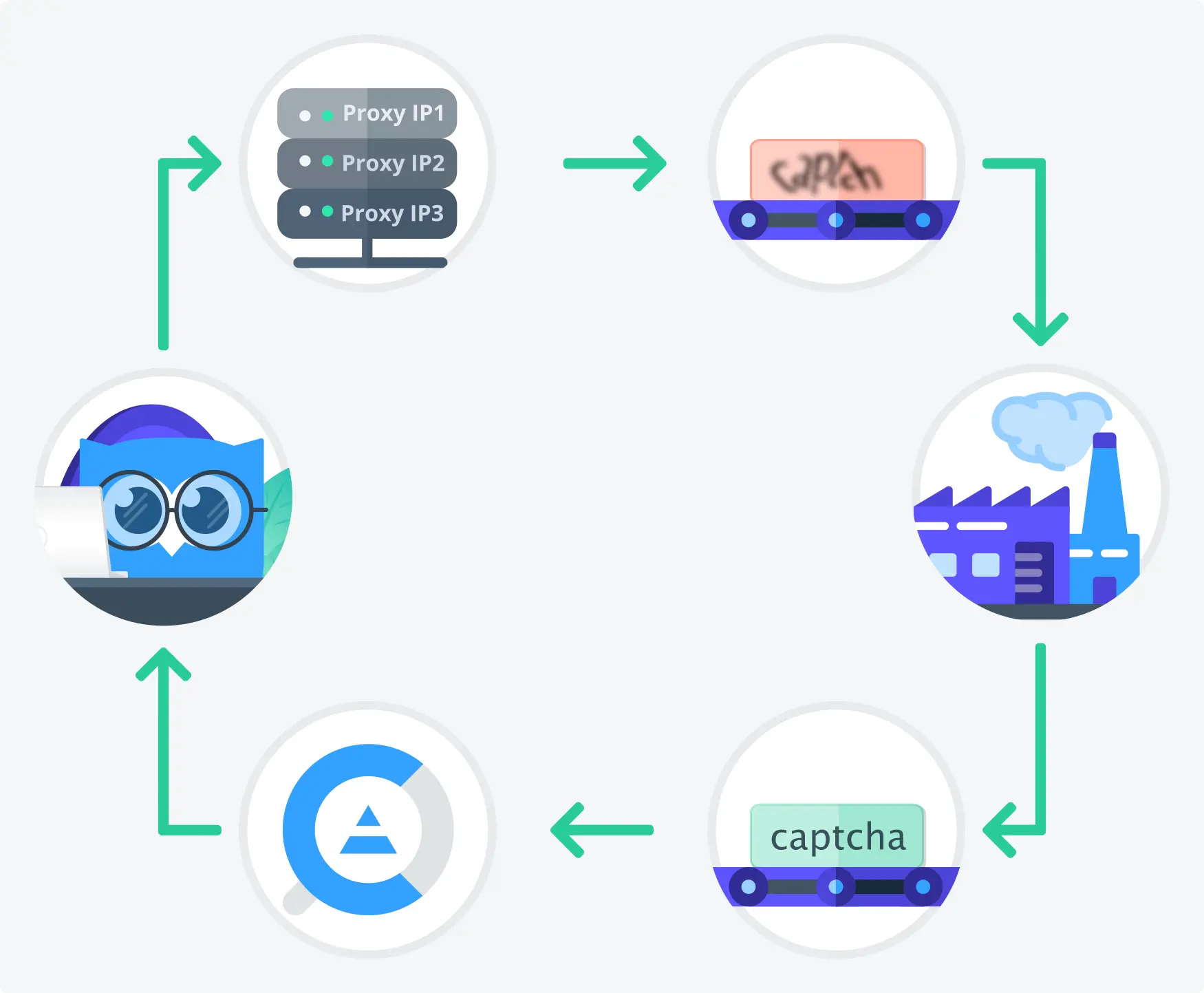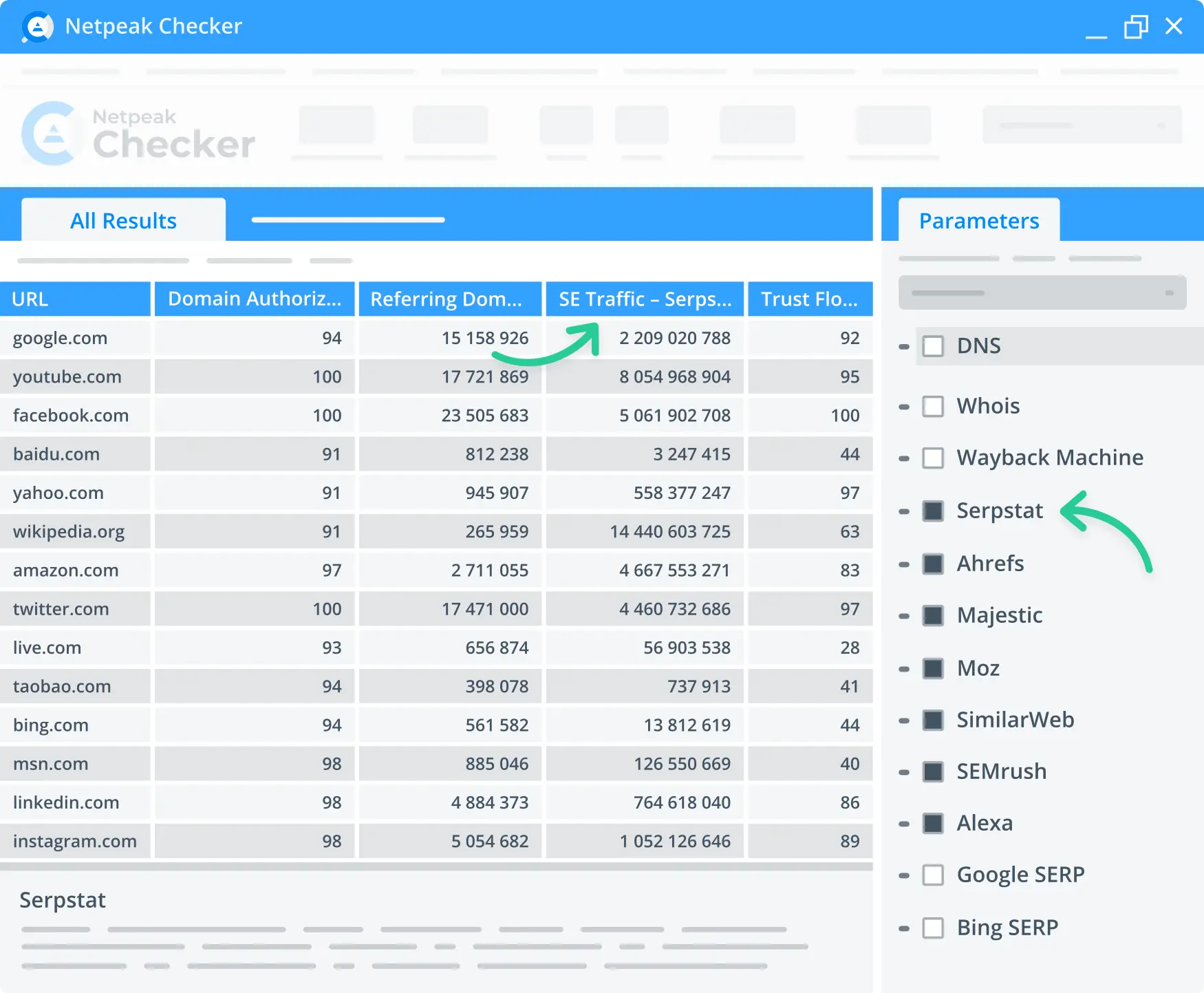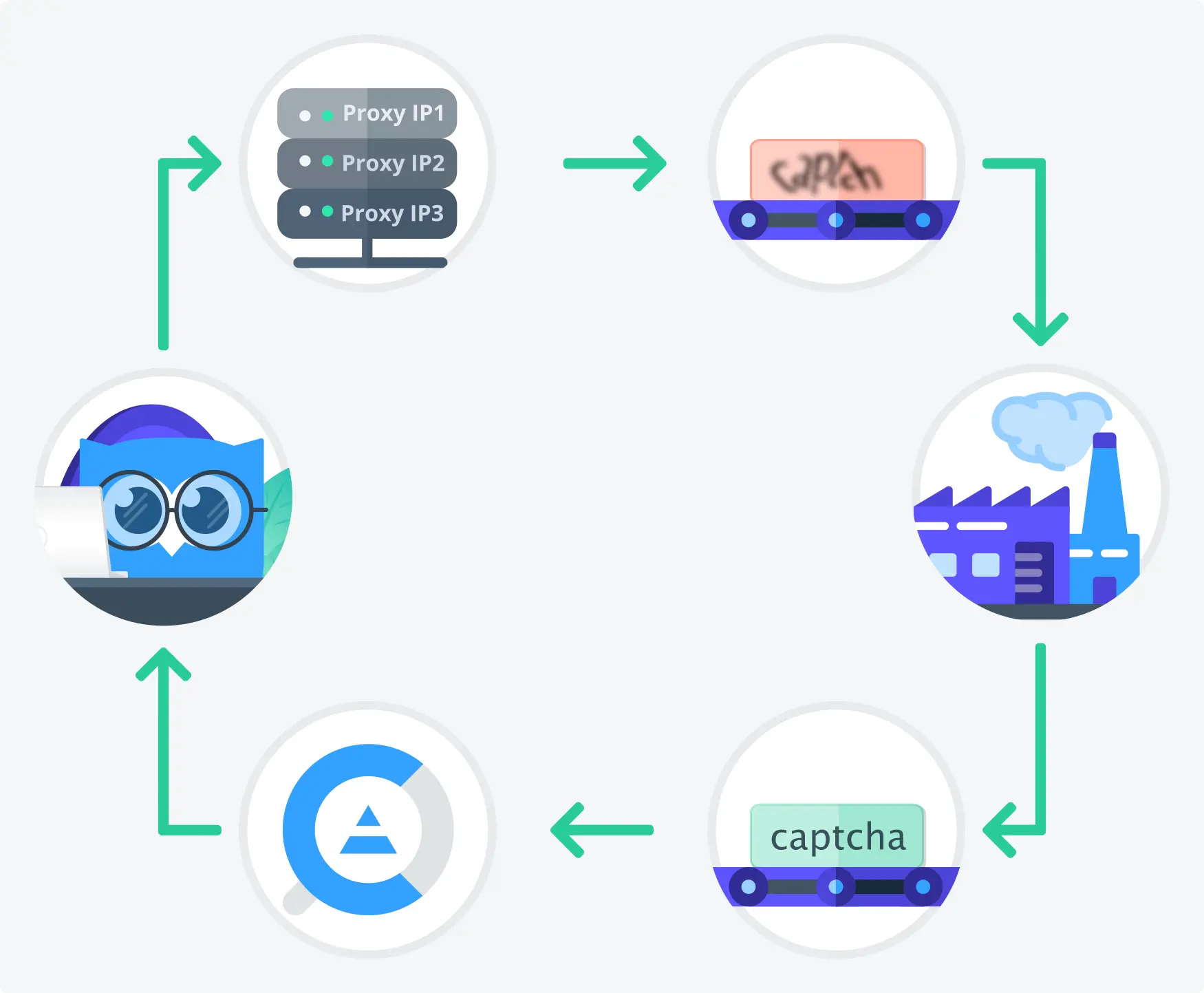 Get Your Free License Now
Parameters for Analysis
1.

50+ On-Page parameters

Do you want to run an in-depth website check? Our tool provides a broad list of vital on-page parameters for an in-depth website check. These include redirects, titles, response time, status codes, etc.
2.

Contact Data Search

Retrieve the necessary contact data from any target website. Our SEO checking tool will show if a page contains any phone numbers or emails in a matter of a few moments.
3.

Bulk Data Export From Whois, DNS, and Wayback Machine

Integrate numerous data-related services like Whois with our site checker tool. Quickly filter and select the most prominent domains and promptly get information on site availability, its owner, etc.
4.

Website Traffic Estimation

As part of its SEO checks, Netpeak Checker evaluates the traffic on competitor pages, potential link-building donors' share ratios, traffic by location (country), and critical category data.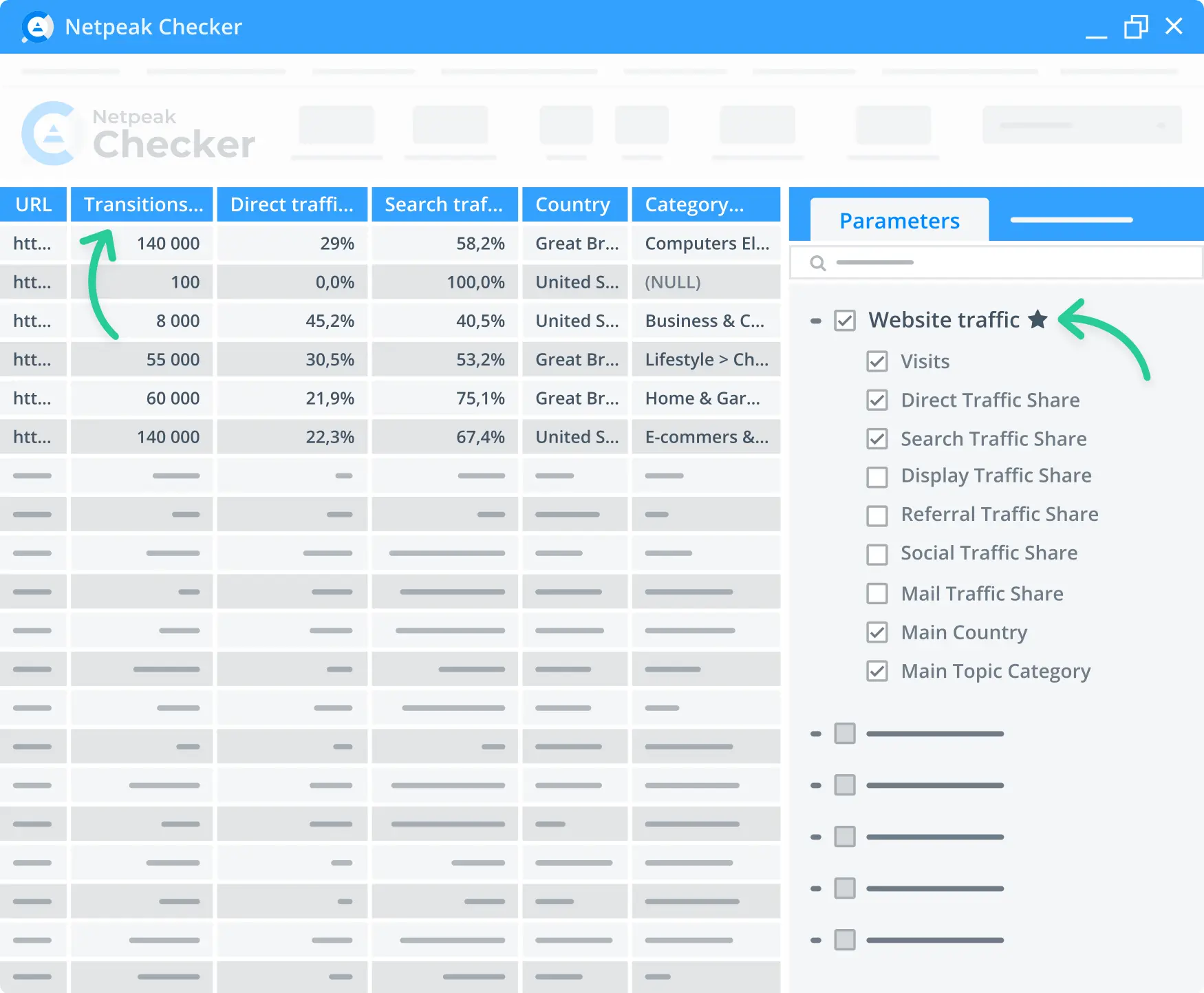 5.

Batch Core Web Vitals Checkup

Our website analysis tool provides quality data on the speed, responsiveness, and visual stability of any target domains or requested URLs.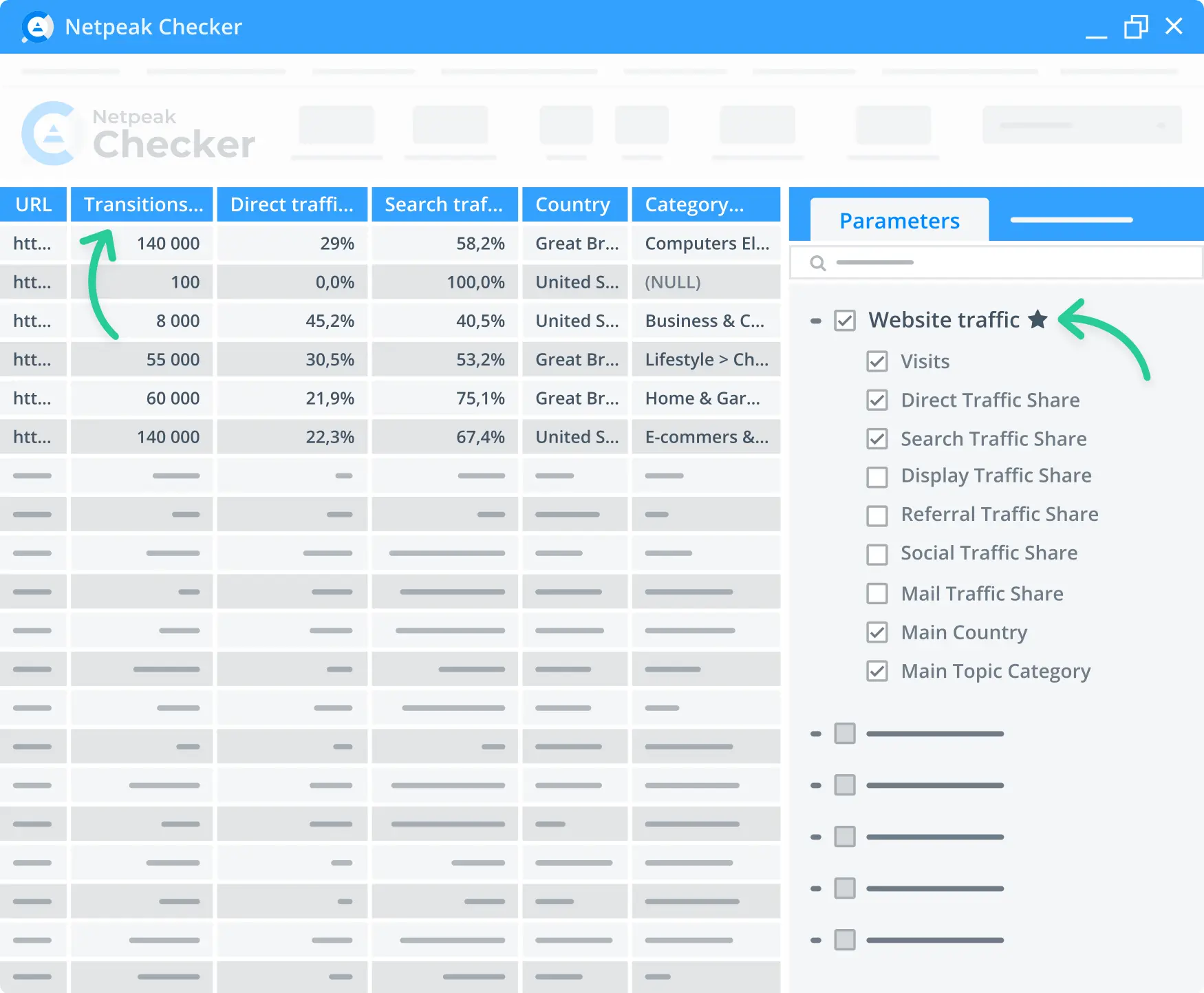 Ready to Boost Your SEO Stats?
Data Visualization and Export
1.

Quick Data Export

Export all the data retrieved after the SEO test in just one click. Save the data as shown in the results table, including the order of columns, sorting, and grouping.
2.

Personalized data view settings

Our free SEO checker allows you to set the result overview in the most convenient way — both while working within the app or after exporting it (in CSV or XLSX). Netpeak Checker automatically saves customized settings together with data sorting, grouping, column width, etc. Moreover, our tool offers a handy sidebar with search options and pre-saved templates for your comfort.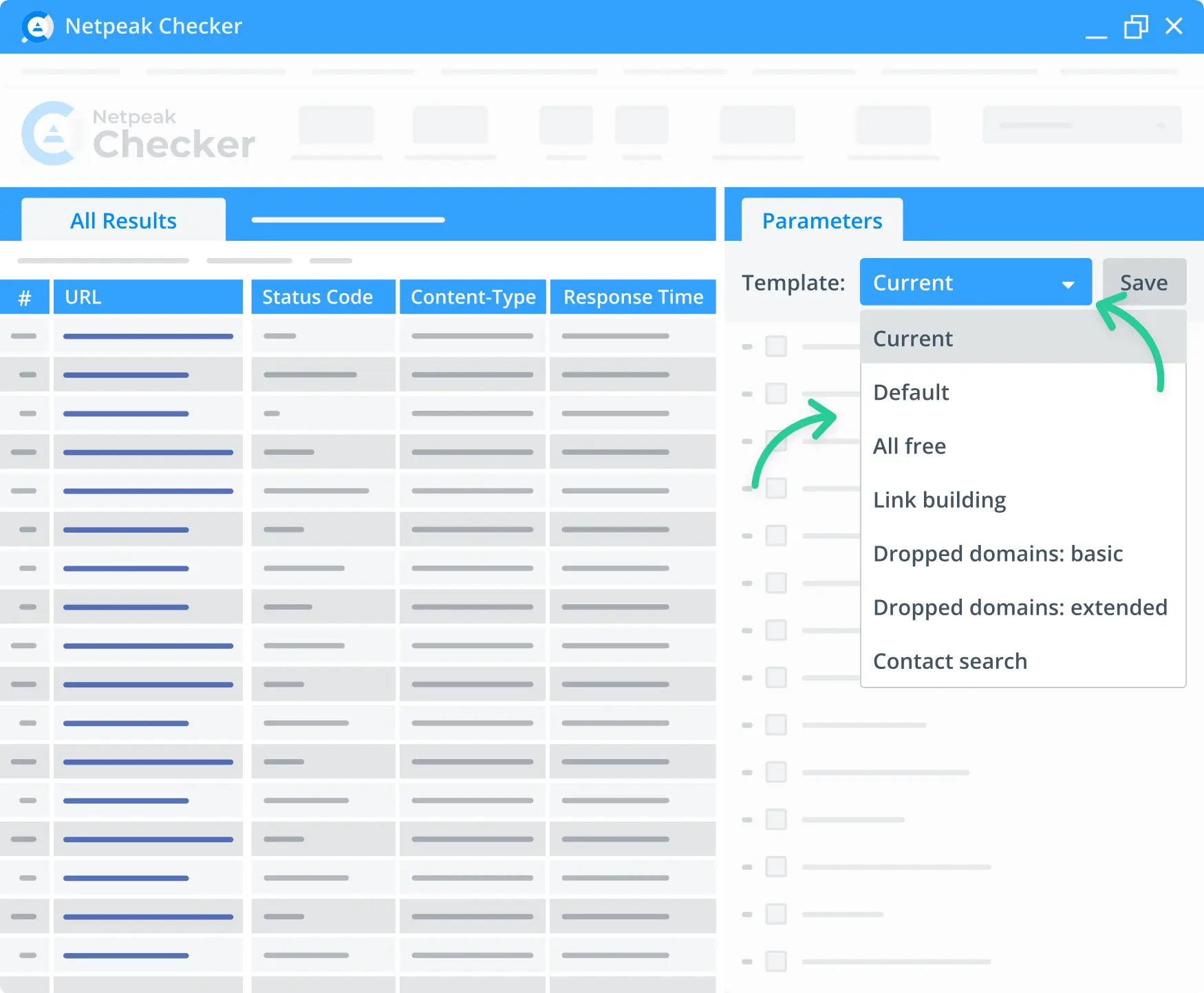 3.

Integration with Google Drive & Sheets

Integrate Google services into your daily operations with Netpeak Checker. Connect your Google Drive account to our website SEO checker to promptly export the necessary reports straight to Google Sheets and share them with your colleagues or clients in just a few clicks.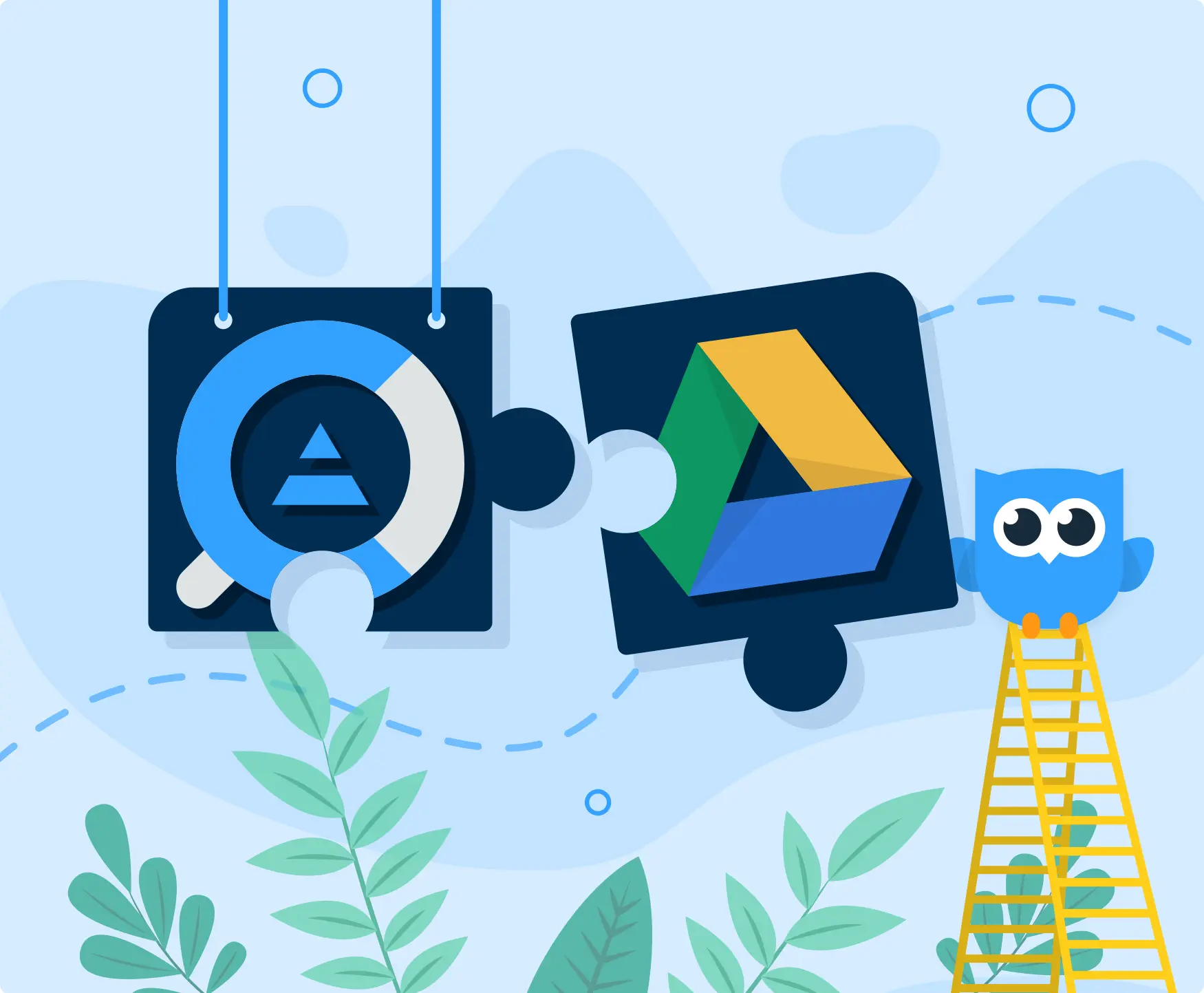 4.

Data copying and saving

Even after running a bulk check, our tool automatically backs up all the collected data, which is especially helpful when there is a risk of a sudden PC shutdown. Once the crawling is over, you can save the project to access crawling results immediately. Share these files with others and even view that data via Netpeak Spider since both our apps are cross-integrated.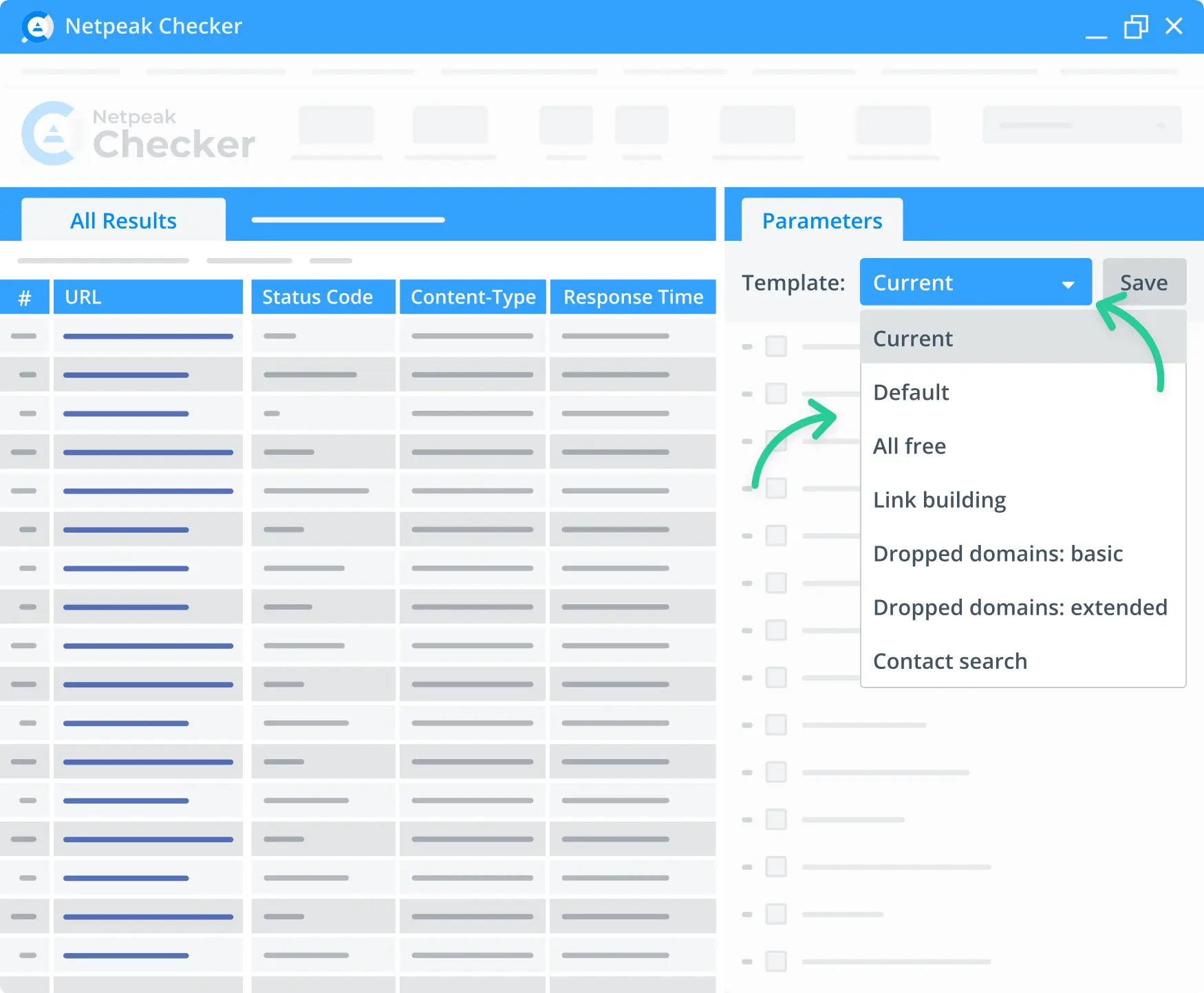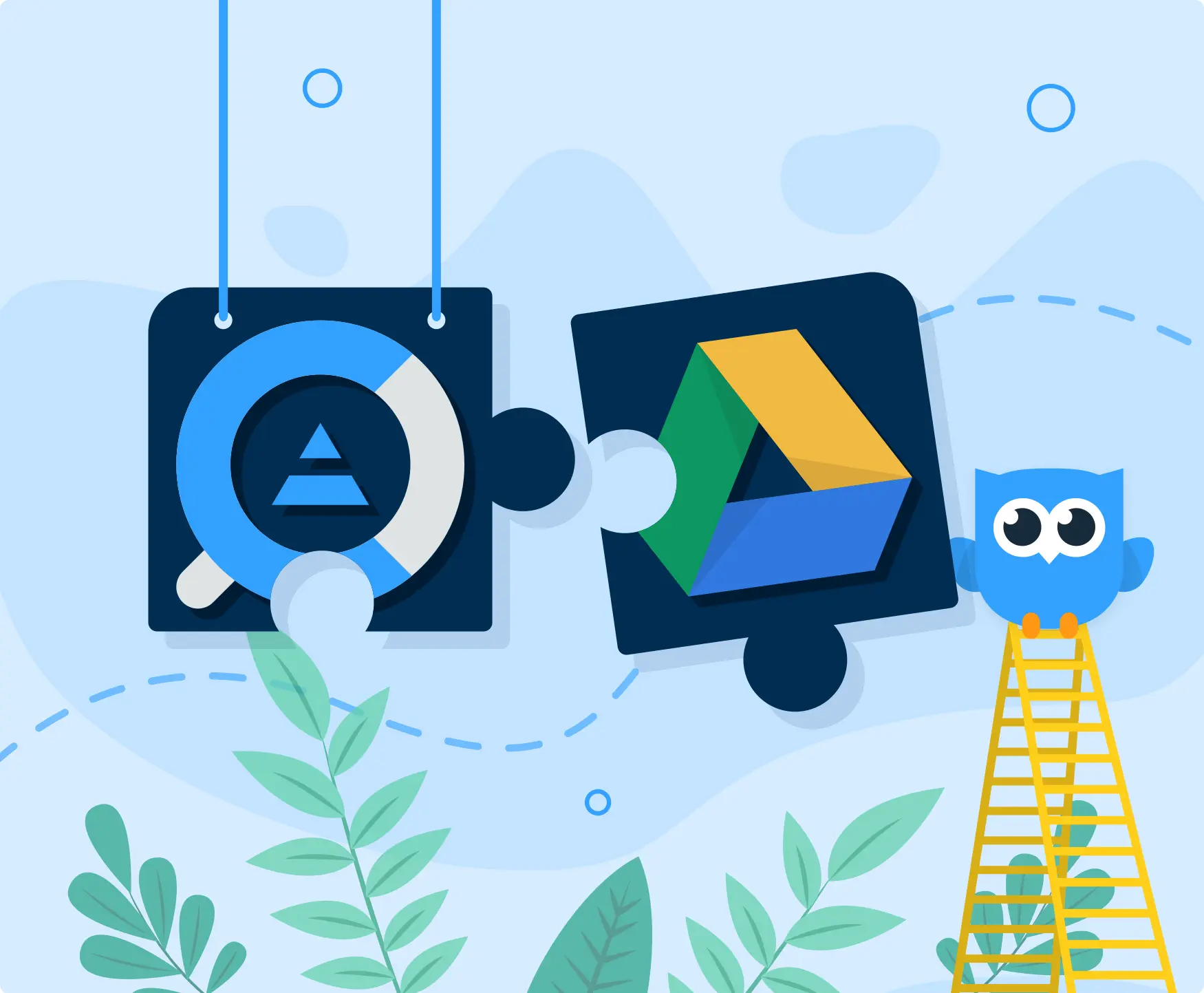 Support and Personalized Attitude
1.

Free software update

Our SEO site checker will automatically update to the latest version as soon as we release it.
2.

Customer support via email

Reach out to our Support team via email to get answers to any questions you might have. Contact [email protected] and our experts will get back to you as soon as possible.
Get a Free Trial and Improve Your SEO stats Today
Start upgrading your SEO tactics by setting up a free account and downloading Netpeak Checker. Get helpful, effective site scanning results in just a few minutes.
Save up to 20%. Cancel anytime.
Why our clients choose Netpeak Checker
Our numerous awards and reviews speak for themselves. Learn what industry leaders and top specialists appreciate about our tools
See all reviews
Double the Effectiveness of Your SEO Strategy
Run a 100% efficient SEO site checkup with the help of our two powerful tools. Get Netpeak Spider and Netpeak Checker and boost your website's performance.
For Windows & macOS (beta versіon)