Comprehensive Guide on Competitor Marketing Analysis (with Ecommerce Example)
How to

If you want to understand your business niche better and find out non-obvious tips for moving up to the top, you need a deep and detailed competitors analysis in SEO. You can consider competitor's websites as a source of ideas that you can use to develop your project, and in this post I'll show you how exactly it is done.
As an example I will perform competitor analysis for the online store dr.martens.com.
Content:
Setting Goals

Defining Competitors

What Factors to Analyze?

Domain Age

Traffic and PPC Research

Referral Links Analysis

Semantic Core Analysis

Website Structure Analysis

Internal Linking

Content Analysis

Meta Data Analysis

Multiregionality

Website Load Speed

Social Media Activity Analysis

Business Research

Summary
1. Setting Goals
Before you start analysing your competitors, you should set goals to understand what this is all about. Here are some factors you need to define:
The gap between you and your competitors. Remember that SEO is a complex of actions and its results depend on many factors.
Successful strategies you can apply.
Strategies your competitors do NOT apply. It's an important nuance to consider when you analyze a niche leader.
'Successful strategies' are the ones that can boost your project and don't break search engines rules (such as spam strategies) at the same time.
For example, the following decisions can be called successful:
Creating additional pages and linking
New bonuses for users: discount systems, free delivery
Email marketing strategy (you can also have a look at the top email marketing softwares, to gain more insight into the marketing strategies for your website as well as the ones used by your competitors)
Expanding semantic core
Expanding backlink profile
2. Defining Competitors
The second step is to identify your direct competitors. And it's not always just 'google' them (of course this is what you need to do it in the first place ;)
Check SERP using different groups of queries (high-frequency and mid-frequency) and select all appropriate competitors. You should consider not only organic results but also ads. Another way to identify the most powerful competitors is to use special SEO tools.
2.1. Identify Competitors Using SEO Tools
Tools we need:
Serpstat
Ahrefs Keywords Explorer
Let's start from Serpstat. To define competitors using this tool, you must enter your website and analyze the 'Competitors' report. Check out 'Common keywords' and 'Visibility' column. Note competitors you have the most common keywords with – more than likely they are your direct competitors. And the more visibility your competitors have, the more likely they use a reasonable strategy worth analyzing.
Drop aggregators or websites with a wide range of topics among selected ones.

So as we can see, among our competitors are famousefootwear.com, shoebuy.com, shoes.com, schuh.co.uk. As an example for further analysis we'll check shoes.com.
Also, you can use Ahrefs Keywords Explorer to see search queries with the highest volume in your niche and then run Google search to identify who's ranking the highest for these keywords.
For example, I've decided to check what keyword phrases also rank for such phrase as 'buy shoes online'.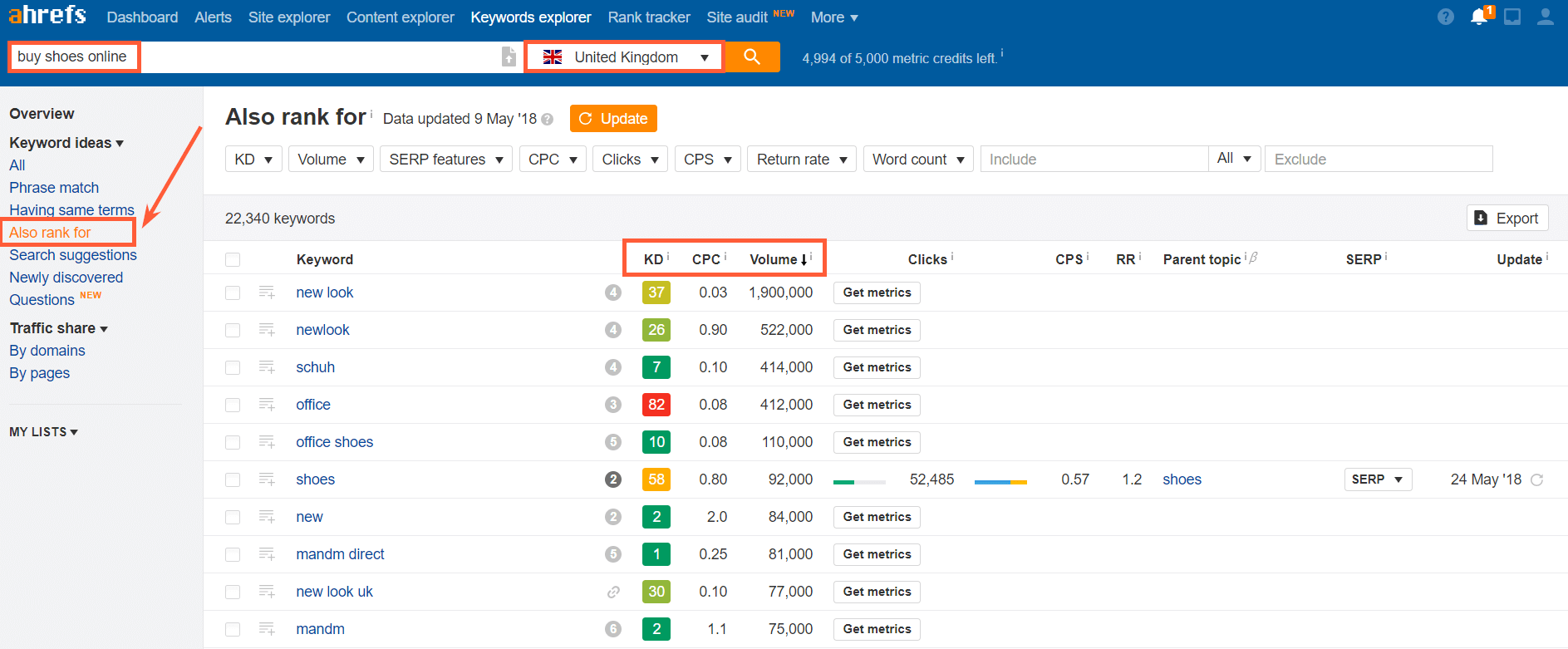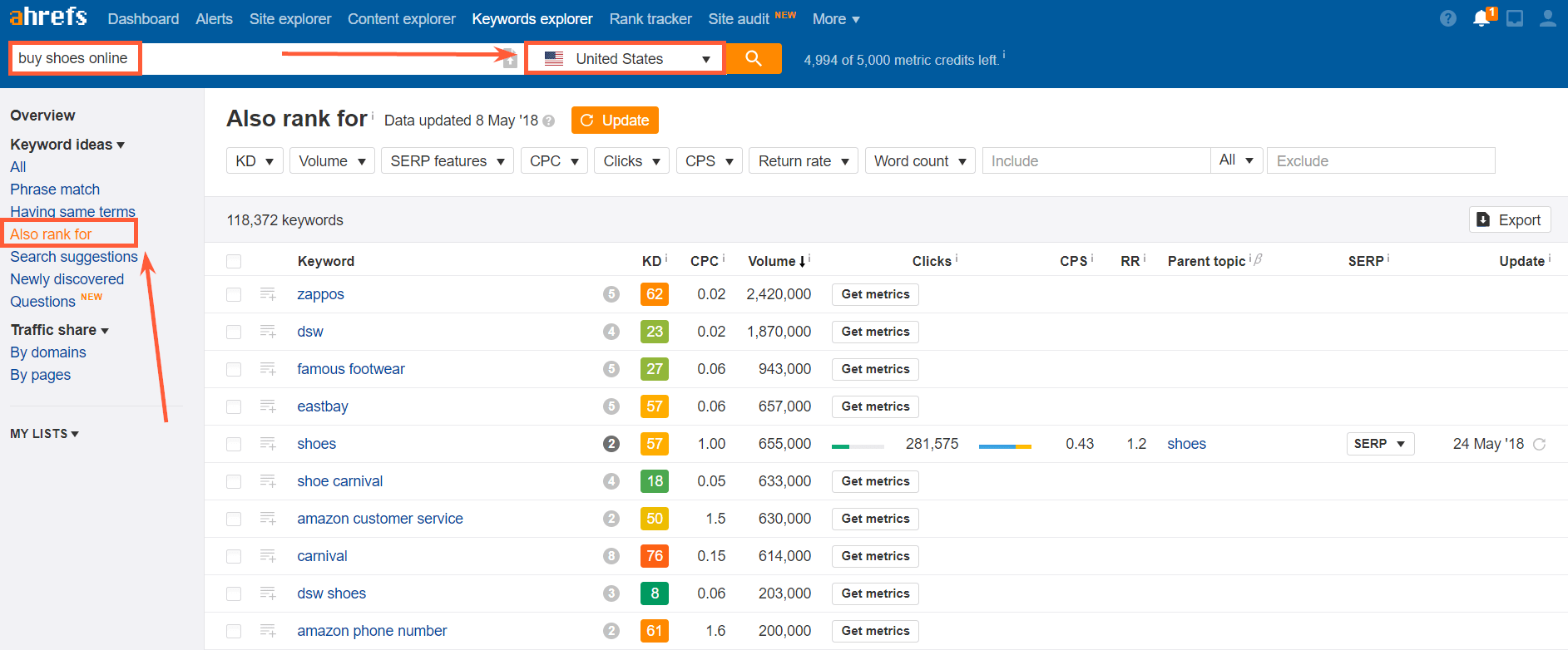 As you can see, I've checked keywords for different countries and have got different results. It gives you an opportunity not only to find your competitors by the high volume keywords but also to find best queries to promote for and buy search ads depending on different countries.
3. What Factors to Analyze?
3.1. Domain Age
We'll find out:
how many years work is being carried out to promote competitor's domains
Tools we need:
Start with comparing the age of the analyzed domains. To do this, just look at the Whois data in Netpeak Checker. If your project is young compared to your competitors, take into account that you need to compensate this by working more carefully with other ranking factors.

3.2. Traffic and PPC Research
We'll find out:
whether you can grow in selected niche
which of your competitors has more traffic and from what channel
estimated budget your competitors spend on PPC ads
new channels to attract more traffic
Tools we need:
SimilarWeb
Serpstat
SEMrush
Ahrefs
You can get traffic overview from SimilarWeb browser app. It allows you to see total traffic to your website (estimated visits) and top traffic sources in percentage (from search, email, paid traffic and other channels). Also, you can analyze top 5 referrals, top ad networks and publishers.
Keep in mind that SimilarWeb figures are estimates and should be used in case if you don't have precise data.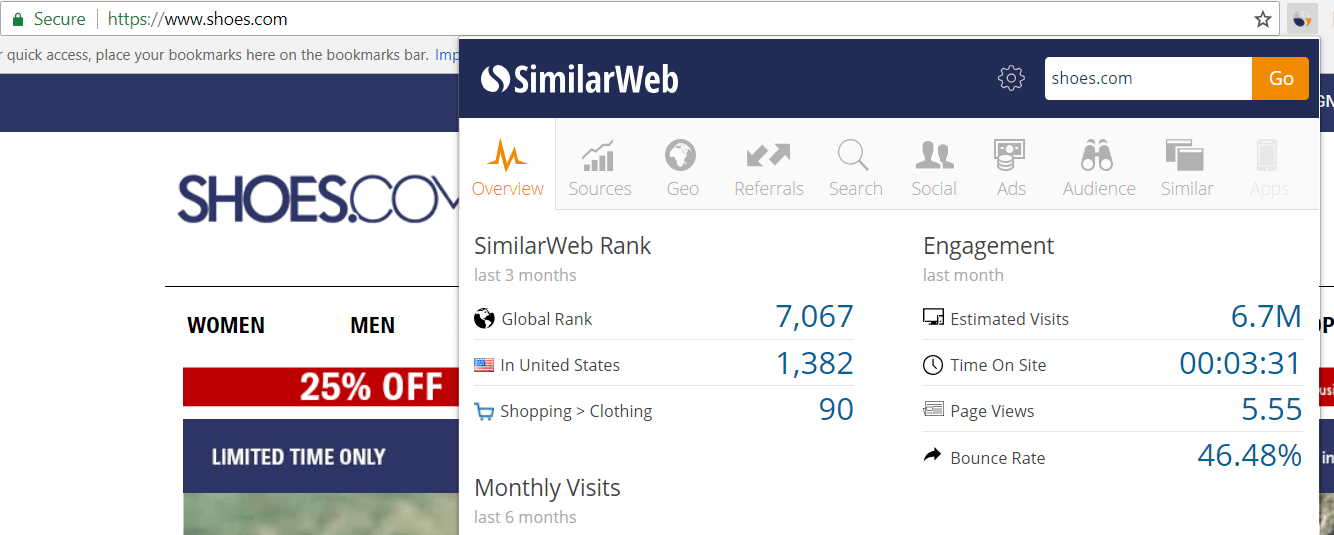 To get more precise info, let's analyze organic and paid traffic using SEMrush and Serpstat data in Netpeak Checker.
Let's check out metrics that show us our competitors' organic traffic → 'Organic Traffic' in SEMrush and 'SE Traffic' in Serpstat. Both tools show us that leaders of organic traffic are zappos.com, asos.com, etsy.com, 6pm.com, famousefootwear.com, journeys.com, shoes.com.
It's worth to look more closely at them.
Now take a glance at PPC efforts of our competitors. We'll also use SEMrush and Serpstat data in Netpeak Checker and consider such metrics as 'Paid Search Traffic', 'Paid Search Keywords', 'Paid Search Traffic Cost' in SEMrush and 'Ads', 'Keywords in PPC' in Serpstat.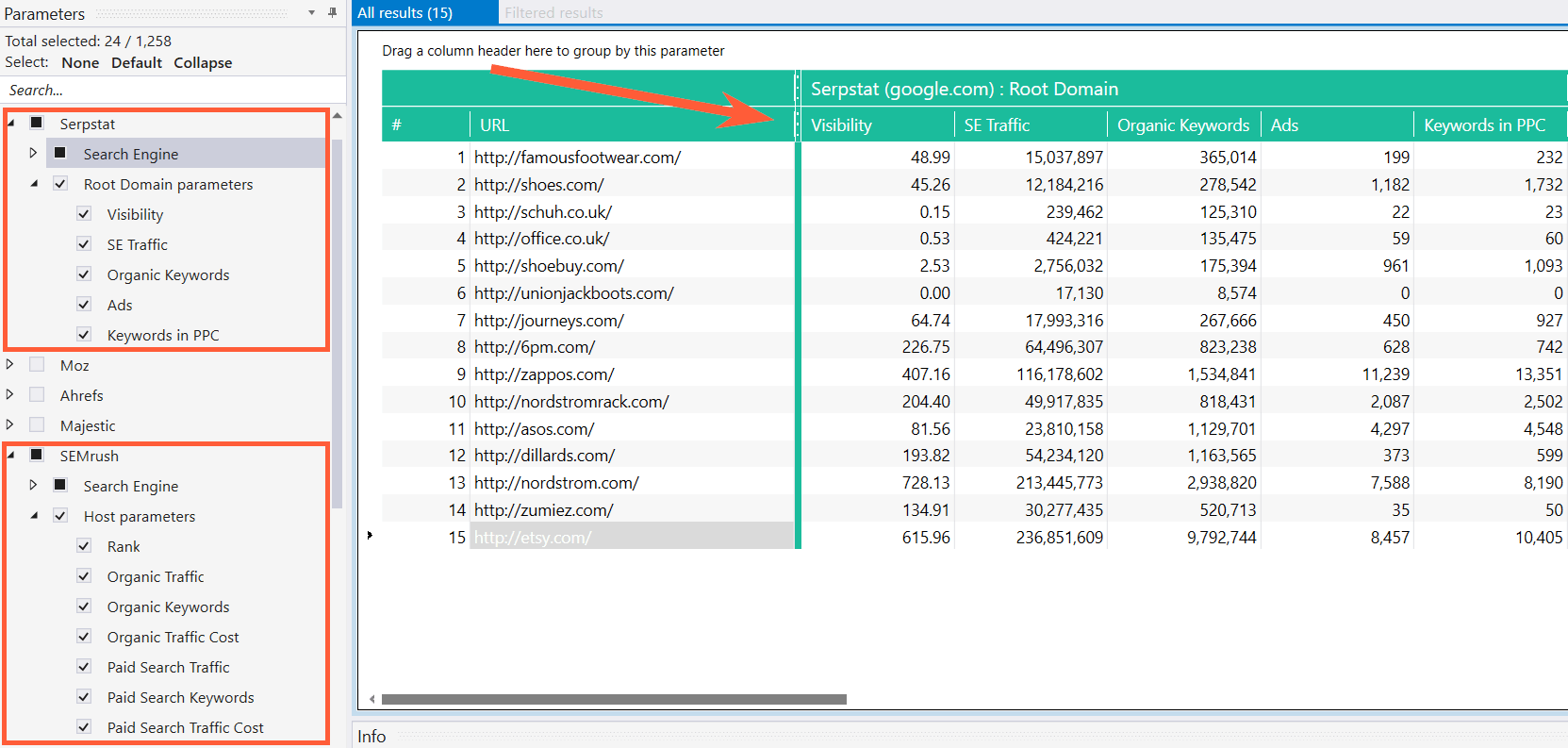 Editor's Note:
Paid Search Traffic – number of users expected to visit the website in the following month on condition that average monthly paid traffic stays relatively the same according to SEMrush.
Paid Search Keywords – number of keywords bringing users to the website via Google's paid search results according to SEMrush.
Paid Search Traffic Cost – estimation on the domain's Google AdWords budget (monthly estimation) according to SEMrush.
Ads – number of ads the target has in paid search results according to Serpstat.
Keywords in PPC – number of keywords the domain bids on in paid search results (depending on the chosen search engine) according to Serpstat.
And, of course, Ahrefs 'Paid Search' in 'Site Explorer' and Serpstat's 'PPC Research' are worth noticing. Using these tools you can find out keywords your competitors are bidding on, look at their PPC ads and top landing pages. A lot of information to work on your own campaigns, isn't it?
3.3. Referral Links Analysis
We'll find out:
the number of referring pages
the number of referring domains
anchor list (how it looks: natural / unnatural)
Tools we need:
Ahrefs
Moz
Majestic
Alexa
We use Ahrefs, Serpstat, Moz and Alexa data in Netpeak Checker to get required data. Also, it can be very useful to add Majestic to this list. Let's go over the metrics we are using for this part of analysis:
Backlinks and Referring domains in Ahrefs.
External Links (Moz → Root Domain parameters). A number of external links to the target URL including nofollow links according to Moz.
External Backlinks (Majestic → Host parameters). A number of external backlinks to the target URL according to Majestic. Make sure that you've chosen a proper Majestic index of backlink data (Settings → Services → Majestic). You can choose 'Fresh' (past 90 days) or 'Historic' (past 5 years) index.
Sites Linking in (Alexa). It's a number of websites referring to the domain according to Alexa.
Root Domains Linking (Moz → Root Domain parameters). It's a number of root domains with any pages linking to the target according to Moz.
Mentions (Google SERP → Host parameters). It's a number of the pages from other websites that contain target exact match.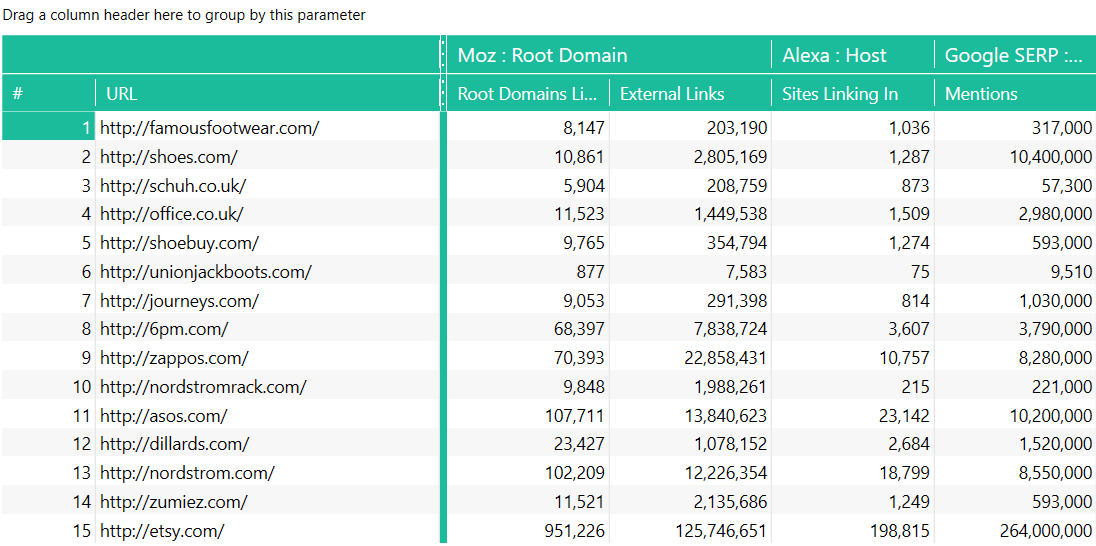 So after looking at this data we can choose the strongest competitors and make deeper research. In our case there are etsy.com, zappos.com, 6pm.com, shoes.com and office.co.uk.


After analyzing the results, you can see whether your competitors are using natural link building strategies, combined activities or spamming methods.
If analysis shows you that competitors use a rational link building strategy (the link profile is diverse, the references to the website look natural, resources are relevant), you can export the domains referring to the competitor website. It is also important to see what regional domains it is worth building links from based on the competitors experience. Then check link quality indicators, choose the best ones and get a list of domains for your link building strategy.
But remember not to use competitor link sources thoughtlessly. It can lead you to spammy strategy.
3.4. Semantic Core Analysis
We'll find out:
competitors that have the largest number of key phrases
where to grow in the niche
what groups of products your competitors prevail in
Tools we need:
One of the significant stages in competitor analysis is a semantic research. Focus on the number of keywords your project and your competitors rank by. Сompetitors with the largest number of keywords are worth noticing. It's useful to understand why they have so many keywords and how to improve and expand your own semantic core.
You can easily check it in Netpeak Checker with 'Organic Keywords' metric in SEMrush and Serpstat as you could see on the screenshots above. According to the required data, zappos.com and etsy.com are ones with the largest number of keywords.
So the next step is to check out and download keywords your competitors rank by and you don't. To do this, you must specify competitors domains and download unique phrases for them. You can do this with Serpstat:
*Also, you can check the number of 'Paid Keywords'. We've talked about it in 'Traffic and PPC Research' paragraph.
3.5. Website Structure Analysis
We'll find out:
pages that can be added or optimized
new types of pages that can be added
Tools we need:
Pay attention to the quality and concept of competitor's website structure. Did they create pages for low-frequency queries? Is the structure organized logically?
Does the competitor have some typical pages you don't have? What queries are covered by these pages? How is website structure organized: by tags, landing pages or filters?
You can take a look at competitors' website structure by crawling the website in Netpeak Spider. Moreover, you can find out a lot of interesting info. For example, what pages are closed from indexation and why. Or you can scrape prices and all necessary data to expand your product range.
I've crawled one of dr.martens competitors shoes.com. So you can see such info as website structure and discover all categories without exploring the website manually. Also, we can take a glance at the website's depth and pages blocked from indexation. In our example, shoes.com has shallow website structure and blocked pages with outdated sales, and this is surely something to note down.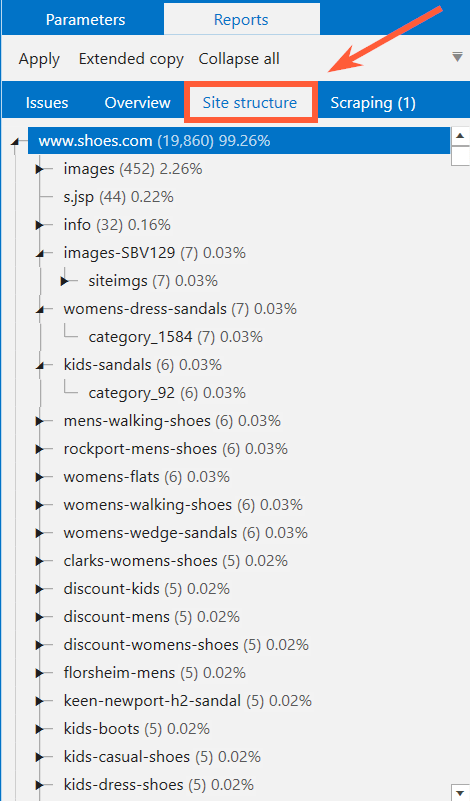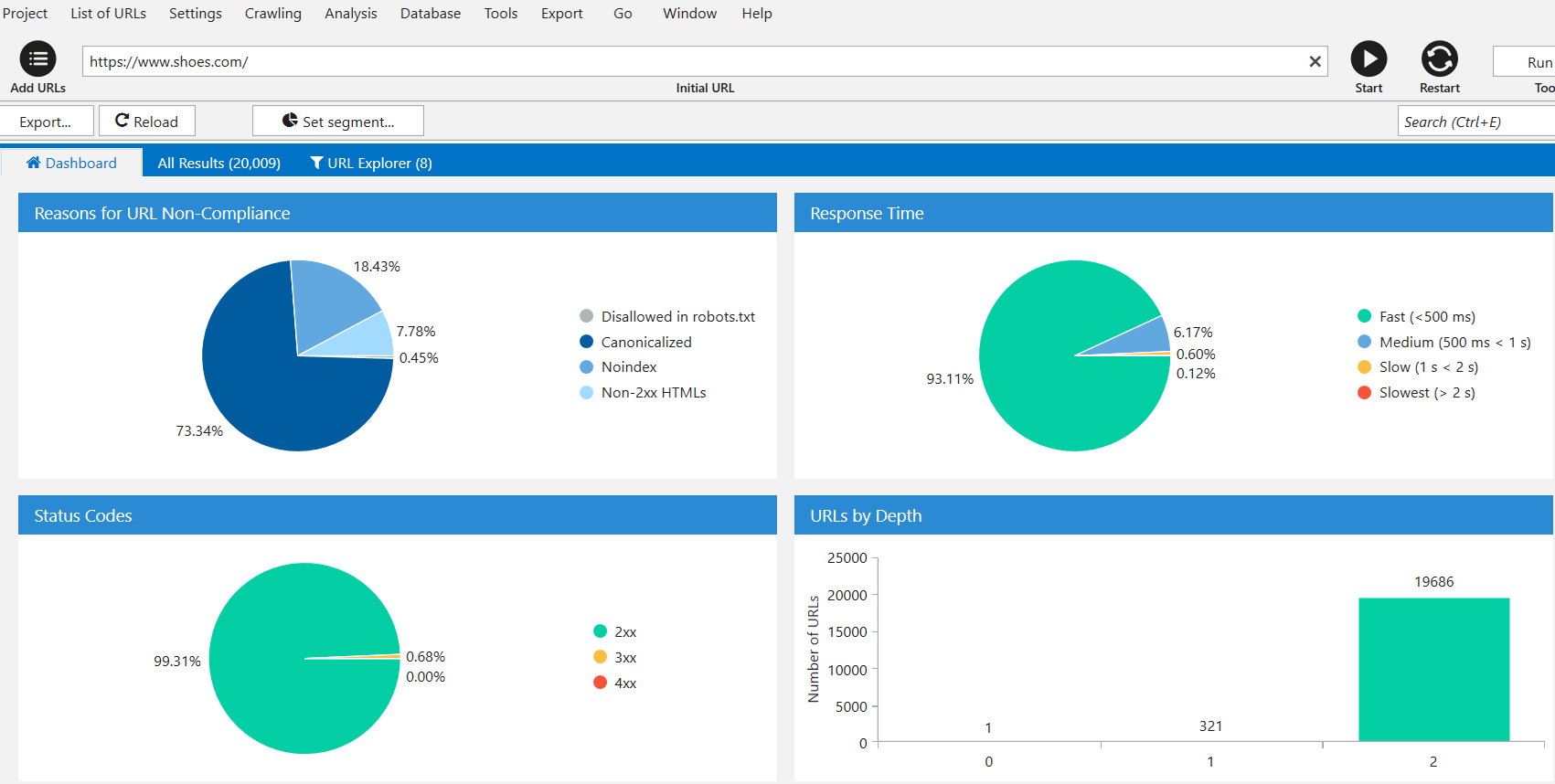 Also, you can check out keywords used throughout website structure in Serpstat.
After the analysis, you can understand your competitor's site structure optimization strategy, potential for expanding your structure and direction it can be developed in.
You can crawl website structure, meta data, website loading speed, and work with other basic features even in the free version of Netpeak Spider crawler that is not limited by the term of use and the number of analyzed URLs.
To get access to free Netpeak Spider, you just need to sign up, download, and launch the program 😉
Sign Up and Download Freemium Version of Netpeak Spider
P.S. Right after signup, you'll also have the opportunity to try all paid functionality and then compare all our plans and pick the most suitable for you.
3.6. Internal Linking
We'll find out:
competitors' internal linking strategies
At this stage of analysis, you should analyze main types of pages – goods cards, landing pages, etc. Pay attention whether the manual linking is used in goods cards and their descriptions, linking from goods cards to filters, additional interlinking for cross-selling, for example, 'Customers also viewed' or 'Featured Products'. Other types of linking can also be used and it can potentially increase the link equity of the promoted pages.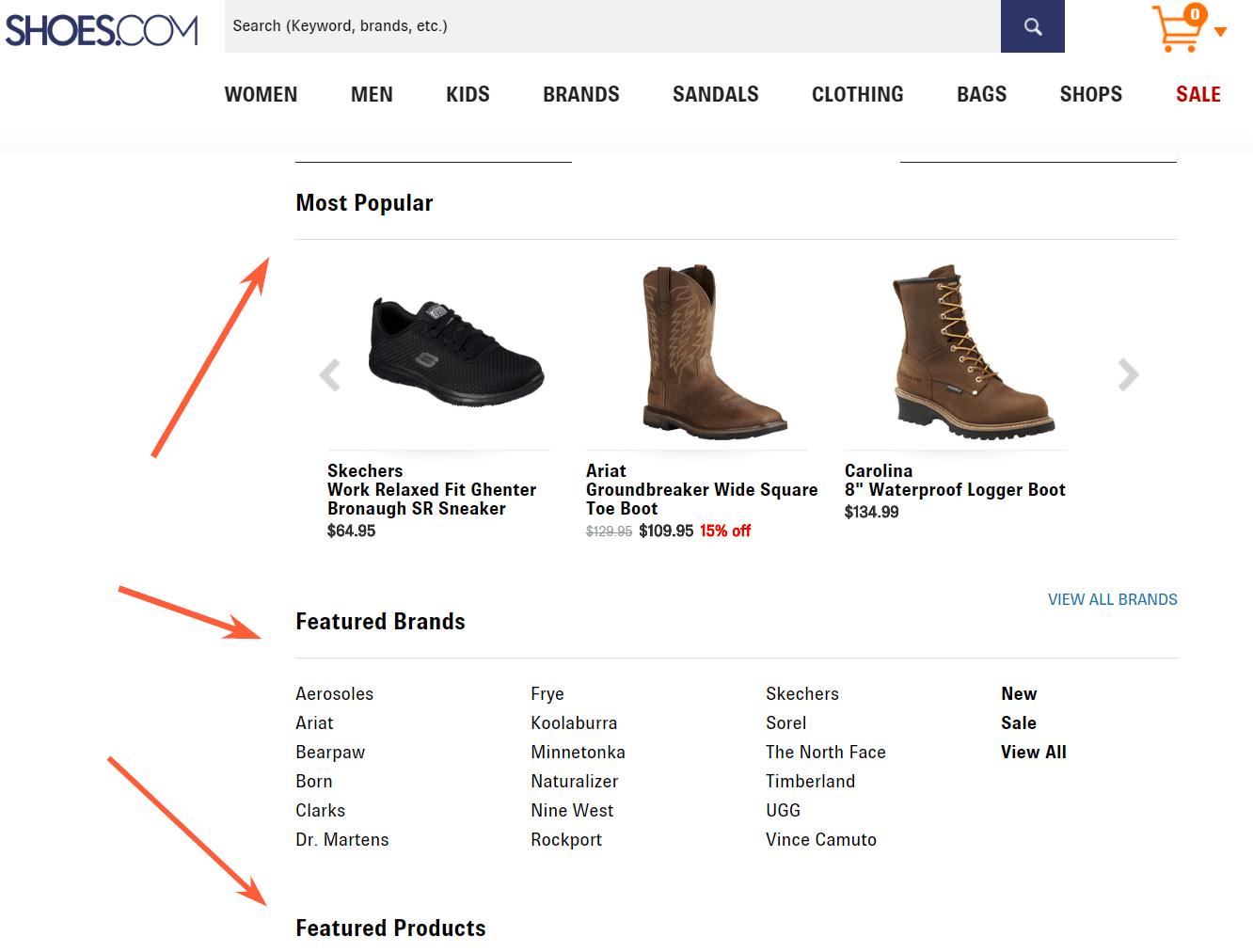 Other types of linking can also potentially increase the link equity of the promoted pages. If you don't want to check it all manually, you can crawl the website using Netpeak Spider and then check out outgoing links from typical pages. Let's say, you want to check out linking from the category 'women shoes'. Double left-click on the number of outgoing links and you'll see a window with all URLs from this category, their types, anchors, alts, rels, and source view.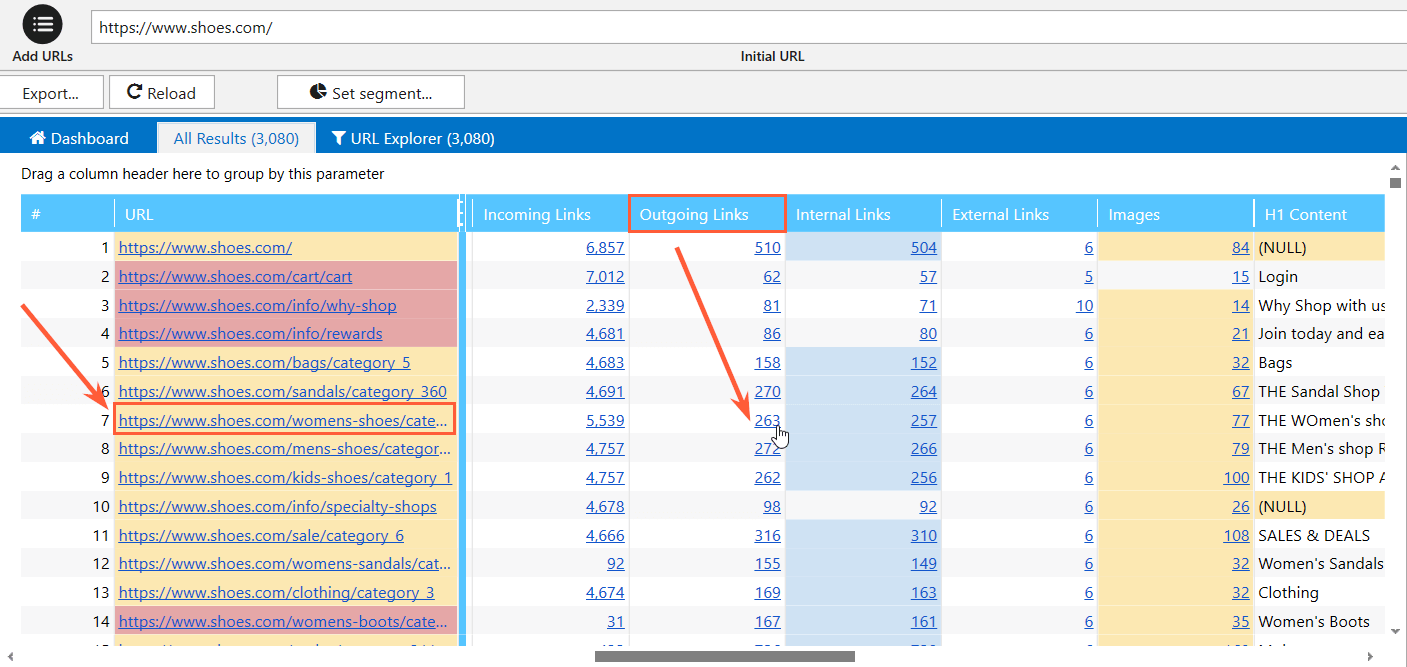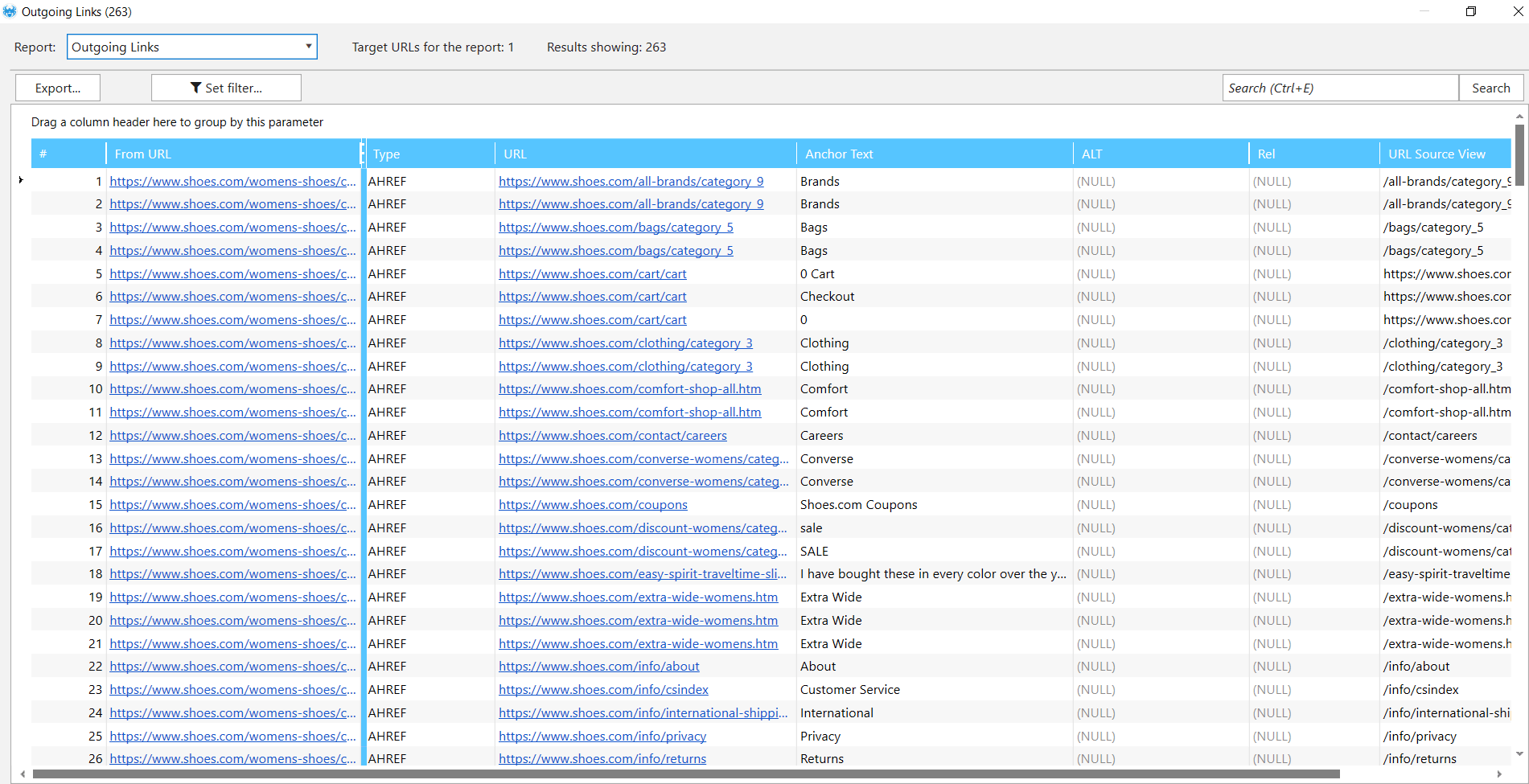 3.7. Content Analysis
And here we come. Content analysis is essential to understand competitors' content strategy.
To do this, you can split website pages in types that are useful for promotion:
home page
category / subcategory
goods cards
blog pages
other page templates depending on the niche
Here we've listed what you should pay attention to while analyzing your well-ranked competitors.
3.7.1. Content Analysis of the Home Page, Categories and Subcategories
How many characters are used in the text.
Whether H1, H2, H3 headers are used.
Whether images are used.
Whether lists are used.
Is the text readable?
What keywords are used. Are there any money keywords and how much per page?
3.7.2. Content Analysis of Flypages
What item characteristics are included in goods descriptions?
How many characters are there in the description (especially, with the epopoeia of firstly long and then short descriptions in Google).
Is there spam content on goods cards?
Where and what content is given (video reviews, goods description and other useful content for the user).
3.7.3. Blog Content Analysis
Frequency of content publishing.
How many articles are already published.
How many characters approximately articles contain.
What post types prevail – only for keywords, useful content or company's news.
What topics on competitors blog are the most popular.
Most of these tasks can be done by Netpeak Spider.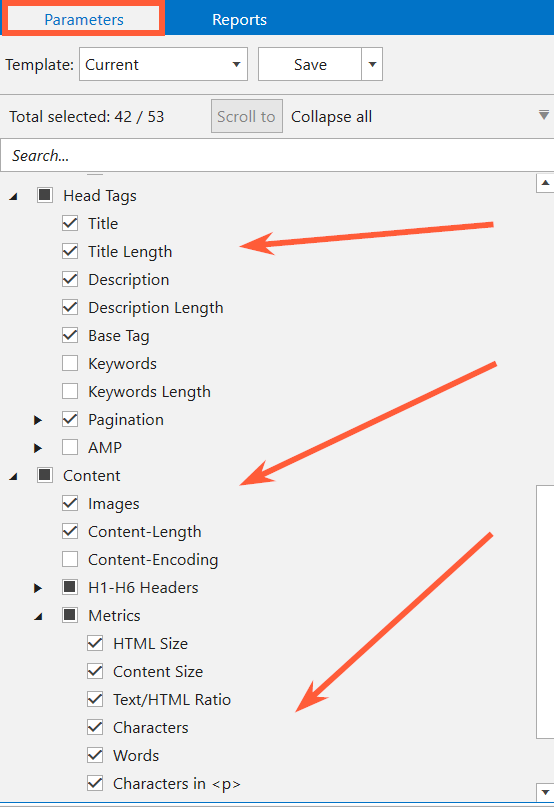 As you can see, you can get titles, descriptions, headers, length of texts on different pages just after crawling with Netpeak Spider. Also, you can check if your competitors have AMP versions of their pages and which ones exactly.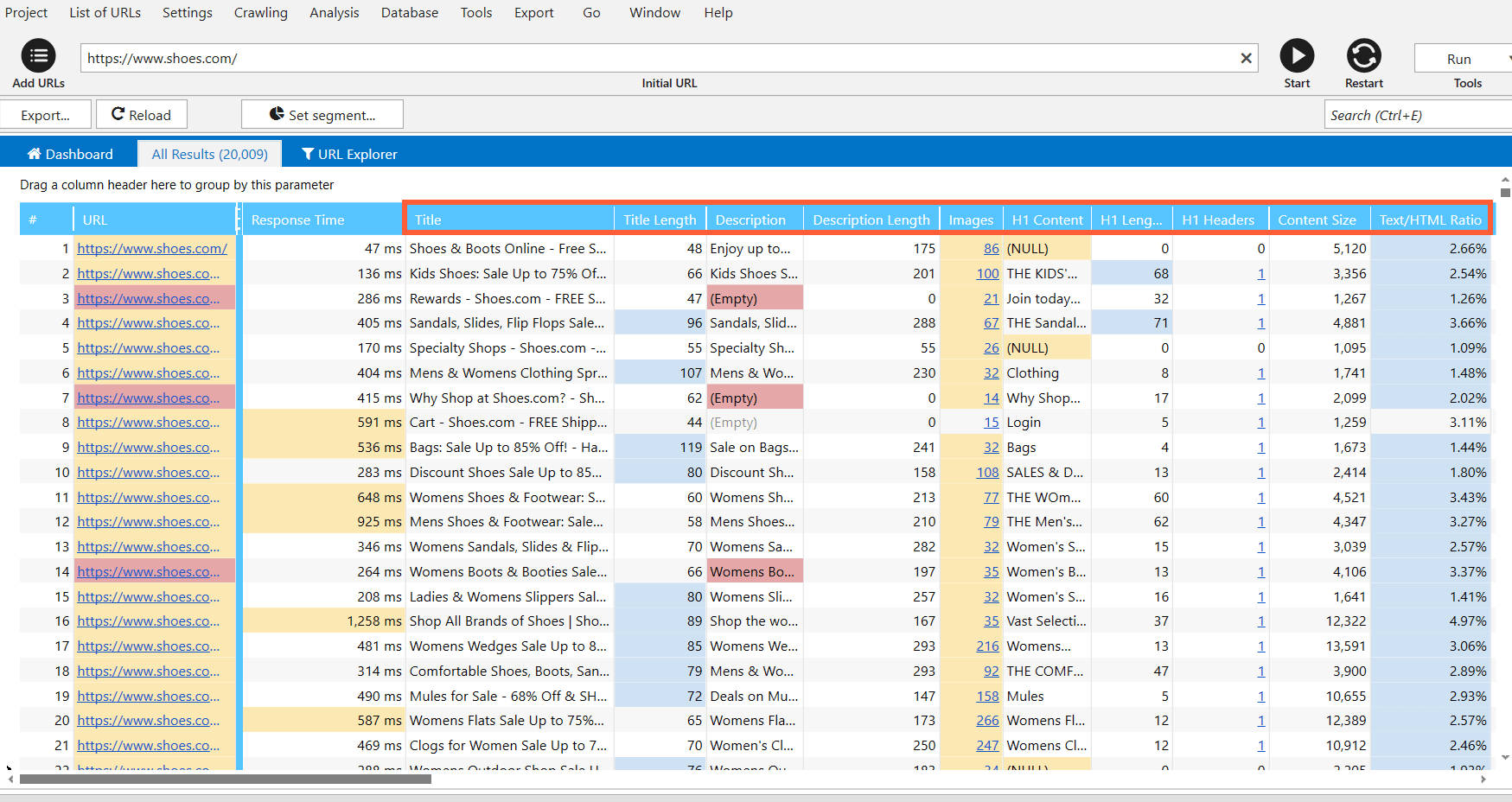 Also, we have recently published a detailed manual on how to analyze competitor's content and automatically find out the hottest topics.
After the analysis, you can draw conclusions about text size and content of the good cards, whether it's worth blogging in your niche and how often you should publish new content.
3.8. Meta Data Analysis
Analysis of Title, Description, H1 headings is performed by splitting the website into the same page types as when analyzing the content strategy:
main page analysis
analysis of categories / subcategories
analysis of goods cards
analysis of blog pages
analysis of other pages
While analyzing you should consider:
Whether there is keywords spamming.
Whether synonyms are used.
Whether there are templates only or manual meta tags are also used.
Whether there is a certain structure for building meta data and what it is exactly.
Whether USP (unique selling proposition) is used in meta tags.
Whether call to action is used in USP.
As a result, you can see if your competitors are using spam techniques and note good practices in the development of meta information. As you can see above, all meta data can be scraped by crawling with Netpeak Spider.
3.9. Multiregionality
You should notice if your competitors have other language or regional versions of the website, as well as individual pages for regional queries.
Regional versions of the website or pages with geotargeting may be the reason for greater coverage of keyword queries.
3.10. Website Load Speed
Don't forget about behavioral factors and bounce rates! Load speed should be analyzed for typical pages as well. For example:
home page
category / subcategory
goods cards
blog pages
other page templates
Both mobile and desktop version should be checked. To check page load speed. You can use Google Page Speed Insights, its analogs (for example, GTMetrix, WebPageTest) or just check it in Netpeak Spider.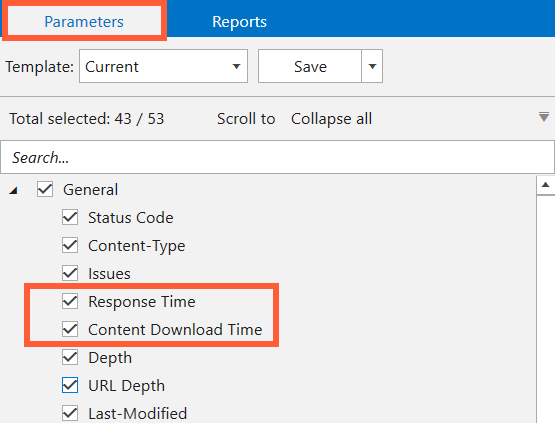 These two parameters – 'Response Time' and 'Content Download Time' – will show you time to first byte and time taken by a website server to return an HTML code of the page.
If you want to check URL using Google PageSpeed ​​Insights, you can easily do it in Netpeak Spider too:
Choose URL you want to check.
Right-click on it.
Click 'Open URL in service'.
Choose 'Google PageSpeed'.
Voila :)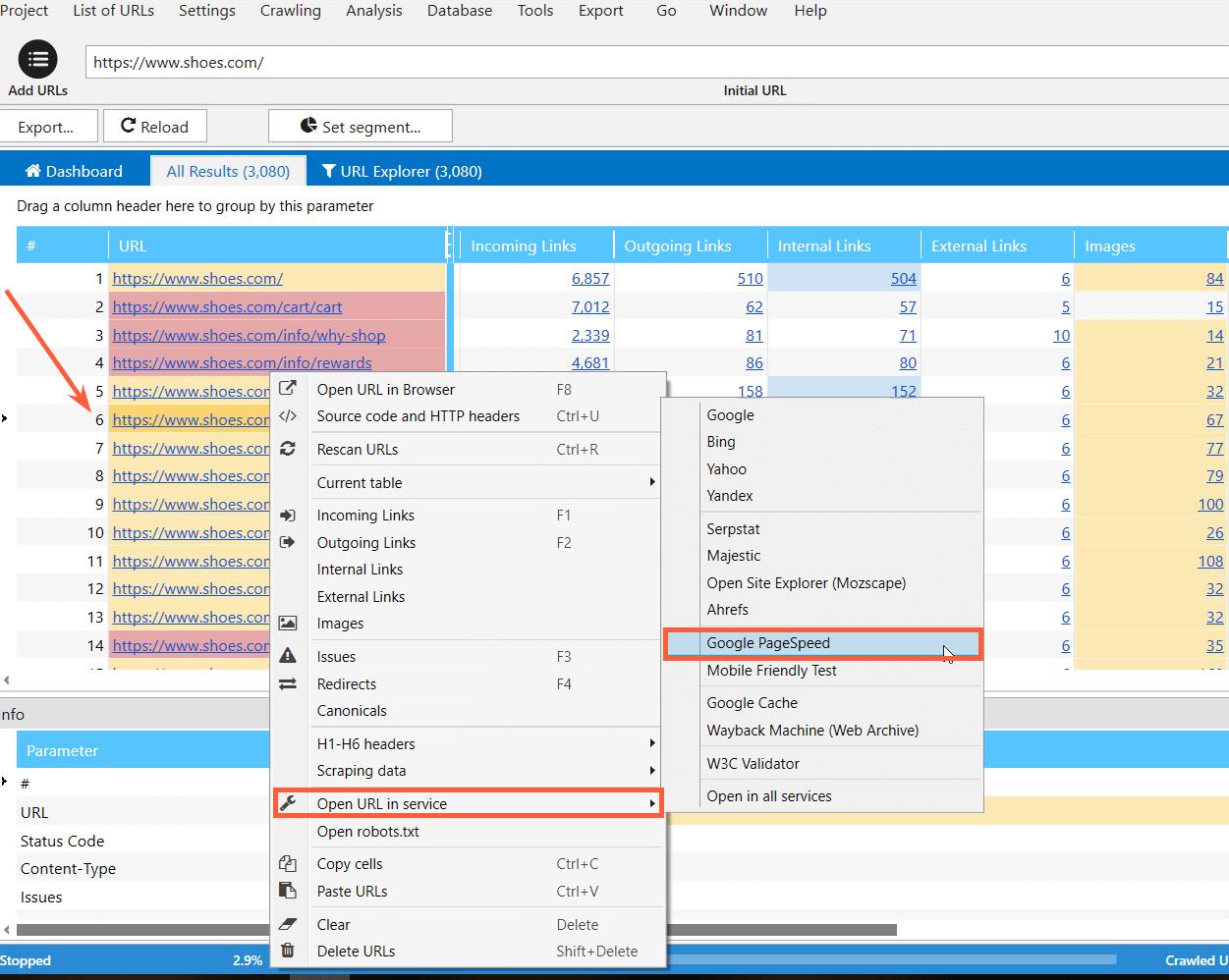 If your website's load speed is very low compared to competitors, one of the priority tasks is to increase it. It can be a defining factor for increasing conversion rate.
3.11. Social Media Activity Analysis
Your competitors social media activity can lead you to new leads and conversions. Subscribers activity and their engagement can show which social network should be included in your strategy, if it is not already. Especially, if this channel is used by your competitors. Also, you can find relevant bloggers with a big audience and try to make them your ambassadors or promote your products via their channels. It can be Facebook, Instagram, YouTube, or even Twitter.
Here is how to check competitors activity on Facebook, Twitter, Linkedin and Pinterest using Netpeak Checker.
Step #1. Choose social network you want to analyze, and what you want to see.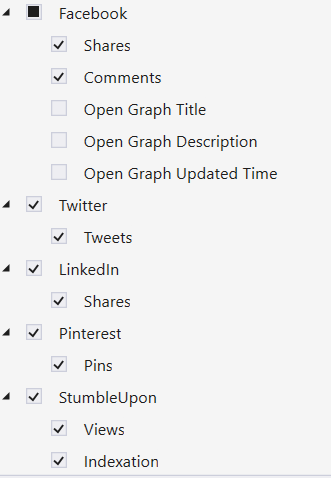 Step #2. Add list of URLs with your competitors and start scraping.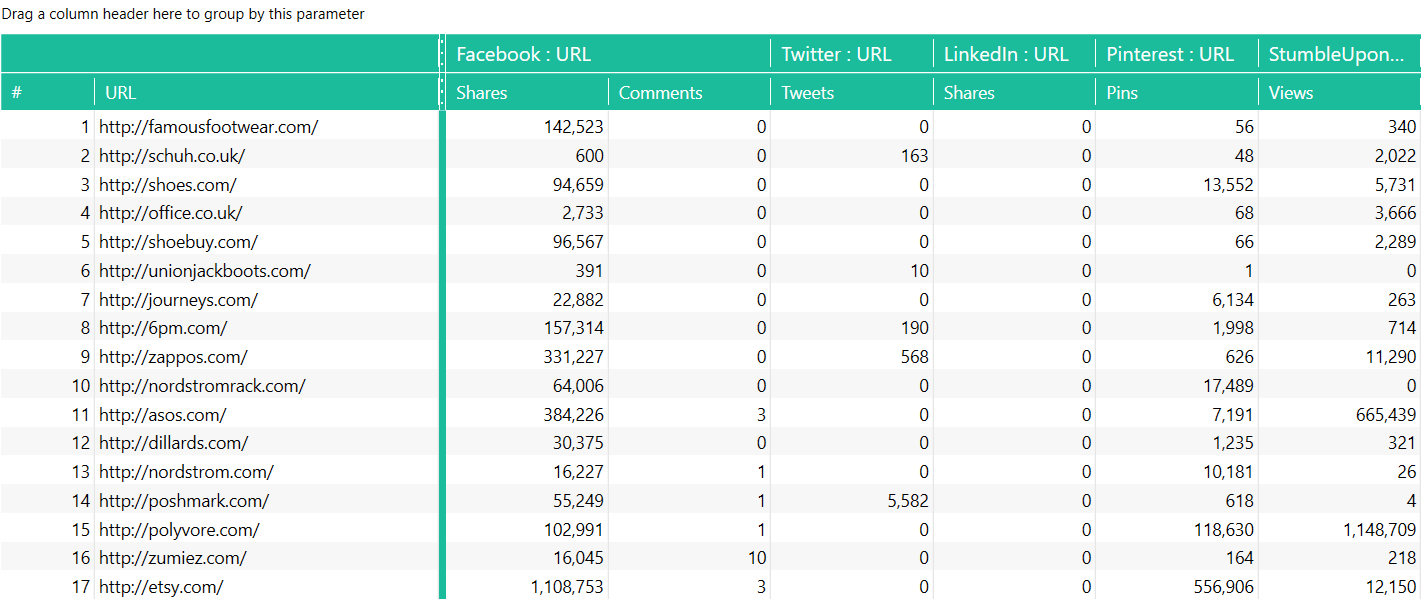 After scanning is finished, you can see that Facebook and Pinterest are very popular social networks among dr.martens competitors. So let's make conclusions, check out competitors' most shareable content and start with being present there, if you haven't yet.
3.12. Business Research
People can choose your competitors because of any reason below and you should take most of them into account:
Cheaper price
Greater choice of products
More of additional bonuses (discounts, promotions, free delivery, favorable terms of lending and installments, etc.)
Competitor has more reviews (on the website, in Google My Business, Yelp, etc.) and they are fresh
Competitor has online customer support
As a result, you can generate ideas for your marketing strategy. For example, providing sales and other activities to increase your engagement with users, taking part in events as a partner for brand promotion.
At this stage of analysis you'll understand what steps you need to take. For example, if you have a low market penetration, the entire range of this niche must be in your stock. Otherwise, it would be more profitable for customer to make an order in one place on the competitor's website, rather than look for several goods in different stores.
You can also collect ideas for increasing loyalty. For example, if competitors have information about the team, mission, 'About Us' page that is creatively done and so on, it'll be nice to think about implementing them on your website too.
4. Summary
While performing competitor analysis you should pay attention to both general and specific characteristics important for promotion. Depending on the type of business, they can be removed or added.
Creating a spreadsheet with the main points can help you organize the data. Also, you can write summary of the analysis in Google Docs explaining current situation and what steps you need to take to overtake competitors. Those points where you are a leader are also worth noticing – you need to know your strengths.
Here are what you need to analyze:
domain age
traffic amount
semantic core
website structure
content
meta-information
backlinks
internal linking
multiregionality
download speed
social media activity
business features
Don't hesitate to leave comments below. What else do you analyze about your competitors?