How to Do Keyword Research: A Go-To Guide for Beginners
How to

After you caught the drift of how Google serves search results to the users, you probably understand now why keywords are the core of any SEO strategy. To attract maximum traffic to the website, you should know how to research and analyze keywords correctly. In this blog post, you'll learn how to research keywords from the get-go, what your competitors can teach you about, and what comes afterwards.
1. What Is a Keyword in SEO?

2. Keyword Types

3. What Is Keyword Research?

4. Researching Keywords for SEO from the Get-Go

5. What to Do Next?

To Recap
Feel like bogging down in a billow of SEO topics? Sign up to receive our weekly newsletter with nonperishable cases and nifty how-to's.
1. What Is a Keyword in SEO?
In SEO keywords are the words and phrases that help users to find pages with necessary information via search engines (for instance, Google). SEOs pull together a maximum number of queries that relate to the niche to form a semantic core that makes the foundation of the site structure and the content itself.
Keywords help search engines to understand if the webpages are relevant to the users' search intent. When your target keywords are relevant to what people are searching for, you have better chances to emerge on the first positions.
Search engine algorithms are advanced to calculate whether a website visitor can get what will fully satisfy their request. There are a lot of different ranking factors. However, the presence of keywords in the main body of the text, titles, and page's meta tags is one of the crucial components for a successful promotion.
Though keywords are essential for a better ranking of webpages, it doesn't mean that you should spam with keywords. If so, search engines can filter some pages or the entire website. The keywords must naturally fit into the text and correspond to its subject. You can use primary keywords or their alternative variations and synonyms.
2. Keyword Types
Keyword types vary according to the search volume, degree of popularity, competitiveness, the context they are used in, and geographical location. According to the search volume, they fall into the following groups:
High-frequency keywords are often used by searchers. As a rule, they consist of 1-3 words, and search volume starts at 1000 impressions per month. However, everything depends solely on the niche. For an online store selling laptops, a search query 'buy laptop dell' that makes 1000 impressions a month is naught.
High-frequency queries for an online library: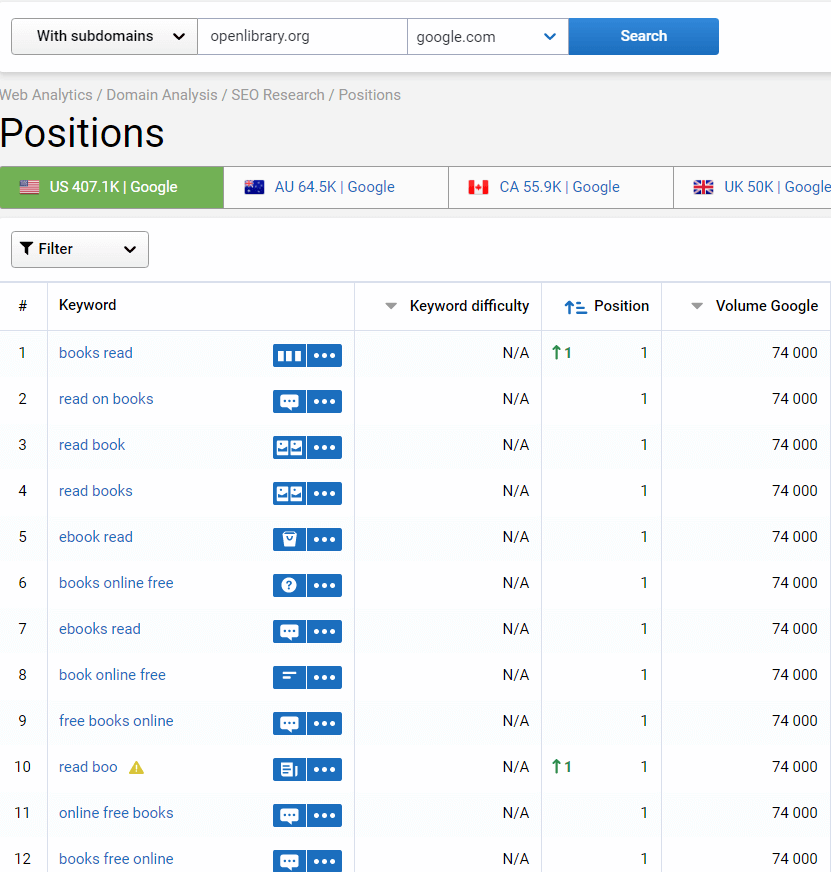 High-frequency queries for an online milling machines store: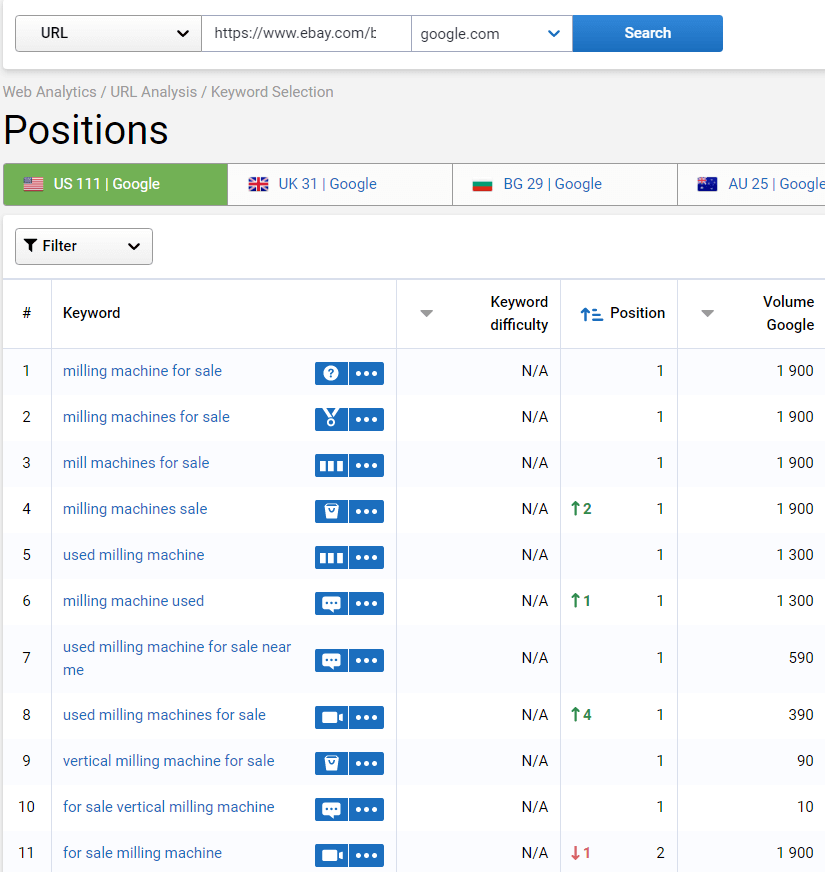 To determine high-frequency keywords for your website, find a generic keyword that characterizes your business specifics. Then beef it up with high-frequency keywords to promote them on the home page.
Mid-frequency queries usually consist of several words. They are used regularly, but not as often as high-frequency keywords – less than 1000 times a month. Such keywords may completely coincide with the name of product categories and site sections.
Use high-frequency commercial keywords for the promotion on the main page and mid-frequency keywords for the pages with categories and subcategories. Apply them throughout the text, as well as in headers and meta-tags.
Long-tail keywords. Such queries constitute less than 100 impressions a month. As a rule, these keywords are rather long – more than 3 words. When the pages are optimized for various low-frequency keywords, the site will receive sustainable amounts of traffic even if it is not optimized with the high-frequency and mid-frequency keywords.
Despite their low search volume, these queries shouldn't be neglected. Low search volume also means little competition and higher engagement. Among those who use long-tail keywords, some potential customers know well what information, products, or services they need. If the website offers what customers need, they are more likely to convert.
Use high-frequency keywords to promote a new site or separate site pages inside the categories and subcategories. Also, use them in anchor text for internal linking.
Note that keeping centered on a sweet spot is the best though the most challenging strategy. Don't go overboard with high-frequency keywords, but don't use only long-tail keywords as your promotion holy grail.
3. What Is Keyword Research?
Keyword research is the SEO pivot on which the website ranking revolves. Keyword research involves identifying the list of primary keywords that your target audience types into the search bar, expanding it, and sifting through the 'clutter' keywords, which are irrelevant for your business.
It's important to consider both SEO and marketer approaches. Not only the keywords matter, but also the perspective and flexibility. Even if your online bookstore doesn't sell G. Martin's books, you still can write a post providing an expert review on his books, thus attracting the audience.
Keyword research reiterates at different stages of website lifespan:
At the moment of staging – the keywords are collected to identify the future structure of the website.
When the website is ramping up its might, and new pages, information sections, and blogs appear. At this moment, the keywords are divided into semantic clusters that form the basis for these blocks.
When the website is mature, and it already ranks for some keywords. This stage involves Google Analytics and Google Search Console (or other analytics tools) to define what phrases the existing audience uses, whether they are relevant to what your business promotes, or there are missing keywords that can become a kicker in the future.
The purpose of keyword research is:
to define your audience's needs.
to see what words people use to find the information on your website.
to determine what pages best answer a specific search query or group of questions.
Since this blog post is aimed mostly at beginners, we'll develop a scenario when you have a newly-minted website, you don't know your audience, competitors, thus you should start from brainstorming. However, all of these steps will be pertinent at any website development stage.
4. Researching Keywords for SEO from the Get-Go
To wrap your head around how the keyword research looks like, we broke this process into nine cohesive steps.
Before starting, make sure you have the tools for keyword research. Free Google tools that may suit this purpose: Keyword Planner and Google Search Console (this one only when you have a website with stats).
Most of the powerful tools that provide in-depth analysis and boatloads of keyword ideas aren't free. Ahrefs Keywords Explorer, Serpstat, KeywordTool.io, Moz Keyword Explorer, Kparser. There are many of them on the market. I'm going to use Serpstat and Netpeak Checker – the later one is not a keyword research tool, but it's great for bulk search engine scraping.
4.1. Scrutinize Your Business
Before taking a plunge into keyword research, it's worth coming up with broad-spectrum questions, like:
Who is my audience?
What is my brand / website about?
What information am I going to serve up?
What makes me better than my competitors in the same niche?
The list of questions can be longer, depending on how meticulous you are. For starters, try to focus on the sore points of your audience that you plan to cure with your product.
If the niche you join is already developed, you can research existing forums and blogs to see what people need, ask them in a survey, suggest the product to your friends, etc. At this stage, don't focus too much on the competitors. The idea is to get a rough view of the audience's needs and, most importantly, what language they use to speak about their problem and needs.
4.2. Competitor-Based Research
Keyword research without competitor analysis is a lame duck. If you're at the stage when you don't know who your competitors are, use Google at first.
Type a word that describes your business or the name of the product and scroll down the results. That's it.
To get more details on the most popular pages, use Serpstat. Just enter a term that you use to describe your business and go to the 'Top Pages' tab.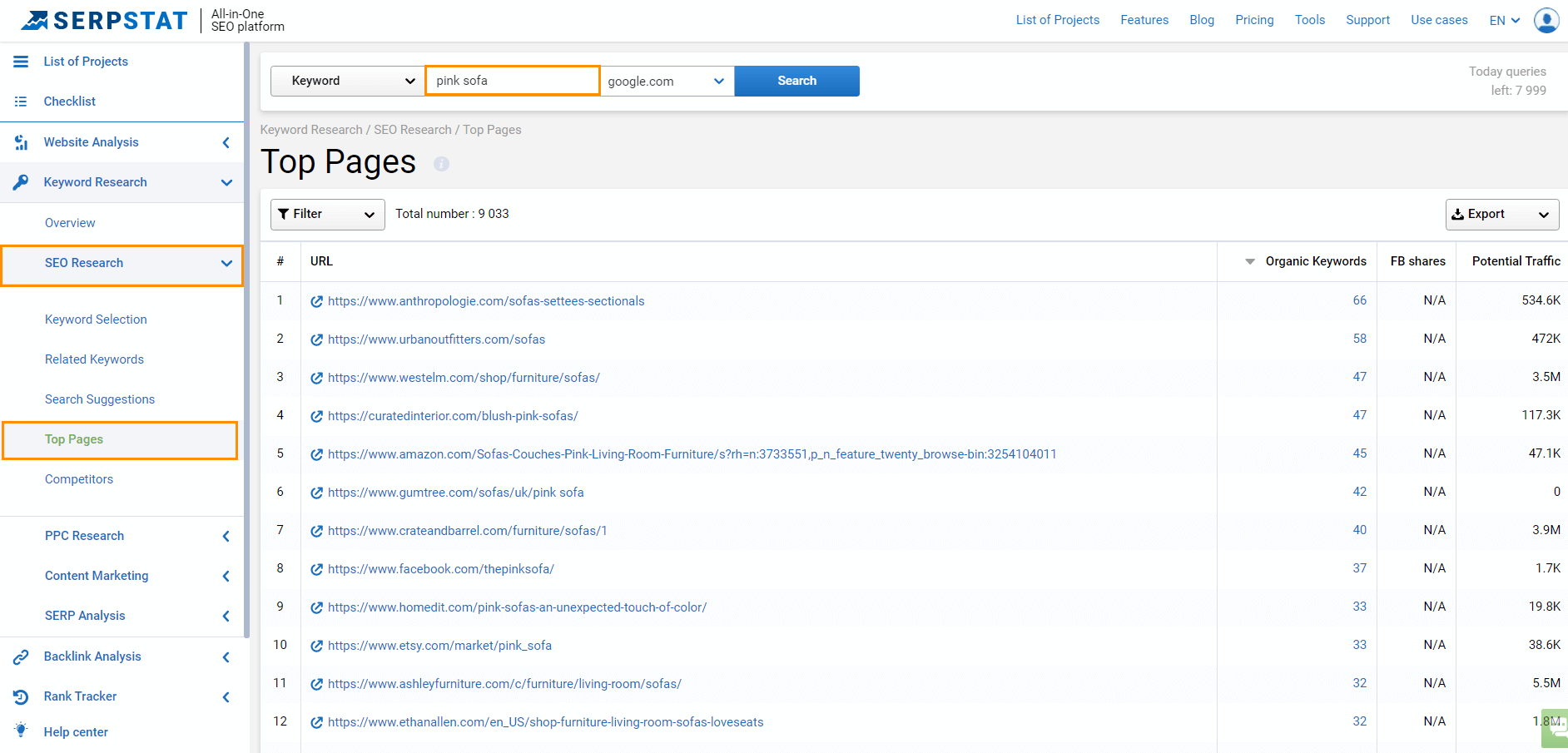 Or use the 'SE Scraper' feature in Netpeak Checker, it will save you tons of time.
You just open the 'SE Scraper' tab and type all possible queries.
Go to the 'Settings' tab and choose the search engine and the number of results you want to see.
If you need results for a restricted area, you can specify the geolocation and the language.
Start scraping.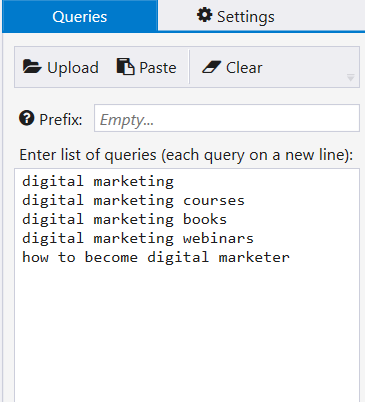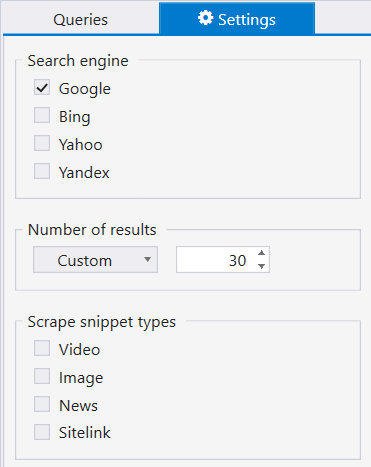 SERP scraping is a powerful feature that is available on the Netpeak Checker Pro plan. Eager to have access to this and other PROfessional features such as estimation of website traffic and export to Google Drive / Sheets? Hit the button to purchase the Pro plan, and get your inspiring insights!
Now let's see what your competitors are doing. Competitor's analysis is a great way to get the gist of the marketing landscape. So here what you can get:
the keywords your competitors are ranking for to decide whether it's pertinent and achievable to rank for the same keywords
meaningful keywords they missing in their SEO strategy while they can be seen as a bucket of opportunities for you
To see what keywords your competitors rank for, you can use Serpstat.
Enter the website URL.
Go to the 'SEO Research' → 'Keywords' tab, and you'll see a table with the list of keywords.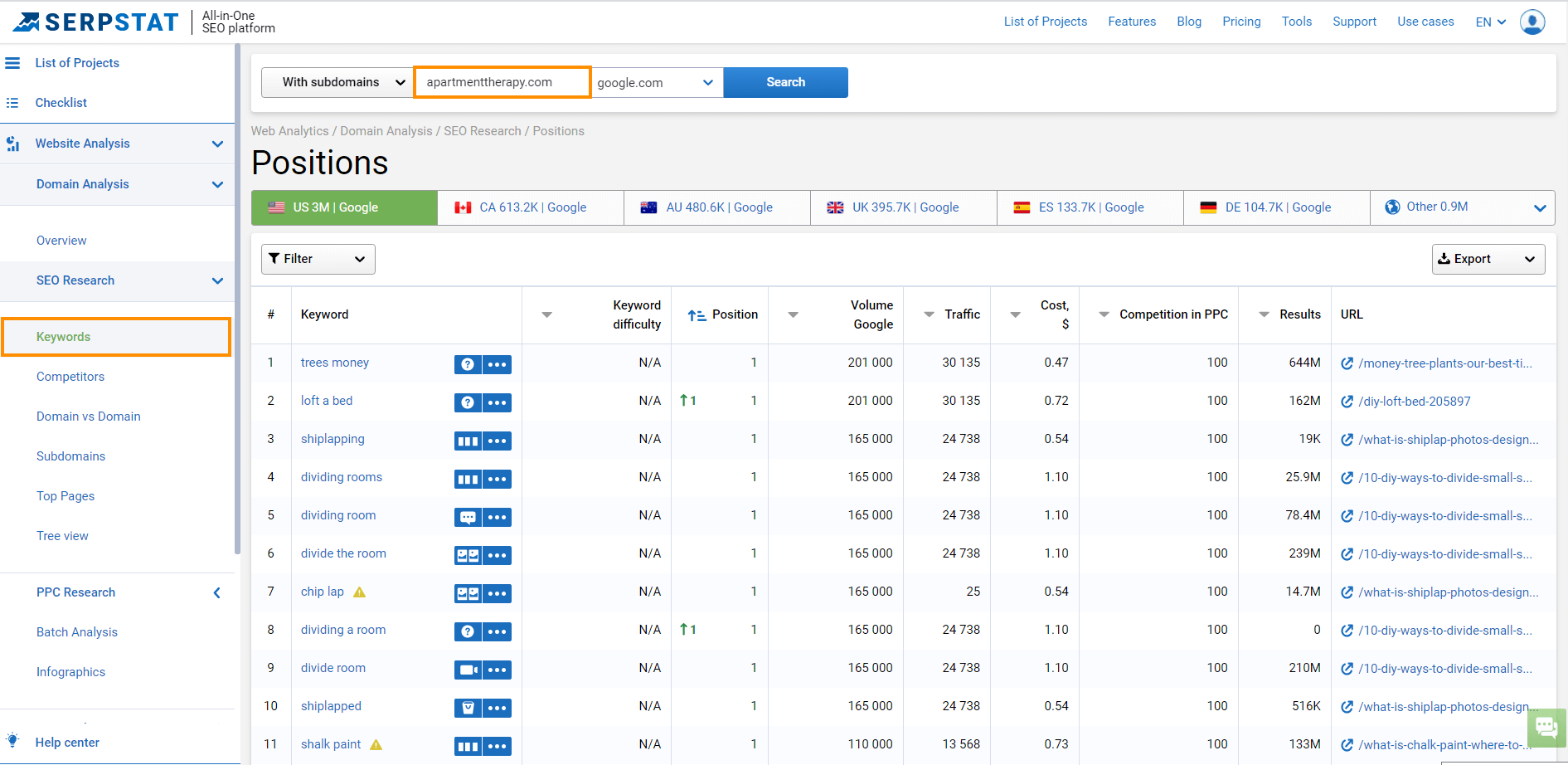 You can use these keywords to refine your own list.
4.2. Understand the Search Intent Behind the Words
Search intent is the reason why a person searches for this or that product. During the last years, Google developed its algorithms to better understand human language, the intent behind the search, and the context that surrounds a keyword. Check out the latest research on the BERT update.
With search intent in mind, you're more likely to get rid of the 'clutter' keywords that don't fit in your business, thus heightening its relevance.
So here are the major search types:
Informational – keywords that are not oriented to commerce but provide some information. They are used for promotion of either informational resources or commercial websites' blogs. Here are the examples: what is the name of our solar system

how to brew coffee

Transactional – describes more urgent and competitive queries from potential buyers. They are added to the pages with categories, goods, and services. Example: buy winter down jacket

harry potter and the prisoner of azkaban download an audiobook

Navigational – when a person wants to visit a specific website. They can be used to promote the website's homepage. official site Adidas

movie search

Commercial – when a user wants to do a research before buying a product. Adidas vs Nike

best washing powders

Generic is too vague to indicate users' intentions. For example, the query 'book' can mean both the desire to read about the word etymology, to get the list of top 10 best books, or buy a book in the online store. These queries are difficult to promote because of extremely high competition. Those who use this keyword are not likely to become real buyers.
Also, there are query types based on geographical location:
Location-dependent is the typeof query specified by location. Example: water delivery New York, rent a hostel Berlin
Location-independent arequeries that are not tied to the region. Example: watch a movie online, order text translation.
3.5. Define 'Seed' Keywords First
For starters, you need to make up with primary keywords (sometimes they're called 'fat head' keywords'). Primary keywords are general, high-frequency search terms related to your business and products. Let's take a look at the keyword anatomy to better understand the role of primary keywords.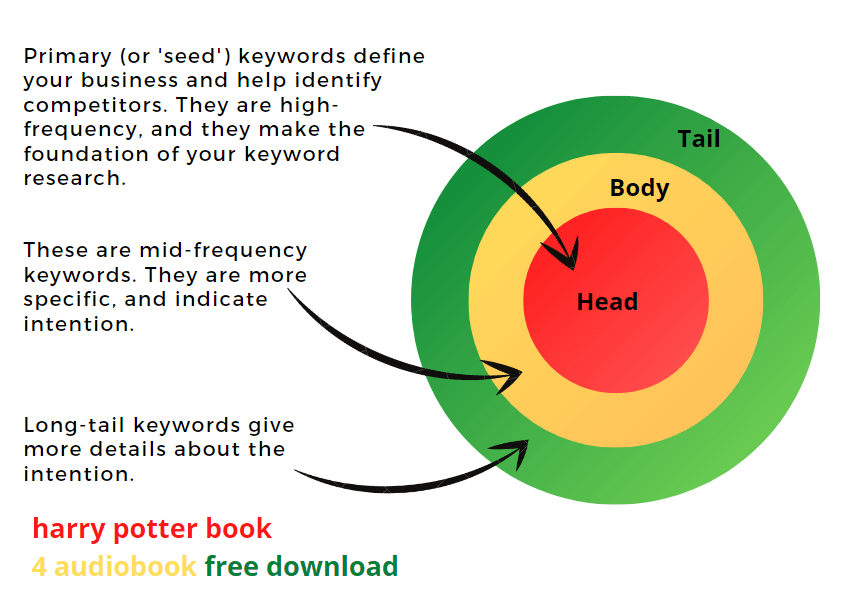 You should start your keyword research from the inside out.
You can brainstorm these queries, use Google suggestions, or if you've already snooped around some forums and blogs, you can use these query ideas.
Whatever approach you may take, this list should be concise enough to become the foundation for future keyword research.
Google suggestions:

4.6. Refine the List of Primary Keywords
Now it's time to beef up that list of the primary keywords. At this stage, you have to find the mid-frequency and long-tail keywords since they'll tell more about the user's intention and add up to the conversion rate.
When a searcher is specific about their needs, and the search query shows intention, there are more chances your product is a relevant solution to the searchers' problems. Let say a query 'dress' isn't descriptive, while 'buy a sleeveless red dress' is highly intentional. So if you have such a product in stock, you can soothe a customer's desire straight away.
Now SEO tools will come in handy. If you want to create content about self-help books, just enter this term in the tool.
In Serpstat (or any other tool of your liking), add each term that you singled out at the previous stage of research. Here you go: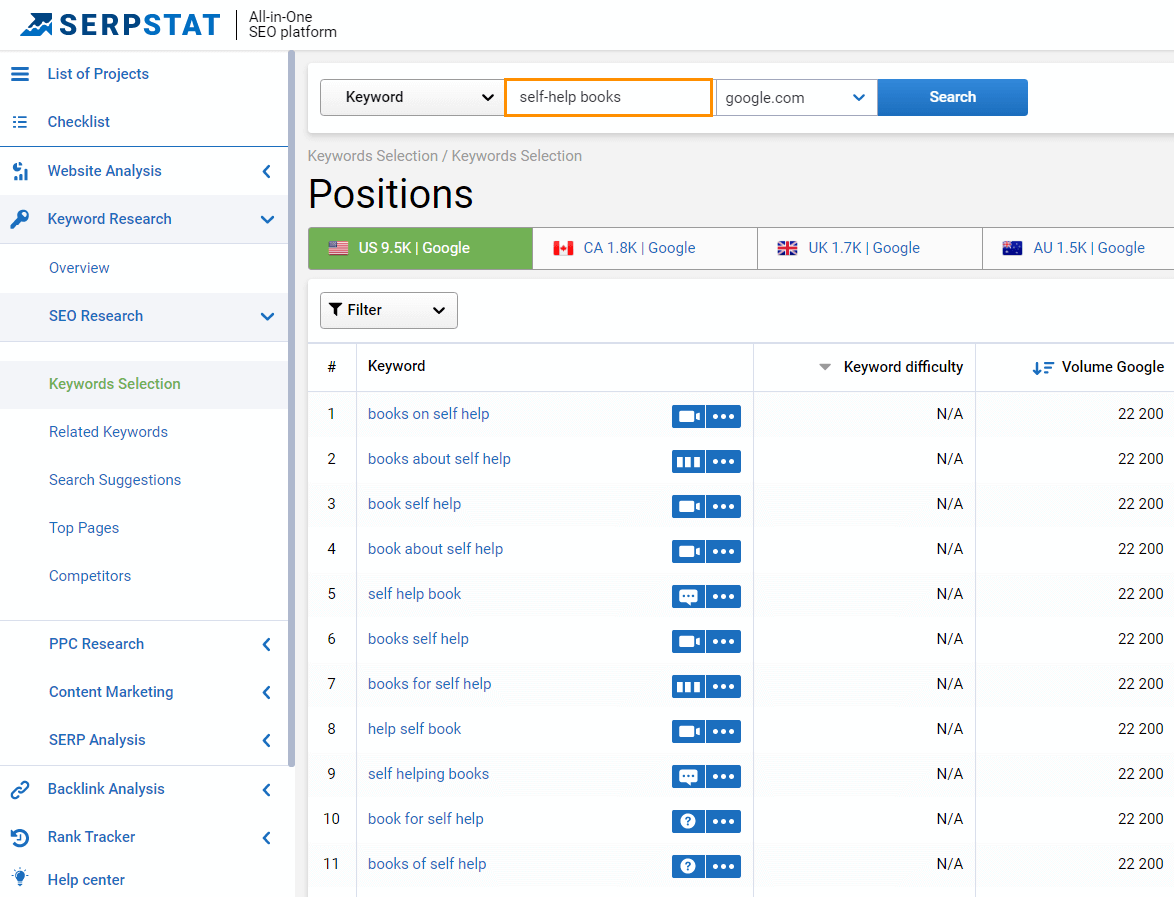 Pay attention to the metrics: volume Google (average keyword search volume per month) and keyword difficulty (estimated level of competition).
At that moment, export the results into the .CSV file and filter irrelevant terms.
4.7. Declutter Irrelevant Keywords
It's the most tedious stage of keyword research that is hardly automated. Usually, you have to scan through the list (the lists can be giant, like three thousand keywords and more) and manually purge it. The 'negative' keywords that you should delete:
Competitors' brand, product, and service names
Duplicate words
Location-binding words
Words with typos
Modifiers like 'buy cheap,' 'buy expensive,' watch online, download free, etc.
The same steps should be reiterated for each seed keyword that you defined at the early stages.
4.9. Group Keywords into Clusters
Search queries that your target audience use should be grouped into topically relevant clusters. For a primary keyword 'mobile seo' forms a cluster, it'll include other search phrases related to this keyword:

With these clusters, it's easier to decide what type of content to create that matches search intent:
a buying guide or product review for commercial intent: best adidas sneakers 2020
a product page with a clear call to action to buy for transactional intent: white adidas sneakers buy
any article or piece of informative content for informational intent: what fake adidas sneakers look like
a home page for navigational intent: adidas
Besides relevance, there are other metrics that are considered when grouping keywords into clusters:
search volume – extremely low-value opportunities should be deleted.
difficulty of the keyword – the higher it is, the harder it'll be for your website to rank.
Don't rely exclusively on these metrics, take them as guidelines for your content strategy, since you're most likely to rank for a wider variety of keywords in future.
5. What to Do Next?
Now when you gathered the keywords, filter unnecessary ones and grouped them in clusters, you have a killing SEO machine 😆
Use these keywords for on-page optimization and always include them in the title, description, and H1 heading. Search engines rely on the keywords in the title tag and meta description to identify what a page is about, so it's essential to mention keywords early in the title.
Use keyword clusters for content planning. Whenever you struggle with the question: 'What should I write about?', do keyword research, and get ideas for future articles.
Use keyword clusters for cleating pillar pages. To create a pillar page, you can bring together or cluster topic areas into a pillar page. For example, if you have a lot of topics about SEO, you can bring together your articles about on-page SEO, technical SEO, and off-page SEO into one SEO pillar page. When you have a pillar page, you can connect other related blog posts to it via links.
The idea is that pillar content covers broader keywords, while cluster content 'supports' this pillar content, diving into more specific subtopics and targeting long-tail keywords.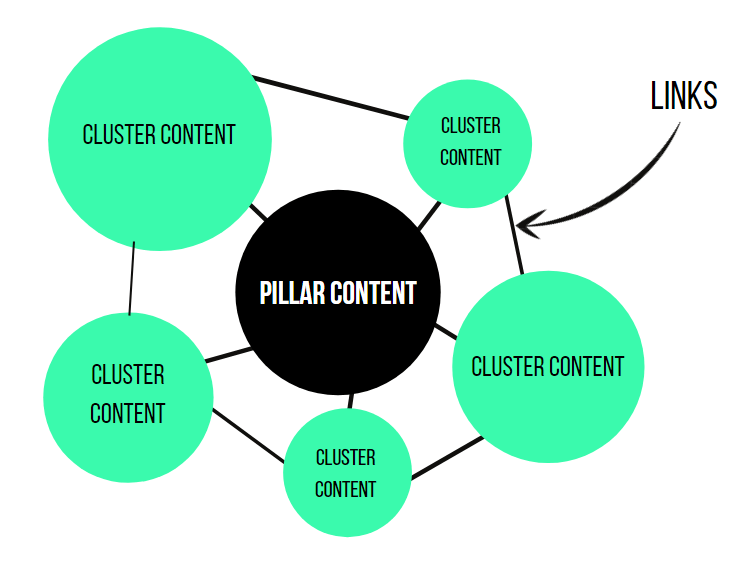 To Recap
Correctly managed keyword research is essential for traffic gain and the successful promotion of your site in search results. To pick the ultimate keywords for the site, you may use various online services. Having collected the words, distribute them in site sections minding their frequency and users' intents.
We'd be happy if you share the methods you use to collect and analyze keywords in comments 👇