How to Find Broken Links with Netpeak Spider
Use Cases

What is dead may never die but not in SEO. If your website is falling down in search results and users are leaving the website, it's time to find and get rid of broken links. Most likely they keep worsening ranking of your website from day to day. Check out how to find broken links using Netpeak Spider and clear your website from them.
You can detect broken links and work with other basic features in the free version of Netpeak Spider crawler that is not limited by the term of use and the number of analyzed URLs.
To get access to free Netpeak Spider, you just need to sign up, download, and launch the program 😉
Sign Up and Download Freemium Version of Netpeak Spider
P.S. Right after signup, you'll also have the opportunity to try all paid functionality and then compare all our plans and pick the most suitable for you.
1. What Is a Broken Link?
A broken link is a link that leads to the nonexistent web page, file or image. In such cases, server should be configured to return 404 or 410 response codes.
2. How Do Broken Links Affect SEO?
Broken links on your website negatively affect the ranking. Their appearance doesn't make your website attractive to crawlers (search robots).
Moreover, broken links also affect behavioral factor. Users feel negative emotions when they can't find the information they came for and therefore leave your website. You know this feeling, right? Each website visitor should be persuaded to make a conversion, whatever it may be: purchase of goods, request for services, sharing your blog posts, etc. When losing users, you lose potential conversion. That's why you need to check regularly if there are any broken links on your website.
3. How Do Broken Links Appear?
No matter how perfect your website is, it is still not immune to sudden appearance of broken links. It almost always occurs because of a human factor. Every day thousands of web pages are created and deleted, and if you don't check your external and internal links, chances of overlooking on-page issues are extremely increasing. Let's talk about main causes of broken links appearance:
Web development and redesign. Such processes as renaming links, as well as web developing or creating new website sections can generate broken links. A good webmaster always knows that mistakes are inevitable. For example, it is common to make a mistake with www or / at the end of the URL.
Spelling mistakes. Spelling mistakes in URL lead users to 404 error message.
Deleting old pages. Let's find out more non-trivial details about this common process:

If the page is removed permanently, and there is no new page for this content, you have to remove all links leading to this page and set 410 Gone response code. After that, search robots will understand that there is no need to return here, on the contrary to 404 response code (it works for temporary page removal).
If you transfer content from removed page to another, you should set 301 redirects to the new one and change all incoming links to links leading to the new page. This will help preserve link juice. For example, if you create a new blog on your website and want to transfer current articles to different pages, it will be appropriate to set 301 redirects.
4. How to Find Broken Links?
There are several common ways to detect broken links on the website:
If your website is small, you can check all pages manually by clicking on every link. However, if your website has more than a thousand pages, it will not be easy and the risk of missing a broken link is too big.
Use search operators. Write site: in the Google search box to check the website, and then click on each link in search results.
Use tools to search for broken links. We'll show you how to accomplish this task with Netpeak Spider.
How to Find Broken Links Using Netpeak Spider
Enter URL of your website in a search box, choose crawling mode 'Entire Website' and click on 'Start' button.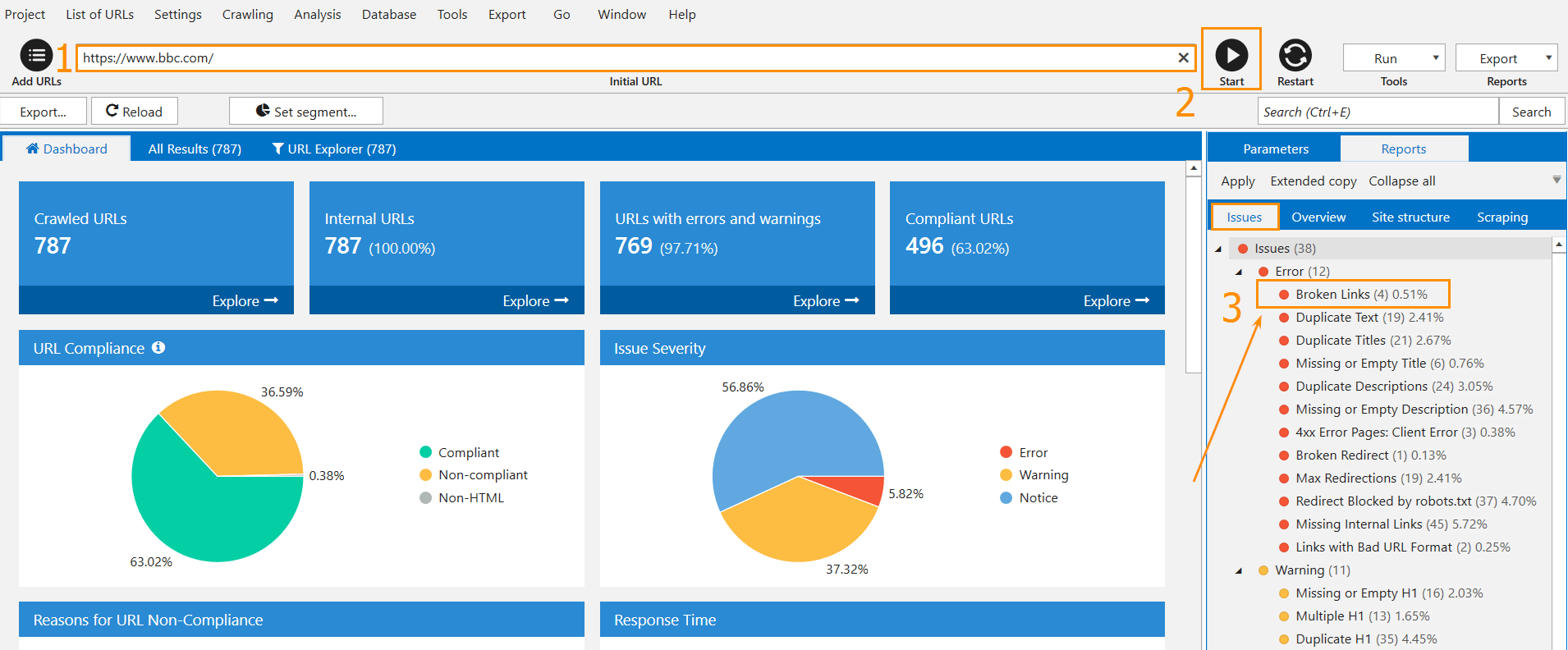 Select '4x Error Pages: Client Error' section in the issue panel when Netpeak Spider completes crawling the website. You will see a list of links that return the 404 code.

In such way, you will find all broken links which you should fix to make user experience much better and get rid of pages with 404 response code.

5. How to Fix Broken Links?
If your website is being redesigned, set it a temporary 302 redirect to the main or alternative page with appropriate content. Do not forget to remove this redirect when redesign is completed.
Check links for spelling mistakes.
If the page has been permanently deleted, set 301 redirect to the main or a new page and remove all links which lead to the nonexistent one.
Design of the Page with 404 Response Code
Blank page, lack of links and a standard error message will only make user angry. But creative approach will distract visitors from the fact that they didn't find needed info, and make them stay on the website. So don't forget to put on 404 error page a link to the main one and mention your contacts for further conversion. For example, look at the page with 404 response code at southpark.cc.com.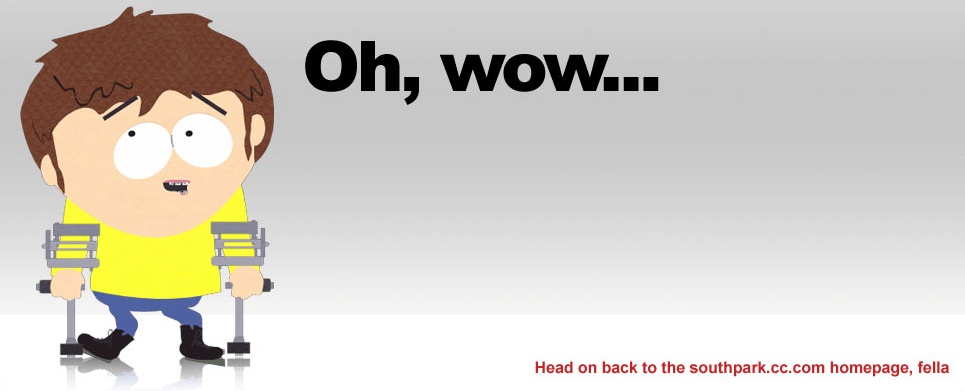 6. In a Nutshell
Broken links should be regularly searched for and fixed because they can harm the SEO of your website.
Causes of broken links: web development or website redesign, spelling mistakes in URL, deleting old pages.
You can find broken links either manually with the help of search operators or with special programs (for example, Netpeak Spider).
Use temporary or permanent redirects to get rid of broken links.
Don't forget about the correct design of the page with 404 response code – it can keep your visitors on website and lead them to the appropriate information.
So remember about regular checking and keep your websites perfect ;)
P. S. If this article was helpful to you, don't hesitate to let us know in the comments below and we will continue the series of posts for SEO beginners.
Digging This Use Case? Let's Discuss Netpeak Spider Perks in Person