SEO Tool for Bulk URL Analysis – Netpeak Checker: Overview and the Main Advantages
How to

SEO contains several important aspects. While Netpeak Spider comes in handy with technical optimization, Netpeak Checker is a multipurpose tool for solving your tasks, such as:
Integration with high-end SEO services → which allows you to retrieve more than 400 parameters of pages or websites for further analysis and comparison.
Scraping Google, Bing, Yahoo, and Yandex search results → collect SERP for any query with ubercustomizable settings.
Backlink profile analysis → of either your website, or the one of your competitor.
Scoring the quality of link building prospects → to get the most effective backlinks!
Scoring the quality of link building prospects → to get the most effective backlinks!
Searching for expired domains to build your own private blog networks (so called PBNs).
Scraping contact details (emails, phone numbers, social media profiles) of prospects or partners in any business niche.
Conducting a variety of researches and benchmarking → from exploring the competitors optimization strategy to creating your own content marketing tactics.
In this post, I will quickly introduce you to Netpeak Checker features and share practical use cases, so you can start working with the tool as soon as possible. Also, after you finish reading this post, I invite you to check how good you are with Netpeak Checker and try your skills in a quiz.
1. Start of Analysis

2. Adding a List of URLs

3. Parameters

4. Settings

5. Analysis of Results

6. SE Scraper

7. Brief Summary
1. Start of Analysis
Let's walk through the tool to see its main functions. To start the analysis, you need to:
add a list of URLs
choose necessary parameters
click on the 'Start' button
2. Adding a List of URLs
Start with adding URLs first 😉
You can add the list of URLs in 5 ways:
Manually – to the special field.
Upload from files – we support TXT, CSV, XLSX, and XML formats. By the way, this option is the same as one on the main menu. Please note that this way, you can also upload a list of URLs right from the previously saved Netpeak Spider or Checker projects.
Upload from sitemap of any website.
Paste from clipboard – or you can just use the famous Ctrl+V hotkey in the main table.
Transfer from 'SE Scraper' – it's a secret way yet, but I'll show this feature a bit later.

3. Parameters
One of the main Netpeak Checker tasks is data aggregation from different sources into one table, so I want to tell you about a variety of parameters you can retrieve and their purposes:
On-Page

. It means that data is located right on the webpage, and we don't have to request it from external services. Using parameters of this group, the program can collect:

The main SEO parameters such as server response code, title, descriptions, headings, and so on.
Scrape contact details (emails, phone numbers, social media profiles).
And even determine webpage language.

Serpstat, Ahrefs, SEMrush, Majestic, Moz, Alexa, SimilarWeb

, and other external services. Our program is integrated with top-notch SEO services and may help you analyze a website's backlink profile, traffic and keywords. Please note, that some parameters refer to the exact URL, domain, or host. For most of the parameters you need paid API keys, but, in some cases, they are free (e.g. some of the Moz and Alexa ones).

Data from Google, Bing, Yahoo, and Yandex SERPs

. Try them to check indexing and caching, or retrieve a title and description from a snippet that appears in SERP for an exact page.

DNS, Whois, and Wayback Machine

will help you with expired domains search.

Facebook and Pinterest

. You can get a number of reactions, shares, pins for an exact URL, or collect Open Graph markup that's cached by Facebook for a specified URL which may then appear in preview of the page when you're sharing that link on Facebook.
And finally, here are some useful integrations with the search engine services:

Google Structured Data

– validate your markup and find if it has any issues.

Google PageSpeed Insights

may help you with performance benchmarking and testing load speed both on mobile and desktop devices.

Google Mobile-Friendly Test

for those who want to be prepared for mobile-first times and know if their pages are considered mobile-friendly.

Google Safe Browsing

will show you if the specified URL is blacklisted as deceptive.
The Site Quality Index (SQI) from

Yandex.Webmaster

group indicates how useful the site is for users according to Yandex point of view.
To find detailed information about any parameter, simply click on the necessary one, its description will be shown on the info panel.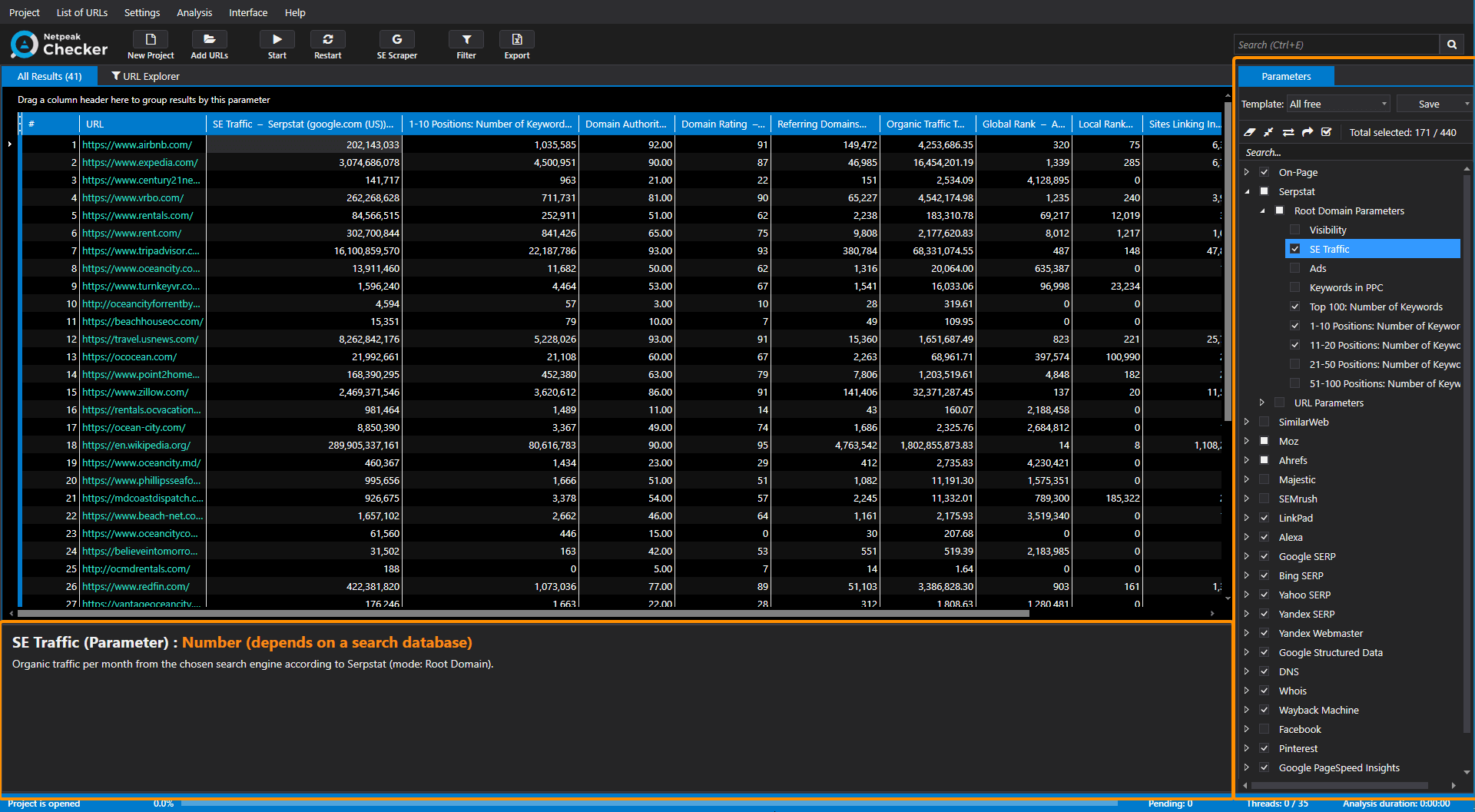 Let's use the 'All free' parameters template, and enrich it with Serpstat and Ahrefs data that we will use later. Then press the 'Start' button to launch the analysis while we go through program settings.
4. Settings
On the

'General'

settings tab you can set the program language and interface colors. Yes, the dark mode is available for all its fans. Also, you can set the number of threads for retrieving data from external services.

On-Page

. Here you configure crawling speed exactly for on-page parameters, and if necessary, change User Agent, and enter credentials for basic authentication.

Search engines

. You can specify geolocation, language or time of indexing as a filter for future requests to Google, Yahoo, Bing, and Yandex. This page will help you set preferences that will affect retrieving data from SERPs to the main table and search engine scraper.
After that, you will see a number of

external services

tabs, where you can add your API keys and track available credits. Some of them have additional settings, for example, you can define the necessary search database for Serpstat.
In the end, we have tabs that may help you avoid search engines' restrictions with connecting Netpeak Checker to captcha-solving services and adding proxies. By the way, here you can instantly check their availability and bans in search engines even before using them.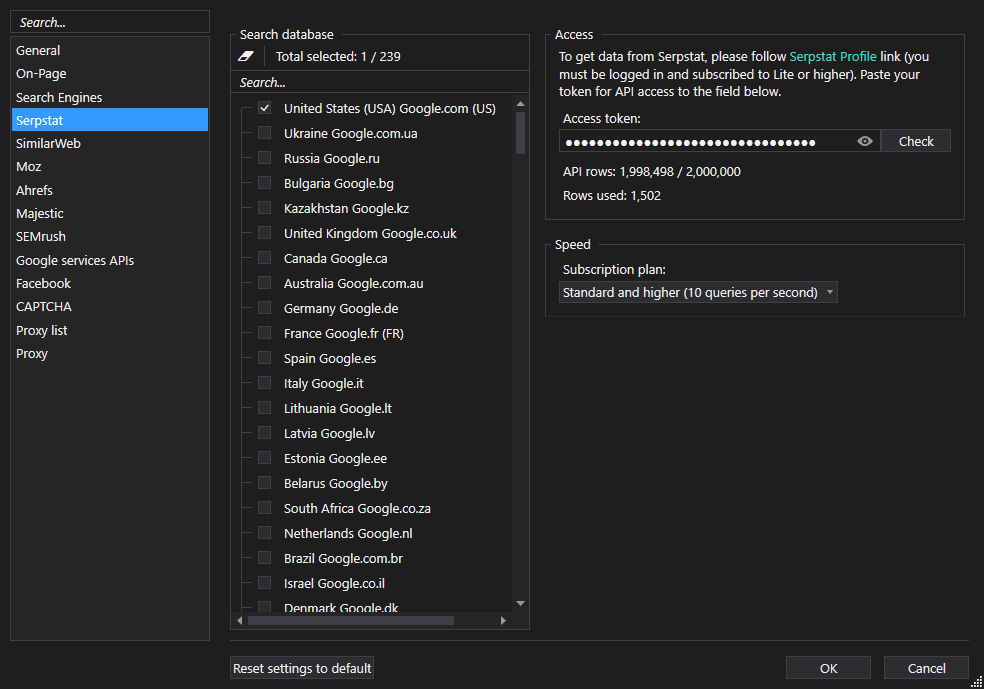 5. Analysis of Results
While we were learning settings, the program finished the analysis by 100 parameters. Let's see what we can do with results.
We have integrated tables with the highest performance on the market which allow you to work with huge data sets with maximum comfort in Netpeak Checker. You can use:
Grouping

Sorting

Quick search

Custom filters

Context menu with variety of features
These advanced features let us:
Compare different pages.
Get only the most interesting data.
Find useful insights.
And finally, export necessary reports for further use in other services.
💥 Time for our 'Life Hacks' section:
You can transfer a list of URLs to Netpeak Spider and enrich it with technical data to take a closer look at them.
There are hundreds of parameters in Netpeak Checker, so don't forget to use the search in the sidebar. And by the way, if you click on any parameter, you will see a corresponding column in table, so no need to scroll it by yourself.
Finally, I would like to invite you to the secret tool within Netpeak Checker, it's our ace of spades. Let me introduce you to the search engine scraper, and no, it's not a regular scraper left after construction works in Mountain View. This tool can get snippets from Google, Bing, Yahoo, and Yandex SERPs by any number of queries.
6. SE Scraper
Let's try this tool: scrape SERPs by 10 queries, and analyze the websites together. To start scraping, we need to:
open the 'SE Scraper' tool
enter a list of queries
if necessary, configure the scraping
click on the 'Start' button
6.1. Queries
If you have enough resources, here you can enter as many phrases as you want (even tens of thousands), each from the new line.
For more customized checks, you can add any search operator to any line. If you need to add the same command to each line, use the 'Prefix' field to specify it. For example, you can search for backlinks or brand mentions using 'inurl:' search operator.
6.2. SE Scraper Settings
On the 'Settings' tab, you can:
Enable simultaneous scraping of several search engines.
Choose the number of results for checking.
Add analysis of different snippet types.
Enable additional settings that may significantly affect the work of this tool.
Let's go to the 'Search engines' settings tab first, where you can set necessary geolocation and language. For example, to get results specifically for San Francisco.
If you need to check a lot of queries or do it quickly, you have several options:
Add captcha-solving services

, so they will automatically pass the test instead of you.

Use proxies

to send requests from different IP addresses and meet search engines restrictions less often.
6.3. Scraping Results
Now when all settings are done, click on the 'Start' button and Netpeak Checker will collect all results for us including position, title, description, sitelinks and other useful elements of SERP.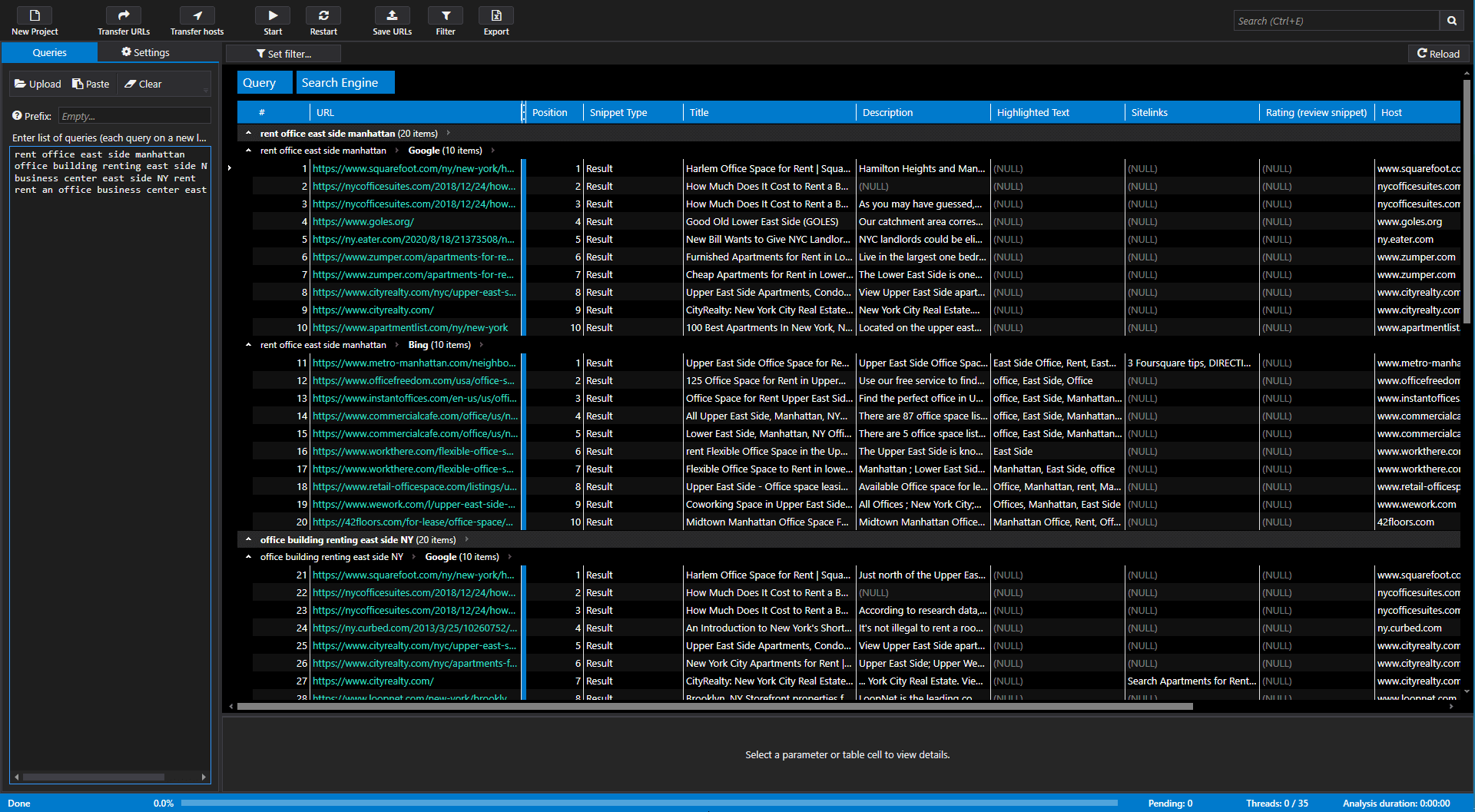 You can also filter, sort, and group scraped results right inside the tables. For example, you can:
See how many top 10 results have the word 'buy' in the title.
Check positions through a group of queries for each website.
Group results by domain, snippet type, or position.
💥 'Life Hacks' section is back!
Remember I've told you that you can add a list of URLs straight from the search engine scraper? It wasn't a joke. After scraping is done, you can transfer either full URLs or only hosts (in other words, domains) to the main table.
Let me show how we can use this data:
Check backlink scores and number of keywords on top of SERPs for these websites.
Scrape contact details of webmasters to contact them and, for example, persuade them to give you a backlink or publish a guest post.
The same way you can find prospects for almost any business. For example, if you are selling office furniture, scrape contacts of local business centers in your area, then get their contact details in just two clicks, and send them your offer! That's it!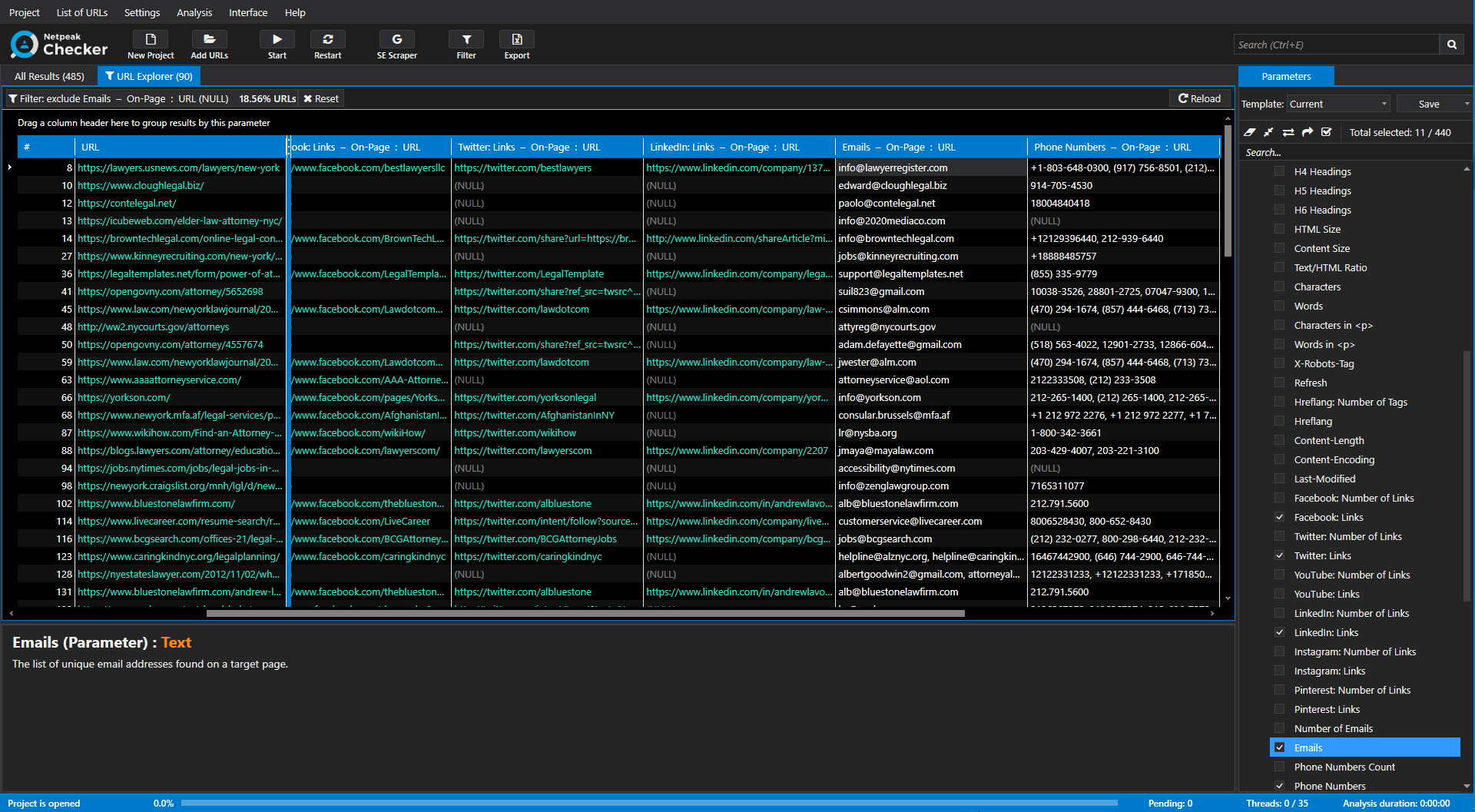 7. Brief Summary
The list of use cases never ends. If you want to know more about how specialists from different businesses adapt our tool for their work, we have a dedicated page with a listing of tasks that may be solved with the help of our tool.
Find new use cases of Netpeak Checker
Let's recap what makes Netpeak Checker an outstanding and truly unique software on the market:
Integration with top-notch SEO services. No more need to merge exports from different services manually, Netpeak Checker has got it for you.
Search engines results scraping. You can specify queries, control speed and time of check by yourself with no limits.
Fully customizable → as far as you can see, it's one of our main focuses.
Advanced results tables and easy export → after saving any tables, you will receive a file with an exact copy of data that you can see in the program, even with sorting, grouping, filters, and quick search applied.
Built-in algorithms that will save you from search engines' bans. We've conducted a lot of tests to find optimal settings in order to work with your proxies as carefully as we can. For the most advanced users we've integrated several captcha-solving services that can work simultaneously to get more data.
And as a cherry on top, the tool is optimized for multipurpose usage. You can make your own research of business niches, find expired domains, collect contact details for further prospects or partners outreach. Day by day, we find new use cases of Netpeak Checker, and I can say with no hesitation that it's a whole world of opportunities that you can use for your profit!
That's it for Netpeak Checker, so let's have some fun in a quiz.