The Most Important Google Ranking Factors a Beginner Should Know
How to

Are you new to the online world? Are you beginning to ask questions about search engine optimization (SEO) and online marketing in general? Have you come to realize that it's more confusing than you thought?
As a beginner, it's easy to become confused and overwhelmed by all the available information. Making matters worse is the fact that Google isn't exactly 'open' about its search engine algorithms and how they work.
But here's the good news: you don't need to know everything.
It's best to learn as much as you can about the most important Google ranking factors. This alone will put you on the right track. From there, as you learn more, you can expand your SEO strategy to reach new heights.
1. What Are Ranking Factors?

2. High-Quality Content

3. Page Speed

4. Core Web Vitals

5. Mobile Friendliness

6. Backlinks

7. User Experience

8. Secure Connection

Final Thoughts
1. What Are Ranking Factors?
To put it simply, ranking factors are the various characteristics of a website that a search engine uses or measures to rank that site in a Search Engine Results Page (SERP). Each search engine has different ranking factors, and the entire cadre of them is often a closely guarded secret. Google, the largest of all the search engines, has over 200 ranking factors, as far as SEO professionals know.
With so many ranking factors to consider, let's review seven Google that can help you create a more refined search engine marketing strategy.
2. High-Quality Content
If you've heard it once, you've heard it a thousand times: content is king.
High-quality content separates mediocre sites from good sites and good sites from great sites. Your goal is to create industry-leading content, as it helps your site stand out from the crowd.
There are a variety of content marketing strategies you can use to not only create high-quality content but to also share it with the world. Personalizing content as much as possible will never lead you astray.
If you're not comfortable creating content for your website, hire a contractor or employee to manage this all-important task.
3. Page Speed
This is one of those things that many beginners overlook, but doing so is a mistake that's simple to avoid.
Page speed is important for two reasons:
It's a Google ranking factor
It increases the likelihood that a visitor will leave your website due to slow loading
Here's an excerpt directly from the Google Developer website:
The Search team announced speed would be a ranking signal for desktop searches in 2010 and as of this month (July 2018), page speed will be a ranking factor for mobile searches too.
If you're unsure of how fast your website is, use Google's page speed tool. It's as simple as plugging in your URL and waiting a few seconds for the results.
Not only does it provide results, but it also shares suggestions for loading your page faster.
4. Core Web Vitals
On Jan. 29, Google's John Mueller announced that three Core Web Vitals Google has defined will be of utmost importance to a page's ranking starting in May 2021. Mueller was asked how much it mattered if one of the vitals wasn't met if the other two were. Mueller responded:
There are a number of factors that come together, and I think the general idea is if we can recognize that a page matches all of these criteria, then we would like to use that appropriately in search ranking.
Which was just his way of hinting that while nothing is official, it's official: all three criteria must be met. So what are they?
Largest Contentful Paint (LCP): Measures how quickly the main page's content loads – within no more than 2.5 of landing on said page.
First Input Delay (FID): Measures how soon after landing on a page users are able to interact with it – within 100 milliseconds.
Cumulative Layout Shift (CLS): Measures how often users experience unexpected layout shifts – no more than a CLS of 0.1.
To see the performance score, inspect URL in the Google PageSpeed Insights tool: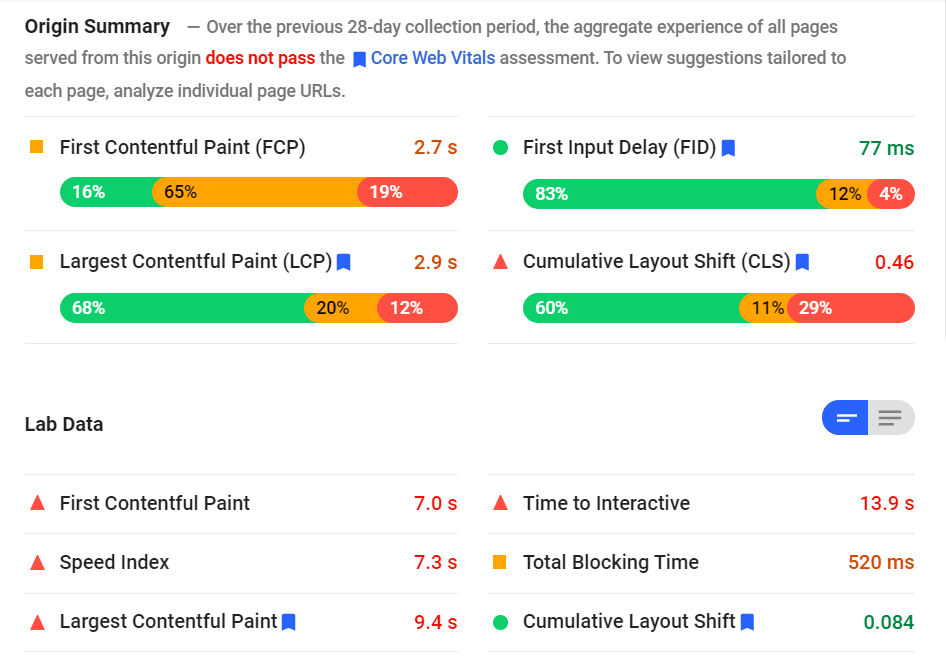 Consider both lab and field data to make certain decisions: field data is needed to capture real-world user experience while lab data covers more metrics and helps debug performance issues.
5. Mobile Friendliness
Go back in time 10+ years and there weren't nearly as many people using mobile devices. But in today's day and age, this is a way of life for most people.
A mobile-friendly website is a must. This can be the difference between ranking high in Google and finding your website stuck on the 7th page.
Google once again has you covered, as you can use its mobile-friendly tool to see if your website meets its requirements: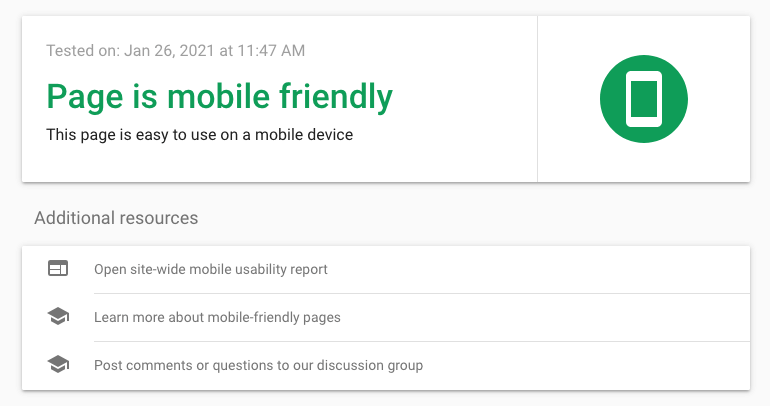 If your website isn't mobile-friendly, it's time for a redesign or, at the very least, an upgrade. Not only can a change boost your search engine rankings, but it can also help to better engage your mobile visitors.
6. Backlinks
This is a tricky one because there's a fine line to walk.
Here are some things you need to remember:
Backlinks are a good thing, as they show Google that other websites trust yours.
Google doesn't want you to game its search engine by purchasing backlinks.
Not all backlinks are created equal, as those from relevant, high-quality sites are best.
You don't have control over which websites link to your website. What you can control is your content, brand, and marketing. With the right strategy, you give others a reason to link to naturally link to your website.
7. User Experience
You don't want to simply drive traffic to your website. You want to drive traffic and then provide your visitors with a quality experience.
User experience is part of how Google ranks websites. Answer questions such as:
Is your website easy to navigate?
Do you make it easy for visitors to find what they're looking for?
Have you carefully selected your visuals?
Is your color scheme user-friendly or could it use some tweaking?
Driving visitors to your website is no longer enough. Google wants to make sure they're displaying websites that provide the best possible user experience.
Dig through your analytics to better understand how your audience is interacting with your website. How long do they stay on your site? How many pages do they visit? What's your bounce rate?
Answering these questions will allow you to make changes that improve the user experience.
8. Secure Connection
For anyone who has ever purchased anything online – and today, that's nearly every shopper – seeing that the site you're shopping on is secure is extremely important. In fact, it's often key to making a purchase in the first place. HTTPS (Hypertext Transfer Protocol Secure) signaled to users that an Ecommerce site had been certified as having a secure connection, and Google began boosting their positions in the SERPs accordingly.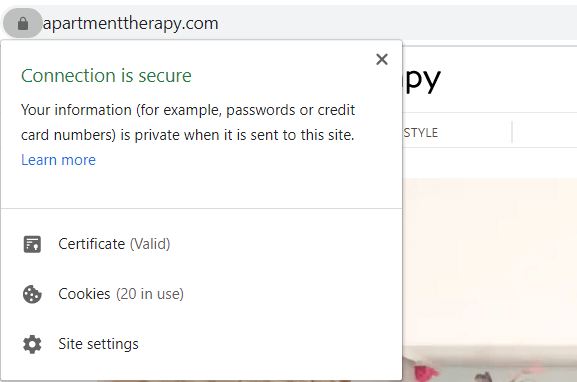 These days, users are likely to see HTTPS on sites secured via Transport Layer Security protocol (TLS) beyond the E-commerce scope. Why? Because of the desire to both provide secure experiences to users and rank higher according to Google. In mobile experiences, yet another ranking factor, having a secure connection doubles the running factors your site meets.
It can be costly to secure an HTTPS or even an SSL, but the ROI can be significant given the potential boost in rankings and conversions. Google itself provides best practices for securing a site with HTTPS.
Final Thoughts
With the information above in hand, you should better understand the most important Google ranking factors:
High-quality content
Page Speed
Core Web Vitals
Mobile Friendliness
Backlinks
User Experience
Secure Connection
It doesn't matter if you're talking about off-page SEO or on-page SEO, knowledge is power. Knowing how Google works – even on a basic level – puts you in a better position to drive organic traffic to your website.