Tips for Mobile SEO Optimization
How to

Being 'mobile-first' means so much more than having a responsive website design. To reach the highest possible Google search result and reach as many customers as possible, you need to implement more advanced mobile SEO techniques. Search engines have already started with prioritizing mobile-first websites whose owners do the homework of optimizing them. So you need to do it as fast as you can.
Below, Daniela McVicker, experienced writer at FreeEssayWriters, will help you learn more about the mobile SEO optimization tips that go beyond basics.
1. What is Mobile SEO Optimization?

2. Mobile SEO Optimization Tips

3. Content Optimization for Voice Search

Wrapping Up
1. What is Mobile SEO Optimization?
Mobile SEO is a process of implementing search engine optimization techniques to make it function properly and look great on mobile devices.
In 2020, optimizing websites for mobile SEO is as relevant as ever. It's another way to give web users what they want, which is exactly what Google has in mind.
Here are some reasons why website optimization for mobile is important:
Websites load faster. Loading time is a critical factor in dwell time rates. If your website loads longer than 3 seconds, 53 percent of visitors will leave a page.
Improves visitor experience. If people stay longer, browse through pages, and buy more, Google will notice that and display your website higher. In terms of buying, Google says that even 0.85-second improvement in speed can increase sales by 7 percent.
Builds credibility. For customers, Google, or clients, a mobile-optimized website is a sign that the company is following the latest web design recommendations.
Now, let's take a look at the best tips for mobile optimization that can make a difference for your website's performance in 2020.
2. Mobile SEO Optimization Tips
Here's how to make your website more friendly to both Google and visitors.
2.1. Say Goodbye to Forced Redirects, Long Live Subdirectories and Subdomains
Have you had any situations like this? You're browsing a website on your smartphone, click on a link that opens another tab in the browser.
To be brutally honest, it's a bit annoying to wait for all those redirects that open too many new tabs in a smartphone browser (besides, they could also be sneaky redirects to sites we don't want to visit). The reason why forced redirects are so bad is that they are a desktop-first strategy, not really designed for user experience on mobile.
Not only they hurt website users, but also website owners. Forced redirects can easily lead to a high bounce rate from frustrated people who leave for other sites shortly after arriving.
The way to fix that is subdirectories and subdomains:
Subdirectory is a website pathway that leads to other pages from the main domain. It's a direct approach to structure a website, easy for Google to understand, and the one that could be enriched with keywords.
Example:
www.mywebsite.com/mobile-seo-optimization
Subdomains divide parts of a website into their own dedicated hierarchy. It allows providing an intuitive user experience on a mobile site, so has a better chance to make visitors stay longer.
Example:
www.blog.mywebsite.com
In both cases, you can integrate keywords in the directory and help Google with defining the true purpose of each page on your website. For a user, transitioning between pages would be easier, so you'll make their experience more enjoyable.
2.2. Consider Using 'Hamburger' Menus instead of Mega Menus for Better Navigation
Mega menus are a common technique for designing menus on websites. Basically, it's a drop-down interface that the user activates when hovering over them. The interface typically shows all menu options in one large panel, where the items are grouped into categories.
Here's an example from Best Buy: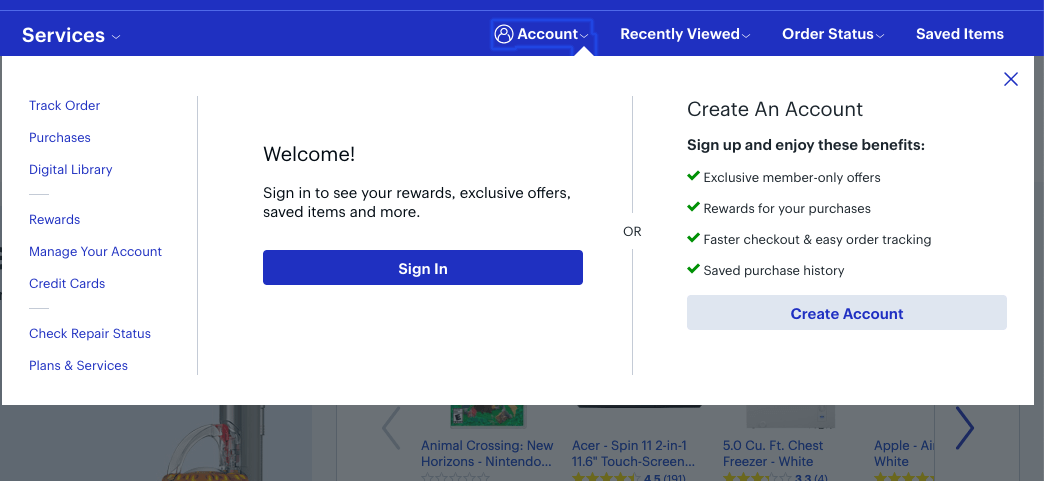 Clearly, menus like this will take most, if not the entire mobile screen. That's why mega menus aren't the best option for navigation for responsive websites – they work for desktop version of the website, not mobile one.
A better option here is the 'hamburger-style' menu. It's a popular navigation element on mobile apps and websites that has advantages for both SEO and user experience.
The hamburger menu is the three horizontal lines that look like a hamburger a bit. The mobile site of Best Buy uses this element instead of the mega menu to display more items on a smaller screen.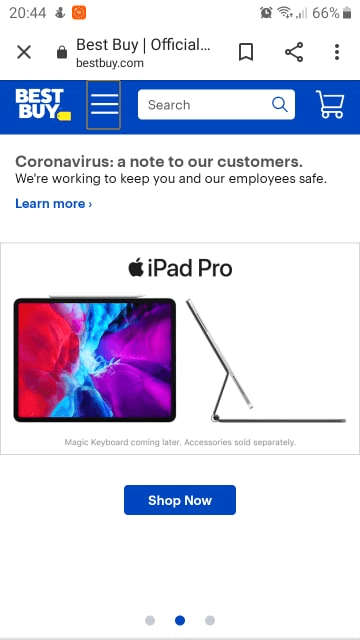 One could say that long 'hamburger' menus take up a lot of space when opened. While this is true, they are still better options because they take the shape of the screen for a better user experience.
Okay, back to SEO.
The hamburger makes navigation easier, therefore increases user dwell time (the time that a visitor spends on the website). Even though Google has claimed that this factor doesn't directly impact SEO, it's still incredibly important.
It trumps the bounce rate, which is a negative ranking signal. By increasing the time people spend on a site, you're sending a positive signal to Google like 'My website is awesome and people love it because they enjoy browsing it!'
Google, will check your website with spiders, of course, and might respond by improving your positions in SERPs. Nice deal, right?
Use Netpeak Spider to do a complete SEO website analysis and check for usability issues after implementing any changes. This is how the basic website audit looks like:
Tick the parameters in a sidebar → 'Status code', 'Issues', 'Response time', 'Last-Modified', 'Allowed in robots.txt', 'Canonical URL', 'Redirects'.

Enter your domain address into the 'Initial URL' bar, and start crawling.
When the crawling is over, you can get down to analyzing detected issues on your website.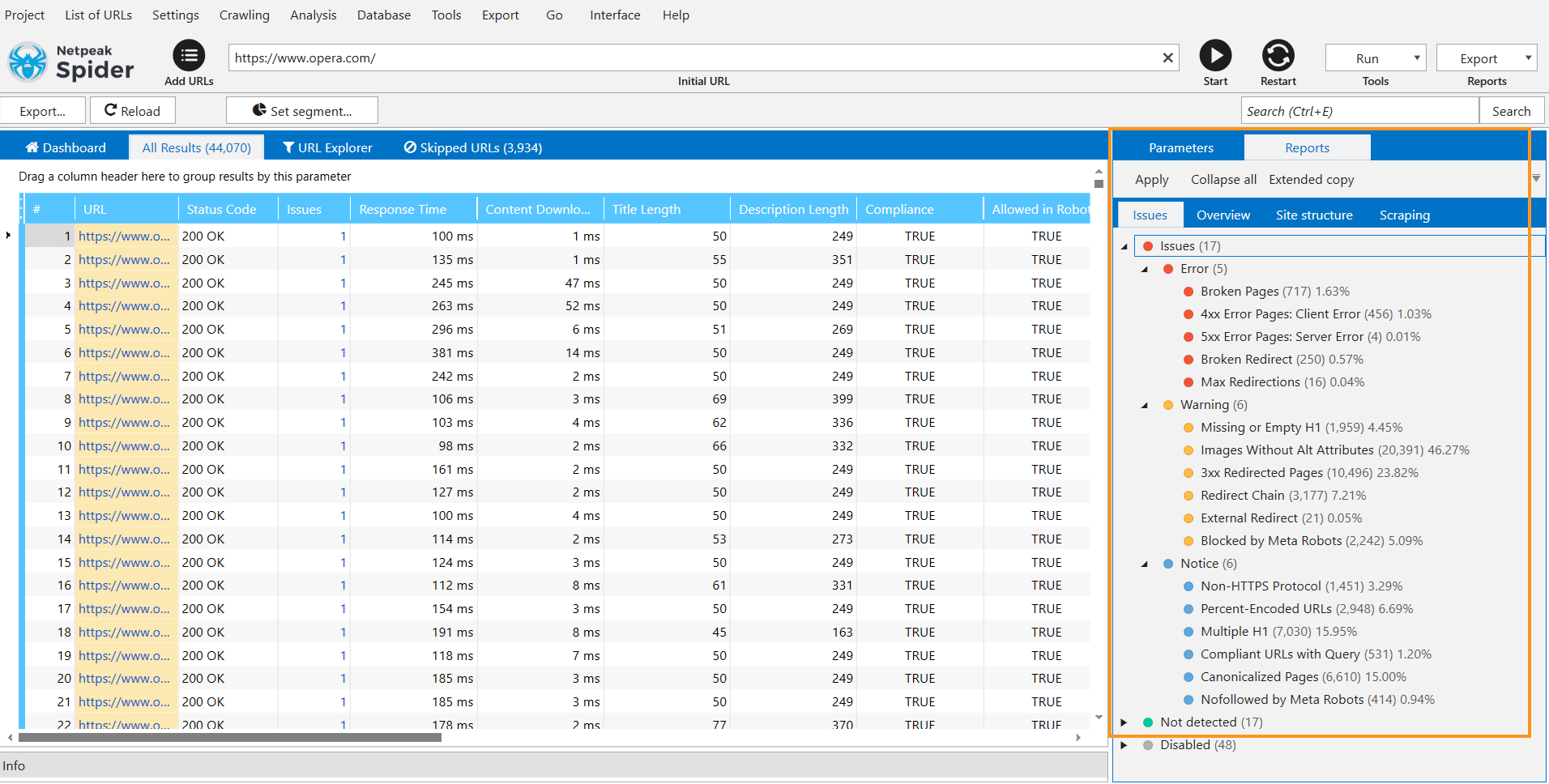 2.3. Google AMP (Accelerated Mobile Pages) for Speed
Google has introduced them in 2016 and made them a must for higher ranking only recently. Accelerated Mobile Pages (AMP) are HTML copies of web pages with faster loading times compared to HTML5 documents.
The reason why AMP pages load quickly is that the technology eliminates certain on-page elements, reduces the need for many CSS requests, and uses AMP catching (the new technology for faster web page loading).
Although Google says that AMP is not a direct ranking factor. While this is true, it's directly connected to something that has an impact on ranking: website loading time. If a mobile page uses AMP, it significantly improves its loading time, which, in turn, directly affects user experience.
Google proves so itself. Here's the Speed Scorecard with a few Google-owned websites, containing their performance and ranking.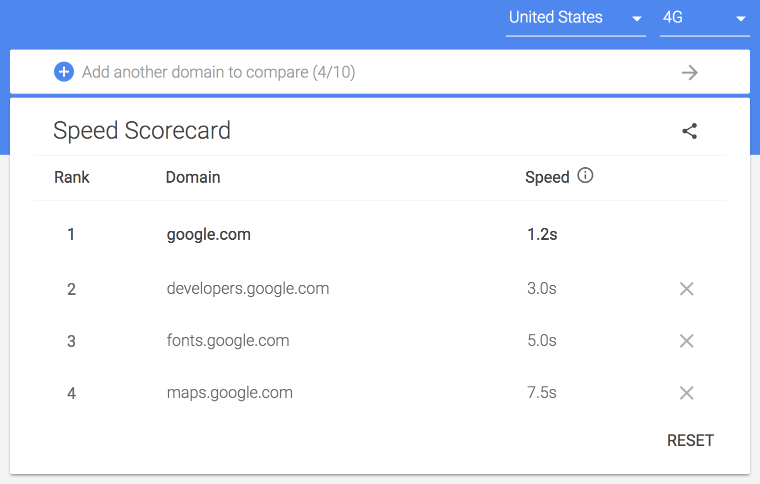 Clearly, the fastest website ranks the highest, which suggests one thing: invest in speed. If your site loads in more than 3 seconds, then you might be losing a lot of traffic and customers.
Speaking of customers, would you like to know just how much you could be losing right now? Google's Test My Site, a tool for measuring the impact of website performance on revenues. It's completely free and generates a personalized report on how your site loads in a country of your choice.
The report shows:
Your site performance against the competitors and country of your choice.
Current and potential revenues on different loading times.
Recommendations on optimizing specific pages for speed.
Okay, so how exactly does one implement AMP so their website loads fast?
First, I recommend you read AMP on Google Search Guidelines, but essentially, there are three steps you need to take.
Create the template for the AMP page.
Roll out the AMP page.
Track its performance..
Okay, so first you need to go to this tutorial on creating AMP pages from Google and click on Get Started.
You'll land on this page, which is a web page builder with the instructions.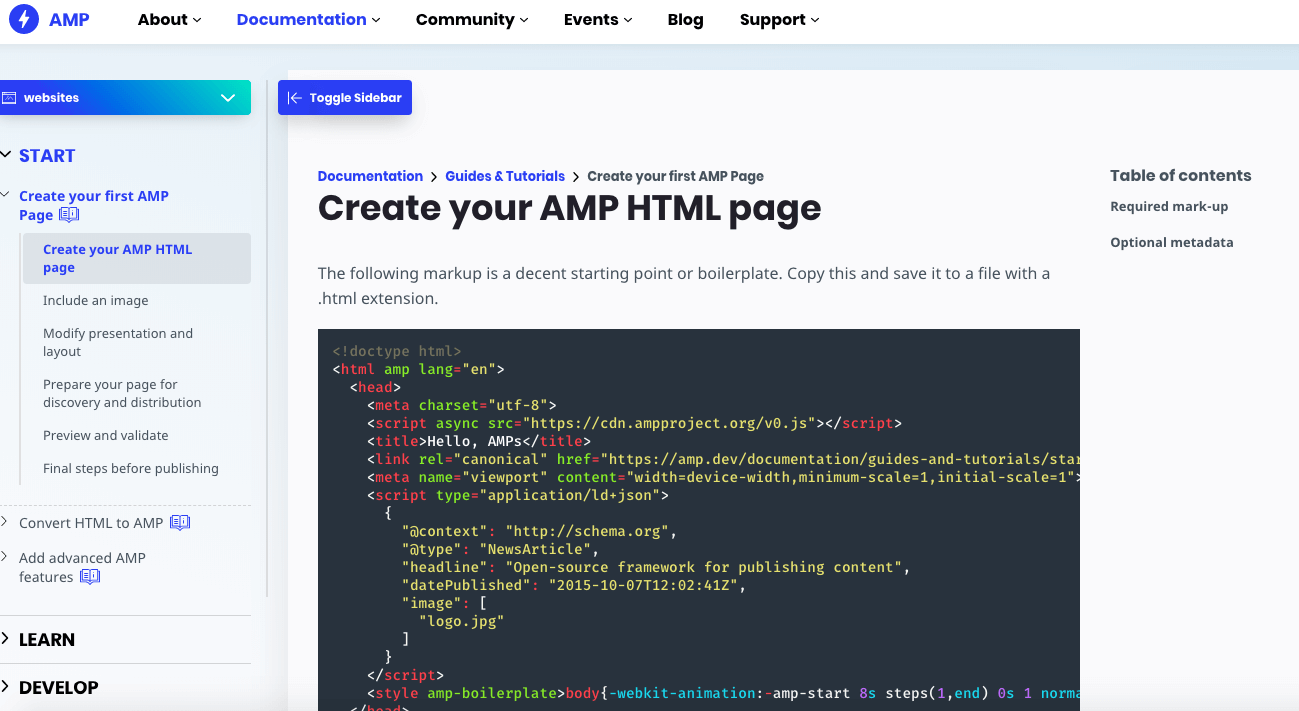 Yes, it looks kinda intimidating for those without coding experience, but it's not that hard if you follow the instructions. The folks at Google have done a really good job of making everything pretty clear.
When you're done with creating the page, the next step is the roll-out. Be ready that it's going to take Google a couple of days to find, check, and index the new version of the page.
The final step would be to collect the traffic data for around a month with Google Analytics and you should see the results.
2.4. Use only Mobile-Friendly Pop-Ups for Better UX
For many websites, pop-ups are critical for lead generation, but they can significantly hurt user experience on mobile if not optimized. We as users know pop-ups can be very annoying, that's why 27 percent of Internet users have ad blockers installed to not deal with them so much.
On mobile, pop-ups are just as annoying, so having unoptimized versions of them can skyrocket your bounce rate (and we know very well what it does with a website's ranking).
To minimize their impact on user experience and maximize SEO benefits, here's what you do:
Use Screen-Friendly Pop-Ups
Most marketing tools allow designing responsive versions of pop-up windows that don't cover the entire screen and make it easy to close it. The copy also stays as readable as possible. This minimizes their impact on user experience.
For example, here are two pop-ups that appear on the top and the bottom of the mobile version of the Chubbies website.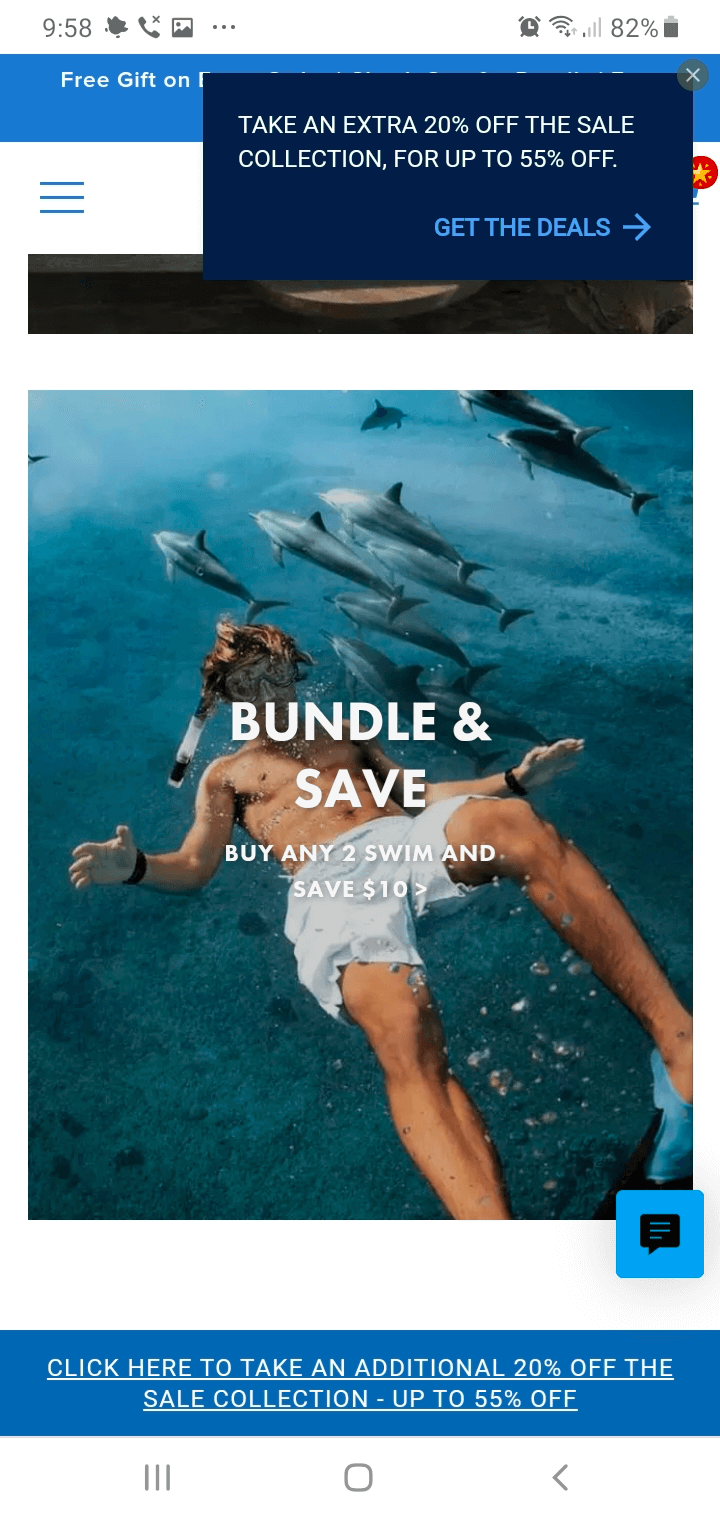 Instead of bothering the user in the traditional way, they cover small areas and still allow performing such actions like scrolling down and opening the menu (the hamburger menu icon on the top left corner).
So remember that you can use a static small pop-up like that instead of the conventional way that hurts both UX and SEO.
Don't Show Pop-Ups to Return Visitors
To avoid having your visitors see the same pop-up they closed the other day, use the versions that hide them from existing subscribers.
Takeaway: pop-ups get a lot of bad rap, and Google devalues the sites that use them too much and hurt the experience of their visitors. Use the versions that are optimized for mobile users and keep in mind the best practices you've just read.
3. Content Optimization for Voice Search
The share of voice search on mobile devices is growing. According to the latest data from Adobe, 48 percent of consumers already use voice devices – smartphones, tablets, personal assistants – for 'general web searches.' This affects content writing, as websites will need to optimize for featured snippets and local search results.
There are many ways to make your content optimized for mobile searches. First, you can find missing keywords for voice queries with the Netpeak Checker. Voice users tend to search a bit differently from desktop users, so you need to redo your keyword optimization of content.
The main difference is that voice queries are more conversational and contain more words.
For example, instead of asking 'keyword optimization,' (which is a typical word-based request), a smartphone user would say something like 'How to optimize my website for keywords?'
Next, you should make your content as crawlable as possible with headings, subheadings, simple sentences, and short paragraphs. They make it easier to understand texts while reading on a small smartphone screen.
For example, a huge chunk of text is not a user-friendly option because it makes the user feel like doing work. Chances are they'll leave shortly after seeing it because they simply don't have time to stick around and read everything.
To make the reading for mobile users as simple as possible, break your text into digestible chunks and use bullet, or number lists. This way, they'll be more likely to find what they need and return for some more information. Google will notice that, too.
Wrapping Up
Mobile SEO is a must. It's not just about having a mobile-first website. Even with a mobile-friendly store, for example, one can undermine their Google ranking with annoying pop-ups and slowly-loading time. Hopefully, this guide gave you an idea of where to start optimizing your website to get more visitors.