Website Redesign: SEO Recommendations For Website Migrations & Redesigns
Use Cases
Website redesigns can be scary! There's just a lot that can go wrong: what if you lose traction on SEO? What if things break? What if you pour your whole budget into it… and it doesn't work?
What Is Website Redesign?

How Do I Redesign a Website Without Losing SEO Gains?

1. Pre Launch Steps

2. Launch Steps

3. Post Launch Recommendations

Website Redesign FAQ's
Stress not! We'll walk you through it, so you can take a deep breath and rest easy knowing your bases are covered.
What Is Website Redesign?
Put simply, it's the process of revamping the design (and sometimes functionality) of your website. That could include:
HTML/Javascript changes
Content changes
Taxonomy or information architecture (IA) changes (e.g., changes on your website's URL structure)
URL changes
Visual element changes
If you're wondering why you need a new web design, that's… a topic for another day. We assume you found this article because you want to grow revenue, optimize bounce rates, and improve user experience (UX). Well, good for you!
So here's the question: 'What should webmasters do to craft a website redesign strategy that won't fail?' Because, believe it or not, redesigning a website without losing SEO traction is not a myth.
How Do I Redesign a Website Without Losing SEO Gains?
Website redesign best practices start with the following:
Crafting a website redesign strategy
Planning your actions
Coordinating with your dev support
Ensuring you don't miss any items on your website migration checklist, and
Monitoring the results over time
Since it is a massive process, we must address it carefully step-by-step. Let's break it up into three parts to make things simple.
1. Pre Launch Steps
New website SEO – and any potential traction you could gain – will be heavily dependent on your current website status and how much you can improve upon it. You have to make sure that your site redesign and search engine optimization goals are identified alongside your broader business goals.
Selecting the platform based on your business' needs is crucial for your continuous success. Make sure the website platform you'll migrate to is providing the necessary support for your business needs.
Though website redesigns and migrations can sound exciting, make sure you calculate the risk of the website redesign and SEO migration strategy by using this framework and put together a redesign checklist.
Next, you must prepare your Tech Req list for the new site, considering both existing and new needs. To successfully complete a website redesign that won't hurt your SEO, follow the steps below.
1.1. Document, document, document
Collect all the data about your site itself and from all third-party sources that you can. Export and save this information in case you need it later. Make sure to include:
A full list of all known URLs – from a site crawl (internal links), from Google Analytics (GA), from Google Search Console (GSC), from backlinks… anything you can think of (you'll want to crawl these later to ensure they all work – or redirect as needed).
Ranking data.
Backlink data, search engine ranking benchmarks, and organic search volume performance by landing page.
Site performance data (e.g., site speed & Core Vital scores).
Log file data if you can get your hands on it.
1.2. Verify all domain variations in GSC & other webmaster tool suites
You'll need access & permissions to monitor organic results & request changes from search engines. This applies to whatever search engines you are targeting, including Google, Bing, Baidu, etc.
1.3. Crawl the current website
The obvious stuff: use an SEO crawler to identify issues. Fix 404 pages and 500 errors, improve title tags and meta descriptions based on solid keyword data that meet user intent, add alt tags, etc.
Netpeak Spider crawler has a free version that is not limited by the term of use and the number of analyzed URLs. Other basic features are also available in the Freemium version of the program.
To get access to free Netpeak Spider, you just need to sign up, download and launch the program 😉
Sign Up and Download Freemium Version
P.S. Right after signup, you'll also have the opportunity to try all paid functionality and then compare all our plans and pick the one most suitable for you.
To find tech issues and fix them during the redesign process, look 'under the website's hood' – conduct a technical SEO audit. The technical audit will also be useful to compare the old website's performance with the new one. To do so, you can use the Netpeak Spider crawler:
Set the default program settings.
In the sidebar parameters also select the 'Default' template.
Insert the website's initial address and start crawling.
Upon completion, study in detail the table of results, the Dashboard, as well as the 'Reports' section in a sidebar.

Export data to your computer.
Also, ensure that your Information Architecture (IA, or the structure of your website) is clear & understandable – and includes appropriate keywords where possible (and helpful).
You can check the website structure in Netpeak Spider as well. When the website is crawled, go to the 'Site structure' tab in a sidebar or export it to your device.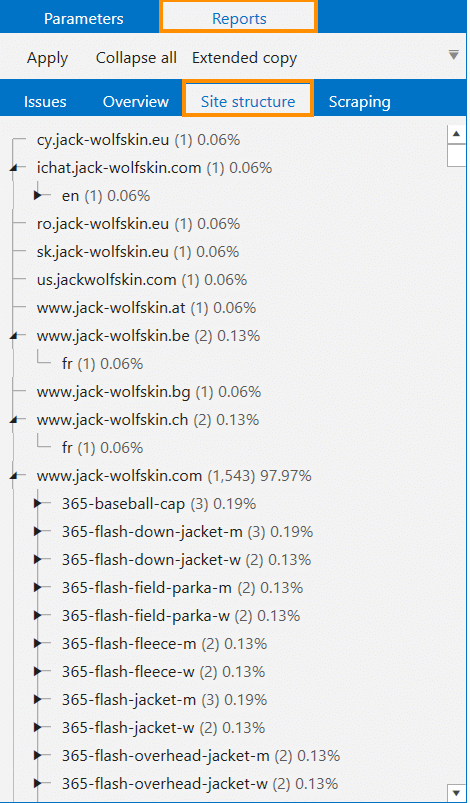 1.4. Crawl & compare technical & content SEO setup, as well as the old website vs. new design
Ensure the staging website isn't accessible to search engines.
Make sure the staging website isn't missing any pages or page copy / elements.
A key point here is not to *lose* anything that's helpful or providing business or SEO value. For example, don't remove FAQ markup that's helping you claim a featured snippet on a key landing page.
Don't forget about any new content you've posted on the live website before the migration work (it's a common mistake to leave these web pages behind accidentally).
When redesigning a website, it's hugely important to keep the pages that bring traffic and conversions. Analyze the pages and pay attention to those with a large number of pageviews and backlinks, high traffic rates, etc. Also, take a good hard look at what keywords they are ranking for.
Apart from pages, metadata, and alt tags for images must be kept safe. Be careful not to lose or mess up anything.
It's easy to find important pages and export them along with metadata using Netpeak Spider. You just need to:
Add your Google account in the 'Google Analytics & Search Console' settings.
Set the date range for which you want to receive data, and adjust other settings to your needs. In the section 'Export of queries from Search Console', tick the checkbox to enable this feature.

In the sidebar parameters, tick 'Google Search Console' and parameters: 'Title', 'Description' 'Images' and 'H1-H6 Headings' in the 'Content' group.

Paste the website URL and click on the 'Start' button.
Upon completion, sort the data from GSC top-down (by clicking on the column) to see which URLs show the highest performance.

In the main table, you'll also see meta tags content and the number of images on the page → click on the value in the column to view a more detailed report on images.

Export the results from the current table, a report on images, and a report on GSC queries (you can find them in the 'Database' module).
Play it safe and keep pages with a hefty backlink profile – this will help you not lose link equity. Export backlinks using:
Google Search Console → open the 'Links' section and click on 'Export external links' in the upper right corner.

Serpstat

Ahrefs and other services
1.5. Create an XML Sitemap of Old URLs
If you are changing your domain name, or many URLs are changing to reflect your new IA, consider creating a static XML sitemap of the old URLs (upon launch, make sure these all redirect appropriately ☝️).
Next, submit this to GSC upon launch. This prompts Google to crawl those URLs and follow the redirects, thus ensuring they find all the changes sooner vs. later.
1.6. Other important comparison checks
Outside of classic 'technical SEO checks,' these items matter too. Again, aim for equal or better results on stage to improve rankings upon launch:
Mobile-friendliness.
Site performance scores. Consider any server change impacts.

Check these two items in Netpeak Checker (comparing to Google services, you can check URLs in bulk in this program):

In a sidebar, choose 'Google PageSpeed Insights' and 'Google Mobile-Friendly Test' parameters.

Add the list of URLs that require checks and hit the 'Start' button (you can add here URLs you gathered during crawling in Netpeak Spider, from GSC, and GA):

When the analysis is completed, approach the results in the main table or export them.

Site accessibility when JS, CSS & cookies are turned off (this means all pages can be found, and all page elements – mostly copy – are available, ideally directly in the HTML).
ADA compliance.
Site structure. What's changing with your internal linking? Is anything critical going away or being linked to in a less-prominent or frequent way? Since this will affect these pages' performance, it's important to make these decisions with intention. Audit your homepage with particular attention since internal links from the homepage tend to be powerful.
To check whether all important pages receive enough link equity, run a built-in PageRank checker in Netpeak Spider.
It has a default template for PageRank check, so you don't have to rummage around the parameters. Simply select the necessary template, wait till the crawling is over, and run the 'Internal PageRank calculation' tool in the 'Tools' tab. And so you'll be able to see all issues with website internal infrastructure (if you have such).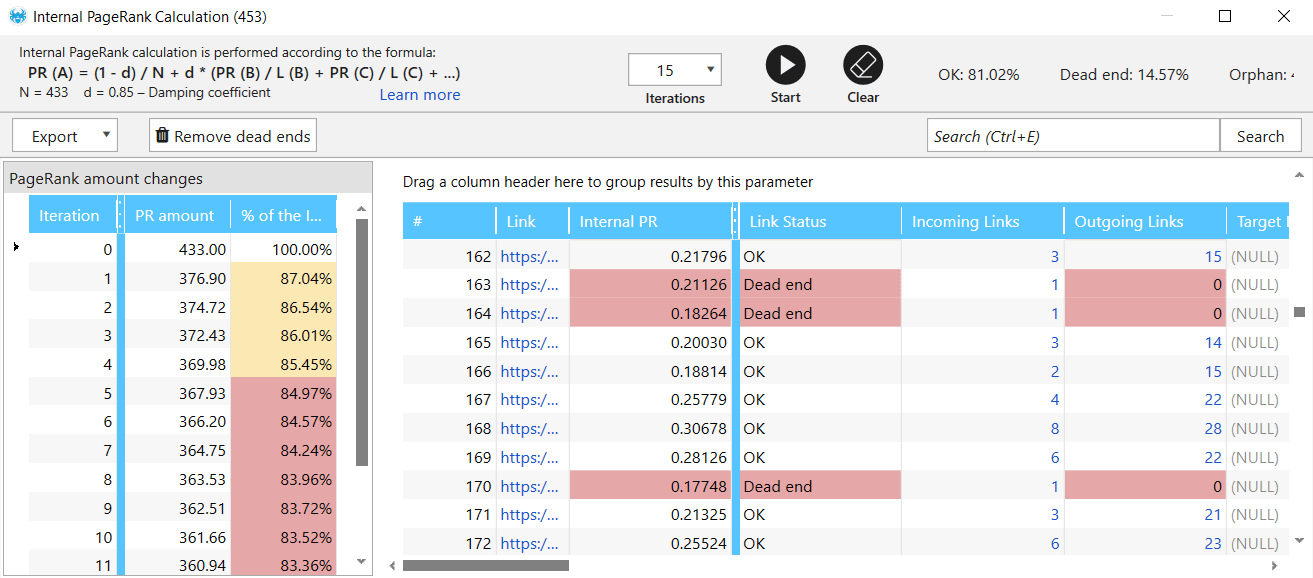 Internal linking is a pretty big deal that should be kept in mind, particularly:
All internal links should lead to 200 OK pages that aren't blocked from indexing.
Linking blocks to URLs important for promotion remained intact.
Links that lead to technical URLs are not indexed.
1.7. Develop a solid migration checklist
You know what you have to do, but let's face it – this is a stressful, busy period for everyone. It's very easy to lose track of the details and get stressed out. Use any existing SEO migration checklist (or create your own one) and layer in those particularly important items to your business.
Have a defined list IN ADVANCE of launch, so you aren't scrambling at the last minute.
1.8. Do the research
While this might be your first time migrating a website, others have already explored and made mistakes along the way. So do your research, and make sure to avoid these migration pitfalls. Our favorite is 'migrating at the weekend'.

2. Launch Steps
What can you do to carry out a coordinated migration launch process? A thorough SEO Quality Assurance process can help you:
Minimize the chances of deploying critically broken code, and
Build fail-safe procedures to catch and correct the errors as soon as possible.
Let's walk through some important steps for your redesign launch.
2.1. Run through your migration checklist
Now that you've developed a solid checklist… it's time to run through it!
2.2. Manually test your website
Doing a manual exploration of your site – across multiple devices! – is important. It will help you find what's broken and not working quite the way you want it to. Make sure you fix all broken links and duplicates and double-check for links to your staging site's environment.
To catch out broken links, run the crawling in Netpeak Spider and open the issue report.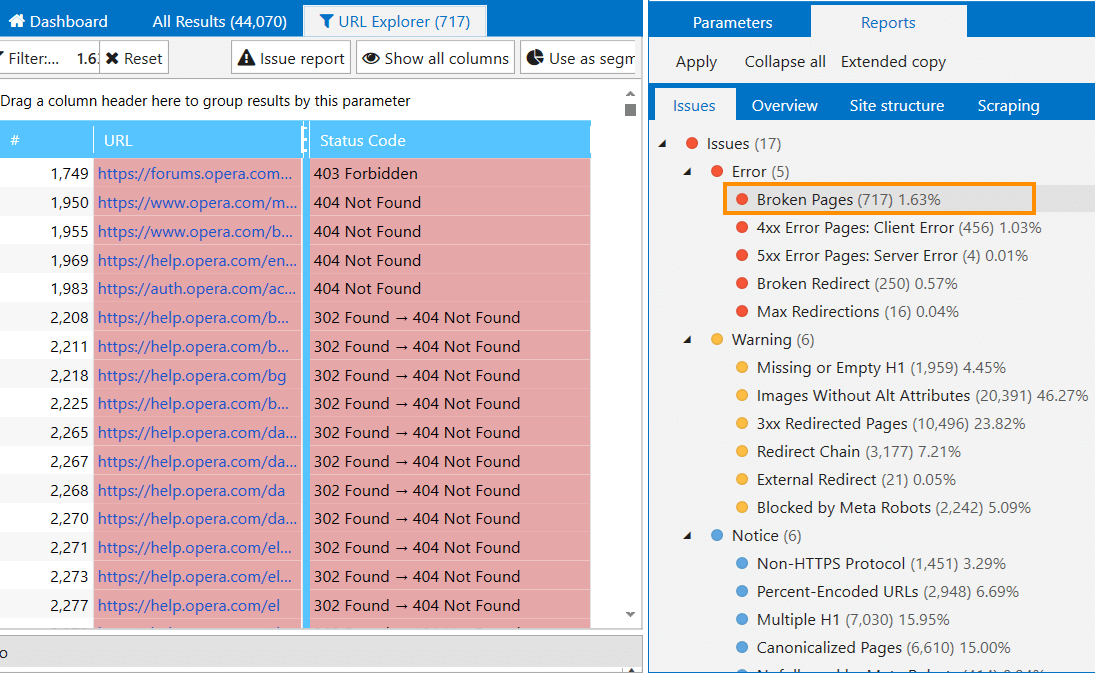 2.3. Double-check your GA, GTM (or other analytics suites) tracking codes
Ensure you don't lose existing tracking you care about (I can't tell you how many times people just forget to add it to the new site!).
Use this as an opportunity to define what you *want* to be tracking.
2.4. Double & triple check the robots.txt file, meta robots & canonical tags
It's terribly common to accidentally keep your stage site's robots.txt file text when going live. If this is what you see, you've got a problem:
User-agent: * Disallow: /
Similarly, some sites accidentally launch with incorrect meta robots instructions (noindexing everything) or a botched canonical implementation. No bueno!
If you crawled the website in Netpeak Spider, check the issue report to identify any problems with indexing instructions.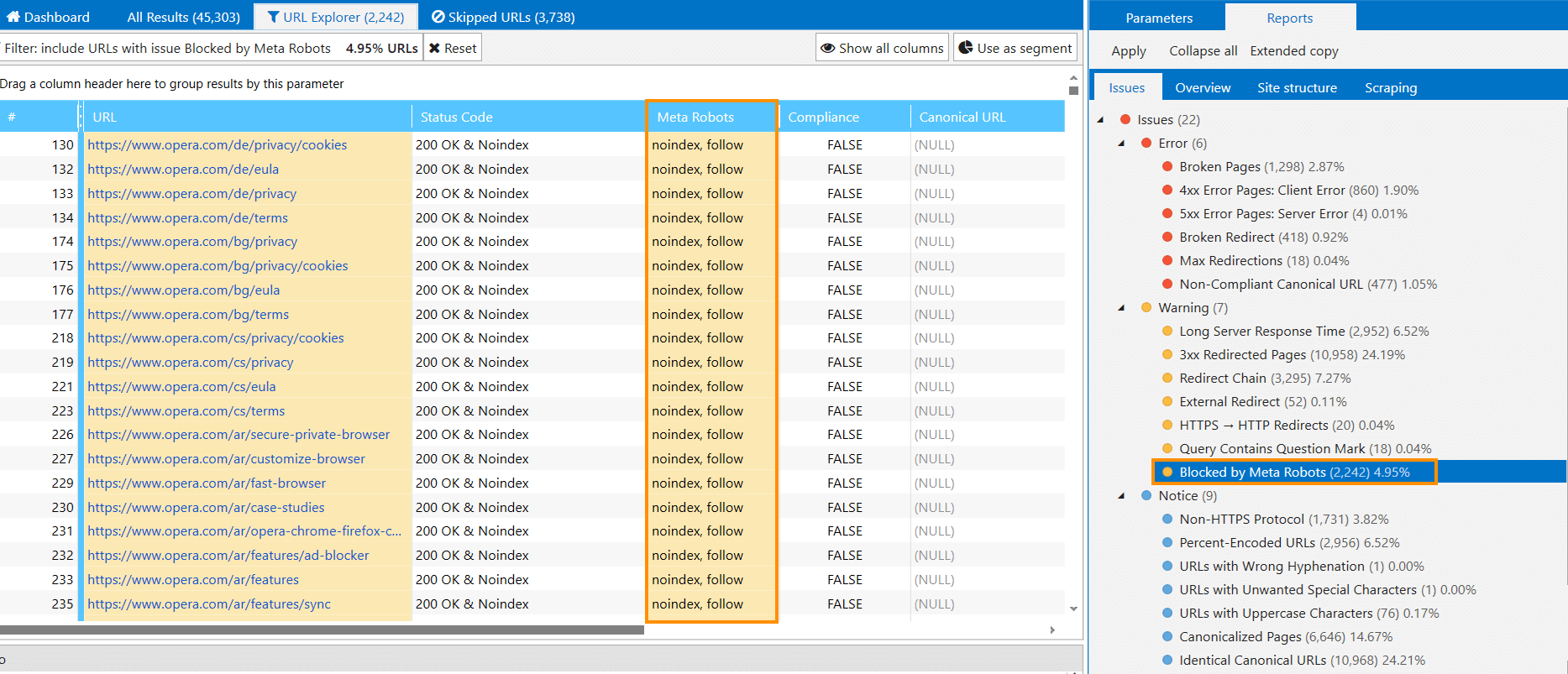 2.5. Verify redirects
Remember when we made you collect that list of all the URLs on your site?
Now's a good time to use that list! Crawl them to ensure that they all:
resolve to a functional, 200 OK, compliant page, and
there aren't any 'redirect hops' (e.g., redirects from Page A to Page B and then to Page C).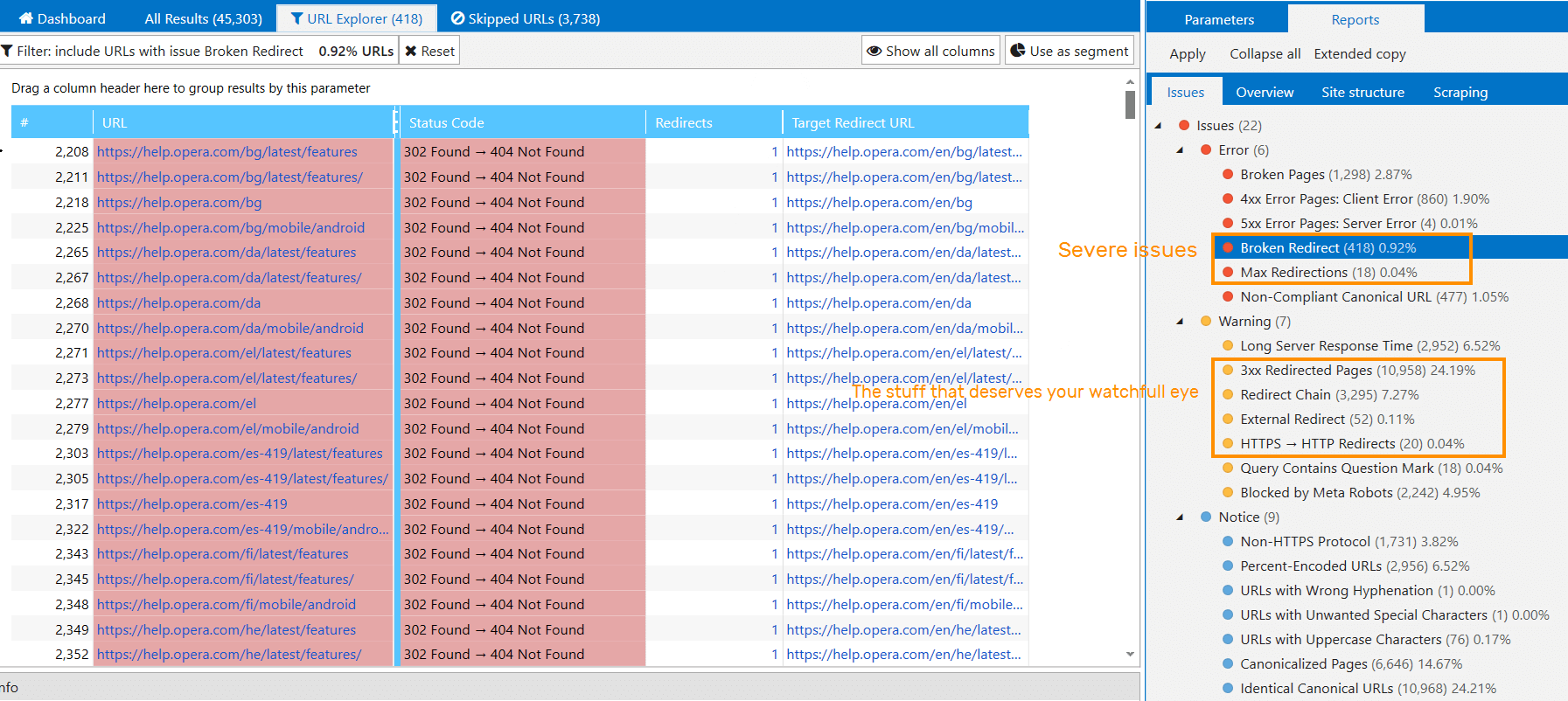 2.6. Add or update your Analytics annotations
Who else is going to remember your site's migration dates five years from now?
2.7. Request a recrawl in GSC OR submit a change of address form in GSC
Once you are confident in your launch, it's time to let Google know about the change. If the domain name isn't changing, you can simply submit your static XML sitemap to prompt Google to crawl those URLs. If your domain is changing, don't forget to tell Google precisely what domain is moving where.
3. Post Launch Recommendations
Congrats? Not quite yet... but hang in there, because we're almost finished!
3.1. Monitor GSC errors
Search Console's URL Inspection tool can do wonders to identify what's wrong with your website. We've elaborated on finding and fixing the most common GSC errors, but pay special attention to 404 errors that you could fix.
3.2. Monitor Log files
Similarly to the above, if you have access to log files, you can tell exactly what Google is crawling, how frequently, and what errors they might run into. Use this data to identify & clean up any issues.
3.3. Keep track of indexing
Use the GSC Coverage report to monitor for any unexpected fluctuations in the count of pages getting indexed.

Use the 'Overview' tab in Netpeak Spider to see the number of compliant and non-compliant pages.
If you have any problems, make sure the desired pages are compliant and just as valuable as they were prior.
3.4. Update backlinks
Where possible, reach out to webmasters who have linked to old URL variations asking them to update them to match the new URLs.
3.6. Regular technical audits
Regular website audits will help you catch sight of any problems timely – before they can hurt your rankings.
3.6. Report, fix and strategize
Observe and compare the old website with the new website in terms of organic traffic and visibility. Fix the errors that pop up from your monitoring work, referring to the documents you saved early on as needed. Use this information to strategize, fill gaps, and improve the chances for your success.
3.7. Take advantage of social media & other digital marketing channels
You've already updated the links on your social media accounts, right? And your other web/brand presences – like Medium, Twitter, LinkedIn, etc.? Perfect!
Website Redesign FAQ's
Do website redesigns affect SEO?
Website redesigns can negatively impact SEO results if not managed properly, and in some cases, temporary SEO dips may be unavoidable. However, with a strong strategy and a proper, detail-oriented checklist, you can smoothly carry out a website redesign. A migration / redesign that helps you achieve your organic traffic growth goals absolutely IS possible.
How do I redesign a website without losing SEO?
By reading this article and developing / implementing your own plan of action! We have shared all of our recommendations to redesign a website without sacrificing SEO smoothly. Good planning and execution from pre-launch through monitoring post-launch is vital for a successful redesign.
Does updating your website help SEO?
Updating websites, whether it be a CMS update or complete rebranding, can help your SEO when implemented correctly. There are different considerations to review based on each project's necessities, so make sure you go over our checklist above for a website redesign that helps you improve SEO.
How often should you redesign your website?
As often as the benefit outweighs the cost! Redesigning your website can improve SEO, but beware that making arbitrary changes frequently does have the potential to hurt your website. Change for the sake of change is not inherently helpful.
Does changing your website host affect SEO?
Of course! There are a few SEO considerations that are especially important for selecting a website host.
The location of your server (cloud hosting vs. physical servers, which could be located around the world).
Your hosting package, which directly affects page speed (e.g., site performance).
Page speed is a major ranking factor that is affected by the hosting provider. If you are considering joining a hosting service, you'll likely experience common hosting service issues as well.
Learn more about how to choose a website host that affects SEO positively and pick from the best web hosting services.
Every website and redesign process is unique. That's why we recommend adapting the site migration checklists you come across to suit your needs. For now, though, you can take a deep breath and relax. You've got this!