Netpeak Software Turns 4 Years: Get Gifts and Discounts up to 50% for Netpeak Spider & Netpeak Checker [Updating]
News

On June 21, 2016, the world witnessed the birth of a small but proud company marked by Gemini constellation power. And it was given the name of Netpeak Software. Now we're four years old. During these years, we've forged our path, getting stronger and wiser.
To mark this day with unheard gaiety (well, it's our right 😂), we decided to throw a true rock festival – Owlyrock. Everyone who is gutted over summer merriments fizzling out, can raise the roof together with us online and get the presents (yup, it's our B-day, but you're the ones getting the gifts). All activities will be spotlighted on our Facebook, email newsletter, Twitter, and YouTube channel: subscribe right now not to miss a thing.
During the festival nothing is off the table, so get ready for:
heady 50% discounts for Netpeak Spider and Checker – the offer is valid for all plans: Standard, Pro, Custom
new plan for 36 months at a fab price
giveaways (scroll down if you're a funseeker)
They say that a big fat Greek wedding was celebrated for three days, but we celebrate our birthday for entire two weeks. That's why the sale will be on up to June 30, inclusive.
1. Our Special Offer: Pick a Stage Where You'll Be a Star

2. A Tad More Perks for You

3. Time for Giveaway

4. Meet the Festival Headliner

In a Nutshell
1. Our Special Offer: Pick a Stage Where You'll Be a Star
1.1. 🎤 Karaoke → 30% OFF
The offer is valid for both products and plans – Standard and Pro – for the purchase of a monthly license with promo code Karaoke.
If you want to try yourself out, fancy your chances on a tiny shadowy stage surrounded by your posse and the most devoted audience.
Insider hack: undying massive hits like Queen's 'Show Must Go On,' or Lady Gaga's 'Bad Romance' will nail your performance. Well, you got where top-notch marketing ideas are born in our company 😉

Purchase a Visit to Karaoke Place and Save 30%
1.2. 💿 Nightclub → 40% OFF
Prepping for the first concert in a favorite nightclub? Elton John recommends: a proper soundcheck will save your face in the future.
Meanwhile, grab a promo code Nightclub for a yearly license with a 40% discount for Netpeak Spider Standard / Pro or Netpeak Checker. The pros need the instruments with a durable lifespan 😎

Throw a Concert in the Nightclub and Save 40%
1.3. 🎸 Stadium → 50% OFF
You've reached the point when you can sell out a whole stadium for the umpteenth farewell tour, and no one will roll their eyes at you. Our toolkit will keep you on the top → get 50% discount for both products for 12 months:
Netpeak Spider Standard + Checker Standard
or Netpeak Spider Pro + Checker Standard
Use the promo code Stadium to get closer to your dream.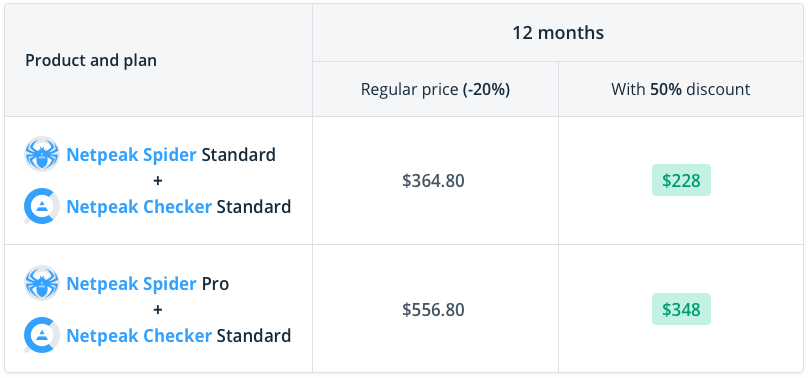 Fill Up a Stadium and Save 50%
1.4. 🎪 OpenAir → 50% OFF
A bit of magic, and here we go: now a new unique opportunity to buy a license for 3 years at a fair price is available on our website 😱 An immediate discount for a long-term license is valid on the reg. However, on our birthday, we're trespassing all rules of quantum physics and give a 50% discount for the purchase of a three-year license for Netpeak Spider and / or Checker with promo code OpenAir.
True rock festivals take place outdoors to let the festive spirits storm out.

Perform at Open Air and Save 50%
2. A Tad More Perks for You
2.1. Upgrade Netpeak Spider to Pro with 50% OFF
If you're a lucky holder of a Standard license but feel more like a Pro, why not to upgrade it right now? Contact our specialists, and they will sort everything out.
We'll briefly recap the features that already help SEO specialists to earn more whatsoever happens in this crazy world:
Request Upgrade to Pro with 50% OFF
2.2. Premium Plan with 50% OFF
You can also try our Premium plan, which serves up an extensive list of advantages:
Access to two products: Netpeak Spider Pro and Netpeak Checker Standard.
Access to private chat with developers.
Priority in feature requests, and many more.
But the cherry on top is a dedicated manager who will personally consult you on technical SEO of your project, inform about latest releases and teach how to use new features, compile learning materials, notify about major deals and offers.
3. Time for Giveaway
'What's a festival without having fun?'. This is what we thought and rolled our sleeves up to prepare an interactive part of the Owlyrock festival. Disclaimer: there will be a ton of different activities – we'll add them up to this section as and when they'll become publicly available.
🤩 Make Up the Lineup for the Owlyrock Festival
We welcome everyone who wants to join us on the stage with their own band and win the giveaway → Netpeak Spider & Checker licenses and an owl-assistant toy.
To take part:
Bring together your SEO colleagues (SEO specialists are nowhere near everything) to start an SEO band and think up your band name.
Leave the band name in the comments to the post on our Facebook page, tag your colleagues, and assign the roles (frontman, bassist, guitarist, backing vocalist, etc.). The band should include no more than five members. One comment – one band. One person can participate in different bands.
All band members should like our Netpeak Software Facebook page and repost the giveaway news (make it visible for everyone).
Giveaway:
Frontman will get licenses for Netpeak Spider Pro + Netpeak Checker for three months and the owl-assistant toy.
The rest of the band members will also get licenses for Netpeak Spider Pro + Netpeak Checker for three months.
To get more details of the giveaway and take part in it, go to our Facebook page.
Deadline: until June 18, 23:59.
Start a Band and Win the Giveaway
🔎 Promo Сode Hunters
A win-win giveaway for those who don't miss an easter egg hunt. The gift is an additional 14-day free access to the full functionality of our instruments Netpeak Spider and Checker. To get the prize:
Bring together the letters hidden in the festival pictures on Facebook, Twitter, and YouTube to make up the promo code (it consists of three pieces, each picture contains one piece).
Subscribe to our three channels:
When you discover the promo code, shoot a message to our Brand Manager Anastasia via Facebook Messenger to get the desired access. We're receiving messages today, on June 19, till 18.00.
The access will be granted to anyone who solves the riddle and meets all requirements.
4. Meet the Festival Headliner
So now, when we warmed you up with gifts and quizzes, it's time to announce the headliner! You'll hardly ever see such a cherry bomb on the vast Internet, mark my word.
Meet our SEO rock band Owlymates and its members: CEO Alex, Head of Marketing Anastasia, and Customer Success Team Lead Aleksey.
The guys recorded SEO Anthem specially for the festival, and now you can see the official release.
Watch the Music Video and Chant 'SEO Power'
In a Nutshell
We tried hard to make our birthday rock festival a jolly good show, so be ready for gifts and surprises. Here's a recap of what will be waiting for you:
Heady discounts for Netpeak Spider and Checker to pump up your festival mood.
Many many gifts. I dare even James Charles and Jeffree Star would build another house to store all these presents.
A hardcore performance of the fest headliner – Owlymates. They'll set your pulse racing by the first chord!
Stay up to speed in all our social media to plunge head down into all activities!
And if you suddenly remembered that your drum or guitar, or whatever be your favorite instrument, is deserted and dusted in the corner, maybe it's that heavenly sign to take it out and rock with us? 🎻