Netpeak Spider 3.7: Structured Data and Integration with Google Drive
Updates
These days, clear online communication and collaboration between team members are at the core of business advancement. That's why in new Netpeak Spider 3.7, we've deployed integration with Google Drive, detection of structured data, and a few other noteworthy improvements. Click on the list of contents to quickly get to the needed section 👇
1. Integration with Google Drive

2. Detection of Structured Data

3. Scraping: 100 Conditions and New Unified Report

4. Improvements in Sitemap Generator

Perks for You

In a Nutshell
1. Integration with Google Drive and Sheets
A thin line lies between love and hate, or one unwitting phrase blurted out in messengers. To help you avoid such mishaps, we've implemented integration with Google Drive in Netpeak Spider.

And here how situation takes another direction when these guys switch to Google Drive and Sheets: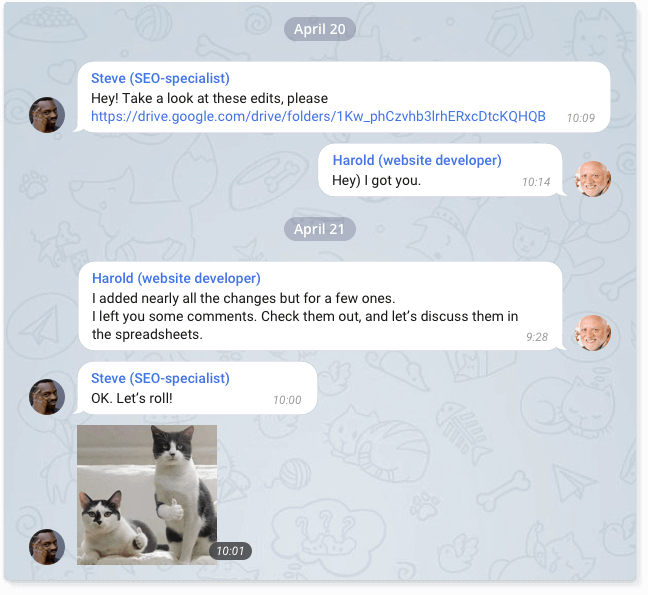 The majority of business processes in Netpeak Software are based in Google Docs & Sheets. We fell completely in love with them. Even our newcomers master formatting, cropping, functions, and formulas (though they don't really have a choice, if they want the probation period to be finished successfully 😈).
Of course, we want to ease our users' workflow so that your processes look like rolly hills. The new feature is supposed to become a go-to for those who have business communication in Google Suite.
If your processes look different, how on earth do you work then? 🤨 What do you use to tune your workflow instead of Google Docs? Please answer in the comment section below this blog post.
Thanks to the integration, you can quickly export reports straight to Google Sheets without any restraints and share with your colleagues within a few clicks. Likewise, the PDF reports: they're immediately exported to Google Drive, so it means that the only thing you have to do is to get a shareable link and send it to a client or manager.
Enabling this function is a no-sweat matter – you have to add your Google account in the export settings of the crawler. The export itself remains the same: you just go to the 'Export' tab where you choose the report and results table that you need, and they will be directly uploaded to Google Drive.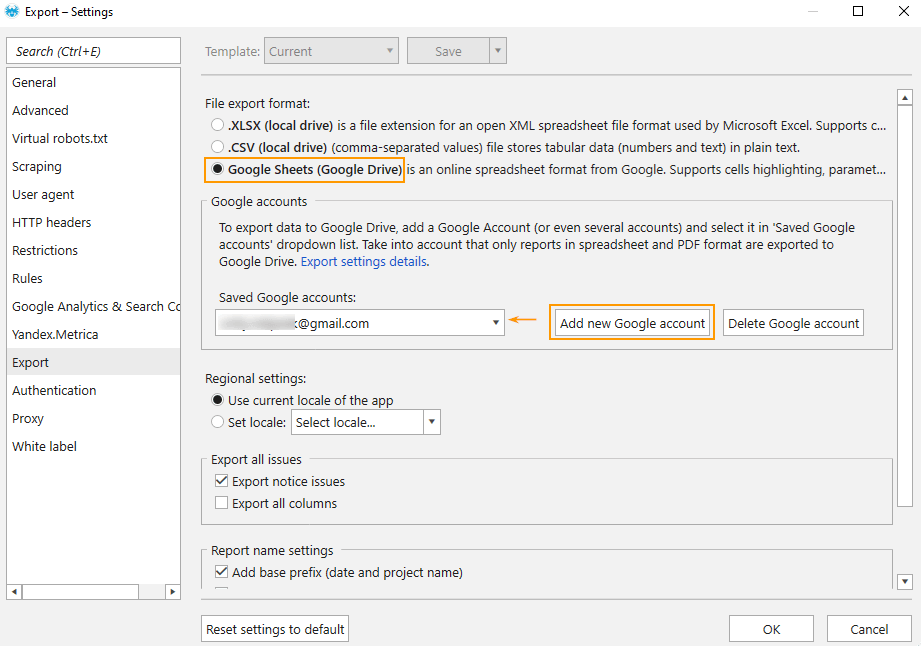 2. Detection of Structured Data
Search engine robots use data from markup in the snippet to make it more helpful for a user. This, in turn, improves click-through rate. Now Netpeak Spider learned how to detect structured data on pages, its formats (JSON-LD, Microdata, RDFa), and types.
With this new feature, you can detect what pages have structured data and which ones are missing it, though it should be there. Also, you can check what structured data formats and types the pages contain.
2.1. What We Added
An inner table 'Structured Data' with columns: URL, format, type, and the number of structured data types.
'Structured Data: Markup Types' parameter in a sidebar.
'Structured data (XL)' extra-large (XL) report in the 'Export' menu.
'Missing Structured Data' notice.
'Contain structured data' item in the 'Overview' tab in a sidebar.
'Google Structured Data Testing Tool' item in the 'Open URL in service' section of the main table context menu → you'll need it if the validation of structured data is required.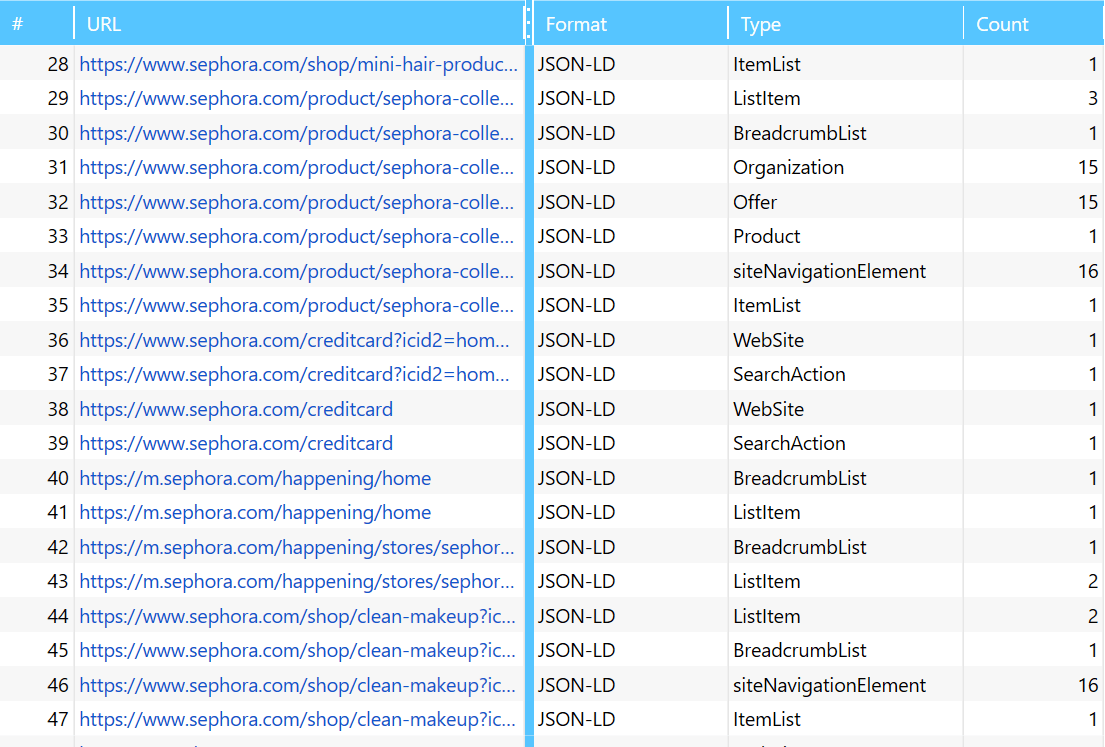 3. Scraping: 100 Conditions and New Unified Report
💯 We extended scraping conditions in this update – now there are 100 of them compared to the previous 15! Now you can bask in the sun of scraping opportunities. You're welcome.
📑 Previously, to compare scraping data and data from the main table in the program, you had to unify reports with the help of formulas. Now you can export these two types of data in a single report and then filter and segment them in any text editor of your choice. If several results occurred in one table column, they'll be separated by a comma.

4. Improvements in Sitemap Generator
Here's how we improved the built-in tool 'Sitemap generator':
We've deployed an option that allows you to break Sitemap into 1000 URLs per each file and to upload them this way to Google Search Console. It gives you another streak to see the statistics on all pages (GSC shows stats only on 1000 URL).

We added the opportunity to generate a sitemap with non-compliant URLs (earlier, you could add only compliant pages). This feature may come in handy when moving your website to a new domain. Google recommends generating a sitemap with redirects from the old site and submitting it to the destination website next to the new sitemap. Additionally, you can submit a sitemap with redirects to the Search Console so that crawlers could discover and process it fast.
You can add information about hreflang to a sitemap.
Perks for You
Free Trial
And suddenly, out of the blue… 😜 All Netpeak Spider users (!), including owners of the Standard license, will be able to relish new functionality of the crawler during the trial period until April 21, inclusive.
Sign Up and Start a Free Trial
Webinar
Have any questions or want to find your feet in new functionality? Our specialists will be thrilled to give you a bit of hand-holding! Sign up for webinar to learn all the cases and ways of using new features.
In a Nutshell
In the updated Netpeak Spider 3.7 we implemented:
Integration with Google Drive and Sheets→ business communication and the workflow won't be your pain in the neck any more (Harold and Steve found the same language in Google Sheets).
Detection of structured data → you can see what pages have structured data and which ones are missing it, as well as what types and formats are used there.
Enhanced scraping → we made 100 conditions and a new unified report so that you can scrape more data, segment, and filter results in the way you need it.
Improved Sitemap generator → now you can break sitemap into the 1000 URLs per each file, and add information about hreflang attributes.
That's the way the cookie crumbles 😏
We also added new useful links to use cases on our blog to issue descriptions.
Remember that your most anticipated wishes will be not only heard but made true! Let's storm in with the news about our updates. They're not a secret, so share them all you like 😙