A little while ago, we've integrated Netpeak Spider with Google Analytics and Search Console services, and immediately after that, our users nudged us to integrate with Yandex.Metrica. We've decided to cut a long story short and grant your wishes. When our users pitch us great ideas – we deliver. It's as simple as that 😉
Use the list of contents to navigate through the blog post easily.
1. Comprehensive Hreflang Analysis

2. Multi-Domain Crawling

3. Integration with Yandex.Metrica

Perks for You

In a Nutshell
So in a new Netpeak Spider 3.5 meet:
Comprehensive hreflang analysis – now you can check whether all hreflang attributes are set correctly on your website, if it's multilingual.
Multi-domain crawling feature – the algorithm is simple: upload the list of domains, run simultaneous crawling, analyze parameters and issues in a single report.
Integration with Yandex.Metrica – it'll allow you to extend crawling data with the information from analytical services and focus on the tasks that are a priority for page promotion. It's especially handy if Yandex.Metrica is your primary web-analytics system. If you use it only as a backup, then you have an opportunity to compare data from different sources.
Now let's bring out each feature in detail. Hit the road!
1. Comprehensive Hreflang Analysis
If you promote a multilingual website, hreflang attribute check should be a kind of rut for you. It requires caution steps. Otherwise, a search engine may misinterpret hreflang settings, which can affect local search severely.
Giant websites with multiple pages are especially the case.
And here we step in with a whole set of reports and hreflang checks in Netpeak Spider 3.5, including:
2 new parameters (they are in the 'Head Tags' group)
9 potential issues related to hreflang settings
2 XL reports in the 'Export' menu
7 special issue reports
new paragraph in the 'Overview' tab
new diagram on the dashboard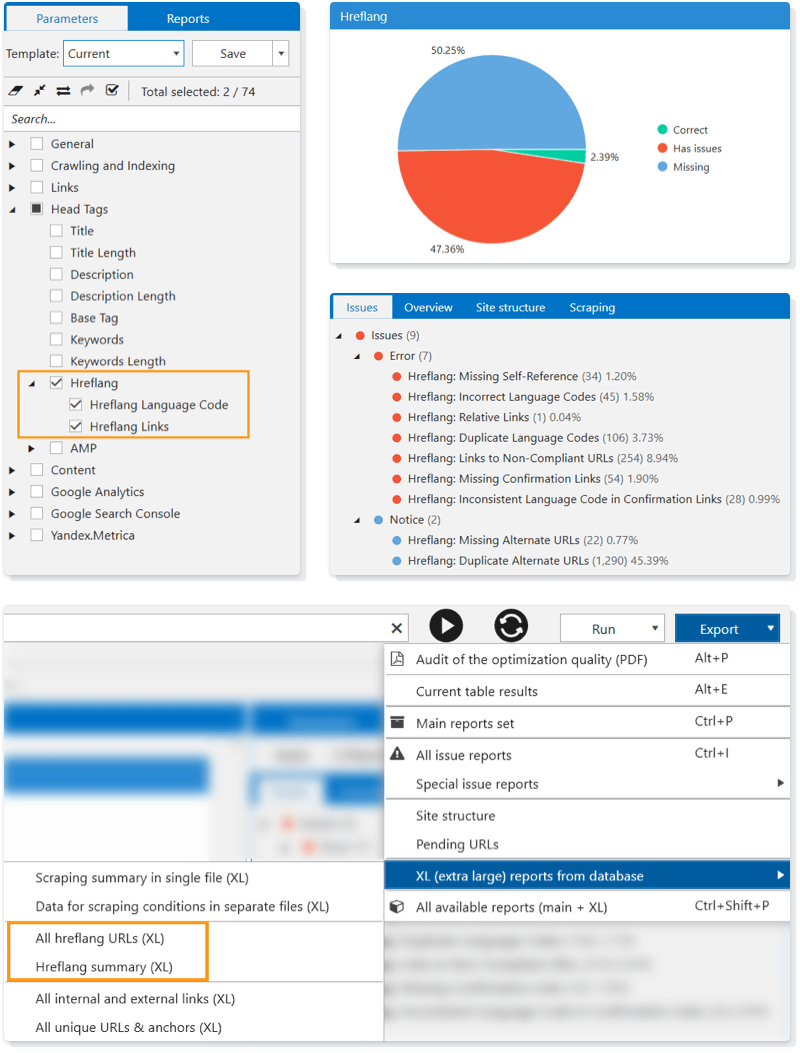 2. Multi-Domain Crawling
In our previous release, we've launched a new Pro plan where white label reports with technical SEO audit are available.
We're not ready to stop at this stage, and we're going for more features in the Pro plan for true PROfessionals 😉. This time meet a multi-domain feature.
2.1. What Is Multi-Domain Crawling?
This feature allows you to set the list of URLs, and afterward, the program will crawl these websites simultaneously and display data in a single table. A standard set of Netpeak Spider features will be available for all URLs of every website:
issues
'Overview' tab
site structure, divided by hosts
graphs on the dashboard
export of all reports
2.2. Why Do You Need Multi-Domain Crawling?
This feature allows you to:
Check the net of satellites, especially if it has multiple websites with few pages.
Crawl various sites on different domains simultaneously.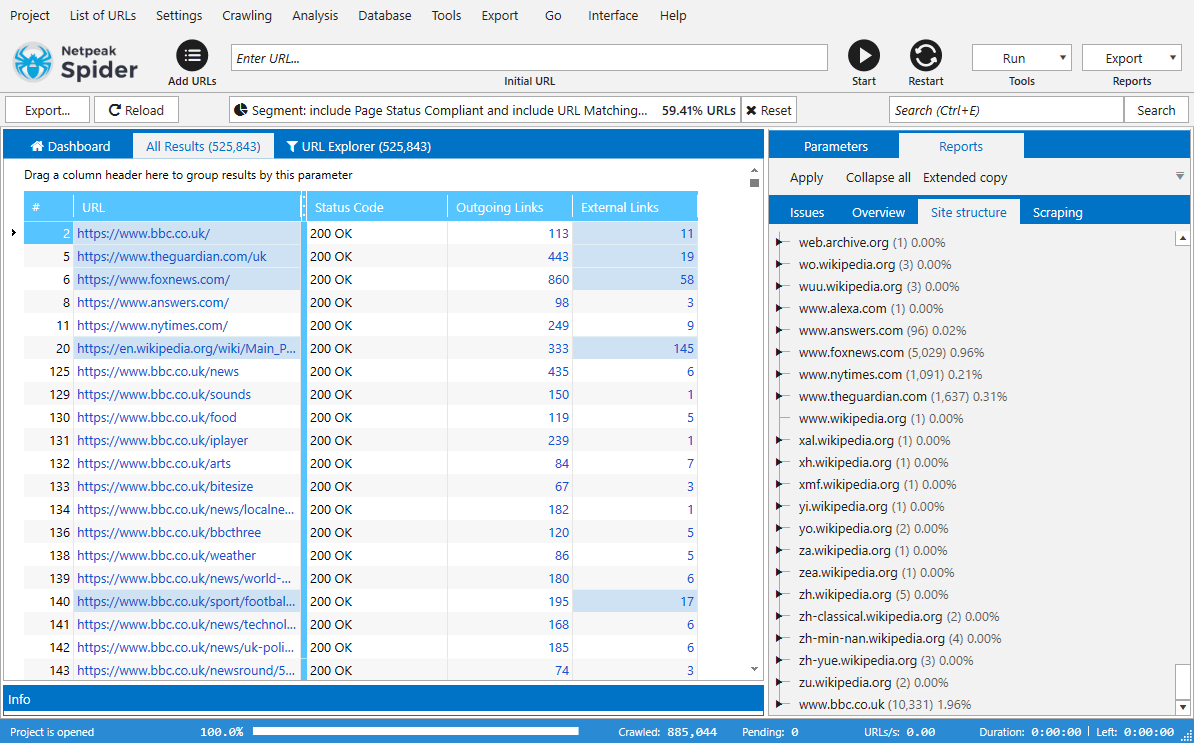 Detect broken links during crawling the list of URLs. To do so, you have to set the click depth at '1'.
Scrape site contact details (email, phone numbers, addresses). If you faced such a task, we could show you how to do it quickly and efficiently.
3. Integration with Yandex.Metrica
We're proud to announce that Netpeak Spider has become the first desktop crawler integrated with Yandex.Metrica.🥇
With Yandex.Metrica, you can get data on traffic, conversions, and Ecommerce parameters for your website pages. The tool allows:
choosing date range
setting segment (Organic, Paid, etc.) including the custom ones
considering the device type (desktop, mobile)
3.1. Features and Advantages of Integration with Yandex.Metrica
Ability to work with several accounts quickly.
Numerous custom settings.
Traditional Netpeak Spider logic → you can enable / disable any Yandex.Metrica parameter.
Data collection starts automatically when crawling is finished. At the same time, you can start it manually.
Avoiding data sampling.
If you're in Ukraine, you can set up a proxy to use this integration.
3.2. What We Added
New parameters in corresponding group in a sidebar.
Dashboard graphs and PDF reports.
Issues in a sidebar.
Points in the 'Overview' report.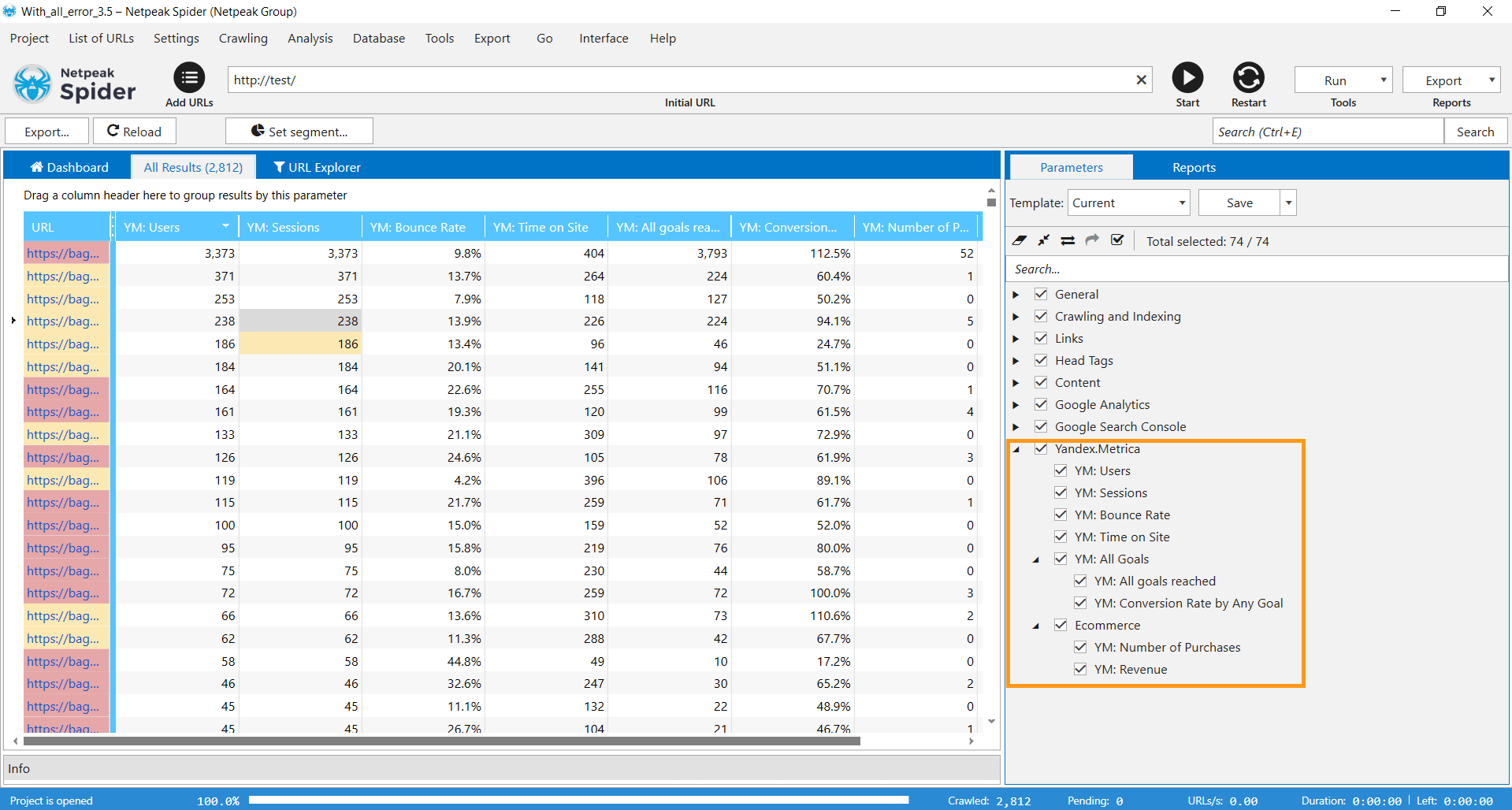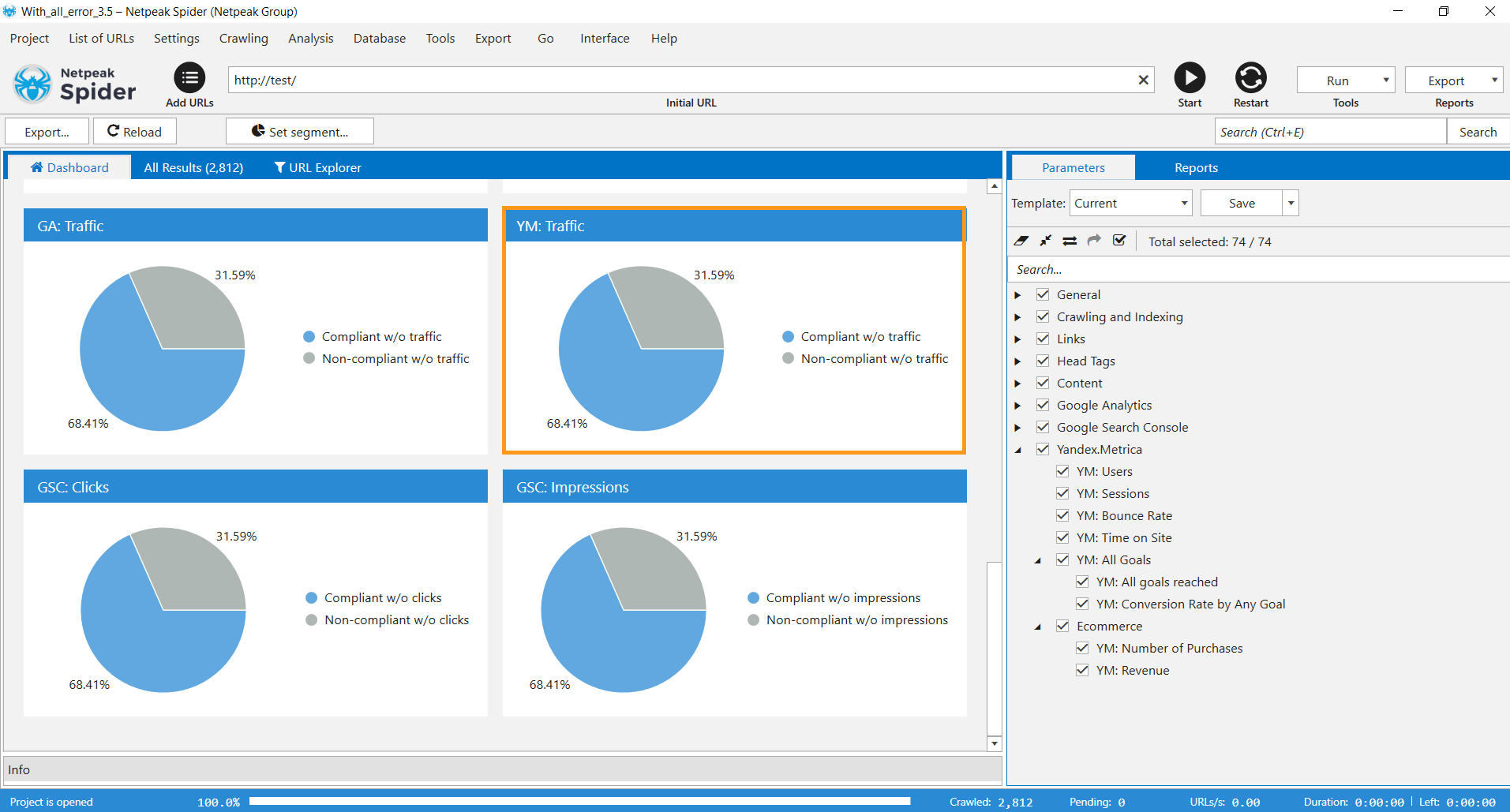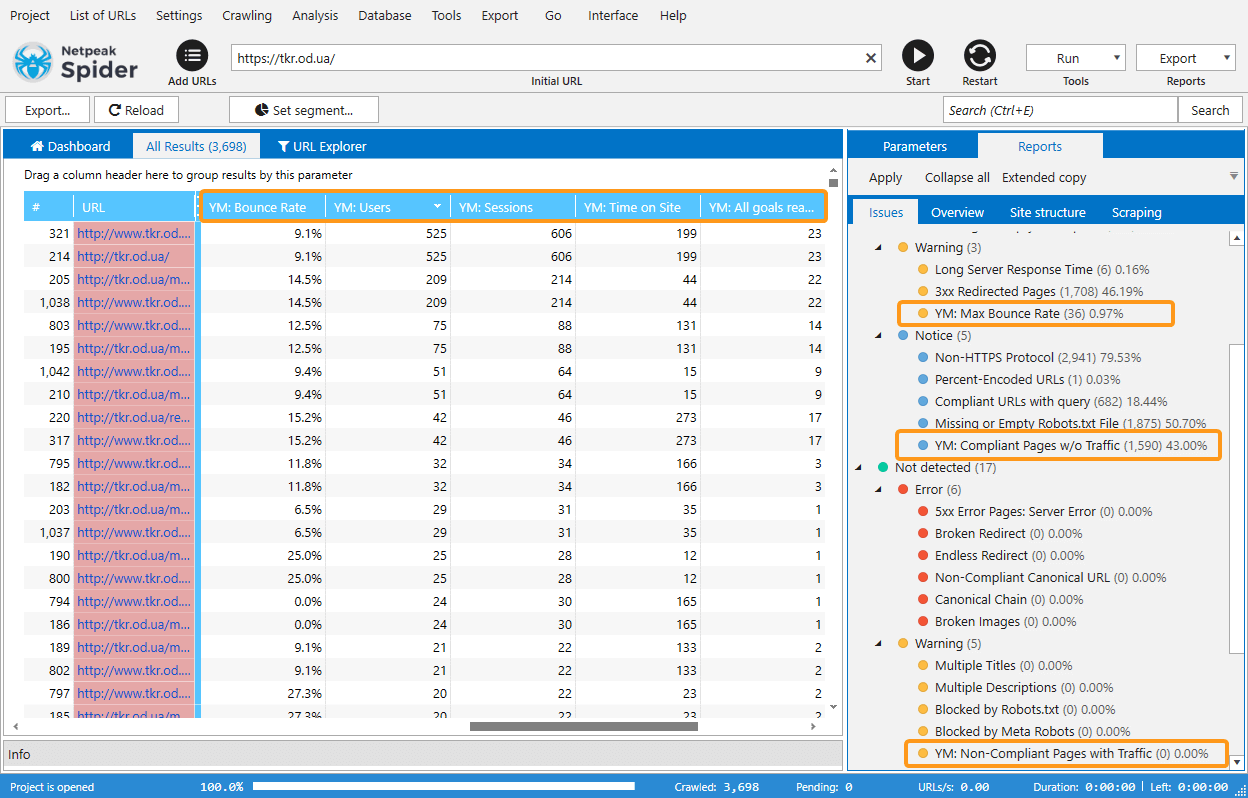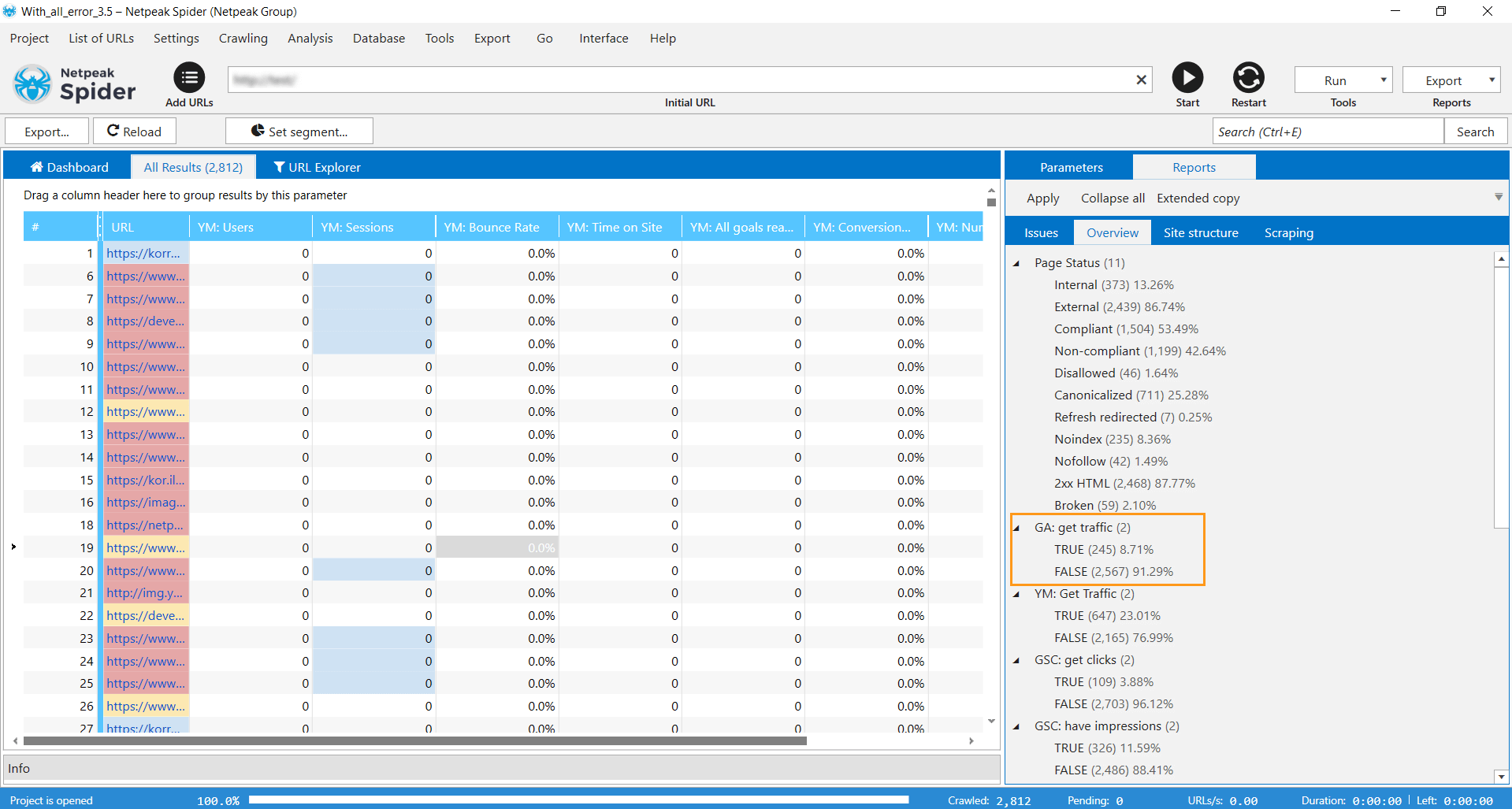 To use Yandex.Metrica, sign in to your Yandex account, and select necessary parameters in a sidebar. To learn more about the details of the settings, read User Guide: 'Integration with Yandex.Metrica.'
Perks for You
Our caring team wants to cheer you up with some delightful perks.
Netpeak Spider users can try out a new 3.5 version of the tool for free up to January 24th inclusive.
Sign Up and Start a Free Trial
Eager to learn more about new functionality? Our experts are ready to tell you about all the cases and ways of using new features during a personal video demonstration.
In a Nutshell
In Netpeak Spider 3.5, we implemented:
Comprehensive hreflang analysis – new checks and reports will allow you to get rid of the issues in attribute and understand how to configure it correctly. Now there's no chance you're going to make mistakes in hreflang 😉
Multi-domain crawling – it's a new Pro-feature, which allows you to crawl several domains from the list simultaneously: it'll be useful for those who promote multiple websites and wants to be on top of it.
Integration with Yandex.Metrica – we're running fast enough to be first movers.
Besides, Netpeak Spider 3.5 detects three new issues ('Compliant URLs with query', 'Non-compliant canonical URL', 'Canonical URL contains another host) and one new parameter ('Compliance') so that you could quickly filter compliant URLs in the table or create segments on their basis.
Meantime, we've added two useful links to the 'Scraping' settings tab that will help you open the versatile world of this feature. We'll drop them here for you to check them out and find a slew of actionable cases.
Share your impressions and new ideas of what you'd like to see in the next release!
We're ready to grant your wishes at breakneck speed 🚀