7 New Google Updates For Local Search
News

The annual Google Search On conference was held recently, where the company discussed seven updates and new features for local search.
These innovations will help users find the information they need more quickly than ever.
However, before we get into these updates and our optimization tips, let's start with a definition. Local search (or local SEO) is the output of geo-dependent queries. For example, 'restaurants in Warsaw', 'which museums to visit in Rome', and 'where to eat cheesecake New York in New York' are all geo-dependent queries.
You've probably come across something like this before. It's convenient, right? Google is a customer-oriented company, which is why they've worked on developments like this so active over the past three years.
Now let's go over seven new products in local search, as well as the impact of each of them on SEO. They are:
Search for restaurants by dish
Discover restaurant specialties
More support for digital menus
Enhancements to Google Maps Live View
Aerial views of famous landmarks
Immersive view
Neighborhood vibe checks
Search For Restaurants By Dish
Google is updating its local restaurant search engine and making it possible to find local establishments where a particular dish is served.
If your heart is set on eating pizza, but you don't want to check each of the nearest restaurants to see if they sell it, this update is for you!
If you search 'pizza nearby' or 'pizza in [city name]' Google will show you specific restaurants that sell pizza.
You can also now filter by options such as vegetarian, spicy, and much more.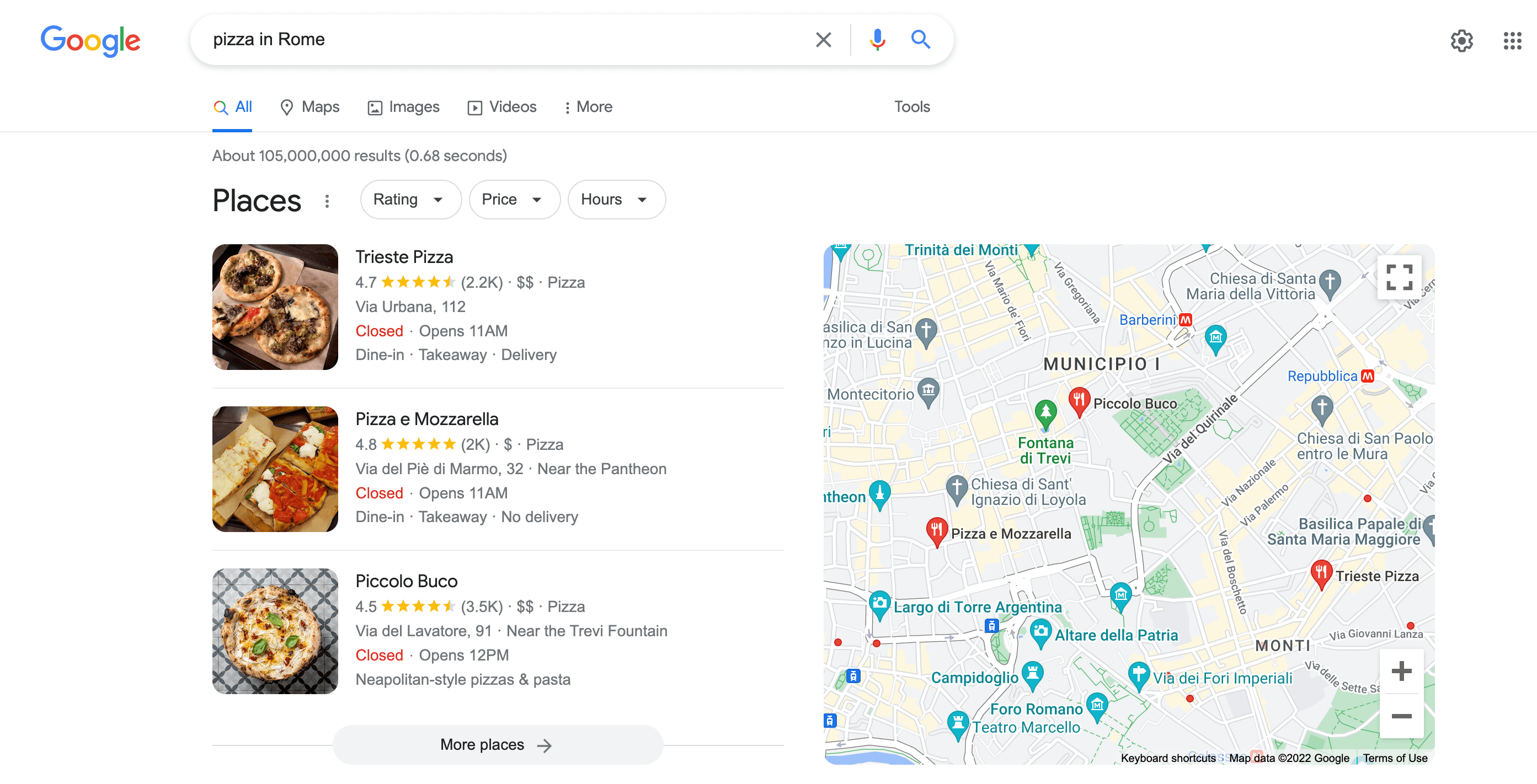 Tip: Create a Google Business account
You'll be able to specify all the important information about your site, making your business more recognizable. You should specify all the data in as much detail and as accurately as possible. As we've already seen, this will help the search engine distinguish your site from the rest, especially if you have a geo-dependent business.
Discover Restaurant Specialties
Google will soon start reviewing and rating restaurants to better understand what makes them unique, and they will start highlighting unique features under the text 'People say' at the top of a business's page.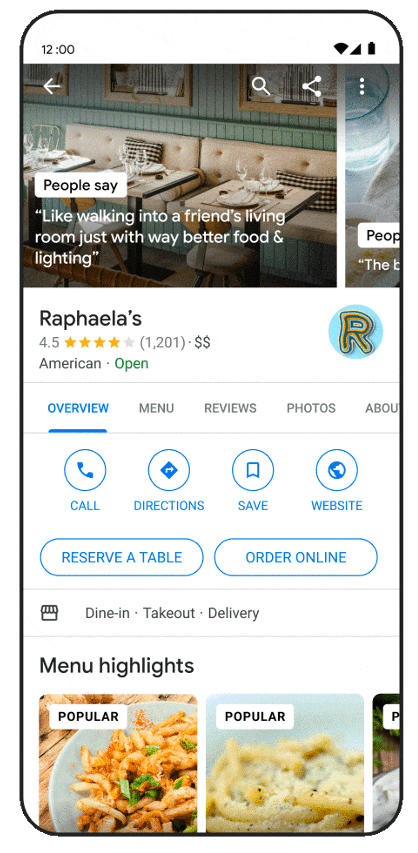 Tip: Work with reputation and reviews
As stated above, information about your business can now be provided to users from third-party sources. That makes it extremely important for you to monitor what people are writing about your business. Should something go wrong, and you receive a negative review, don't get worried! Respond as politely and sincerely as possible, admitting to any mistakes. Be sure also to offer a discount. This type of response shows other users that you care about your customers, and it will increase loyalty.
More Support For Digital Menus
Menus in local search are becoming more widespread and more customer-oriented. Google is expanding the reach of digital menus, complementing them with rich visual effects and constantly updating them.
In a blog post, Google explains how more digital menus can be added without any additional work on the part of restaurant owners:
'We combine menu information provided by people and vendors and found on restaurant websites that use open standards for data exchange. For the local search engine, we use the most advanced image and language understanding technologies, including our multitasking unified model.'
In other words, popular information about establishments will be pulled into the output. You should exercise extreme caution here. After all, malicious information can be taken from other sources just as easily as useful information. This can significantly affect both SEO and your entire business.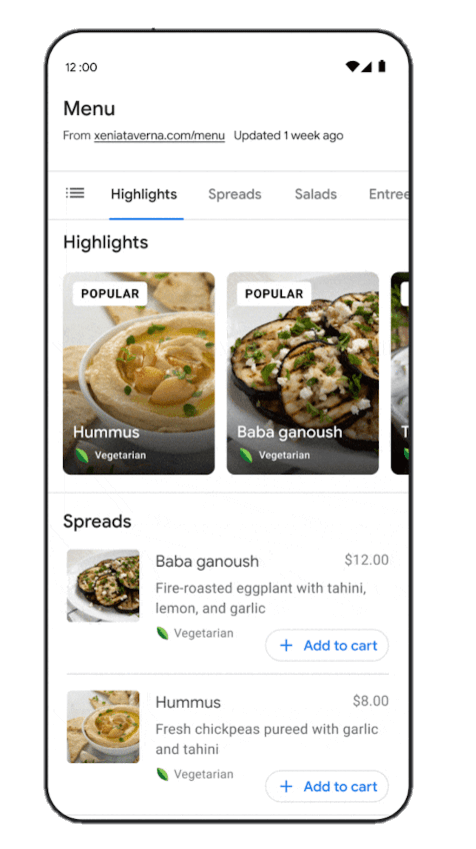 Tip: Explore your customers
Working with the target audience is its own body of work. It's very important. By understanding who comes to your site and what queries drive them, you'll be able to highlight them in the same google business and attract new people from the same or related segments. By the way, if you sell services, for example, to repair washing machines, it will be better to paint the brands of machines you repair and the most popular types of breakdowns. By doing so, you will attract not only high-frequency traffic but also low-frequency traffic.
Enhancements To Google Maps Live View
Google is updating a feature introduced three years ago called Live View. It helps you navigate by looking into the viewfinder of your phone's camera.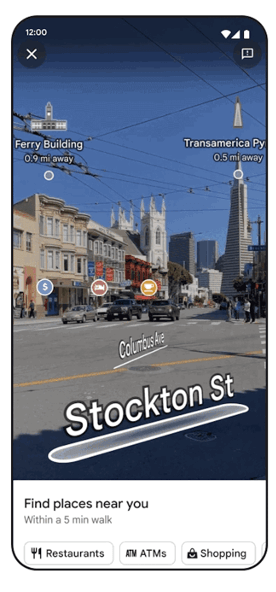 However, this kind of search is not available everywhere just yet. In the coming months, it's going to debut in London, Los Angeles, New York, San Francisco, Paris, and Tokyo.
Tip: Check and adjust!
Once you know that all the data for your business's Google page is correct and that your business is on Google Maps, check out how it looks for potential users. This helps you find errors and fix them before anyone else notices them.
Aerial Views Of Famous Landmarks
Google offers more than 250 photorealistic aerial photographs of the world's attractions.
As they say at Google, there are so many bird's-eye pictures of landmarks that they 'cover everything from the Tokyo Tower to the Acropolis.'
Tip: Outdoor advertising is important
Although this article is primarily aimed at SEO, you shouldn't forget other ways to attract attention to business. Just imagine what good advertising you'd get if your ad were in the frame!
Immersive View
This update will take you beyond street view and immerse you in the environment within buildings and other establishments.
An immersive view will show you how busy a place is and what the weather will be on the specified date and time.
It's worth noting that immersive viewing mode will appear in the coming months in Los Angeles, London, New York, San Francisco, and Tokyo on Android and iOS devices.
Tip: Take care of this function yourself
Whether your business is a flower shop or a coffee shop, you'll want to show users what it looks like. This will help you stand out among competitors and attract new customers.
Neighborhood Vibe Checks
The new feature 'neighborhood atmosphere' will provide tips about the area before visiting.
Google will start highlighting interesting and relevant places that you definitely shouldn't miss. This is a convenient feature for travelers.
According to Google, they will use artificial intelligence technology to enable the neighborhood feature. This feature will be available on multiple devices in the coming months.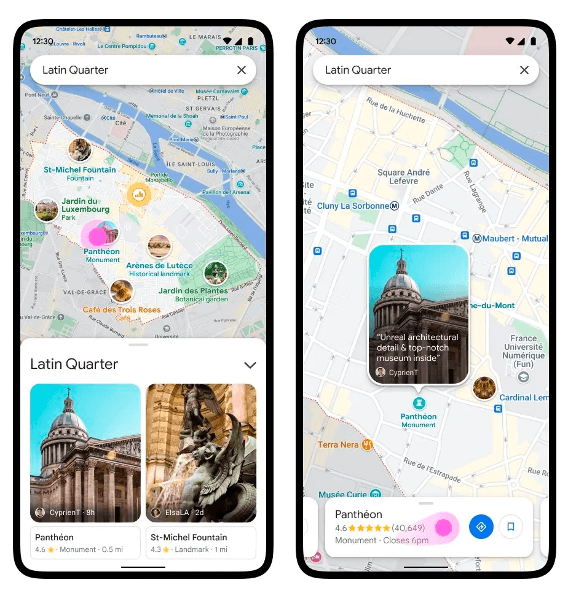 Tip: Do everything efficiently
Google loves when business is done for people. The search engine notices this and always awards high positions and/or appearances in various recommendations, such as local search.
If you want to learn more about your site, competitors, and how and where to move on, you can use Netpeak Spider and Checker. Our tools are as easy to use as possible and are aimed at helping you.
How To Respond To Google Updates
Google is doing everything it can to facilitate the search for ordinary users and return the most relevant results possible. By adapting to the changes, you'll be able to attract new visitors, expand your customer base, and outperform competitors. Unfortunately, there are no reliable instructions for how to land in the Google local selection — but if you make a site for people and work on your business's reputation, you'll increase your chances.