SEO for Product Pages: Optimization Tips with Stunning Examples
How to

Attracting online shoppers to your product pages is a top priority for Ecommerce marketers, and you should use every trick in the book. And there is no doubt that search engine optimization is the most trusted and reliable way to ensure healthy traffic comes your way organically.
So, I collected the best SEO practices for optimizing your product pages with examples of websites that are using them. Also, I'm going to fire up Netpeak Spider crawler to check the technical side of this venture.
You can conduct a comprehensive website analysis even in the free version of Netpeak Spider crawler that is not limited by the term of use and the number of analyzed URLs. Other basic features are also available in the Freemium version of the program.
To get access to free Netpeak Spider, you just need to sign up, download, and launch the program 😉
Sign Up and Download Freemium Version of Netpeak Spider
P.S. Right after signup, you'll also have the opportunity to try all paid functionality and then compare all our plans and pick the most suitable for you.
Keywords

Optimize Your URLs

Optimize Your Product Titles

Meta Descriptions

H1 Tags

Unique Product Descriptions

Image Optimization

Product Reviews and Ratings

Product Schema Markup

Five Sins You Should Avoid
1. Keywords
Whenever we talk about search engine optimization, automatically we think about the keywords we are going to use.
Keywords research and usage are the bedrock on which you can optimize your product pages. And, without keywords, all the effort, time, and energy you put in optimizing your product pages will be wasted. Why? Google Semantic Search.
Google bots use semantic search to show the most accurate results to their users. They do it by understanding:
User's search intent.
What was the context of their online query?
And how the words used online are related to each other.
In simple words – the bots try to understand language just like any user would.
So, step one – keyword planning.
Start by going on Google and typing your preferred keywords. See what comes up on the result pages. This will be your first step in learning how your competitors are using keywords.
Doing this will also show you how Google sees the keywords you are planning to use. For instance, if you are running an online cookie business, you can try typing 'chocolate cookies' to see what comes up.
The results will show how many of your competitors are using this keyword and you can also take a peek into how they have optimized their product pages, URLs, title tags, etc.
Next, you need to use a SEO tool to further research keywords you are going to use. There are different platforms that you can use like Moz, Ahrefs, Serpstat, or SEMrush, or these SimilarWeb alternatives.
Here's what happened when 'Chocolate cookies' was added into SEMrush.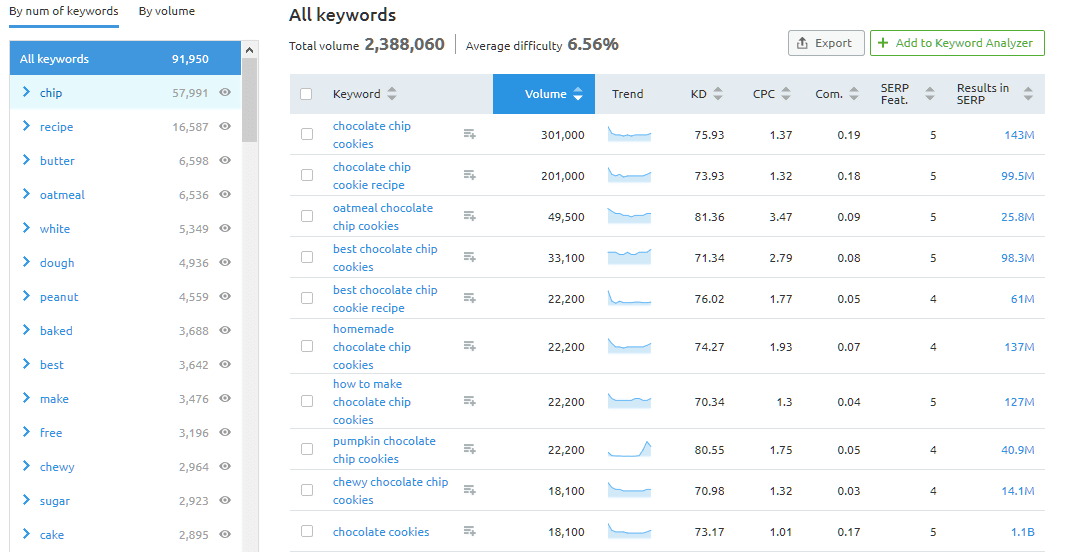 In the snippet above, SEMrush has listed down the keywords according to their search volume, their keyword difficulty, what will be the CPC of each keyword along with the competition.
Editor's note. Let's cover the vocabulary:
Search volume, according to SEMrush – is the average number of times a specific search query is entered on a search engine per month.
Keyword difficulty, according to SEMrush – it estimates how hard it would be to use SEO on a new webpage to hypothetically outrank the web pages that are currently ranking on the first two pages of Google.
Cost Per Click (CPC) refers to the actual price you pay for each click in your pay-per-click (PPC) marketing campaigns.
'Com.' according to SEMrush – it stands for Competitive Density. This number represents how many advertisers compete for this particular keyword in paid search.
Competition is important since it tells you how hard it will be to rank the keyword and how expensive the CPC is going to be if it's closer to 1.
From here, you can start building your list of keywords. Remember to add long tail keywords on your list.
1.2. Why Do You Need Long Tail Keywords (and What Are They)?
Adding long-tail keyword in your content helps because it contains three or more words related to your niche. Long-tail keywords are used to target your niche audience rather than the whole market.
For instance, in our example of 'chocolate cookies', a long tail keyword would be 'vegan chocolate cookies'. Since they are more specific, they have less competition and can offer more organic traffic to your product pages.
With your keyword planning complete, you can move on to the next steps.
Soon you will realize how important keyword planning is to your product pages SEO since we will be using the keywords in almost all the steps.
2. Optimize Your URLs
Since you have chosen your keywords carefully, it's time to focus on your product page's URL.
Why? Because URLs help both users and search engines to know what the page is about.
Knowing this, you must realize that your product pages URLs should be search friendly. Doing so increases the likelihood of search engines showing it to potential users and helping you get organic traffic.
Let's look at the example. Ethel's baking is in the business of selling delicious cookies online in the United States and Canada. What's impressive is how they have set their URLs: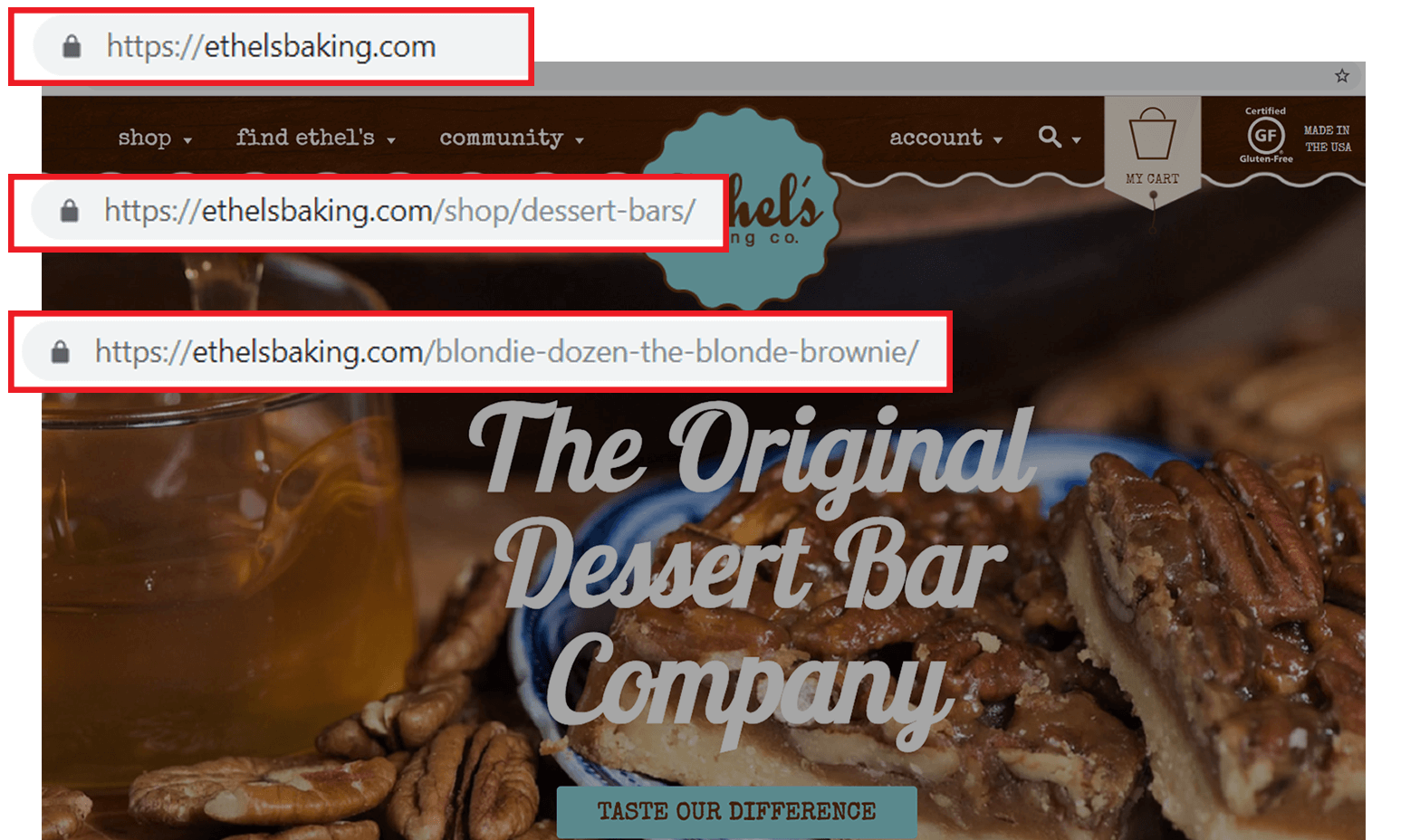 Notice how clean, precise, and simple they are. They are self-explanatory, when you look at them, you immediately know what the page is about. That is what you need to do with your product pages as well.
Now imagine if Ethel's use the following method to make their URLs:

Back in 2008, Matt Cutts confirmed that URLs should be not more than 4-5 words ideally. While this is quite old, it is still a general rule to keep your URLs short and sweet.
Here are few other things that you need to keep in mind when it comes to optimizing your URLs:
Use hyphens in your URLs. Don't use spaces, underscores or other characters.
When writing URLs, use lowercase letters. Did you know that uppercase letters can result in a duplicate content issue? So, avoid using them.
Use the name or technical information about the product.
How to Check URLs
Let's see how you can spot URL issues with the crawler. For example, you can use Netpeak Spider to check URLs length or different issues.
1. Start Netpeak Spider.
2. Choose 'Default' template on the 'Parameters' tab.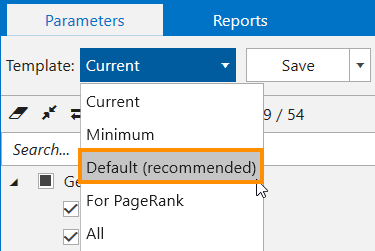 3. Enter URL to the address bar and start crawling.
4. After crawling is finished, go to the 'Reports' tab → 'Issues', to have a look at pages containing URL issues. Netpeak Spider can help you to find the following issues in URLs:
Links with Bad URL Format. It indicates pages that contain internal links with bad URL format.
Redirects with Bad URL Format. It indicates addresses of the pages that return a redirect with bad URL format in HTTP response headers.
Percent-Encoded URLs. It indicates pages that contain percent-encoded (non-ASCII) characters in URL. For instance, URL https://example.com/例 is encoded as https://example.com/%E4%BE%8B.
Max URL Length. It indicates pages with more than 2000 characters in URL by default. You can change the default value on the 'Restrictions' tab of crawling settings.
3. Optimize Your Product Titles
After your URLs, you need to focus on your product titles. Let's start with the example above, by bhphotovideo.com.

This result showed up when we used the keywords 'laptops in New York'. Check how they have incorporated the words laptop in their title. Not only have they added the keyword 'Apple Laptops' but have also incorporated brands name along with 'laptops' as well.
Like URLs, it is important that your titles are easily readable. This is for both your audience and Google so that they can know what the page is about.
Remember, make your titles less than 60 characters. Why?
Check these two results:

Notice how in the second result the title is broken. That's because it goes beyond 60 characters. A title tag like that won't do you any good with search engines as they want to read the titles to know whether the page is relevant to the search intent.
So, make sure your title tags are small, coherent, unique within your website and contain one of the keywords and the product's name.
How to Check Title Tags
So here is a short disclaimer about checking titles. Choose parameters template and start crawling as in the second paragraph. Then the program can show you the following issues:
Duplicate Titles
Missing or Empty Title
Multiple Titles
Same Title and H1
Short Title
Max Title Length
If you've found any of the mentioned issues, you can export the results and fix it. In the 'Info' panel, under the results table, you'll find a lot of useful information about the issue, how to fix it and links to guides.
4. Meta Descriptions
Next, it's time to focus on meta descriptions.

Whenever you search something in Google, you see the title tags, the URLs and underneath them, you will see meta description, the grey text that describes what's the website about.
When users search online, they look up to the description written under title tags on search engine result pages.
Let's look at another example. This is what came up when we searched for 'Malt in USA online':

Notice how they are incorporating the keywords in their meta description.
Online + malt + USA have naturally been incorporated into the text to ensure Google picks it up when someone types the words.
Therefore, the meta description is incredibly important for your product pages.
What should be included in it?
Meta description is what encourages your customers to visit your website and ensures Google bots rank it higher.
So, it's important that you add in your product's name, the keywords you mapped for it and incentives to bring in traffic like discounts, free shipping or promos.
Here are a few things that you should always bear in mind when writing meta descriptions:
It should have your primary keywords.
Use your long-tail keywords in the description for extra strength.
Think about adding a call to action phrases and words like buy, click, discounts, etc.
Talk about your unique selling proposition ( USP) – same day delivery, free of cost shipping.
Your meta description must be unique within your website.
The page should include one meta description.
It should be no less than 30 characters and no more than 260 characters.
Keep in mind that if you neglected your meta descriptions, Google can show text from the page in the search, and it can be not so good-looking.
Also, you should use breadcrumbs menu. Just like Hansel and Gretel who wanted to use breadcrumbs to find their way back home, you should use breadcrumbs menu to increase your click-through rate.
Let's look at our earlier example of bhphotovideo.com:

See the green text, it shows where the page will take them in the website. In this case, it shows that they are heading to 'featured laptops' section of the website. Think of them as signboards telling your customers what's the next destination.
Another thing to consider when writing your meta descriptions is to ensure they are unique and original. Ecommerce managers must work with many products and sometimes copy-paste product information from the supplier.
Don't do this. As chances are your competitor using the same supplier may post it as well, meaning your website will be using duplicate content.
How to Check Meta Descriptions
Let's find out how you can check meta descriptions. Start crawling with default parameters and check the 'Issues' tab. Netpeak Spider can find:
Duplicate Descriptions
Missing or Empty Description
Multiple Descriptions
Short Description
Max Description Length
5. H1 Tags
Most of the time, H1 tags are used for writing the name of the product like on one of the pages of Solillas: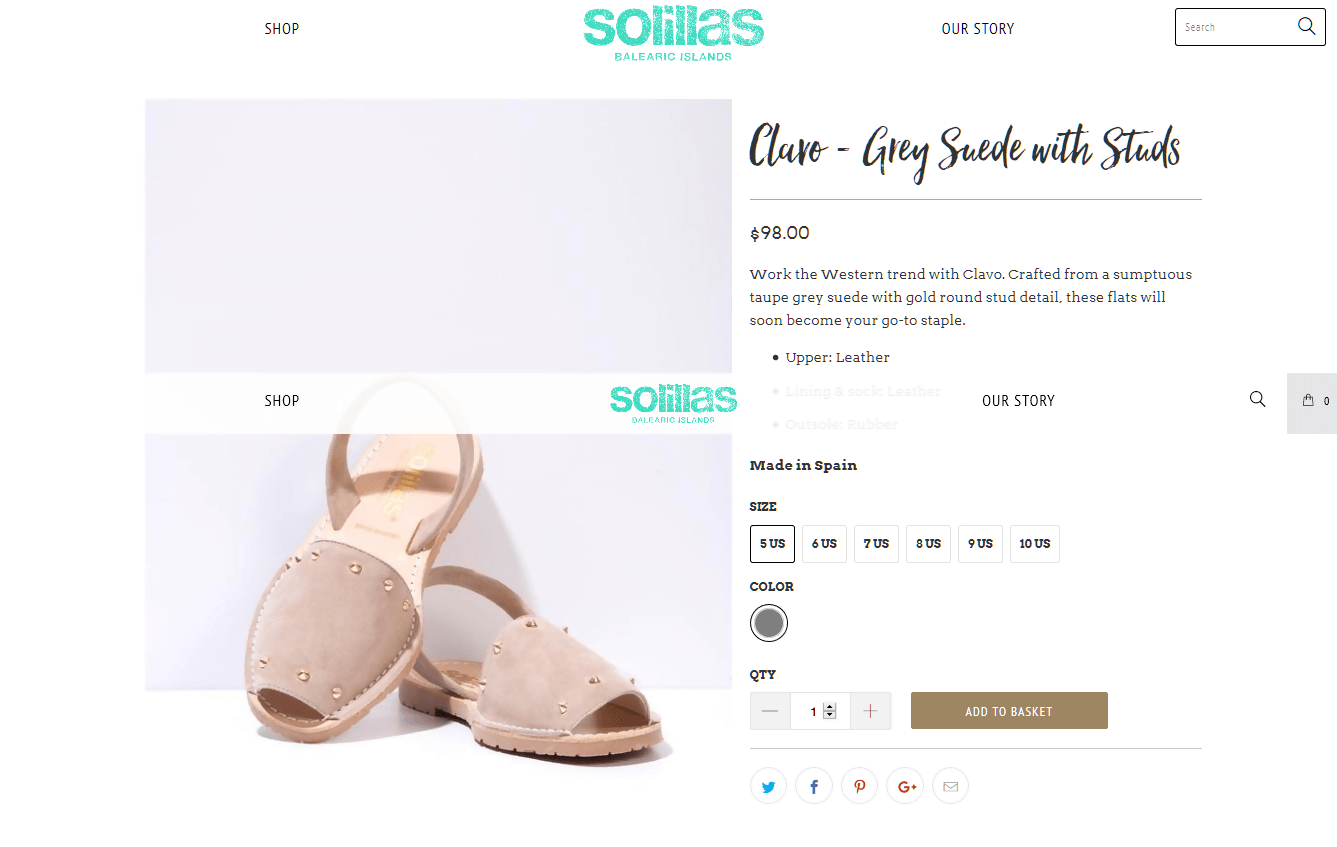 They are using the H1 tags for their product here.

And that's fair. But you can be creative and add in your keywords as well. But if you don't want to, you can do it with your H2 tags.
Used as subheadings, these can be used within your product page in different places to divide the content in a systematic and organized manner.
While the biggest benefit of H2 tags is that they help in making the user experience more friendly, we recommend that you use them for SEO purposes as well.
Unlike H1 tag that is used once, H2 tags can be used several times, meaning you can add in your keywords here as well. The best practice is to add your primary keyword in three to four H2 tags.
6. Unique Product Descriptions
One of the critical areas of product pages that often gets forgotten is the product description.
Using it, you can not only ensure you convert traffic into leads but also optimize it for better SEO results by weaving in your keywords in the content.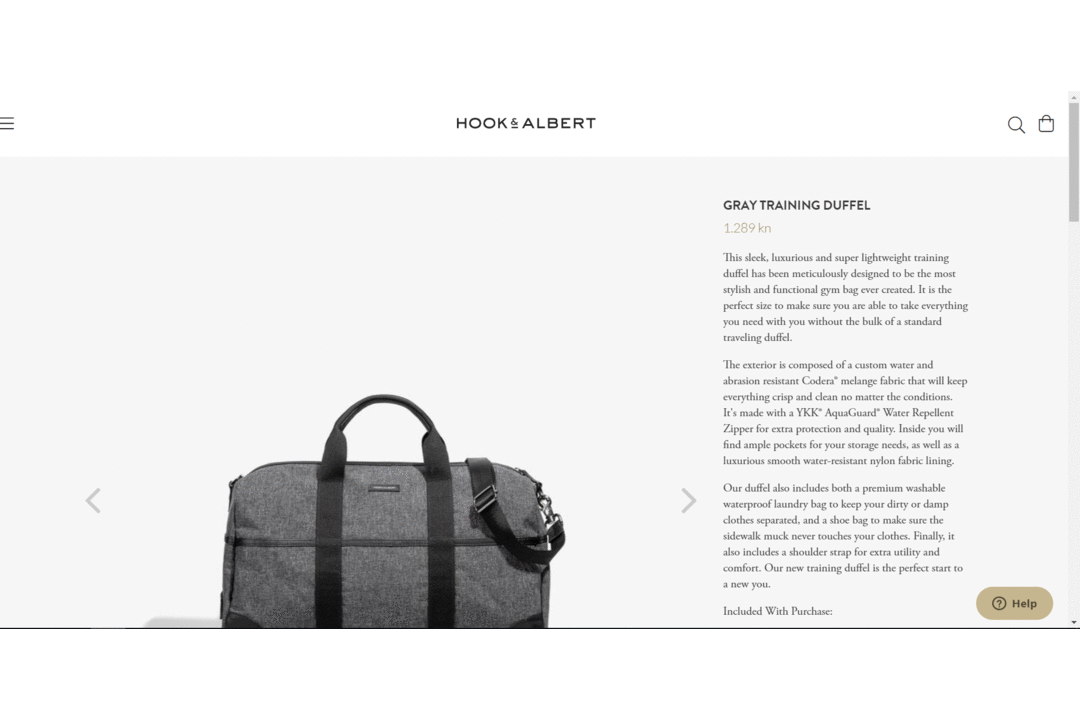 As we know that Google uses the content on your page to evaluate how high or low it should rank on SERPs, it's important you help its bots.
Make sure your product pages have a unique product description. Follow the guidelines listed below for smart and unique descriptions.
Add your primary keyword in the product description.
Add synonyms and long-tail keywords – but only where you can. Don't force them in.
Write a well written and conversational description that guides customers about the product.
Keep it short, simple and unique. Avoid rambling. Don't make it a sales copy.
The text should contain min 500 characters. Keep in mind that Google doesn't appreciate thin content.
If you've already had a lot of pages with product descriptions, you can check if they're unique within your website. Start Netpeak Spider and crawl your website. If there are pages with duplicate text, you'll see this issues on the 'Reports' tab.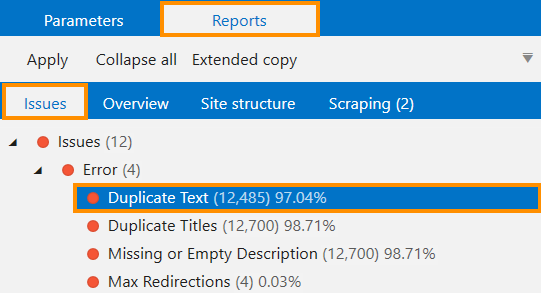 7. Image Optimization
Customers love to see images of the products they want to buy online.
Naturally, the best product pages use images perfectly, have them positioned in such a way that they build confidence in customers to make a purchase.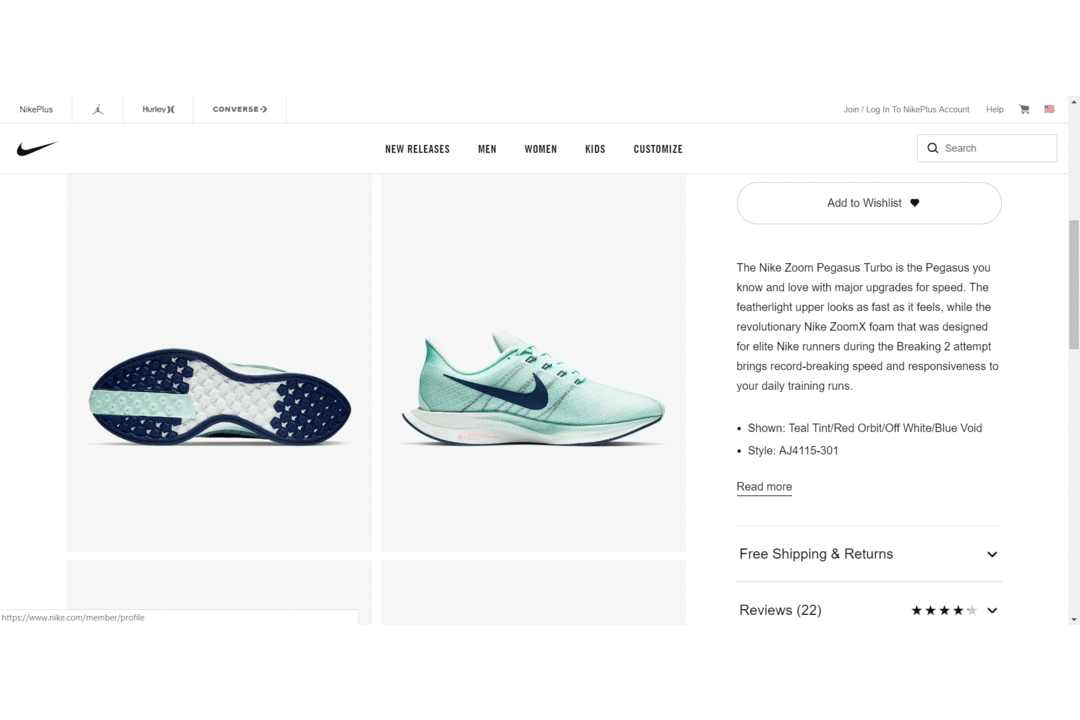 Whatever you are selling, images help a lot. And when we talk about optimizing product pages, we are talking about optimizing them for search engines as well.
First, you need to optimize the size of the image.
Because it directly impacts the speed at which your page loads. And it's one of the leading SEO performance metric when it comes to getting a higher rank on SERP pages.
What this means is that product pages that take time to load are penalized by getting lower rank on search engine results and provide poor user experience, especially for mobile users. You can check the speed of your site by using PageSpeed Insights.
Use JPEGmini, TinyPNG or Kraken.io to reduce the file size of the images on product pages. Keep in mind that your images should have good quality.
Also, you can use CDN (content delivery network) to speed up images downloading.
Second, optimize your alt text.
To ensure Google bots see the images you have added, use alt text.
Alt text which is also known alt description or alt attribute is text that can be added in the HTML code of your product page to describe what the image is about.

Here are some tips on how to optimize alt text:
Do not overuse your keywords.
The text should be written as if you are explaining it to someone.
Add a small caption if possible, to further assist Google bots in knowing what the image is about.
And thirdly, keep an eye on broken images. If several people work on products cards, and the assortment often changes, broken images can occur. So you need to check your website regularly and fix such problems.
How to Check Images on the Website
With Netpeak Spider, you can find images with max size, images without alt attributes and broken images. To check your images, tick 'Images' on the 'Parameters' tab. Then check out 'Reports' tab:

8. Product Reviews and Ratings
Customers look for social proof when making an online purchase decision.
They want to know whether the Ecommerce store they are on is authentic and worth buying from. This is where product reviews and ratings come in. Seeing reviews left by other customers helps an online consumer to decide whether to buy or not.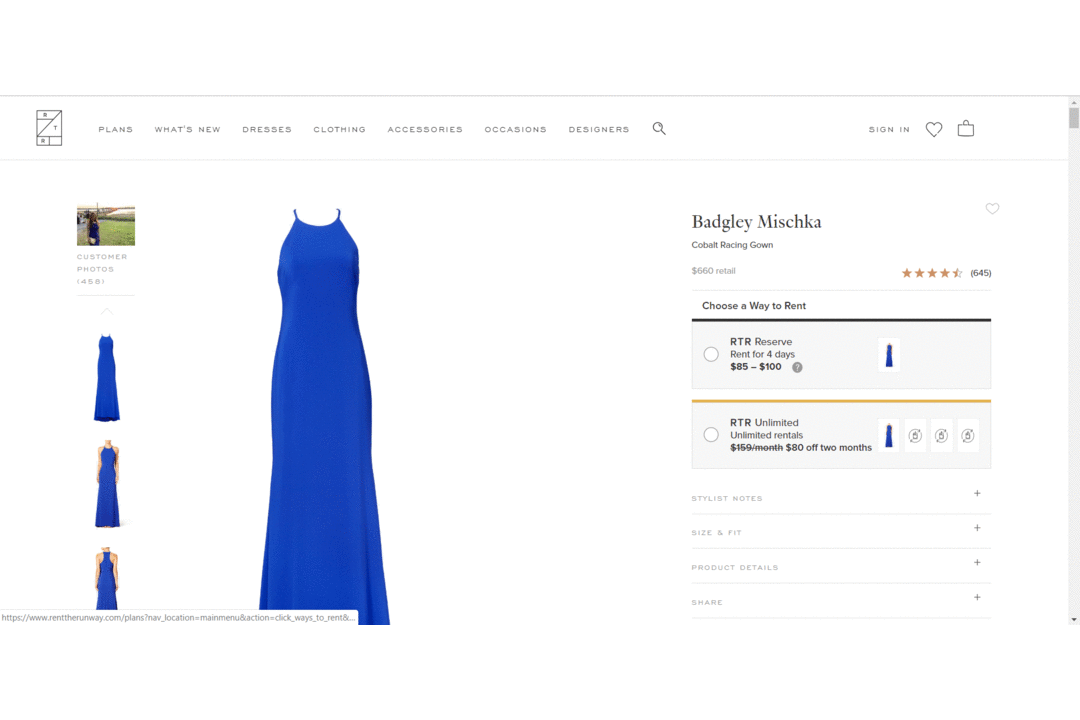 But there's more to it.
Reviews and ratings are one form of user-generated content, meaning Google will consider them as well as one of the ranking factors.
User-generated content is the extra content on your website for Google bots to crawl. And this can help in getting a higher rank. John Mueller from Google confirmed this in AMA.
Also, customers end up doing more for you. When they talk about a certain product, they end up using keywords and links, thereby making your product page more susceptible for Google bots to crawl through.
Add in a section where you can incorporate Google reviews on your product page. Why Google reviews? Because Google bots love to consider what customers are saying about you on 'Google My Business'. Also, make sure to implement markup for review snippet.
9. Product Schema Markup
Ask yourself – which one would you prefer from these if you were looking for a laptop online?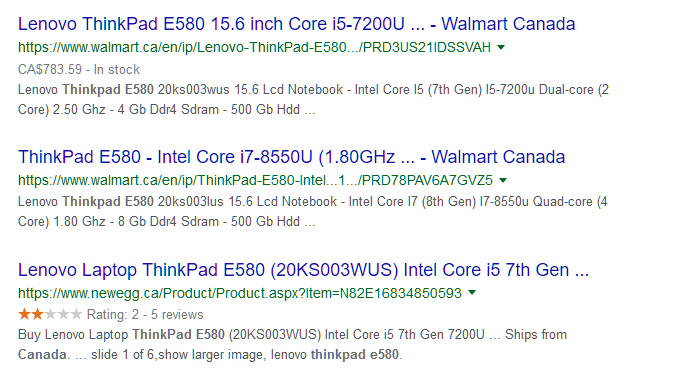 The third one, right?
It makes sense since you want to know not only the specifications of the laptop but also more information like reviews. Same is the case with your customers. When they find more information on search engine result pages, they are more likely to click on it, thereby increasing your click-through rate!
The reason why we see these two different types of results is that the third website is using schema markup. Schema markup is a code that lets you share more information with online customers on the search engine results page.
Search engines are indexing our website and showing it to their users when they use relevant keywords. But with schema markup, you can show your product pages different on the result pages.
Because with schema markup you can tell the search engines to focus on the content that you want to be shown. Like in the example above, where the third result is showing reviews of the product as well.
But it's not about customers only.
When you use schema markup on your product pages, you are letting the search engine bots know what the page is about. It allows you to make your search engine snippet more enhanced.
Search engines then use this new information to learn what your page is about, understanding that it's a product page and you are selling the products the users are searching for.
For product pages, schema markup is a blessing. You can share price, reviews, and even availability with online users easily.
Here are the most commonly used properties Ecommerce sites like to use:
Name
Images
Product Description
Offers
Currency
Ratings
How to Check Schema Markup Implementation
When you've implemented Schema markup on your website, do not forget to check it using tool from Google. To check if there are schema markup on your product pages, you can use scraping in Netpeak Spider.
You just need to:
1. Open 'Settings' → 'Scraping'.
2. Set the 'Contains', and the search area – 'All source code'.
3. In the search bar, insert some schema markup element that is on all pages. For example, if you need to have a product Schema on the pages, use itemtype = "http://schema.org/Product"> as a search element.
4. Save the settings.

5. Start crawling. To speed up the process, disable all parameters in the side panel, leaving only 'Scraping' enabled. So you focus all your resources on extracting data.
6. When crawling is completed, click the Reports tab → 'Scraping'.
7. To see a list of pages on which markup is present or absent, click on the corresponding line in the scraping results.
8. You can filter out all potentially problematic pages and solve the problem with markup.
10. Five Sins You Should Avoid
10.1. Don't Copy Paste Content from Manufacturer's Website
Your Ecommerce website has hundreds of products. And you are creating product pages for each of them. This is where copying content directly from manufacturer's website becomes increasingly convenient. But it is going to cause you problems especially since someone else is going to copy that content as well. Meaning your product page will feature duplicate content. Yikes.
So, write unique content every time you are creating a new product page to avoid this.
10.2. Duplicate Titles
Another sin that many Ecommerce managers commit is copying titles directly from the manufacturer's website. Like content about the product, your titles should be unique.
10.3. Removing Your Seasonal Pages When the Offer Is Over
Once an offer is over, we end up removing the product page since it doesn't serve any purpose. But this is wrong. Every season you will have to start from scratch, redesigning optimizing it all over again. And when you do, it might be too late already.
The best course of action here should be to create a page for every holiday or major event and update it every year. For instance, you can create a page for Christmas offers, and once the season is over, you can simply update the content to say, 'Come back next year for more exciting offers'. And when Christmas approaches next year, you can revamp the page without losing its authority and ranking!
10.4. Don't Undermine the Importance of Product Description
Whether you have hundreds of product pages or only a few of them, don't undermine the importance of product descriptions.
It's hard work but it's worth it.
Using your product description, you can not only convert visitors into customers but also leverage the content to rank higher on search engine pages. You can use product descriptions to add in keywords, use H2 tags, add URLs and other things to optimize it for SEO.
So, don't undermine it.
10.5. Not Taking Stock of Search Demand
You did your initial keyword research and started to use keywords in your product pages. Awesome. But this needs to be an ongoing process. In Ecommerce, customers search intent changes with new trends and products.
So, make sure you have one ear to the ground and know about the latest keywords being used to search for products like yours.
You don't want to miss out on extra organic traffic.
TL;DR
When you optimize your product pages, you should keep in mind the following aspects:
keyword research
URL optimization
product titles optimization
meta description optimization
unique product descriptions
image optimization
headings and subheadings optimization
using product reviews and ratings
using product schema markup
Hope our article will help you :) Share your experience in optimizing product pages in the comments below.