Voice SEO: How to Optimize Content for Voice Search
How to

When Amazon Alexa started gaining popularity, many companies got interested in hopping on board of the new voice search trend.
Domino's is one of these companies, having launched its Amazon Alexa order placement feature in 2017. Now available around the world, Domino's virtual order placement is one of the most popular ways to order pizza without having to touch your phone or computer.
Since then, a lot of YouTube users uploaded videos giving reviews of this feature, which were mostly positive.
Domino's was not the only company benefiting from the rising popularity of voice search.
Burger King's 2017 advertisement involving the phrase 'OK, Google, what is a Whopper burger?' became so popular that it won the company a bunch of rewards and acknowledgments, including the Creative Marketer of the Week at Cannes.
1. The Rising Popularity of Voice Search: Crunching the Numbers

2. How to Optimize Content for Voice Search

2.1. Start with User Intent

2.2. How to Optimize Voice Search with User Intent in Mind?

2.3. Optimize Your Text for Google Snippets

2.4. How to Optimize Featured Snippets for Voice Search?

2.5. Launch a FAQ Page

2.6. Optimize Your Content for Mobile Devices

2.7. Enroll Your Website on Google My Business Listing

Wrapping Up
Feel like bogging down in a billow of SEO topics? Sign up to receive our weekly newsletter with nonperishable cases and nifty how-to's.
1. The Rising Popularity of Voice Search: Crunching the Numbers
Statistics indicate the voice search will eventually become equal to or replace standard search methods. According to WordStream:
Voice search already takes 20% of all Google search results.
By the end of this year, the percentage of searches via voice technologies will reach 50%, and around 30% of searches will be done without using a screen.
The popularity of voice search will also affect households, as 55% of homes are expected to own a smart assistant like Alexa or Google by 2022.
Indeed, more and more people purchase smart assistants. If you look at the current number of households around the world that own smart assistants like Google and Amazon Alexa, it indicates that the popularity of voice search will keep growing.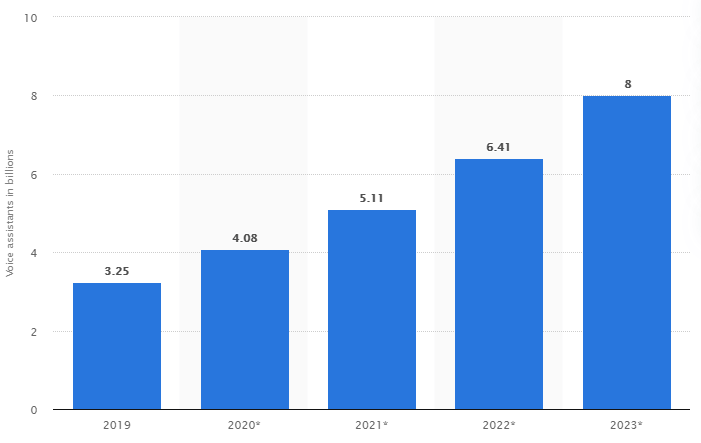 Smart assistants own their popularity not only to the feature of voice search but to voice control as well. With their help, users are not only able to conduct a quick hands-free search, but also to control other smart home appliances without touching them.
All these numbers indicate that website owners and content creators will have to pay special attention to SEO optimization of content for voice search.
As more and more people enter their search queries with this hands-free approach, you need to make sure that your content is optimized to be recognized by voice search and not end up on the last page of search results.
So, we've put together a few tips to help website owners and content creators easily optimize content for voice search.
2. How to Optimize Content for Voice Search
2.1. Start with User Intent
When in 2013 Google adopted the new algorithm known to the world as the Google Hummingbird, it changed our perception of the role that keywords play in SEO optimization.
This algorithm focused on the contextual meaning of search queries, or a so-called user or search intent. So, instead of aimlessly stuffing content with keywords, marketers had to take into consideration the intent, with which users would search for particular information.
The Hummingbird algorithm not only changes the traditional way people search for information but voice search as well.
2.2. How to Optimize Voice Search with User Intent in Mind?
To do it, first, you need to differentiate for main types of user intent. There are such types as informational, navigational, transactional, and commercial.
Informational. Itindicates that a user is looking for straightforward answers to a specific question or general information on the topic. Here, it is important to remember that not every informational search intent comes in the form of a question.

Navigational. This search intent type indicates that a user is looking for a specific website or a web page. What's the user intent here? To speed up the search process without having to enter the entire URL.

Transactional. This type of search intent indicates that a user is looking for a product to purchase, and they need website recommendations where this product can be found.

Commercial. The best example of this type of search intent is when the user is looking to compare the prices for a product or go through reviews to make their final decision about the purchase. This search intent indicates that a user needs recommendations and reviews that could influence their decision.
Voice search is no different from a traditional Google search way in terms of search intent. All keywords that fall under these four search intent types can be used through voice search as well.
However, to help the search engine recognize the intent and optimize your voice search, you can follow these steps:
Use natural language. When using the standard Google search method, people usually type in short phrases to speed up the search. However, when they use voice search, their queries will be more conversational and in the form of questions. Use this to make your list of keywords more varied.
Don't try to include all four types of search intent. Search intent queries usually look for a specific answer, which usually falls under one type of search intent.
Align search intent keywords with your content type. For instance, if you are optimizing your blog post for voice search, define, which questions it answers, whether it gives any recommendations, and which information it can provide to the searchers. Based on answers received, define different search intents, which would prompt a user to visit your blog post. Aligning the search intent keywords with your content will make it easier for a search engine to single out pieces of information for voice search.
Using search intent for voice search optimization doesn't only concern written content, but visual content as well. Google uses alt tags, file names, and captions to rank visual content. And, although the algorithm is not completely there yet for the smart assistants to read information off of images, you still need to optimize alt tags and captions for mobile voice search.
2.3. Optimize Your Text for Google Snippets
Google snippets are short sections of text, which appear on the top of Google search results.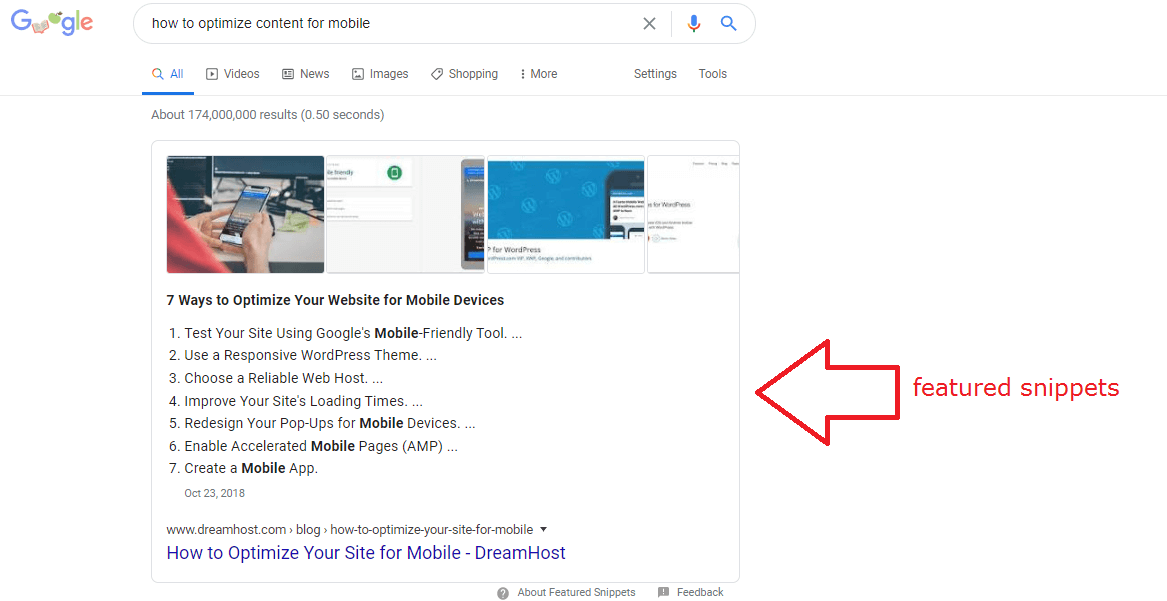 These snippets are also used by smart assistants to quickly identify the information that a searcher is looking for.
By optimizing your content for featured snippets, you help smart assistants and Google algorithms to find information for a certain query faster, and the better you do it, the higher your content will appear in the search results.
2.4. How to Optimize Featured Snippets for Voice Search?
With search intent in mind.
Similar to four types of search intent, there are four types of featured snippets:
Snippets that provide information and answer 'what' and 'who' questions.

Snippets that answer 'how' questions, usually in the form of bullet lists.

Snippets that provide information to commercial search intent queries (reviews, recommendations), usually come in the form of a table.

Snippets that navigate users around a website.
These four types of snippets give you an idea of what you want your snippet to look like and which information to provide.
To further optimize your content for voice search and to create featured snippets, you need to:
Do keyword research according to the type of snippet you want to create. For instance, if you want to optimize your content for a how-to snippet, you need to look for most-searched how-to questions related to your keyword.

Look for keyword ideas on the 'People also ask' tab. There, you can find some questions similar to yours, and it will give you an opportunity to expand your topic and create multiple featured snippets for different questions.

Pay attention to the word count of a snippet. While this is mostly not relevant for mobile search, voice assistants won't be able to read the whole entry to their users just to answer their queries. The answer that a snippet provides should be concise, and, according to SEMrush, no longer than 50 words.
Apart from searching for keywords that fit the search intent and optimizing the length of the snippet, you will need to restructure your content to optimize it for featured snippets.
To increase the chances of optimizing your content for featured snippets, make sure to:
Use the inverted pyramid style of writing. In this style, the most important information comes first, followed by a few crucial details, and ends with additional information. This model helps Google crawl the text faster to find answers for featured snippets.
Break down your content. Bullet lists, headings, and subheadings, as well as the length of your sentences all impact how your featured snippets will look.
Benefit from the list of most popular keywords used in featured snippets. This list can be found on Ahrefs and contains the list of the top 30 keywords for featured snippets broken down by popularity.
Featured snippets are what voice search and smart assistants thrive to. This way, users can get fast and accurate search results without having to browse through the entire website.
Optimizing featured snippets is also a good way to bring more traffic to your website, given that Google picked your page and put it at the top of search results. Moreover, optimizing featured snippets gives a boost to organic traffic, meaning that you can save money on pay-per-click advertisements.
2.5. Launch a FAQ Page
FAQ pages have a big impact on SEO, as they usually provide straightforward answers to questions, and we all know how much Google likes straightforwardness and despises ambiguity.
The same is with voice search optimization of content. Answers on FAQ pages often appear in featured snippets, which, as we already know, are frequently used by smart assistants to provide information.
What should you remember, when optimizing your FAQ page for voice search?
The success of your FAQ page in terms of voice search optimization, and SEO optimization in general, lies in Schema markup.
Basically, Schema is a semantic vocabulary that you add to your website to help Google return more search results to users from your web page. Schema uses semantic vocabulary that is why it is used for search intent, as it looks for meaning behind each word.
To use Schema markup on your website, you need to:
select the type of data you need to markup
paste the URL, which contains the content you want to markup
highlight the parts of content for the markup
After you've added all the items, you finish up with creating the HTML document, where you will see the microdata in places, which you highlighted for the markup. To finish, you only have to add the highlighted snippets or just copy and paste the entire HTML file to the source code.
Schema markup is a great way to help the search engine select information for featured snippets and better understand your content and its value.
2.6. Optimize Your Content for Mobile Devices
Reportedly, 60% of Google searches come from mobile devices. Naturally, a big part of these queries come from voice search.
Voice search and mobile SEO are closely connected. But, naturally, there are a few peculiarities to take into consideration when optimizing voice search for smartphones and tablets:
Consider page load time. Mobile devices load web pages with a different speed than desktops. That's why the voice search results on mobile devices will differ from results on desktops.
Optimize metadata. Less screen space means that meta titles, meta descriptions, and featured snippets will be shorter. Keep that in mind when optimizing content both for voice search and mobile search.
Create a separate URL for mobile devices. This is a simple solution that allows you to create custom content for mobile devices and optimize this content for voice search performed only through smartphones and tablets.
Your goal is to provide the users with quick search results and search engines with easily identifiable information that they can process quickly and effortlessly.
2.7. Enroll Your Website on Google My Business Listing
Mobile devices and smart assistants often have to answer inquiries about working hours and locations of certain businesses. Smart assistants can either provide general information about certain businesses in a certain area or give information about the working hours and location of a particular company.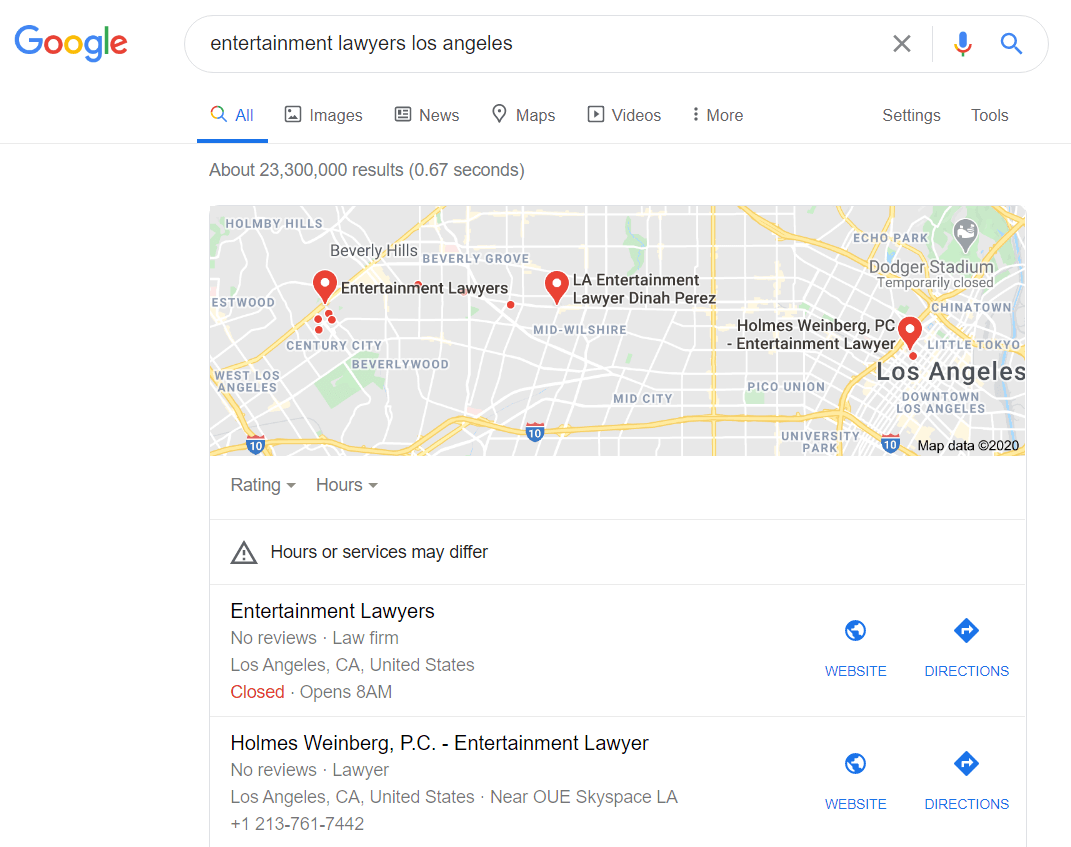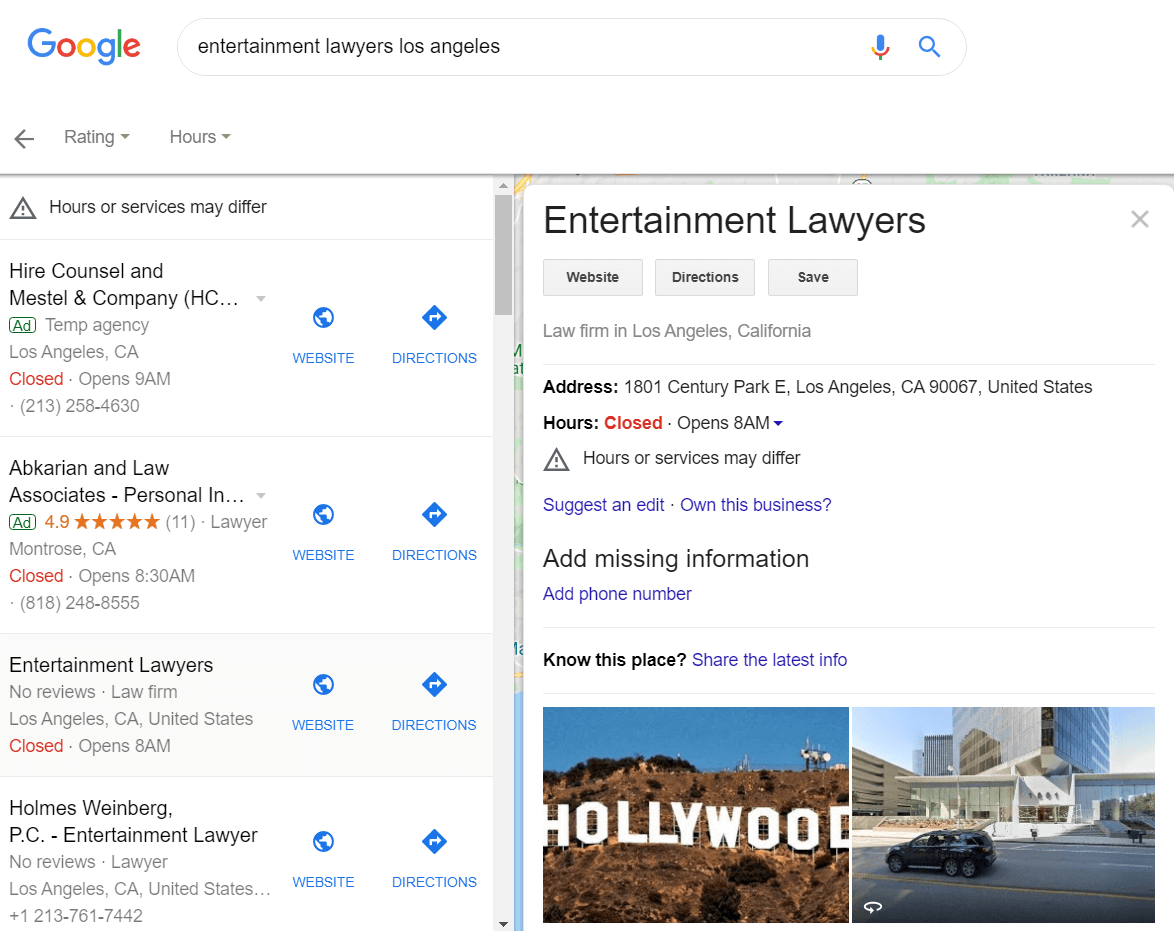 These snippets have a lot to do with local SEO, digital marketing, and Google My Business tool that you can also use to help Google structure the information about your company and create a snippet, which voice search can later recognize.
To become a member of Google My Business, you need to:
Go to Google My Business
Choose the business category
Add location using Google Maps
Add contact details
Add website URL
Google My Business makes your company visible online for free.
'Our study has shown that businesses that participated in Google My Business appeared in different types of search 8 out of 10 times compared to the non-members,' says Dustin Seal, a researcher at Trustmypaper.
Besides, becoming a member of Google My Business will help smart assistants pick up information about your company easier and make your business more visible.
Wrapping Up
The popularity of voice search is not going to die down any time soon.
Today, voice search already constitutes 20% of all Google search results, and this trend will definitely not go away in the nearest future, and will only become more impactful, especially with the rapid development of smart assistants and mobile devices.
That's why it's time to jump on the bandwagon and start optimizing your content voice search today. Make sure that you keep user intent in mind when optimizing your content. User intent is the foundation that will help you build featured snippets, optimize FAQ pages and content for mobile devices.
Lastly, make sure that you join Google My Business to help smart assistants track your company's contact information and address. Your ultimate goal is to make your business more visible, and since voice search becomes more and more popular, make sure that you don't miss on the opportunity to cater to the audience that looks up for information through voice search queries.