How to Leverage Your SEO with Long-Tail Keywords
How to

People use long-tail keywords when they're going for something more specific online. That's why these search phrases are more intent-bound, niche-oriented, and, most importantly, less competitive than high-volume keywords. And they're hugely valuable for the promotion of a smaller company or a startup.
This blog post will give a gist of what long-tail keywords and their benefits for SEO are.
1. What Is a Long-Tail Keyword?

2. Why Are Long-Tail Keywords Important for SEO?

3. Downsides of Long-Tail Keywords

4. How to Leverage Your SEO with Long-Tail Keywords

Final Thoughts
1. What Is a Long-Tail Keyword?
Long-tail keywords make up the majority of searches these days, especially on the rise of voice search. Usually, the long-tail keyword term is depicted as a demand curve showing less competition but higher engagement and conversion rates.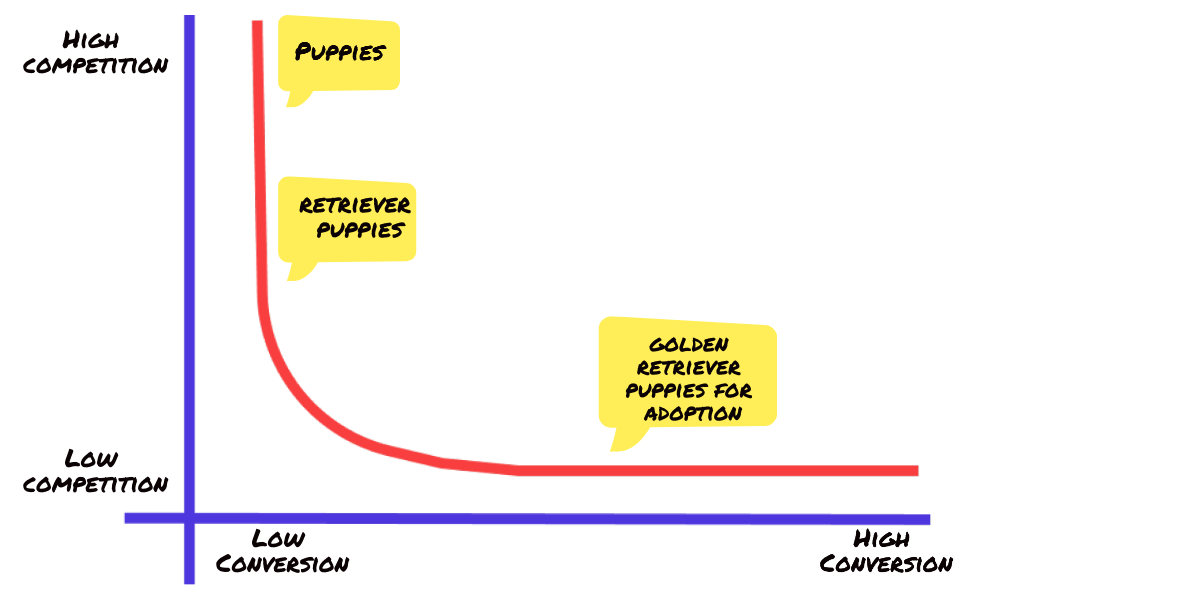 Long-tail keywords are search terms that are more specific and longer than a standard search query. People often use them when they're closer to making a purchase / ordering a service / sign up to an email list / visit your cafe place, etc.
Long-tail keyword phrases consist of more than 3 words, e.g., 'golden retriever puppies for adoption'. However, the length itself is not a defining factor. What really matters is how specific the keyword is compared to a standard term.
With a smart approach to long-tail keyword implementation, you'll drive less traffic, purely by numbers, but the outcome can be surprising – this traffic will be more targeted and thus more valuable for your business.
Let's take a straightforward example. A user keys in the word 'wall'. What are they going for? A movie, a music track, the types of walls or the wall painting or something else? The search engine will consider the user's preferences when preparing the search results and show up websites that best suit their interests. However, it is better to clearly formulate the idea for the most relevant results, for example, 'bedroom wall painting design ideas'.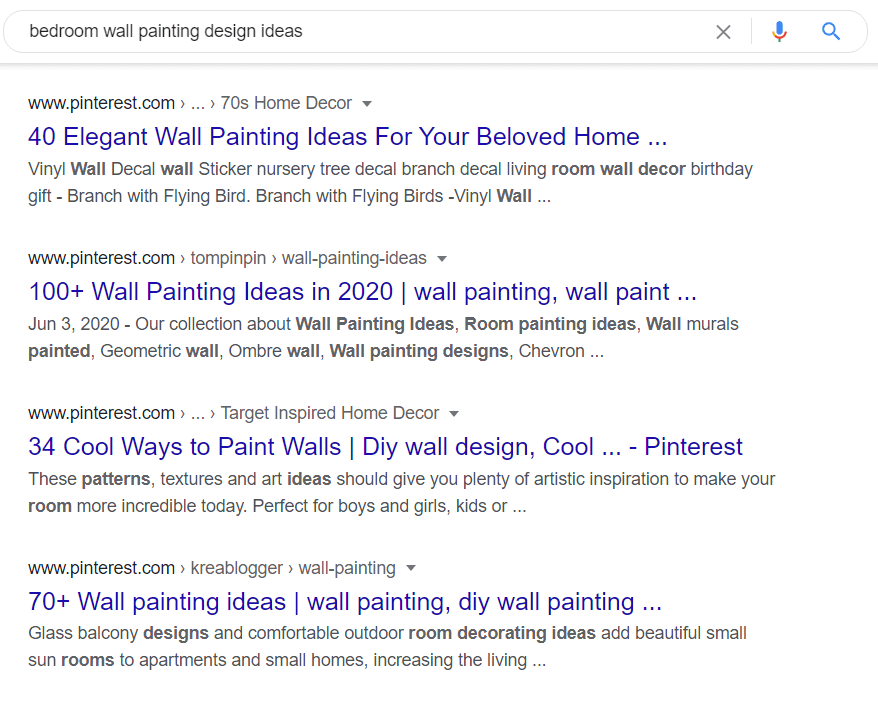 The search volume of long-tail keywords solely depends on the niche. It will be a few or dozens of queries in some niches, while it can account for a thousand in others. The main criterion to be guided by is the search volume of the single targeted keyword. For example, for a hardware store, the keyword 'wall painting' will reach up to a 40.5K search volume a month.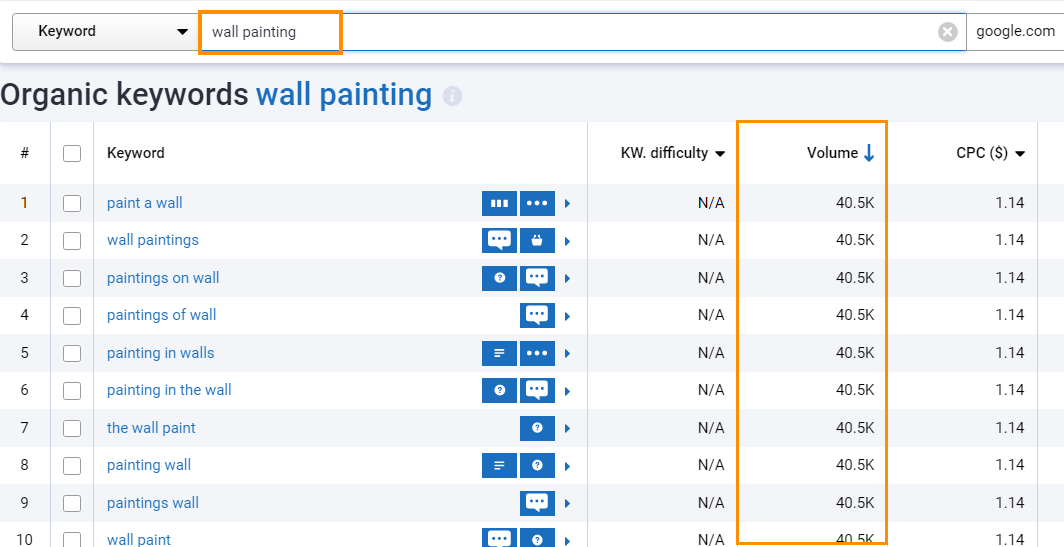 A more specific keyword with informational intent will constitute 170 searches a month. That's tangentially less.

Long-tail query suggestions are also generated automatically by search engines. Users often use them when they search from mobile devices, choosing from the options brought up by the search engine.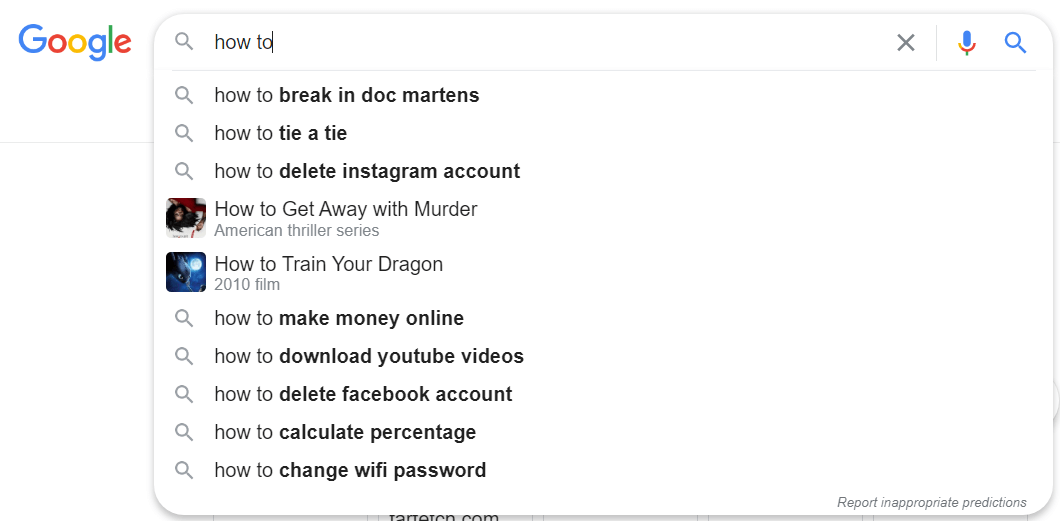 Another way to see variations of long-tail queries in search results is to pay attention to similar queries that appear below the main search results in the 'Searches related to...' section.

2. Why Are Long-Tail Keywords Important for SEO?
So the long-tail keywords key benefits are:
Long-tail keywords mean less competition. They drive traffic even to smaller companies and startups.
Long-tail keywords can reduce the bounce rate and, accordingly, improve behavioral factors. Thanks to clear intent, the visitor gets to the most relevant pages.
Long-tail keywords can be grouped by meaning and promoted together on one page.
Long-tail keywords can be used on cluster pages. If you want to build a content hub strategy, opt for short-tail head keywords for pillar pages. For cluster pages, use long-tail keywords to answer more specific questions that derive from the main topic. These pages are usually blog posts. They interlink between each other and link back to the pillar page.
Long-tail keywords positively affect lead generation and sales because the target audience is highly intentional when it lands on the website.
Long-tail keywords exclude BlackHat SEO, so the risk of being hit by search engine penalties is practically zero. The only thing to avoid is keyword stuffing – it can lead to negative results, including search engine penalties.
Traffic uplift and improvement in behavioral factors have a positive effect on website rankings for medium and head term queries.
3. Downsides of Long-Tail Keywords
Extensive keyword research is needed to pick relevant long-tail keywords. It's a comprehensive analysis that involves various tools, search hints, and scrupulous keyword list refinement (usually done manually). At the same time, it is necessary to correctly cluster all queries to promote groups of keywords on one page. This is time and money consuming.
It will take a long time to create content for all long-tail keywords, or you need to spend your hard-earned money to attract skilled copywriters.
It is necessary to constantly monitor the positions and traffic for a large number of low-volume keywords. Tracking analytics also requires significant work hours.
4. How to Leverage Your SEO with Long-Tail Keywords
To find relevant specific terms for your SEO strategy, you'll need dedicated tools, which often come at a cost, and spend some time on keyword research. So here's a rough drill you can opt for:
Collect the 'seed' keywords, and refine the list with long-tail ones. If you're doing SEO for early-stage startups, collect all head and low-volume keywords. For this goal, you'll need some tools:
Declutter irrelevant keywords. When the keyword list is whittled down, remove the unnecessary keywords: those with typos, duplicate words, competitor's brand names, and services, location-binding words, modifiers like 'buy cheap,' 'buy expensive,' 'watch online', 'download free', etc.
Create a new page with the H1 heading, which will contain high-volume keywords. Use the rest of the keywords in different variations in the H2 and H3 headings, add them to the alt and title tags, as well as to the description and body text of the article.

Quality content investment is still a must: it should be valuable for the target audience, unique, and well structured. Images, screenshots, videos, infographics, and other multimedia materials will add to better content digestion.

Improve internal linking. Use long-tail keywords as anchor texts for internal linking, add relevant keywords to other articles.
Ping search engines about the new page. If the page is linked to already indexed pages, the crawlers will visit it anyway, but you can speed it up with a dynamic XML sitemap that lists all URLs and notifications for search engines about page updates. You can add a new URL into Google Search Console: go to the 'URL inspection', enter the new page address, and click on the 'Test Live URL' button. After that, click on 'Request Indexing'.
Track the effectiveness of SEO promotion. Use analytics to ensure your page gets indexed and drives traffic. Check positions, bounce rates, and time on the page. If any issues persist, optimize the page. You can also speed up SEO promotion with quality backlinks.
Final Thoughts
SEO campaigns can benefit much from long-tail keywords. Apart from higher conversion rates, here are some essential benefits:
Explicit intent – specific terms meet users' demand. SEO experts can create highly-targeting content to attract customers who are closer to the point of purchase.
Lower competition – most websites optimize their content with the help of head terms. Long-tail keywords can bring conversion and better ranking with fewer competitors to emulate with.