How to Identify and Fix Thin Content
How to

Lousy content. Google's Panda doesn't like it at all. When the new Panda algorithm was launched in 2011, the crackdown began. And since that launch, there have been numerous updates to Panda, making the search engine more masterful in recognizing bad quality of the content. As the result, penalties, and certainly no ranking on SERP results.
The general term for this low quality in content is 'thin'. And the general definition of 'thin content' is this: content that has no value, is stuffed with meaningless and awkward keywords, duplicated or copied content, that is low in word count, and is meant only to promote sales and self-aggrandizement. It damages not only SEO on Google but on other search engines too.
So if you are not getting ranked well by search engines, one of the reason can be in thin content. It is time to take a good hard look at the content you are producing, evaluate it objectively, and identify the issues. Until you identify them, you cannot fix them.
And that is what this post is all about – identifying thin content, fixing it, and vowing never to produce another low-quality piece again.
1. Toward a More Detailed Definition of Thin Content
Thin content comes in 'all shapes and sizes'. So, this part will break them all down, so that you can assess your behaviors. Relative to content creation.
1.1. Too Little Content
These are pages, on your website, blog, etc. that just don't provide enough 'meat' to be well ranked. Some are unavoidable – like product descriptions or perhaps a home page of a website. The word count may be low, there will not necessarily be the potential for including the most popular keywords for your niche. These, you may not be able to do a lot about.
But your blog posts are a different story. They should include keywords (not 'stuffed') with the most suitable words and phrases that you have researched and that can be placed naturally within the content.
And in terms of word count, these pages should be far more. But, in that word count, there needs to be quality – something of value – more on that next.
1.2. Where's the Beef?
You may have long blog posts, in an attempt to satisfy one of Panda's algorithm rankings. And that's a good thing. But, as the famous saying goes, 'Where's the beef?'. In other words, there can be 1500 – 2000 words of 'fluff' or there can be the same word count that is meaningful and that provides real education, inspiration, or entertainment to a reading audience.
And where is your authority or expertise? If you cannot demonstrate to a reading audience that you have a deep mastery/understanding of a topic about what you write, you can 'hang it up'. That content will never be seen as valuable, readers will never return for more, and it certainly will never be shared or linked to by a wider audience.
Search engines want to see authority, expertise, and popularity. This is a big factor in determining how content is ranked.
When you know your audience and what it wants, then you will be able to come up with topics that will be of interest. The task after that is to craft content that digs deep into those topics. For example, I am selling paint and stain products. I can spend 1500 words writing about my products, how they are much better than the competition, and maybe even the difference in types – interior flat, semi-gloss, gloss; exterior options, stain colors, etc. I have thrown in plenty of popular keywords. But the article is basically promotional and fluff and provides no deep information to a reader – no how-to's, no videos, no information on the preparation of surfaces, temperature requirements, cleanup, tips for ease, etc. It's classical thin content.
1.3. Duplicate or Scraped Content
Duplicate content is a fully identical content within one or several domains. It can occurs on product pages on Ecommerce website, if you copy-paste texts on your website or if you scrape and copy content from other website. Search engines like to see original content coming from you, not just duplicated content that has already been ranked.
But keep in mind that some technical issues can cause duplicate content. For example, if you didn't set up redirects from HTTP to HTTPs properly. In case of duplicates, you can crawl your website in Netpeak Spider to quickly spot this issue.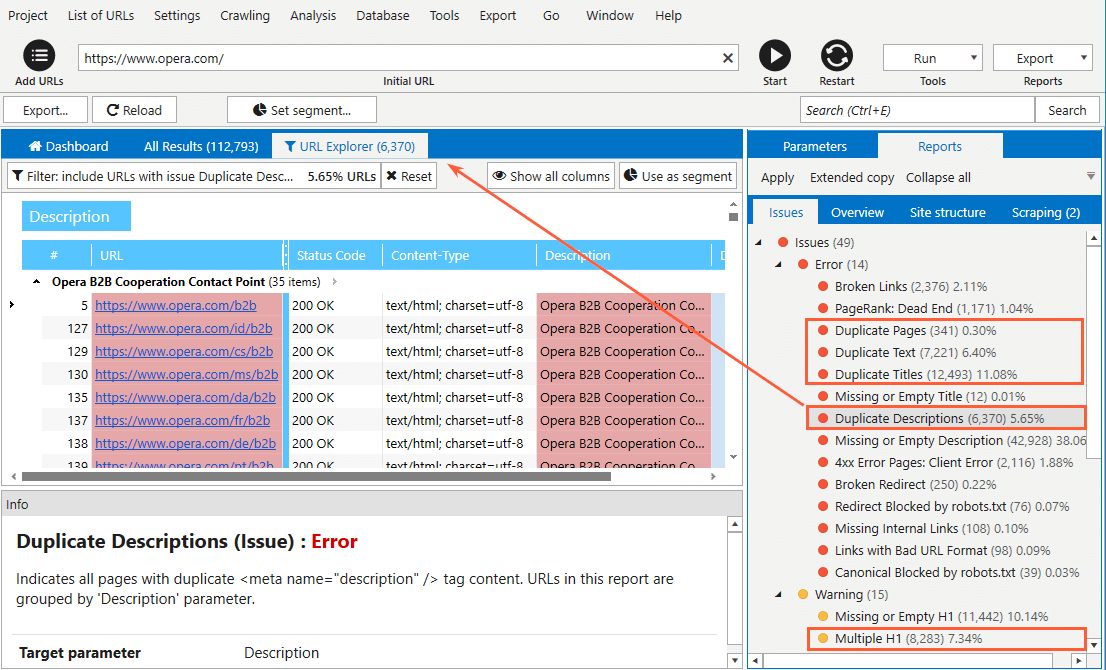 You can check your website for duplicates and work with other basic features even in the free version of Netpeak Spider crawler that is not limited by the term of use and the number of analyzed URLs.
To get access to free Netpeak Spider, you just need to sign up, download, and launch the program 😉
Sign Up and Download Freemium Version of Netpeak Spider
P.S. Right after signup, you'll also have the opportunity to try all paid functionality and then compare all our plans and pick the most suitable for you.
1.4. Keyword Stuffing
It can be a 'symptom' of thin content. You know the drill on this one. Before Google got wise, the best way to get ranked was to find the best keywords and stuff them into content as often as possible, even if they did not fall naturally within that content. It made the content awkward, to say the least, but at least the content got ranked well.
It's a different story today. One factor in search engine ranking is the use of popular keywords, especially keyword phrases. But, if there are too many uses of those keywords, a red flag goes up. Often the content will be sent to a reviewer for further analysis. If the content reflects keyword stuffing, that content, as well as the website on which it sits, will suffer penalties.
1.5. Auto-Generated Content
Did you stumble upon the websites with awful content and texts with no sense for humans? You could think that such websites became history but, unfortunately, no. This tactic of filling a website will not gain you good positions.
By the way, it can't hurt to pay attention on your grammar and composition.
Grammar and composition will not necessarily harm your indexing. But no one wants to read a piece of writing filled with grammatical, spelling, and other errors. Again, if you struggle with grammar and such, you may need to get some professional help.
There are plenty of tools available for creating headlines, and sites like Grammarly can fix your composition errors. When writing is poor, readers get the message that you don't care and have not spent the time you should. They will bounce. And that bounce rate means a lower amount of time spent by visitors on a page. When search engines see this, they move that content down in rankings.
2. How to Identify Thin Content
The first step should be to review the content that you have been creating over the past several months and evaluate it based upon the five most common issues listed above. If you don't believe you have the complete wherewithal to do this, then use any one of several tools that will do this for you. Here is a couple.
Content audit tools. There are a large number of auditing tools you can use to audit your content in depth. Many have free versions, and they are big time-savers. As well, you will get concrete suggestions for improvement. Most of the tools perform an SEO audit as well. If you use WordPress, the Yoast plugin will also help. And pay attention to word counts. Some of these tools will also provide a comparison with your competitors.
Copyscape. This is actually a plagiarism detection tool that students often use to check their academic essays and papers before they submit them. Basically, the content is pasted into the tool and it will generate a report of any plagiarism. This is not to say that you have plagiarized what you have written. Someone else may have scraped content from you and used it. But search engines do not know who the original content belongs to. They only know that there is duplicate content out there, and rankings will be lowered as a result.
Hemingway Editor. One of the things not touched on above is known as readability.

If you have ever read any work by Ernest Hemingway (and who hasn't in school), then you know how simple and direct his style was. You had no problem understanding exactly what he was saying and no trouble with the vocabulary.

Keep in mind that the average content consumer wants simplicity. It is no fun trying to decipher long complex sentences and sophisticated vocabulary. They will simply bounce – not good for SEO.

Most content experts agree that a reading level of 6th – 7th grade is best. This tool will help you evaluate everything about readability. It will point out complicated sentences, suggest improvements, and give you a readability level, based upon sentence structure and vocabulary.
3. Time to Fix the Issues
Once you have identified those pieces that are thin, then it's time to start the fixes. Here are your options.
3.1. Re-Write Low Quality Content
You will know if your content has included a lot of fluff and promotion, as opposed to solid information. In these instances, the best option is to take that topic and re-write the entire piece. Commit to some good strong research on the topic; read what others have written on the topic and see how you can improve it and add more value. DO NOT just scrape content from what others have written. That is just duplicate content and won't improve your SEO. And, by all means, take out the promotional/sales part of that content.
3.2. Expand Low Word Counts
You want to aim for about 1,000 words for blog posts. This will require some in-depth coverage of the topic, but Google (and readers) like that in-depth content. People learn and get inspired from longer pieces.
Just adding fluff to get to a longer word count will not 'cut it'. Put meat into the topic. Think about lists, how-to's, stories, etc.
How to Quickly Spot Low Word Content
Here's a tip on how to find pages with potentially thin content using crawler. In our example, we're using Netpeak Spider. You can go to the 'Restrictions' tab in the 'Settings' and set up minimum number of characters for the content.
Then click 'Ok' to save settings.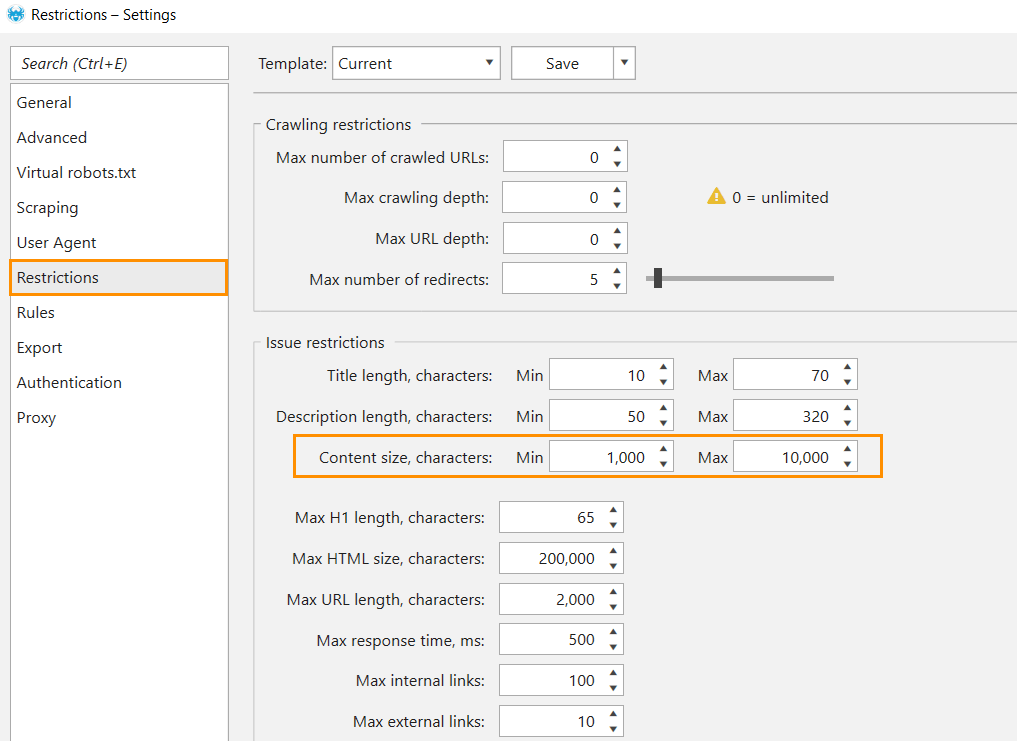 After crawling, you'll find pages with the minimum content size on the 'Issues' tab. Just click on the issue and you will see the list of pages that you can export and fix.

3.3. Remove the Worst and Replace
Sometimes, the only solution is to remove a bad piece of content. Better to remove it, in fact, if you do not have the time to re-write. You can always take the topic, check out its popularity, and write a new piece later on.
3.4. Check Your Keywords
Long-tail keywords are now much more effective than those of just one word. You can find keyword suggestions using free keyword tool by seoreviewtools. Then, you can take those phrases, go through your content, and see how you can replace the single words with phrases that will fit naturally within your content.
3.5. Fix Technical Issues
As we mentioned above, if you don't set up redirects from HTTP to HTTPs, www and non-www URLs correctly, you can stumble upon such issue as duplicate content. To check it, for example, you can upload list of URLs with HTTP to the crawler and check if they're redirected to HTTPs version of the website.
3.6. Setting noindex, nofollow for Thin Product Listing Pages
If you found thin product listing pages on your Ecommerce website, set noindex, nofollow for all pages. You can't really hide links to such pages so crawl budget will still be spent on them, but you will prevent them from getting into index.
4. In a Nutshell
There is an ocean of content out there, and consumers are getting more and more picky about what they choose to read. If they are exposed to this content from anyone, they will leave and not come back. Your goal is to be that marketer who presents amazing pieces – with a great variety of education, entertainment, and inspiration – so that your audience wants to return for more and share with others. Search engines are demanding of quality content too. For example, now Google can spot low quality content and hamper your positions in SERP. So, fix the issues with your current content. And when you have done that, vow to only create high quality from this point forward.