How to Find the Right Niche and Start Your Blog
How to

This post will help those who want to launch their own blog but do not know how to start. Your head may be filled with dozens of the truly amazing ideas but which of them will be the most beneficial to you? If you are sitting and nodding your head as you read all this, then you read the right post. Our goal is to help you find the perfect micro niche for your blog and make it clear how to optimize this process.
1. What's Niche Blogging All About?
Starting a blog means that you create an online platform where you will share your ideas, discuss the topics that appeal to you the most and communicate with your readers. Does running a blog mean covering only one topic on its pages? Not necessarily. You can build a multi-concept web resource where you discuss dozens of topics that come to your mind.
However, a different thing is whether or not your readers will be interested in looking through dozens of different topics until they come up with a piece that appeals to them. Will they stay looking for the needed content or leave for a niche blog? The answer is obvious. Reaching a niche-specific blog you are guaranteed to find a set of articles that provide answers to certain questions and solve readers problem.
Keep in mind that if you want your blog to be easy to find in SERP, you have to follow certain rules. This must be taken into account already at the stage of developing the design and concept of a blog.
2. How to Decide on the Micro Niche for Your Blog
2.1. Will Your Blog Have Readers?
Before starting your blog, you have to be sure that your niche has an audience and they will read you. By the way, it's likely that at a certain moment you will be looking for the ways to monetize your blog. That's why it's better to find out if the chosen micro niche is profitable enough to bring you grist to the mill in the future.
You can check this analysing data from Google Trends (BuzzSumo can also help you with this task). In order to see the public interest in a specific topic, type in the focus keyword or phrase in the search field. You will see a chart that reveals the public interest in your topic over time. For example, if you are interested in the 'fundraising' topic, then running a Google Trends search you will receive the following result: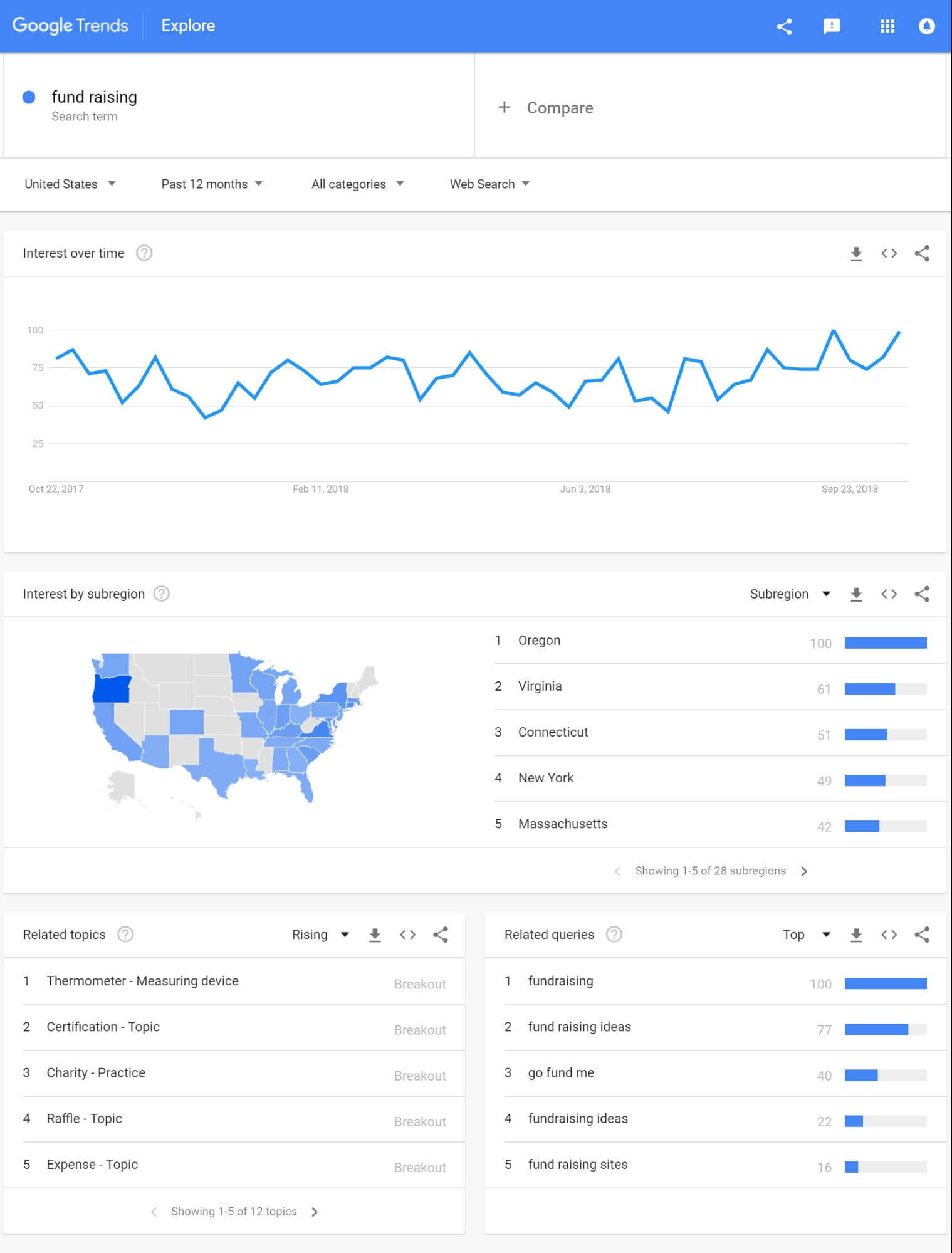 As you can see, there is a growing public interest in the topic. Over the past couple of months, the interest in this topic continues to grow. It means that launching a fundraising blog today will provide you with the higher chance that it will still be demanded in the near future.
2.2. Do a Keyword Research
I guess you will agree with the statement that 'fundraising' is a general topic, which covers a lot of different aspects that can be organized in the micro-niches.
In Google Search, you can find the current competition for the main topic. For example, there are more than 441 million search results matching the 'fundraising' search request. The topic is too broad, so you'd better look for something more specific. The quickest and easiest way to narrow down a niche is to check out a set of related searches at the bottom of Google search.

Pick the suggested search terms to find out the monthly search volume.
Also, you can use AdWords Keyword Planner in order to analyze the chosen niche and come up with a set of keywords and phrases that will be used for the future optimization of your blog.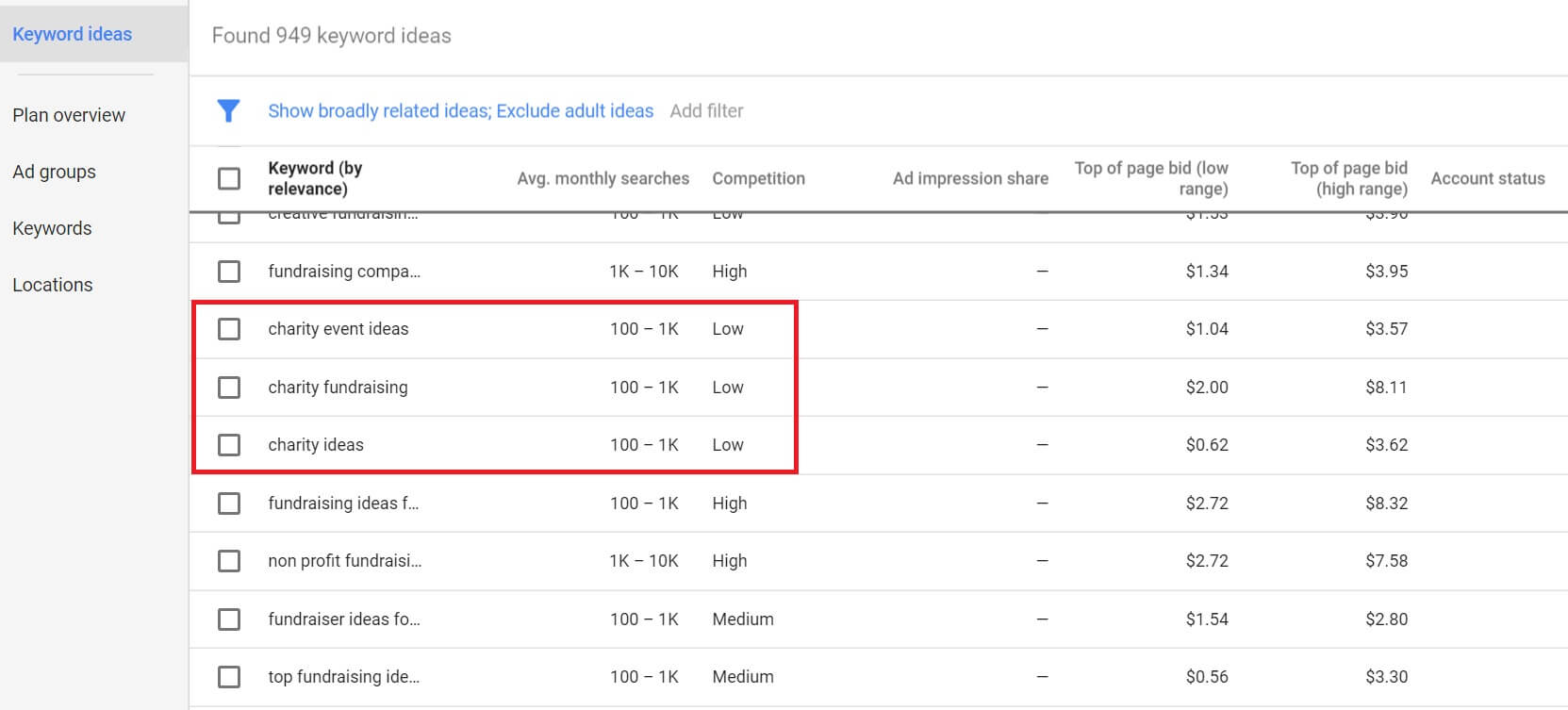 Here are several suggestions on the low competition keywords that can be used for your blog. You can run a similar research within other micro niches, and thus come up with the topic that:
a) appeals to you,
b) has high chances to engage your audience,
c) can bring some profit.
If you are looking for more advanced solutions, then use Ahrefs, Moz or SEMrush to attain more keyword ideas on any specific topic. For example, using Ahrefs you can apply a range of filters like search volume, click (per search), cost per click, return rate, keyword difficulty, and more.

2.3. Define Your Target Audience
To make your blog useful and sought-after, you need to focus on the problems and pains of your target audience. That's why you need to make a detailed portrait of your target readers. Then find topics they are interested in. According to them, you can come up with the most appropriate type of content for your blog.
3. Competitors' Research is a Must
One more thing that you need to do is running your competitors research to define the major topics they cover on their web pages and get inspired with their marketing strategies.
Choose the main search query and analyze SERP. You can do it manually or with the following SEO tools.
Ahrefs Keywords Explorer. With its help, you can come up with a list of search queries that have the highest volume in your niche, and then identify sites that rank the highest for those keywords.
Serpstat is another popular SEO tool that can help you define your competitors through running a keyword research. The tool will reveal a list of competitors using the same keywords as you. This will give you a hint on what strategies are worth analysing.
Also, you can find the coolest topics on competitors' websites or blogs. I can show you how to find such topics in Serpstat.
Enter the domain or keyword, then go to the 'Top Pages' section. Analyze them by the following parameters:
organic keywords
shares in FB and LinkedIn
potential traffic

After that you can compile a list of the most popular topics and prepare high-quality materials on them.

So in a nutshell, you should find the most sucessful blogs of your competitors and figure out:
which topics are covered
which topics are not covered
their posts categories and types
how they compose their posts
which keywords they use
4. Creating a Content Plan
So you've found a million of great topics for your posts and the next step is to create a content plan. With its help, you can create a content publishing system that guarantees that your blog is always up-to-date and keep your editorial process well-organized.
As soon as your readers get used to the frequency at which new posts appear on your site, they will keep coming back to you on a regular basis, driving more traffic to your site and expanding your audience.
There are plenty of tools that can help you organize and manage your content calendar. For example, you can use Trello to create post ideas, assign tasks to your team members, and take control of the whole content publishing process. If you need a more advanced content management tool, then a tool like CoSchedule may come in handy. It delivers a bunch of extra features to grow your blog, assign tasks, manage your content publishing process, and much more.
5. Keep Your Posts Perfect
Before starting writing and filling your blog with tons of amazing and interesting posts, you have to keep in mind that they must be easy to read for people, and easy to crawl and rank for search engines. So let's take a few minutes more and check out texts must-haves ;)
5.1. Text Structure
Text structuring involves:
paragraph division
using bulleted or numbered lists
using H2-H4 headers
5.2. Posts Size
This factor will directly depend on your niche, but it is worth noting that there is a correlation between the text size and its position in SERP. So, for example, using a specific search query you can make sure that the posts with more than 2K characters are ranking in the top of SERP.
5.3. Keywords
Today, the use of keywords for SEO is still important and relevant. You need to use them (but without spamming!) in:
Title and Description
H1 header
texts
links anchors
URLs
5.4. Meta Tags
Keep in mind that the meta tags are involved in the promotion of your blog. When compiling metadata, consider that they have to:
briefly and clearly reflect the essence of the page,
include keywords,
be unique for each page,
avoid duplicates,
attract readers.
6. How to Start Making Money from Niche Blogs?
Ok, let's imagine that everything is going perfect and you have tons of traffic on your blog. So the next step is monetizing. In order to understand how you can monetize your own niche blog, you will need to check out what techniques other blogs from your niche use. Once again, use Google to come up with a list of competitor web projects. Visit their pages in order to discover if:
blogs use banner ads or other types of advertising
they write product/service reviews
sell or resell products/offer/digital products to their audience
This will give you a hint on the blog monetization techniques that you can use on your own site.
One of the most popular ways to make money from blogging is affiliate marketing. The best thing about it is that you do not need to create your own product and think about the ways to sell it on your blog. The largest brands in different niches invite such micro niche resources to start promoting their products/services through referral links on your blog. While simply adding affiliate links to your content, you can make money from every action that a person takes with a click on the link. The higher audience engagement results in bigger affiliate income.
How can you find affiliate programs in your industry? Google something like your niche name + affiliate program. Select only those products and services that you would use on your own. Your audience should trust you. Poor references won't benefit much.
7. Final Point: WordPress Themes I'd Like to Suggest
As you could see in my bio above, I'm a WordPress fan and want to share some themes with you. If this is the first niche blog that you are going to launch, then using WordPress platform is the best idea. Of course, before starting your blog, you have to choose and register your domain name (permanent address of your blog), and purchase website hosting. These mandatory steps can be explained in more comprehensive guide (we'll work on it ;) If you have successfully gone through this and now choosing WordPress theme, this part is for you.
For doubters, here are just a few major reasons making web themes the top choice of beginners and pros.
These are pre-designed solutions that are well-suited to be applied to multiple micro niches.
Niche themes come loaded with all tools and customization options that will make your blog perform to its fullest potential.
Niche themes are fully editable. They are compatible with the majority of plugins and extensions that are available for public access on the web.
If you decide to build your blog with the help of a niche theme, pre-designed themes can help you get started or you can use the Business WordPress Theme to find appropriate theme. All themes are responsive, lightweight, and speed-optimized. If you found a website that you would like to mirror during your competitors' research, you could detect the WordPress themes and plugins it's using and use the same. In addition, you can optimize all pages and elements of your site by means of keywords and keywords phrases, thus growing the chances that your site becomes more findable through search engines.

8. TL; DR
As soon as you come up with the niche topic for your blog, take care of writing valuable, relevant, and quality content for your web page. Define your target audience and analyze your competitors' top posts (manually or with such tools as Serpstat, Ahrefs) to get inspired with their online strategy. Updating it on the regular basis and communicating with your audience are important as the visual presentation of your data. And remember that the immense traffic flow and income boost do not come overnight. Be patient and persistent in your actions.
And don't hesitate to leave your tips and ask questions in the comments below. If you've found this post useful, thumbs up and share it in your socials ;)