12 Strategies for Acquiring Backlinks for Ecommerce Sites
How to

The biggest challenge and downside of link building is that it doesn't bring immediate results. It takes time to see if what you're doing is working or not. Thus, the process is not fast.
In this blog post, Alex Husar, CTO at Onilab with experience in Magento development services introduces you to the best-practice link-building tactics for Ecommerce websites that can be followed and incorporated into your SEO strategy.
1. Use Integrated Content Marketing, Create a Compelling Blog & Use Newsjacking

2. Offer an Education Section

3. Embrace Video Marketing & Infographics

4. Monitor Links Back to You

5. Appear on Directories

6. Get Featured in Resource Sections

7. Guest Post on Relevant Sites

8. Look for Relevant Broken Links Around the Web

9. Targeted Forum Marketing

10. Partner up with Local Businesses & Relevant Websites

11. Feature Influencers & Brand Ambassadors

12. Start Charity Projects & Display Coupons
1. Use Integrated Content Marketing, Create a Compelling Blog & Use Newsjacking
Among the first things you can do is create your own one-of-a-kind quality content. This is your ultimate starting point. Putting together articles, tutorials, case studies, comparison pieces, guides, overviews, interviews, and posts to form the unmatched blog.
You should ideally aim at crafting something that'll bring value to your readers. Preferably this should be done in separate posts, each devoted to a single topic that's covered at length. Organize such posts logically, use keywords wisely, place internal links, and there's a chance that your content will get shared on its own. Be innovative, informative, audience-oriented. Only after you have something worth sharing you can step forward and show your content to the world.
Take a look at the blog section of the official L'Oreal website on the screenshot below as an example. The article is well-structured, up to the point, and has many links. As you can see, it ranks high in the search results and is the first post among non-ads.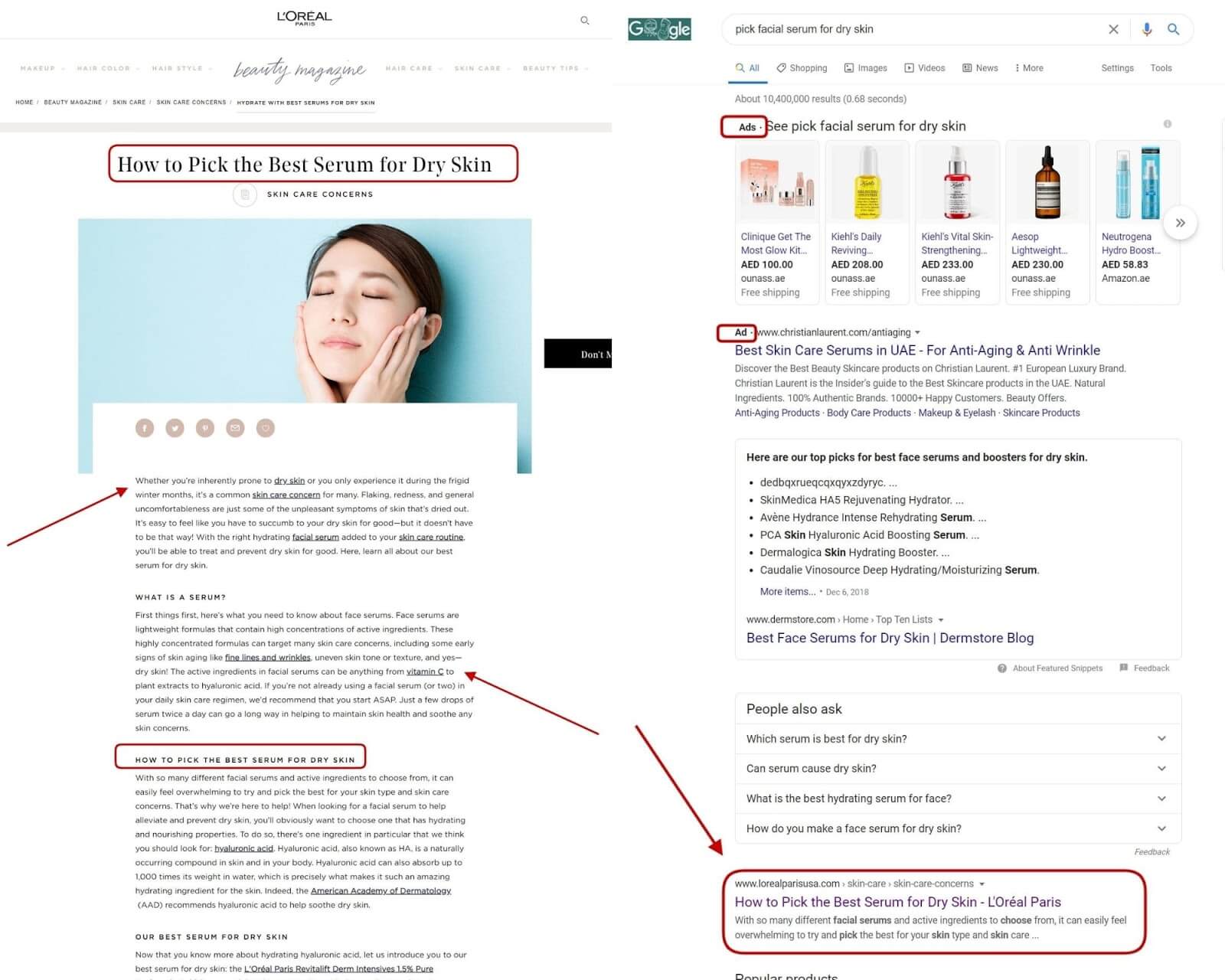 Not sure what else to write about? You may get more site visits by presenting relevant ideas (that connect with your business somehow) as news stories. Although this technique of covering trending topics with a twist around your niche isn't shiny new, getting such media coverage can lead to more organic traffic. The main rules here: don't be too promotional (obvious advertising motives are never good) and don't miss the trend (the right timing is key, so you must be very quick).
Plus, if you've mentioned a company, product, or person in your content, reaching out to and informing them about it can bring you links (provided they like what you wrote). At the least, your post can thus be shared by those who you've mentioned across their channels, and that's great.
2. Offer an Education Section
Following on what I said, share your expertise. If there are many commonly occurring questions regarding your niche or the product you're selling, invest some of your time giving detailed answers collected in separate FAQs. If there are unique or interesting things that you can cover, share recommendations, or interesting facts, go for it.
As long as you're not copying or re-writing something that the internet is swarming with but interlinking the content you're creating within your website, you're on the right track.
3. Embrace Video Marketing & Infographics
People love visuals. Therefore if you have the skills and resources to create some great visual content and assets, why not? Engaging illustrations and infographics that can cover a relevant topic and display the information in a fun and engaging way are one idea worth mentioning.
Besides, you can submit your videos not only to your store's website and social media accounts but also to Youtube or Vimeo. There's a big chance that they'll get viewed and shared after some time.
4. Monitor Links Back to You
One of your main tasks also deals with tracking where your content was shared and making sure that you have links pointing back to you. The same story goes for cases when someone copy-pastes a part of what you've created without giving you proper credit. Requesting to link to you and cite you (instead of taking it to a displeased tone that demands to remove what was 'stolen' immediately) is, perhaps, the right path to take.
To monitor links back to you, you can use Netpeak Spider. It's as simple as that:
Enter the initial website address into the 'Initial URL' field.

In the general setting, make sure that the crawling of all external links is enabled.

Start the crawling.
When the crawling is done, you can export the report on all external links for further analysis.
5. Appear on Directories
Just as it was done in the good old days, your company should ideally be up and available in all the catalogs, maps, and tabloids. Browse company directories that are substantial for your Ecommerce business. You can even narrow down your search by location or niche.
After selecting suitable directories, put in some time in creating pages that'll introduce people to your business and give them your contacts. Remember, at best, don't use the same texts on multiple directories when describing yourself.
6. Get Featured in Resource Sections
On a similar note, monitoring resource pages that provide lists with helpful links can take you a long way. For instance, let's assume that you're running an Ecommerce store that sells organic food and products. You can attempt to get featured on various overview pages with lists such as 'Top Healthy Organic Recipes' or other pages that fit your industry. Pay additional attention to those resource sections that have 'Suggest a Resource' forms that allow pitching links that people may find useful.
7. Guest Post on Relevant Sites
Guest posting is another viral strategy. In essence, you need to reach out to those who have websites, blogs, or social media that are relevant to your niche and offer your content to be mentioned or published. In many cases, only unique articles by guests are accepted for submission, meaning that you'll need to write something 'to give away'. In much, it does its bit if the resource that you are posting on is authoritative and well-ranked.
Try to establish a relationship with those websites that you'd like to be featured on, don't be pushy, use various means of communication, apart from emails, follow-up regularly, and offer something in return if you can.
8. Look for Relevant Broken Links Around the Web
What someone lost can be something you find. Put simply, if you've noticed that a website that overviews something relevant to your industry has a page with a backlink that leads to a broken 404 error page, you can suggest replacing it with a link that leads to similar or identical content that you have. To spot broken or invalid links on someone else's website, you can make use of one of the many tools, such as Netpeak Spider. With multi-domain crawling feature in Netpeak Spider you can check multiple websites for broken links.
To detect broken links in the list of URLs, you need to:
Insert a list of URLs.

In the 'General' settings enable the multi-domain crawling.

In the 'Restrictions' settings tab, set the 'Max crawling depth' at the level #1.

Start crawling hitting the 'Start' button.
When the crawling is completed, filter the results in the main table → 'Reports' tab in a sidebar → 'Broken pages'.
Provided that your content is a suitable replacement that also brings value, such a helping-hand tactic can get back fruitful results. If you don't have such content, you can create something similar to what was previously used to replace the lost page (hint: you can take a sneak peek at what the lost content was like using tools such as archive.org).
9. Targeted Forum Marketing
Mentioning other ways of building links, commenting on various forums, community discussions, and blogs is an excellent tactic. As you monitor the topics that touch upon your niche, you can reply to questions, chip in the dialogue, and share your opinion. The volume of your replies is up to you, but as long as you suggest to read more on the topic and leave a link to a relevant article or post of yours, this tactic can bring you back quality traffic.
10. Partner up with Local Businesses & Relevant Websites
Forming relationships that'll be beneficial for both parties is an essential and inseparable part of link building. After all, since all link placements and shares are done exclusively voluntarily, finding partners and beneficial interests with others is a step in the right direction. You can begin your search based on your location or look for other Ecommerce websites and offer mutual link exchange to other businesses in the area. Similarly, such trades can be made within shoulder niches.
11. Feature Influencers & Brand Ambassadors
Having someone speak about your business is outstanding. It's commonly known that the simplest way to get client's feedback is to collect reviews that are showcased on the website, social media, and reviews platforms. When influencers or people whose opinions your target audience trusts agree to mention your brand on their blog, page, account, etc, it's a splendid opportunity you need to grab hold. Such backlinks will be powerful and, most importantly, boost your chances of leading quality leads to your Ecommerce store. Similarly, having a brand ambassador promote your products can raise awareness and accelerate the turnovers.
12. Start Charity Projects & Display Coupons
Your non-profit activity definitely deserves some spotlight. If you're helping out other organizations or are giving something away, you can get featured on the websites of those who you've helped. As a rule, contributors and donors are mentioned in event overviews or even on separate partner pages.
Various discount pages with coupons are also a relevant thing for Ecommerce. There are many platforms featuring pages that collect coupons for further distribution, like LivingSocial. You can give a shot at placing your special offers on them for additional links and coverage.
Final Say
All in all, link building is a profitable SEO strategy for boosting your Ecommerce store. It is certainly worth the time, and investment as virtually smart link building allows you to grow your website's rating, credibility, organic traffic, as well as to form stronger relationships.