How to Grow Your Online Business with Video Content Marketing [And Boost Your SEO]
How to

Businesswise, video is a compelling way to engage with your audience and bring more exposure to your brand. Video has great potential for exploding your search engine optimization. According to Cisco, video will comprise 82% of all internet traffic in just a few years. YouTube and Facebook, the two most popular websites for watching the video, are responsible for nearly half of the world's mobile internet traffic according to Statista.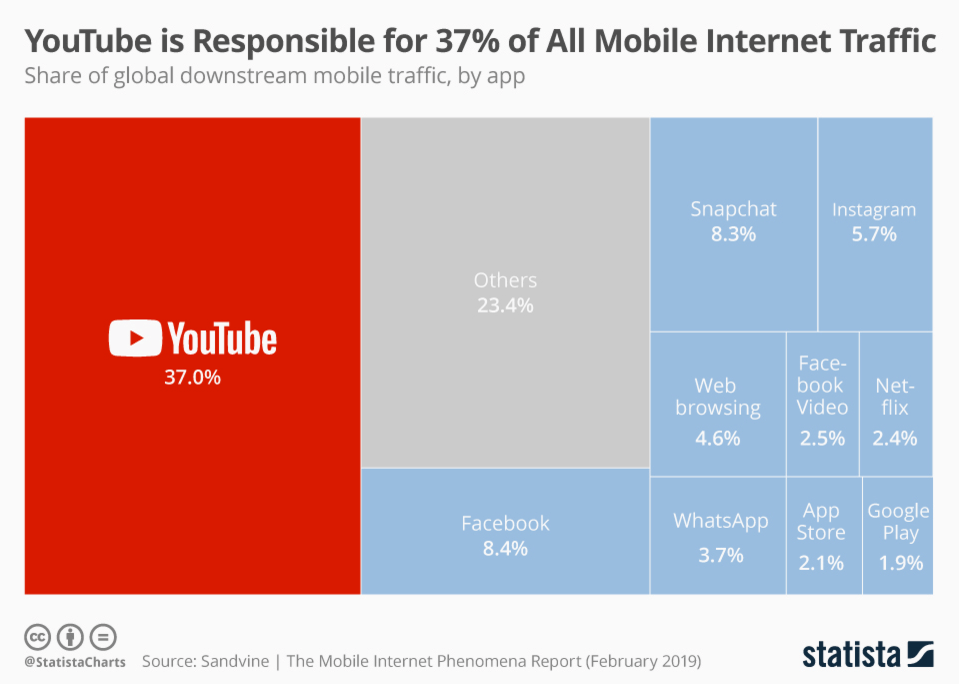 Compared to video content marketing, video SEO marketing is an H-bomb you should arm your digital arsenal with to grow your online business. Before discovering how you can explode your H-bomb, let's learn more about what you can stuff it with.
1. What Types of Video Content Should Your Business Use?

2. Where to Post Your Video Content

3. 6 Tips on Video Content Optimization

4. How to Find Your Video Niche Competitors and Use Their Best Practices with Netpeak Checker

Lights, Camera, SEO!
1. What Types of Video Content Should Your Business Use?
Thanks to the variety of genres available, video is a great way to tell the search engines that your website is a desired place to visit. Every genre helps achieve different marketing goals and attract different kinds of audiences. You should do your best to test them all and improve your video SEO with the ones that work best.
1.1. Product Videos and Reviews
According to Wyzowl, 68% of customers prefer to buy a new product or service after they watch a short video about it.
If you run or advertise an Ecommerce business, remember that people look for other people's opinions when searching for the best product or service online.
Video works when produced at scale. The same goes for reviews. Outrun YouTube creators and create reviews for your products and services first.
1.2. Explainer Videos
Explainer videos are reviews made not by your customers but by your video marketing department. Google considers how-to videos the best way to stand out in a world of content overload.
Search engines are built to answer questions. And how-to videos are the best type of video content for giving answers.
1.3. Live Streams
'Two things only the people anxiously desire – bread and circuses'. This saying came down to us from ancient Rome, and live streaming is all about this.
Video can not only let a business offer experience and insights – but it can also make viewers feel like they're part of a friendly community due to the warm atmosphere, personal touch, and potential for live communication.
Don't be shy to meet your target audience right here and right now for Q&A sessions, webinars, or any other special event. Not to mention that live streams are more likely to be automatically promoted by a platform you host them on (e.g. YouTube).
1.4. Testimonials and Interviews
Did you know that your customers can help you promote your business themselves?
According to BigCommerce, 92% of people read reviews and testimonials before buying a product or service. And that's only about text testimonials. Imagine how effective a video can be.
Do you have VIP customers? Ask them for an interview. Let them share their firsthand experience of your products or services.
Invite kind-hearted customers to record testimonials about your service, staff, products, and services. Both VIPs and active customers will do this more willingly if you offer them a discount or gift.
Editor's note: We at Netpeak Software stand by this advice. Check out testimonials from our clients
1.5. Webinars
That's right, webinars are also a 'convert' type of video that is massively used throughout the marketing flywheel. The main goal is to educate the audience thoroughly but gently and give the gist of what your product is about.
By doing this, you position your business as an authority one and ready to transmit its expertise. Thereby, you increase subscriptions, conversion rate and open the door for leads.
2. Where to Post Your Video Content
Once you know which video genres you should use to lift the position of your website on search engine results pages (SERPs), the next thing is to figure out where to post your videos.
2.1. Don't Host Videos on Your Website
That's right. You shouldn't do that. Let's explain why. Google loves websites with well-structured, polished, high-quality, and diverse content.
Along with text and images, video can add to this diversity by making your website more interactive for its visitors and more friendly for Google. However, if you host video content right on the website, it may harm your site rather than bring benefits.
Video may slow your website loading speed due to the limited bandwidth. Also, you need to be sure that the video player you use works well on all popular web browsers and mobile devices. Not to mention that pirates can steal your video if you don't protect it properly.
Instead of hosting videos on your website's servers, you can embed a YouTube video player on your website and show videos from your YouTube channel.
2.2. Create a YouTube Channel
Your video content should be on YouTube for one crucial reason: while Google is king of online search, YouTube is its video prince.
According to Alexa, YouTube is the world's number two website – where the average user spends nearly ten minutes a day. Keep in mind that YouTube videos more often appear on SERPs than videos from any other source.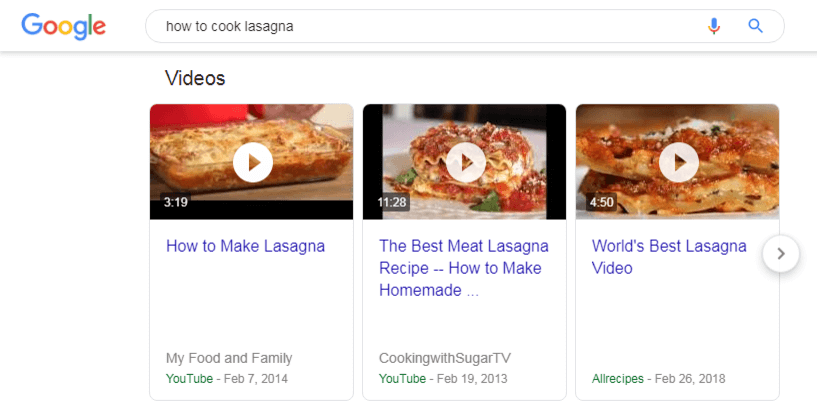 Of course, you can host your videos on sites other than YouTube and your website.
But if you pick another video hosting platform (like Vimeo), note that your video content will have fewer chances of becoming popular in search results.
2.3. Launch Video Ads across the Google Display Network
The Google Display Network includes 650,000 apps and over 2 billion websites.
If you run ads on Display Network, your video content can appear not only on search results pages but on Google websites such as Gmail, Blogger, and YouTube, as well as on the websites of Google partners.
If you promote your business with video ads, you should take advantage of this vast network.
Running ads on Display Network won't affect your video SEO directly. Still, if you create the right video ads for the right audience, they'll bring more traffic to your website.
2.4. Promote Videos on the Facebook Family of Apps and Services
The same goes for Facebook. It's the third most popular website in the world after Google and YouTube. And you have to be there if you want search engines to notice you. When searching for a brand or company, people often check social media profiles before visiting the website.
Having a Facebook page means getting more content, more links, and more traffic.
There are two ways to grow your Facebook community with video. The first is by publishing videos on your news feed. The second is by launching Facebook video ads across the entire Facebook family of apps and services: Facebook, Instagram, Messenger, and the Audience Network.
3. 6 Tips on Video Content Optimization
Here are six recommendations to let search engines notice your video content in the best way.
3.1. Add Transcripts to YouTube Videos
Search engines like reading. For example, you need to add a sitemap for search engines to 'read' your website. Otherwise, Google and its competitors can't understand your website's content, size, and structure.
The only way for search engines to 'read' your YouTube video is to look at its transcript in the form of a text file. Another advantage of transcripts is that once you add them, you don't have to type in any timecodes.

There are two ways to add a transcript to your video: do it right in the video or create a transcript file and upload it to YouTube Studio.
3.2. Keep Your Video Content Short
When it comes to video marketing, there are two personalities inside you: a viewer and a marketer. As a viewer, you can skip many videos before you find one you'd really like to watch. All thanks to the content diversity and the rapid rhythm of life.
Research conducted by Vidyard reveals that videos are getting shorter and shorter. In 2017, the average video was 6.07 minutes. In 2018, the average video was 4.07. And already in 2019, 73% of the videos are less than two minutes long.
And your inner viewer can give a clue to your inner marketer – you need to attract the eyes of viewers as soon as possible and make them watch your video till the end. In fact, you should do this during the first three seconds, according to Facebook.
This rule works for any video content. But the primary factor that also affects the viewer's focus is the length of your footage.
Remember that videos more than a few minutes long worked in the golden age of TV commercials. Today, your responsibility is not to get people bored – unless you're recording detailed video tutorials or podcasts – and when people aren't bored, Google is happy.
3.3. Optimize Video Titles, Descriptions, and Thumbnails
If you've already optimized your website for search engines, you know what this means.
Every video title and description must contain keywords. However, Hubspot says that you shouldn't optimize your title just for the sake of a keyword. Backlinko's research shows that titles with exact keywords have only a slight advantage over the titles with no exact keywords. Clearly, keywords in video titles aren't the cause but the consequence of good SEO.
Additionally, every title should be fully visible. The length of your video titles is just as important as the length of your videos. Your video titles should concise with the most relevant information upfront. The length of your title should be up to 60 characters.

As for thumbnails, don't generate your thumbnails automatically. YouTube says that 90% of the best-performing videos have custom thumbnails. Your thumbnails should have a high resolution and be at least 1280 x 720 pixels in size, to be displayed clearly on different devices.
And talking of clearness, keep your thumbnails simple. If you need to add text on them, make sure that your text is clear and bold. Attractive thumbnails should also have high contrast and lots of visual depth.
Finally, remember that your thumbnail should reflect the topic of your video. Don't trick people, intrigue them.
3.4. Add Cards and End Screens
Cards and end screens are another way to link your videos and drive participation, interaction and conversion. Cards work best when you:
make them relevant to the moment when they appear in the video
use them no more than every two minutes
add card-links to playlists
don't put cards in the beginning
End screens make it possible to recommend other videos and drive engagement increase to your channel. When you add end screens into your video, bear in mind these cues:
Don't add them in the short videos
Add only those end screens which match the content of the video
Leave approximately 20 seconds of the on-screen space in the end for end screens: don't add them until the video takes to its logical end
3.5. Build Emotional Bonds
Sure thing, you know that interaction with your target audience is the entire reason why video content marketing exists. The growth of engaging signals (likes, comments, subscriptions) is inextricably linked with ranking growth. Sadly but quite often call to action, voiced explicitly, doesn't work right the way you'd like it to.
To improve it try to:
Specify. For example, instead of 'Leave your comments' in the end you can ask a simple but specific question or open the topic for discussion – build curiosity and ask them to leave ideas for the next video.
Offer perks. You can do it either promising an award for the best / the most popular comment or answering the most interesting comment in the next video.
Prompt the viewers into leaving likes and subscribing. Promise to release a new video on an interesting topic for return.
Answer the comments – it'll show your audience that you do care about their viewpoint. Connect with them emotionally.
3.6. Show Up in Video Featured Snippets
We've already told you that your video can appear on a search engine results page. Now it's time to learn how to do that.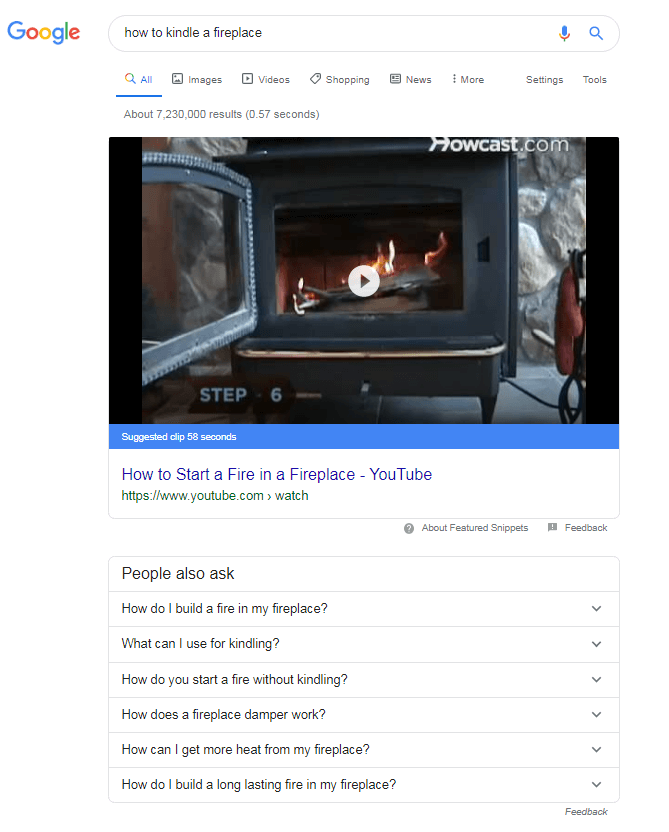 The majority of the videos that appear in featured snippets have two things in common:
They are how-to tutorials.
These tutorials are made for average people rather than for professionals.
To let your video show up in a featured snippet, you should include the precise key phrase in the video's title. Additionally, keep your video content up to date.
For a YouTube video, do your best to optimize everything about it:
Create an attractive thumbnail.
Write a detailed text description with keywords.
Add a transcript or timecodes for every step of your how-to guide.
4. How to Find Your Video Niche Competitors and Use Their Best Practices with Netpeak Checker
When you are just starting out, it's a good idea to ponder over your competitors' activity to see what your lapses are to learn from the mistakes of others. First off, you should find them. This can be done manually using search results, recommendations on YouTube or social networks. To do it faster and automatically use Netpeak Checker.
From the main program window, go to the SE Scraper tool tab.

Write down the queries for SERP scraping. If there are several words in the request, each word should be separated by a '+' sign without space, each new search query starts from the new line.

Go to the 'Settings' tab, where you can select search engines, set the desired number of results, and select one type of snippet – 'Video'.

Click the 'Start' button to start scraping.
Review all videos scraped by the program in the table which also contains titles and descriptions.
For further work with the table, use the 'Export' function in the upper right corner. As you can see, it took a few seconds to scrape 124 results from search engines.
After you found competitors, knuckle down to scraping stats for further analysis.
SERP scraping is a Pro feature of Netpeak Checker. To have access to this and other Pro features such as estimation of website traffic and export to Google Drive / Sheets, you need to subscribe to Netpeak Checker Pro plan.
Lights, Camera, SEO!
If you're planning to use video for SEO, you shouldn't hesitate. Start doing it right now!
Do your best to please your target audience with the diversity of video genres, post original content on YouTube, promote your business with video ads, and display a video on Facebook and other social media platforms.
Also, remember about optimizing content for your videos and don't go overboard with the length of the content and titles. Good luck!