Comprehensive Guide on Guest Blogging [with Actionable Outreach Tips]
How to
Reading various guides to off-page SEO you could see almost each of them suggesting guest posting as one of the best techniques to promote your business and build links to your site. In this guide we will dig into guest posting in order to see when it might be useful and how it can be done properly. Let's roll!
What Is Guest Blogging

How to Find Guest Blogging Opportunities

How to Evaluate Guest Post Opportunities

How to Do Guest Blogging Outreach

How to Write a Guest Post That Will Benefit You

What to Do When Your Post Is Published
1. What Is Guest Blogging
Guest blogging (or guest posting) is a content marketing technique which involves contributing to other websites (usually blogs, that's why it's called guest blogging) in order to expand your audience, drive traffic, and build some high-quality backlinks.
1.1. Benefits of Guest Blogging
Let's specify the exact cases when writing content for other sites will benefit you:
You want to increase brand awareness of your business or position yourself as an expert in a certain niche. Contributing to blogs in your niche is one of the best ways to speak directly to your target audience. Successful guest posting campaign will definitely widen the top of your marketing funnel.
You want to drive traffic to your website and increase sales. It's a tricky case. The thing is that people don't like straightforward sales pitches, so you have to be very careful while advertising your product/service on other blogs. Keep in mind that you speak to your target audience, I'm sure you don't want to be hated by them.
You want to build backlinks from relevant niche websites to prove your authority in the eyes of search engines. The funny thing is that guest posting is a great method to optimize for search engines via building backlinks and brand mentions if it's not your main intent. The number of webmasters abusing guest posting for SEO has even triggered Matt Cutts so he wrote a post on his blog with a controversial title (make sure you read the last paragraph). If you want to increase your backlink profile in a fast and easy way, guest blogging is not for you, but it's one of the most efficient link building techniques in a long run.
If you want to benefit from your guest blogging campaign, you have to take it seriously, for example, you can take a blogging course or delve into it by yourself. Now let's dive straight into the process.
2. How to Find Guest Blogging Opportunities
Already writing high-quality content? Hold your horses. First, you have to find websites you'll contribute to. There are several ways to find high-quality sites that accept guest posts.
Let's start with manual search.
2.1. Search for Lists of Blogs in Your Niche
This is probably the easiest way to find the most popular blogs in your niche. Just search 'top <your niche> blogs' and check the result. Though this method is the least time-consuming, it has a bunch of cons. These lists mostly cover only first-class blogs in each niche and it can be only 1% of the whole market. Moreover, not all featured blogs accept guest posts. However, you still have to keep your eye on such blogs and aim to get yourself featured on them.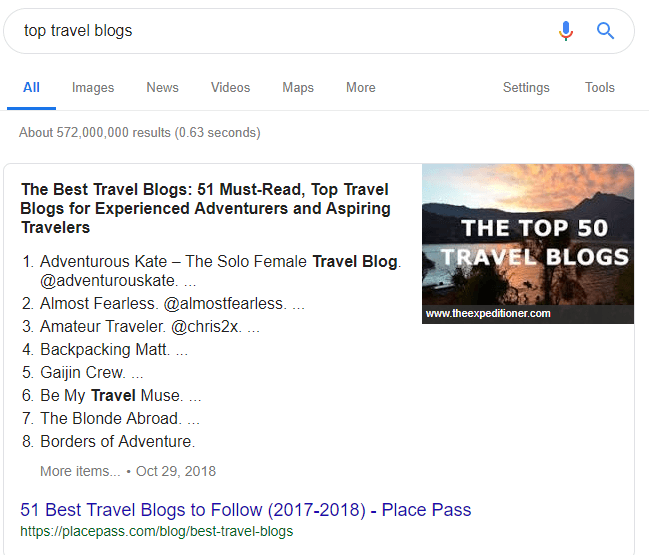 2.2. Find Active Bloggers in Your Niche and Check Their Previous Contributions
Using this method you can find guest posting opportunities by checking where authors in your niche have already contributed.
If you are not familiar with influencers and bloggers in your niche, you can simply google 'top <your niche> bloggers' or look through top blogs and check who write guest posts for them.
Pick certain influencer and start investigating. Let's take Larry Kim as an example of an expert and blogger in the digital marketing niche. Skimming through his twitter account you can find some of his previous guest posts.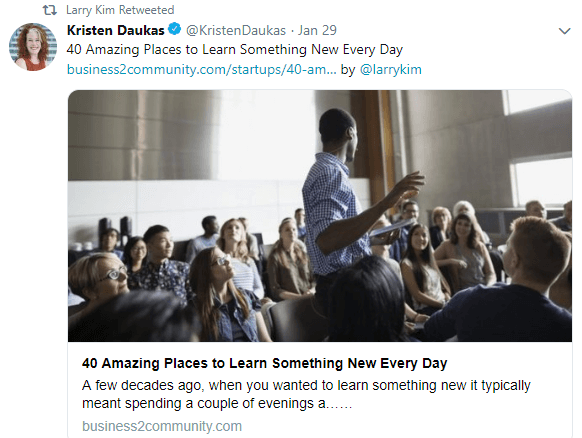 You can also search on Google using footprints like 'guest post by <influencer name>' and check a list of results. Perform the same process using different names in your industry and make a list of potential opportunities for further outreach.
There's another creative technique suggested by Brian Dean aka Backlinko – Google Reverse Image Search. This method involves using Google Images to search for blogger's previous guest posts using his photo, which can easily be found in author bio box on most of his previous articles.
Just right click on a photo and click 'Search Google for image' which will lead you to Google Image search.
For instance, using Brian's photo I've managed to find a bunch of high-quality blogs he posted on, and many other places where you can get yourself mentioned as well.

2.3. Examine Your Competitor's Backlinks
If you are serious about your business, you should have already analyzed your competitors including their backlinks. They are probably also doing guest blogging, that's why you can find lots of great sources analyzing their backlink profile. It may take some time to find what you need as not all backlinks are coming from guest posts, but using this technique you may find some real gold which was not publicly announced.
You can check backlinks of your competitors using Backlink Analysis in Serpstat.
2.4. Bulk Google Search
Who else if not Google can provide you with the most accurate info. But it's not enough to use basic search in order to find niche websites that accept guest posts.
For this purpose, you have to use specific search queries so-called guest posting footprints. Here's a list of the most common ones:
'write for us' OR 'write for me'
'Become a contributor'
'submit a guest post'
'guest post by'
'guest article'
Add your keywords to each of them and you'll be able to find blogs relevant to your niche.
Example:
'write for us' OR 'write for me' digital marketing
In order to make some of them more precise, use search operators 'inurl:' and 'intitle:' that will show the results containing your keywords in their URL and the Title tag respectively.
Example:
intitle:'write for us' your keyword
inurl:'guest post guidelines' your keyword
You can find lots of other footprints yourself just skimming through various blogs. However, doing a manual search using each of these footprints and checking each site will take plenty of your time.
This is when tools like Netpeak Checker will come in handy. You can easily scrape all search results upon these queries, evaluate and sort them by various metrics.
Let's see how to do it step by step:
Start Netpeak Checker and go to the 'SE Scraper' tool.
Paste your queries in the 'Queries' tab.

Go to the 'Settings' tab where you can choose what search engine you want to scrape, a number of results you'll get, and enable scraping of snippets.
Click on 'Search engines' in the 'Additional settings' block. Here you can customize several other settings like geolocation, country, language, or date.

If you want to scrape Google, you'll need to use proxies in order to avoid CAPTCHA. You can add a list of your proxies directly to Checker and check their connection.

Moreover, you can also use CAPTCHA auto-solving services by adding their API key on the 'CAPTCHA' tab.

Start scraping. When it's done, you'll see all results matching your queries with a bunch of additional data like their position, title, description, etc.
Now you can check all these guest blogging opportunities by several metrics and sort them according to your preferences. Click on the 'Transfer URLs' button which will transfer all unique URLs to the main window of Netpeak Checker.

The tool allows you to check these URLs by 1000+ parameters, but to do a preliminary evaluation, you need to check only a couple of them according to your preference. For a free option, you can use the Domain/Page Authority and other metrics by Moz, and Alexa Rank.
You can also scrape an email out of the pages that have it mentioned. In order to do it chose 'On-page' → 'Emails' on the Parameters tab in a sidebar.
Use filters to sort and group your results. For instance, you may create 3 groups of blogs according to their traffic: premium (>200,000 monthly visitors), medium (50,000-200,000 monthly visitors), and less popular ones (10,000-50,000 monthly visitors).
3. How to Evaluate Guest Post Opportunities
Alright, you've already created a list of blogs you can post to, but it doesn't mean you have to reach out to their owners yet. If you don't want to waste your time and effort creating upscale content for blogs that are not worth it, you need to analyze each of them first.
Here is a quick checklist you can use:
Make a quick traffic analysis. Use SimilarWeb free browser extension to get estimated visits, main traffic sources, and geo. Keep in mind that these numbers are not exact so don't rely on them only.

Analyze the overall theme of a blog. First and foremost, you should check what topics are covered on the blog, in order to understand whether they correlate with your site. Create a quick portrait of its target audience. Will these people be interested in visiting your site or buying your product? Sometimes it's ok to post on blogs from slightly different niche, for instance, readers of a travel-oriented blog will still be interested in reading an article about hiking boots.
Make sure it's not dead. Sometimes blogs may be abandoned but still drive traffic. Even if you reach out to the email address you found on such blogs, you probably won't get a reply. Check the date of the latest publication to see if the blog is alive.
Have a look at the comment section and social shares, check if readers engage with this blog. Don't neglect social media pages, check the number of followers, likes, and comments.
Check the main SEO aspects. Most bloggers will stop on the first four steps, but it's not enough. The thing is that some webmasters may fool 3rd party metrics and fake engagement to get free content for their PBNs or earn money from people like you. You have to be smarter and dig deeper.

First of all, make sure there are no shady links from the homepage/footer/header to other sites and articles do not contain obvious spam.
Avoid blogs that are stuffed with ads and pop-ups.
Check the blog for sneaky redirects.
Then examine the backlink profile, it should not consist of spammy backlinks and anchors.

Examine guest post requirements. Each site that allows guest blogging has a page with detailed guest post guidelines. Make sure you can meet the main requirements. For instance, it may say that they provide only nofollow links, do not allow promotional links, or accept only content above 5000 characters.
Read more about anchors, their types, and the reasons why branded anchor text types are the best fit for SEO optimization:
'How to Optimize Anchor Text
.'
Sort out blogs that don't match your criteria and add all relevant ones to the list for further outreach.
4. How to Do Guest Blogging Outreach
Now when you have already collected a list of targets and their emails it's time to reach out to blog owners offering your content. If you think that all bloggers would love to receive your email and would kindly accept your offer, I'm going to disappoint you. This is where an outreach strategy is a key.
Blogs that allow guest posting get hundreds of emails from people like you. Their inbox is stuffed with letters screaming 'I want to post my shitty content to get a link from you'. If you want your pitch to be read and not sent to the spam folder, you have to stand out from the crowd.
Here are some tips to write a quality pitch.
4.1. Appear on Blogger's Radar
This step is often slept on by most outreachers, but it may help you a lot, especially if you are reaching out to top blogs in your niche. The thing is that your first letter will be much warmer if a blogger has already seen your name. How can you do it? Join blog's groups in social media, like a couple of posts/photos, leave relevant comments. A few don'ts: don't like everything you can (it's just weird), don't spam comments, don't be a toady (all your compliments should be real, avoid 'I love your blog so much' stuff).
4.2. Personalization Is a Must
This is not only about adding blogger's name to your greeting (which is obviously mandatory). Personalize your letters as much as you can.
Get acquainted with previous articles on the blog in order to be able to show that you know who you are writing to.
All blogs are unique, it might be the voice they are speaking to their audience with, some visual hallmarks, etc. Show that you are aware of it. This knowledge will also allow you to offer articles that will be super relevant to a particular blog. If you know about the pains of a person you are writing to you can offer a solution.
4.3. Prove Your Authority
If a blog owner knows nothing about you, why would he/she accept your articles? You have to show who you are. It doesn't mean you should write your autobiography with all your achievements. Include your credentials, a couple of high-authority websites you contributed to or just have your company mentioned. Don't overpraise yourself, 1-2 short sentences will be enough.
4.4. Focus on Blogger's Benefit
If you want to get your offer accepted, it has to be a win-win situation to both you and a recipient. It's a well-known fact that we (humans) tend to look for benefit in every offer we get and it's completely reasonable. That's why make sure you've include all the advantages which come along with your post: you will promote it in your socials, newsletter, or provide with a free trial to your tool or service.
4.5. Don't Stop on the First Letter
Sent a letter, but didn't get a response? Don't give up in despair. It's true that some bloggers will not answer your offer simply because it didn't catch their interest. However, there's still a huge chance that a person was busy or missed your letter among tons of others (remember what I said earlier – big bloggers get hundreds of emails).
That's why you should send a follow-up at least once. We do it from 2 to 3 times. Trust me, we wouldn't do it if we didn't get a bunch of positive responses to the 3rd or even 4th letter.
There are several mail services that allow creating email chains which will automatically sent another email after a certain time period or based on particular trigger event (like when your letter was opened but received no response).
Here is an example:
Your main offer.
Letter 2 (sent on the 3rd day from the first letter)
It's a succinct reminder which contains the main key-points from your first letter and asks for a response.
Letter 3 (sent on the 5th day from the first letter)
Ask if your offer is good enough, tell that you are open for a discussion.
Letter 4 (sent on the 7th day from the first letter)
Mention that you don't want to be importunate and won't bother anymore. Ask for a simple 'yes or no' response.
Experiment with your letters to find the best combination. For instance, here's a result of a cold email outreach campaign containing 3 letters.

As you can see, the second letter is even more successful having a higher response rate and getting more positive responses.
4.6. General Tips for Quality Email
Here is a checklist for making a killer letter:
Use a corporate email address (e.g. [email protected]).
Address bloggers by their first name.
Structure your letter (it shouldn't be a single paragraph).
Don't use long and complex sentences.
Tell about yourself.
Personalize your letter (add relevant references)
Don't be formal, be open and friendly.
Check your grammar. You can use Grammarly or other Grammarly alternatives to do so.
Don't use more than one hyperlink per letter (in order to avoid landing into the spam folder).
Focus on blogger's benefit.
Create a good looking signature (add other ways to contact with you).
Add a call-to-action at the end asking for a response.
Send a follow-up.
Example: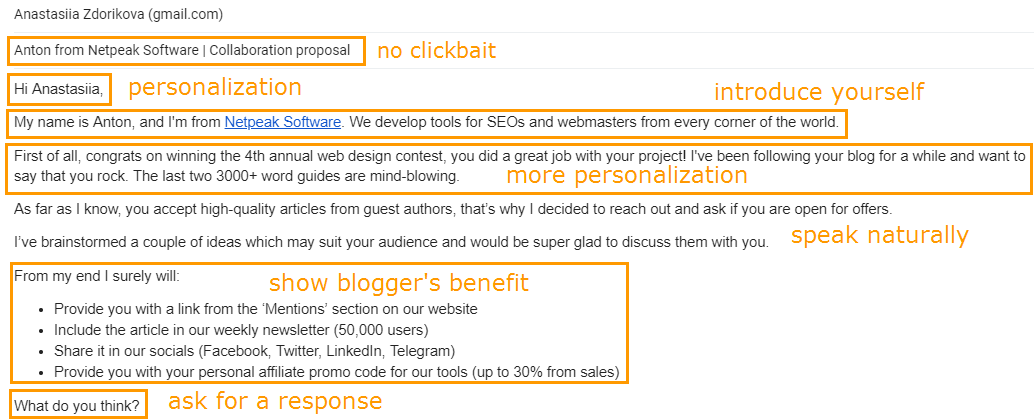 Remember that you should never copy paste any guest blogging email templates from the web (even If they are suggested by the most experienced marketers as those having 100% response rate). Imagine how many people will do the same.
5. How to Write a Guest Post That Will Benefit You
Congrats on getting a positive response! Now is the most important part of the whole process, you have to create profitable content. Don't get me wrong, I don't mean trying to sell something with your guest post. If you don't want to waste your opportunity, you should get back to the initial goals of the whole campaign and create content in accordance with them.
5.1. Content Quality
I believe there's no need to say you must create top-notch content just as you'd do for your own blog or even better. Nowadays it's difficult to prove your authority even with great content, and extremely easy to fall into disrepute writing a couple of mediocre posts. That's why you should keep the quality on point.
Trigger common pains of the target audience and offer a solution. Share useful case studies. Don't write just for the sake of it, contribute.
Use high-quality images, screenshots, infographics, gifs, or even videos. People love visual content.
Match the style of a blog you are writing to. All blogs have a unique style, some love using memes, others prefer well-structured articles. Grasp it from the previous posts (especially top-performing ones) and make use of it in yours to be more natural.
5.2. Content Length
Both people and search engines love longreads. You definitely should not write in-depth 3000+ words articles for each and every blog. Choose the most reputable ones, make sure they are worth your time and effort.
5.3. Linking
In order to back up your words, add several relevant references across your post.
Link to trustworthy and established sources in your niche
Link to your previous guest posts (this allows keeping your previous publications alive)
Link to your site (1-2 relevant links to your site)
5.4. Guest Bio
Almost all blogs have the author bio section. It's an extremely important part of your post which is often overlooked by many guest bloggers. It has several uses besides telling about yourself.
If you want to get another backlink to your homepage and gain some followers in socials, you can easily do it through the author bio section.

You can use it to drive traffic to your site or even get some leads. Remember what I said about advertising in your guest post? It's a no-no. Things are not that strict when it comes to the bio section (still no straightforward sales!). Offer some freebies or invite readers to your webinar, add a call-to-action and convert this traffic.
6. What to Do When Your Post Is Published
Banzai! You got your post approved and published. What's next? There are still a couple of steps left in order to make everything perfect.
6.1. Answer All Comments
Be active and answer all comments you get under your post. It's always great to provoke a discussion. If you managed to do it, make sure you engage with people sharing their thoughts in the comment section. It'll be difficult to track new comments on all your guest posts, but try to be active at least the first week after publishing.
6.2. Promote Your Post
Don't saddle the blog owner with doing all promotion of your post. Use all your marketing channels to show off your new publication. You will not only double the reach of your post but also do some SEO work and gain kudos from the blogger. Post it on your socials, add it in your weekly newsletter, etc.
6.3. Track Your Results
It's important to track the main KPIs of your guest blogging campaign in order to measure its efficiency. The best way is to create a custom report in Google Analytics and track KPIs of each guest post.
Go to your GA account → Customization → Custom Reports → New Custom Report

Name your report. In the 'Metric Groups' section choose the key metrics you want to track. For instance, you may choose the number of sessions, average session duration, bounce rate, conversions, etc.
Now let's move to dimension drilldowns and filters. 'Source/Medium' allows you to see the source you get traffic from and the way users arrived at your page. Setting 'Full Referrer' you can see data for the exact URL from a certain source. This is extremely useful when you have more than one guest post on the same blog and you want to track each of them separately.
In the 'Filters' section, set 'Include' → 'Full Referrer' → 'Regex'.
Copy the URL of your guest post without the 'https://' part and paste it to the text box.

If you want to add another URL, you have to separate them with the '|' symbol. You can add as many URLs as you want, just make sure there's no extra spaces, etc. Here's how it should be:

searchengineland.com/bing-to-publishers-start-using-new-bing-url-submission-process-for-indexing-now-311844|searchenginewatch.com/2019/02/01/five-growth-hack-ideas-seo/|ahrefs.com/blog/diy-seo/|

Save your custom report. After all, your data will look like this:
6.4. Build Long-Term Relationships with Bloggers
If your collaboration with a certain blog was successful (according to your KPIs), you would probably want to write another guest post for it. That's why you should not forget about each blog right after you got what you wanted.
Send a 'bread-and-butter' letter thanking a blog owner for the given opportunity and say that you'd be glad to collaborate more in the future. Become friends with blog owners or editors in socials to ease your future communication.
In a Nutshell
That's it! In this guide we've covered the fundamentals of guest blogging, but there's still a huge open space for your experiments. Let's recap the main steps of successful guest blogging campaign:
Define the goals you want to achieve.
Find proper websites to post on.
Outreach to blog owners.
Create superior content.
Promote your post and engage with readers.
Track your results.
Build long-term relationship with bloggers.
What do you think of a guest blogging as a marketing technique? Feel free to share your thoughts in the comment section below.