Top 10+ White Label Tools for Marketing Agency
Lists

How can a marketing agency optimize its processes, increase the quality of services, and profitability all at the same time? The answer lies in so-called 'white-label' marketing tools. In this article, you'll find out what they are and how they leverage profits to the maximum.
'White labels' are tools created by one party but can be purchased, used, and labeled by another party, such as a marketing agency. These tools may be customized for the specific agency's needs, which means that they offer a high level of personalization for a client, who uses an agency's service. And they may be branded with the agency's corporate style for interacting with the final customers. And they may be branded with the agency's corporate style for interacting with the final customers. Which is a good strategy since consistent branding across all channels increases revenue by 23 percent, according to this branding statistics report.
Here we offer a comprehensive review of the top 10 white label tools that'll help your agency become more effective, increase revenue, and get a trustworthy reputation.
Netpeak Spider

Mention

PromoRepublic

Serpstat

Dashthis

Sender

Newoldstamp

Weblium White Label Agency

Pabbly Email Marketing

Active Campaign

BrightEdge

SE Ranking

Invoice Ninja

BuildFire

SendinBlue

Moosend

SalesHandy

Sitechecker

Whatagraph
Netpeak Spider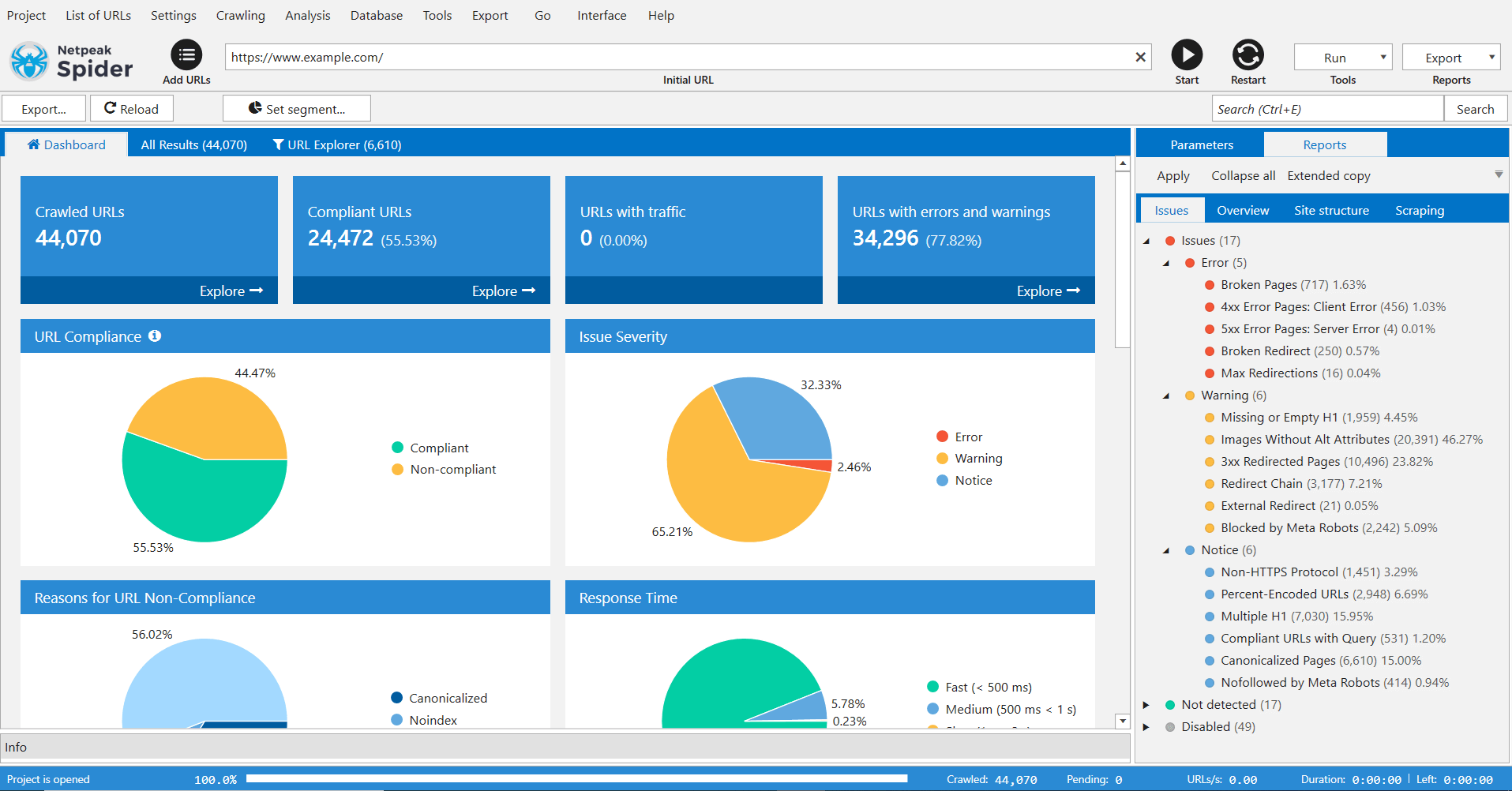 Netpeak Spider is a desktop tool for a day-to-day on-page SEO audit, fast issue checks, comprehensive analysis, and website scraping.
Pros
Freemium plan to test many basic features.
Integration with Google Analytics and Search Console.
It will spot 100+ issues of website optimization such as broken links and images, duplicate content, etc. and provide how-to-fix guides.
Built-in website scraper – you can scrape markup, hreflangs, as well as emails, phone numbers, etc.
You can generate SEO audit in PDF with key aspects of SEO onpage analysis equipped with diagrams and graphics. Just furnish it with your logo, contacts, and recommendations for a client or a team. BTW technical SEO audit is the only report available on Freemium.
Cons
You can solve many SEO tasks with Freemium, but you can't export reports (only SEO audit in PDF).
Export of reports to Google Drive and white label feature are available only for Pro plan.
BTW right after signup, you'll have the opportunity to try paid functionality in Netpeak Spider – all features from Standard and Pro plans – and then compare the plans and pick the most suitable for you.
Pricing
Pricing starts at $19 per month for the Standard plan and $39 for Pro. They give a regular 20% discount for yearly licenses for all plans. Besides, they have the Business plan with VIP support, which means you'll have a dedicated manager. They help you master the product to get the most out of it, and personally consult you on technical SEO of your project.
Conclusion
Netpeak Spider is an irreplaceable tool for inside-out website audits. It comes at a modest price but offers you a ton of opportunities. It can be used by SEO specialists and webmasters, marketing and content teams, web developers and QA, sales teams, and PPC specialists. White label feature is another perk that will help you increase brand awareness and interest potential clients at the pre-sales stage of SEO services.
Mention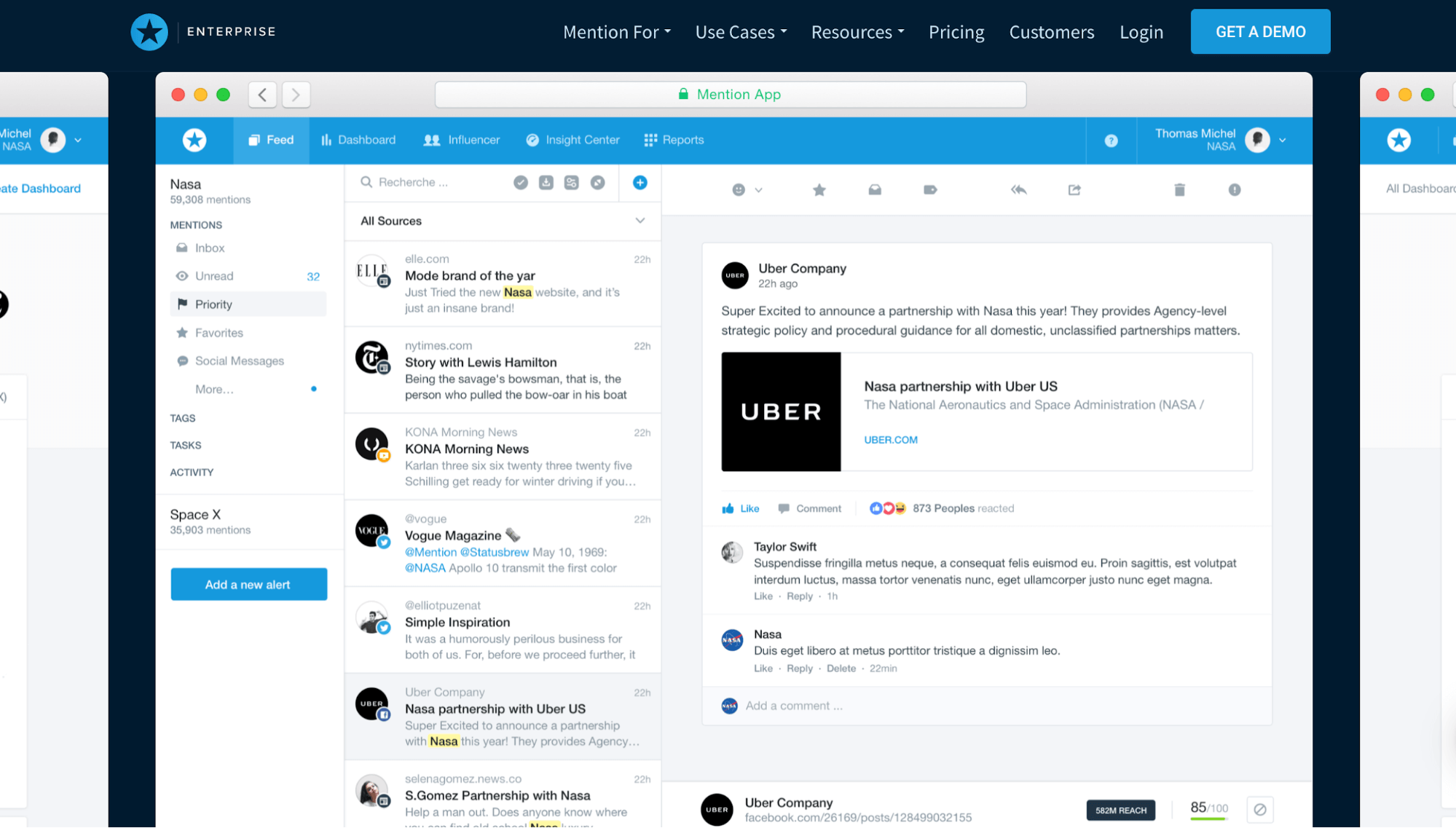 Mention is designed to bring brand awareness, engage new customers, and increase a company's reputation online. With a lot of conversations happening online, the tool gathers your clients' mentions as well as their competitors' mentions and stores them in the same place, easy to access and operate. Based on this data, a marketing agency can offer their clients detailed reports on where the buzz is going on and how to skillfully address it.
Pros
It monitors a million sources in 42 languages.
It generates convenient reports of brand mentions.
Integration with Slack, which makes it easy to keep track of brand mentions as soon as they appear.
It allows discovering influencers.
Cons
It can get pricey for small agencies.
The tool has limited keyword functionality.
It doesn't archive mention data, so if someone removes a post, the content is lost.
Pricing
A Starter plan allows for tracking clients' and their competitors' mentions for $89 per month for 3 users, while an Enterprise plan costs $600+ per month and has advanced features for an unlimited number of users.
Conclusion
Mention is a great tool for discovering when people have mentioned your clients or their competitors online, as well as to analyze the sentiment expressed in these mentions. Their biggest advantage is their data-rich custom reports that are delivered automatically.
PromoRepublic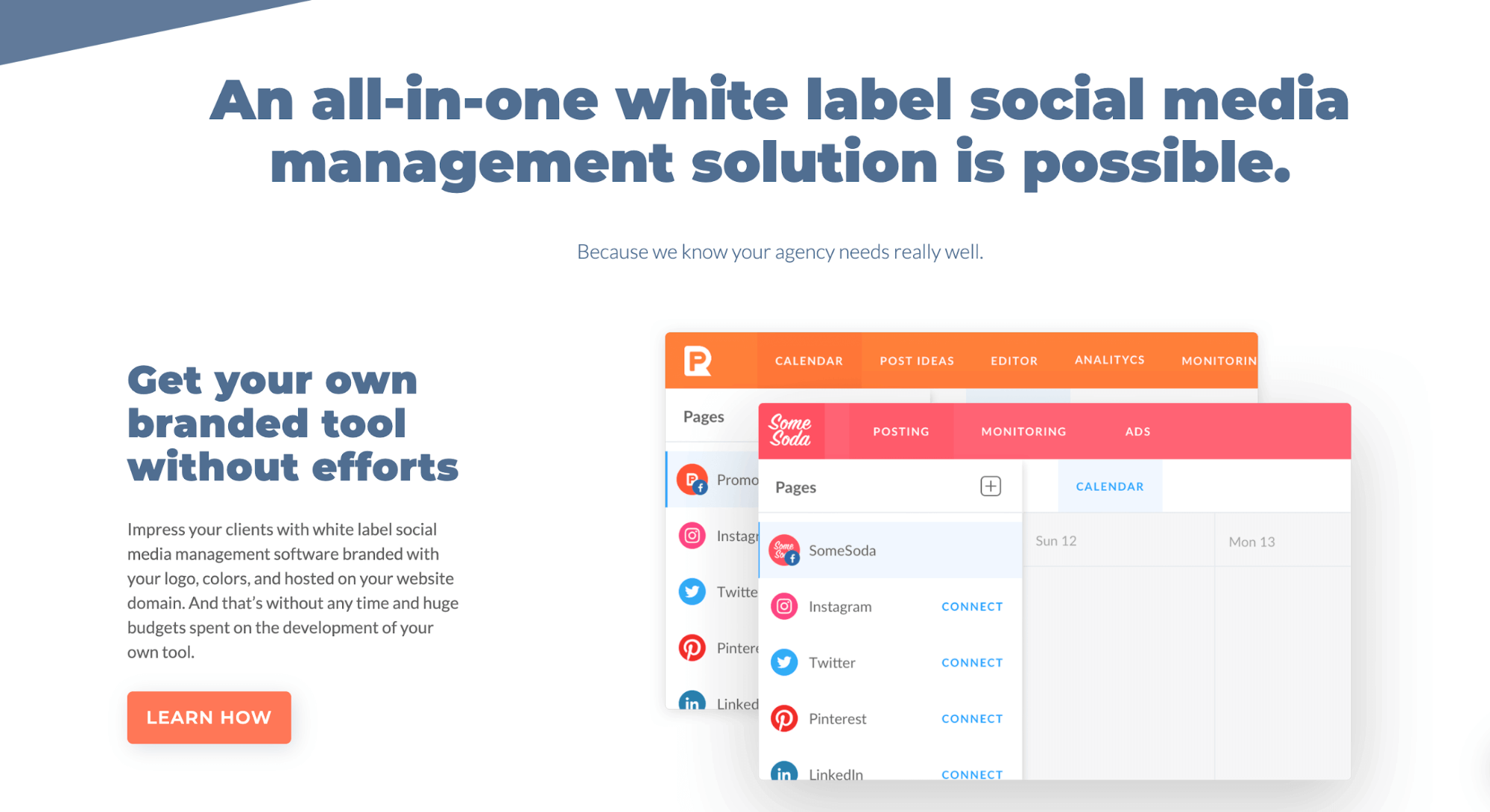 The PromoRepublic white-label tool will help you effectively drive social media campaigns for multiple customers and collaborate with both your team and clients. It allows you not only improve the performance but also impress your customers with professional social management software branded with your corporate style and hosted on your company's domain.
The Drag'n'Drop graphical editor that allows one to either customize one of the 6,000+ templates or create your visuals from scratch, and the 'Smart Posting' option which automatically generates a content plan schedule with timings based on the social platform, type of a post, and your client's industry.
Pros
Integration with the most popular social media platforms (Facebook, Instagram, LinkedIn, Twitter, and Pinterest).
It offers a huge pool of post ideas, ready-made templates, visuals, etc. for customizing the designs.
Both user's and customer's interfaces are intuitive and easy-to-use.
Automatically-generated branded reports are very informative, with their insights on the essential social media metrics (including followers, engagement, and post reach).
It also includes a collaboration platform with the Client's Interface. Its private dashboards allow your customers to view, approve tasks, and comment on the projects for better efficiency.
Cons
Some integrations (like Pinterest and Instagram) are quite basic.
Post repetition feature could be more flexible.
The interface is only English (no language localizations).
Pricing
The cost of the white-labeled version starts at $182 per month and depends on the number of social profiles you need to handle, as well as the number of team members and clients you have. The price for the Content Bundle option with unique templates and compounds tailored for your business starts at $149.
Conclusion
When it goes about white label social media marketing, the PromoRepublic white-label tool is a must-have for agencies that frequently post. This service is a really good solution to optimize the process, increase sales, and provide clients with quality, cost-effective social media marketing.
Serpstat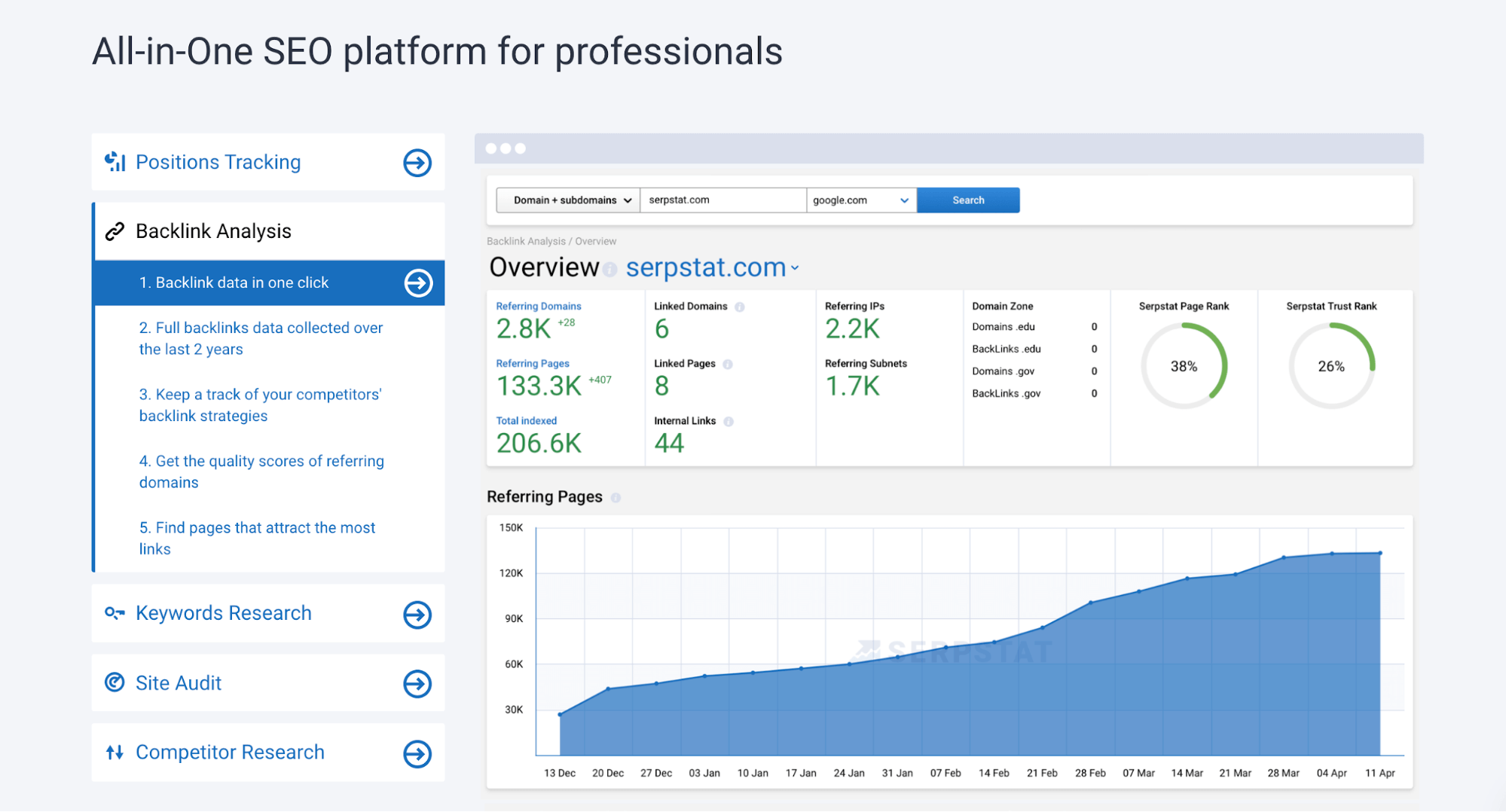 Serpstat is a complete SEO solution for professionals. This white-label tool has features for tracking website position, competitor analysis, backlink analysis, site audit, and keyword research. For marketing agencies, it helps analyze both data for clients and information about their competitors. There are also unique features for keywords analytics such as Missing Keywords and Keyword Clustering – a great solution for creating content around specific keywords.
Pros
It provides a number of analysis and reporting tools necessary for marketing, SEO, PPC, and content production.
The tool offers unique features for keyword analytics, such as Missing Keywords and Keyword Clustering.
It provides detailed reports with visualization.
You can export data in different formats.
It's easy to use and navigate.
Cons
It offers a smaller volume of keywords compared to competitors.
The pricing plans are more expensive than average.
Pricing
Serpstat Personal Plans start at $19 per month, while the business plan starts at $499/month and goes up to $2500/month.
With a business plan, you get many valuable features for an agency. They include access to mobile tracking, an option to use unique keyword features, branded reports, phone support, access to page audit, and a much higher number of queries per day. There is also an option for a free trial to see if their features are a good fit for your needs.
Conclusion
Serpstat is one of the most popular marketing services. It offers a wide range of SEO tools, all housed in a single app which may save you tons of time and money. It's worth trying if your agency deals with search-engine optimization, PPC, or content marketing.
Dashthis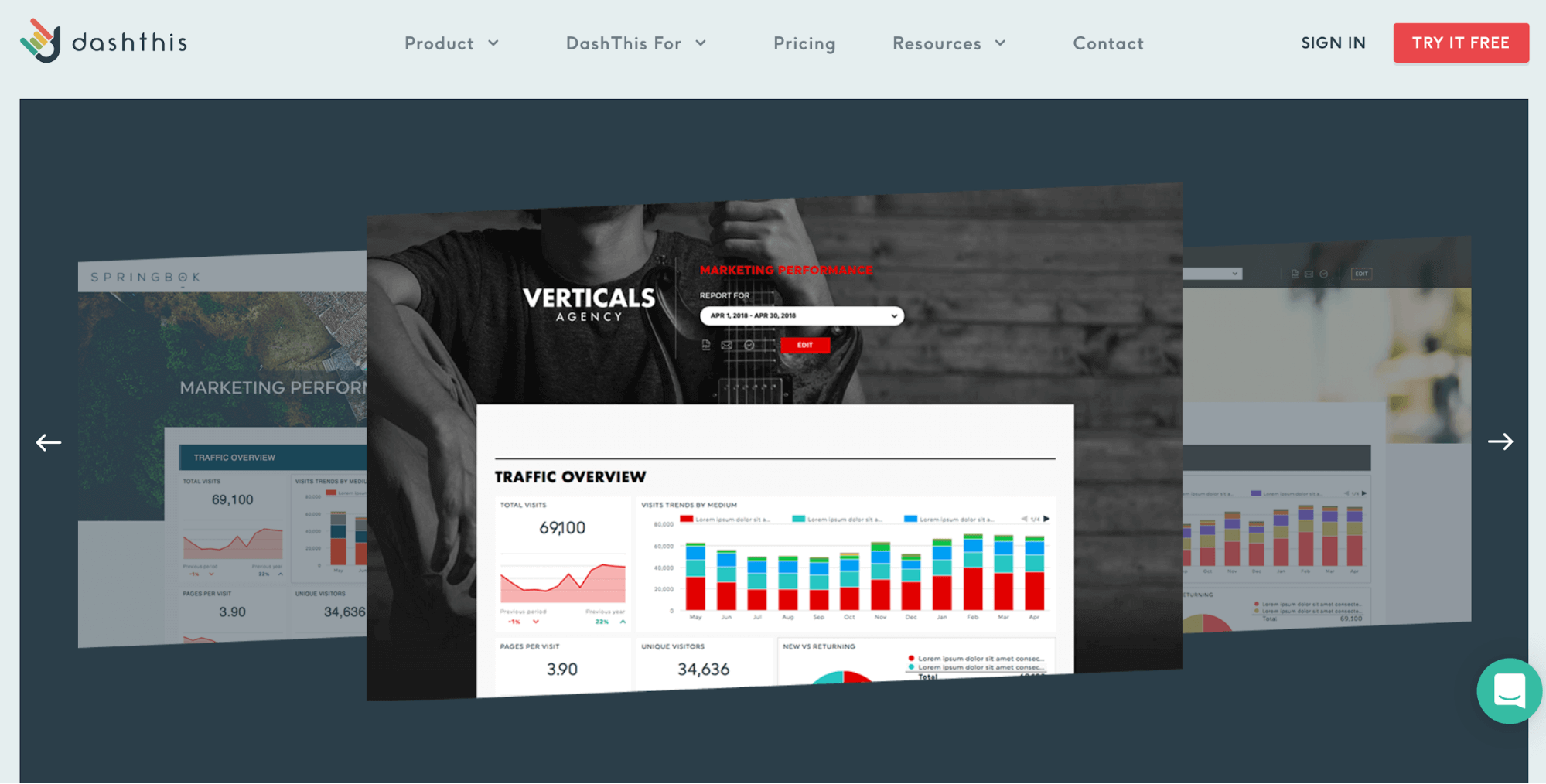 Dashthis offers a set of white-label tools which were specifically designed for marketing agencies. They include SMM, PPC, SEO, and many others. Various templates and widget-based design features can be used to build a convenient marketing dashboard. Besides, you can include your SEO, social, email, and other important data in one automated report or generate reports for Google Analytics, Adwords, or Facebook insights.
Also, there is an option to customize your reports and add your agency or client's logo, change the headers, or add comments. It is an excellent alternative to manual data collection and analysis.
Pros
Integration with most of the top web design and digital marketing systems (e.g., Google Analytics, Instagram Ads, Mailchimp).
Simple drag and drop interface.
Custom options for advanced users.
There is a possibility to create high-level reports with your most important metrics.
It has helpful customer support.
Cons
Not suitable for creating advanced business insights and forecasts, rather for basic performance reports.
No option to transfer dashboards to other accounts.
It doesn't have Amazon Ads integrations.
No ability to archive reports, so that they don't count against a dashboard total. You have to delete the reports that you no longer use so you don't pay for them.
Limited chart types.
Pricing
The company offers the same set of features and services with each plan and options to pay monthly or yearly. The difference lies in several dashboards you get with different packages. Professional plan and Business plan are the basic options for marketing agencies costing from $120 to $209 per month, with 10 or 25 dashboards correspondingly. There are also Standard and Enterprise packages for $339 and $499 (within a yearly plan) that allow you to create up to 50 or 100 dashboards.
Conclusion
Dashthis is an effective, eye-catching way to illustrate your campaigns' performance and put all the activities into one reporting dashboard. While it is a good tool for small enterprises, it may be not as suitable for bigger business projects. It doesn't always perform well if your agency needs to generate complex reports and foresee the campaign's insights.
Sender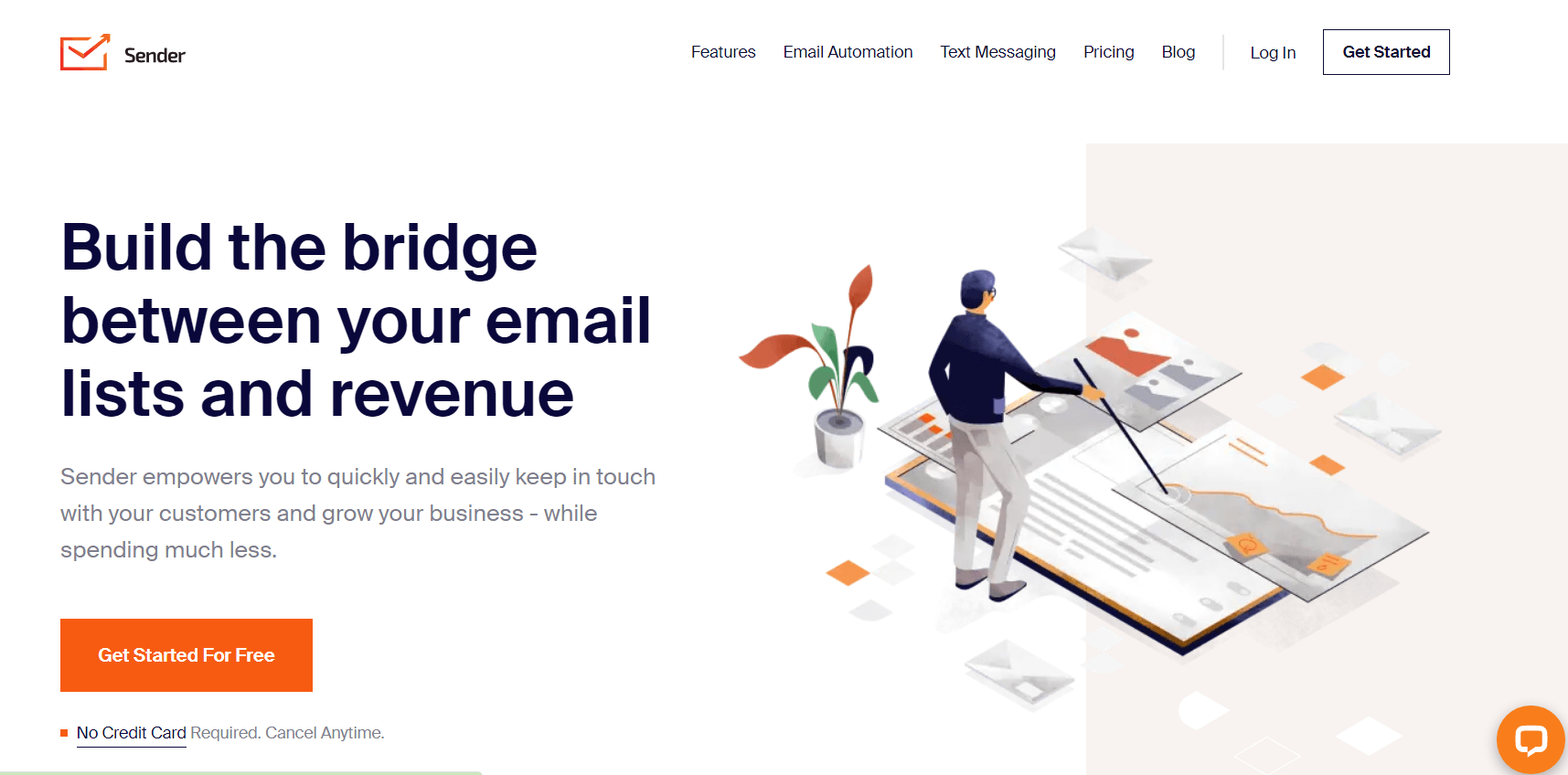 Sender is the omnichannel messaging solution (email+SMS) of choice for e-commerce and small to medium businesses looking for a high converting solution that is also easy to use.
A highly intuitive user interface enables complex automation workflows involving both emails and SMS sequences, which are easy to set up, yet remarkably effective. A fully optimized infrastructure ensures high quality delivery.
Even if the drag-and-drop email design tool doesn't impress you, the pricing (with a generous FREE tier), is sure to!
Pros
Enables high-converting hybrid automation sequences and workflows (emails + SMS) inside one easy-to-use interface.
High-performance delivery for both emails & SMS.
Highly intuitive drag-and-drop email design tool.
Ready-to-use, visually stunning in-built newsletter templates and popups.
Generous FREE plan (max of 2,500 contacts and 15,000 emails per month).
FREE migration support if you're looking to move over from another platform.
LIVE Chat with highly trained product experts in seconds.
Cons
Simple, no-frills UI.
Lacks a landing page builder.
Pricing
With the FREE plan, you can send up to 15,000 emails per month to 2,500 contacts. If you are just getting started or trying out the tool, this is usually enough.
Starting at just $12.50 per month, it's clear that their paid plans are designed for a price-sensitive market. They also bundle free SMS credit with their higher paid plans.
Conclusion
Sender is best suited for small and medium-sized businesses and e-commerce companies looking for a high-converting email automation tool that is easy to use at the same time. It offers integrated SMS messaging at low rates and offers cost-effective plans in general.
Newoldstamp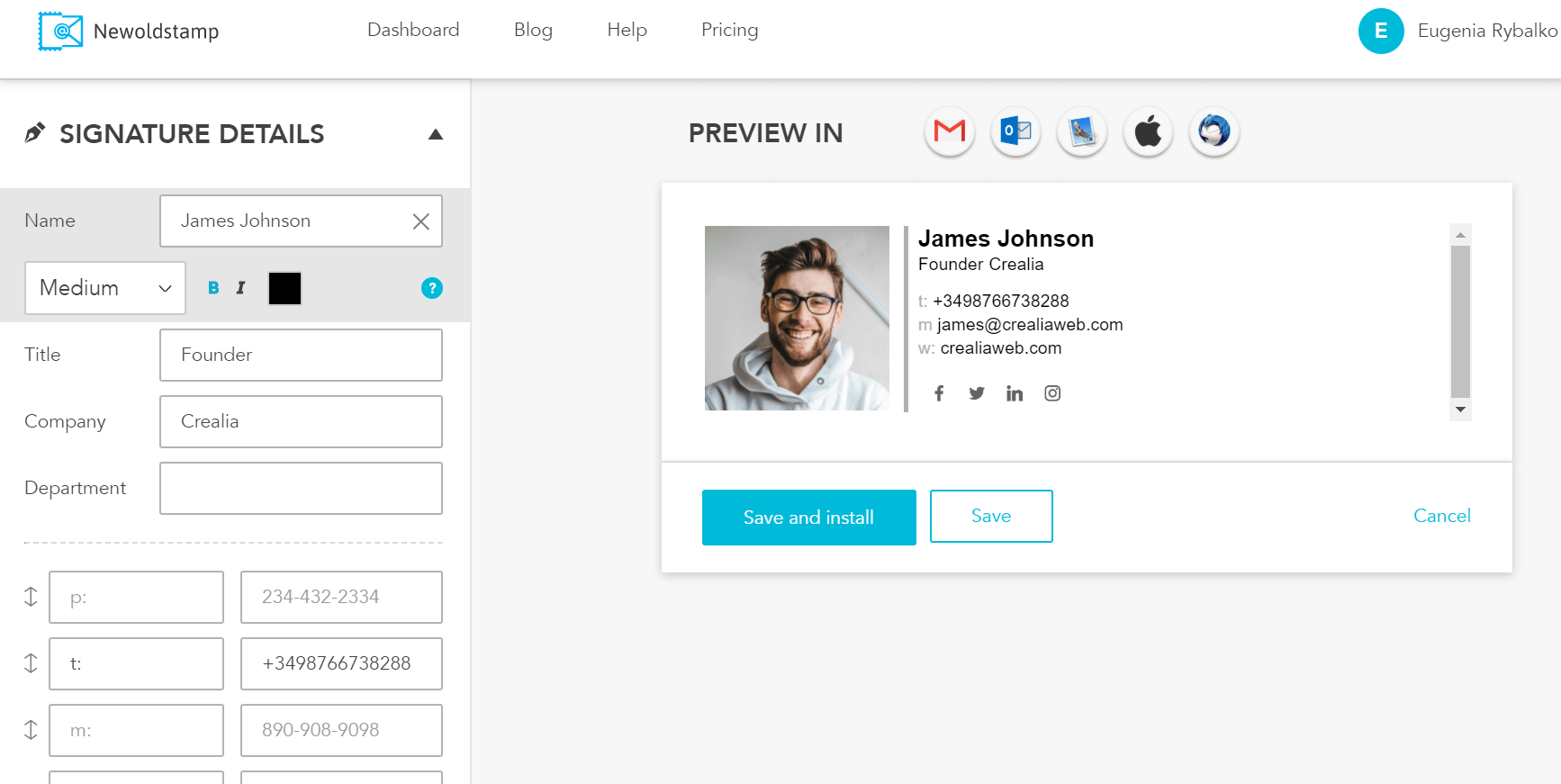 Newoldstamp is an email signature marketing solution that helps to increase brand awareness, generate new leads, and drive traffic to the website by incorporating branded email sign-offs into your clients' business communication. Incorporated analytics allows you to keep track of the number of visualizations and clicks and make data-driven decisions when launching email signature marketing campaigns.
Pros
Central management. You can manage your clients' team email signatures from a unique dashboard guaranteeing brand consistency in business communications. You can create and share ready to use signatures directly from the dashboard.
The tool offers a number of predesigned templates so you don't need any design or coding skills to create a professional HTML sign-off.
Use email signatures as a marketing tool by incorporating clickable social media icons, CTA buttons, and interactive banners.
You can automatically update all of your sign-offs and keep track of their performance using the built-in Analytics section.
Great customer service.
Cons
Limited possibilities of template customization.
You can create one signature for free, but if you want to use premium features you have to update to PRO, no trial period for the PRO version.
Pricing
The price for one email signature is $6 per month if charged quarterly or $4.5 per month if charged annually. If you subscribe to a 100-signature package annually, one signature will cost you only $0.99 / month. Custom pricing is available.
Conclusion
Newoldstamp is a great tool if you want to increase your clients' brand awareness online. Additionally, you can use email signatures as a part of content marketing or lead generation strategies by incorporating links to the latest blog posts, adding CTAs to event registration pages, or including interactive social media buttons.
Weblium White Label Agency


White Label Agency lets you create websites for different clients using Weblium website builder. With White Label Agency, you can build up to 50 sites and customize them with a unique logo, domain, favicon, etc. to meet your clients' needs.
Pros:
Custom pricing. You'll get an up to 50% discount on PRO websites and can set any profit margins you want. Your reseller commission won't depend on a PRO subscription price fluctuations.
Partner manager and top-notch support 24/7.
Simple editor fully branded for you.
High page speed.
SEO and marketing tools.
Dozens of integrations.
250+ templates of WordPress quality.
20–50% discount on subscription plans.
Cons:
Some functionality is still under development (e.g., eCommerce).
It isn't suitable for multi-page websites.
Pricing:
Starts at $24/month. Whatever plan you choose, you also get your domain name and logo and favicon, 1 Pro website, a free domain name for 1 year, reliable Google Cloud hosting, and unlimited clients.
Conclusion:
It's a handy tool that can help web design agencies make money with little effort.
Pabbly Email Marketing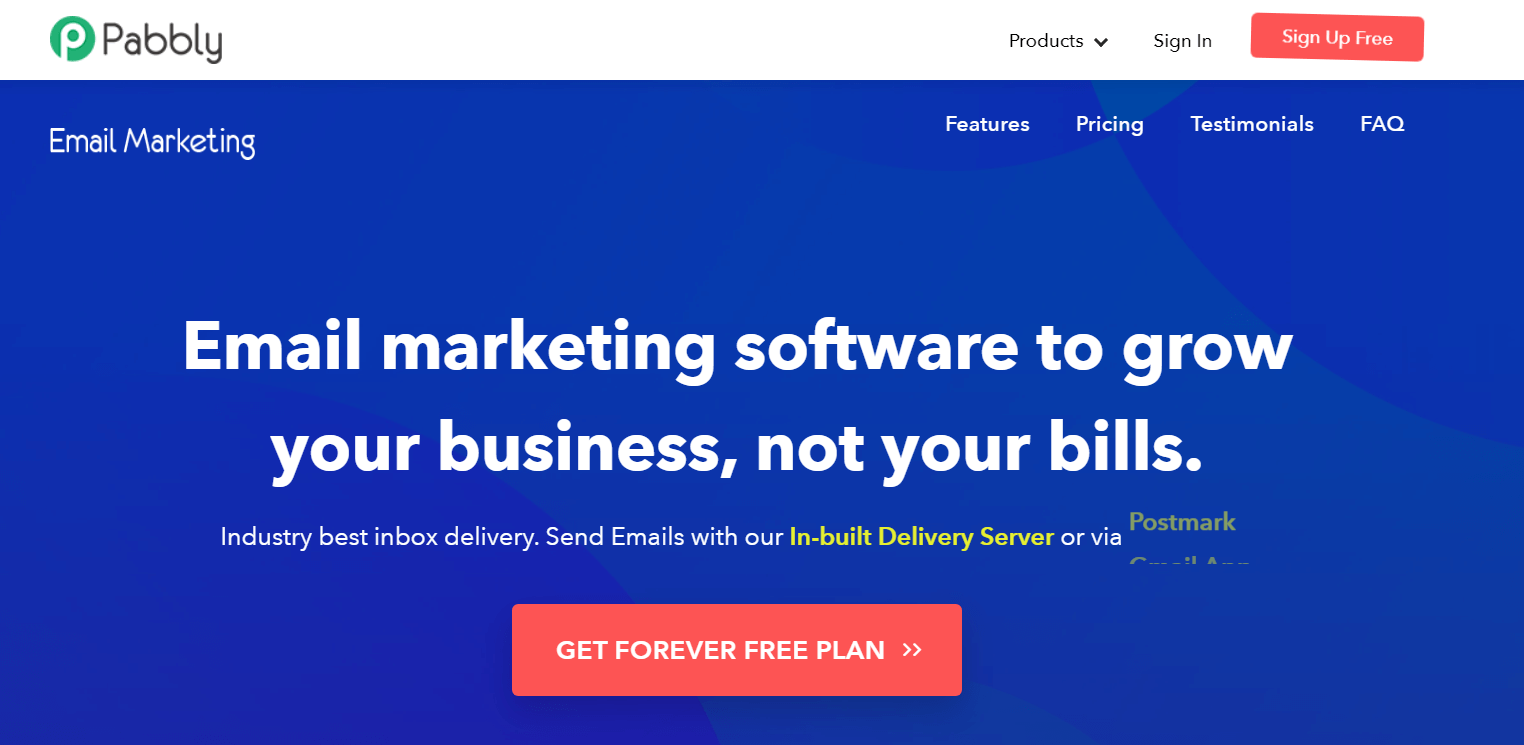 The opportunity to send bulk emails to create successful marketing campaigns within minutes makes Pabbly Email Marketing one of the creditable email marketing software. This application comes with features like SMTP routing and an Inbuilt SMTP server that allow you to send tons of emails with maximum deliverability.
Further, it comes with marketing automation that allows you to reach your subscriber's inbox by automatically sending the email on a pre-set schedule. Plus, with its simple interface, you can easily manage your subscriber's list, track records of your previous and recent campaigns.
Pros:
Inbuilt SMTP server
Automatically sends follow-ups to non-opens
Ability to add multiple SMTP servers
Detailed email tracking to view open and click rates of emails
Easy list management
MX cleaner to filter the email list
Drag and Drop email builder
Cons:
Its interface may appear basic.
Drafting an email is very easy but saving a draft may sometimes take time.
Pricing:
Pabbly Email Marketing comes with a free plan that allows you to send 12,000 emails to 1,100 subscribers. The next plan named Rookie comes at $29/month and has an email sending limit of 5000 subscribers. With the Pro plan, you can send emails to 15,000 subscribers at just $49/month and the Advance plan offers a limit of subscribers up to 50,000 at $99/month. Except for the free plan, all other plans come with a full feature set.
Conclusion:
This value for money tool is a lot cheaper than other email marketing services. If you are looking to improve sales by reaching the inboxes of your leads and with Pabbly Email Marketing on your side, you can rest assured.
Active Campaign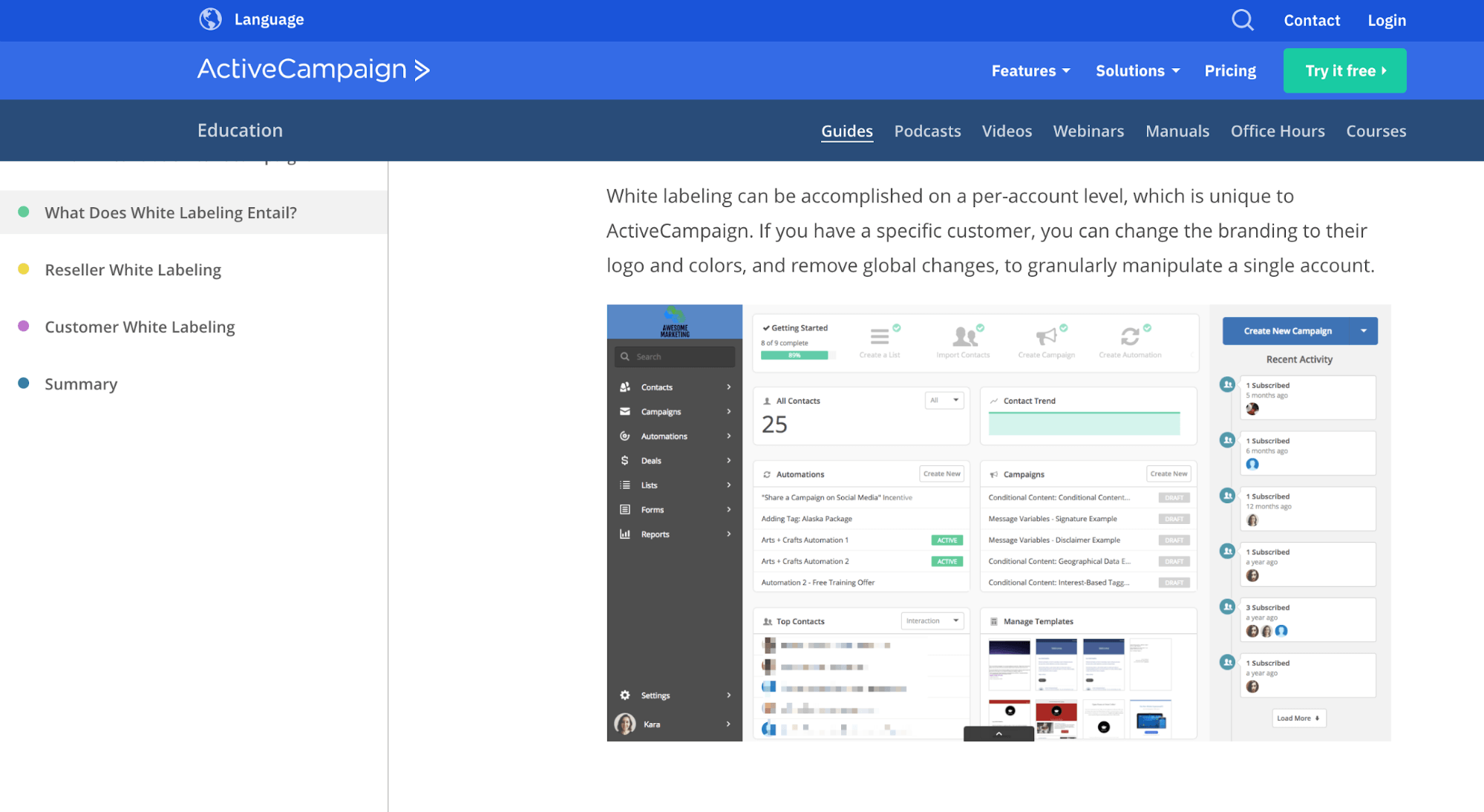 Active Campaign offers a range of services for automation of email marketing campaigns, from traditional marketing campaigns to complex automation solutions, CRM integrations, and more.
This easy-to-use and powerful builder can bring logic into any campaign and automate almost any of its processes, even with the most complicated logic and structure.
Pros
It has almost all you might need to build professional automated email marketing campaigns.
The tool has lots of integrations with popular apps (Gmail, GetResponse, WooCommerce, Shopify, Xero, Geckoboard, ZohoCRM, and more).
It provides comprehensive reports on your campaigns.
The tool has inbuilt split testing functions.
It is extremely flexible and customizable.
Cons
It takes some time to get used to the tool.
CRM/Deal reporting is simplistic and does not provide detailed information.
Some of the email templates look outdated.
There is no data export feature.
Pricing
Among the four, only the Enterprise package includes all of the features and is really suitable for a marketing agency. The price starts at $229 per month for 500 contacts and can be increased up to 10,000 contacts for $399 per month with an annual plan. Volumes larger than 10,000 contacts require individual pricing.
Conclusion
Active Campaign white-label automation tool is a great choice for marketing agencies that need to automate their clients' email flows. It lets you manage large contact lists without a hustle, segment the audience, and address their interests separately.
BrightEdge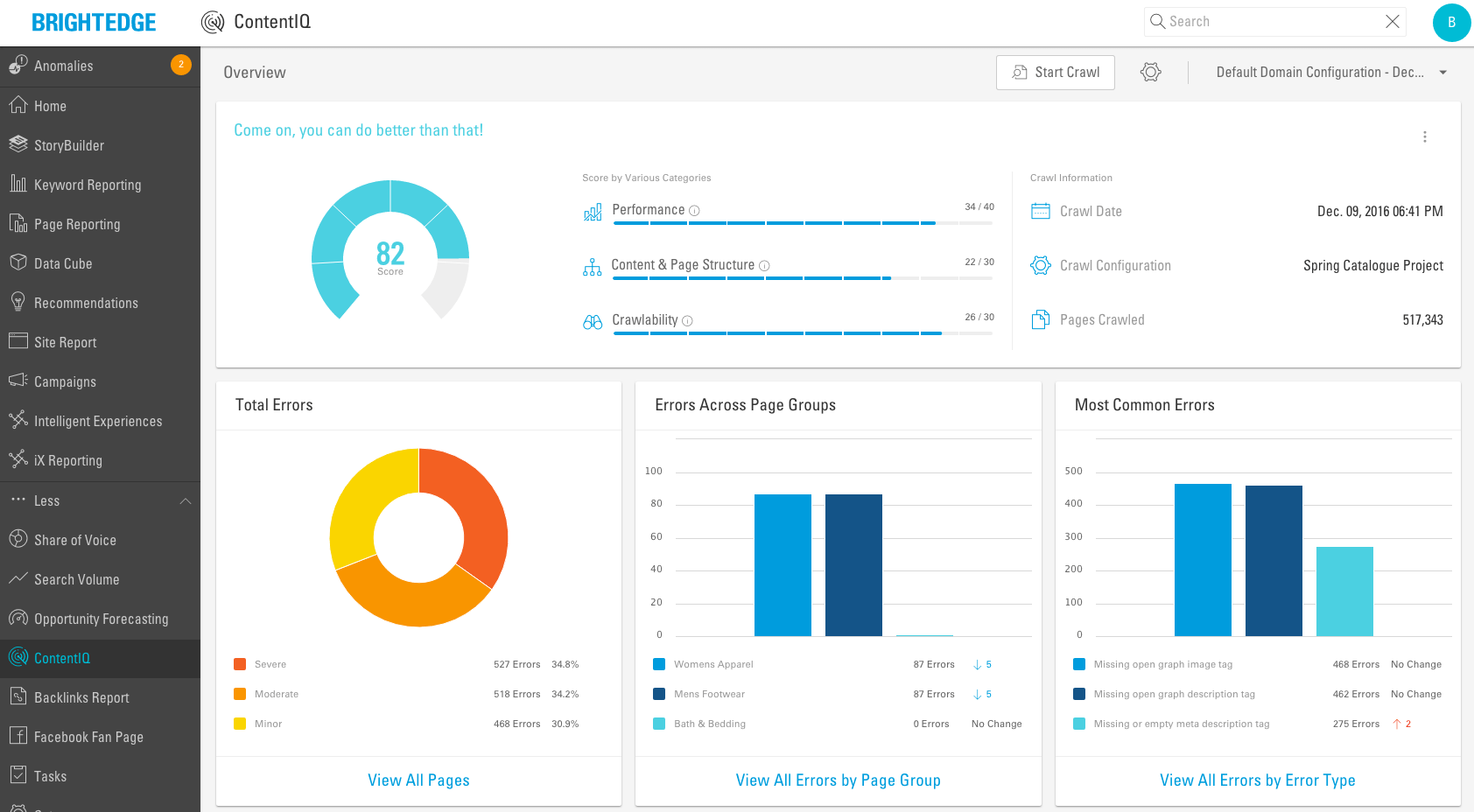 This tool can help those agencies that work on improving their clients' website performance. It saves hours of research time and offers ready-to-use solutions to quickly gauge the success of your latest marketing campaigns. The BrightEdge white-label tool will help generate high-value leads and get an important share of organic traffic for your agency's clients.
Pros
Flexible rate card that scales as your client's scale.
You can use ranking comparison with competitors.
Helpful dashboard with insights.
It outlines potential SEO problems and recommends solutions.
Cons
The recommendations may be quite basic.
Setting up dashboards and reports can be time-consuming.
It doesn't support multiple logins at the same time.
Pricing
BrightEdge doesn't advertise its prices online. You can request a demo at their official website and get a price calculated specifically for your project.
Conclusion
BrightEdge isn't just a single tool. It's a whole set of tools for working with Internet-based businesses. Though keep in mind that BrightEdge is billed as an enterprise-level toolset.
SE Ranking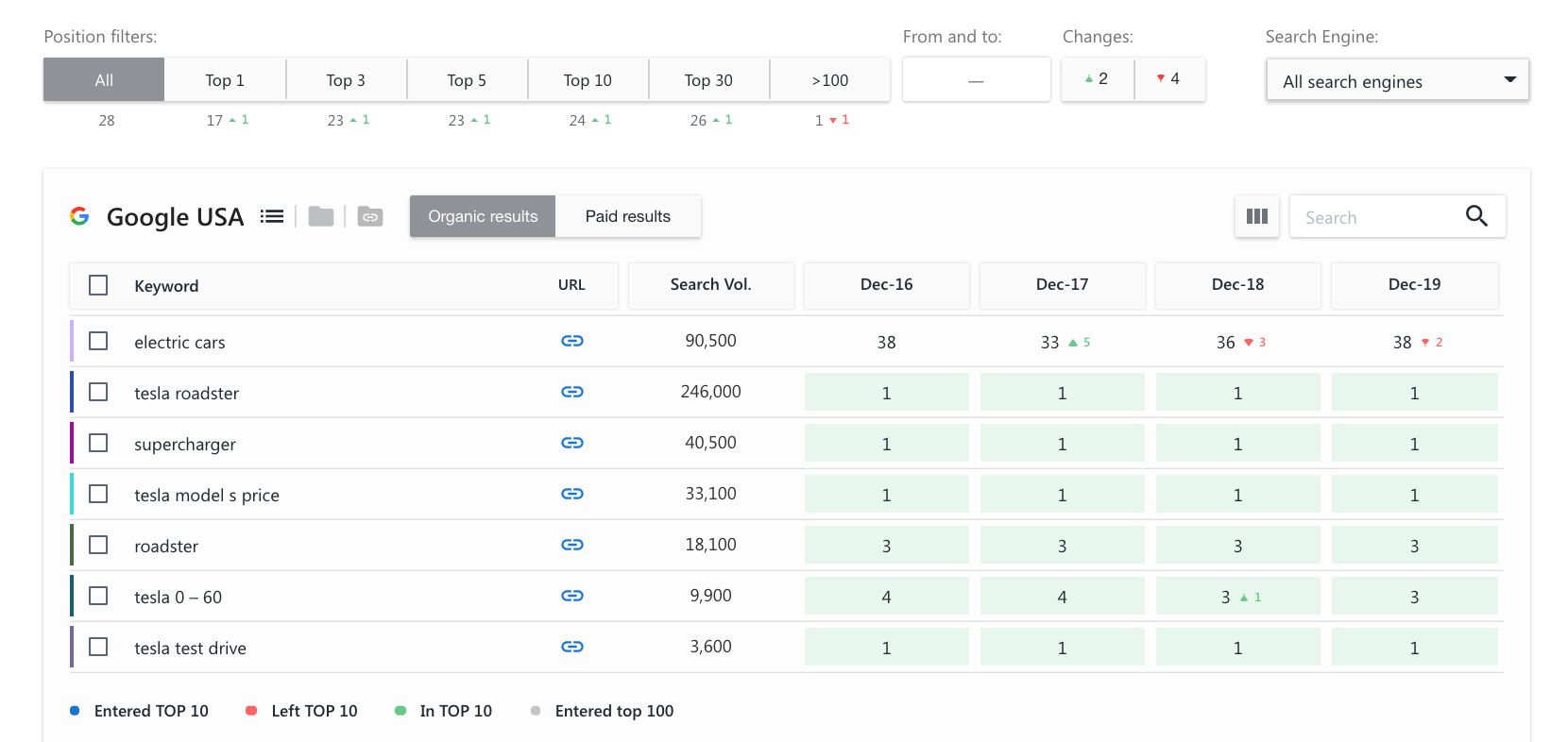 With SE Ranking your agency can create accounts and set up domains for your clients without a separate hosting and still make it fully personalized. It's a great solution for optimizing websites without being an expert in SEO or spending extra costs for supporting the service. The tool has many useful features, such as performing website audits, monitoring position ranking, and others.
Pros
It tracks rankings precisely and based on location.
It provides with competitors analysis.
The tool offers backlinks analysis.
You can use website pages audit.
Cons
There are many hidden charges.
Reporting System has room to improve.
Customer support is not always supportive.
Pricing
You can either choose to pay daily, once in 3 days or weekly. With the last option, you get a 40% discount on all the packages. In this case, the Enterprise one would cost you $113 per month and provide with 2,500 keywords to track within an unlimited number of websites, while a Plus package would cost only $53,4 per month with 1,000 keywords to track. Yet, the Enterprise package is most suitable for marketing agencies and offers the broadest range of services available.
Conclusion
Besides regular SEO services, SE Ranking offers a rare-to-find competitors analysis which may bring your clients' website performance to a new level. It's a powerful all-in-one SEO tool, but one that has some hidden charges once you buy it.
Invoice Ninja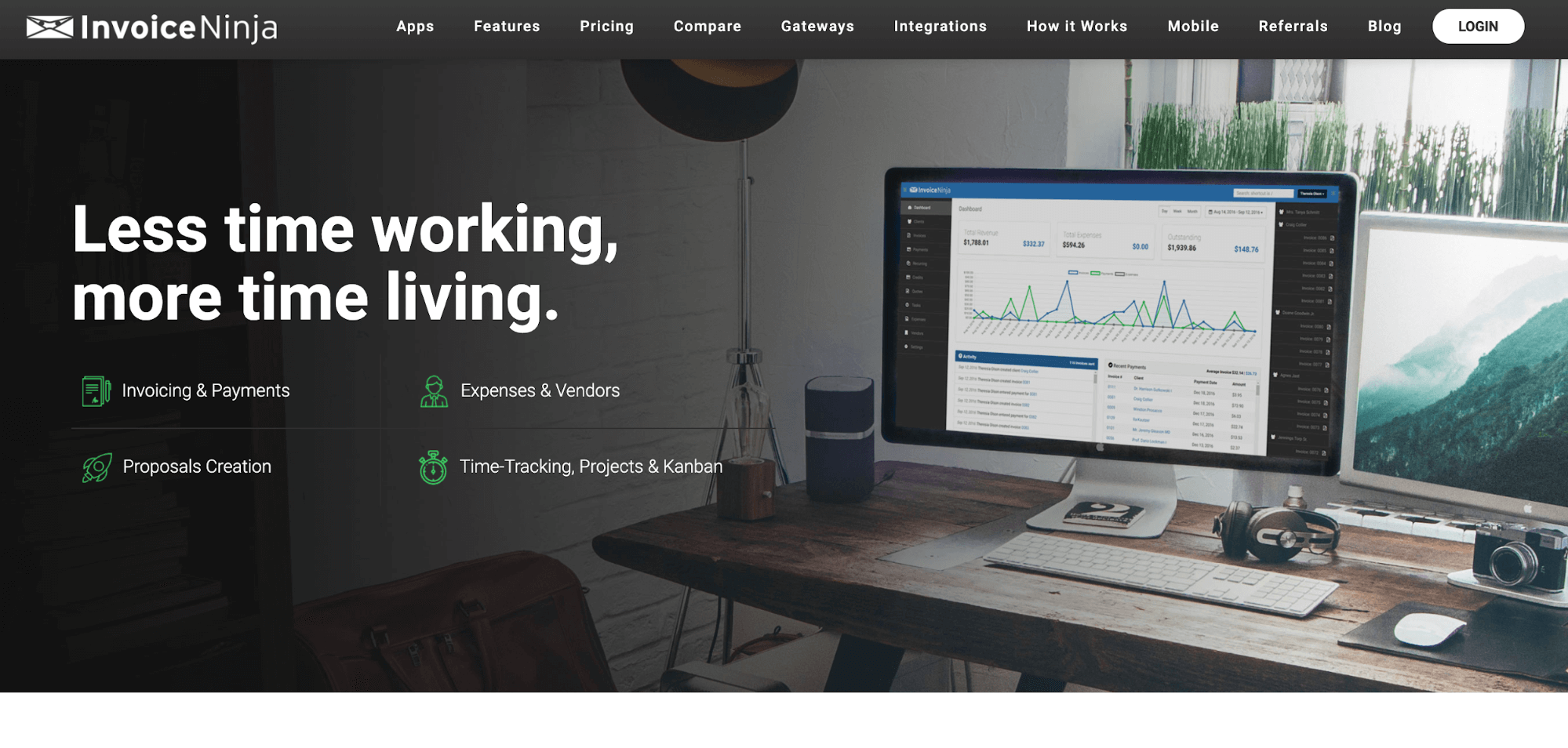 This open-source platform allows marketing agencies to manage their clients' invoices easier. The company offers a bunch of useful features that help create email invoices and proposals, track the history of payments and expenses, and set up a time for billing within clients' projects. Also, their white-labeling provides marketing agencies with an opportunity to send out invoices that match their clients' unique brand design and style.
Pros
You can email, text and/or print the receipts and invoices.
It accepts 3rd-party integrations.
The tool has automatic reminders.
Simple to install and update.
It categorizes paid and unpaid invoices.
You can set up multiple companies on one login.
Cons
It does not tie into any tax software which could limit the usability.
No changes such as payments, credits, etc. can be made once you save the form.
It does not save email addresses for later use.
Pricing
A suitable for marketing agencies Enterprise plan starts at $12 per month for 1-2 users and goes up to $36 per month for 11-12 users. It includes all features from the other packages and even more – 4 premium tools.
Conclusion
This easy-to-use tool helps both small businesses and big enterprises to manage their clients' payment gateways better and give them clear visibility over their invoice and payment history.
BuildFire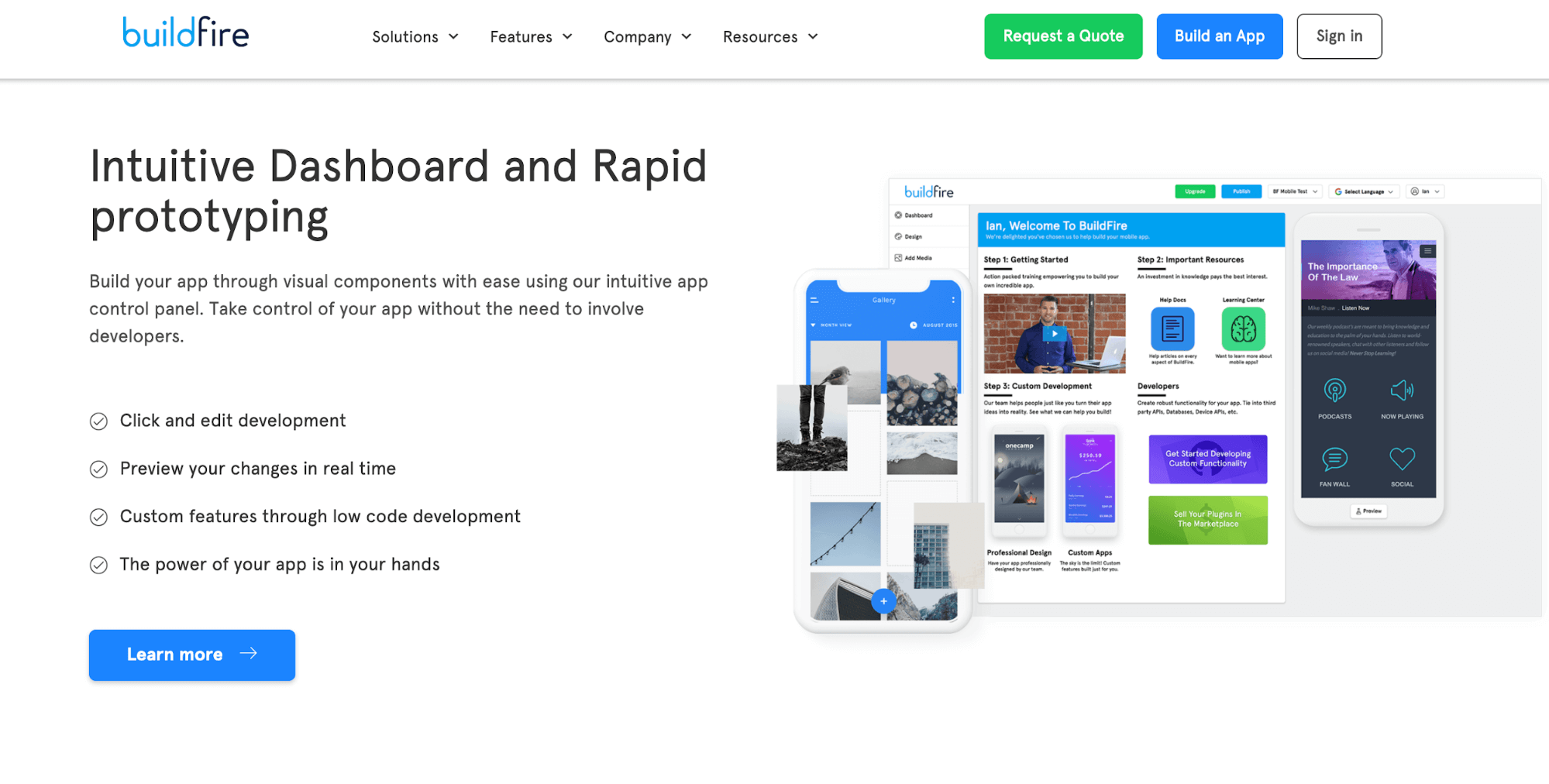 BuildFire helps create personal mobile apps for different businesses. It's a so-called 'codeless' builder that enables marketing agencies that lack developers to expand services and provide clients with quality-build applications. The tool offers a lot of custom options, configurations, and ready-to-use templates to personalize apps.
Pros
Nice-looking visual templates and a wide set of features.
Advanced development options.
Low maintenance cost and upkeep of the apps.
It offers a good selection of templates and customizations.
It doesn't require any specific knowledge and coding skills to create an app.
Cons
There is no live chat with customer support.
Getting used to the editor takes time.
Pricing
The company doesn't advertise their prices. There is an App Cost Calculator available at the company's website as well as an option to request a quote for your particular project.
Conclusion
BuildFire can be handy for those agencies that require mobile application development but can't hire a team of developers or get this type of projects only from time to time. It has a good price-value rate and allows one to significantly expand the existing expertise of an agency providing really good templates.
SendinBlue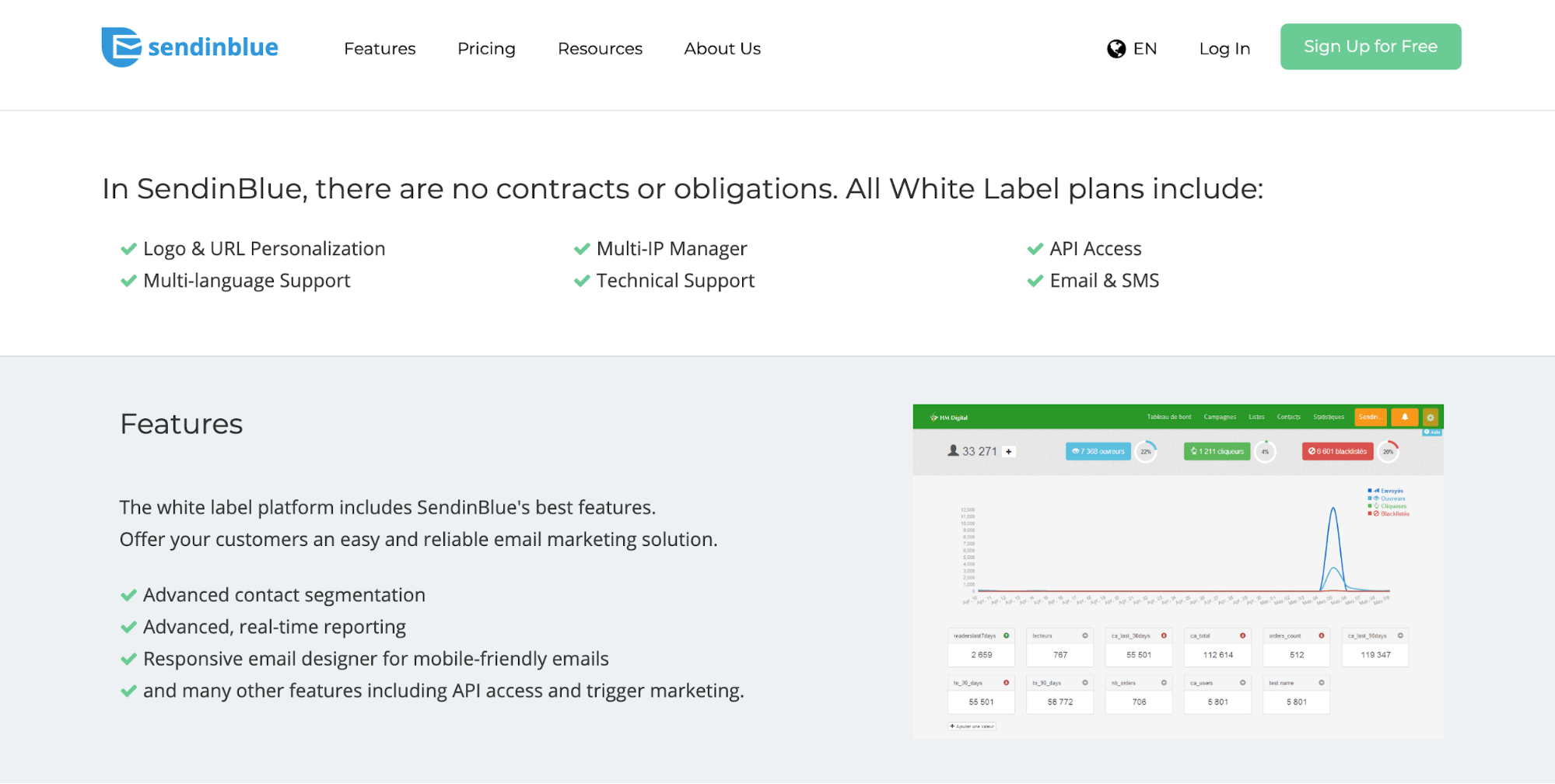 SendinBlue email-marketing platform is a great choice for agencies that use emails as a powerful promotional tool for their clients. Or, whose clients use it in their campaigns. The comprehensive feature set includes email-marketing automation, transactional emails, SMS, and more for extremely competitive pricing.
Pros
It has an easy-to-use drop and drag design.
The campaigns go out within 3 minutes.
The tool is affordable compared to alternatives.
The email templates are good looking.
Previous email campaigns can be 'reused'.
Cons
Amount of marketing tools available is currently limited.
There is no 'undo' button.
Customer support takes time to respond.
Not Mac friendly for end users.
Not enough design/layout as well as font options.
Pricing
Premium and Enterprise plans would work best for an average marketing agency. The Premium package starts at $66 per month for 120,000 emails and goes up to $173 per month for 350,000 emails. The price for the Enterprise package is customized and should be discovered directly with an agency. Only the Enterprise plan includes all services along with unlimited accounts and a dedicated account manager.
Conclusion
SendinBlue is an excellent option for small email-marketing projects, but it lacks template options for more complex campaigns and has some customer support issues.
Moosend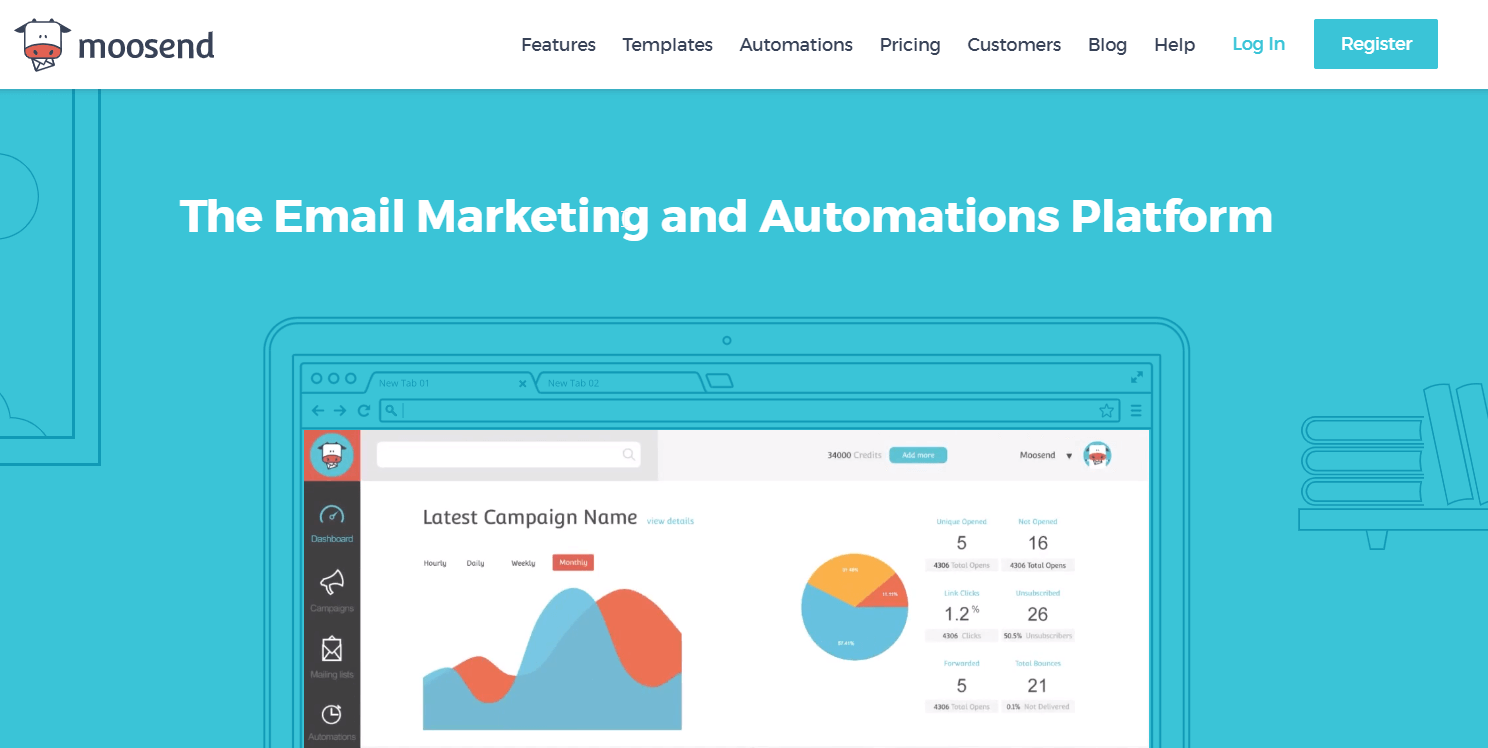 Moosend is a cost-effective email marketing and marketing automation platform and one of the best MailChimp alternatives out there. It is suited for all types of business entities.
Additionally, it does not matter whether you're an SME, Solopreneur, or one of the world's leading Marketing Agencies, you can optimize the platform to your exact needs especially with the use of their white-labeling and sub-accounts capability.
The sub-account feature allows marketing agencies to customize how your clients interact with Moosend's platform. Agencies can include all their clients and handle all of their email campaigns through one master account.
Pros
Powerful drag-n-drop email campaign editor
Cutting-edge email automation
Advanced personalization functionality
Real-time analytics
Cons
Not many native integrations(Although Zapier and PieSync integrations available)
The free plan does not come with a dedicated-IP
Pricing
In terms of pricing Moosend offers a 'Free Forever' plan up to 1,000 unique email subscribers with all email marketing and marketing automation features available from day 1. After 1,000 Moosend's pricing start at a mere $10/month for up to 2,000 subscribers and scales upwards depending on how many subscribers you have. For up to 25,000 it's $125/mo, $390/mo for 100K and $3,650/mo for 1M subscribers.
Conclusion
Overall Moosend is a great tool for Agencies due to its sub-account feature you will be able to seamlessly manage all your client's accounts under one roof. Additionally, their pricing structure in contrast to other similar services will allow you to push for great margins which will make your agency even more profitable.
SalesHandy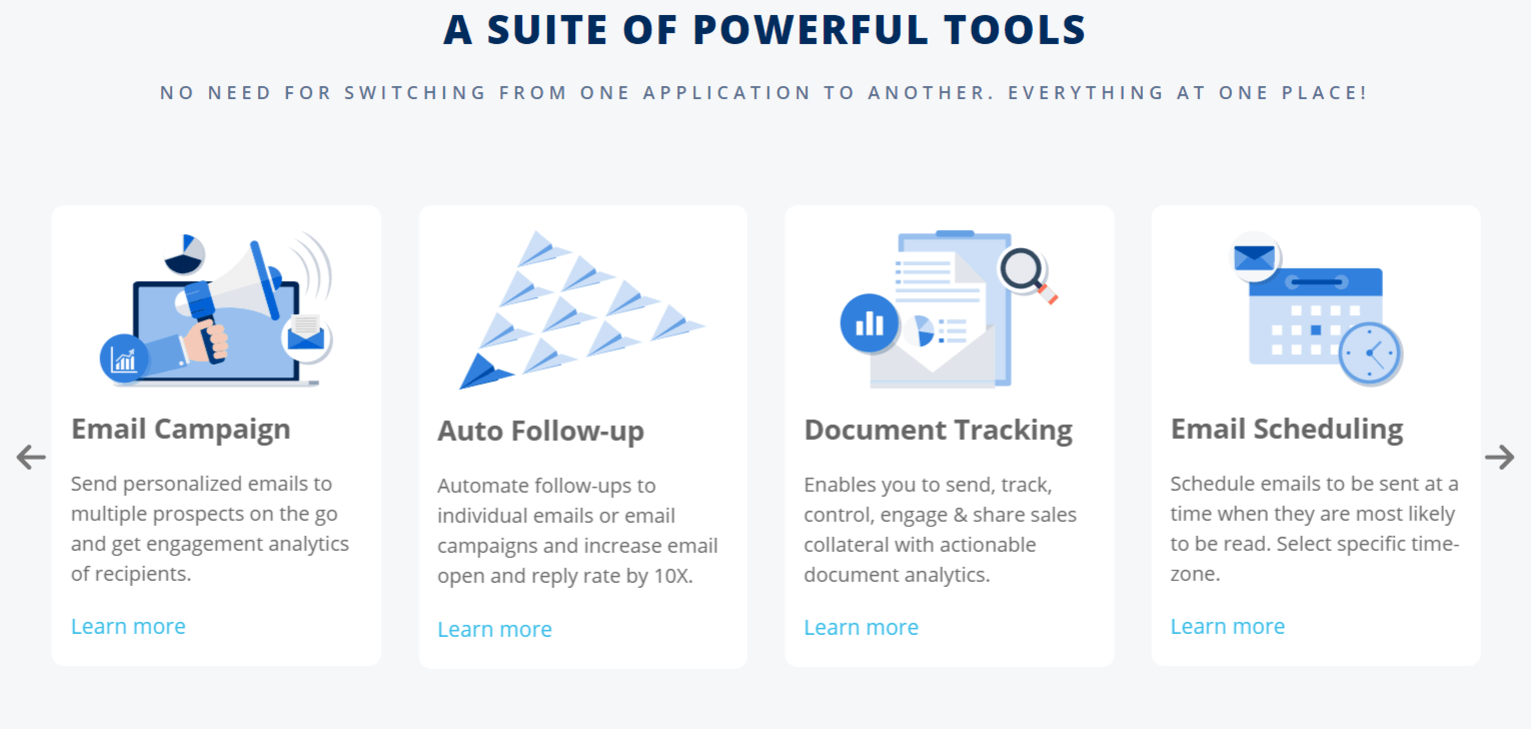 SalesHandy is a cloud-based data analytics and sales enablement solution which helps small to midsize businesses create and implement marketing strategies. The software provides tools to determine trends in customer behavior, track emails, edit documents and assess sales performance.
The primary features of SalesHandy include email scheduling, customized mail merging, email tracking, email campaigns, automated follow-ups, collateral management, engagement analytics, and document tracking. The software also unifies all corporate documents in the centralized storage system. While SalesHandy provides benefits such as document sharing and analytics, it also gathers behavioral data from mail communications to get insights from it.
Pros:
Unlimited free email tracking.
Custom domain link tracking.
Personalized mail merging and email campaigns with up to 10 follow-up stages.
Templates management and sharing.
Document attachment with advanced analytics.
Dedicated customer support executive.
Cons:
Missing native integration (although it supports Zapier integration).
Not available on mobile platforms.
Pricing:
SalesHandy is a freemium product that provides email tracking and template management within the free plan. There are other three plans: Regular ($9/user/month, billed yearly), Plus ($22/user/month, billed yearly), and Enterprise ($49/user/month, billed yearly) which has advanced features for heavy usage.
Conclusion:
Overall SalesHandy is a powerful tool for boosting your email productivity. It is useful for all the users including marketers for promotional emails and salespersons for sending effective cold emails. Key features dedicated to account and team managers are also worth exploring.
Sitechecker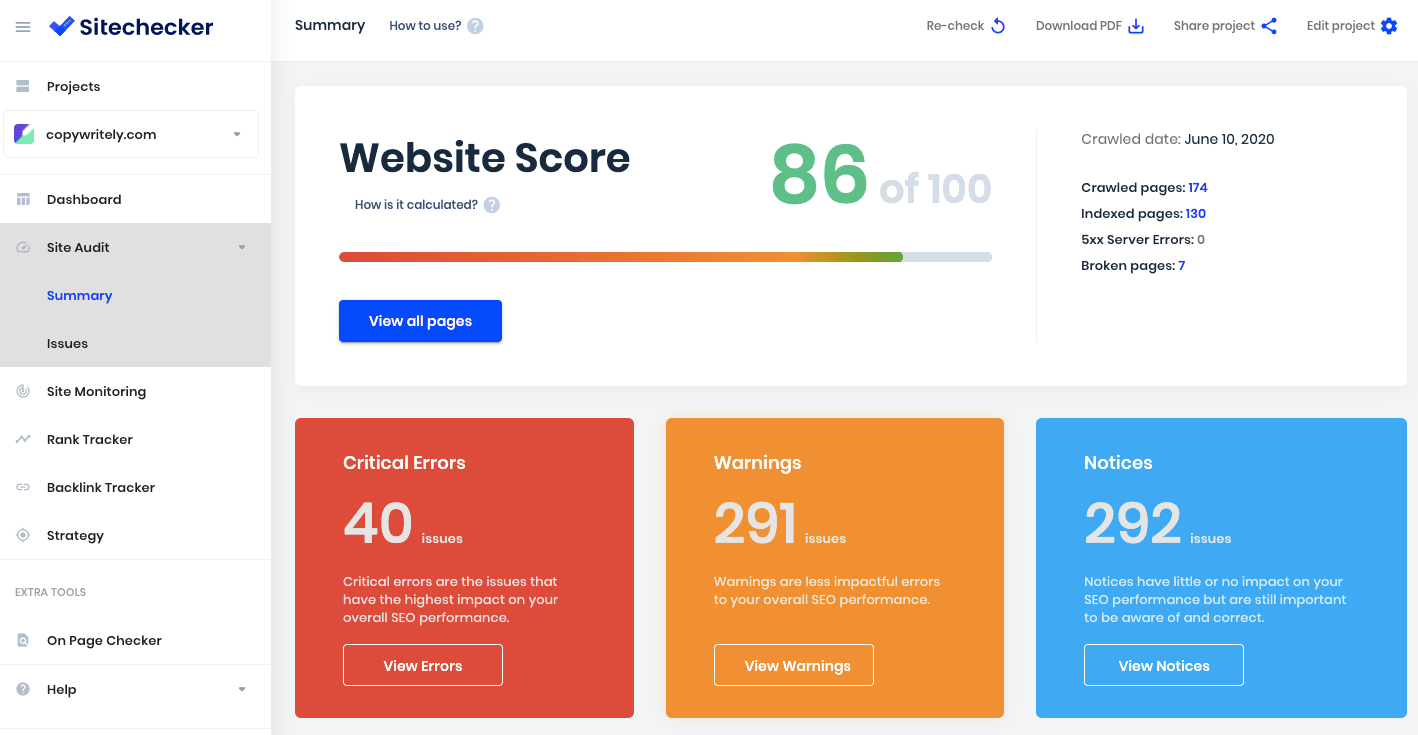 Sitechecker is an all-in-one SEO platform covering all stages of SEO campaigns of any scale. It includes functionality for website fluctuations monitoring, on-page SEO audits, website traffic checks, backlink tracking, and website ranking checks. Track SEO progress deeper and faster.
Pros
Free unlimited on-page checker.
Easy navigation across the website.
It provides you how-to-fix guides.
Share SEO reports with your clients or colleagues, quickly transform them into a PDF report or send it by email.
Cons
The crawling time for big websites (20K+ URLs) can take 30-40 minutes.
The tool is available only in English.
Pricing
The free plan includes one active website and can scan up to 150 URLs. The price starts at $9 per month for one website and 500 URLs, 50 keywords, 1000 backlinks per account. It can be increased to the Startup plan for $29 with five websites, 1000 URLs, 500 keywords, and 5000 backlinks per account. With the Growing plan for $69, you can check ten websites and 5000 URLs, 1000 keywords, 10000 backlinks per account.
Conclusion
Sitechecker is a powerful website audit tool. It has a reasonable price and helps you improve SEO ratings fast. It's worth it if you need to do a comprehensive technical SEO audit for a specific page or a whole website.
Whatagraph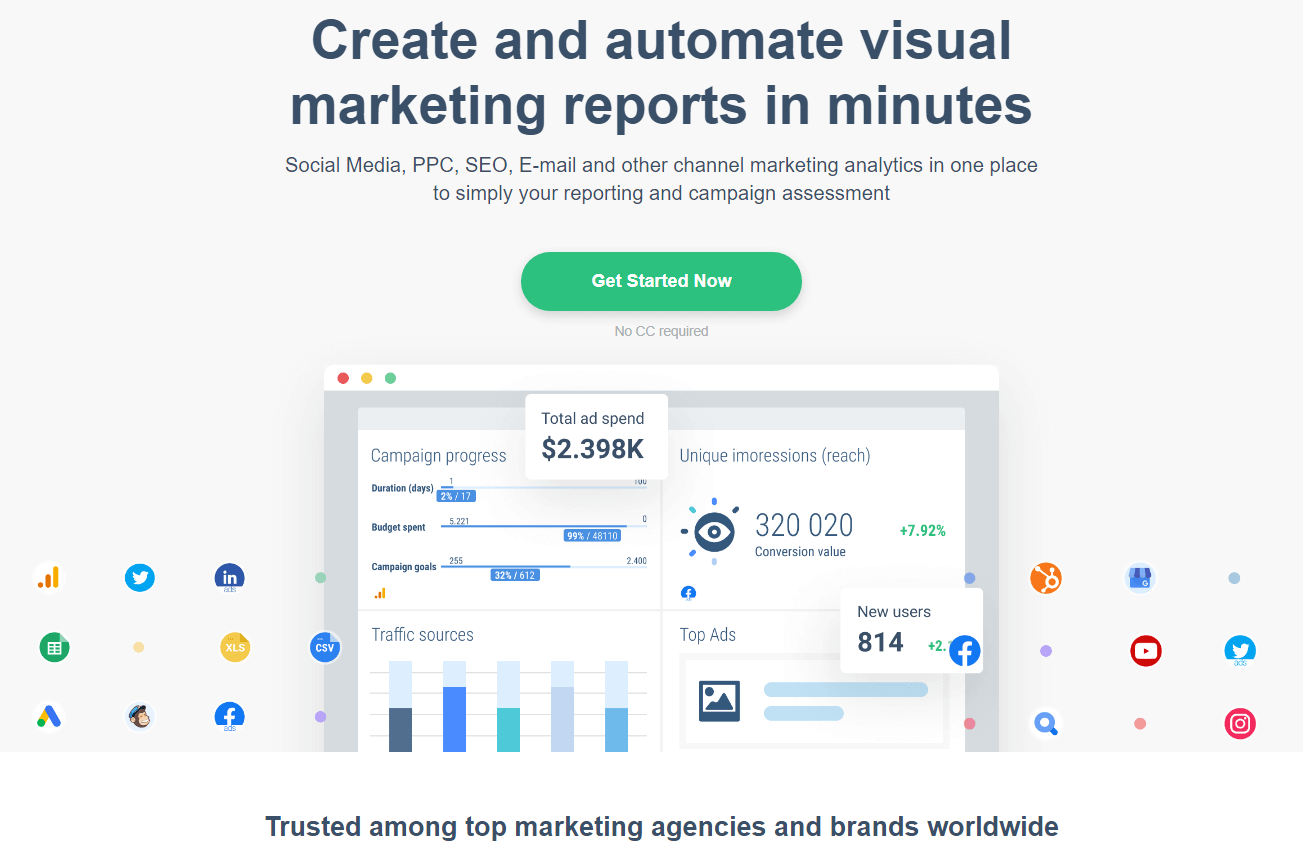 Whatagraph is a cross-channel multi-account marketing performance reporting solution created for digital marketing agencies and in-house marketing teams. It simplifies the reporting and analytics tasks to the max while automating and visualizing the data reporting. Whatagraph is made to help you efficiently transform your marketing platform data into easy-to-understand, visual and robust reports and automate them with ease.
Pros
Makes reporting way easier and more efficient
Can be personalized to your liking
Easy to use and foolproof
Financial and custom reporting can be included
Reports can be automated with ease
Personalized customer support for each of your issues
Cons
Current integrations are limited
Pricing is on the higher side since the service is made for digital marketing agencies and in-house marketers
Pricing
With Whatagraph you always get a 7-day free trial with no credit card required to help you choose the perfect plan. The pricing plans are completely flexible. You can either choose Quarterly or Annual (save up to 20%) billing. Each billing option has 3 different plans. Professional plan at €85 / month that gives you unlimited reports, 15 data sources, and 1 user. Premium plan at €219 /month that gives you unlimited reports, 50 data sources, and 5 users. Growth plan at €555 / month that gives you unlimited reports, custom data sources, and unlimited users.
Conclusion
Even though Whatagraph is created with digital marketing agencies in mind – it is a great option for both in-house marketing teams or freelancers. Its convenient and easy to understand user interface will help you create instant visual marketing reports, automate them, and share them with your team or client. It will help you save lots of time on data reporting. Professional customer success team will always help you to both start with Whatagraph or solve any issue.
Postoplan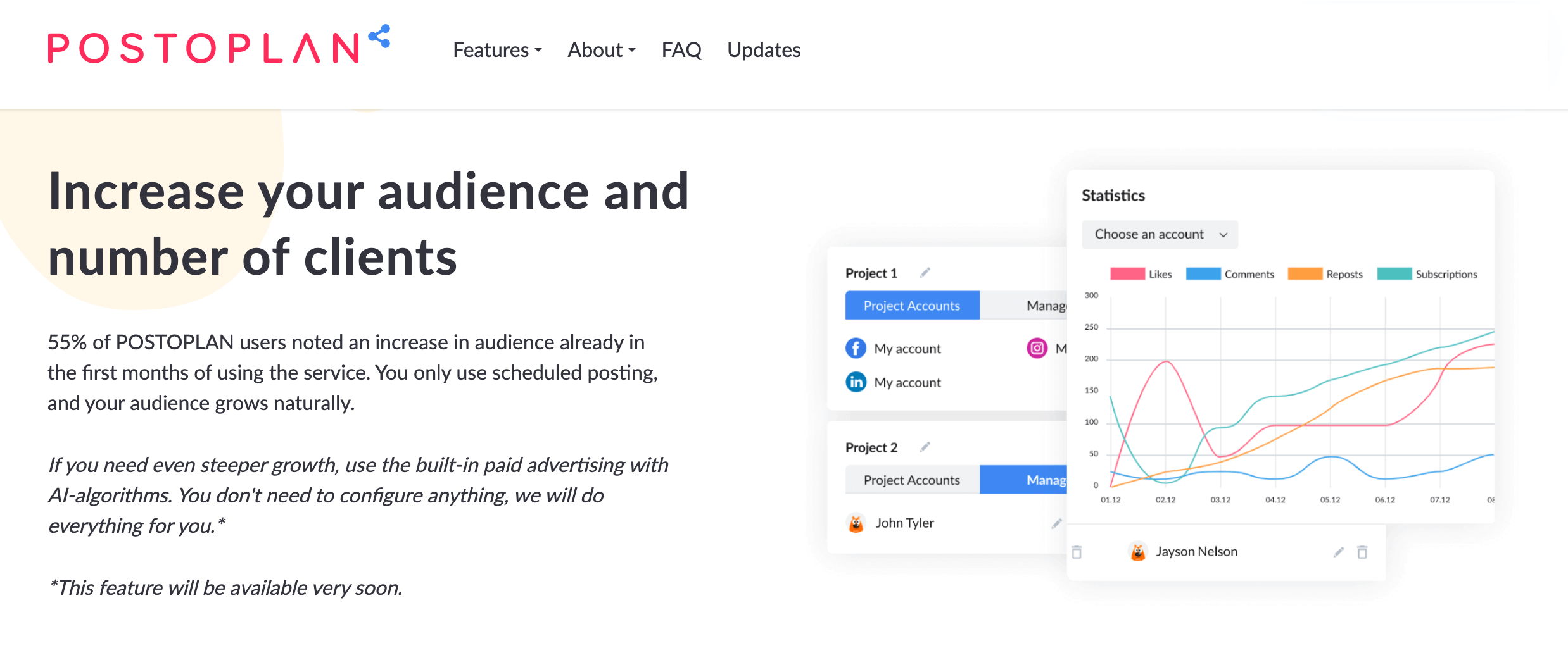 Postoplan is a social media management tool and content scheduler. It has an intuitive AI-powered dashboard to help you run your social media strategy effortlessly.
Aside from scheduling, you can also do content planning with Postoplan. Its content calendar offers post ideas for every day. You also don't have to leave Postoplan's dashboard to edit your visuals - there is a built-in editor and content calendar.
Pros
Integration with all social media platforms, plus Google My Business, WordPress, Telegram, WhatsApp, and Slack
Bulk scheduling
Unlimited users, accounts, and projects
Video converter
Image generator
Cons
Photo editor lacks versatility and allows only simple image design.
You don't get any account statistics unless you purchase the Pro account.
Pricing
You can use Postoplan for free for an unlimited time. With a freemium, you can add unlimited accounts, users, and projects, although not all integrations will be available. The Pro plan starts at $19 a month, and the Agency plan is $399 a month.
Conclusion
In general, Postoplan is an excellent simple-to-use, all-in-one social media management platform. If you're only starting on social networks and have no idea how to plan content for months ahead, Postoplan has got you covered. Besides, its freemium version gets you a sneak peek of what this tool is capable of, so you can give it a try to see whether it's to your liking or not.
Final Thoughts
Marketing agencies aspire for maximum personalization for their clients and white-labeling tools help achieve that goal. Among many available, we've offered you a selection of the best white-label tools for website audit, keyword search, sales automation, managing social media accounts, email, and PPC campaigns, improving SEO, discovering brand mentions, tracking payments and issuing invoices, as well as extend your expertise to creating simple mobile apps for your clients and other valuable marketing instruments.
The valuable features for collecting and analyzing statistical data, and making the most out of your metrics, forming reports, collaborating with clients can help you monitor and improve yours and clients' performance. And as a result, improve your reputation as a marketing agency. Oh, and if you need help creating more customised white label audits for your clients, take a look at James Hubbard's website.
If you think that we've missed some awesome white label tools, feel free to share them in the comments below.