10+ Sitebuilders Review
Lists

Nowadays a lot of people want a website to sell their products, show their portfolio or even to have it as their business card. Different purposes, but the same goal – to be present on the web. So you can know nothing about HTML or CSS and still build a website with the help of a sitebuilder and choose templates prepared by professionals. Or you can hire a web developer and designer. Or you can even be a developer who needs a simple site very fast.
After creating a site, an equally important task is to optimize it and do regular SEO audits. The Netpeak Spider crawler will help you carry out a comprehensive website analysis. The program has a free version that is limited by the number of analyzed URLs, in which many other basic features are also available.
To get access to free Netpeak Spider, you just need to sign up, download, and launch the program 😉
In this post, we will take a look at 11 popular sitebuilders that we hope will help you impressively express your ideas.
Wix

Squarespace

Shopify

SitePro

Webs

Weebly

SITE123

Jimbo

Ucraft

Webnode

Weblium
1. Wix
If you need an easy-to-use and advanced drag&drop editor with a large amount of templates made by professionals, Wix will fit you. Using this platform you can create your personal web page, portfolio or even a resume.
Advantages:
It's user-friendly for newbies.
It has a free plan.
You don't have to pay for hosting.
There are a lot of templates divided in categories.
A lot of free and paid apps that extend site functionality.
There is a handy drag&drop editor.
You can change your hosting.
Wix ADI. You can answer a few questions about your future website and artificial intelligence will create it from scratch. Quite impressive, if you have never created something like that and you need a website with low maintenance.
Disadvantages:
Free plan is limited to 500 MB storage and 500 MB of bandwidth. By the way, Wix ads will be shown on your pages.
If you decide to transfer your site to another host, you can face some difficulties.
Note that even though paid plan 'Connect Domain' offers domain connection, you should pay for your domain separately.
You can't edit HTML/CSS.
2. Squarespace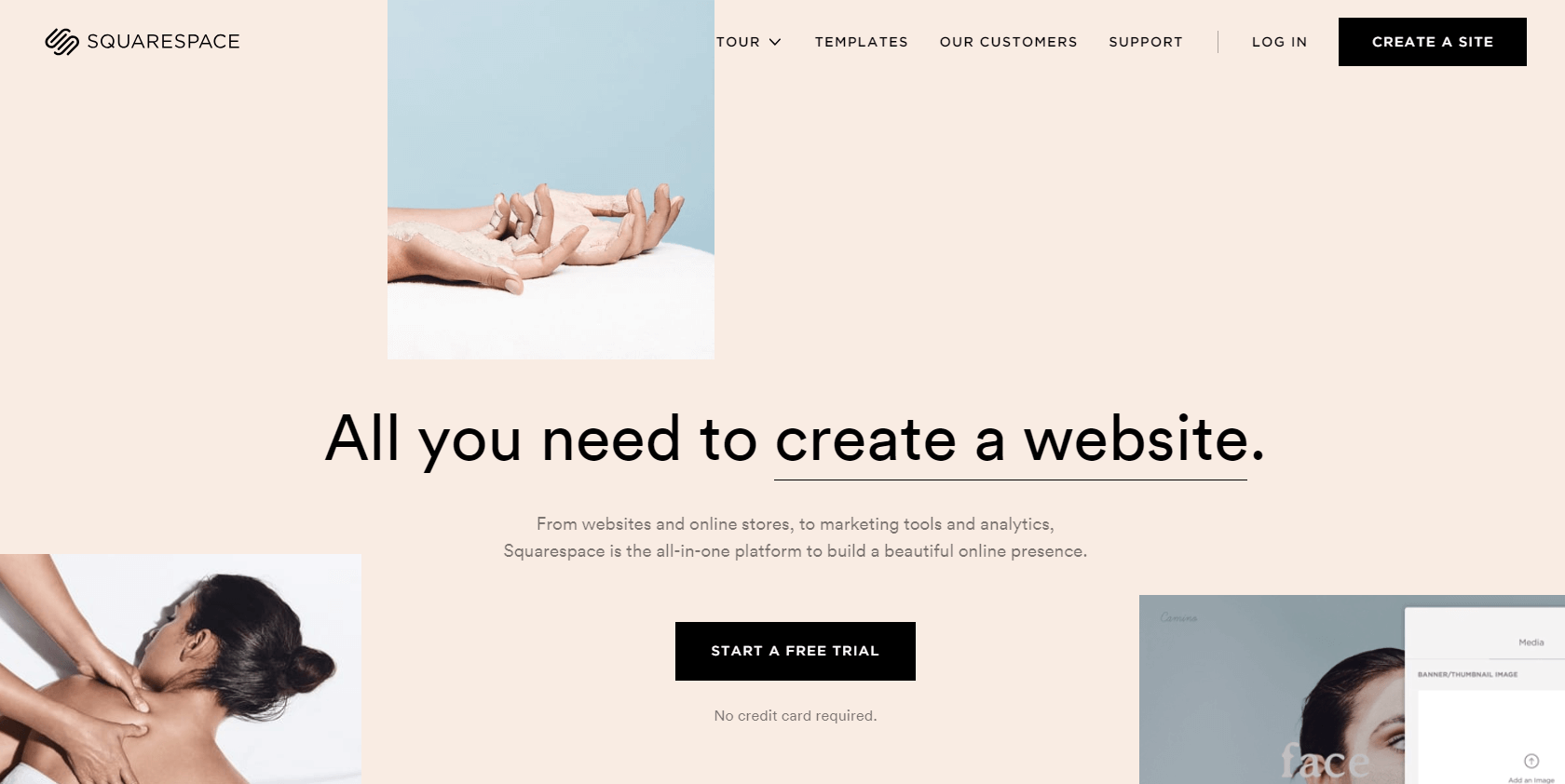 So here we've come to definitely one of the most eye-pleasing sitebuilders on this list. Squarespace positions itself as a builder of blogs, portfolios and online stores. There is a support for live mode which allows you to edit the site and immediately see the result. Unfortunately, all this beauty is destined only for those who are willing to pay. The service does not offer a free plan, only a 14-day trial.
Advantages:
drag&drop editor
quality templates
manually editable CSS/JavaScript
unlimited number of items for sale
adaptive design
you can transfer your site/blog from Squarespace to WordPress
Disadvantages:
there is no free plan, only a 14-day trial period
3% sales commission in the Business plan
not so many templates – about 40
not the most user-friendly interface
according to the Google PageSpeed tool, the load time can be not so fast
only 3 payment systems are available: Stripe, Apple Pay, and PayPal
3. Shopify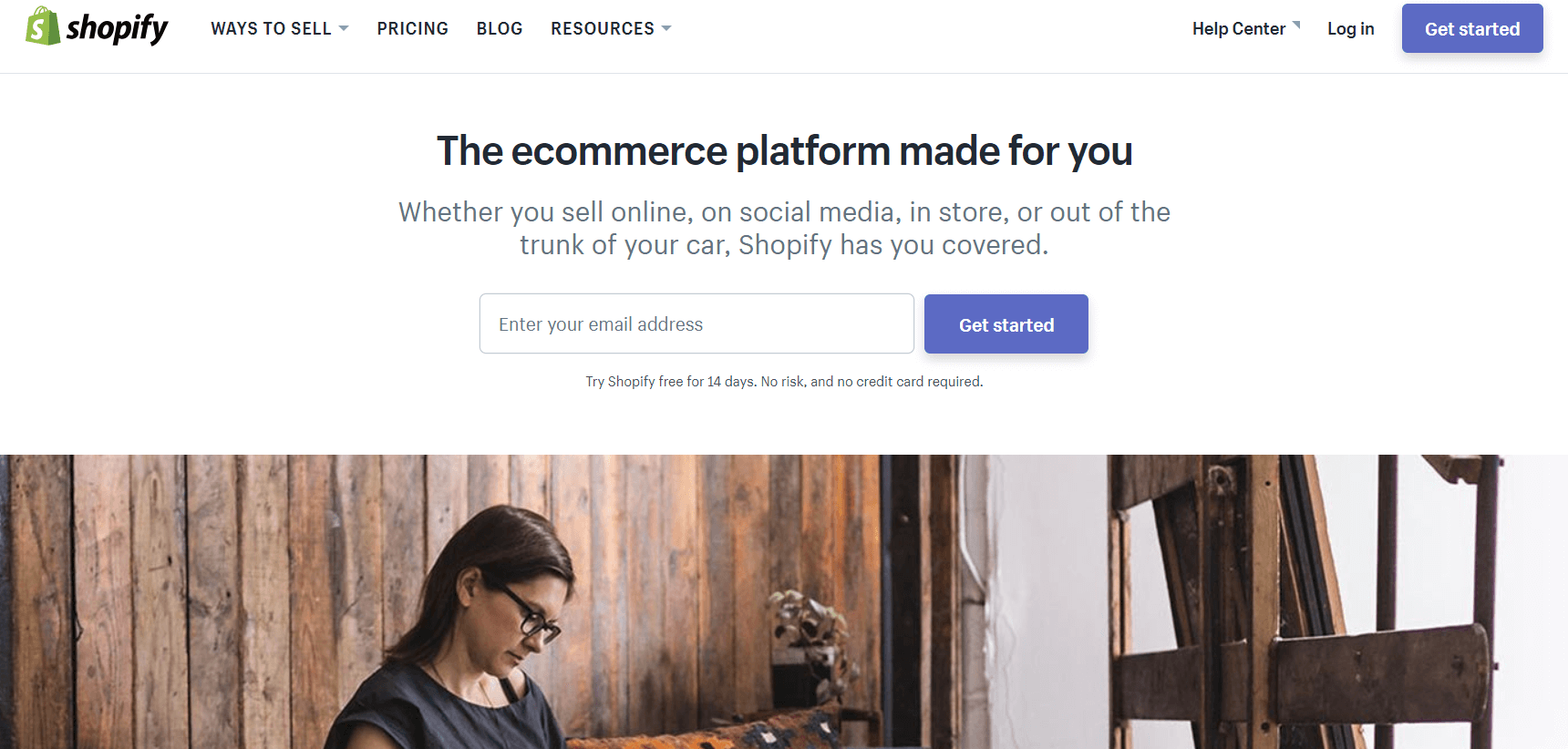 Shopify is a site builder designed specially for Ecommerce. This platform is used for more than half a million online stores and sold products worth more than $40 billion. Unlike many sitebuilders, there are no free plans, only a 14-day test period. So this is definitely a good choice, if you want to create your own online store.
Advantages:
wide functionality for creating an online store
service handles the work with a hosting
you can add third-party payment systems
a lot of templates
drag&drop editor
Disadvantages:
there is no free plan, only a test period of 14 days
plans don't include paid templates, they need to be paid for separately
there are transaction fees from 0.5% to 2% for all plans
If you are looking to build a professional portfolio website, you can use Pixpa. Plans range between $5 - $15/month and come with generous/unlimited resources.
4. SitePro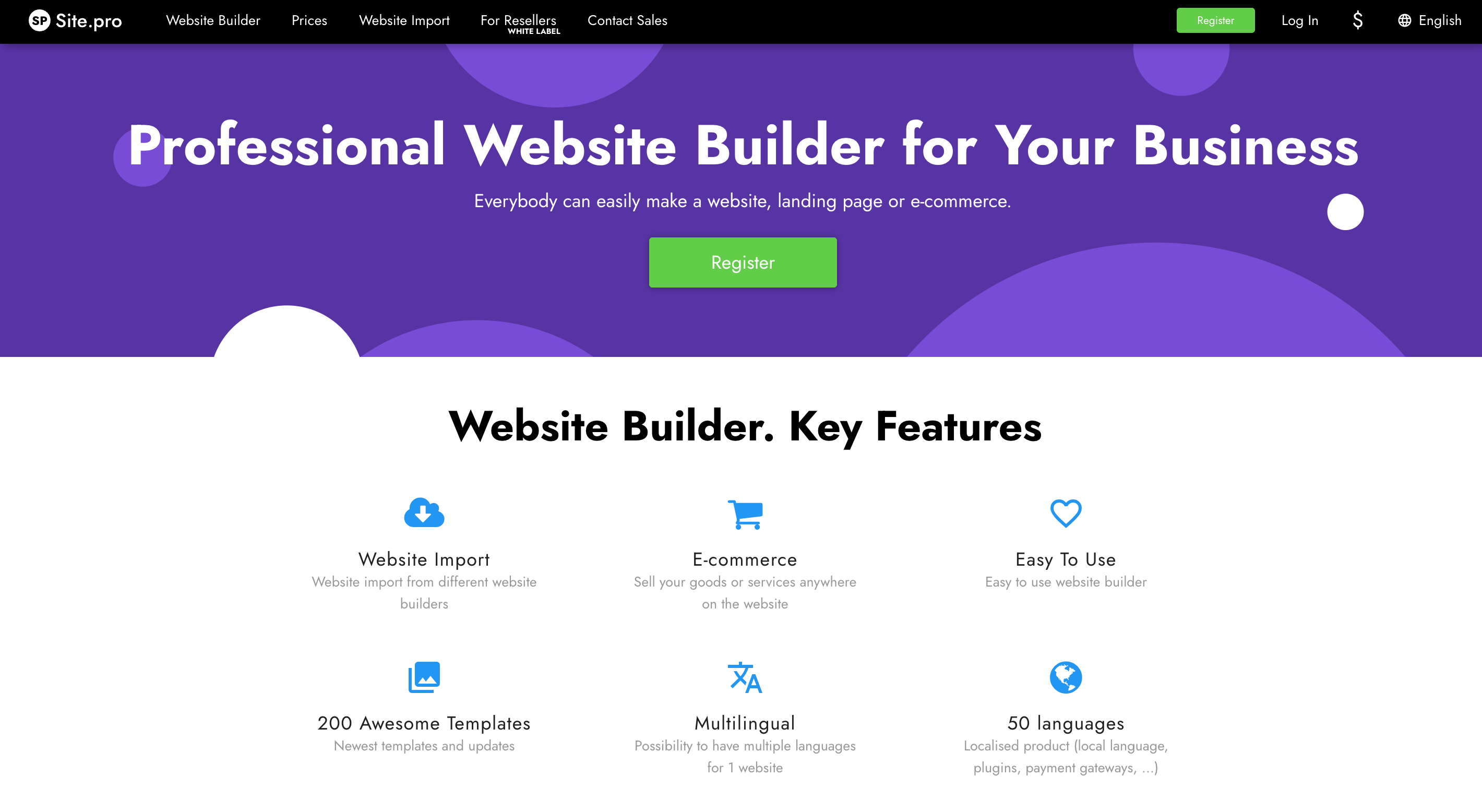 This site builder is perfect for beginners who want to quickly create a landing page, business card website, or small online store. It's really simple: you just move the ready-made blocks around the page and add your own text and images. In combination with the reliable Ukrainian hosting from HOSTiQ.ua, which provides 24/7 support, it is a good option for beginners.
Advantages:
200+ templates for different types of websites
you can import the design of any website you like
possibility to have multiple languages for one website and ready-made localisations in 50+ languages
responsive design of templates
round-the-clock support service that responds in a chat within 30 seconds
30-day free trial period
Disadvantages:
lack of functionality for professional users
not suitable for large online stores, as each product must be added manually
importing the design of other websites copies only the appearance of the pages, without their functions such as feedback forms or animations
5. Webs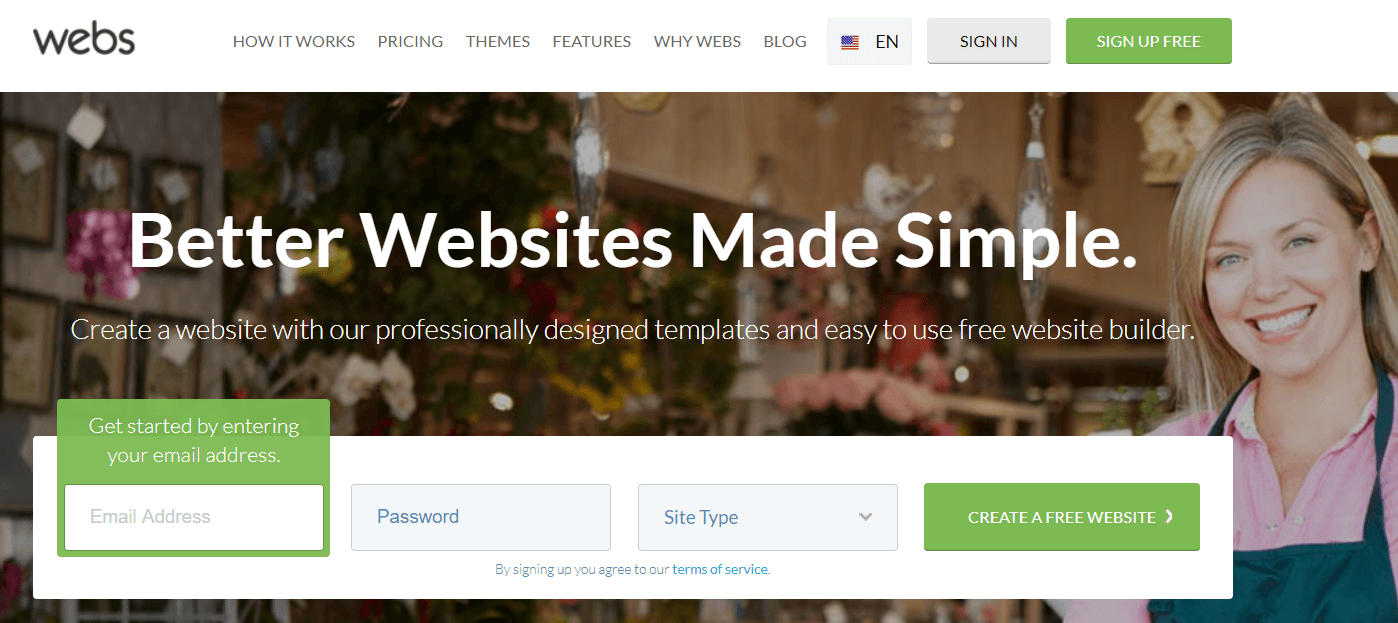 This is one of the largest services with more than 50 million sites. Webs has existed since 2001, when it was called Freewebs and was one of the first free sitebuilders. Many new and modern designs as well as a drag&drop editor have been added in latest updates.
Advantages:
free plan
no need to worry about hosting
drag&drop editor
a lot of templates
affordable prices
Disadvantages:
non-intuitive interface
some templates are available only for paid plans
limited functionality that can not be expanded
quite expensive for Ecommerce
the free plan is very limited in comparison with other sitebuilders
6. Weebly
Weebly is an open-source SaaS which will fit experienced companies and startups. This platform offers drag&drop interface, integrated CMS and HTML files that you can edit. Also, it includes SEO tools and Google Analytics.
Weebly is compliant with any devices and platforms and it makes website development very flexible. By the way, it has such goodies for Ecommerce as integration with PayPal, automatic tax calculator, digital gift cards and much more. Also, you can install useful apps extending your opportunities.
Advantages:
free plan with unlimited brandwidth and 500+ МБ storage
convenient drag&drop editor
adaptive and editable templates
a lot of features for Ecommerce
a store of useful apps
editable HTML/CSS
Disadvantages:
relatively small number of templates
Ecommerce is available only in paid plans
commission fee is 3% and you can skip it using only the most expensive plan
limited opportunities for website design
7. SITE123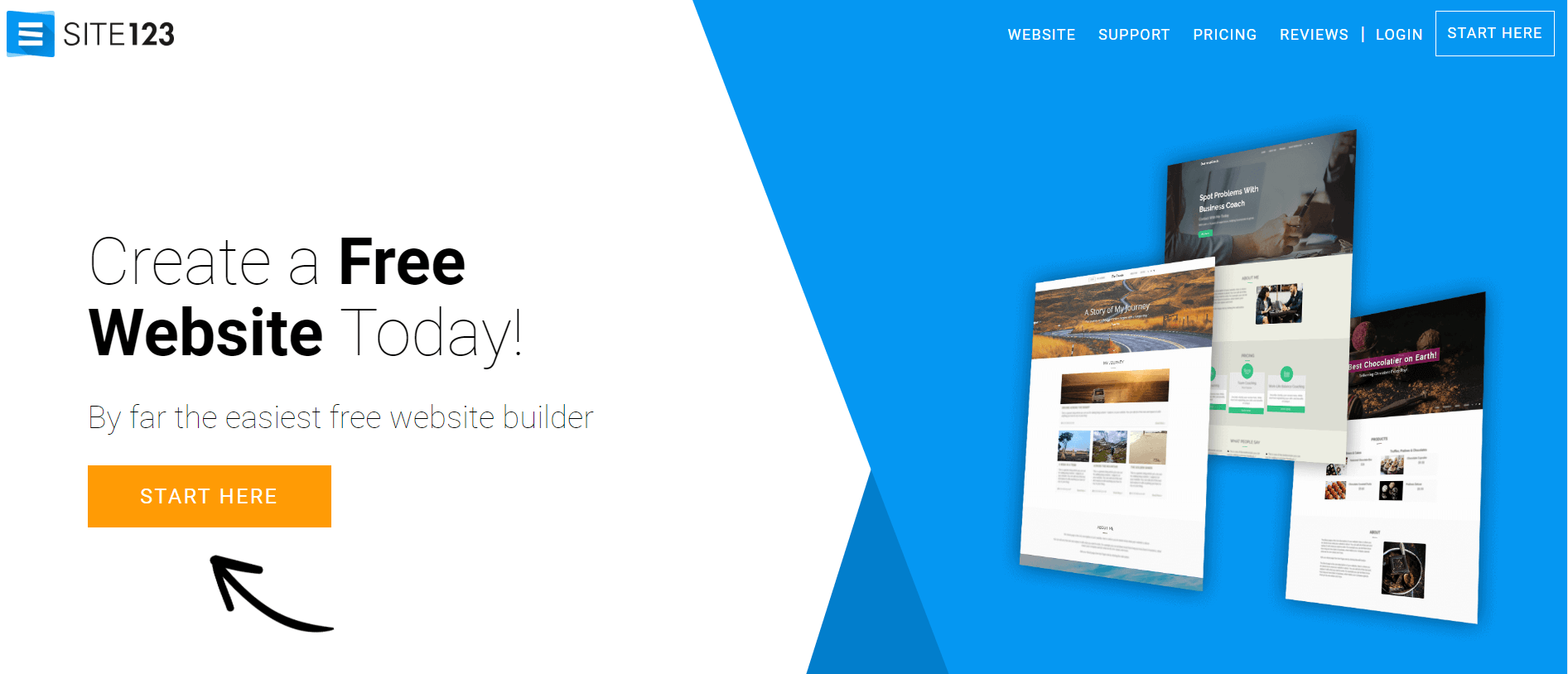 SITE123 exists for about 15 years and is considered one of the most simple and convenient sitebuilders. Customizable templates and a collection of free graphics, images and fonts will appeal to creative people. The free plan includes hosting, domain, 1 GB of bandwidth, 500 MB of storage and integration with Google Analytics.
Advantages:
free plan
easy to use
you can create several websites using one account
a lot of extensions
adaptive and mobile-friendly templates
fast load speed
Disadvantages:
lack of functionality for professional users
not advanced enough for online stores
8. Jimdo

More than 20 million websites have been created with the help of Jimdo since 2007. This is a free open-source constructor with free cloud storage for backups and the possibility to edit HTML/CSS files. Jimdo can be used for the creation of both personal pages and online stores. However, it should be noted that not all designer options are available for free and if you want to create an online store you'll definitely have to pay.
Advantages:
free plan
drag & drop editor
you can modify HTML / CSS files
free cloud for backups
you can create multilingual websites
mobile app for site creation
providing support when moving a website
Disadvantages:
To get additional functions, you need a paid plan.
If you use a free plan, the site is hosted in the subdomain of jimdofree.com.
A few templates – 17 templates divided into 4 categories.
Load time is about 1 second.
You can manage SEO settings using only the most expensive plan.
You can create an online shop using only paid plan.
You can pay only via PayPal.
9. Ucraft

Ucraft offers a friendly interface which even beginners can create their site with. You can create a blog, portfolio or online store. All online stores are integrated with platforms like PayPal and Intercom. You can even create a mailing list and integrate it with MailChimp or Google Docs. Ucraft has a free plan which includes free templates, SEO tools and much more.
Advantages:
free plan
affordable prices (even for Ecommerce)
simple interface
quality templates and themes
lots of additional functions
Disadvantages:
weak customization
you can't edit HTML/CSS files
10. Webnode

With Webnode you can create blogs, portfolio and online store. And thanks to adaptive templates your site will look equally good on all devices.
Advantages:
free plan with many functions
you can create a multilingual site
drag&drop editor
a lot of of adaptive templates
wide opportunities for SEO
affordable plan prices
Disadvantages:
not as many functions as it could be
there is no app store like Wix or Weebly has
you can't integrate with tools like MailChimp
11. Weblium
Weblium is a hybrid of sitebuilder and digital agency. Quite a new idea which can help you quickly create a good quality website. What does it mean? So it's a sitebuilder where you develop your site and get support from web developers and designers. Interesting solution for a cheap price.
Advantages:
live support at any questions and development issues
cheap plans
responsive platform
subscription includes Google Cloud hosting, SSL-certificate, and unlimited website storage
possibility to integrate custom features and edit the code
optimized load speed
Disadvantages:
not optimized for Ecommerce yet
not as flexible as it could be
no free plan
And what sitebuilders have you used and why? Maybe we should add some new platforms to this list. It'll be great if you share your feedback in the comments below and say what lists you would like to read. I'll be glad to review the tools you need :)