Top 10 Hosting Services: A Comprehensive Review
Lists

In today's digital age, having an online presence is essential for businesses and individuals alike. Whether you're launching a personal blog or setting up an online store, the right web hosting provider can make all the difference.
With countless options available, it can be overwhelming to decide which one is the best fit for your needs. In this article, we've curated a list of ten top hosting providers, breaking down their features, pros, cons, and more to help you make an informed decision.
1. Freehostia

2. InfinityFree

3. Free Hosting

4. Hostinger

5. DomainRacer

6. Bluehost

7. HostGator

8. GoDaddy

9. Web.com

10. DreamHost
1. Freehostia
Freehostia stands out among hosting services with its load-balanced cluster platform, in which several servers work as one and the load is distributed among them. With distinct servers for various processes like email and data storage, Freehostia's design promises to eliminate overloaded servers and the associated slow load times.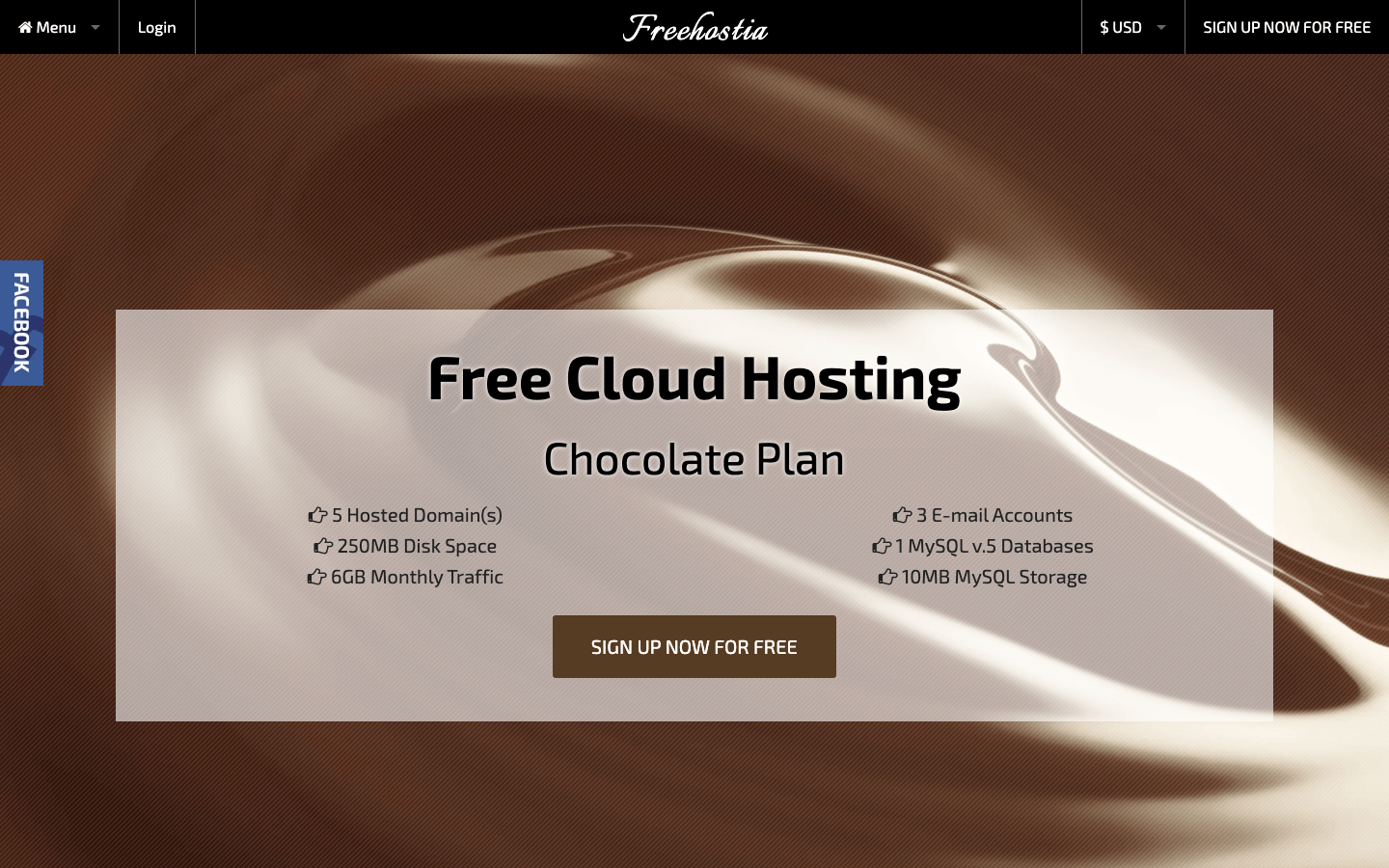 Features:
Load-balanced cluster platform is faster than the typical one-server hosting solution
Optimized for popular PHP web applications
Offers a range of hosting services and pricing plans
Pros:
Free cloud hosting available
1-click Applications Installer to quickly install Joomla, WordPress, and other web apps
Free WordPress templates
Free domain registration for 1 year with certain plans
30-day moneyback guarantee
Cons:
Limited resources on the free plan
Might not be suitable for large-scale websites
Pricing:
Freehostia offers something for everyone. If you've decided to move on from the free plan, options start at $2.95 a month with a 30-day free trial. VPS plans average $7 a month, and semi-dedicated server plans start at $29.95 a month. Dedicated server prices start at less than $100 a month, with additional savings if you pay for 6 months upfront.
Our recommendation:
With its unique load-balanced cluster platform, Freehostia is an excellent choice for those who prioritize speed and reliability.
2. InfinityFree
With over 400,000 users, InfinityFree prides itself on offering truly free web hosting without hidden costs. Offering PHP, MySQL, and unlimited bandwidth, they ensure that users have ample resources to build and grow their websites. Their commitment to no forced ads ensures that users maintain full control over their site's content and appearance.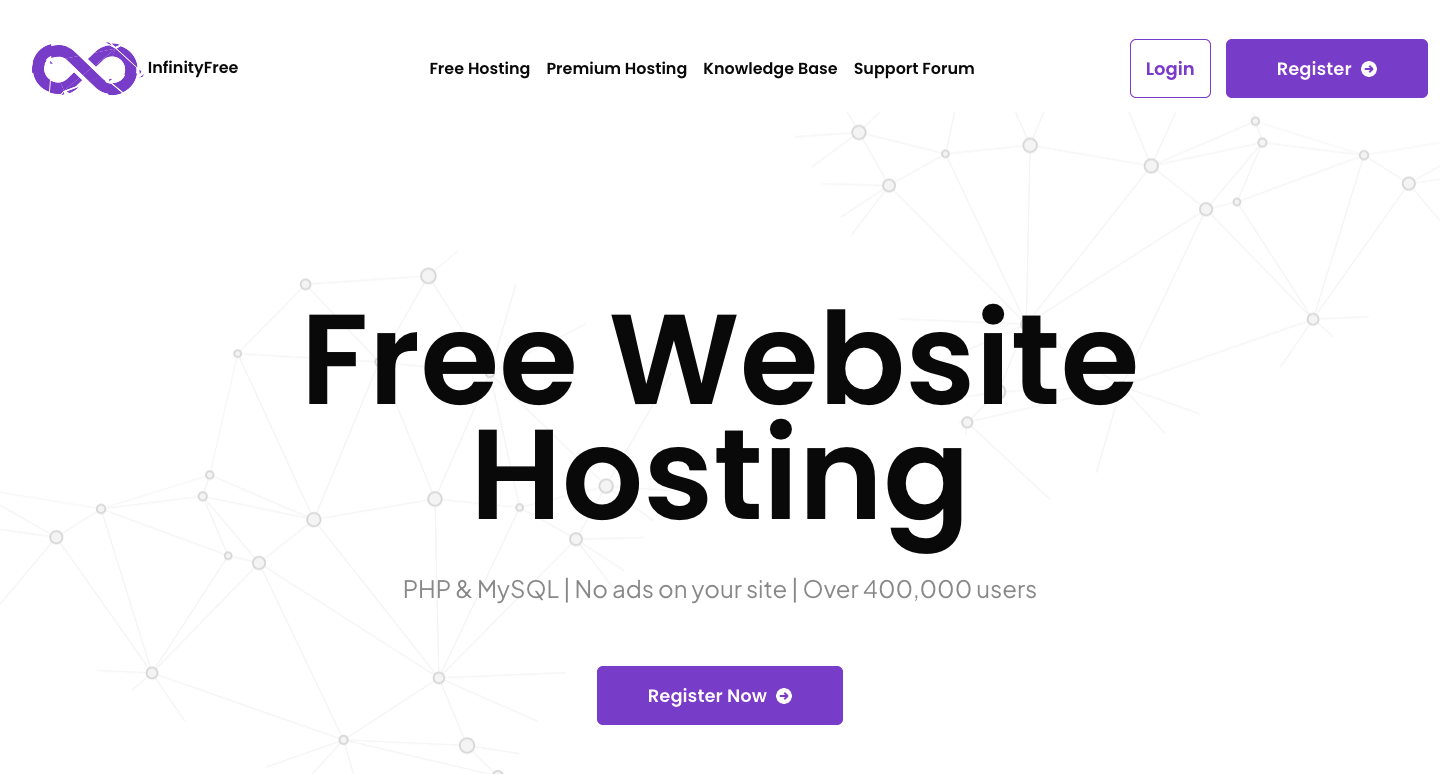 Features:
5GB disk space
Unlimited bandwidth
No forced ads on user websites
Install 400+ scripts and applications with ease, and update them automatically
Free SSL certificates
Pros:
Completely free hosting, forever
No limits to the number of sites you can host
No forced ads or branding
Cons:
Domain registration not included
No 24/7 customer support
Pricing:
InfinityFree's free plan doesn't leave much to be desired. But if you're ready to scale up, InfinityFree partners with iFastNet to provide paid hosting with more powerful servers and more features. The variety of plans means you can upgrade as needed, starting at an affordable $4.99 a month for shared servers and $149.99 a month for a dedicated server.
Our recommendation:
InfinityFree is ideal for beginners and hobbyists looking to establish an online presence without incurring costs. Its ad-free approach ensures a clean user experience, making it suitable for personal blogs or small portfolio sites.
3. Free Hosting
Free Hosting offers a straightforward approach to web hosting, providing both free and premium plans. They focus on delivering reliable hosting services without the complexities, making it easy for users to manage their websites.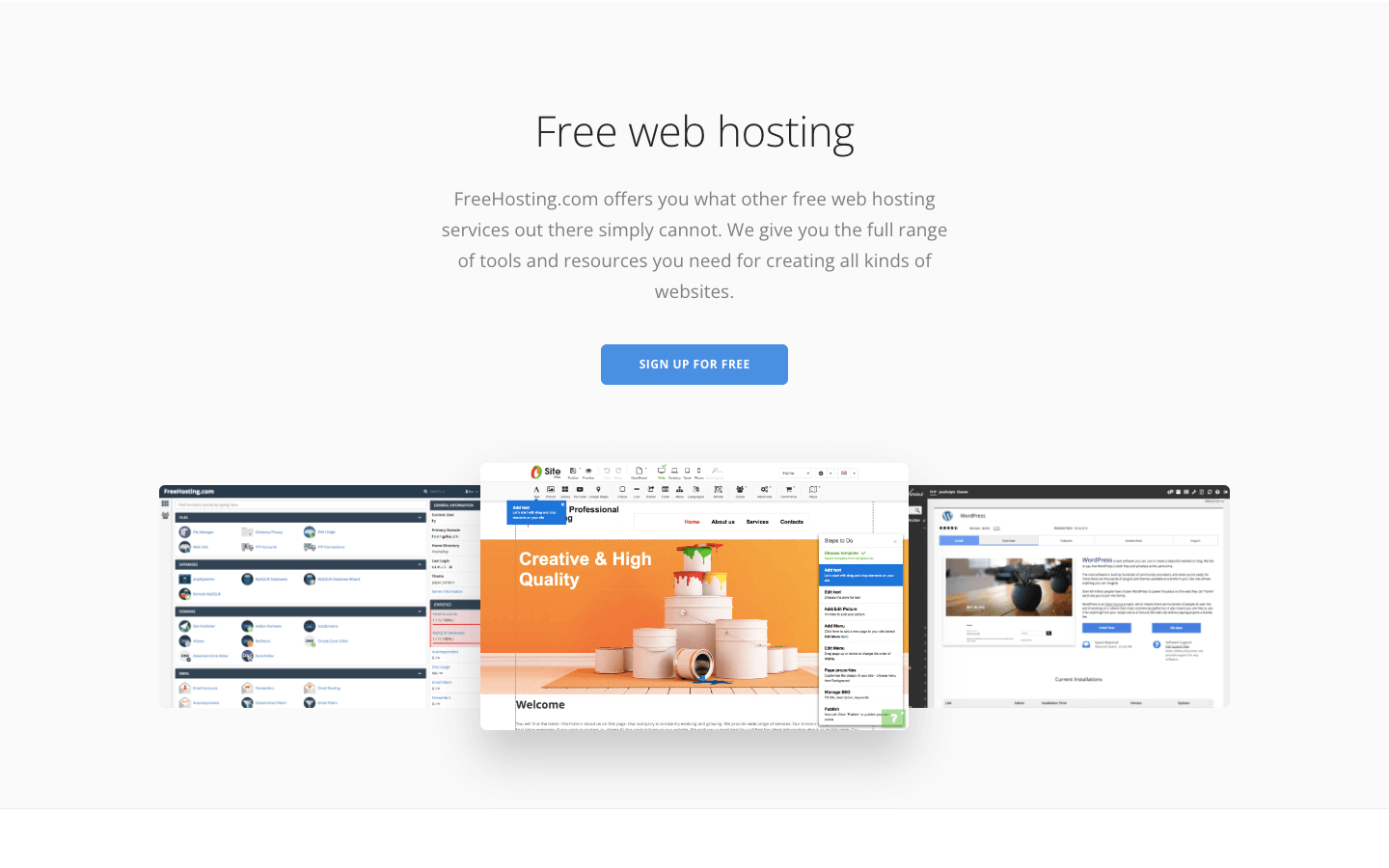 Features:
User-friendly control panel
Unlimited free hosting
Free website builder with 170 templates
Domain registration
Single-click app installer with 350+ apps
Pros:
No forced ads
Optional add-ons to free plan—pay only for what you need
Unlimited disk space on the paid plan
30-day moneyback guarantee
Cons:
Numerous negative reviews on sites like TrustPilot and SiteJabber
No SSL on the free plan
Pricing:
Free Hosting's free plan has everything you need to get started. Upgrading to their paid plan isn't much of a stretch — just $7.99/month to get access to faster servers, multi-site hosting, and premium features.
Our recommendation:
Free Hosting is best suited for individuals or small businesses looking for a hassle-free hosting solution. When you're ready to grow, one-time add-ons keep costs low, or you can upgrade to the affordable paid plan. Do your research and read user reviews before you commit to know what you're getting into.
4. Hostinger
Hostinger is a global web hosting provider known for its affordable yet high-quality hosting solutions. Catering to millions worldwide, they offer a blend of performance and features that appeal to both novices and seasoned webmasters.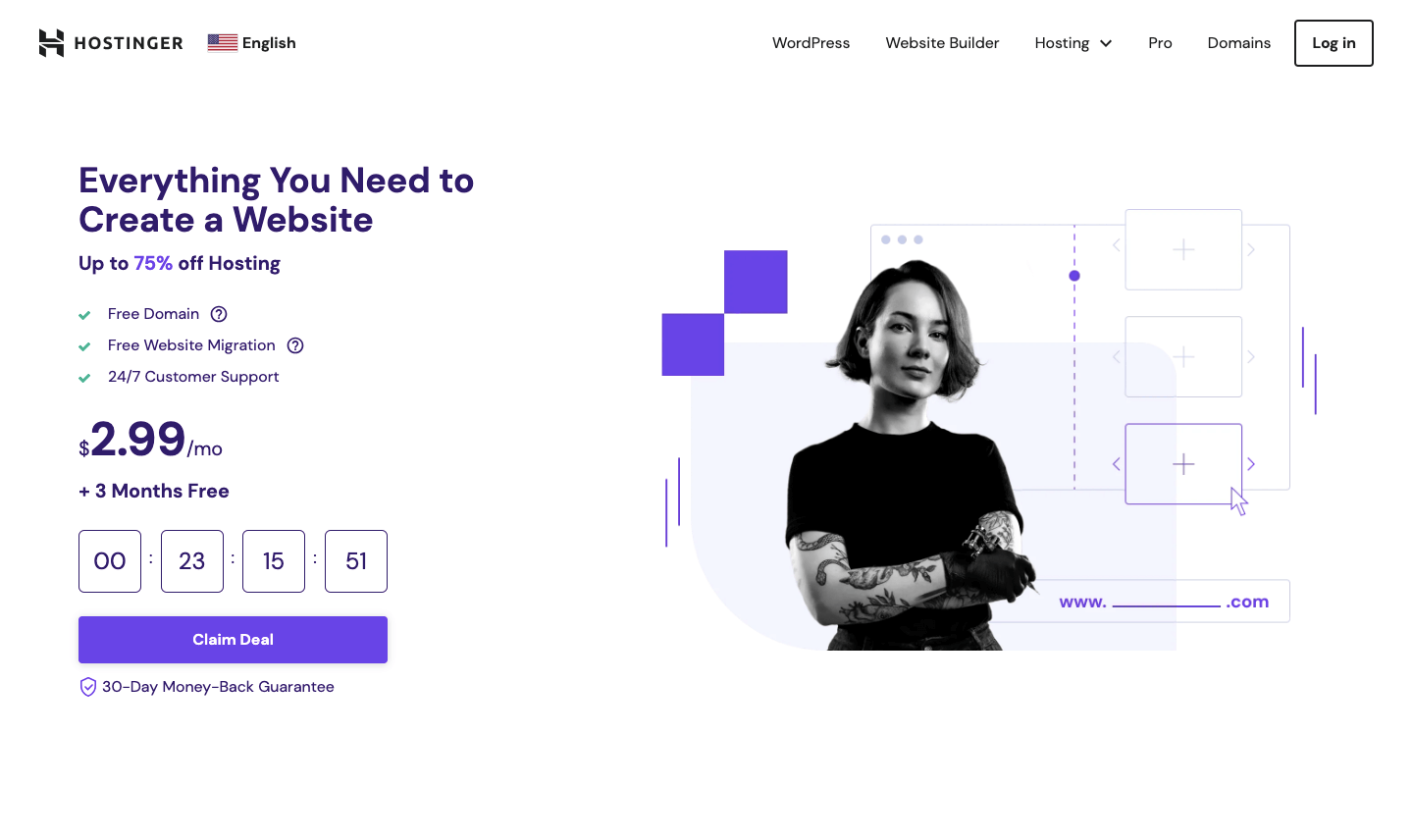 Features:
100GB storage on the basic plan
No-code website builder
1-click WordPress installation
24/7 support
Automatic backups
Unlimited SSL security certificates
Pros:
Competitive pricing with frequent discounts
Free website migration
Free email
30-day moneyback guarantee
Cons:
No free hosting plan
Renewal rates can be higher than initial rates
Pricing:
Hostinger's plans range from $11.99 to $24.99 a month, but it's worth waiting for a sale to snag them at a discount (at the time of writing, plans are $2.99 to $8.99 a month, plus 3 months free). Take note that the renewal prices are higher — but not painfully so.
Our recommendation:
Hostinger's 2 million customers are evidence of the service's success. Hostinger is a versatile choice for those seeking a balance between cost and performance. Whether you're launching a personal blog or an eCommerce site, Hostinger's range of plans ensures there's something for everyone.
5. DomainRacer
DomainRacer is a hosting platform that emphasizes speed and reliability. They boast of their LiteSpeed Technology and NVME Gen4 SSD, which ensures faster website loading times. With a presence in over 138+ countries, they cater to a wide range of clients, from beginners to professionals.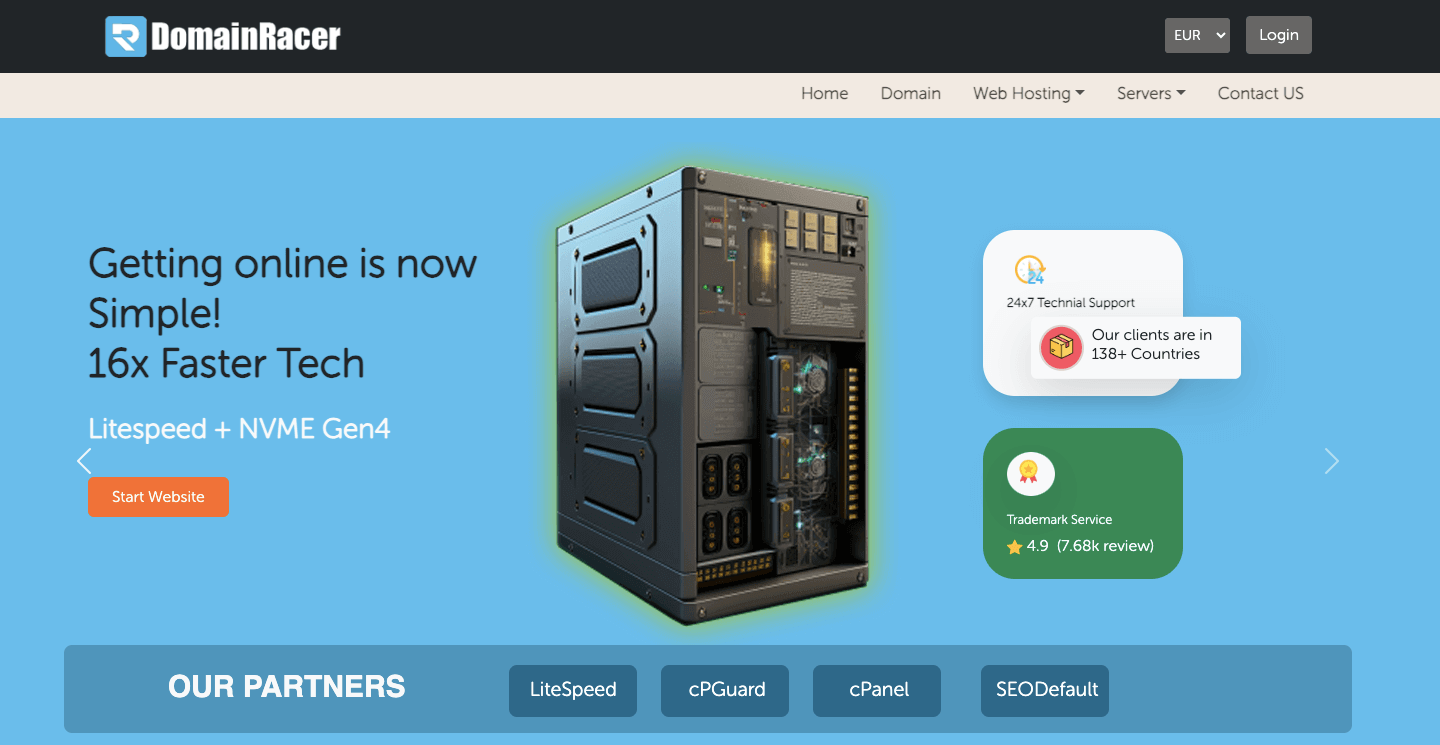 Features:
Cloud-Based SSD Service
Free SSL Certificate
Host unlimited domains
Unmetered SSD space
Website builder
Pros:
300% faster speed with LiteSpeed Technology
Free domain for a year
Provides a range of hosting solutions including shared, reseller, and VPS hosting
Cons:
Pricing can be higher compared to some competitors
Domain registration discounts are time-limited
Pricing:
Pricing ranges from $1.65 a month to $5.32 a month. With the current sale, prices are discounted up to 40% — and even more if you're willing to commit to a 3-year contract.
Our recommendation:
DomainRacer is a solid choice for businesses and individuals who prioritize website speed and reliability. Their diverse hosting solutions cater to a wide range of needs, making it suitable for both small websites and larger online ventures.
6. Bluehost
Bluehost is one of the most popular hosting providers, known for its robust performance and excellent customer service. As an official WordPress-recommended hosting provider, they offer seamless WordPress integrations and a plethora of tools to enhance website functionality.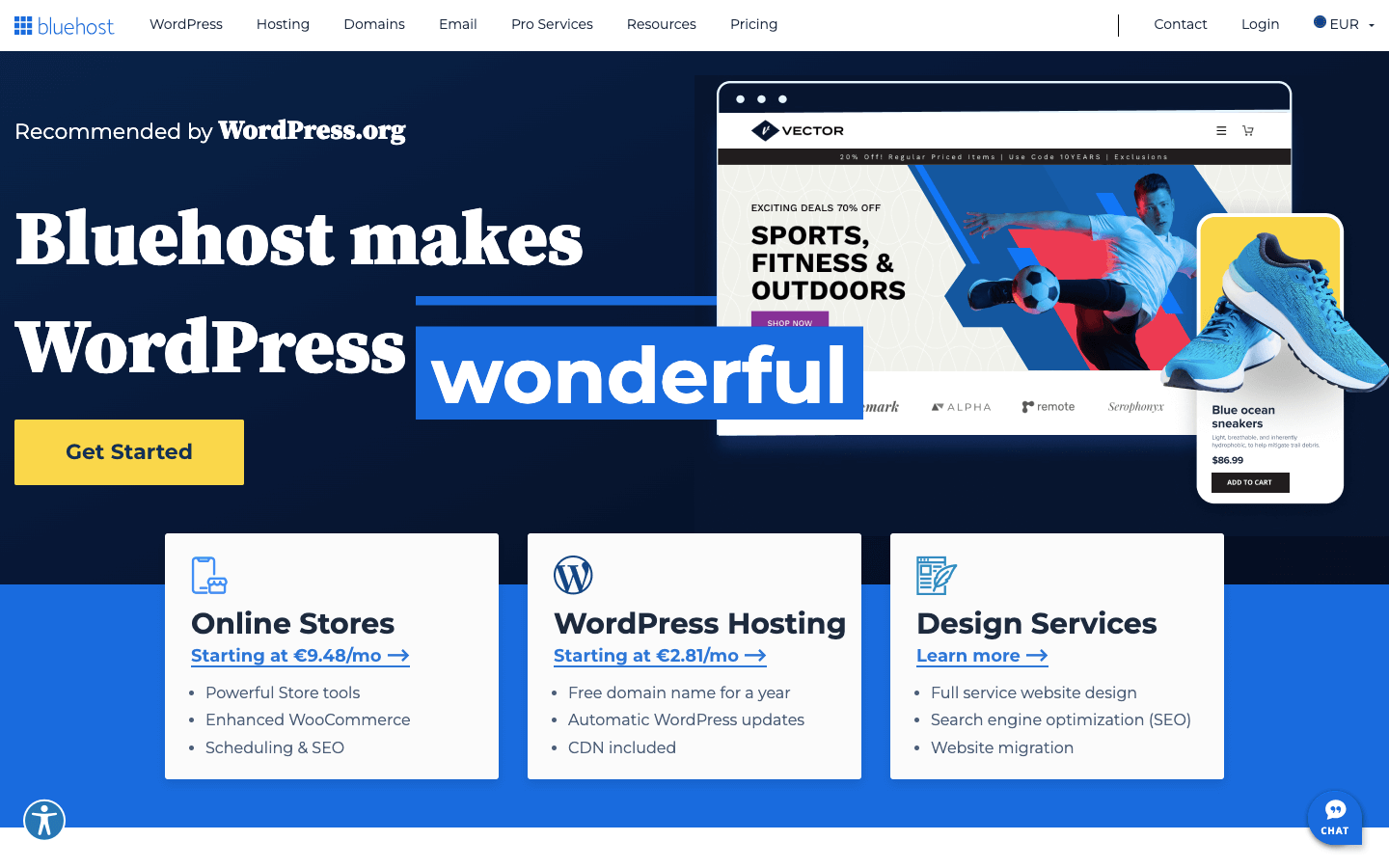 Features:
One-click WordPress installation
Free domain name for the first year
24/7 customer support
Free SSL certificate
eCommerce tools
Pros:
Specialized WordPress and WooCommerce hosting
Security features
Cons:
Renewal rates can be higher than initial signup rates
Some advanced features are locked behind higher-tier plans
Pricing:
Hosting prices start at €11.99 a month, but the current promotion brings it down to just $2.95—a huge savings of 75%. Plan prices increase as you add on more features, but even the highest tier plans are reasonable.
Our recommendation:
Bluehost is perfect for WordPress users, from beginners to advanced. The variety of plans allows you to choose one that fits your priorities, whether that's hosting multiple sites, adding on privacy and security features, or increasing speed.
7. HostGator
Currently hosting more than 2 million sites, HostGator is a well-established name in the hosting industry, offering a wide range of hosting solutions. Known for their extensive features and reliable uptime, they cater to both individuals and businesses.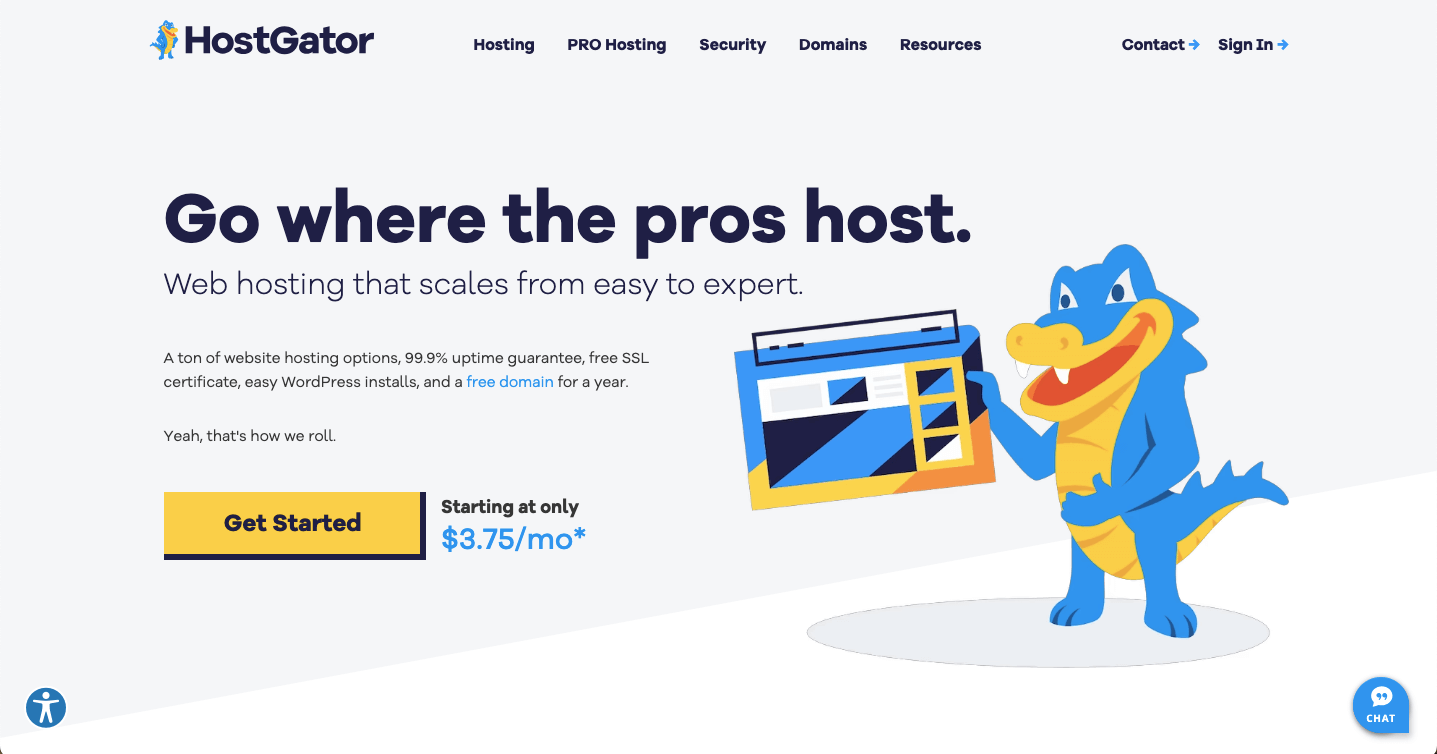 Features:
Over 400 one-click application installations
Website builder with drag-and-drop functionality
Unlimited bandwidth
Free SSL certificate
Pros:
Free domain for a year
Free website migration
Unlimited email addresses
Outstanding 24/7 support via call, chat, KnowledgeBase, and more
Cons:
Higher renewal rates after the initial term
Some features come with additional costs
Pricing:
HostGator allows customers to pay for exactly what they need, with hosting packages for a single month all the way through 3 years. An annual basic plan will run you $3.95 a month with the current promotion.
Our recommendation:
HostGator is suitable for a broad audience, from beginners setting up their first website to web pros requiring more advanced features. Their variety of tools and the flexibility in billing make them a versatile choice.
8. GoDaddy
GoDaddy is a household name in the domain registration and web hosting industry. They offer a wide array of services, from domain registration to website-building tools. With their user-friendly interface and extensive customer support, they cater to both tech-savvy users and beginners alike.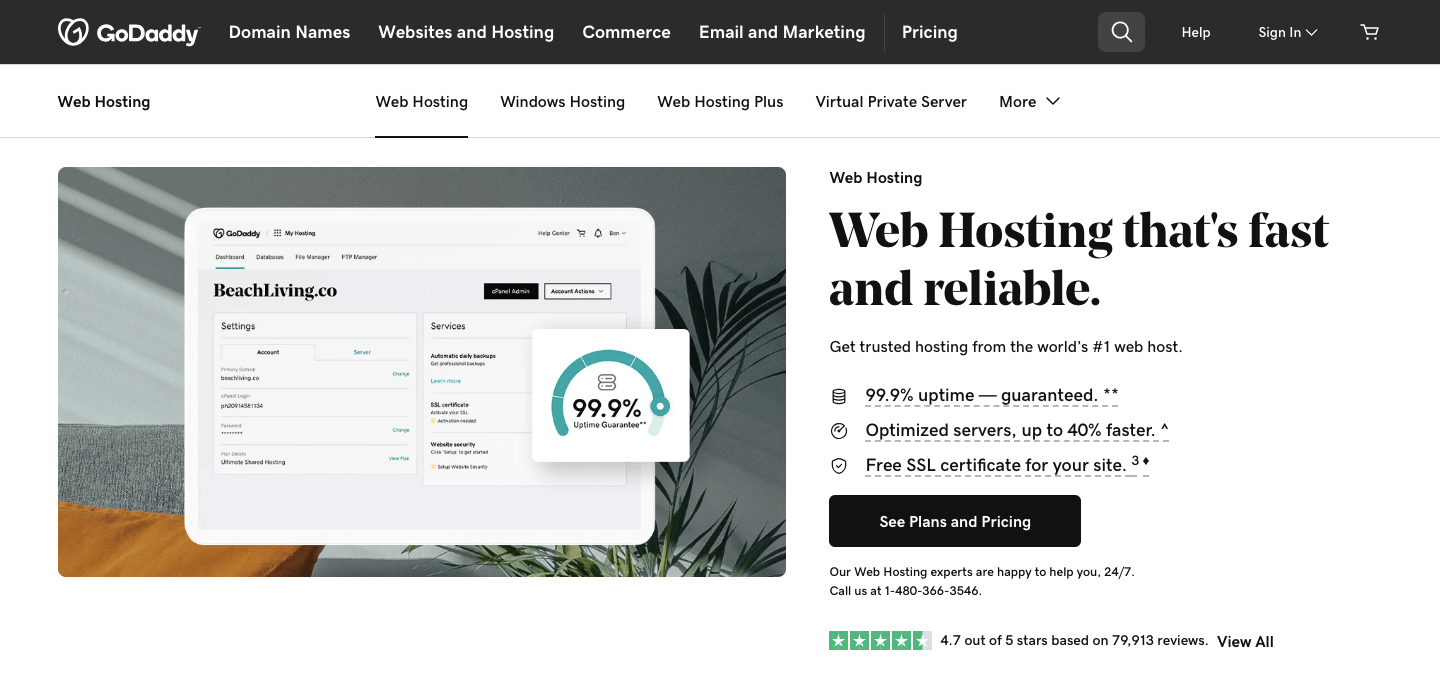 Features:
Comprehensive domain management tools
User-friendly website builder
24/7 customer support
Free SSL certificate and security features
Managed WordPress hosting
Pros:
Plans start at 25GB of drive space
Extensive range of services beyond hosting
Daily backups
Optimized servers are 40% faster
Pre-installed payment platform
Large knowledge base and community support
Cons:
Some upselling tactics during the checkout process
Renewal rates can be significantly higher
Pricing:
GoDaddy's plans offer quite a bit more than those of competitors, and the prices reflect the difference. An annual starter plan is $9.99 a month, or $6.99 a month with the current promotion. For multiple sites, more storage, and faster processing power, prices increase accordingly.
Our recommendation:
GoDaddy's strength is in its longstanding history of providing reliable services to thousands of satisfied clients. Their comprehensive range of services makes them a one-stop-shop for many, especially those looking to bundle domain registration with hosting.
9. Web.com
Web.com is a comprehensive web services provider, offering solutions ranging from domain registration to website design and online marketing. Their primary focus is on helping small businesses establish and grow their online presence.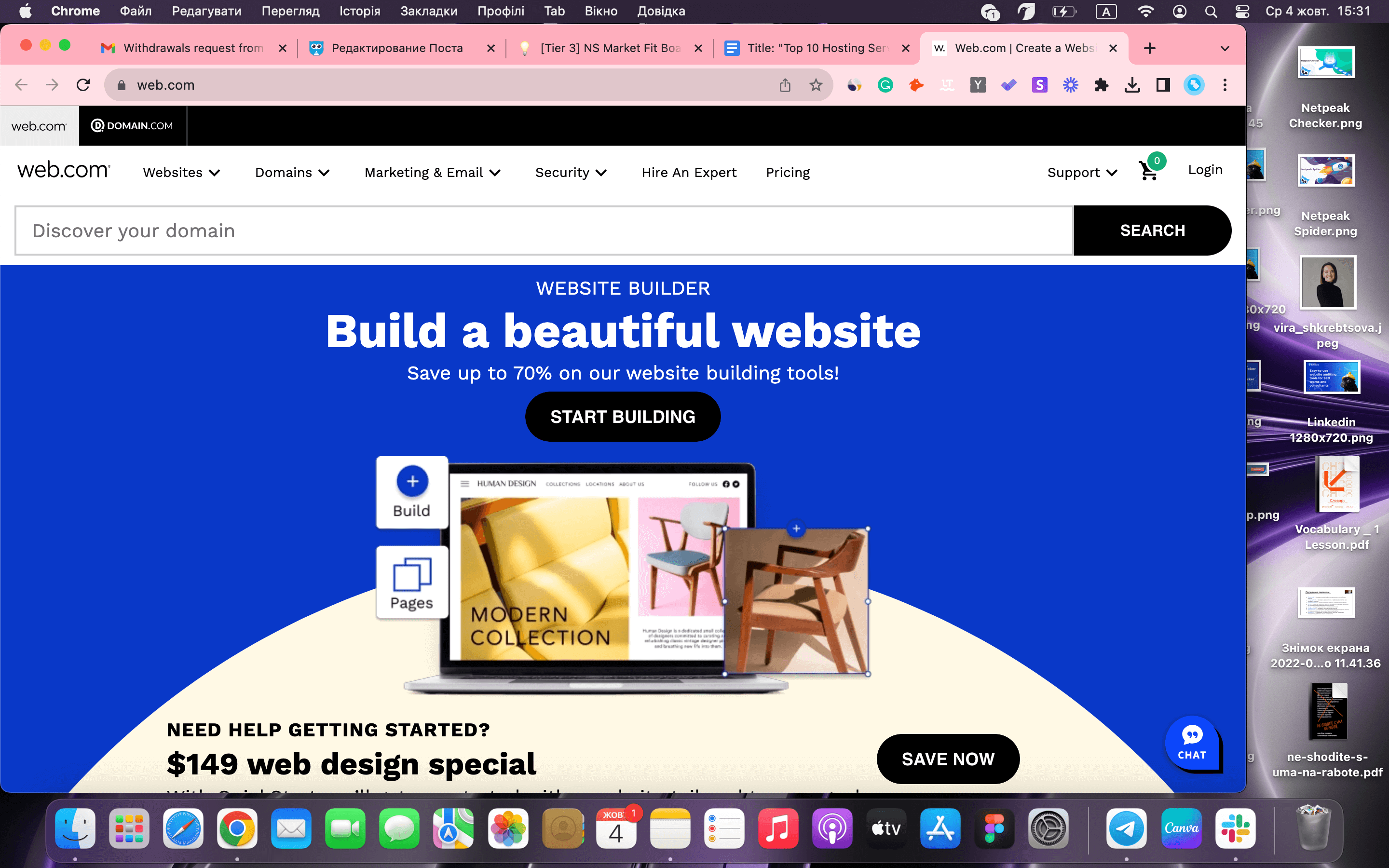 Features:
Domain registration and management
Online marketing tools and services
Options for DIY website builder or professional design
Pros:
All-in-one solution for small businesses
Provides tools for online marketing and SEO
Cons:
Limited number of visitors to your site
Upselling of additional services during the signup process
Pricing:
Web.com's plans start at $2.95 a month for the first year, renewing at $9.99/month after that. The higher-priced plans, while affordable, don't offer as many features as those of competitors.
Our recommendation:
Web.com is ideal for small businesses looking for an all-inclusive solution to establish their online presence. Their professional design and marketing services make them stand out for those who want support in their online ventures.
10. DreamHost
DreamHost is a web hosting provider that emphasizes transparency and commitment to its users. With over 20 years of experience, they offer a blend of performance, features, and support. Their commitment to open source solutions and user privacy sets them apart in the industry.
Features:
Strong emphasis on user privacy and open source solutions
Offers a wide range of hosting solutions, from shared to cloud hosting to dedicated servers
Pro services for web design, SEO, and more
Pros:
100% uptime guarantee
Unlimited traffic and bandwidth
Transparent pricing
Free domain for the first year
Cons:
No phone support, primarily relies on chat and email
Email costs extra
Pricing:
Web.com offers monthly, yearly, and 3-year plans that start at $2.59 a month for shared hosting and $13.75 a month for VPS.
Our recommendation:
DreamHost is a great fit for those who value transparency, privacy, and open-source solutions. Their diverse hosting offerings cater to a wide audience, from individual bloggers to small businesses.
Conclusion
The world of web hosting is vast and varied. Each provider offers unique benefits, but the right choice depends on your specific needs. Whether starting a personal blog or a business site, your hosting choice will shape your online journey. Choose with foresight, and set the stage for digital success.