Netpeak Software Update Digest #2
Updates

In this digest, you will learn about all significant updates in our tools and on the website, and our new course in Academy → Basic On-Page SEO Challenge :)
Content
Netpeak Spider 3.1 Update

Netpeak Spider 3.2 Update

Netpeak Spider 3.2.0.1: Crawling of the Relative Canonical URLs

Netpeak Checker 3.1 Update

Netpeak Checker 3.1.0.2: Google reCAPTCHA Fix and Other Changes

Protection Against Unauthorized Usage

Access to the Software From Several Devices

The 'Share License' Option

Netpeak Software Academy: Basic On-Page SEO Challenge

Changes on the Website

New 'Sign Up for Webinar' Page

Now You Can Call Us

Payment Invoices

Updated 'Media Mentions' Page

Updated 'Changelog' Page

Other Changes
1. Netpeak Spider 3.1 Update
In the Netpeak Spider 3.1 update, we made the following changes:
Reworked the report selection menu and added 4 new reports: 'Site structure', 'Redirects: incoming links and final URLs', 'Scraping summary in single file (XL)', and 'Pending URLs';
Implemented tables customization (width, columns position, and so on) with auto-saving;
Added expected crawling duration in the status panel;
Added the 'Sync the table with selected parameters' (on the 'Parameters' tab in a sidebar) and 'Filter by value' (in the context menu of most tables) options;
Made more than 20 improvements in the interface and usability.
2. Netpeak Spider 3.2 Update
In Netpeak Spider 3.2, we have implemented some long-awaited features. Now you can use our program more comprehensively with the following changes:
JavaScript rendering;
Technical SEO audit in PDF with the following reports: 'Overview', 'URL Structure', 'Crawling and Indexing', 'Status Codes', 'Click and URL Depth', 'Load Speed', 'HTTP/HTTPS Protocols', 'Content Optimization', and 'Issues';
Enhanced issue description: the threat the issue can cause, how to fix it, useful links for deeper understanding of the problem;
New 'Issue overview + descriptions' export;
And 50+ other improvements.
2.1. Netpeak Spider 3.2.0.1: Crawling of Relative Canonical URLs
Initially, we wanted to remove crawling of relative canonical URLs because of Google recommendation to use only absolute URLs in canonical. But after additional research, we found out it's necessary to show the relative URL in canonical as an issue instead of just not crawling it. Netpeak Spider 4.0 will detect this issue, but now you can enable crawling of relative URLs in canonical. Go to 'Settings', select the 'Advanced' tab, tick 'Crawl relative canonical URLs' and click 'OK':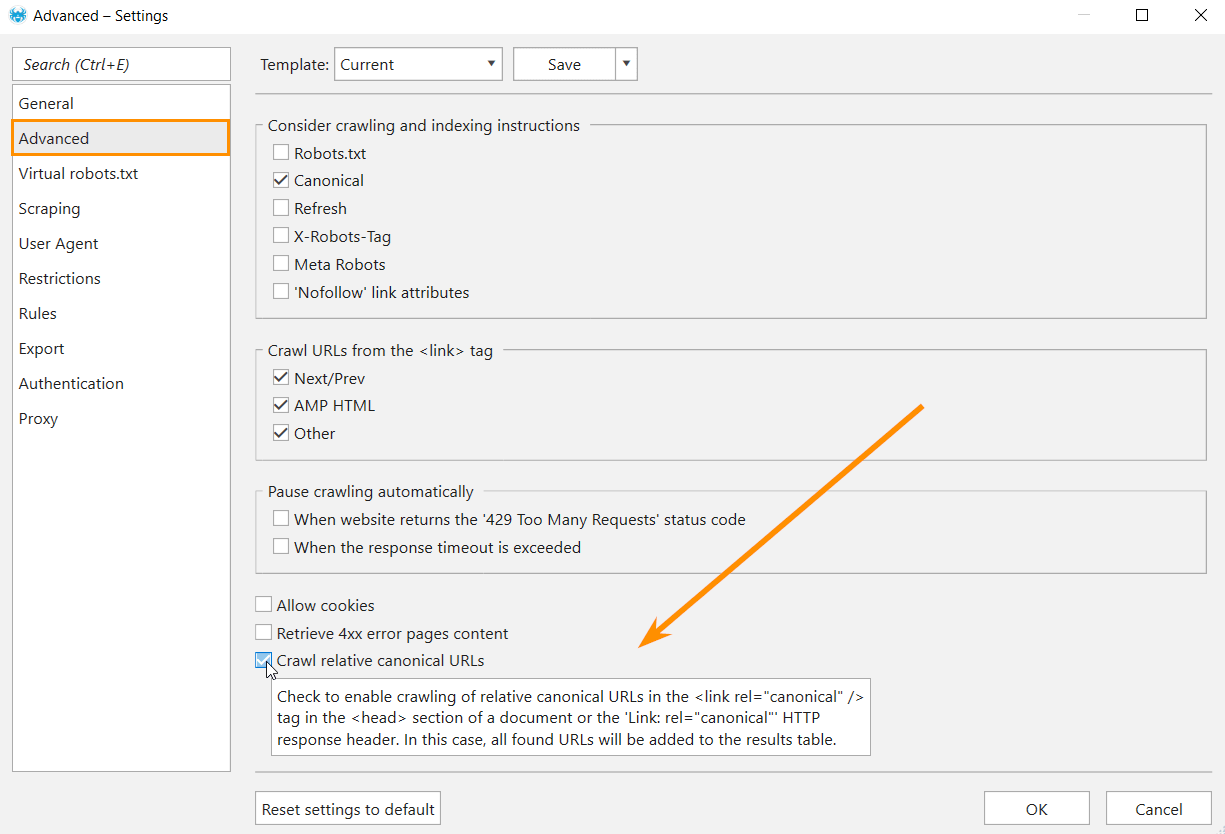 3. Netpeak Checker 3.1 Update
And in case you forgot about Netpeak Checker 3.1, we remind you that now you can use:
new integrations with CAPTCHA auto-solving services, as well as a unique opportunity to work with them simultaneously: 2Captcha, Anti-Captcha, RuCaptcha, and the CapMonster program;
a button that allows you to mark the parameters you need in the sidebar and sync the table with these parameters. It's convenient for uploading reports and focusing on certain results;
13 new Serpstat databases. We'll add all the databases guys in Serpstat collected for us in the next update;
working with Yandex parameters speeded up by about 2-3 times;
the 'Untick all parameters' button. We know how painful it was to remove all the checkboxes manually, so we took care of it ;)
Read a detailed post about the update or watch a video review where our Growth Hacker Kosta Bankovski describes how to make the most of all new features.
3.1. Netpeak Checker 3.1.0.2: Google reCAPTCHA Fix and Other Changes
We implemented the following changes after Netpeak Checker 3.1 update:
Fixed Google reCAPTCHA issue. While running Netpeak Checker, proxies got quickly banned. This pitfall occurred because Google changed the server response code for reCAPTCHA from 503 to 429. We fixed the issue, and now you can safely use your proxies again ;)
Changed the algorithm of detecting URL indexing in Google and deleted 'Merge' and 'Merged URL' parameters.
Google retired the info: command, it was used to determine page indexing and merging. Now we use the site: command to check the indexing. We also removed the 'Merge' and 'Merged URL' parameters from the program because it is now impossible to determine them by search queries.
4. Protection Against Unauthorized Usage
Let's remind that according to our terms of use, the user undertakes to use his personal account to access Netpeak Software products. Also, he is not entitled to disclose his account details to other users and can run tools on two personal devices (for example, a PC at work and a home laptop).

However, we noticed that some users abused these terms and loyal system of access and launched products on several devices. So we had to implement an additional protection that would not affect honest users.
4.1. Access to the Software From Several Devices
How it was: you could adjust bindings in the 'Device Management' section of the User Control Panel without any limits. This option was primarily implemented to quickly change device and run the program on a new device in case of your PC / laptop breakdown.
What changed: now you can adjust software bindings only 1 time within 30 days. If you have several devices broken during this period, drop our support team a line, and we will figure it out :)
Also, our CEO Alex Wise wants to remind that now you can use programs on two devices, but it applies only to personal devices. We may revise these terms in future.
4.2. The 'Share License' Option
How it was: on the User Control Panel, you could select a license and share it with any other account without restrictions. This feature was implemented for company owners and team leaders so they could buy several licenses for the main account and then share them with employees being able to return the license (if an employee left or no longer needs access to the products);
What changed: Now you can share a certain license only once (the ability to return remains unchanged). Now we are developing a system of billing and access for managers, so we will completely solve the problem of access transfer. If you have any issues or questions, you can contact our support team.
For example, if you have 3 team members, then everyone needs a separate license and can use it on two personal devices (for convenience). You can purchase a license for yourself or for your employees at this link:
5. Netpeak Software Academy: Basic On-Page SEO Challenge
We constantly enrich our Academy and now you can check out a new course → Basic On-Page SEO Challenge. This is a test with 19 questions about basic optimization which can be useful both for beginners and advanced users.

6. Changes on the Website
In this part, you will find out about all website improvements such as changes in personal user account, and new pages where you can sign up for webinar to learn more about our products and and read about cases of using Netpeak Spider and Checker.
6.1. New 'Sign Up for Webinar' Page
If you haven't signed up for webinar yet, the time has come :) During the webinar you'll learn how to solve your SEO tasks with the help of Netpeak Spider and Netpeak Checker. On our webinars even the most advanced SEOs learn new cases about website promotion. Moreover, you can watch previous webinar and submit application to attend the next one.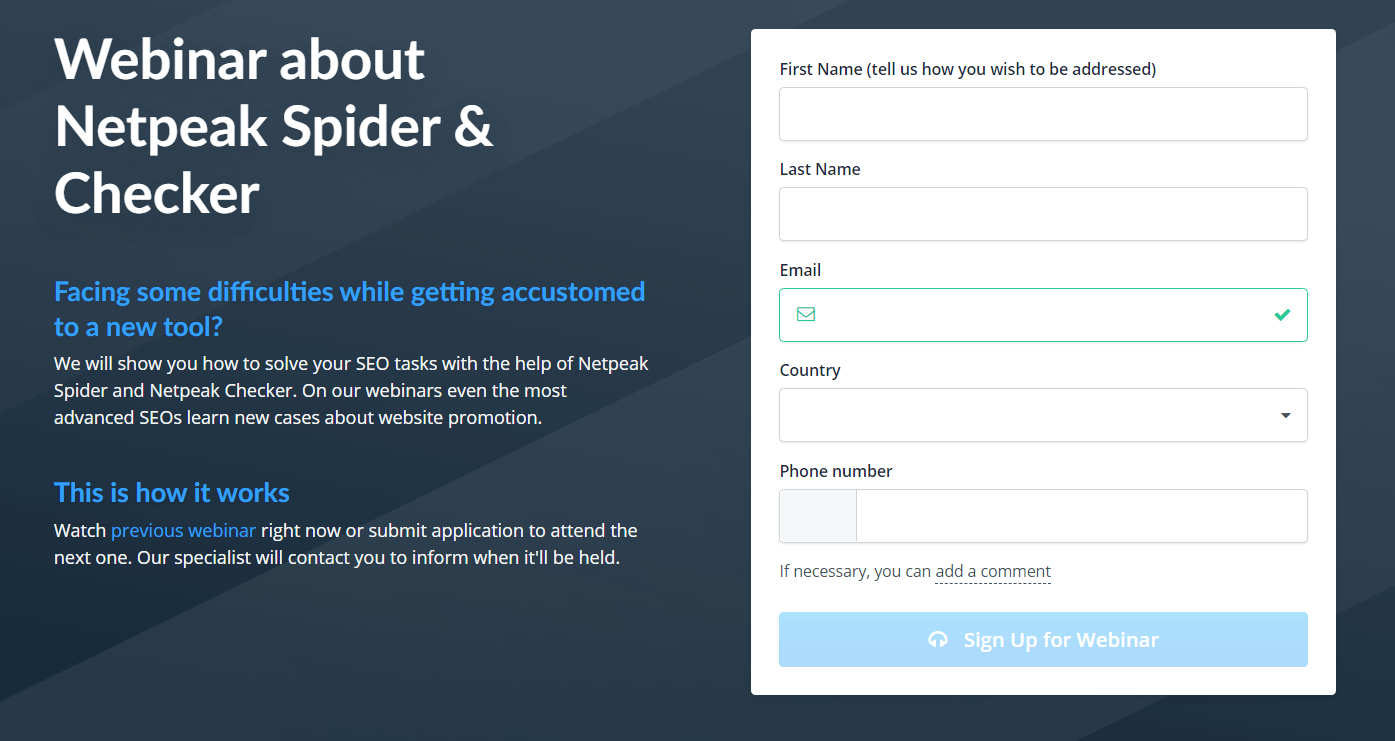 6.2. Now You Can Call Us
You can easily contact us by phone. You can find the number in the site footer and on the 'Contacts' page. You can see other numbers in the drop-down list if the selected one does not suit you automatically.
6.3. Payment Invoices
Now in the 'Subscriptions' section in your personal account, you can add details to receive invoices for the payments.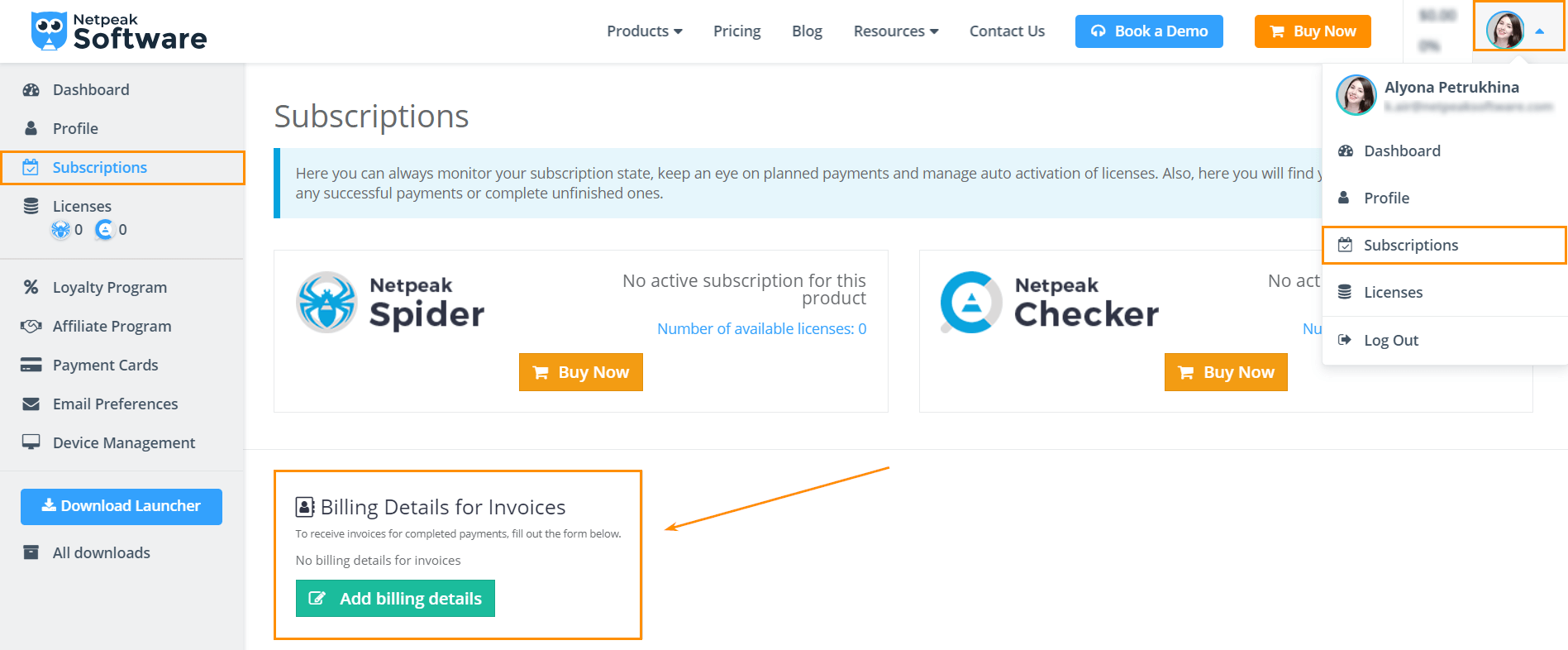 Just fill out the form and you can generate invoices for all previous payments and download them in PDF format.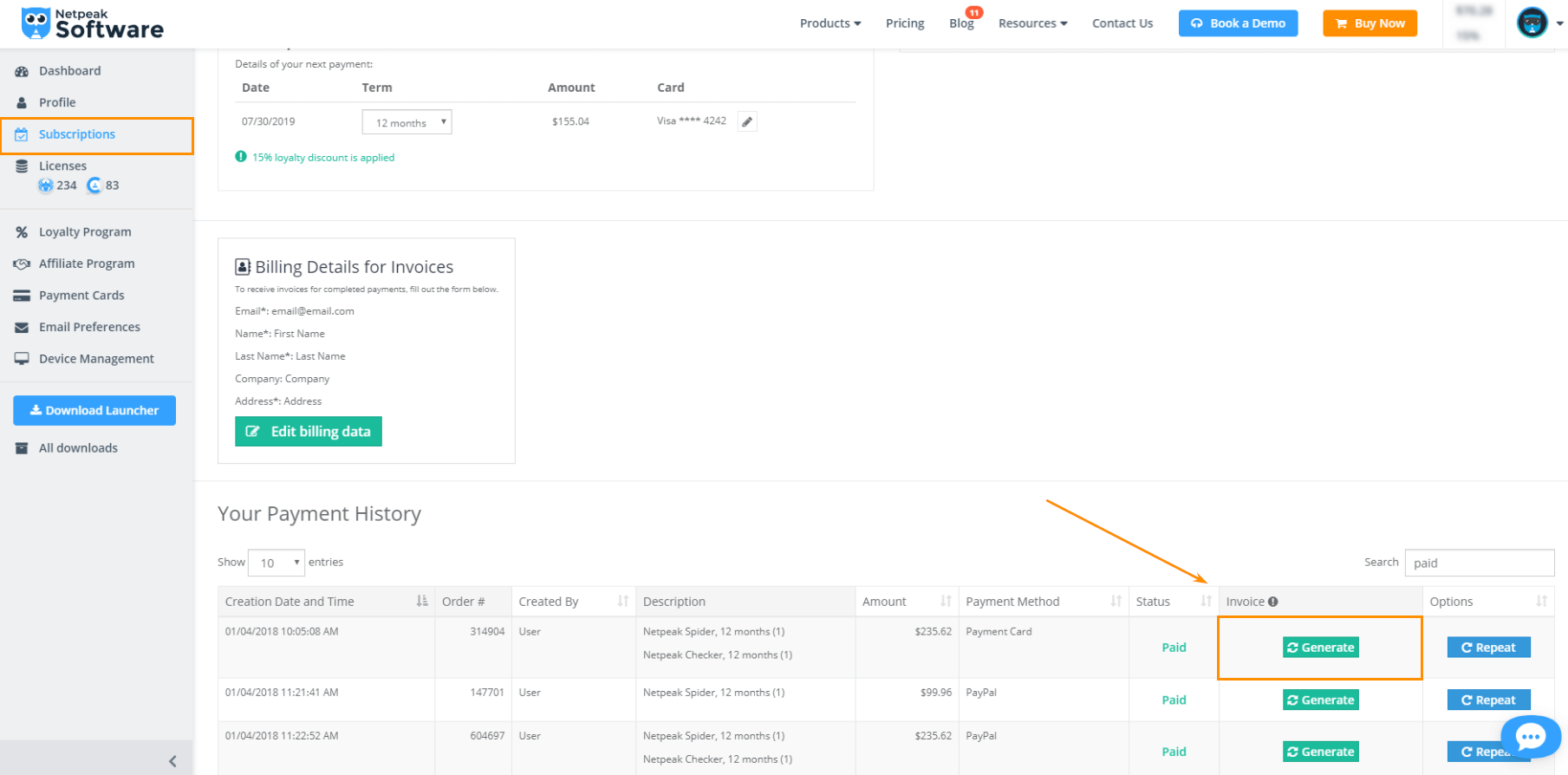 After uploading the invoice details as a PDF document, it will be automatically attached to each email notification about successful payment.
6.4. Updated 'Media Mentions' Page
We collect useful information about Netpeak Spider and Checker all over the Internet and publish it on the 'Media Mentions' page.

We updated the page design, added video reviews and resource logos to make navigation easier, since we have collected at least 200 mentions on this page.
6.5. Updated 'Changelog' Page
You can find our 'Changelog' in the footer of our site. It contains a brief overview of all changes and updates of our products. We made it more convenient and user-friendly, so you can easily track the history of our products, see all the latest changes with filtering and links to relevant and more detailed posts on the blog.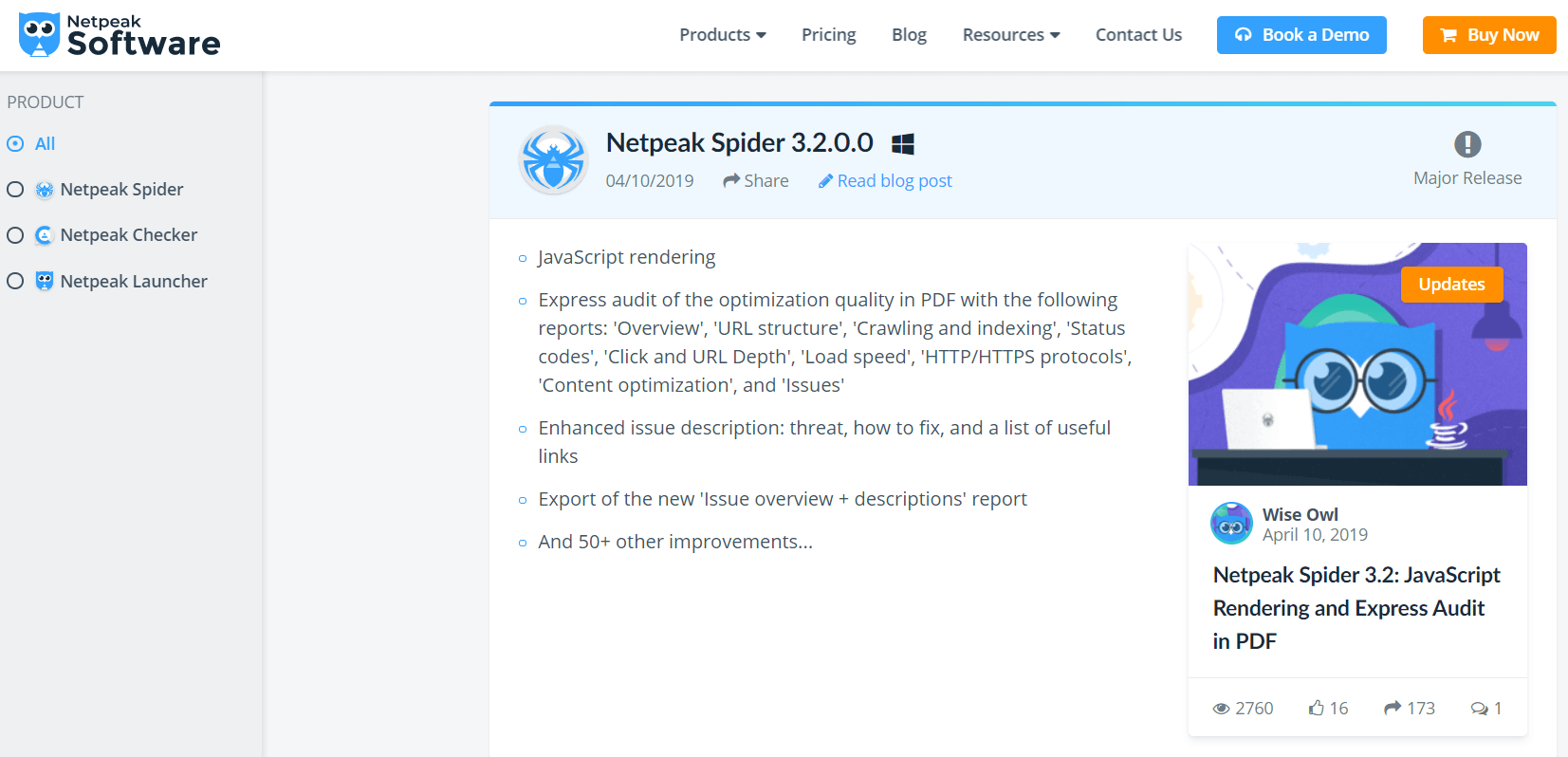 7. Other Changes
Here you will find the main changes in the site interface. We have updated the design of many elements to make it more convenient for you to navigate and interact on any devices. Let's start ;)
We've entirely updated a blog post page:

Block with different activities was totally changed:

Keep upvoting our posts, sharing them on Facebook, Twitter, LinkedIn, and leaving comments. Once you do that, the corresponding button is painted over. You can use a similar block at the end of the post. We truly appreciate you sharing your impressions of our content and hope that you'll like the 'Paint all the circles' quest ;)

You can mark a post as unread to save it for later reading or read it in Russian. Just click on the ellipsis.

If you think that some comment is a spam, you can always make a complaint.

Our editors will quickly deal with it :)

We updated the menu and now you can close or open it, and we'll save your preference :)
In the user control panel, we also completely updated the menu and you can also close or open it.
Added convenient navigation, which is especially useful on the blog when you need to return to the content of a big post. One click on the 'Up' button takes you up. Pressing it again takes you back (to the place where you initially clicked on it).
In addition, we globally updated the header and footer, and optimized them for mobile devices. Below we mention a few more changes:

Moved the language preference in the footer. Now we better understand which language will be more suitable for you. Keep in mind that changing the language means not only switching to a different language version of the interface but also changing the language for all system messages, our letters, mailings, etc.
Added a counter to the 'Blog' icon in the header. When you are logged in to the site, the number of new posts waiting for you is displayed next to the blog link.

There is a completely new tab 'Resources'. Click on it and you will find a lot of useful information on such pages:

Customers and testimonials
Media Mentions
Loyalty program
Discounts and free access
Help center
Academy
Affiliate program

Now you can see your photo in the top right corner of the site. In addition, it's displayed in the blog comments.
If you accidentally deleted Netpeak Launcher and you need to reinstall it, click on the 'Download Launcher' link in the footer.
We updated the contact page. Here you can find all the ways to contact us and choose the most suitable one:

online chat,
email,
phone,
social networks.
While we're writing this digest, an interesting idea came to our mind: what if people had their own humans.txt? It would probably make communication much easier, what do you think? ;)
We Are Waiting for Your Feedback!
We carefully gather all the wishes of our users and deal not only with correcting and improving current versions of our tools, but also implementing new features (on our website too) ;) So do not hesitate to leave your comments with suggestions below, or write directly to our support team.