Netpeak Checker 3.1: Updated CAPTCHA Auto-Solving
Updates

Colleagues, meet a Netpeak Checker update dedicated to CAPTCHA auto-solving, so let's find out all about it :) By the way, starting from this release, we introduce a simple numbering (versioning) system of updates:
You can check websites and enjoy the CAPTCHA auto-solving feature in the free version of Netpeak Checker that is not limited by the term of use and the number of analyzed URLs. Other basic features are also available in the Freemium version of the program.
To get access to free Netpeak Checker, you just need to sign up, download, and launch the program 😉
Sign Up and Download Freemium Version of Netpeak Checker
P.S. Right after signup, you'll also have the opportunity to try all paid functionality and then compare all our plans and pick the most suitable for you.
Major release (4.0, 5.0...) → global functionality change most likely resulting in interface changes
Minor release (3.1, 3.2...) → improving current functionality, slight changes in tools and logic
Patch (3.1.1, 3.1.2...) → fixing bugs and small cosmetic changes
Content:
Using Anti-CAPTCHA

Synchronizing Tables with Parameters

New Databases in Serpstat

Other Changes

In a Nutshell
Watch a detailed video overview about the update → 'Netpeak Checker 3.1: CAPTCHA Solving Has Never Been Easier'
1. Using Anti-CAPTCHA
1.1. What Is Anti-CAPTCHA?
By 'Anti-CAPTCHA' we mean the automatic CAPTCHA solving, which allows you to scrape SERP faster and safer, especially when using proxy list.
This function is used to work with the Google SERP, Yandex SERP, and Yandex Webmaster parameters in Netpeak Checker, as well as within the 'SE Scraper' tool (similarly, to analyze Google or Yandex SERP). When receiving a CAPTCHA from a search engine, the program sends a request to a special API service that returns a correctly solved CAPTCHA for a small fee (starting from about $0.5 per 1 000 guesses).
1.2. Changes in Our Program
Previously, we were integrated with only one service (Anti-Captcha), but now we have added new services and implemented a platform for new integrations if such are needed in the future. So, let's list what kind of integrations for CAPTCHA auto-solving we have now:
To use the CAPTCHA auto-solving function, you need to enter a special key from the account in the corresponding service (for the CapMonster program – the IP address and port) and have a surplus on your balance in it (you can see it directly in Netpeak Checker settings).
And now a feature that I haven't seen anywhere yet. You have the opportunity to use all services mentioned above at the same time. If you connect several services, they will work in turn. Well, to stop working with the service, you just need to delete the data from the corresponding field.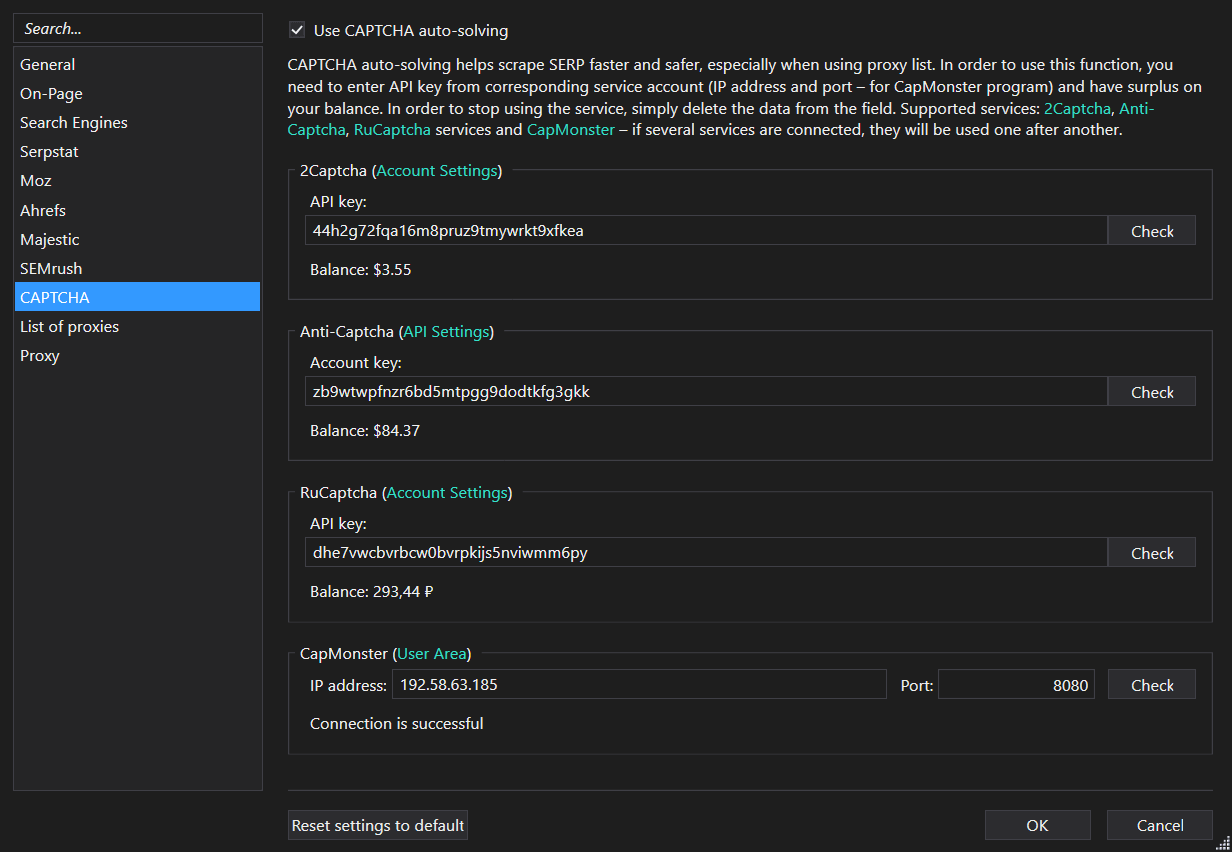 1.3. Peculiarities and Advantages
If you want to use only one service, then nothing has changed for you. Absolutely all requests for CAPTCHA auto-solving will go to this service.
If you configure 2+ services at the same time, they will work in constant rotation.
Different services work with different uptime, that is, at a certain point of time one service can work, and the other cannot. In this case, you diversify your resources if you use several services at the same time, and your checks will not be affected.
If the anti-CAPTCHA service returned an error, we will show it as well as the link to its description on the 'CAPTCHA' tab in program settings, therefore I advise you to drop in there more often.
Let me remind you that when scraping SERP, we strongly recommend using anti-CAPTCHA with proxy list because the new algorithm allows you to unban your proxies much faster.
Please note that we are one of the first to implement a high reliability of parameter analysis in the program. Let's imagine that you need to check a large number of URLs, so you leave your computer overnight, and the Internet has disconnected. In this case, the program does not stop the analysis but tries to re-connect every 30 seconds again and again. It's the same with a proxу list and anti-CAPTCHA services: if you cannot connect or solve a captcha, the 'guilty one' goes to a temporary ban. So it is always useful to have several proxies and several connected anti-CAPTCHA services in reserve.
2. Synchronizing Tables with Parameters
In this release, we've added an important button that allows you to mark the parameters you need in the sidebar and synchronize the table with these parameters: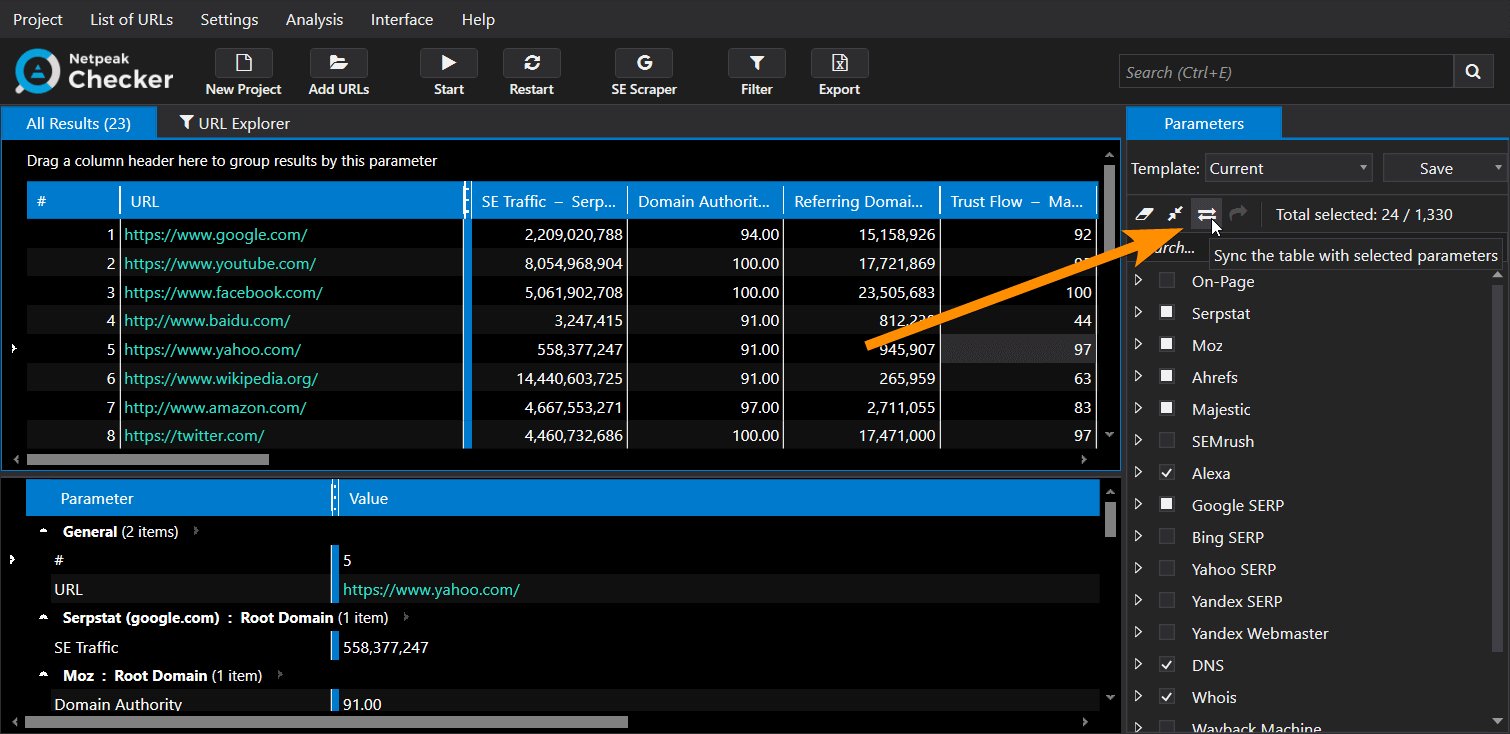 Let's consider a simple case. You've analyzed 1 million URLs by the following parameters:
On-Page: Status Code
On-Page: Title
Alexa: Global Rank
Google SERP: Indexation in URL parameters
Whois: Availability
Facebook: Shares
However, to export the report, you only need the URL and the corresponding Title tag. Now you can turn off all unnecessary parameters in the sidebar, click on the 'Sync the table with selected parameters' button and make the necessary export. Please note that we do not delete the data in hidden columns, try turning any parameter off / on and see for yourself ;)
Let's remember that in the sidebar you can:
select preset parameter templates (all free, parameters for link building or search for drops)
create your template for further work
use the quick search in the parameters
The new button works great exactly in combination with these functions!
3. New Databases in Serpstat
Guys from Serpstat stocked up with cans, drinking water, and warm clothes, closed in the bunker and now release 5-7 new bases per week. Have you ever seen anything like this?!
But seriously, we barely keep up with them. Within this release, we added the following bases to Netpeak Checker:
Turkey
Sweden
Austria
Belgium
Finland
Poland
Ireland
Singapore
Czech Republic
Hungary
Norway
Portugal
Switzerland
If you have too many limits to their API and certain base is off limits, write to our Support team. We will give you a hint when we will add this base to the program.
4. Other Changes
We've corrected the definition of the 'SQI' parameter from the Yandex.Webmaster service and inadvertently accelerated the work with all Yandex parameters by about 2-3 times. This also applies to the SERP scraping.
Reduced the likelihood of CAPTCHA appearance when working with Yandex several times – now you will be able to spend much less on anti-CAPTCHA.
Added the 'Untick all parameters' button in the sidebar. It is very convenient when you need to start everything from scratch.
Removed links underlining in the program tables and exported reports. The fact is that underlining makes spaces and underscores in the URL invisible (for example, https://example.com/under_line).
In a Nutshell
In Netpeak Checker 3.1 we have:
implemented several new integrations with CAPTCHA auto-solving services, as well as a unique opportunity to work with them simultaneously: 2Captcha, Anti-Captcha, RuCaptcha, and the CapMonster program;
added a button that allows you to mark the parameters you need in the sidebar and sync the table with these parameters. It's convenient for uploading reports and focusing on certain results;
added 13 new Serpstat databases (they're adding them very quickly);
fixed the 'SQI' parameter detection;
speeded up the work with Yandex parameters by about 2-3 times;
added 'Untick all parameters' button;
performed rollback to the version without underlining the links in the program tables and exported reports.
Friends, while we are preparing the next minor release of Netpeak Spider 3.1, let us know what else you would like to see in Netpeak Checker in the comments below ;)
Digging This Update? Let's Discuss Netpeak Checker Perks in Person