Meta Description Tag Explained Inside Out
How to

The meta description is one of a web page's meta tag that provides a description of what the page is about. From this article, you'll learn more about how to write meta description, and take great advantage of them the moment they're shown on the SERPs (Search Engine Results Page).
1. What Is Meta Description?

2. Does Meta Description Affect SEO Performance?

3. Three Reasons Not to Neglect Meta Description

4. How to Write Meta Description

5. How to Check Meta Description with a Crawler

Wrapping Up
1. What Is Meta Description?
The meta description is an HTML tag that displays a succinct summary of the overall information on a web page. As a rule, it is used by search engines in the snippets just below the title and the URL. Here is an example of the meta description used by Google in the snippet:

In the HTML code it takes the following look:
<head> <meta name="description" content="Just cute pictures of red fluffy kittens."></head>
2. Does Meta Description Affect SEO Performance?
In a word, the meta description tag is not a ranking factor, so it can't affect SEO performance. Basically, it's okay not to use it at all. Let me explain in what cases it's appropriate.
Pros: if the page is targeting long-tail keywords (three or more keywords) or low-frequency keywords (keywords that are not such heavily searched), you can let the search engine to generate a meta description with target keywords and words surrounding them.
Cons: if it's a randomly composed description, it may appear to look sloppy in the snippet. It won't affect your ranking but will create a negative impression the searchers would cringe at.
Also, leave the room for unpredicted eventualities – even if you have a meta description in the HTML, Google still may or may not use it for a snippet. When and why it happens, no one knows. Seemingly, such mischief means that Google perceives your description as incomplete or irrelevant to page's content.
3. Three Reasons Not to Neglect Meta Description
Even though you may get discouraged by my previous ranking factor myth debunk, here are three obvious reasons not to ignore meta description tags:
CTR improvement. A properly-composed meta description may become a sort of advertisement located on the SERPs. If you get to write an impressive and eye-catching description, be sure to receive more clicks on your impression. It will result in your page CTR and traffic (click-through rate) increasing.
Bold terms in the snippet. When a searcher is using a specific query, and this query matches a word in the snippet, it will automatically get bold. By using the right keywords in meta description, a webmaster has far more chances to catch the sight of a potential client and make them click on a suggested link.

Famous social networks use it. If you once decide to share a link to your website via Facebook, Twitter, or any other social network, you will see that they use the meta description the page contains. It means that if you've got the right text, it will work directly to your favor. But the other side of the coin is that in case you haven't created the description yet, it will scrape several first sentences of the text of the page. Very often, they appear to be not suitable for advertising purposes.
4. How to Write Meta Description
In fact, there are's no specific formulas, just the rules of thumb:
Be descriptive and compelling. The meta description tag is visible to the users, so it's another chance to reach out to them. Use call-to-action words – it's a proven advertising method that has been known for ages. A direct call to action affects a human's psychological attitude making them take the suggested actions.
Use target keywords. The keywords that match the search query are usually bold. These words instantly capture attention and become an extra advertising benchmark.
Make it unique. You won't be able to win the competition and stand out among other web pages if your description is a duplicate of others. Don't jump on the bandwagon, or you won't be able to gain more clicks.
Don't go overboard. Google suggests that a normal length of the meta description text varies from 155 to 160 characters, including spaces. In some cases, it can reach 300 characters. However, bear in mind that Google truncates long descriptions.
Be relevant. All the words inserted in your meta description should clearly correlate with the content on a landing page.
Experiment. Regularly change the text, keywords position, and so forth. Try to find the best and most powerful combination of your meta descriptions that will drive clicks and the potential organic traffic.
5. How to Check Meta Description with a Crawler
You can check a meta description tag manually by hitting the hotkey 'Ctrl+U' when you're on the website page. You'll see the meta description right at the beginning of the <head> section. However, it's irksome to check every single page manually if you have to monitor a large website. Here are several steps that will help you cut the corners:
Launch Netpeak Spider and enter a website's URL into the 'Initial URL' field.
Go to the parameters in a sidebar and select 'Description,' and 'Description Length' in the 'Head Tags' group. I also recommend tick 'Title,' and 'Title Length' since you should monitor these two meta tags in pairs. Leave other parameters unticked.

Start crawling.
When the crawling is completed, you'll see the results in the main table.

For further operation with the received data, export the results table into a spreadsheet or Excel table where you can sift through unwanted results, and focus only on the pages that should be optimized.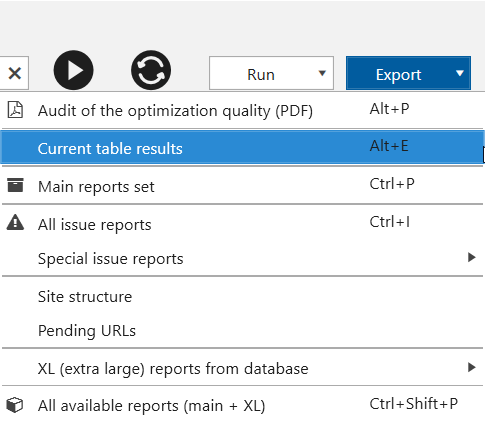 Wrapping Up
No good saying that in spite of the fact that the meta descriptions do not play any significant role in SEO, they are still a necessary means of advertising and promotion. Here are the reasons not to ignore meta description:
It can be dragged into the snippet, so it's the very first touch with your prospective website visitors.
You can use target keywords in the meta description.
It can influence CTR.
It is used in social networks like Facebook.
Also, remember that Google may or may not use your meta description for the snippet. You can't predict when this will happen. Sometimes Google search robots may find existing meta descriptions in the HTML irrelevant to the page's content, so they generate the ones that seem more descriptive.