A Handy Meta Description Checker For Boosting Your SEO Stats
How can you quickly check meta description length and other parameters to boost your online presence and SEO stats? Try Netpeak Spider — the ultimate meta description checker that provides valuable on-page data and analyzes your website's overall metrics.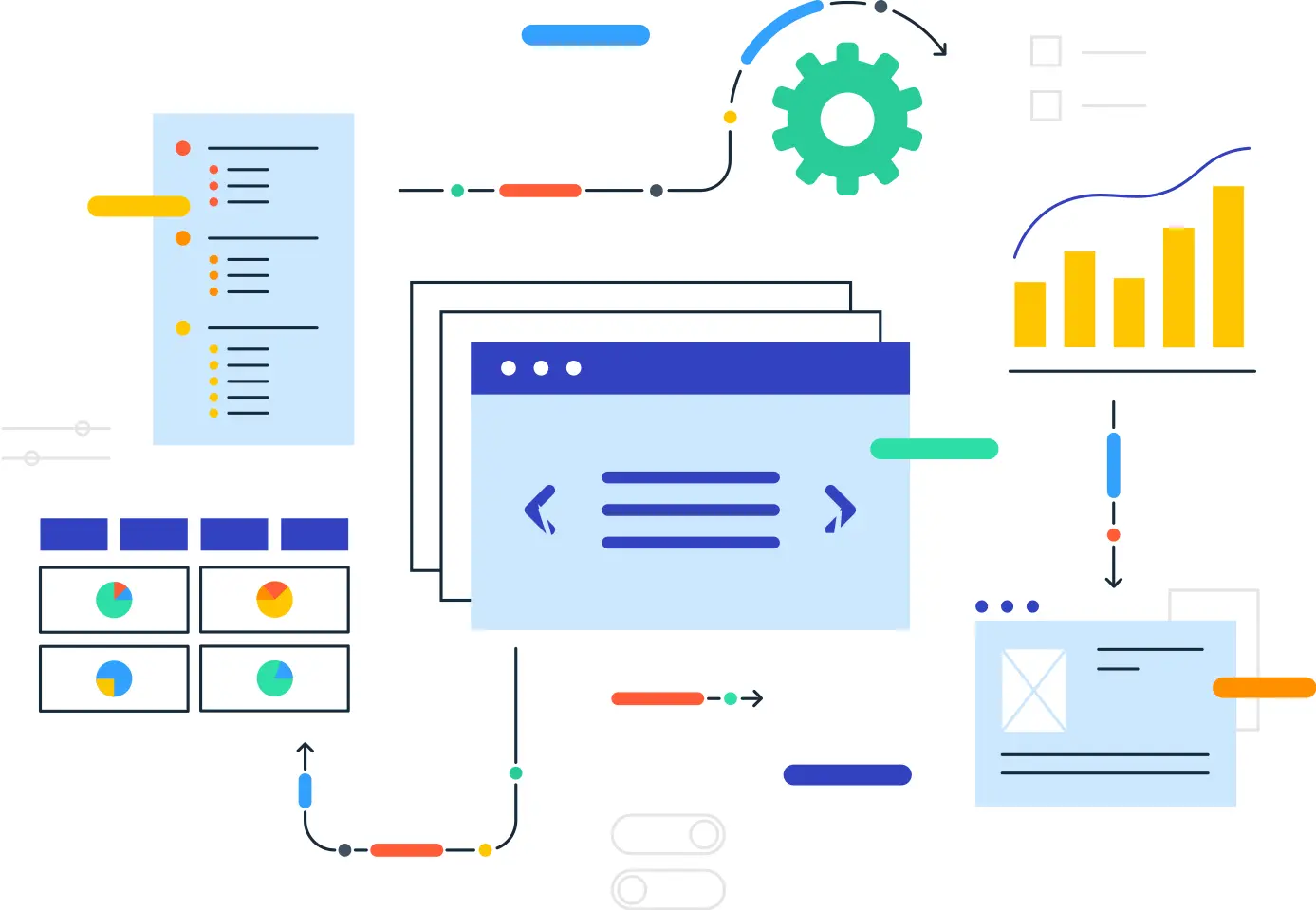 Get the Meta Description Checker
Choose Necessary Parameters
Get the Meta Description Data
The main features of our meta description checker
A good meta description should be neither too long nor too short. There should be no missing or duplicate tags on your website, and they need to contain relevant information. Netepak Spider detects such issues and helps improve the quality of your meta descriptions. Check out all of its main features below.
Description content
Netpeak Spider displays the content of the <meta name=" description" /> tag in the <head> section of a given document. The tool considers the first non-empty tag.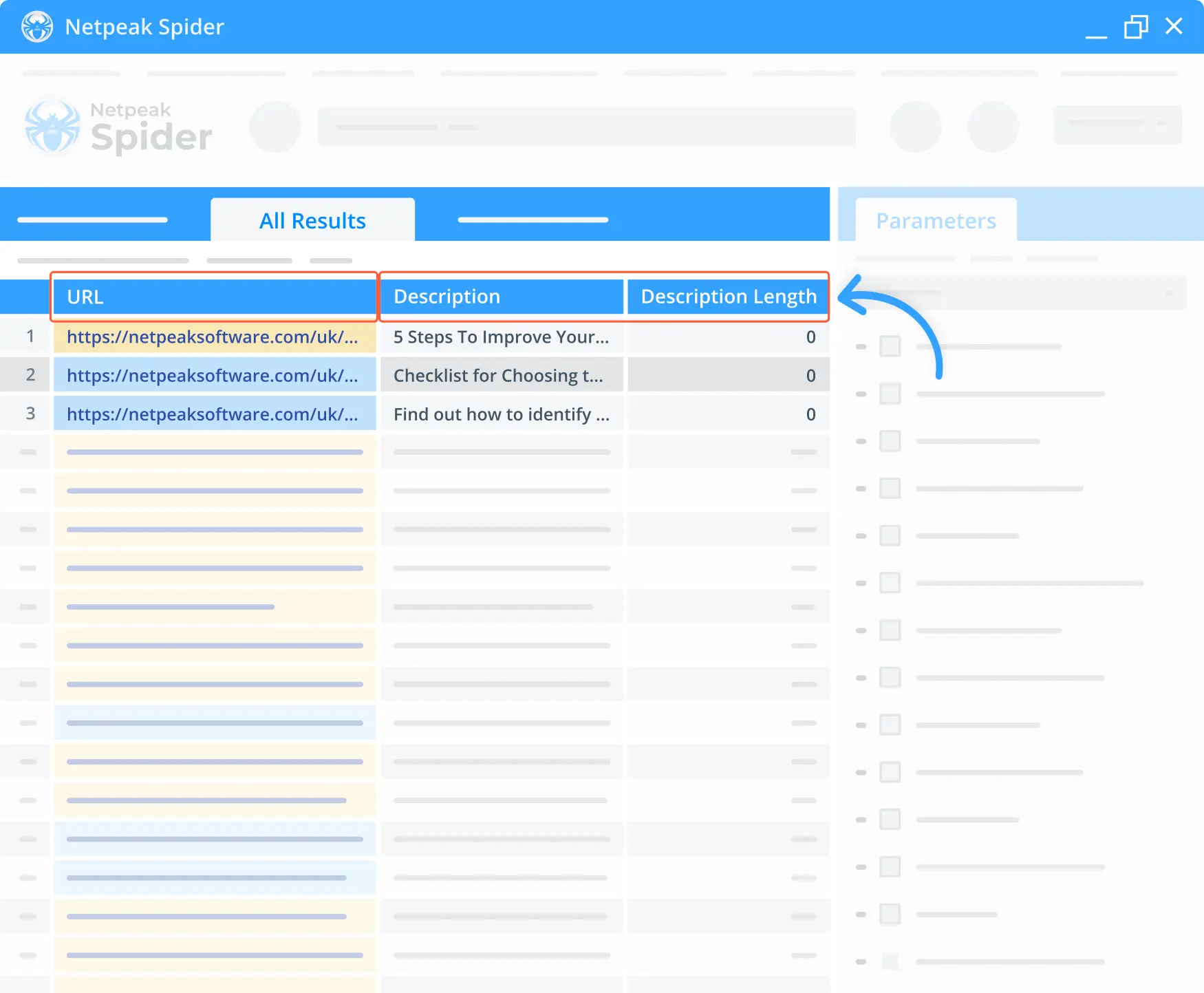 Description length
Check the description length (i.e., the number of characters) on any requested page in a few moments. Netpeak Spider also allows you to add multiple links, so you can check several meta descriptions simultaneously.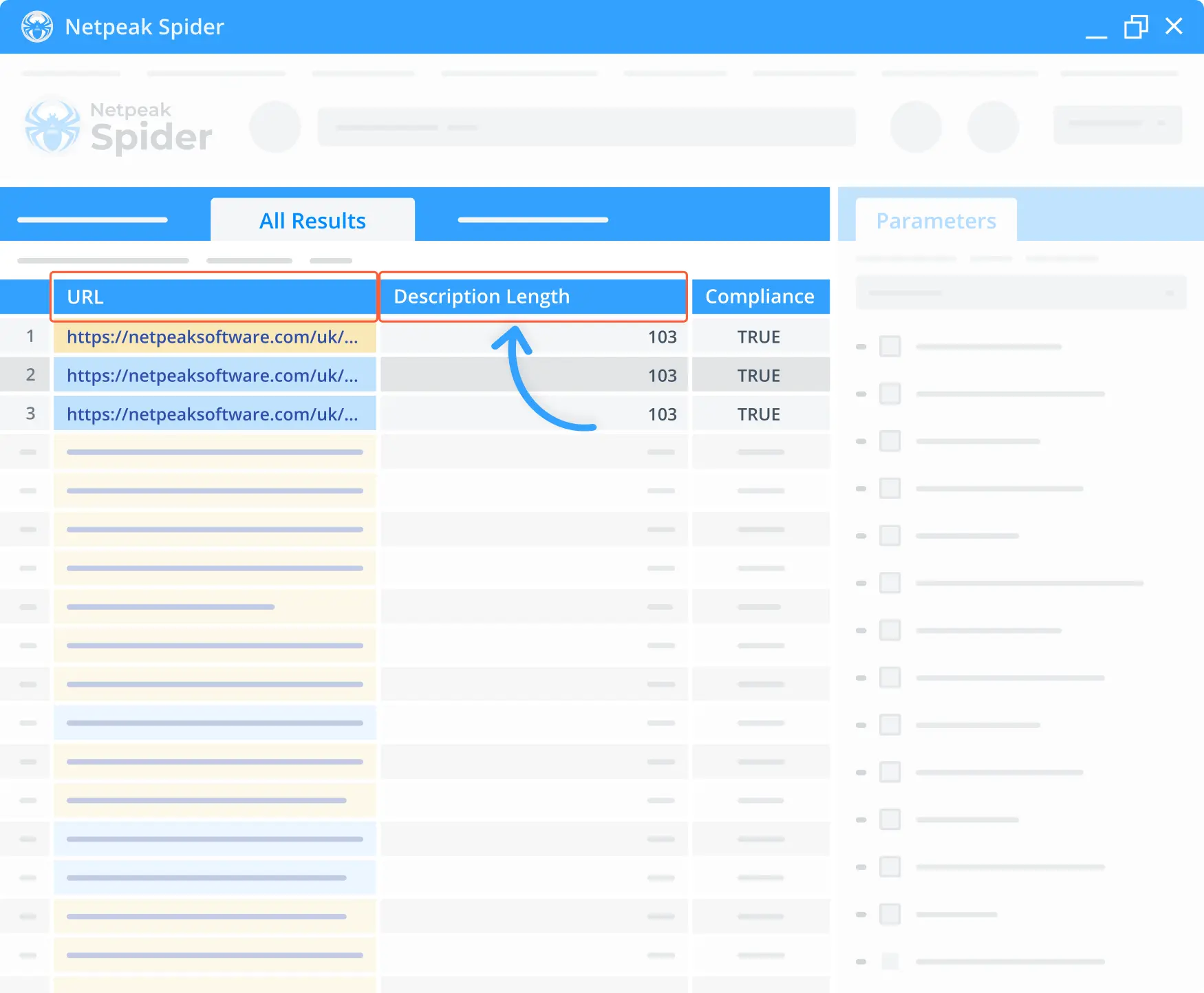 Duplicate descriptions
Our website meta description analyzer detects all pages with identical (i.e., duplicate) <meta name=" description" /> tag content. The tool gathers such links in the analytics report by the 'Description' parameter.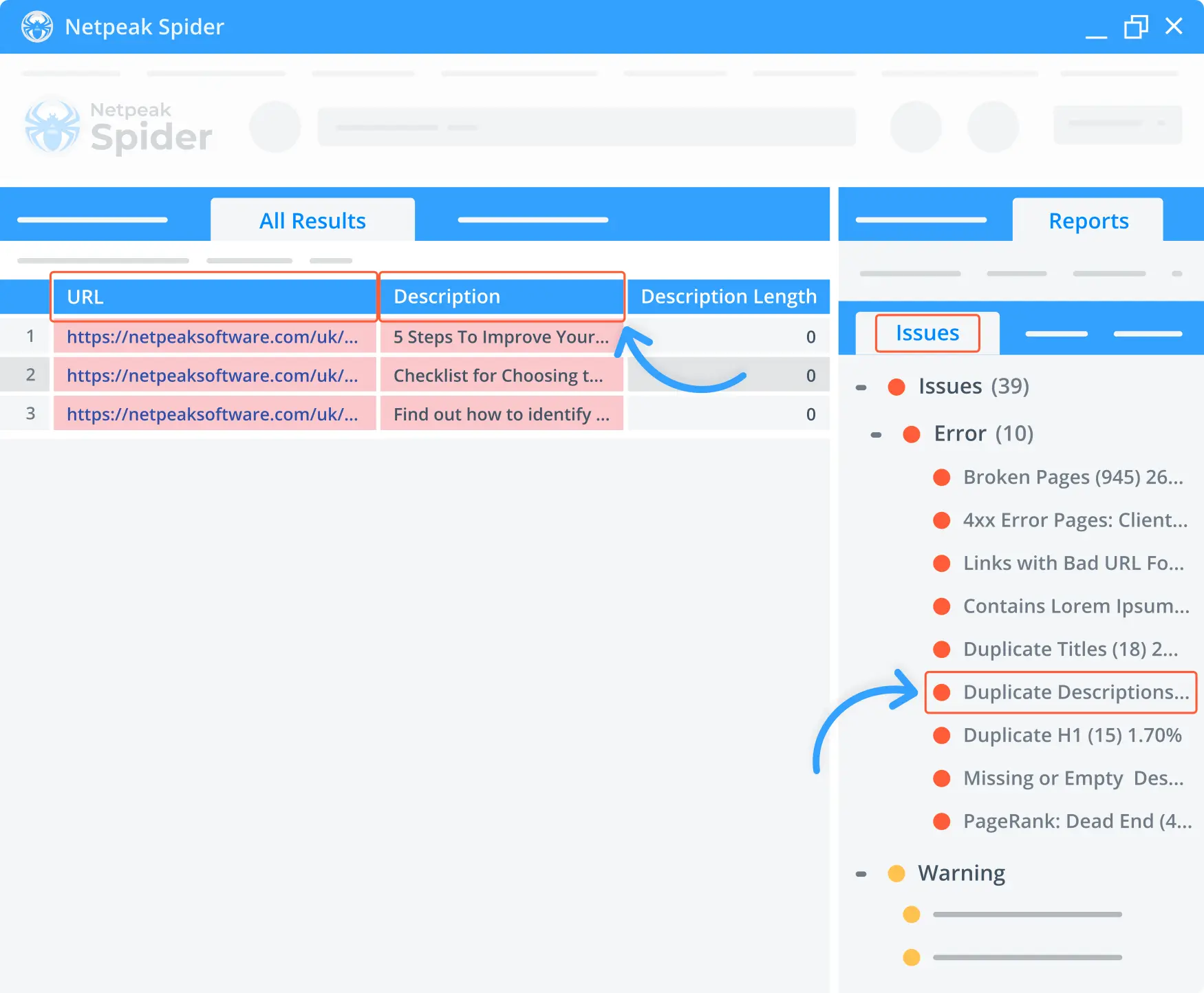 Missing or empty descriptions
Our app indicates all pages with an empty or missing <meta name=" description" /> tag.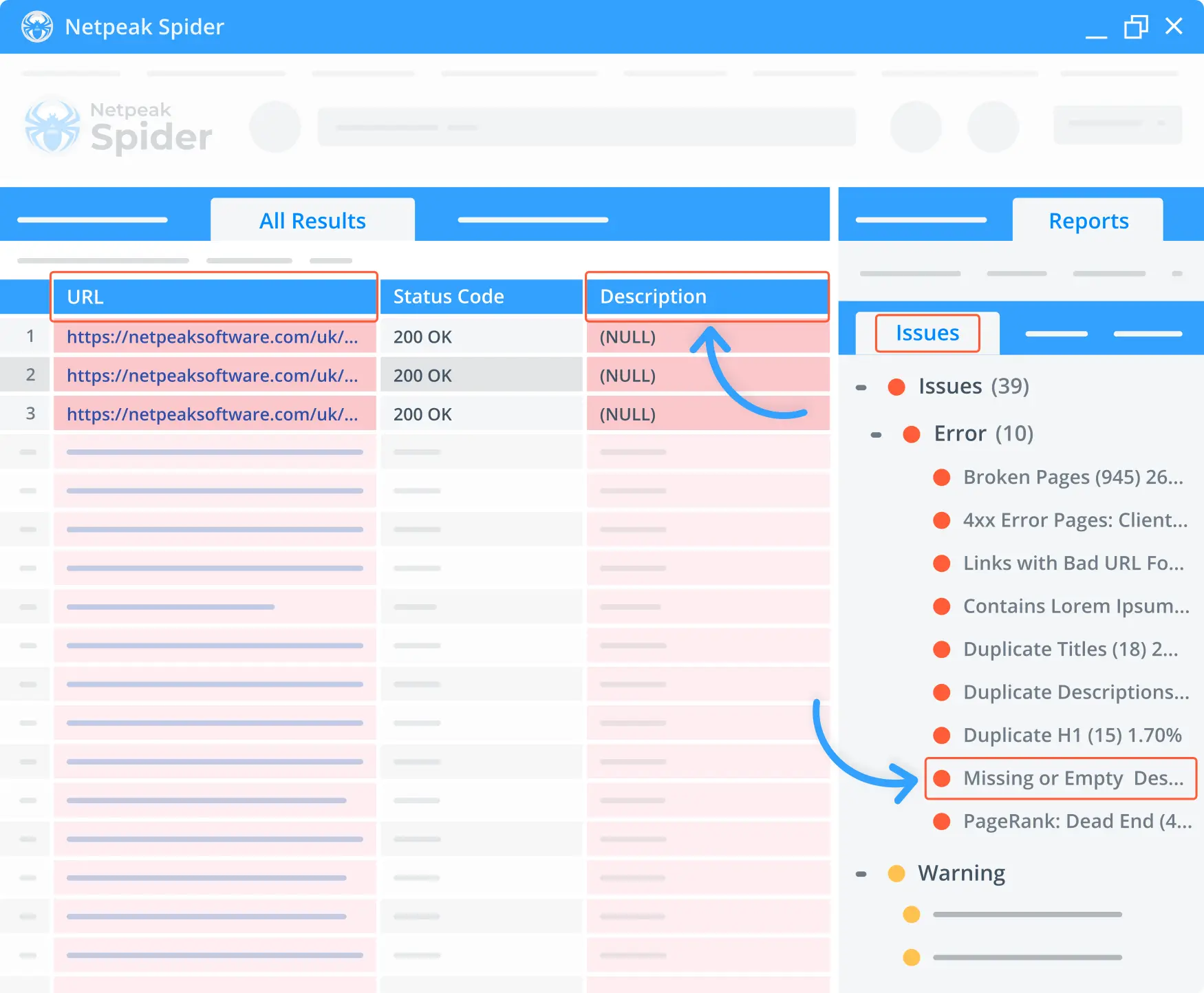 Multiple descriptions
Netpeak Spider detects all compliant pages that contain more than one <meta name=" description" /> tag in the <head> HTML section. This information is available in the "Warnings" section on the right side of the app's window.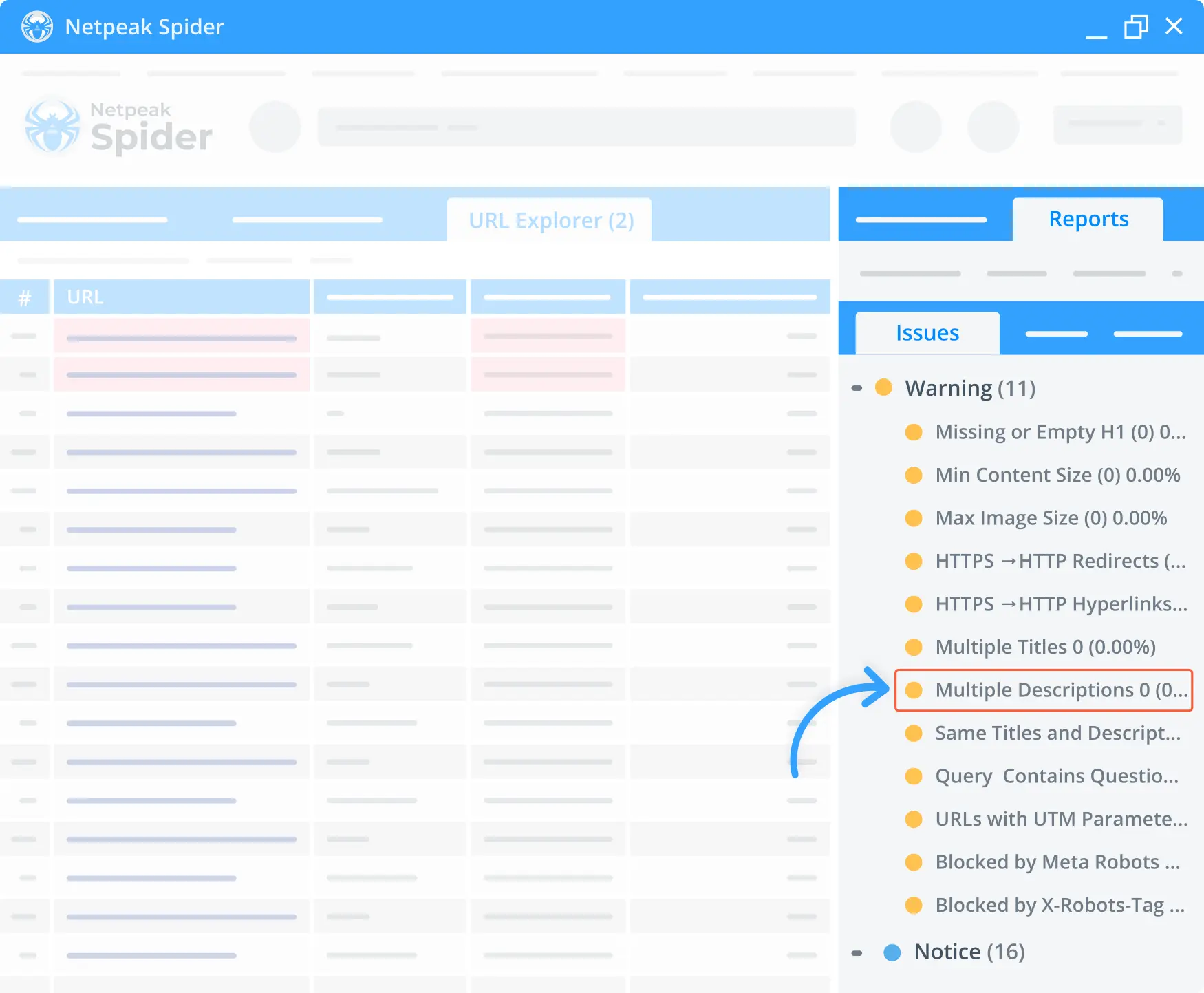 Short description
Our meta description length checker shows pages that contain less than 50 characters (by default) in the meta description. It's also possible to change the recommended meta description length in the 'Restrictions' section.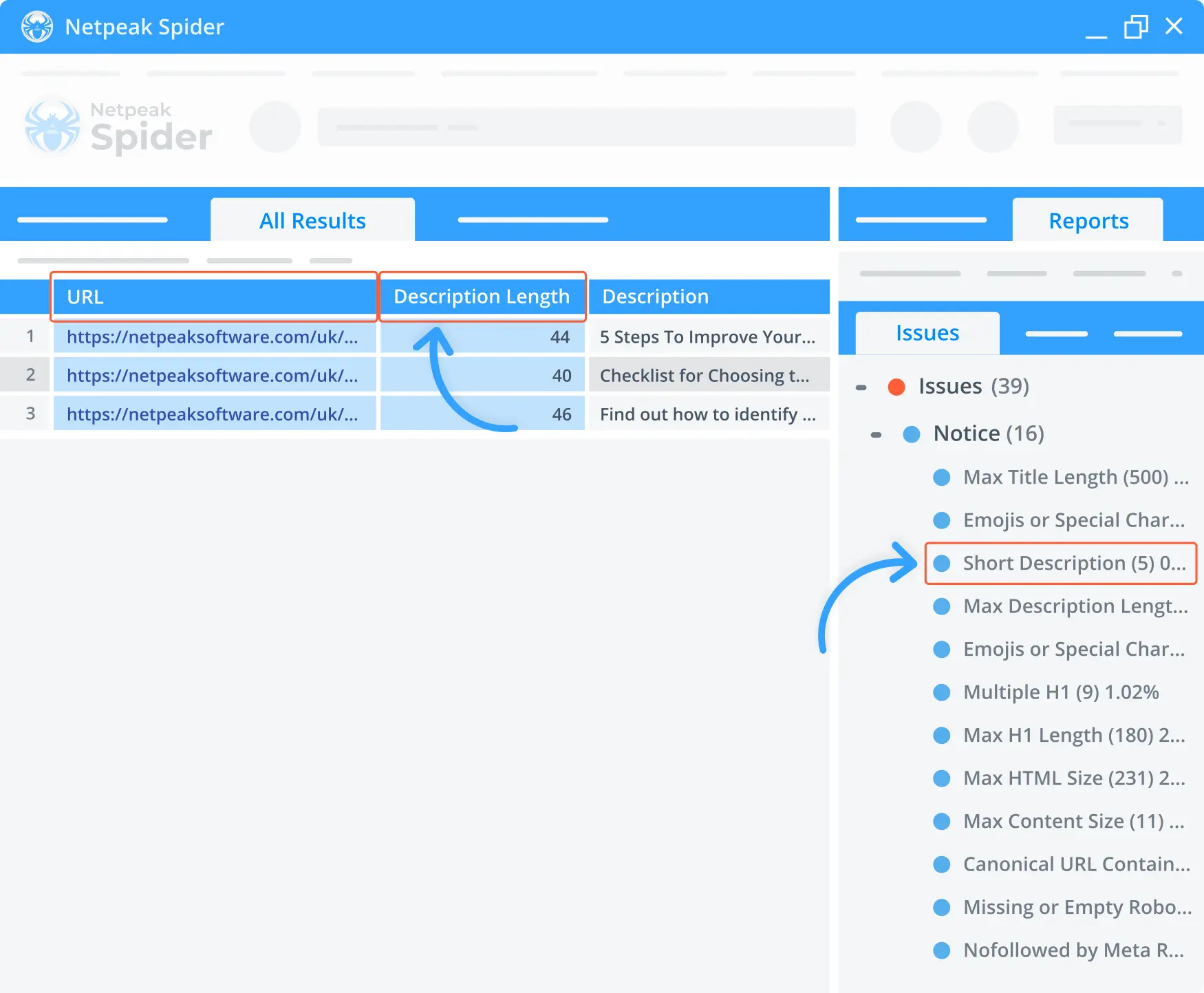 Getting a thorough SEO audit
Apart from meta description character count and detecting empty or missing tags, Netpeak Spider provides plenty of essential SEO analytics. For instance, crawling and indexing, Google Analytics and Search Console data, information on the head tags, content, etc.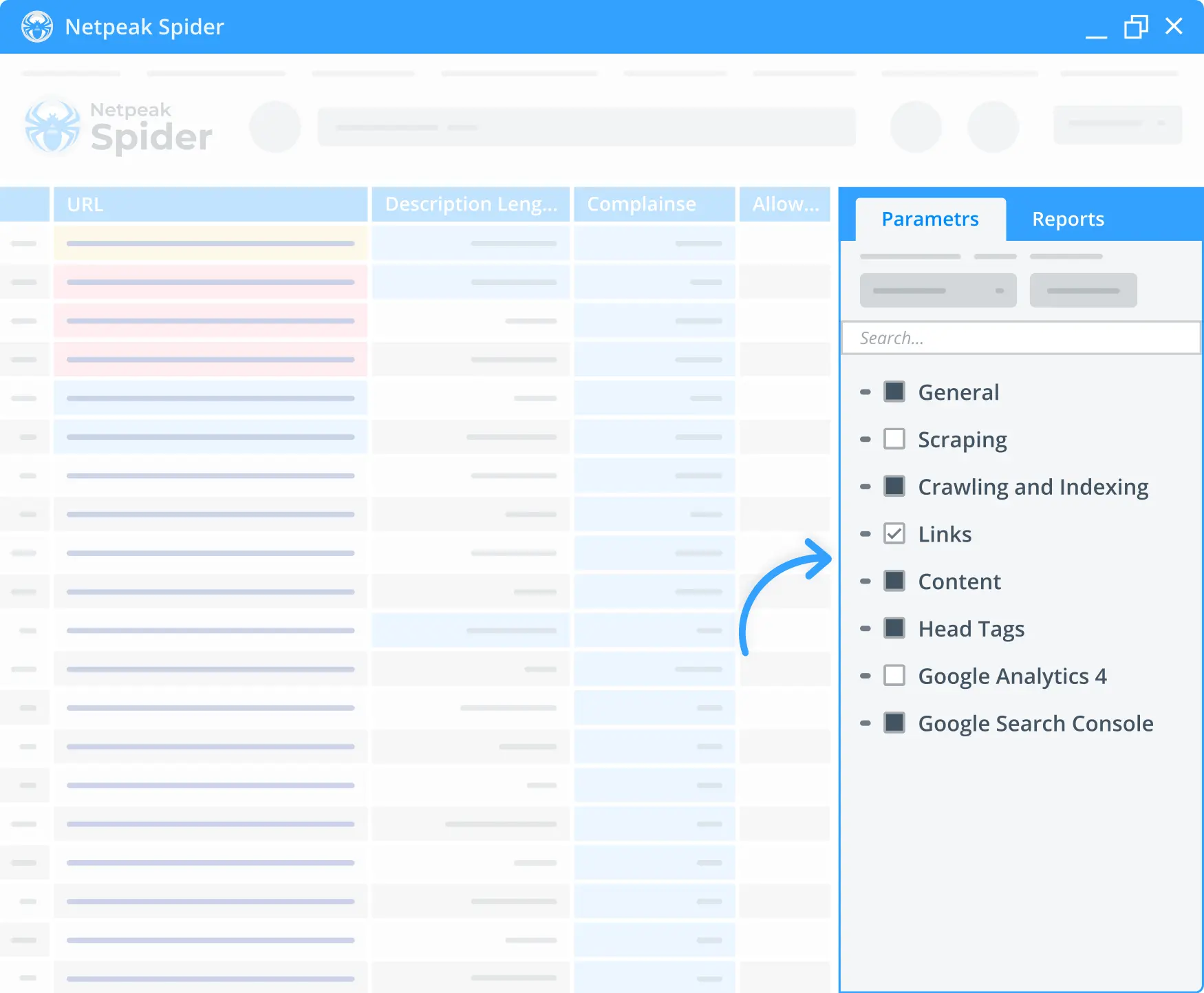 Try Netpeak Spider and boost the quality of your meta descriptions for better SEO performance
Netpeak Spider helps you ensure you've got the ideal meta description length, no missing or empty tags, and that they don't contain any other critical issues. Try the app and improve your SEO stats — get a free trial and improve your website rankings now.
Save up to 20%. Cancel anytime.
How our meta description checker works
1.

Launch Netpeak Spider and select the parameters to crawl the domain

Download our meta description tester and activate a free trial. Add as many links as you need to analyze. Select the necessary parameters on the right side of the app's window and click the "Start" button to set up the crawling process. In this case, check "Description" and "Description length". Click "Start" to launch the crawling process.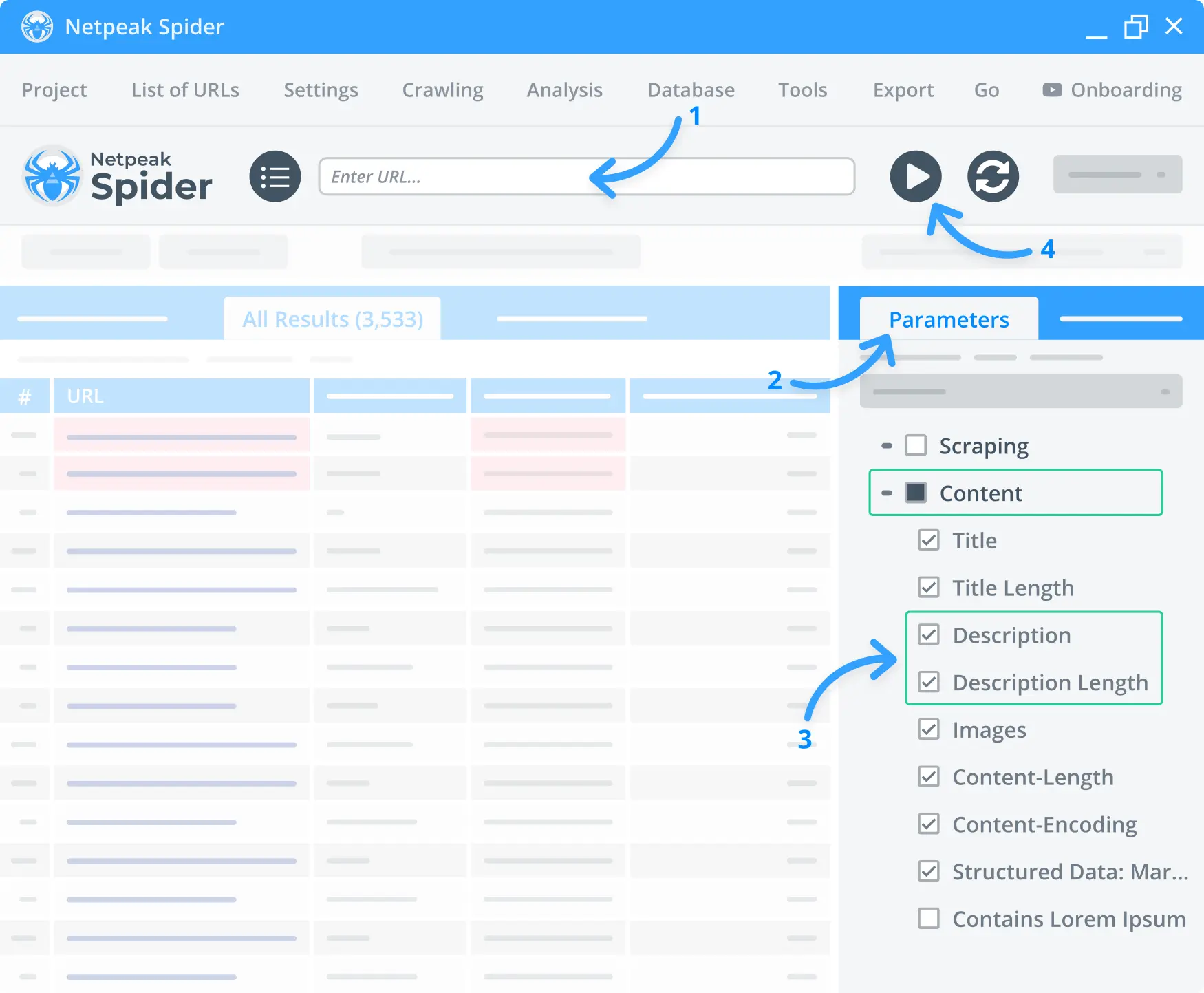 2.

Check out the analysis results

The meta description check takes just a few moments. Check them out in the "All Results" section. It's available at the top of the app's window.
3.

Export results

After you test meta description tags, it's possible to download the check-up results using the "Export" section on the right side of the app. You'll receive the analysis results in a convenient file format and can use it for your SEO or business needs.
4.

Detect meta description issues

Netpeak Spider shows any issues related to meta descriptions on requested URLs. For instance, it detects duplicate description tags.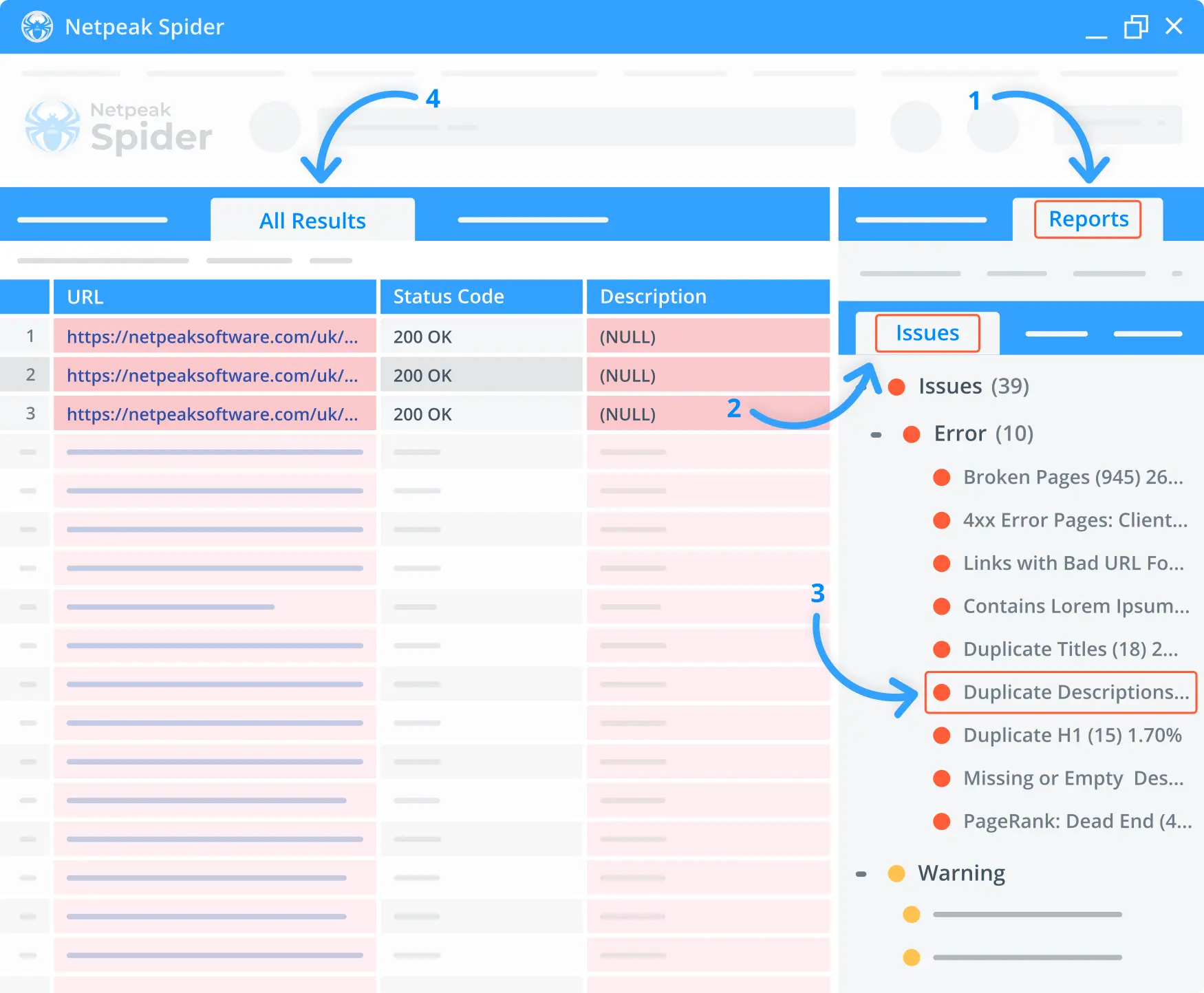 5.

Download the issue report from the app

Use our meta description checker tool to download issue reports. Check "Current table results" in the "Export" section and receive them in a table format as a single file.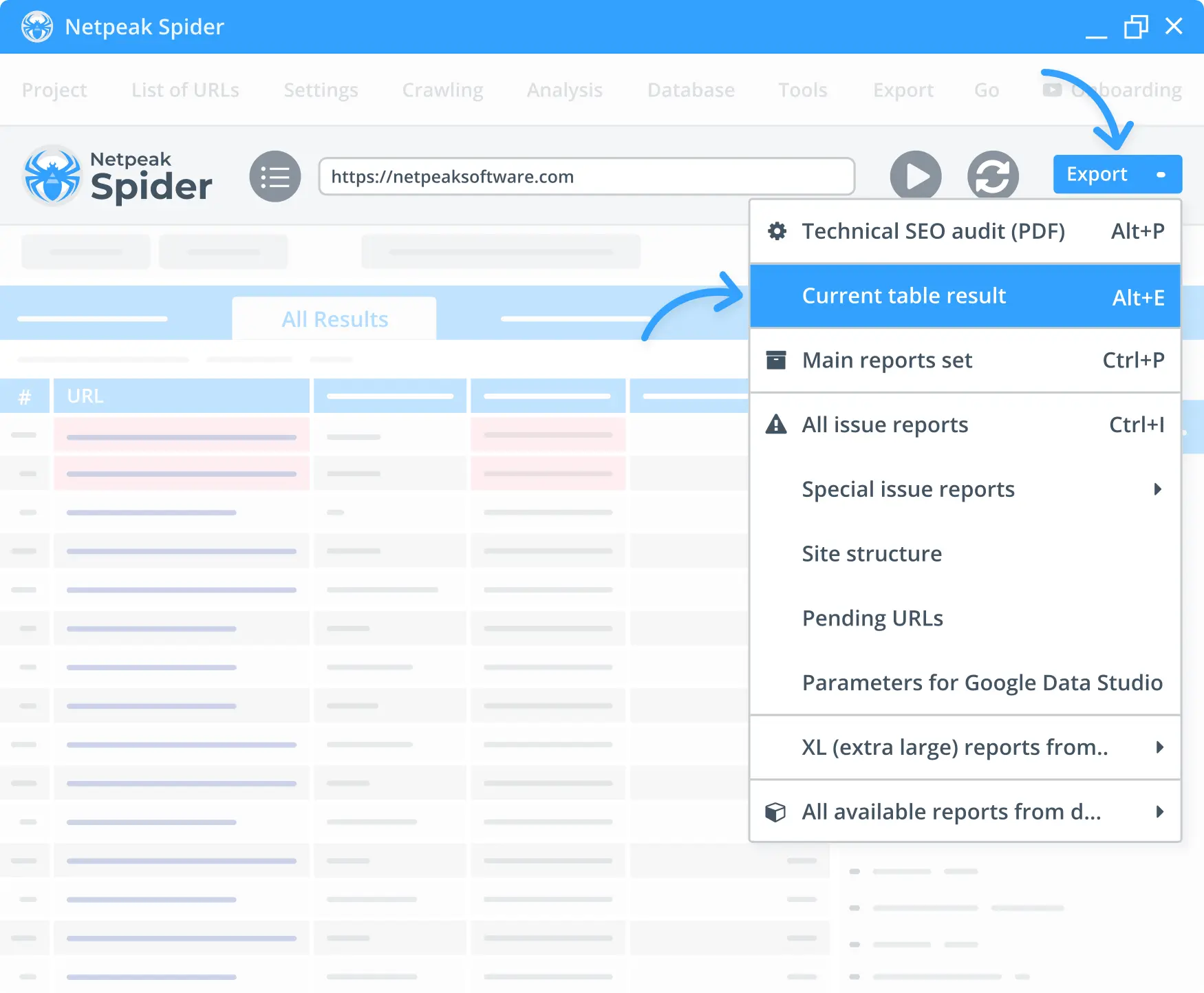 6.

Analyze other issue reports with Netpeak Spider

Apart from meta description issues, Netpeak Spider provides issue reports on plenty of SEO-related parameters: broken redirects or pages, duplicate H1s, client errors, and many others. As a result, you receive a deliberate SEO report in a few moments.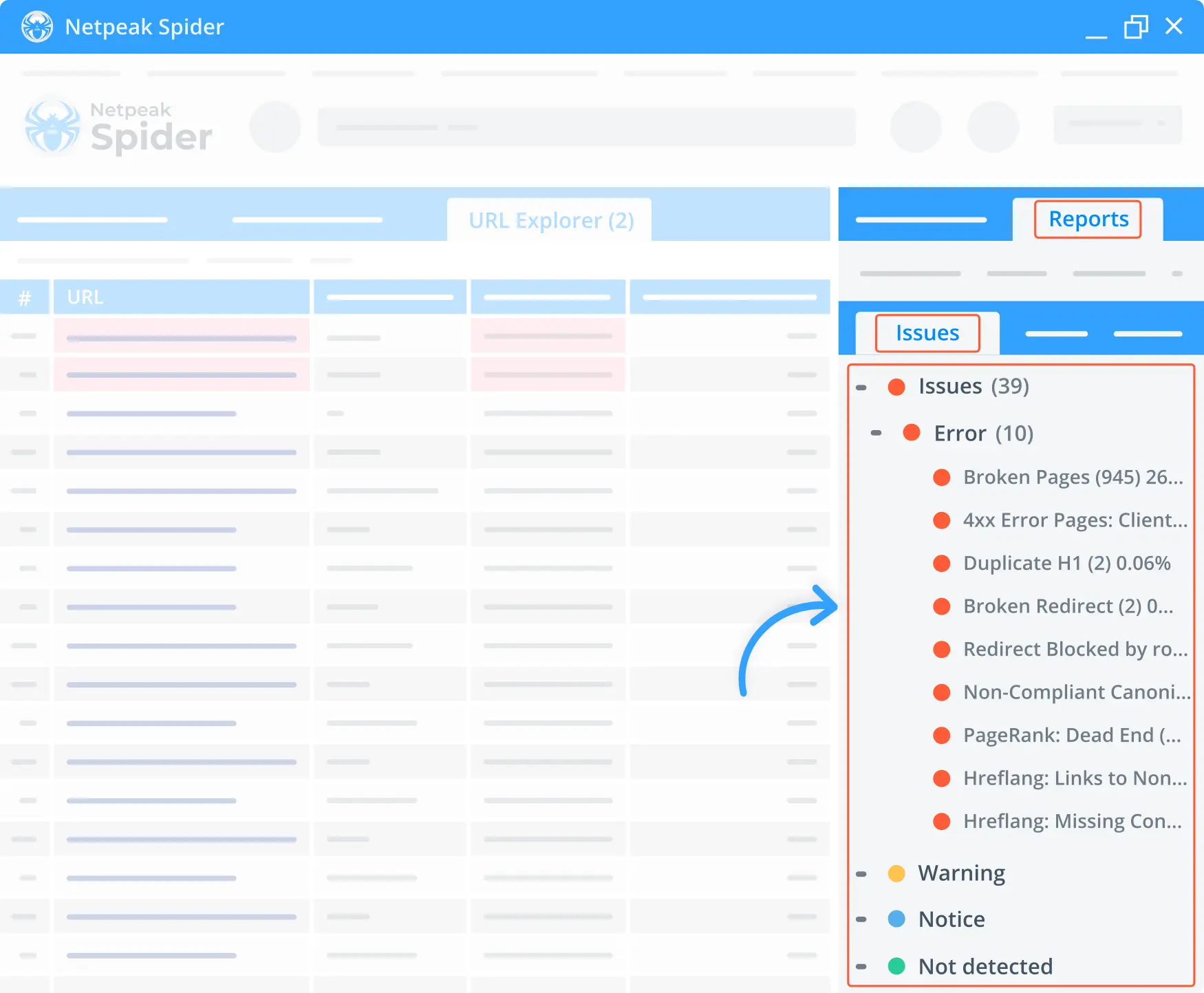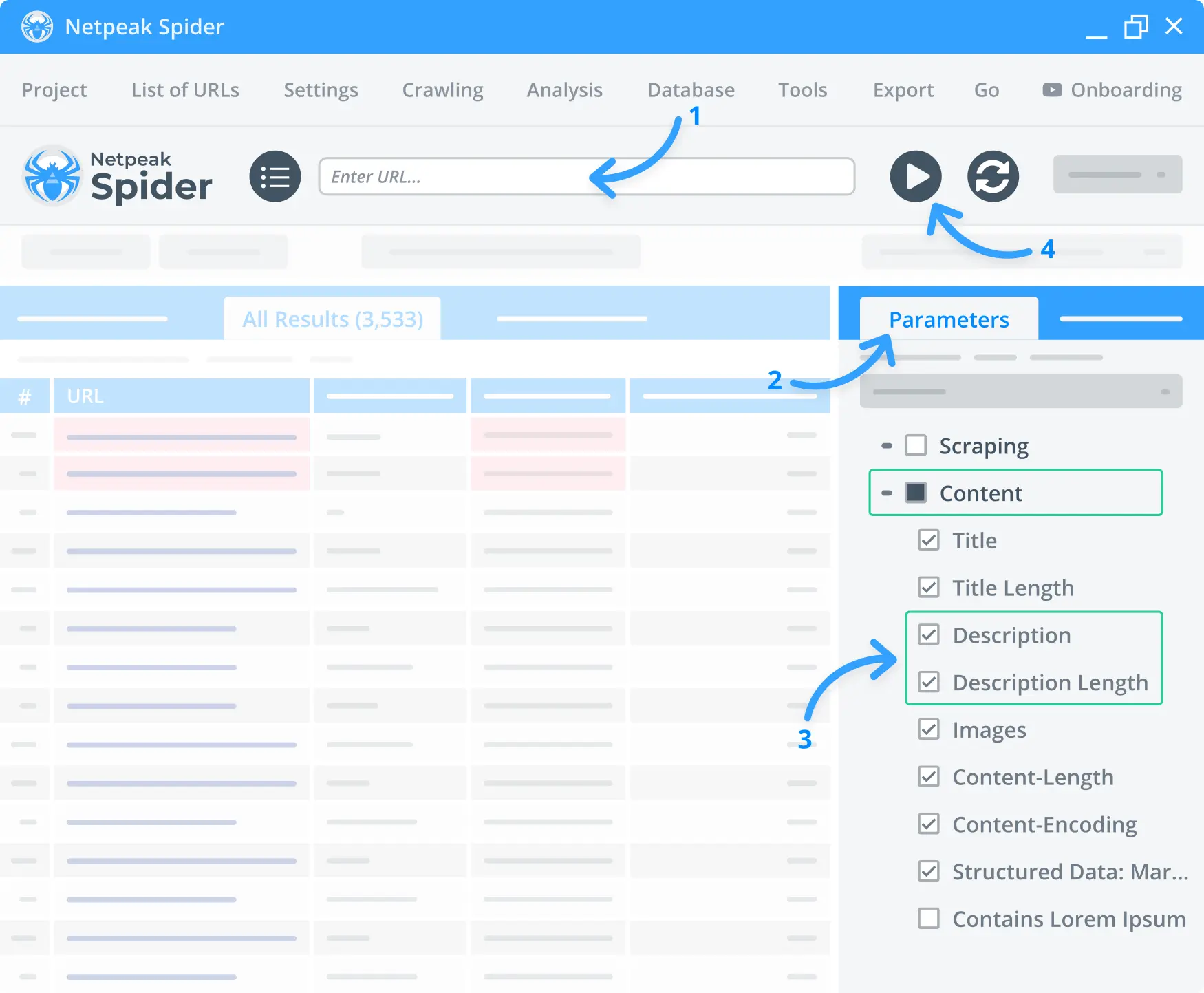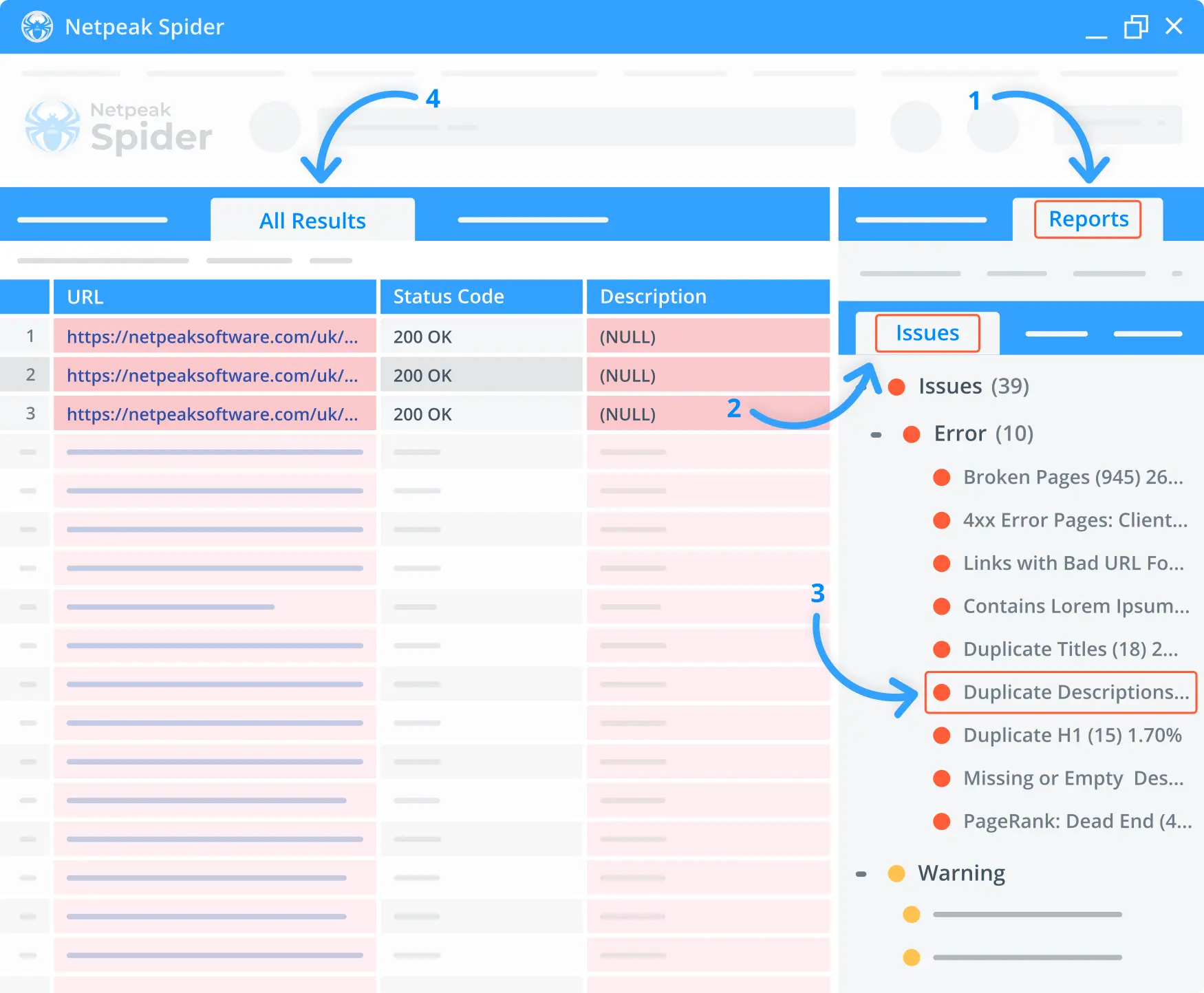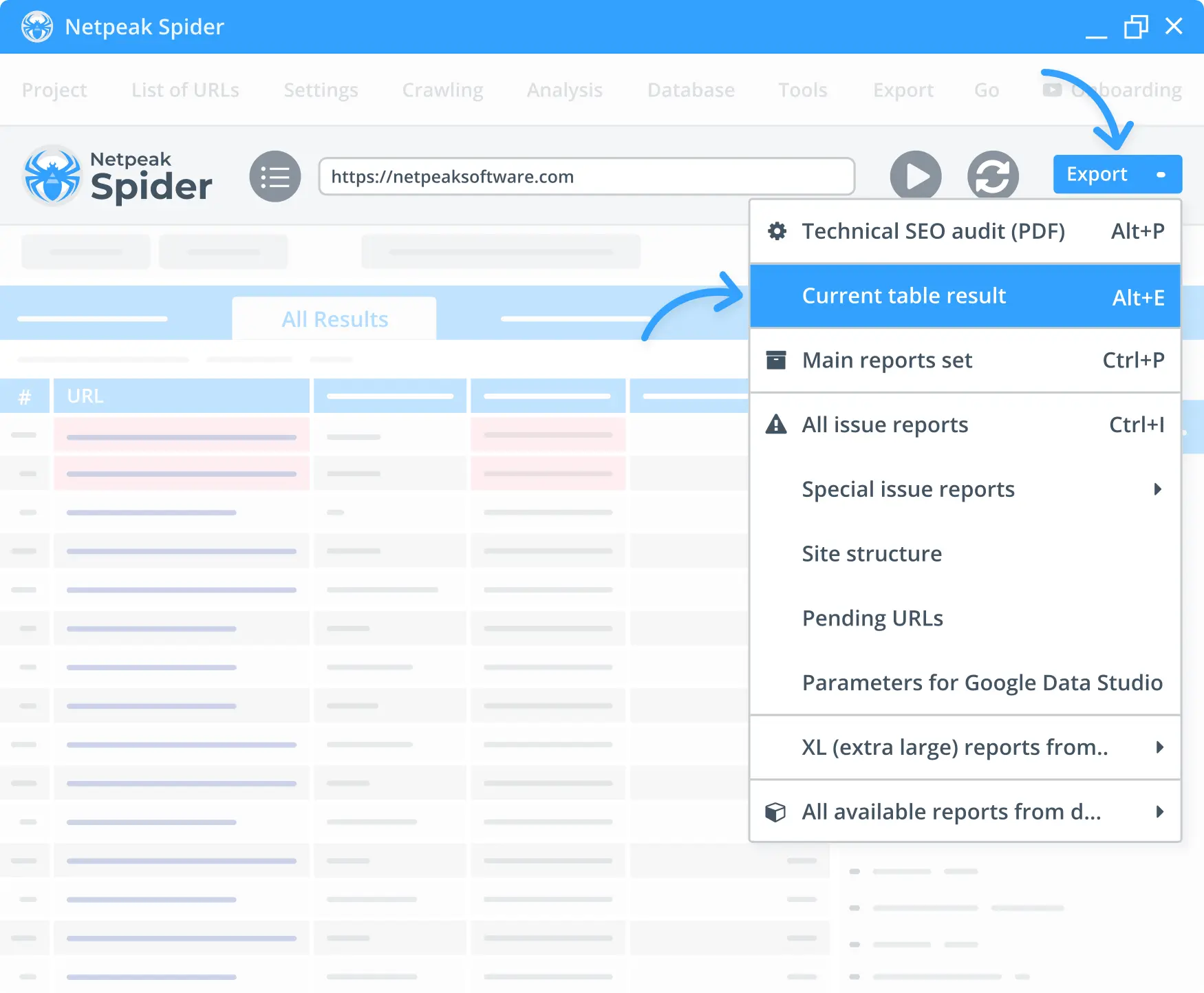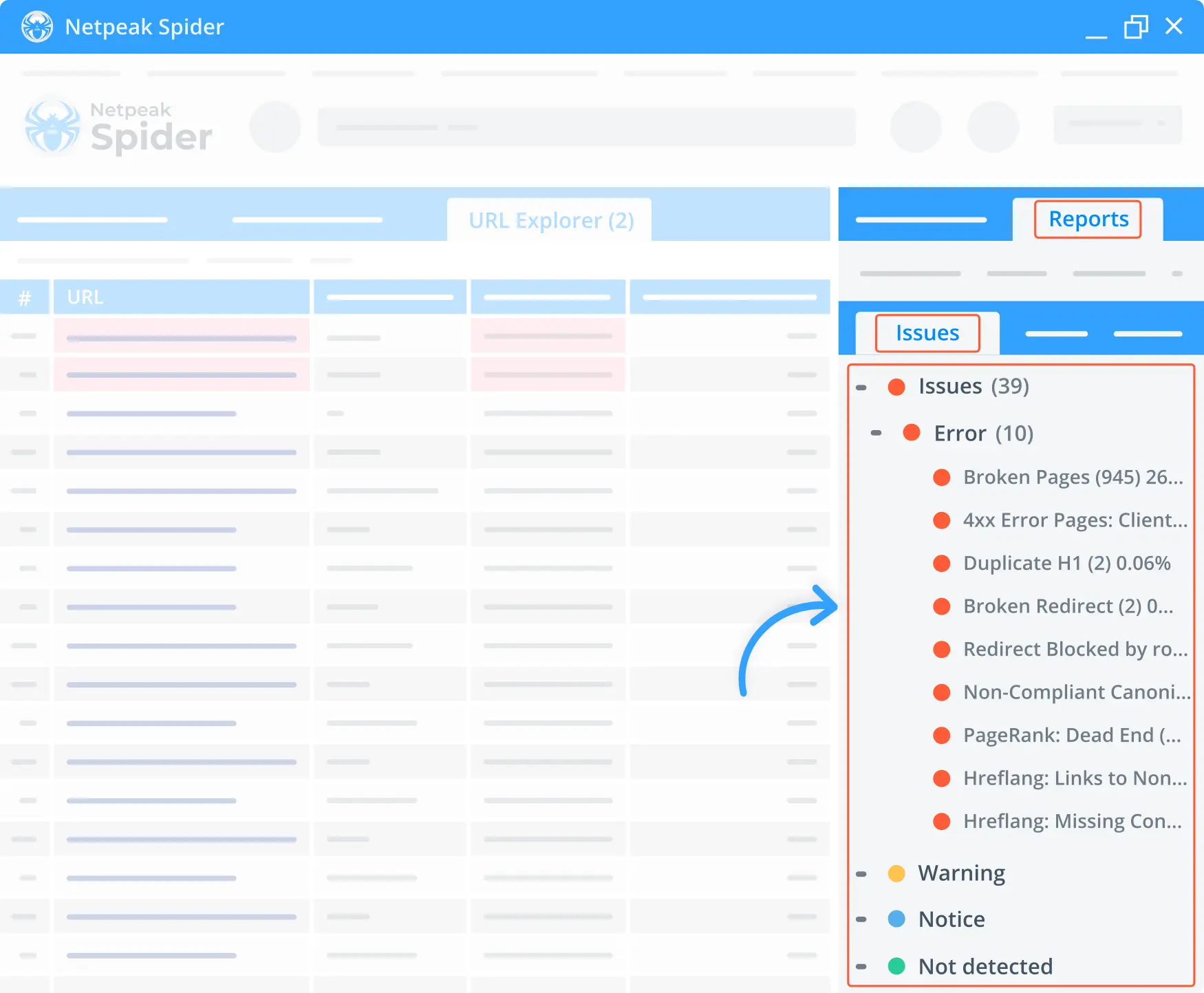 Why our clients choose Netpeak Spider
Our numerous awards and reviews speak for themselves. Learn what industry leaders and top specialists appreciate about our tools
See all reviews