How to Start Link Building from Scratch
How to

While creating high-quality content can and will get you traffic, it'll probably receive much visibility in organic search if it's being hosted on a domain without a reasonable amount of link equity from external sites.
Due to the time-consuming process of acquiring valid contextual links from a number of sites and the low acquisition rate of getting other sites to link to you, Google has placed substantial weight on external linking. Once you've created good content, you will need to find ways of amplifying it across the web.
That's why link building has turned into such a unique art form. SEOs' and digital marketers tasks with link building often shrug their shoulders and see it as grunt work or a necessary evil, but it's simply because they don't usually have an idea of where to get started. In this post, we'll cover some basic link building tactics to help you get started.
1. Link Building Metrics and Terms
First of all, let's talk about basic metrics and terms for link building. They help you to evaluate links and understand if they worth your efforts. So how do you evaluate which links to pursue first? Apart from the dofollow and nofollow HTML tag most link builders wrongly concern themselves with, there are a couple of metrics SEO specialists often look to as tried and tested methods of finding high-quality links.
1.1. Page Authority
Google keeps its link metrics a pretty well-kept secret since the removal of page rank. To help SEO's find linking opportunities 3rd party service providers have created their priority link metrics for evaluating the quality and influence of a page.
Moz provides several metrics that you can use to evaluate a page starting with page authority, which refers to the individual influence of the specific page. It predicts how well a specific page will rank on SERP. Page Authority scores range from one to 100, with higher scores corresponding to a greater ability to rank.

1.2. Page Backlink Profile
Page authority is heavily influenced by its individual metrics such as the links it's receiving from other web pages and how many root domains are linking to this page. So while 2 pages may both have the same page authority the one with more links from a wider variety of root domains may be the better fit.

1.3. Domain Authority
Domain authority is a great metric to start finding high-quality pages to link from since this is the overall rating score for the entire site. If a site has a high domain authority it also helps pages by inheriting certain link equity merely by living on the domain.

1.4. Citation Flow
As I've mentioned earlier, third-party SEO tools have the metrics they use to determine the value of a link. Majestic SEO is another popular link evaluation tool, and it provides two important metrics one called 'Citation Flow' and the other being 'Trust Flow'.
Citation flow is a number of predicting how influential a URL might be based on how many sites link to it.
1.5. Trust Flow
Trust flow is a number predicting how trustworthy a page is based on how reliable sites tend to link to trustworthy neighbours.
1.6. Contextual Matching
While these static numbers may help you identify the possible influence a page could have by linking out to your site, it doesn't tell the full story of influence. The most important factor in any link building permit has to be the contextual relevance of the specific link.
You would need to look at the content and think:
Would linking from this post make sense to a user?
Would your referenced link benefit the reader if it were to be added to the page?
Would this post encourage natural exploration of the linked content?
If your answer is yes, then this is more often an ideal link to add to your profile.
Search engines are always looking at ways of improving the quality of their results, and since link building counts for a large part of their calculations, they do not take lightly to those trying to game the system.
1.7. Link Equity Dilution
Each page on a specific site offers its own level of link equity that is passed on towards out-linked pages.
When evaluating a page for an ideal link opportunity, it's essential to consider the number of links and the possible value it can pass on to your website when compared to your other targets.
1.8. Anchor Text
Now that you've identified the ideal pages you're looking to build a link from, you have one final task, and that is to select the specific text you want to be hyperlinked.

This could be a:
Brand name
A high volume keyword
A long tail keyword
A popular search phrase
In addition, try to avoid linking terms that offer you less relevance like:
Finally, the anchor text you choose should also make contextual sense for the user that when they click through, they will find a page with relevant information.
2. Link Diversification
So while metrics like Domain Authority, Domain Rating, and Trust Flow are great indicators of the equity you will receive from a specific site, the more important aspect is having a healthy diversified link profile.
2.1. Local Links
The best place to start is always in your backyard since the people you will contact are locals, you speak their language, you can relate to one another, and this can lead to more opportunities than a simple link.
Start by looking at local businesses, bloggers, directories, community forums, and small independent news sites that cater to your local geographic area, city or province.
These links will form the basis of your outreach, and it offers the unique opportunity to relevant contextual backlinks that can include highly relevant geolocation queries such as 'Product/Service in City name'.
2.2. Contextual Links
Once you've started to reach out to your local community it's time to broaden your reach by looking at publications, blogs and media mentions you can leverage.
First, you can start with non-linked brand mentions, if a site as written about your brand but not linked to your site, enquire if they would be willing to include the link.

You can use Google Alerts to track your mentions or some paid services like Mention.

Also, if you have time, you can always check SERP yourself. Use the 'Tools' tab and select the necessary time of SERP result appearance or verbatim search.

Second look for sites that aren't your competition but have written about the product or service you provide. You can then make contact with these sites and ask that you be referenced as a service provider for the product or service mentioned in the article. You can find these resources by:

Checking Google SERP manually with your keywords
Using 'SE Scraper' in Netpeak Checker


Using 'Keyword Research' in Serpstat
Using 'Content Explorer' in Ahrefs
Using news aggregator (for example, anderspink)
SERP scraping is a Pro feature of Netpeak Checker. To have access to this and other Pro features such as estimation of website traffic and export to Google Drive / Sheets, you need to subscribe to Netpeak Checker Pro plan.
Keep in mind to evaluate potential backlink resource with metrics mentioned before. Also, you can use SimilarWeb and check out 'Monthly Visits'.
2.3. Related Content Links
This is where you will need to get a little more creative with your approach, but there is often plenty of room for growth in this area. Start by reviewing the best performing content on your blog. Then take the topic you've written about and search for related content that mentions the concept or areas of the concept you've written about.
Once you've built up a list of content, you feel your post would compliment nicely as an additional resource you can then start to make contact these sites. Offer them your resource and ask if they would be willing to reference it as an additional source in their article.
Editor's note. If you struggle with good outreach, this example can inspire you ;) We received this outreach letter for backlink a long time ago, but it's still in our 'golden collection' of nice letters. Click on the image to get a good read.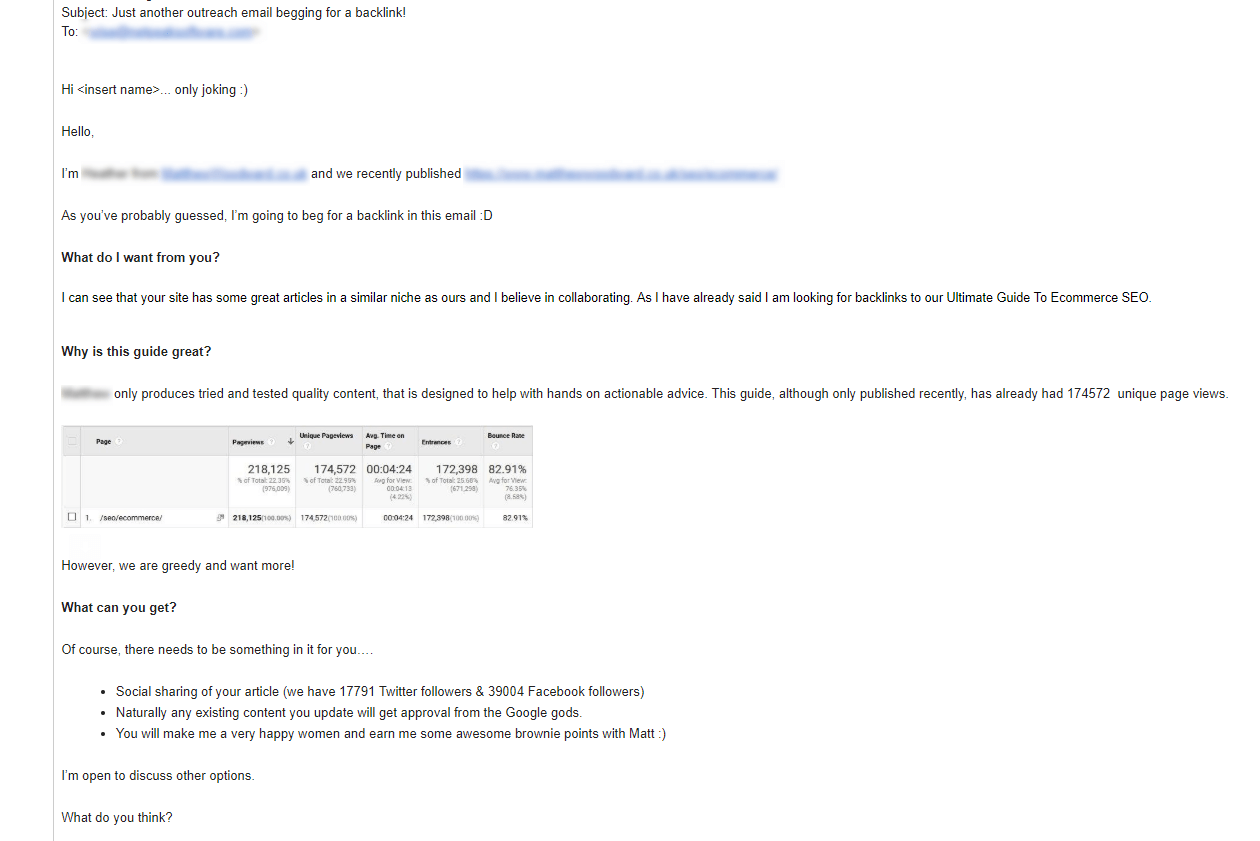 2.4. Press Releases
Now that you've built up the confidence and feel you're ready to tackle larger publications you can create a press release and start contacting journalists of various publications to pitch an idea for your story.
If you don't have the contacts or you're having trouble getting your foot in the door, enlisting a PR agency to help syndicate your story is a costly but viable option.
2.5. Link Building with Media
It's all good and well to propose other sites to link to you because of a great article but really what's stopping them from taking the idea and creating a superior post? Very little in fact, so how do we entice sites to link to us if the content is very similar or easy for them to replicate? By using media of course.
Videos, infographics, audio/podcasts are a great way to encourage websites to take you up on link building opportunities. Since creating these media files aren't direct competition for their content and since take considerable time to replicate site owners are more open to linking out as it provides a unique complimentary experience for readers.
Protip! If you are planning to link using media, please ensure that your content is self-hosted on your domain. If you're using a 3rd party service SoundCloud or YouTube, it would be best if you created a page with the content embedded and using the URL on your domain as the referral link you pitch to websites.
2.6. Link Building with User-Generated Content
Creating unique content can be a tough task, especially for those who have limited content creation resources, which hurts link building. Sites aren't simply going to link to sub-par content because you ask them to, it has to be a good fit for their readers.

If you feel you cannot add value to a specific topic, then creating content that looks at specific subject matter from different perfectives is a great way to create a unique piece of content.
You could reach out to experts in your field and grab quotes to create an industry round-up on a specific topic.
You could curate Instagram/Twitter or Facebook posts reacting to a specific topic.
You could curate images, memes, YouTube channels to follow, podcasts that speak about a specific subject.
You could curate comments from your blog or social media posts.
By leveraging user-generated content, you can create a unique curated piece that can add value to a site and make for an attractive link building opportunity.
You can use this to reach out to sites you may have mentioned or to third party sites that publish this type of content, or your traditional link prospects you've found through research.
If you're looking for ways to growth hack your link building you could look at salvaging links via dead site link building.
2.7. Don't Put All Your Links in One Basket
It's not enough to get a link from one big media publication or purchase a few press releases since a system like that can be easily gamed. Google will not be fooled, and this is why link diversification is so important.
Search engines want to see your influence being spread across the web with you receiving multiple endorsements from sites in various industries and from sites with various levels of influence.
Since the diversity of links is so important, you also need to realize that not all links are created equal, and some may benefit your site more than others.
3. Link Building Is Relationship Building
Don't get discouraged when reaching out to sites, many of your recipients may not understand your query, dismiss it as spam or are simply too busy to consider your request.
Many of your outreach emails will never get a response, and I would say if you're getting between 5-10% response rate on them I'd personally say you're doing an excellent job.
On the flip side, however, from personal experience, the contacts I've made link building have become valuable assets and even long term collaborative partners so don't see your contact as a once off ask.
4. Summing up
Once you start to earning those first few links, you'll start to build up steam, become more confident, and refine your approach. You will see what works for each segment and hit your targets more often than not.
As those links begin to compound, you will not only see a jump in traffic over time but a solid stream of referral traffic, which is an excellent bonus for all your efforts.
And how do you diversify your link profile? Share your experience in the comments below.