Effective Link Building Strategy [Ann Smarty Talk]
From Experts

Our team visited 8P conference and recorded the presentation from Ann Smarty, founder of Viral Content Bee and Brand Manager at Internet Marketing Ninjas.
Creating Linkable Content – Educational Resources
The first thing we specialize in is the creation of educational content. We call it trust bait. Such links are supposed to be on the teachers' and professors' websites. These people usually are not involved in links schemes. They are too concerned about their content or are simply unaware of this. Google knows that links have never been sold on such site, so we get a very safe backlink.
There are several topics we use to create trust bait links:
children
safe ways for anything
eco topics
future, trends
Topics related to kids are just a gold mine. They immediately start getting backlinks, so we work on this topic first. For example, if a client has a business related to yachts, we write how navigation training will help your child. We write on all sorts of topics designed for children, given the client's niche. The point is that this content is aimed at teachers who are interested in it.
To find resonant topics, we study questions. Serpstat is a great tool for this. For example, you can type 'children', and you will see questions asked on this topic.
The second tool is BuzzSumo. It has special services for requests. They index Quora, forums, Reddit, Amazon. You will find a popular question on any topic.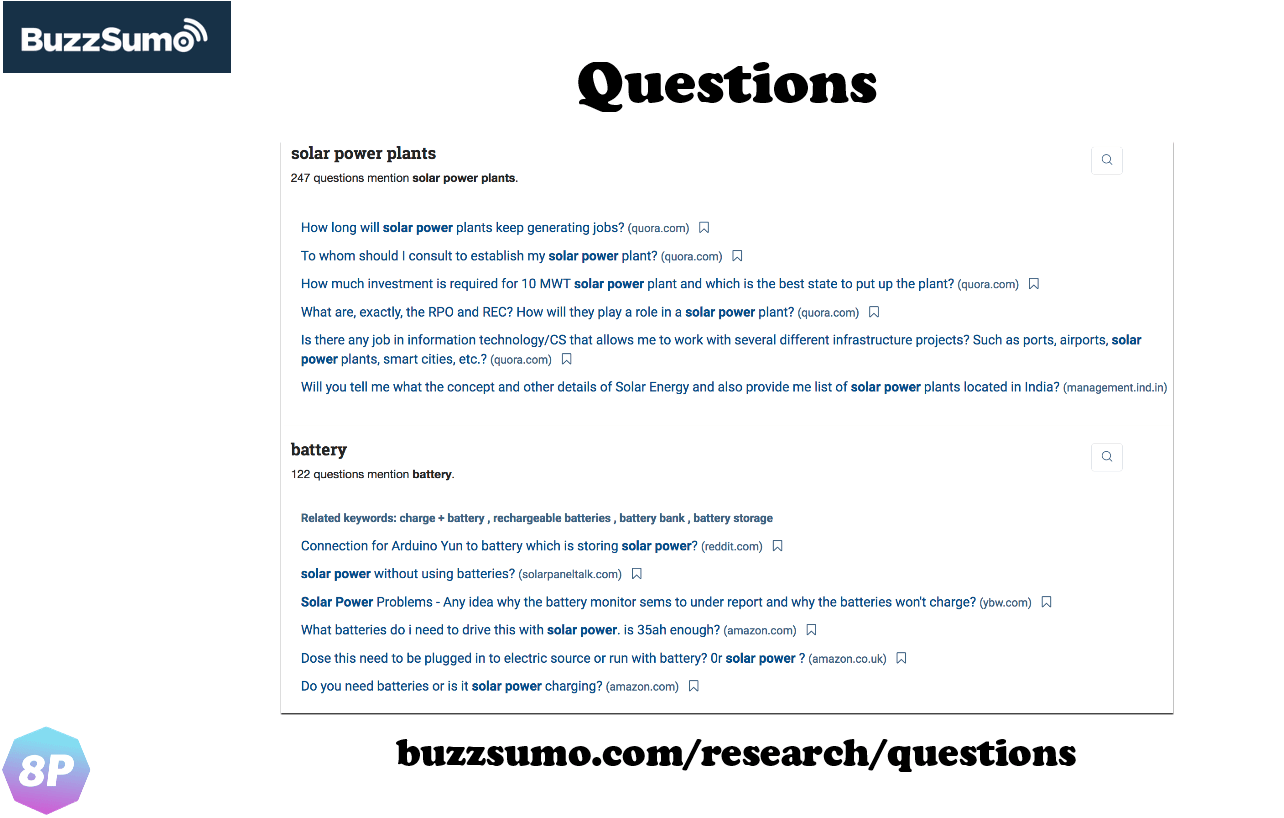 The Second Way of Creating Linkable Content – Ego Bait
This is all about vanity. The most popular way is to hold an interview. The point is to get a link from the expert.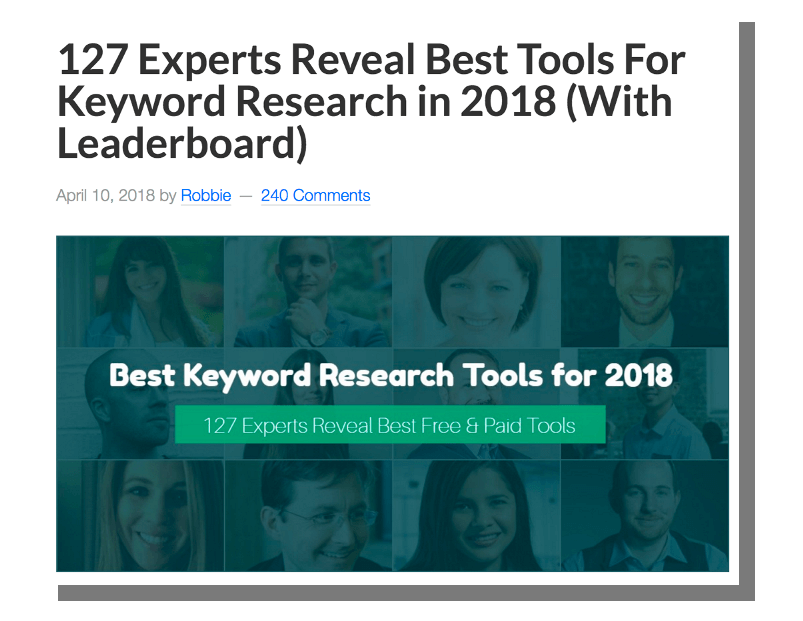 The second way is top lists. It's enough to select the best 100-200 in a niche you want to get links from, and then contact them.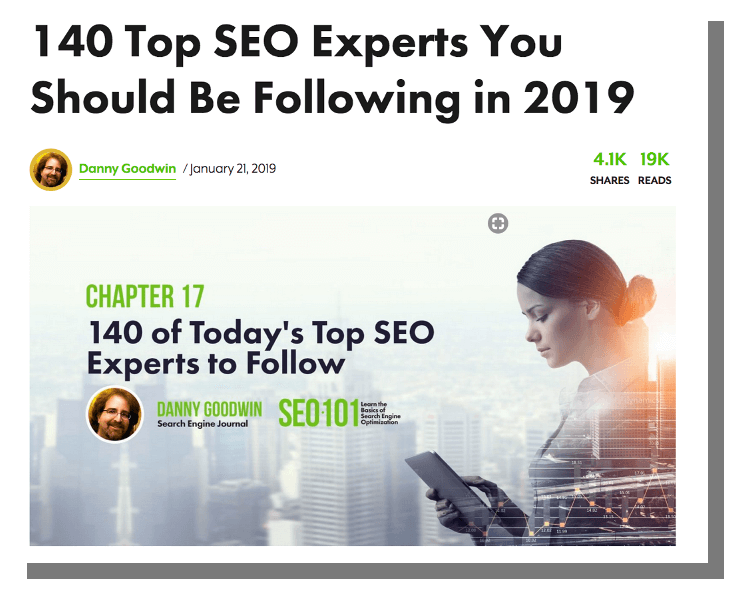 The more complicated way is ratings. They are more challenging to organize, as they need voting, but this type of content can be more successful.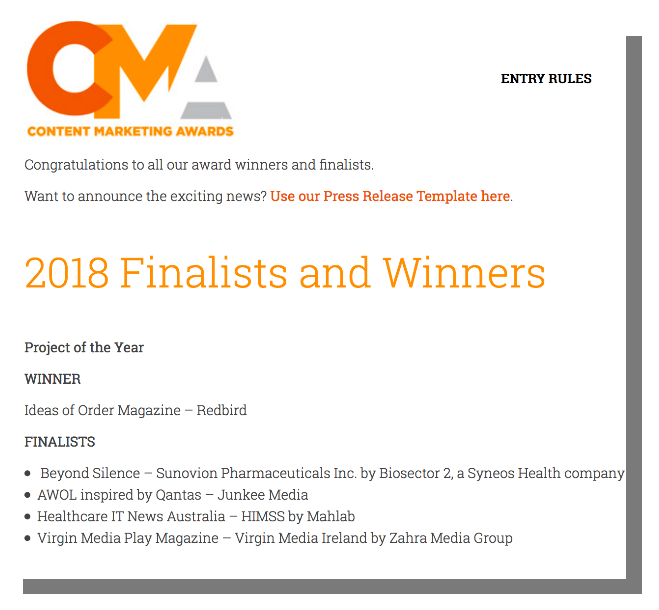 The last way is original research. It sounds harder than it is. You can use your own resources. We did so in the agency, using the statistics of our clients. You can use open sources. Here is the simplest example. Using Google Suggest, we analyzed popular search queries about different states, and put them on the map.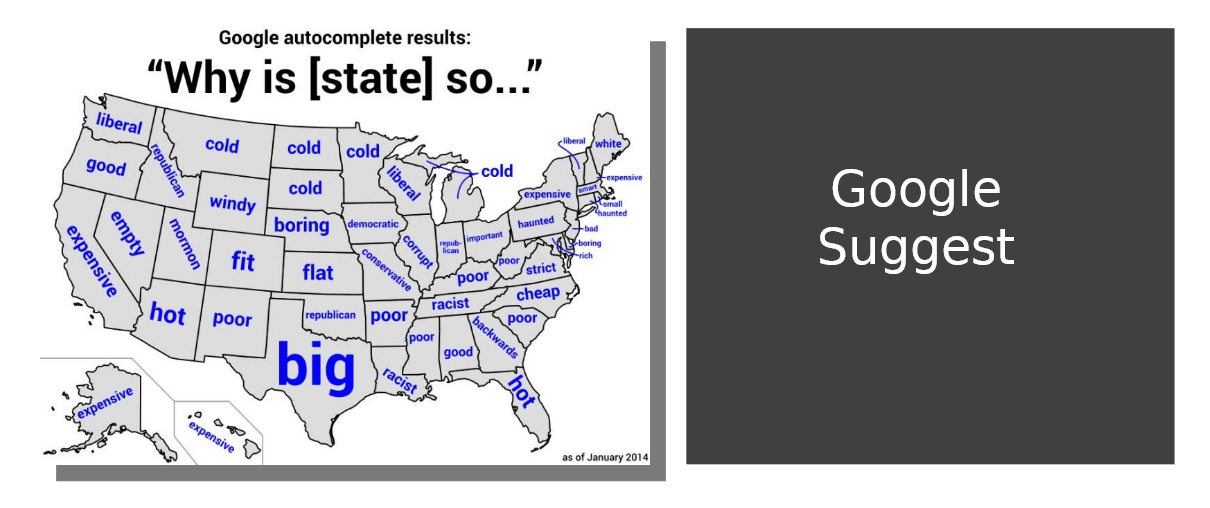 It turned out to be funny, and we got a lot of links. You can also do a research based on surveys. For example, if you need to do research on chocolate, you can ask such questions as how do you use chocolate to maintain productivity, and so on. There is a free resource on Reddit where you can post your research and ask people to complete it, or you can use services like SurveyMonkey.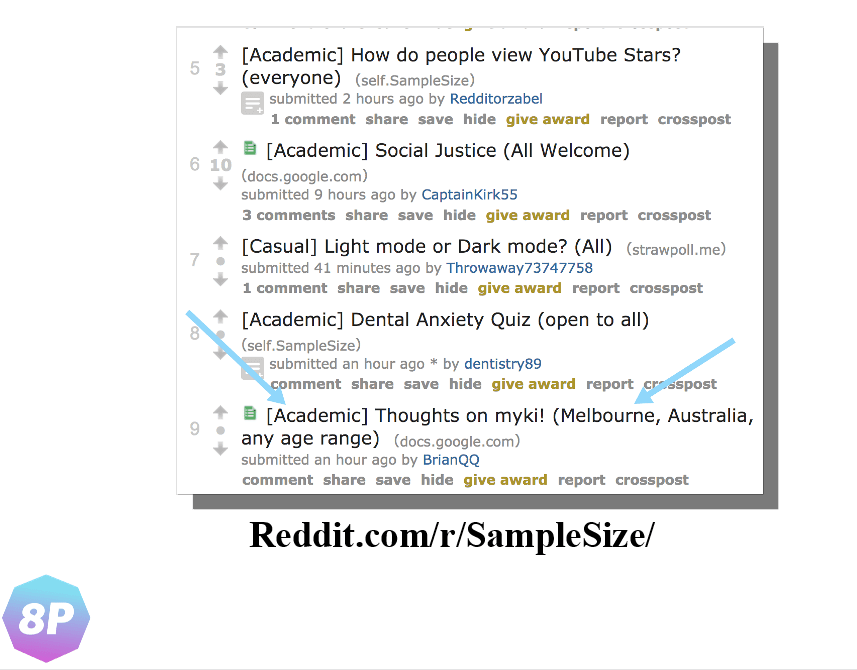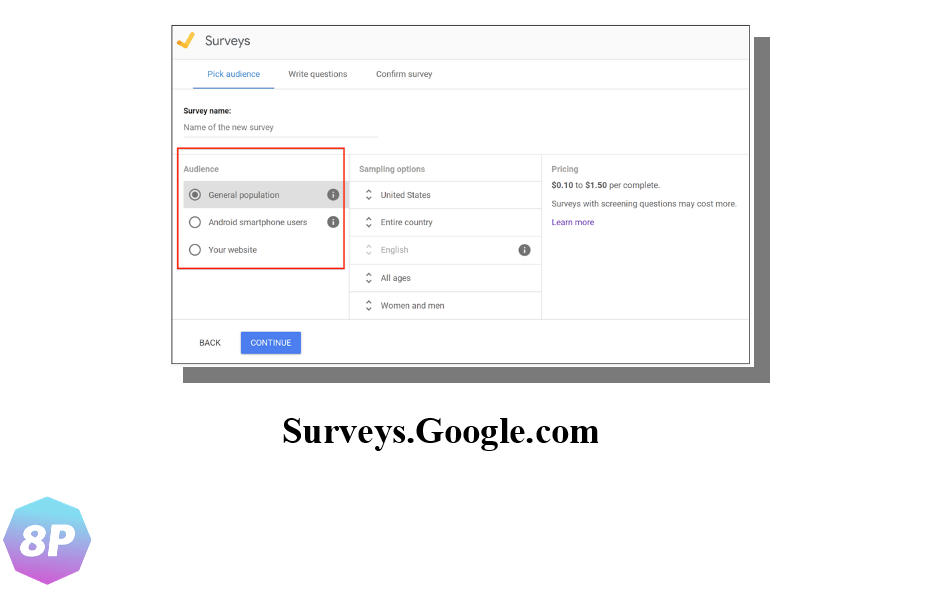 Broken Link Building
Broken link building is a tactic used when the resource was deleted, but the links remained. You can ask to add your relevant link instead, because your resource is more up to date, and this will help fix the broken link. We use Check My Links extension in Google Chrome. It highlights all the broken links.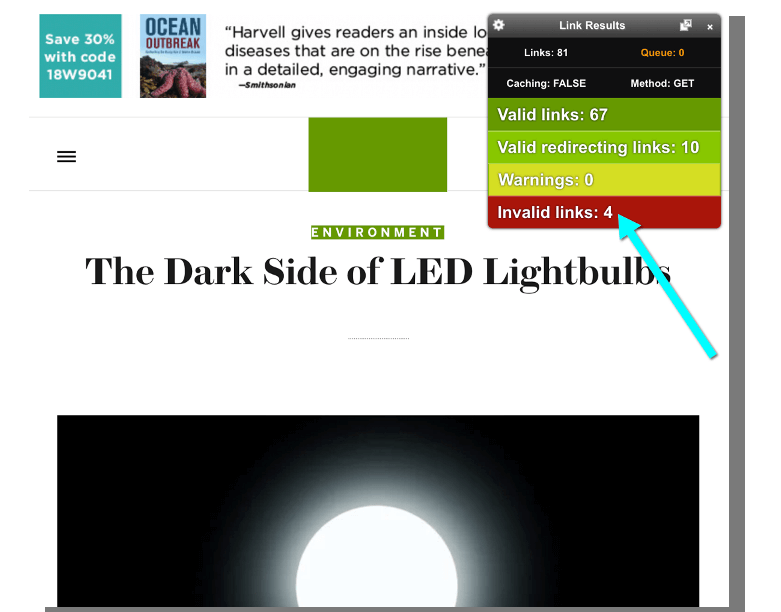 Then you can check them using webarchive.org and see the content of the removed page, and also see if you can pick up these links.
Now I want to talk about one of our cases, which will illustrate all of the mentioned methods in action.
We had a customer engaged in LED lamps. It may seem like a boring topic. We have found several areas, including medical, that can get trust bait links. For example, how light affects productivity, creativity.
Before we start writing content, we think things over. Google helps us with this. It can be customized to show the five-year-old results.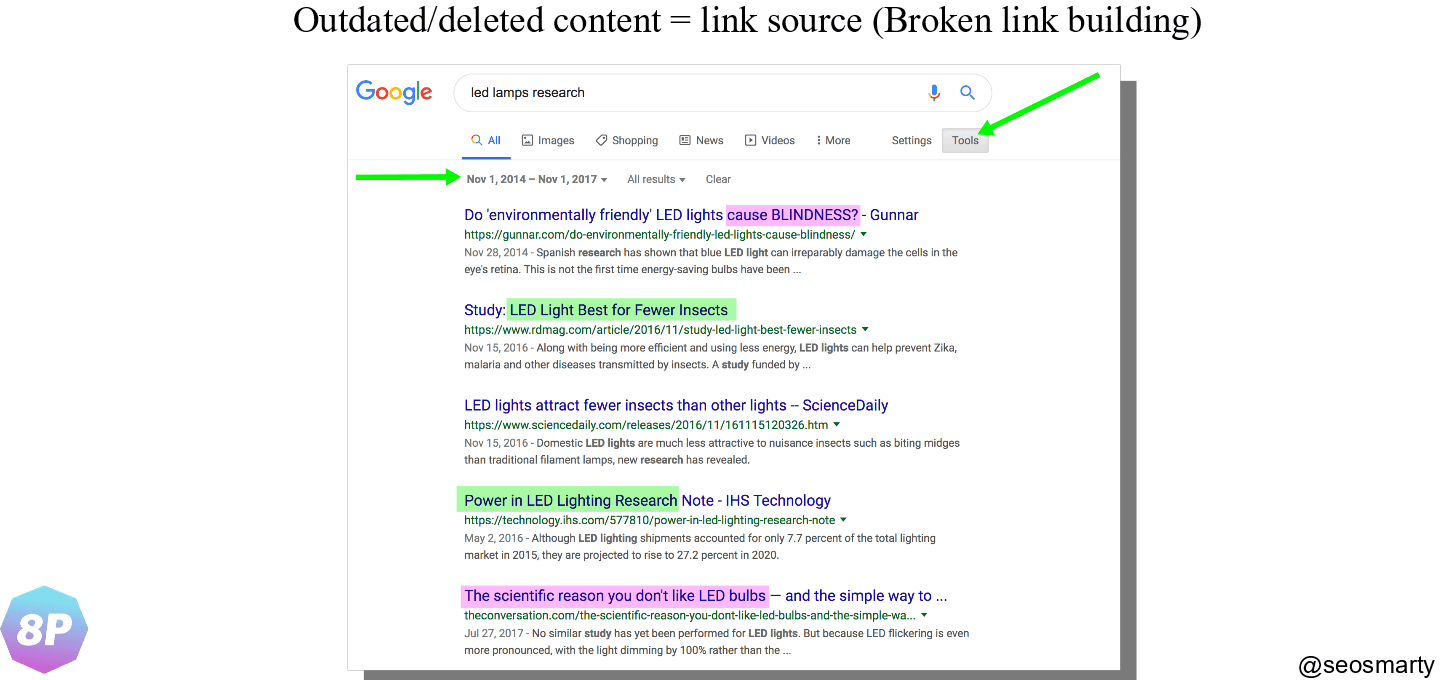 If we find outdated studies, we can pitch that we have updated data on the issue and get a link.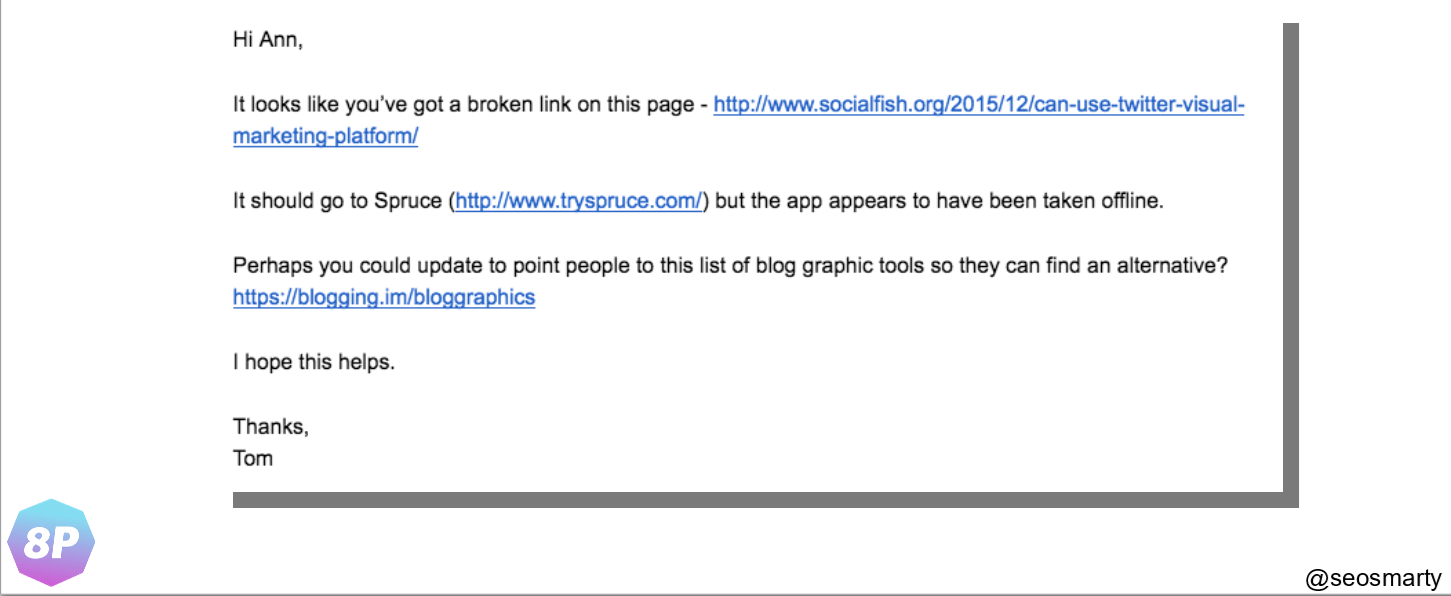 I advise the KISS technique in outreach → keep it simple stupid. Write two or three sentences, no need to be wordy. Usually, letters begin with long submissions → My name is… I work at… I've read you all my life. It's unnecessary. The most effective letter includes the name of the editor or webmaster, from whom we want the link, and why we should be referred to.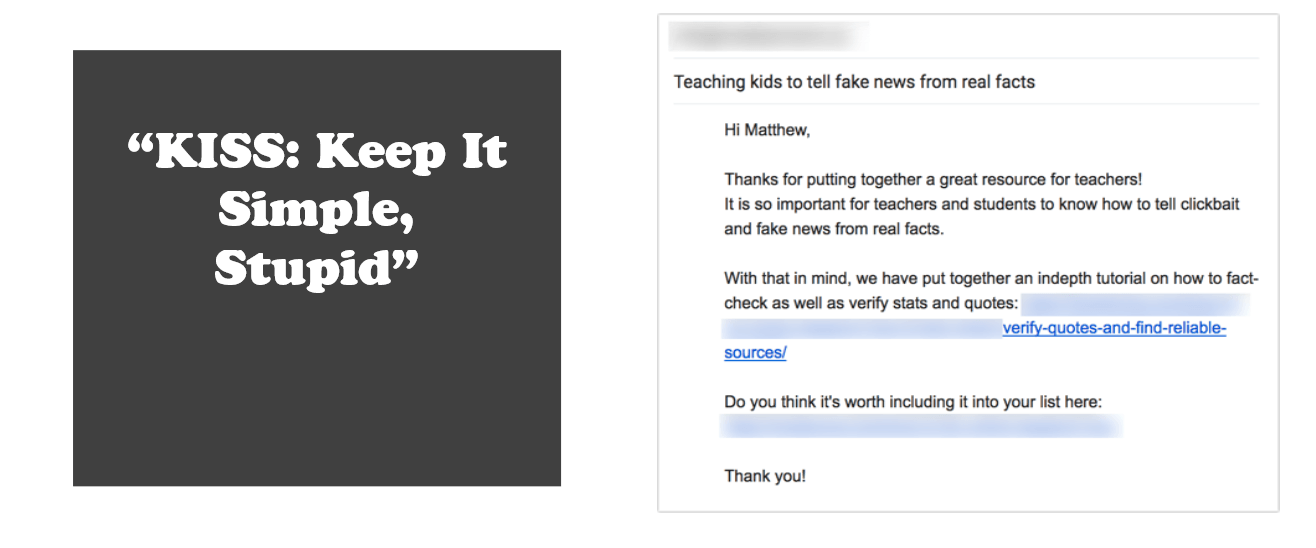 Let's return to the case. This way, we found a deleted interview with a professor of the Institute of Lighting. The topic was how the light in the ward affects Alzheimer's patients. Since that article had many links, we decided that if we cover this topic, we can reach out and get all these links. So we found the direction.
So at the first stage, we think about the content that can bring us links. We already know what links we ask for first. That's why this content is effective – it is created for links. But we did not stop, we went ahead and decided to check ego bait. We contacted the professor, whose interviews were deleted and asked him for fresh data, new statistics, and analytics. An example of our outreach: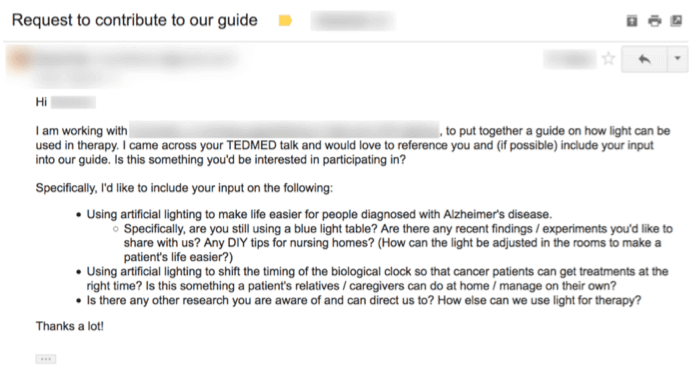 This is a very famous professor in his niche. She not only answered us but also gave us up-to-date data, which she had never published anywhere. So we received not only educational material but also an expert opinion. Then we wrote more to the experts, added them to the twitter-lists, began to build relationships and ask for their opinion on this issue. And keep in mind that the experts you asked also serve as the link source.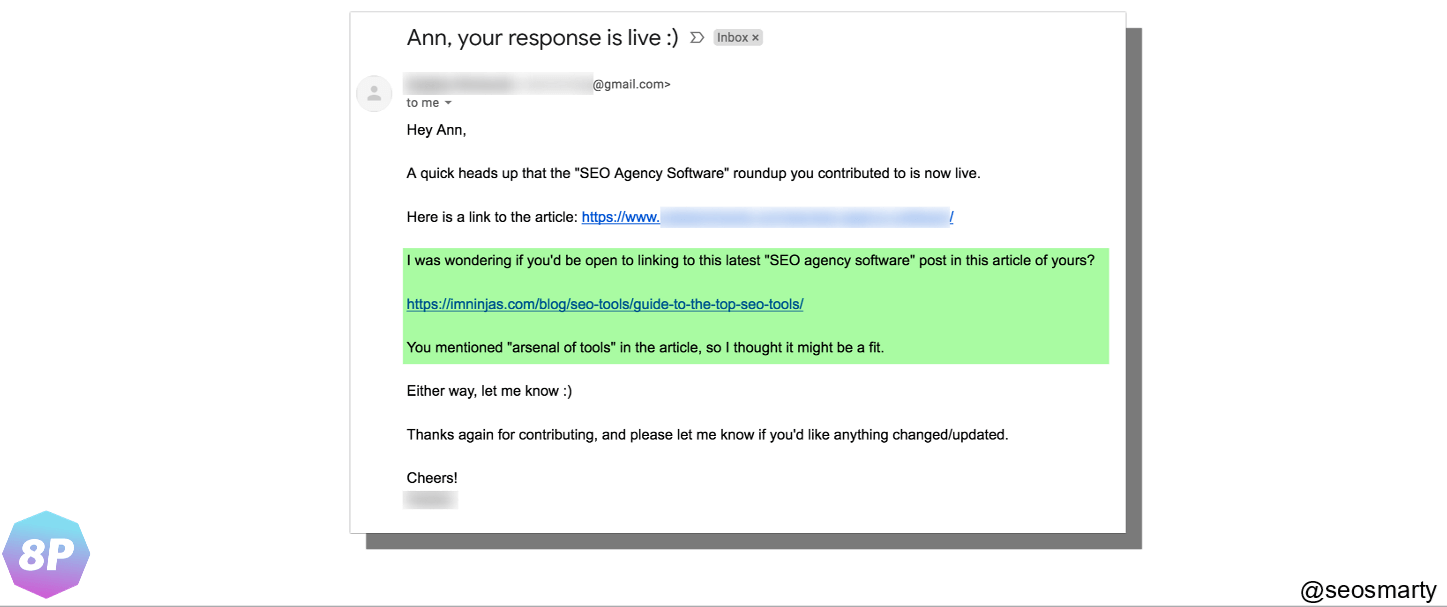 This process has two goals. The first is the associative ego-bait. Why associative? Famous names in their niche will help us get more links. The ultimate goal of this process is to have connections all over a new niche. It is very important to have connections and to be introduced. So, we have combined all the methods of linkable content into one. At each stage, we knew that we would ask for links from a removed interview, from our experts, began to build relations in this niche, that they would introduce us to experts for guest-blogging.
Ok, there is a study on Alzheimer's disease. But how will this help products rank better, how will this help commercial pages? Getting natural links to commercial pages is almost impossible. That's why we build links to our research first. After six months or after a year, we use internal linking to send this link equity to commercial pages. Another important point is that we started the project in 2016, and we noticed an increase in positions in 2017. It takes time. So we always tell that editorial links are long-lasting strategy. Plus we begin to put links to commercial pages only after six months or a year.
Also, you can read our interview with Ann and find out outreach hacks and how to adapt to changes in SEO.
Summing Up
The first step of link building is creating linkable content. The combination of different methods is a plus because the trust bait and the original research work out well. Without purchased links, we achieved an increase of more than 200% in organics.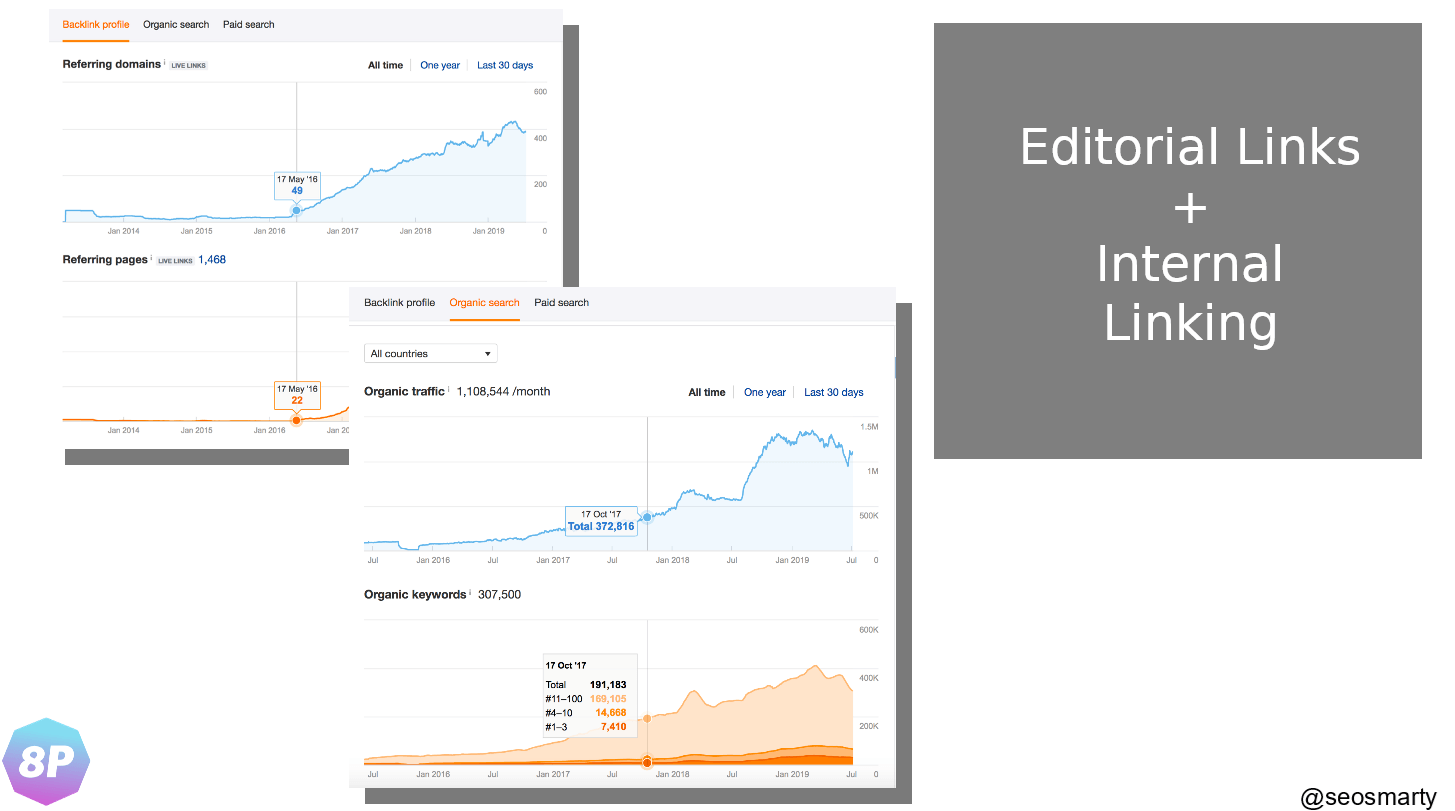 Use the KISS outreach method. The core point is simplicity. Look for experts who will make your research not only more profound, but also help to get links (ego bait), and keep in mind that 90% of link building success is connections in the niche :-)