Google Analytics Guide for SEO and PPC Specialists
How to

If you're a SEO or PPC specialist you can't avoid Google Analytics. You run into it when you need to evaluate the results of your efforts. We've created a GA starter pack of advice – not just dry instructions – for SEO and PPC beginners along with a bunch of tips for professionals. Let's rock!
Google Analytics Metrics for SEO Specialists

Set up Google Search Console and Connect Google Analytics

Linking Google Ads and Google Analytics

How to Analyze Organic Search in GA Reports

Measuring and Analyzing SEO Efforts With the Help of GA

SEO Dashboard

Key Takeaways
1. Google Analytics Metrics for SEO Specialists
What does management want from SEO specialists? They want to promote the company's website as high as possible in search results for certain keywords and bring in profit. Due to this long-term aim, other metrics become important: organic traffic volume, engagement, and conversions, of course. You can catch them all in GA.
SEO specialists track the parameters of consoles as attentively as pilots do. Each business aim corresponds with a certain set of metrics. There are a few metrics in GA that might be interesting for an SEO specialist:
Organic channels as a percentage of total traffic
Change in organic traffic as a percentage of total traffic over time
Metrics on organic landing page traffic: average page depth, average session duration, unique visitors, bounce rate
Location and demographics of organic traffic
Keywords (with Google Search Console integration)
Organic traffic sources
Landing pages metrics
All of these metrics can be tracked in GA, and each requires diligence to interpret correctly. With the correct settings for keyword tracking, you can forget about off-target traffic. Paired with the right PPC channel, organic channel can save you a whole bunch of money.
Let's start from the basics and add an additional data source.
2. Set up Google Search Console and Connect Google Analytics
If you connect these two services, you'll get four more reports in GA and the ability to check GA reports in Google Search Console. For example, with GA and Google Search Console connected, you can separate pages with low CTR and fix them, improving the whole website and increasing traffic.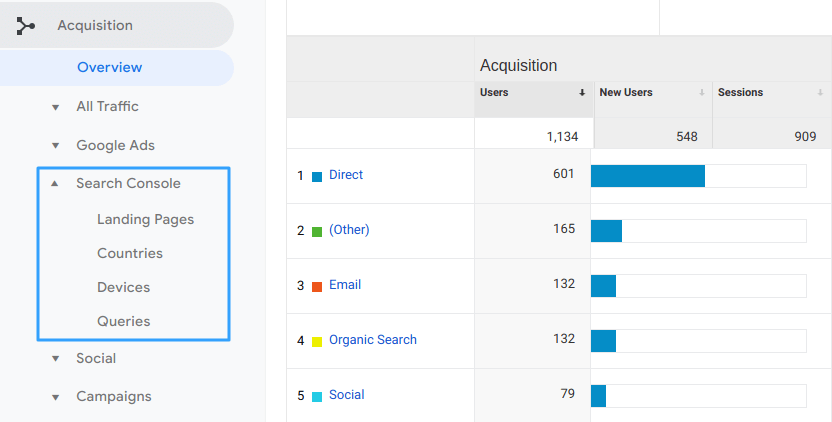 To connect Google Search Console and Google Analytics, you have to be an administrator for each of these services.
Add your website to Search Console and verify ownership. At this point, you can start gathering data for GA reports.
Set up data tracking for search optimization in GA, linking Search Console as a separate product and data source.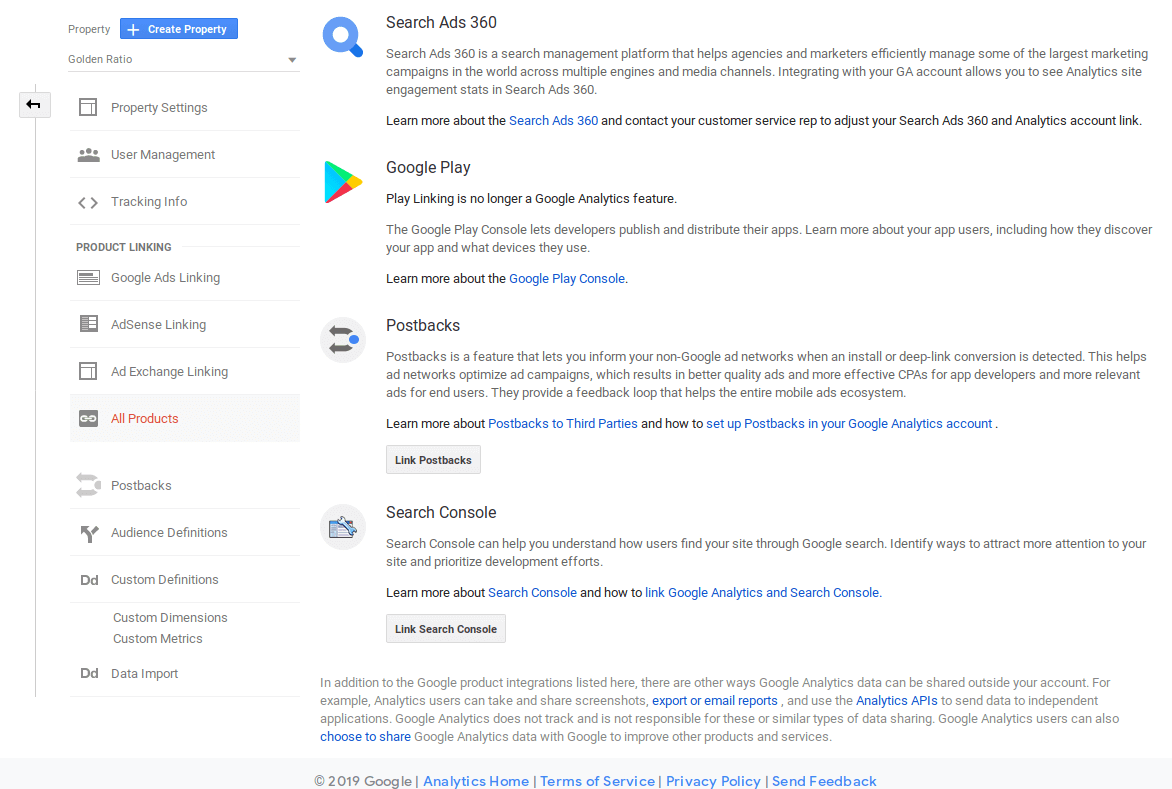 2.1. Some Facts About Google Search Console Data
Search Console saves data for the last 16 months, so reports on search optimization in GA include data only for that period.
Search Console registers 1000 landing page URLs.
Search Console registers the incoming URL of a landing page even if it doesn't redirect. GA registers the URL to which the landing page redirects.
If the GA property tracks a few domains, you'll get only the data of the bounded domain in Search Console reports.
Search Console gathers data regardless of JavaScript support. GA needs JavaScript support to gather data.
3. Linking Google Ads and Google Analytics
Google Ads and GA enrich your reports with data, making your decisions better as a result. We're also interested in this connection for analyzing keywords, developing an in-depth semantic core, and smartly managing the PPC budget.
This connection is harder to establish than the previous because you need to understand which of your properties and views need data from Google Ads. To figure that out and link Google Ads and Google Analytics:
Log in to Google Analytics as an administrator.
In Settings, choose 'Google Ads Linking' in the 'Property Settings' column.
Add a 'New Link Group'. Choose accounts and link them.
Connect with the view of the property to add data from Google Ads campaigns. Turn on 'Reports creation'.
Don't forget to choose automatic or manual tagging in Google Ads campaigns.
Click 'Link the accounts'.
Also, you should pay attention to the following restrictions:
A GA property can contain maximum 200 groups of linked accounts.
You can add maximum 1000 Google Ads accounts to a group.
You should see something like this as the result:

Now GA and Google Ads reports will be more useful for SEO and PPC specialists. Let's proceed straight to reports.
4. How to Analyze Organic Search in GA Reports
Measuring organic traffic can be tricky. You should check if the (not set) and (not provided) values are under control. You can read about how to free your traffic data from these uninformative spies in this article.
4.1. Acquisition ⟶ All Traffic ⟶ Channels Report ⟶ Organic Search
In this report, you can see different channels of your website traffic as a share of total traffic.

To get a detailed report only on organic search, click directly on the words 'organic search' in the table. This will be the litmus test of your page quality: you'll see the merits and flaws of your SEO in the context of a chosen parameter (page, keyword, source, etc.) if you sort the results by behavior.
Take into account that:
The bounce rate shows if visitors have found what they were looking for. If the bounce rate is high, they haven't.
Pages/session shows if your website is cozy, 'addictive', and useful.
The average session duration shows if your texts are not only SEO-optimized but also meaningful to readers.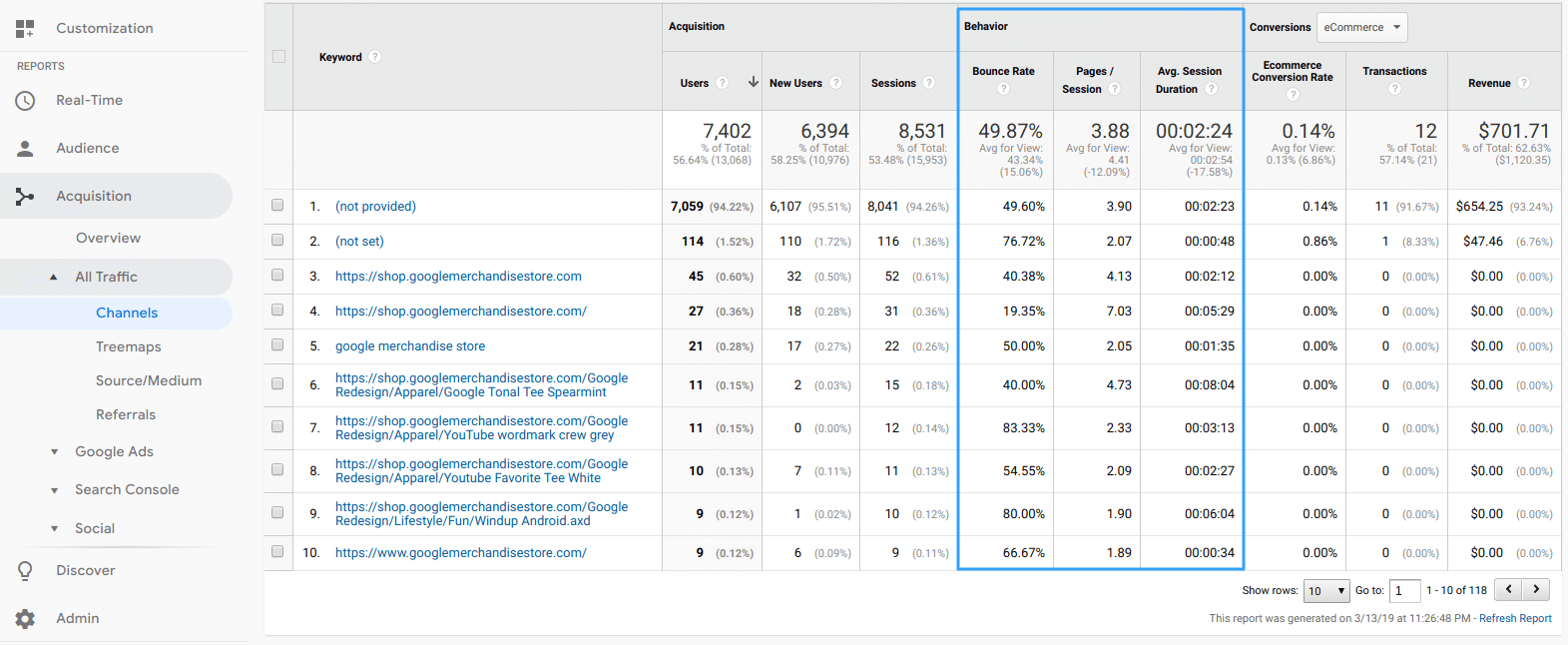 In the next group of metrics, we see achievements for organic channels (if you've set the conversions block). These columns will be especially interesting for your boss, so take care to correctly set conversions and goals.
The conversion rate can be your KPI as an SEO specialist. Which means you can use it to promote your career.
4.2. The Landing Page Report
We can analyze website pages from the SEO point of view in the 'Landing Page' report. You can find this report on the 'Landing Page' tab as a main parameter in the Channels ⟶ Organic report.
We're interested in these metrics to understand which landing pages attract efficient organic traffic and contain conversion points. For SEO specialists, this report shows which pages aren't as good as they might be!
You can find slow-loading pages in another report in GA. Go to Behavior ⟶ Site Speed ⟶ Page Timings. By adding organic traffic as a segment, you can see the deviation of organic page load speed alongside average website load speeds. This might be a surprise.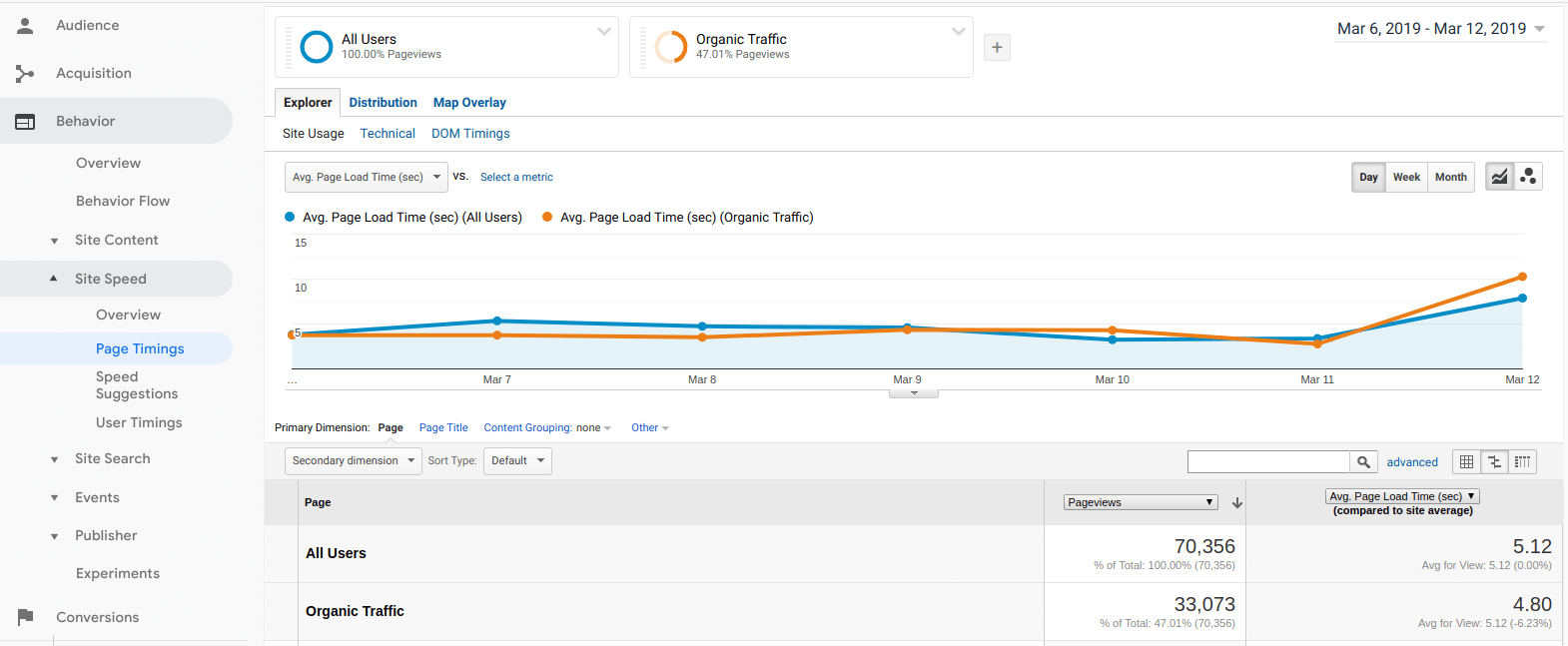 4.3. Adding the Organic Segment to Other Reports
You can uncover previously unseen insights on your customers' behavior, your website, keywords, and pages by adding the organic traffic segment to different reports:

All other experiments are up to you. Let's proceed to evaluating SEO efforts.
5. Measuring and Analyzing SEO Efforts With the Help of GA
5.1. Associated Conversions
To show the significance of SEO efforts, you should check the report on associated conversions. It's really important to know if your converted customers typically go through two or more traffic sources (see Conversions → Multi-channel funnels → Path Length). Associated conversions are conversions attributed to a channel that participated in moving the customer to the conversion but wasn't the last channel before the conversion.
If you want to know the contribution value of an SEO channel for conversions (in case of a large number of associated conversions), open the Conversions → Attribution → Model Comparison Tool report. In this report, you can choose one of the standard attribution models or create your own and compare acquired values with values from the Last Non-Direct Click model. It's possible that an SEO channel participates in both the beginning and middle of the customer conversion path, which definitely will influence the resulting values and profit.
While creating your own attribution model, take care about matching your model with the real state of processes to distribute your efforts correctly. Also, consider using the famous funnel-based attribution model in your marketing.
The contribution metric shows that even if an organic channel doesn't contribute directly to a conversion, it affects all other channels leading to that conversion.

5.2. Evaluating the Cost of Organic Channels With the Help of Google Ads Data
Small and medium-sized companies typically mix SEO and PPC duties in one role. This helps them better control the worlds of both paid and organic traffic.
But to get started, here are two hints on how to analyze keywords in GA.
Acquisition ⟶ Search Console ⟶ Queries
Behavior ⟶ Site Search ⟶ Search Terms
These two small reports will bring a lot of profit and understanding of the way people think and search on your website.
Now let's proceed to analyzing paid and organic keywords in Google Ads:
Enter your Google Ads account.
Choose 'Reports'.
Choose Reports ⟶ Predefined reports (Dimensions) ⟶ Basic ⟶ Paid and organic.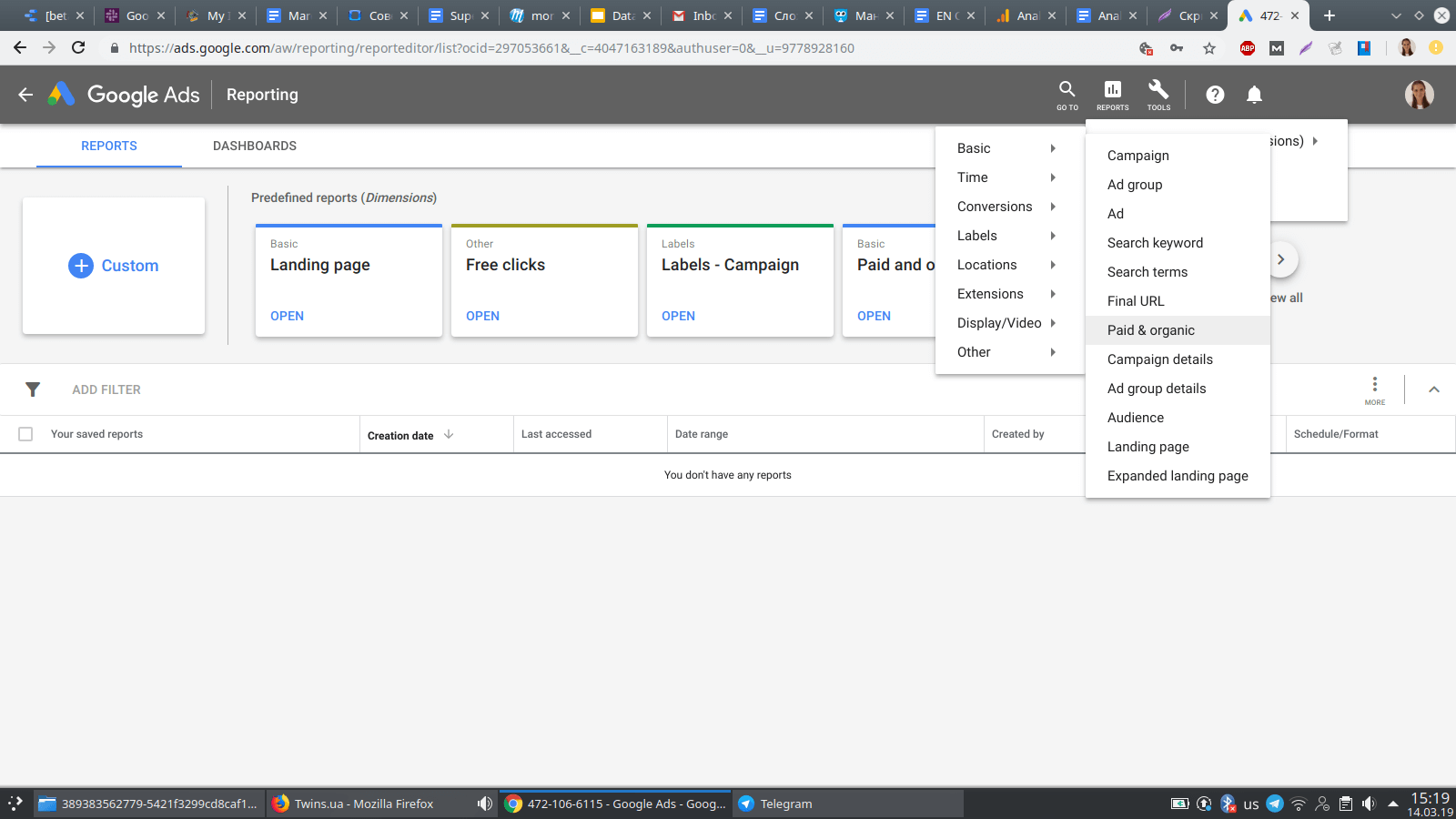 You'll see your organic and paid keywords side by side in this report. It's quite handy to analyze them here.
Let's see how much money your SEO efforts have saved your business. Neil Patel suggests a smart method for doing this. With the help of his approach, you'll appreciate your work more than ever.
Download the 'Queries' report in GA (Acquisition ⟶ Search Console ⟶ Queries).
Open Tools ⟶ Google Ads Keyword Planner.
Download at least the top 10 keywords (excluding brand-connected keywords) from the 'Queries' report to Keyword Planner. This will give you the Planner's costs of the organic keywords.
Evaluate how much organic keywords from 'Queries' in the PPC channel will cost by adding the cost you've downloaded into the 'Queries' report.
Voila! You've got one more method for evaluating your SEO marketing channel.
6. SEO Dashboard
Just imagine that you as an SEO specialist open your GA account and see the whole situation in the SEO kingdom on one screen. Typically, the SEO routine makes you blind, and you just click report by report without a particular aim while you're doing more useful tasks.
Use the blessings of SEO dashboards. An SEO dashboard is a panel of SEO metrics that shows you everything at a glance. In GA, there are a lot of ready-to-use dashboards, and you still have the possibility to combine widgets and structure dashboard elements to create your own perfect dashboard.

6.1. Pros and Cons of Ready-to-Use SEO Dashboards
Each business has its own processes, essential metrics, customer journey, etc. That's why a dashboard created for big industrial companies won't fit small or medium-sized companies. And if you try to use such a dashboard, you might find a lot of empty space or tiny values.
Try to find something that works for you in the Google Analytics Solution Gallery.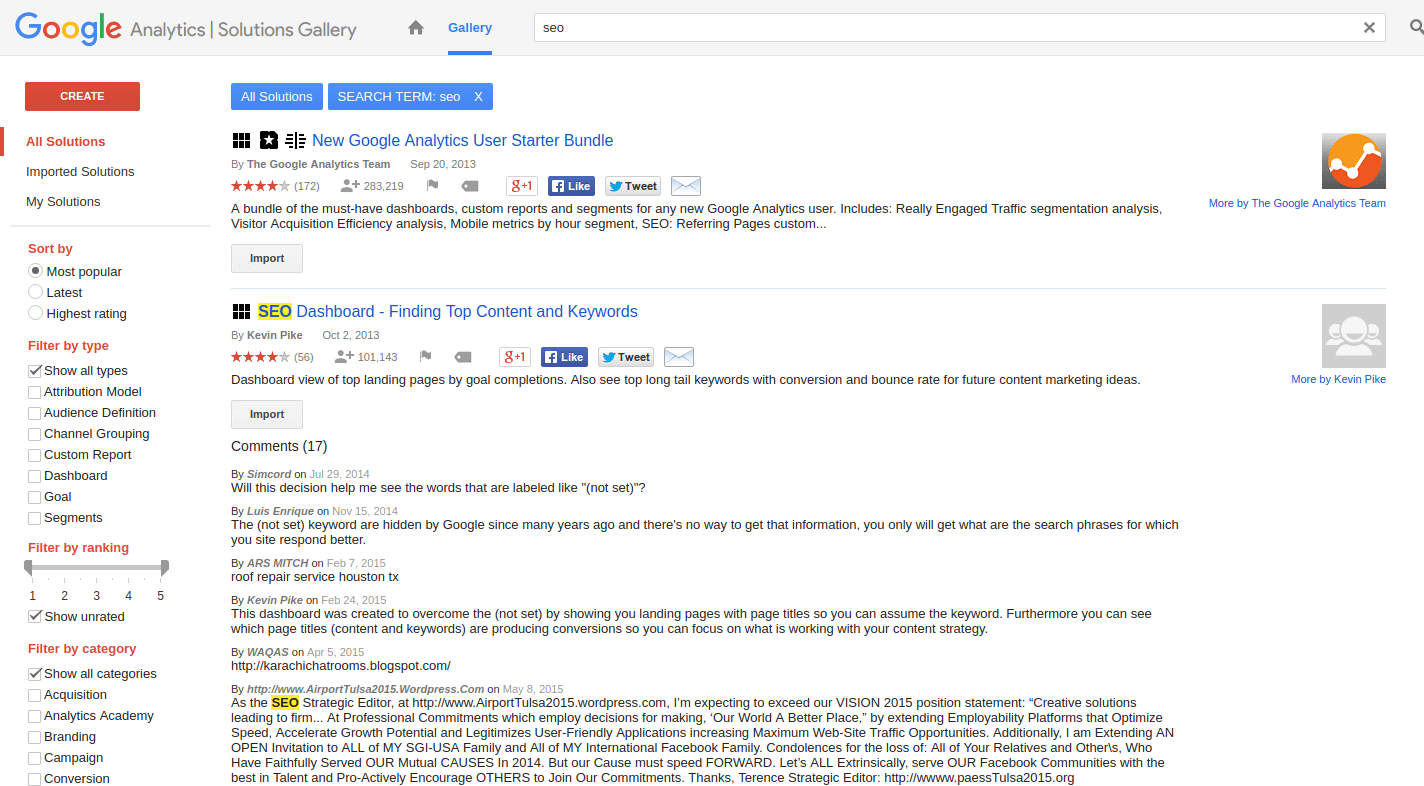 Here's a list of the most popular SEO dashboards:
It's easy to switch, compare, and analyze data from these dashboards. Also, some data may be neglected with ready-to-use dashboards, which isn't the best news for an SEO specialist. You can try using Finteza's conversion funnels in case if avoiding sampling is crucial for you.
If you want to create your own SEO dashboard in GA, we have some hints for you.
6.2. Creating an SEO Dashboard
Here's the main menu for creating dashboards in GA. You should use this instrument to make your work effective.
You should start by talking with your boss: choose essential metrics to track.
They should be based on business aims that are achievable via an organic channel. Choose some metrics for these aims that reflect the results of SEO efforts:
Metrics for organic traffic sources:

Total organic traffic
Organic traffiс in real time
Top engagement metrics:

Top landing pages by bounce rate
Top landing pages by goal completion
Top landing pages by loading speed
Metrics of keywords for organic traffic:

Top organic keywords by number of new visitors
Pages/sessions by organic keyword
Organic keywords vs goal completion
After choosing the most important metrics for everyday monitoring, your can create widgets for them.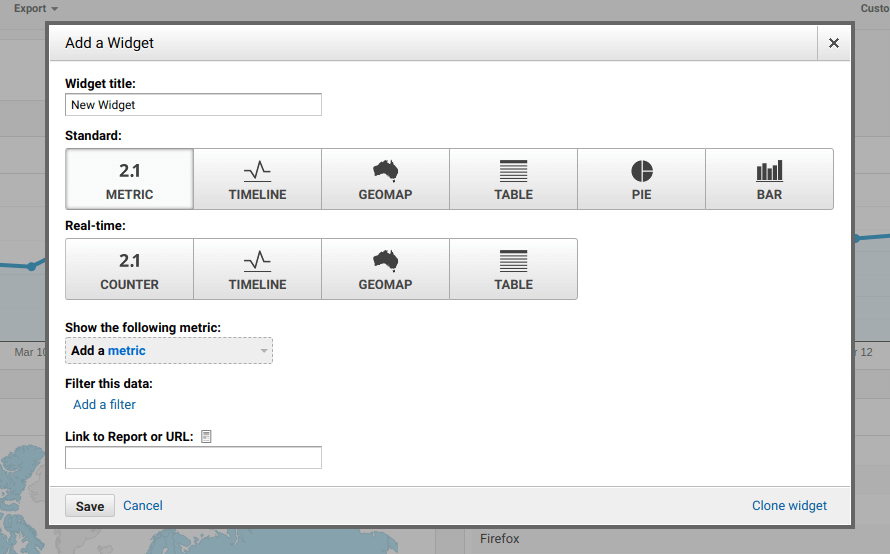 Keep everything simple: you just need to choose how to present information, choose the type of parameters you want to display, and set a certain filter to set up the widget correctly. For metrics such as total organic traffic, use the 'users' metric and add a filter for non-organic traffic: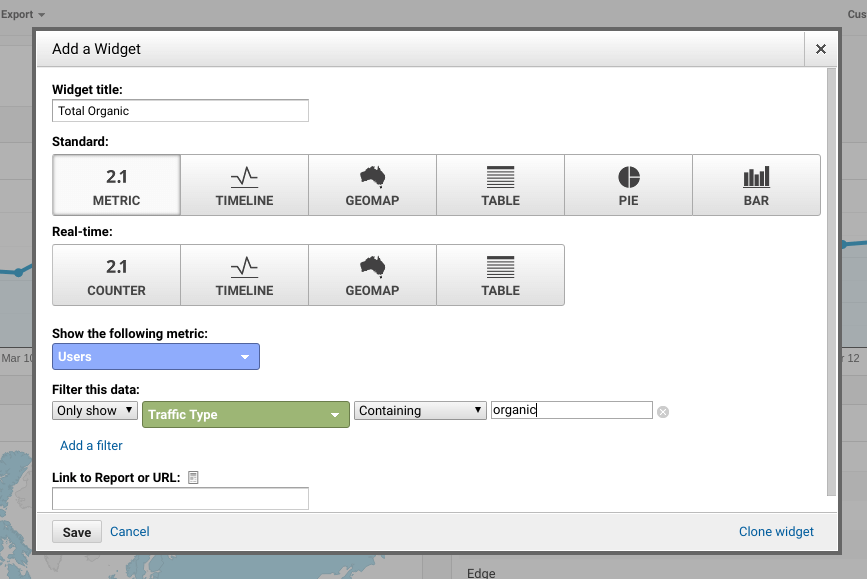 For a widget showing organic traffic in real time, use the type 'Timeline'. For a widget of ratings, use the 'Table' type.
That's all the instructions for creating an SEO dashboard. Here's one more hint: create one for yourself and one for your boss.
Key Takeaways
Google Analytics is a wide-ranging tool, and you should understand it and what all these numbers and lines mean. But it's not a key to total success in SEO; it's a tool for measuring, interpreting, and understanding what's going on.
To get the most out of GA:
Connect other services to help yourself in your work (Google Search Console, Google Ads).
Try until you start to have your first real and explainable results.
Develop your GA skills and involve your channel in tight connection with others. That's the only way to reach your business aims with the help of digital marketing.
Tell us in the comments below how GA helps you in your everyday SEO routine.