Affiliate Marketing: 17 Best Affiliate Programs
Lists

Living in the digital age, when paid ads bombard internet users from all sides, and modern customers crave authenticity, affiliate marketing takes the world by storm. Today, people pay close attention to recommendations from friends, social media followers, and partners. What is more, the power of networking is on its rise, so affiliate marketing has become one of the most popular advertising methods for businesses. In fact, 80% of companies have affiliate programs that allow marketers, bloggers, and other partners to earn a commission for promoting products or services.
For companies, this means an opportunity to turn partners or customers into brand advocates who help them promote products, increase brand trust, and acquire new customers. Simply put, affiliate marketing has great sales potential.
Case in point:
When Choose Wheels had been hit with a Google penalty, and its website lost 80% of its organic traffic, the company started looking for Affiliates who could help to link to various articles on the site and share them on social media. Just within 6 months, the target keyword visibility has increased by 459%, and therefore the website has grown 124%.
Not bad, huh? Now that you know about the power of affiliate marketing, it's time to find out more about affiliate marketing, understand how it works, and draw inspiration from the 16 best affiliate programs.
1. What is Affiliate Marketing?

2. How Does Affiliate Marketing Work?

3. Affiliate Marketing Channels

4. The Popularity of Affiliate Marketing

5. 16 Best Affiliate Programs You Should Know

In a Nutshell
1. What is Affiliate Marketing?
First of all, it's important to understand the concept behind affiliate marketing.
In plain English, affiliate marketing is an advertising method in which a company offers the commission fee to third-party publishers (affiliates) who can generate traffic, leads, or sales to the company's products and services.
2. How Does Affiliate Marketing Work?
At first blush, affiliate marketing and referral marketing are often used interchangeably as both strategies refer to word-of-mouth marketing.
But here's the deal. The main difference between a referral program and an affiliate program is that an affiliate doesn't have to be a customer. Still, they should have an audience that overlaps with the company's target market.
Here how affiliate marketing process usually looks like:
The seller or the merchant gives an affiliate a unique link with GET parameter to detect those who made a purchase.
The affiliate or publisher promotes a seller's product across their channels: website, email, social media.
When the customer jumps on the affiliate's link, a cookie is stored in the customer's browser.
The customer is redirected to the seller's website.
The customer makes a purchase on the website (or completes another desired action).
The cookie helps the affiliate platform attribute the sale back to the right affiliate and pay them a commission.
Since most companies create affiliate programs to drive more website traffic and increase conversions, affiliate marketing and SEO work together which means this digital marketing strategy not only acquires new customers but also promotes your company.
3. Affiliate Marketing Channels
There's no one-size-fits-all solution when it comes to choosing the best affiliate marketing channel, as the variety of affiliate marketing channels is wide. The main idea is to promote affiliate links where the target audience is active. Some of the most popular channels include:
Websites (including guest posts, banner ads, etc.)
Email marketing campaigns
Social media platforms
SMS
4. The Popularity of Affiliate Marketing
Affiliate marketing is growing in popularity. According to this report, the affiliate marketing industry is estimated to be worth $12 billion, 83% of marketers use affiliate marketing to boost brand awareness, and 74% of US customers research different affiliate websites before making the purchase.
4.1. Why People Become Affiliate Marketers
Here are the top 3 reasons why people become affiliate marketers:
Possibility to earn money
Flexibility
No risks
Although affiliate marketing has its pros and cons of making money with it, more and more people find it beneficial to join affiliate programs as there are many creative ways to promote products and services and earn a commission.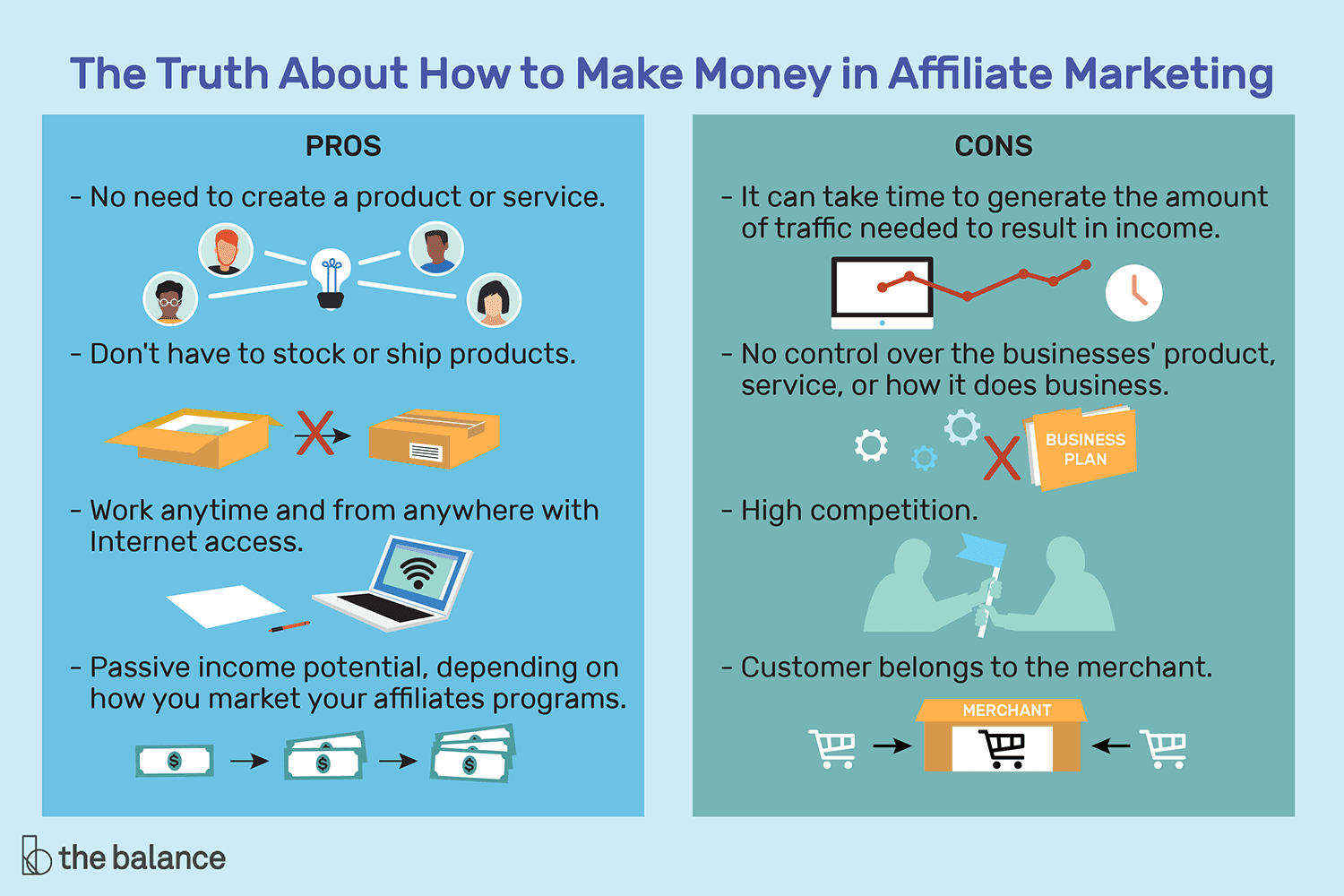 Yes, affiliate marketing allows bloggers and marketers to make some extra money. However, many companies have partner programs, so the number of affiliate marketing jobs has increased in recent years.
4.2. How Affiliate Marketers Get Paid
It's no secret that most affiliates are interested in making more money when they sign up for affiliate programs. But the question is: how do they get paid?
In most cases, affiliates sign up for the affiliate program, get their unique link, and then promote it through their own channels. Then, everything depends on the affiliate program, and there are top three ways to get paid:
Pay per click – the affiliate task is to attract web traffic to the seller's website, and so they get paid for it.
Pay per lead – the affiliate's strategy is to convince the customer to visit the seller's website and do something in the vein: sign up for a trial of a product, subscribe to a newsletter, or download software, etc.
Pay per sale – it's the most common strategy in which the affiliate is paid a commission after the consumer purchases the product.
Obviously, it's you who decides which way works best for your business, but pay close attention to it before promoting affiliate links.
So, whether you want to start an affiliate program for your business or join a partner program to earn a commission, check out the list of the 16 best affiliate programs to draw inspiration or start making money right now. Let's dive in!
5. 16 Best Affiliate Programs You Should Know
As specified in Webopedia, an affiliate program is a marketing program where a company recruits bloggers, influencers, or partners to promote their product or service in exchange for a referral fee or commission from sales when the customer has clicked the affiliate link to get to the merchant's website.
Affiliate marketing programs come in all shapes and sizes, so we've gathered the list of the best affiliate programs to know.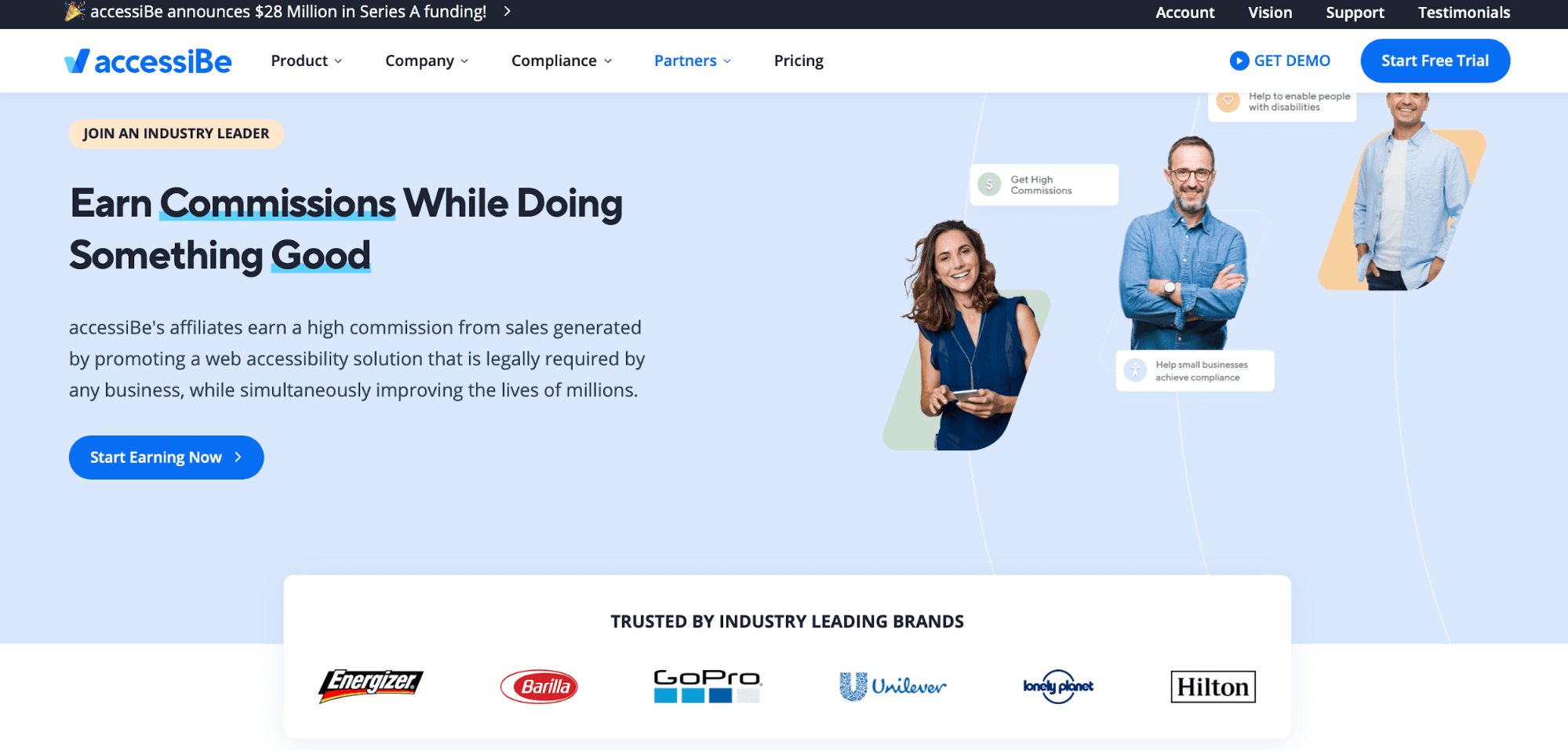 accessiBe is an automated web accessibility solution for ADA & WCAG compliance that helps website owners make their sites accessible to different people. Since the number of websites is constantly growing, the company has its affiliate program that allows affiliates to make money when recommending this tool. It works on the pay per sale basis, which means you can make a commission when promoting a web accessibility solution.
What works:
A possibility to receive a 20% commission (up to $1000 from the purchase value)
Free web accessibility solution for your website
60-day cookie set
Different payment methods (PayPal & bank wire transfer)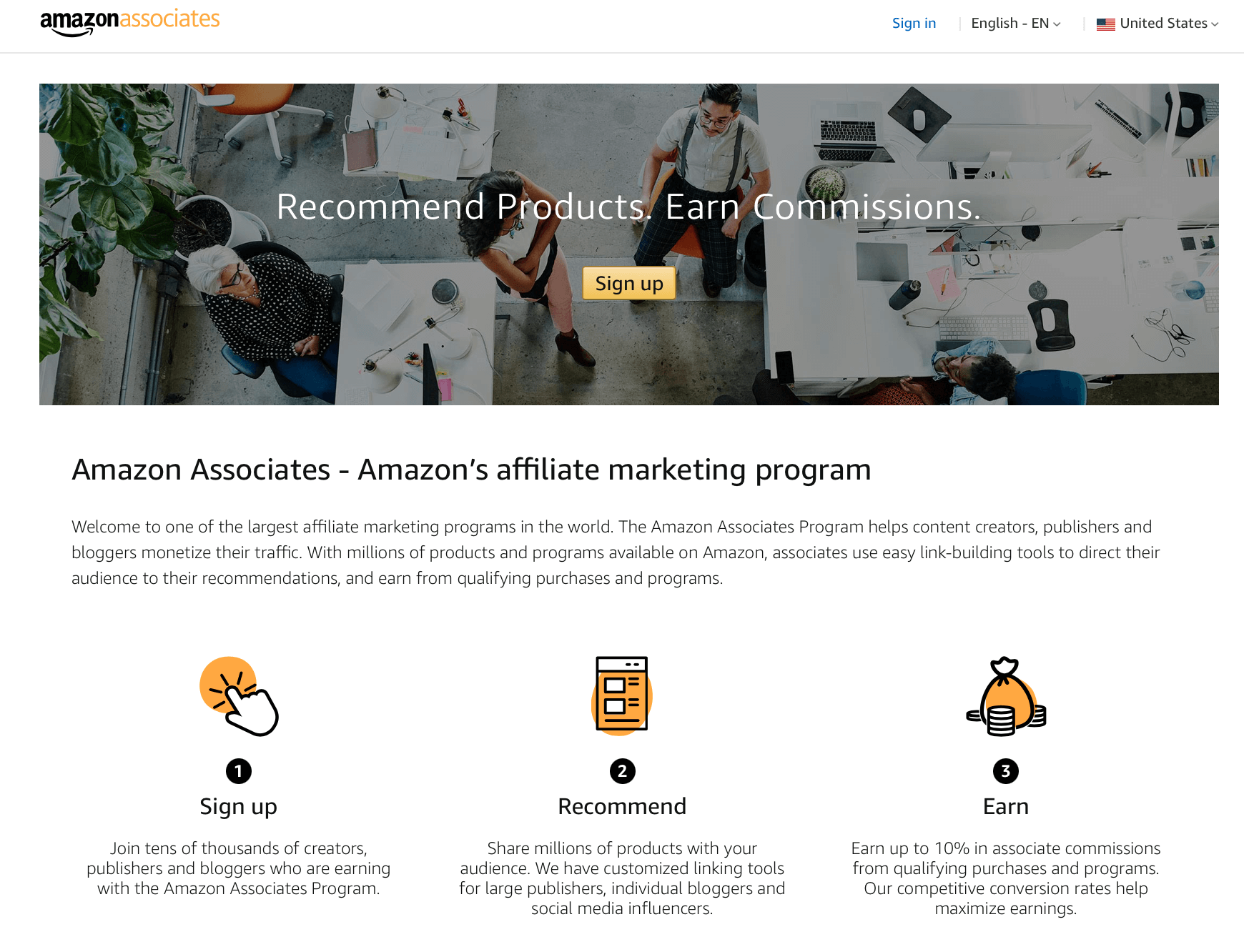 As the largest marketplace, Amazon is just a perfect way to start making money with affiliate marketing. The website has thousands of products which means every affiliate can find something that fits their audience's needs and wants. Amazon Associates offer fixed standard commission income rates for specific product categories, bounty events, and paid memberships. The program allows you to make up to $200 per product.
What works:
A great variety of products to promote, which means every affiliate can find something for their audience
A step-by-step tutorial on how to sign up for an affiliate program
A possibility to add up to 50 websites or mobile apps to your Amazon Associates Account
Customer testimonials from existing affiliates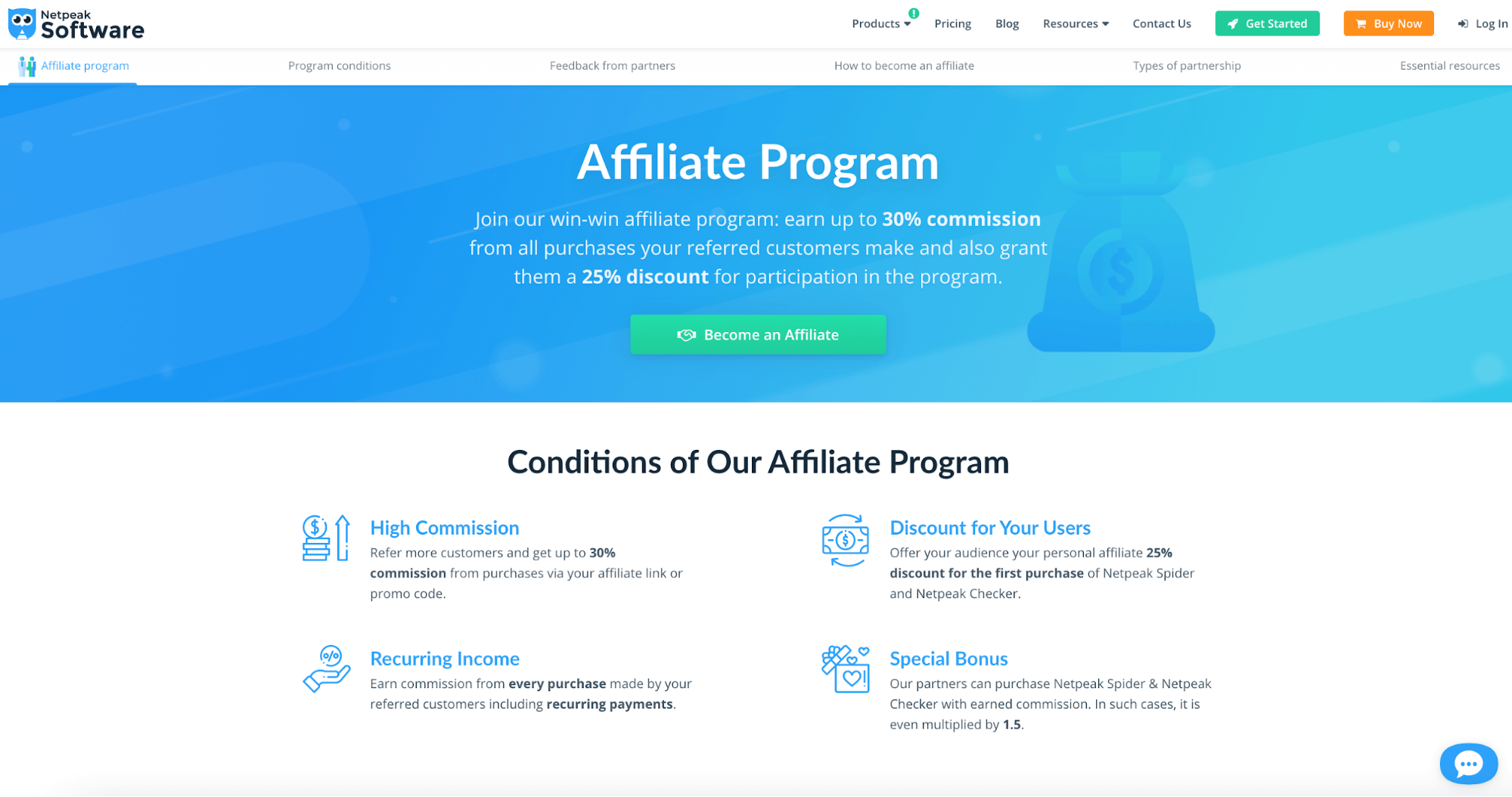 Netpeak Software is an SEO solution for webmasters, SEO specialists, link builders, marketing teams, and bloggers that offers three products for various goals: Netpeak Spider, Netpeak Checker, and Owlymate (in beta-testing). Today, practically every business owner, marketer, or blogger aims at growing organic traffic and gets ranked in Google, so the popularity of Netpeak Software is growing likewise. Its affiliate program has everything you need to start making money as an affiliate marketer: high recurring commission, attractive deals for new customers, and educational materials.
What works:
Up to 30% recurring commission rate for affiliates and 25% discount for newly-acquired customers
30-day cookie lifespan
You can check your affiliate balance in real-time
Customer testimonials from existing affiliates
Educational and promotional materials (webinars, FAQs, banners , texts etc.)
Dedicated affiliate support
You can spend earned commission on purchasing Netpeak Spider & Netpeak Checker
Different payment methods (PayPal & bank wire transfer)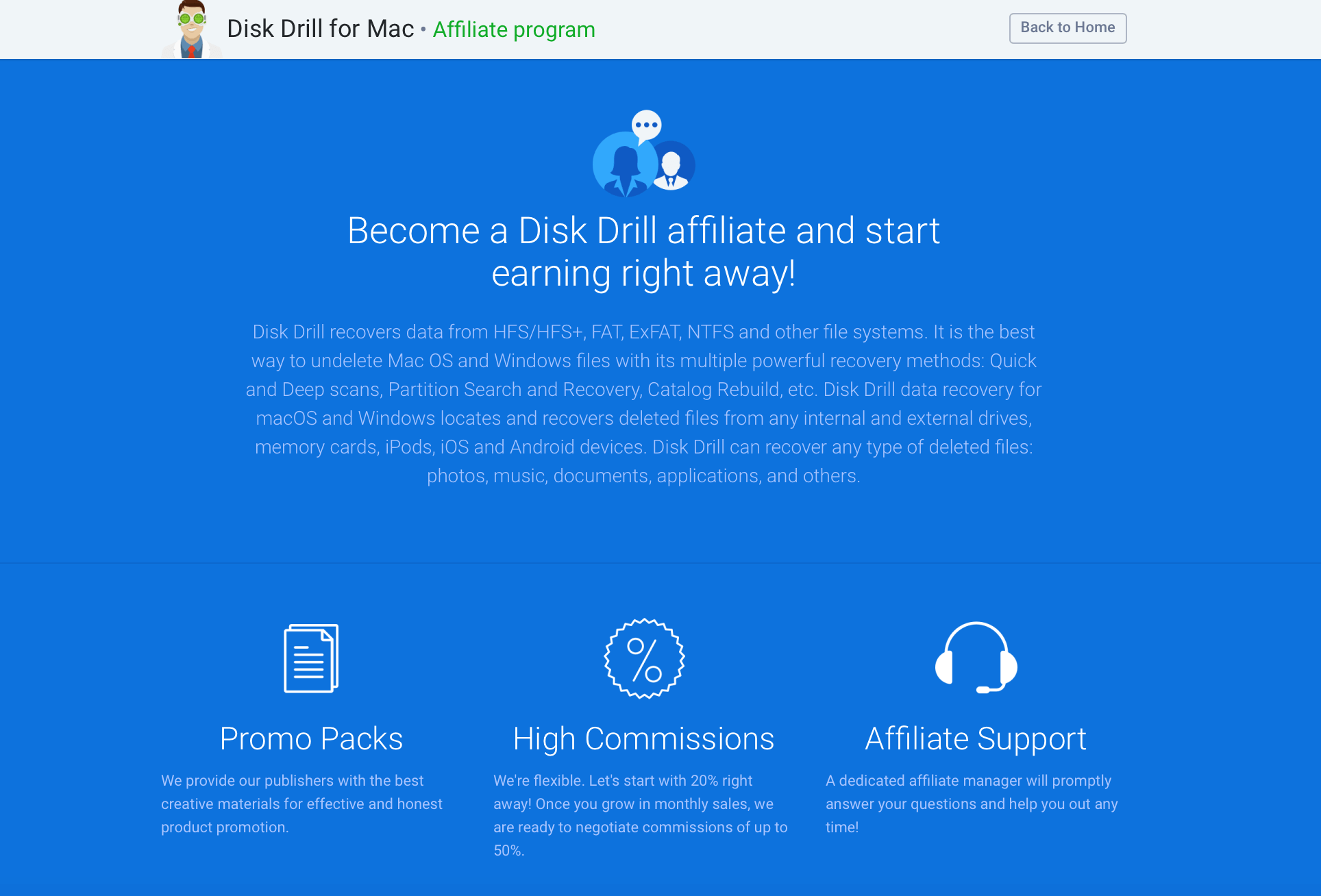 With the growing number of cyberattacks, when all internet users seek out data recovery software, CleverFiles has a great affiliate program for beginners who want to start making money with affiliate marketing. The company encourages professionals and home users to sign up for their affiliate program and share unique affiliate links to earn high commissions.
What works:
The service is in demand, which means an affiliate can find many customers
Progressive compensation model that allows you to earn up to 50%
Affiliate support via phone and email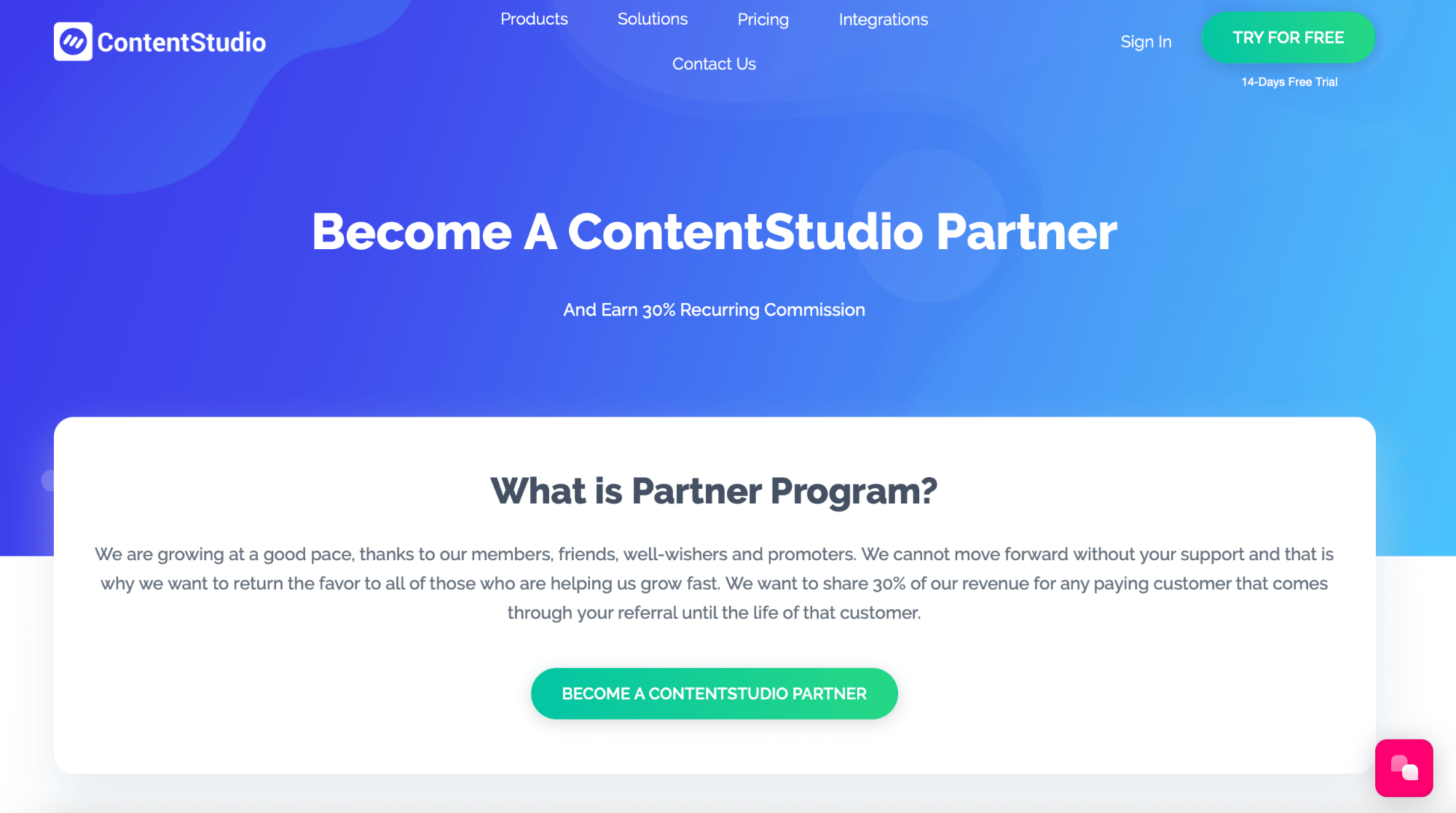 Social media marketing is taking the world by storm. Marketers, business owners, and influencers use social media to promote their products and services. With social media tools like ContentStudio, people make the social media game easier. To kill two birds with one stone and get commissions when recommending handy tools, you can sign up for a ContentStudio affiliate program and earn a commission for the life of the referred customer.
What works:
A possibility to get 30% commission for each referred client
User-friendly partner dashboard
Different payment methods (PayPal & bank wire transfer)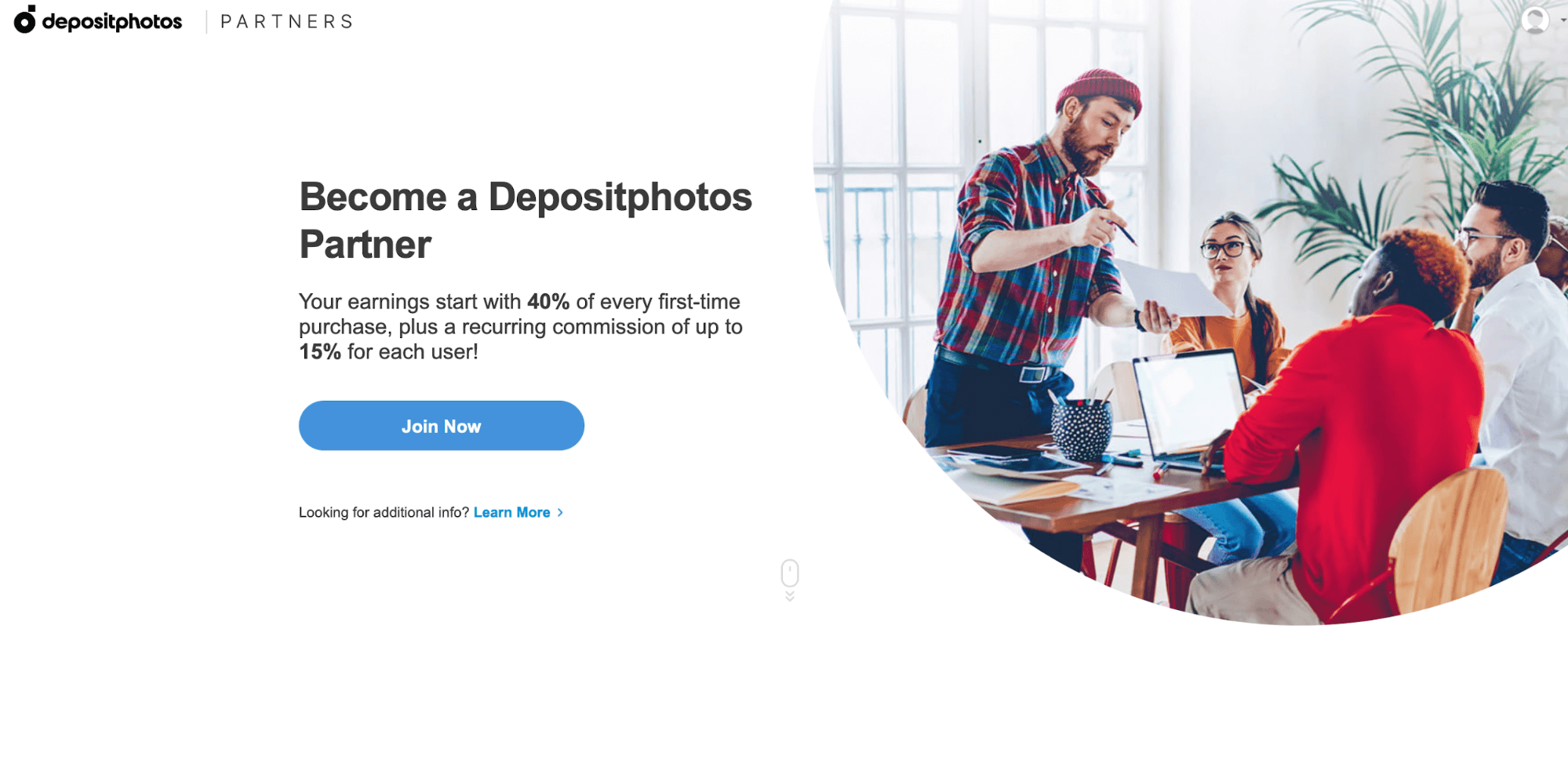 DepositPhotos is a royalty-free content marketplace that offers individuals and businesses stock photos, images, and videos. Its partner program encourages affiliates to share unique codes and acquire new customers in exchange for high commissions for first-time purchases (40%) and a recurring commission of up to 15%. What is more, the company has special deals and offers for the top-performing partners.
What works:
40% commission (up to $300 for each referred client)
Promotional materials (banners, links, widgets)
User-friendly partner dashboard with stats
Six-months cookie guarantee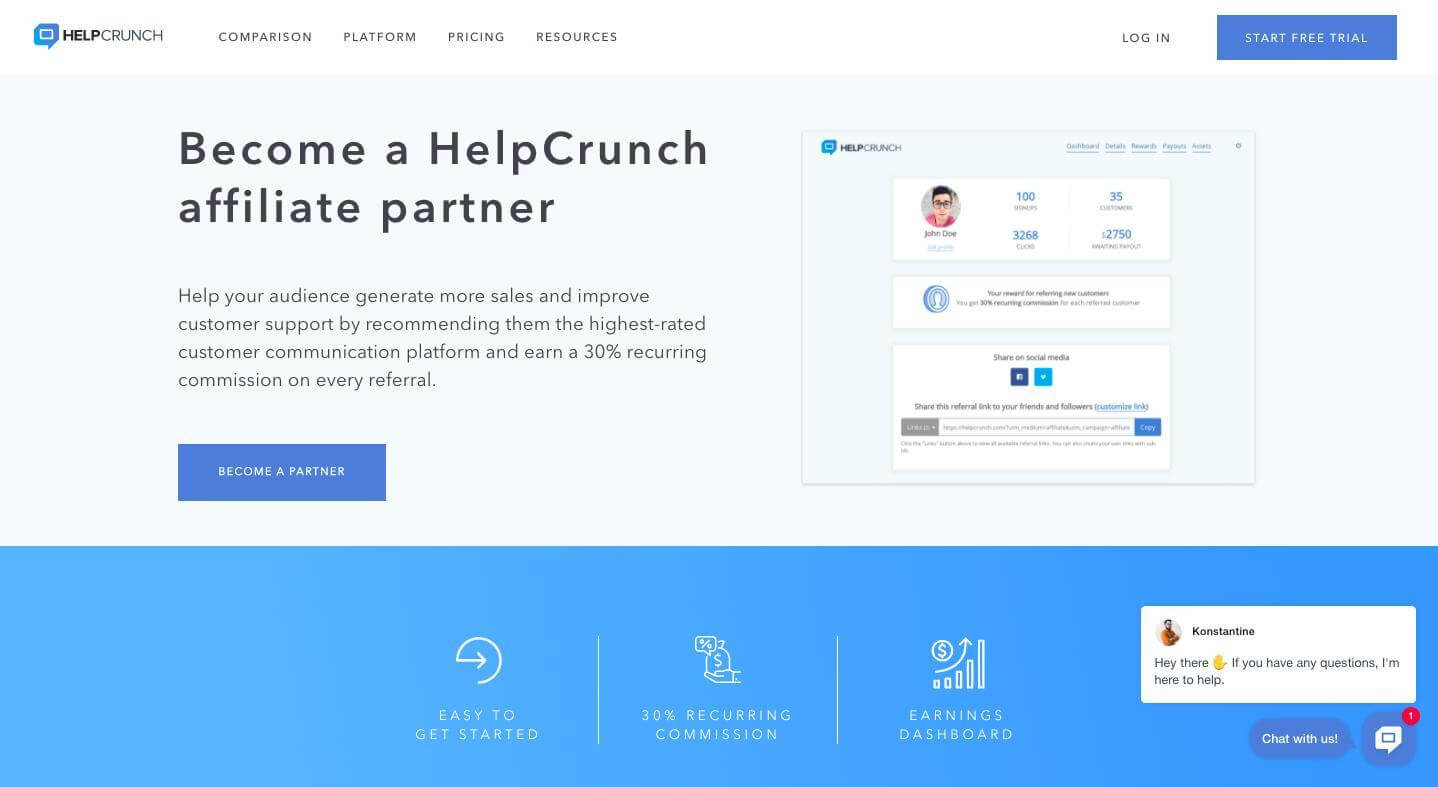 HelpCrunch is an all-in-one customer communication platform that offers various solutions to businesses. Since more and more companies are looking for customer communication options, HelpCrunch has set up its affiliate program to encourage freelancers, agencies, and website owners to make more money when recommending the tool. The company provides affiliates with marketing materials and allows you to get a 30% commission on a recurring basis.
What works:
A possibility to get 30% commission for each referred customer
User-friendly earning dashboard
A simple sign-up form
Leadpages is a website and landing page software with dozens of templates for small businesses. The number of small businesses is growing and networking is an essential part of business growth, so the Leadpages affiliate program is just the right solution for affiliates who want to make extra cash when helping partners. Moreover, affiliates can make up 50% commission when acquiring new clients.
What works:
A great variety of features to offer
50% commission rate for the lifetime of the referred customer
30-day cookie lifespan
Fast and easy sign-up form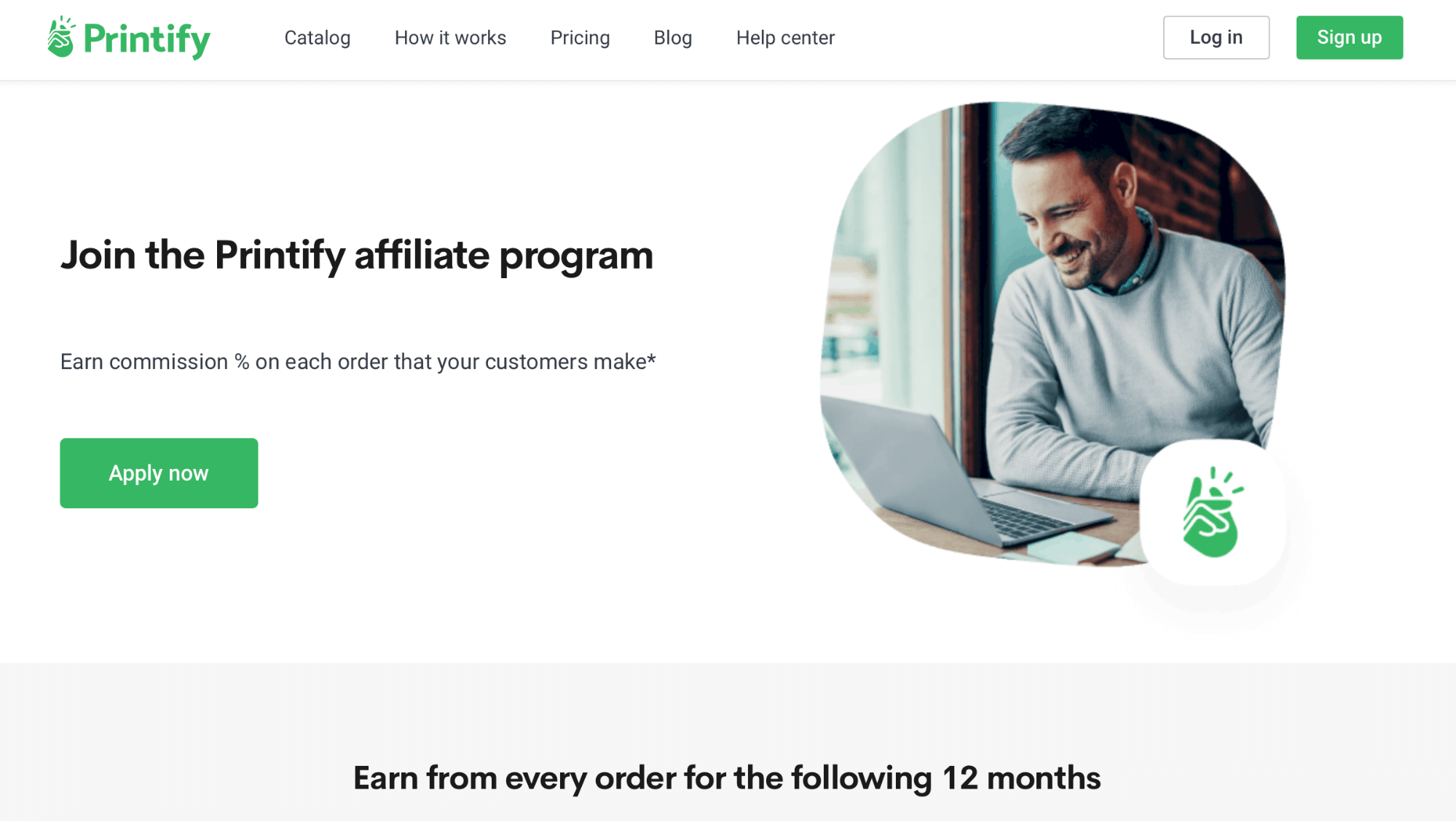 Printify is a print-on-demand platform that allows business owners, influencers, and common people to create merch with ease. More and more people seek out this solution to make custom products, spreading the word about Printify is an excellent option for all affiliates. Moreover, its affiliate program allows you to make money from every purchase your customers make during 12 months.
What works:
Get commission for every sale your referred customers make on the platform for 12 months
Fast and easy sign-up form
Monthly payments to PayPal account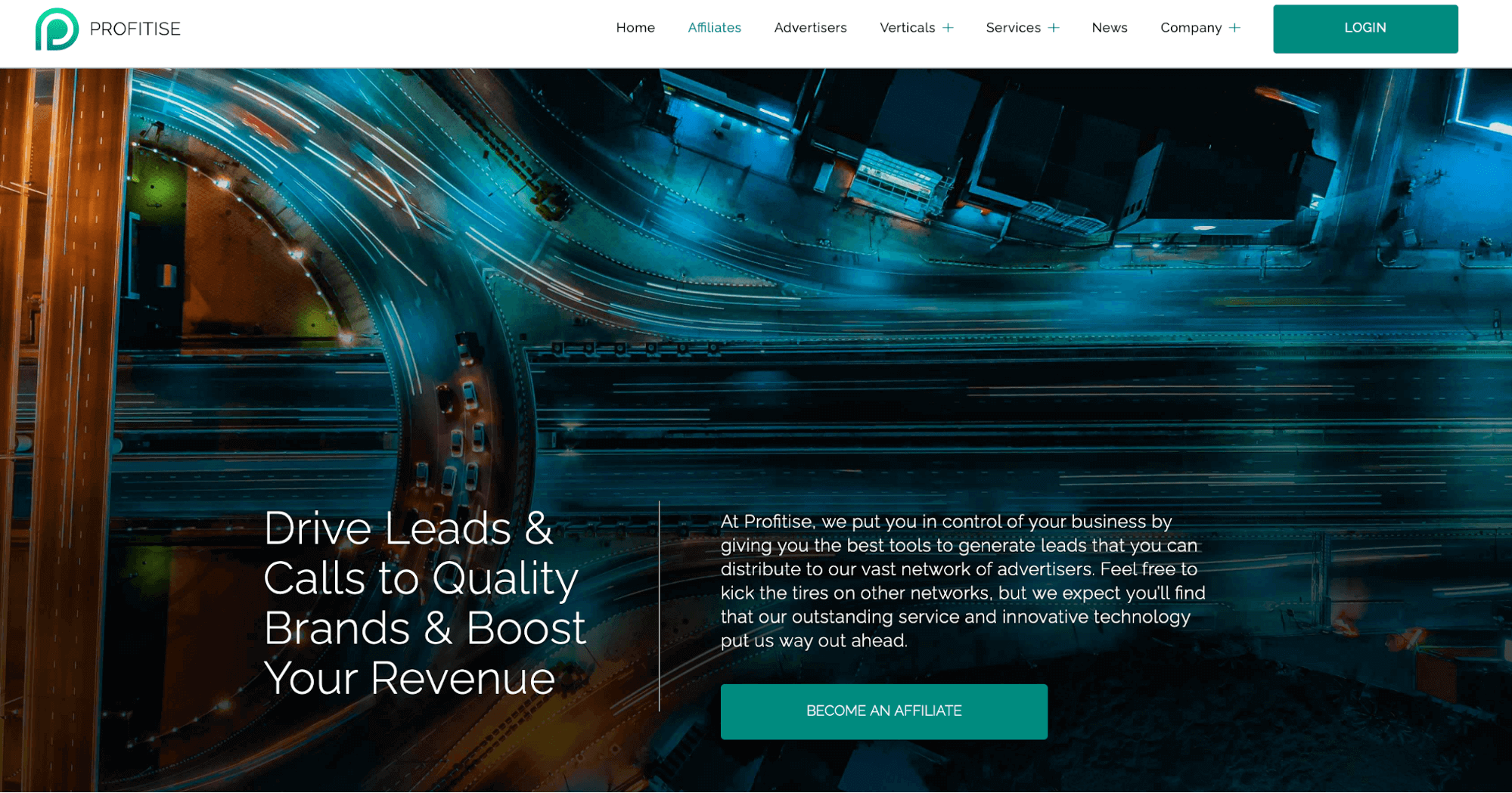 Profitise is an insurance lead & call tracking solution, and it's a great example of niche affiliate programs. Although the company works within a specific market, Profitise has an affiliate program for real experts who know their target audience well, which means you can earn the commission with no competition. Plus, the company offers advanced solutions for its partners to help them grow their insurance business with ease.
What works:
User-friendly partner dashboard with stats
Advanced lead management software for affiliates
Easy sign-up form
ReferralCandy is a word-of-mouth marketing solution for businesses that helps to create referral programs with ease and therefore turn happy customers into brand advocates. Since the company knows the power of word-of-mouth marketing, ReferralCandy has its easy-to-use partner program for marketers who can spread the word about their business and earn cash bonuses. It's easy but so effective!
What works: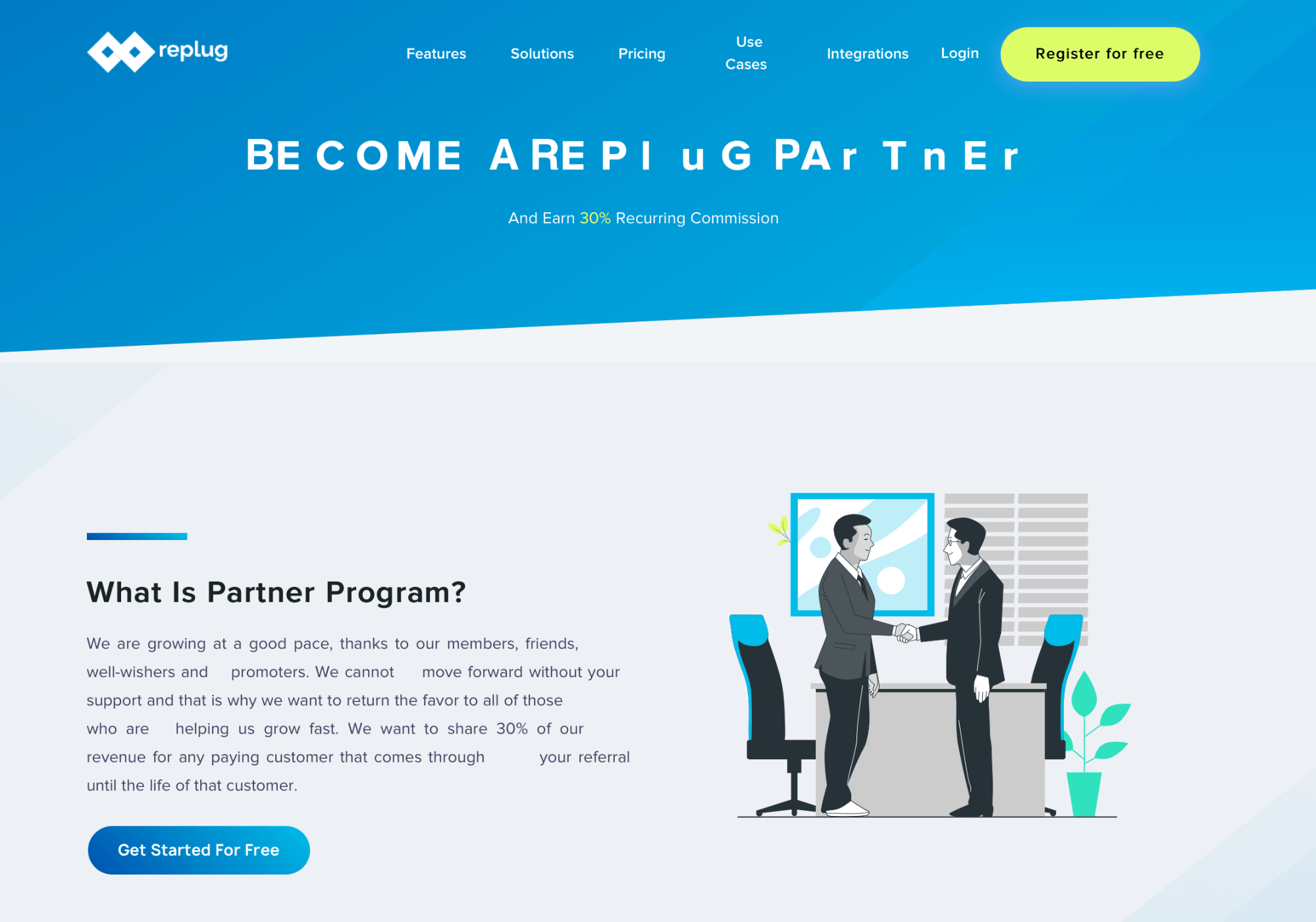 Living in the digital era, when most business owners and marketers are focused on business promotion, the popularity of all-in-one link management tools for branded URL shortening like Replug is growing. Not only do business owners and marketers seek out these services, but also influencers and bloggers, so Replug has an affiliate program that motivates people to spread the word about its tool and get a high commission for the lifetime of their referred customers.
What works:
30% recurring commission for the lifetime of the referred customer
Intuitive sign-up form
User-friendly partner dashboard
FAQ section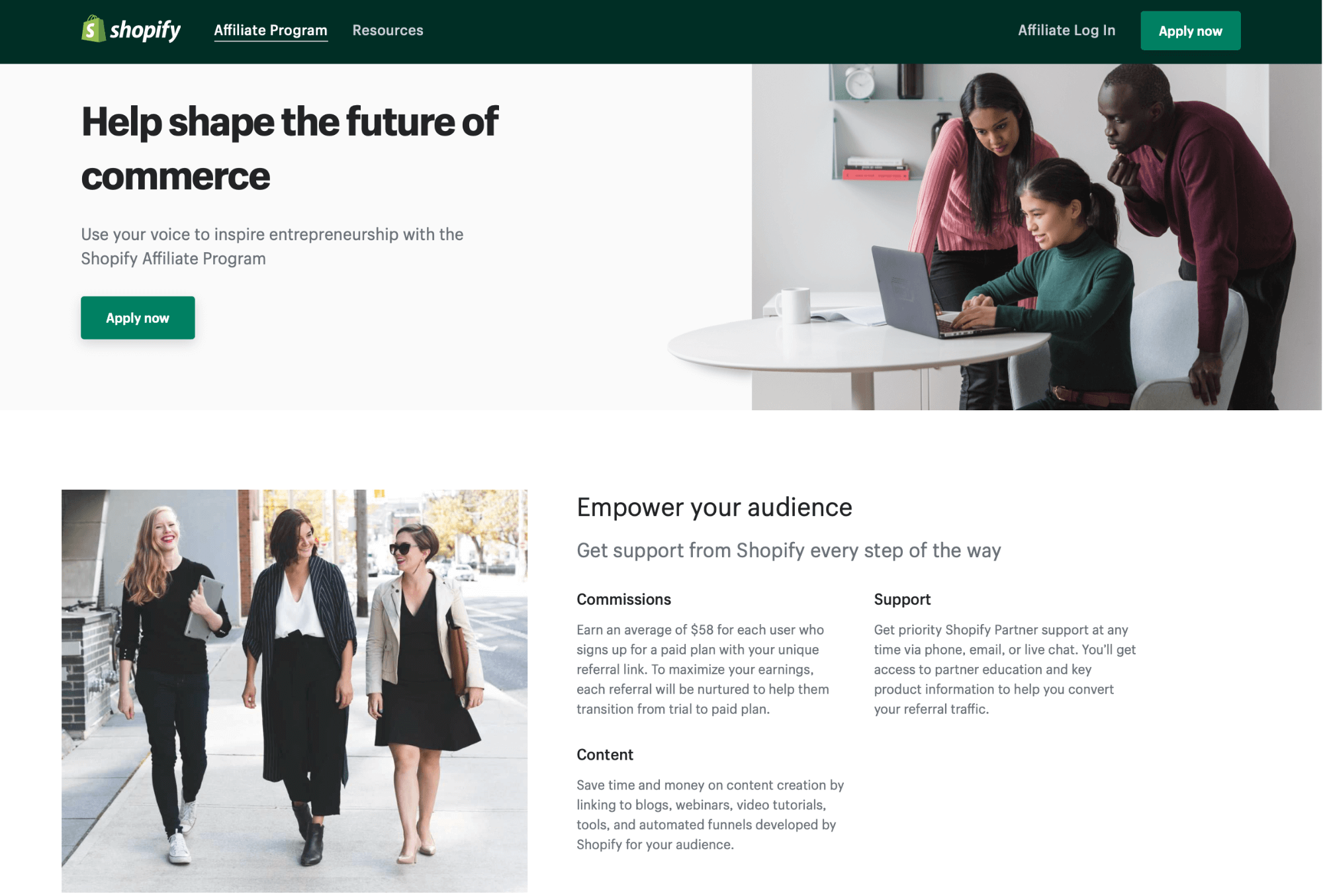 Whether you work in Ecommerce or not, Shopify needs no introduction. As one of the most popular Ecommerce platforms globally, most marketers and business owners consider it an option for finding the right Ecommerce solution for their needs. With the Shopify Partner program, every person gets an opportunity to make extra money when recommending products to their friends, partners or simply sharing the unique link on a website, social media, email, or SMS.
What works:
Pay per sale affiliate program that offers a $58 reward for each customer
Marketing materials that help to acquire more customers without wasting time
Customer testimonials from existing affiliates
Shopify Partner support (phone, email, or chat)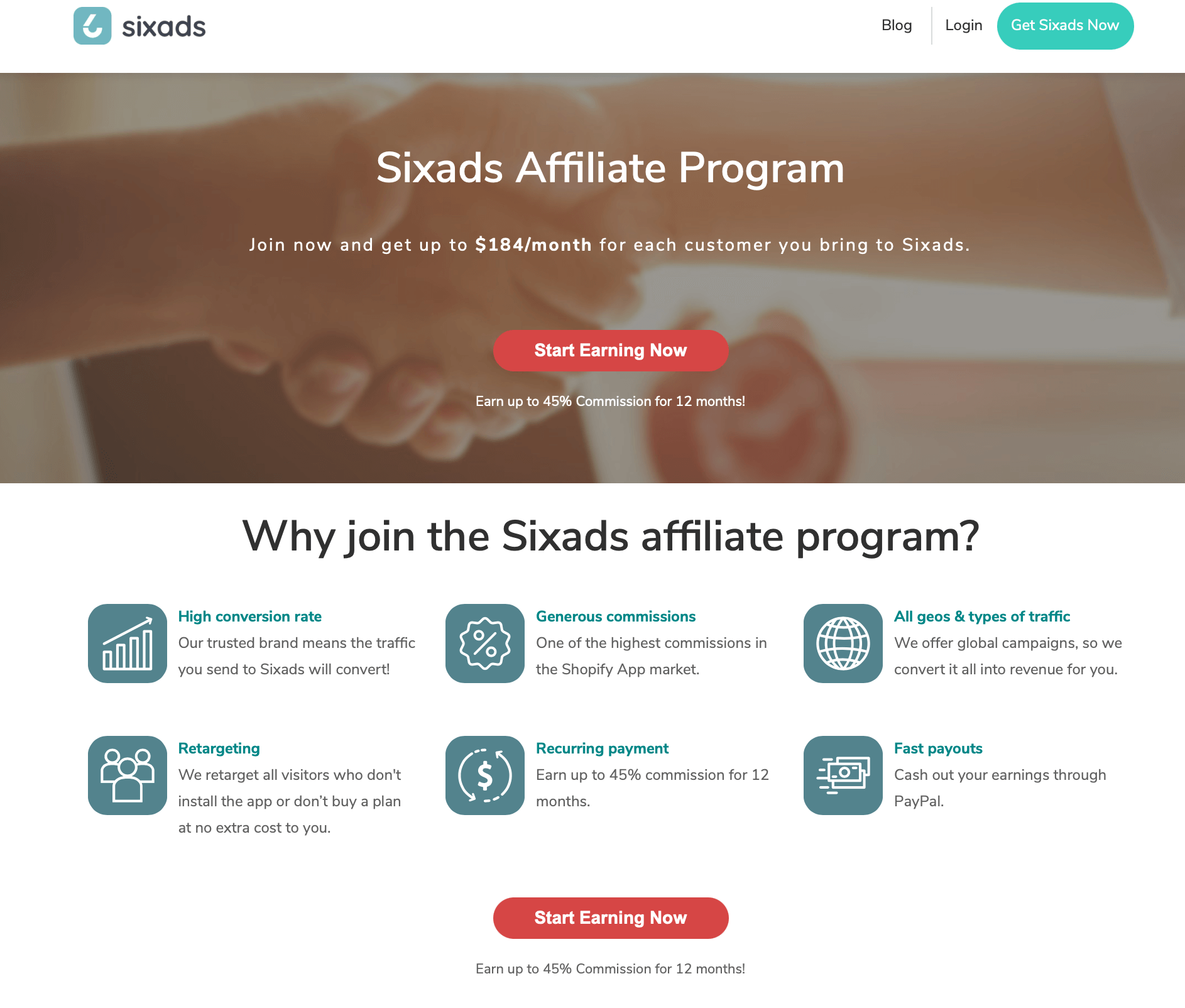 With the growing number of competitors, practically every business runs ads to reach the right target audience, promote its products or services, and boost sales. With SixAds, you can put your product in front of your potential customers with Facebook, Google, and Instagram ads. The product is in demand, so the company has its affiliate program for entrepreneurs, influencers, and marketers who want to make money when promoting SixAds online.
What works:
45% commission for every sale your referred customers make on the platform for 12 months
Retargeting that helps affiliates acquire more customers at no cost
Fast payouts to PayPal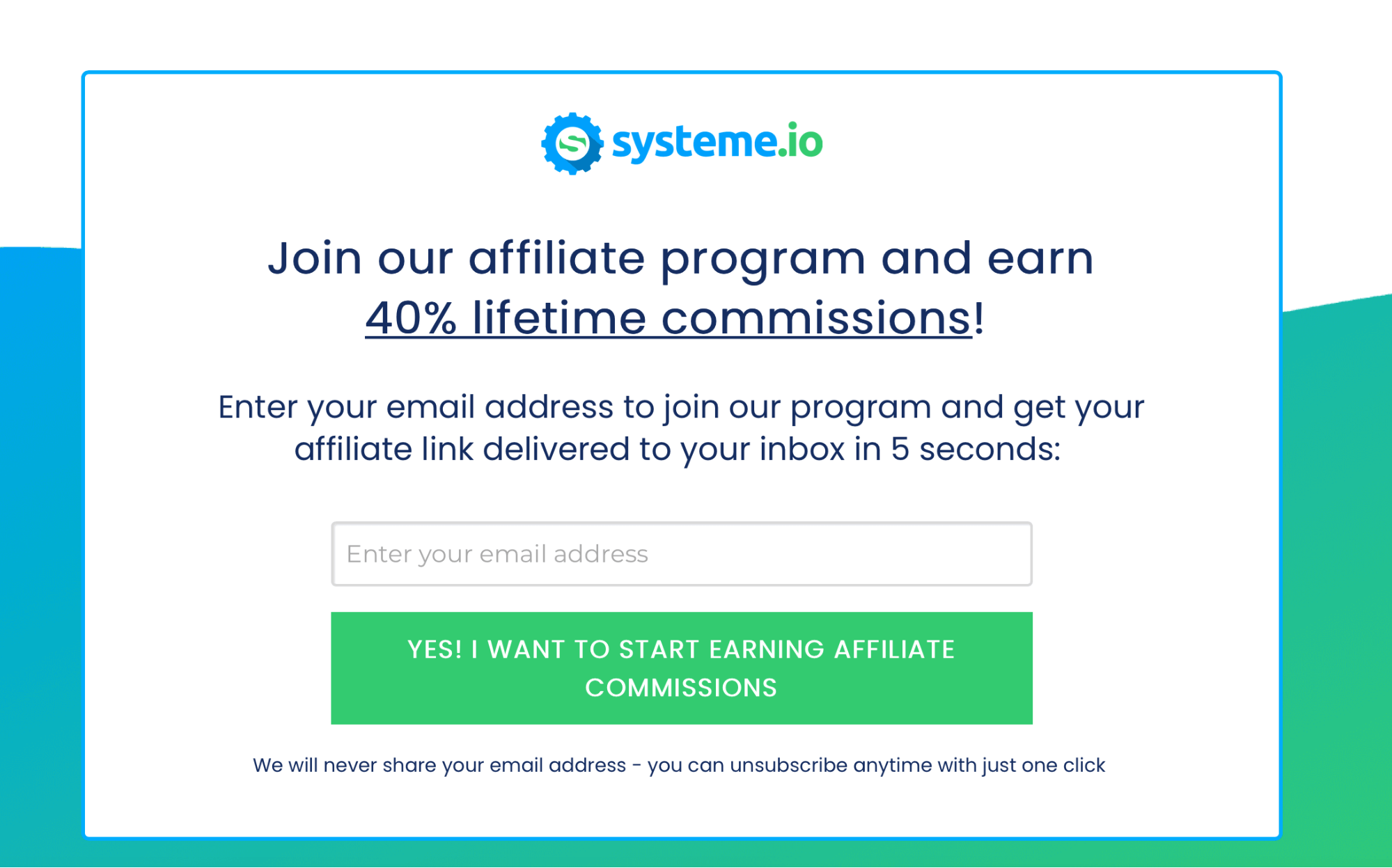 Running an online business requires time, knowledge, and effort. To make the entrepreneur's life easier, business owners seek out all-in-one tools like Systeme with everything you need to launch and manage your online business. The company knows the importance of various online tools for entrepreneurs, so it has its affiliate program that helps people make money online when sharing unique links on social media, websites, or emails.
What works:
40% recurring commission for the lifetime of the referred customer
Simple pay per sale affiliate program
Easy and fast sign-up form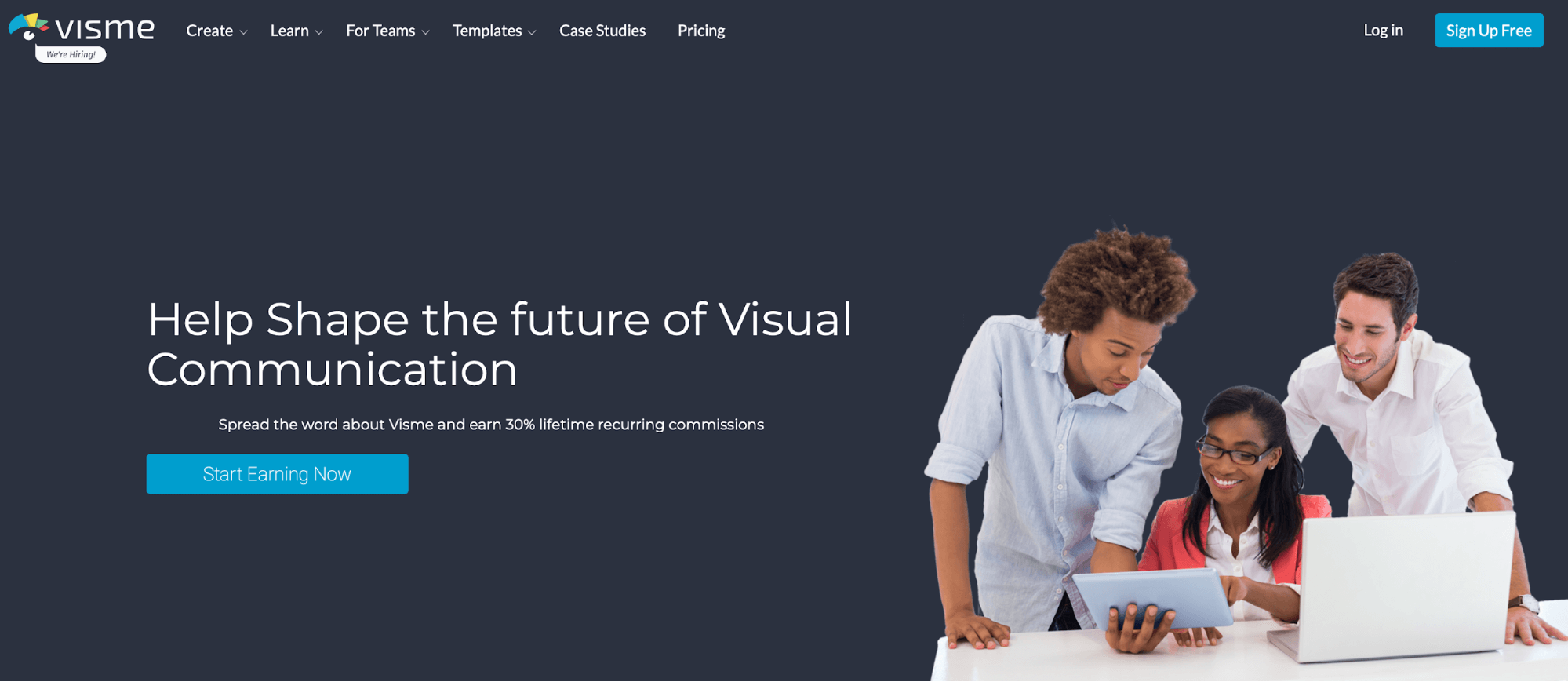 People are visual learners, and we create and use visuals daily. Since most people want to create stunning visual content, Visme is an excellent graphic design solution that helps non-designers create amazing visuals for business and personal purposes. The company has a partner program that encourages all interested people to join it and promote Visme in exchange for getting a solid commission for each acquired customer.
What works:
30% lifetime recurring commissions
Easy and fast sign-up form
Travelpayouts is a platform for monetizing all travel traffic. With more than 100 affiliate programs, Travelpayouts covers all verticals of the travel niche - flights, hotels, car rental, package tours, etc. You can join such programs as Booking.com, TripAdvisor, Aviasales, GetYourGuide and see all clicks, bookings, and earnings on one dashboard in real time. The single payout for all programs is received monthly, starting at $50.
What works:
Travelpayouts is optimized for travel traffic. They have lots of highly converting affiliate tools that are not available anywhere else.
The support team at Travelpayouts is responsive and competent. They answer within an hour and help with issues ranging from API set-up to choosing the best фаашдшфеу program for a specific article.
Travelpayouts has lots of educational materials - webinars, articles, guides. This makes the platform great for beginners.
In a Nutshell
Affiliate programs differ in many ways: commission rates, payment methods, terms, etc. This means every business owner can start an affiliate program that suits business needs and wants.
The great news is that there are various affiliate management programs and affiliate software on the market: FirstPromoter, Yotpo, Birdeye, to name a few. These tools help interested people create their own affiliate program with ease – just think about incentives that can motivate your promoters, terms, and conditions, and start your affiliate program.
Have you ever tried affiliate marketing? Share your experience in the comment section below!