4 SEO Tools for Data Driven Content Writing: Comparison
Lists

Editor's note: We are hoping this comparison column will come in handy for all the content creators out there, though we must stress this article shows the author's opinion we might or might not agree with.
What makes great content great? Usually the overall quality. Usually it's value to the reader. Usually its uniqueness.
But content with those characteristics is not great, unless it's seen by people. Their opinion makes the content great. And one of the best ways to make sure they have an opportunity to decide, is to make your content visible in search engines. After all, if your 'great' article generates no entries after a month from publication date, what's the point to start with?
When I write any new page, I make sure to marry quality and SEO — that's how the evergreen content is born. And SEO content writing tools are a true hack to deliver great pages.
What I'm about to share is the comparison guide you never knew you needed, where I'll walk you through four of the top content SEO tools on the market. I'll explain you in-depth what kind of content editing tools they offer. Each of them is fantastic in their own right. Each of them has something that the others don't — and you deserve to have the best software on the market in order to ensure that your content is ranking at the top.
To create truly impressive content, first and foremost, it should be clean from sloppy spelling mistakes and typos. The Netpeak Spider crawler has a spell checker in the free version of Netpeak Spider crawler that is not limited by the term of use and the number of analyzed URLs. Other basic features are also available in the Freemium version of the program.
To get access to free Netpeak Spider, you just need to sign up, download, and launch the program 😉
Sign Up and Download Freemium Version of Netpeak Spider
P.S. Right after signup, you'll also have the opportunity to try all paid functionality and then compare all our plans and pick the most suitable for you.
There's no one-size-fits-all solution which is why I am so excited to present this detailed and carefully researched handbook. I hope you'll be able to find 'the one' for you and your business.
1. The Tools Included in the Comparison

2. User Interface Comparison

3. Content Recommendations Comparison

4. Content Editor Customization

5. Pricing Comparisons and Usage Limits

6. Tools Ranking and Summary
1. The Tools Included in the Comparison
Alongside each of the tool, I included a brief description of what they do so you can get a good overview of what to expect.
Here's the big four:
1.1. SEMrush
This marketing toolkit is packed with all sorts of features. The detailed analytics allow you to track every inch of your website and to monitor performance so you see where you can improve. It helps you learn more about keywords, discover new ways to optimize content, and also ensure that you remain top dog.
1.2. CognitiveSEO
This is a crawler and SEO tool that will scan through your entire website in order to discover weak points and improve your performance where possible. It's an auditing tool that has been created with clever algorithms to show you what's going on on your website. It takes into account everything: from backlinks and keywords, to ensure that optimizing SEO can be done quickly and effectively.
1.3. WebSite Auditor
A tool known for on-page auditing. It will track your rankings, competitors, and show you the areas you are doing well in as well as where you need to improve. It's really good for learning more about the ways you can alter your website to ensure that you are always ranking as high as possible.
1.4. Surfer
This is an SEO tool that keeps things simple, but also helps you learn more about your website. The keyword analyser shows you everything right, wrong, and that needs work with your website. This includes SEO and backlinks for a detailed picture. There is also the 'Editor' tool that will help you to create better content with spot-on optimization.
Now that we have been through the tool basics, let's move onto the specifics. Each section below contains some of the big features, comparing each to the other so that you get a clear picture of what they are able to provide you with.
2. User Interface Comparison
First things first — let's take a look at the different user interfaces and how they compare. This is all about the feel of the software and it's capabilities when using an editing program. Both very important.
SEMrush
SEMrush offers an editor that is as a real-time checker. It's a stand-alone app or an addon to WordPress and Google Docs. It allows to save and share the work via Google Docs.
One of the best things about this option is that it does not clutter, and there are plenty of styling options. It takes a detailed look at your content and analyses it real-time, giving a good insight into what you might be missing. For more experienced SEO writers, it may lack depth, but in general it's easy to use and helps a lot with the rankings.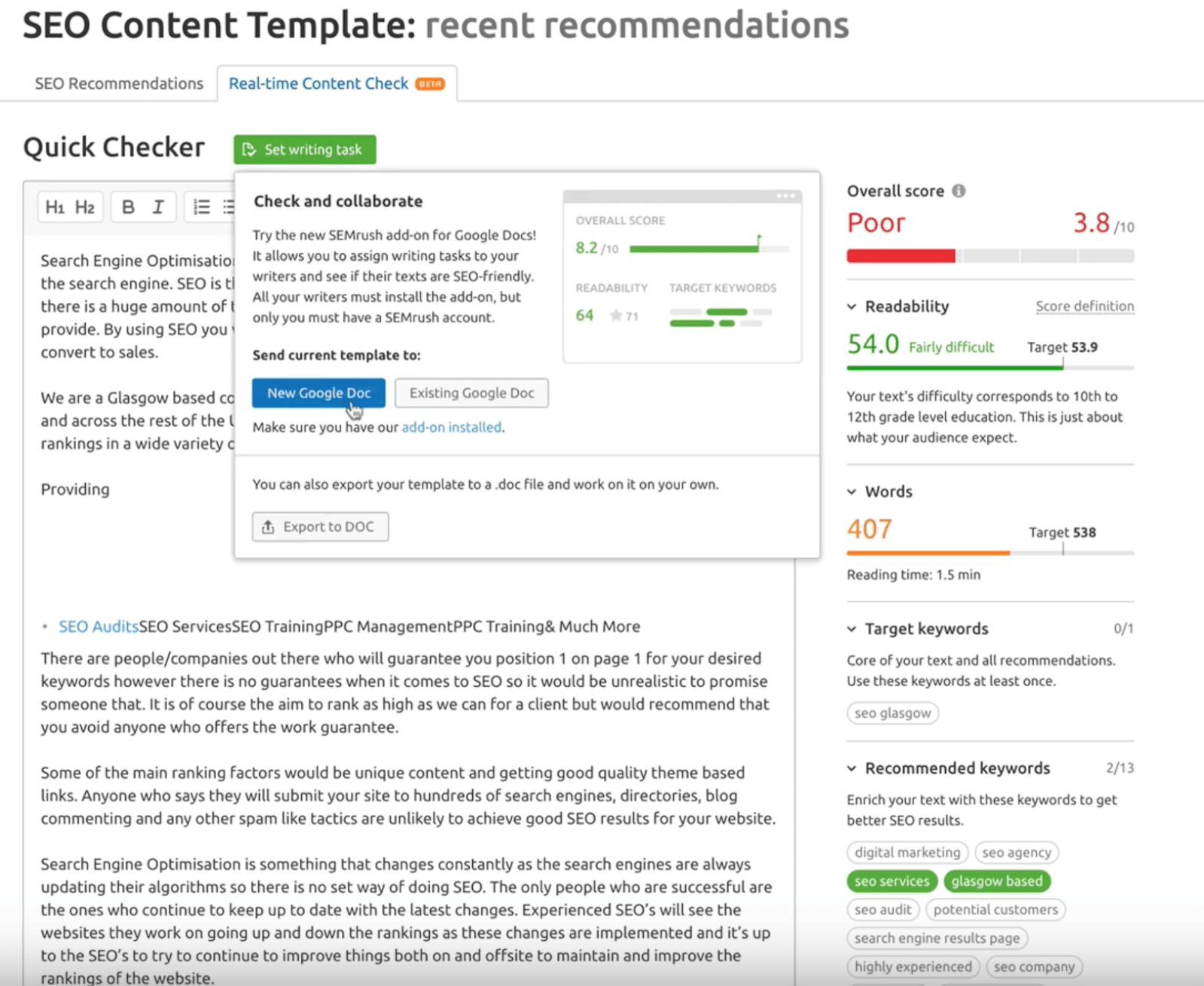 CognitiveSEO
Here, the whole thing appears to be much more convenient. It's perfect for tweaking pieces of existing content, maximizing SEO, and showing you exactly what is what. However, writing new articles from scratch is a much harder task because of the limit on the number of checks, which I will elaborate later.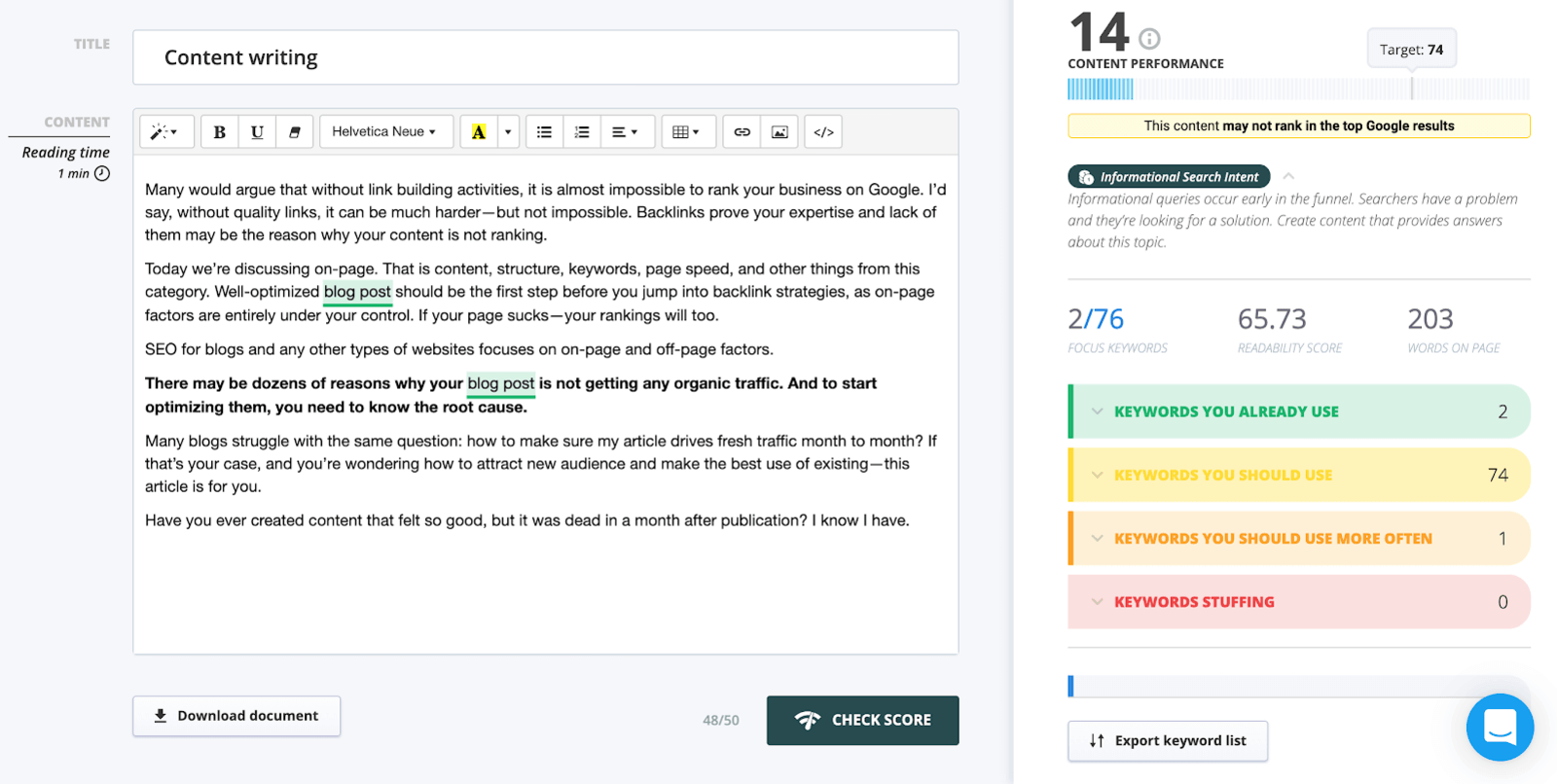 WebSite Auditor
The content editor does have an HTML mode, and it allows you to edit content the same way it will be displayed on your website. There are some basic page recommendations that are recalculated in real-time, but it is not connected directly to the TF-IDF module, which makes it harder to use.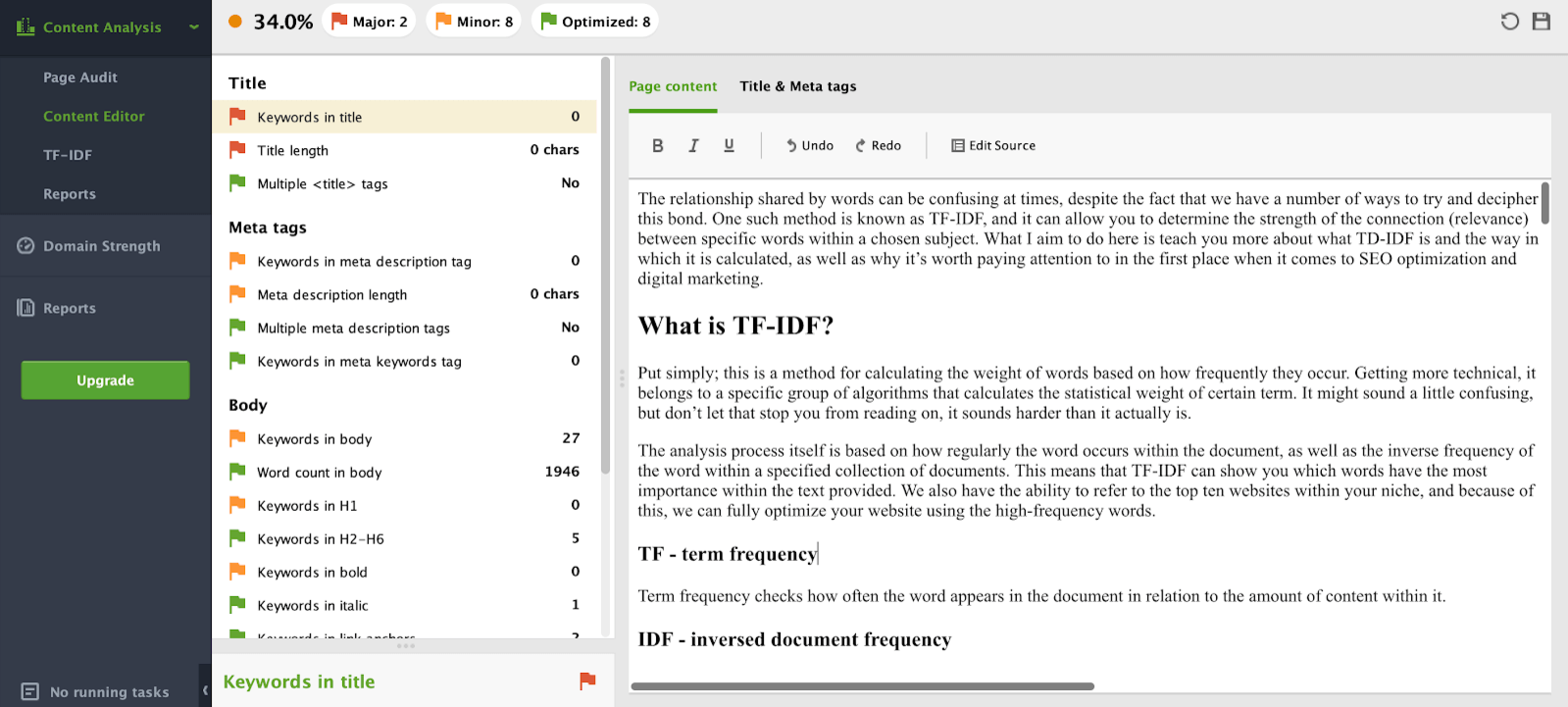 Surfer
There is a lot of stuff in this content editor that is missing elsewhere. It works just like Google Docs or Word, but it's actually within the Surfer app.
The whole user interface is clean and easy to use. As a writer, I do feel that this is the one that caters best to my line of work; there's no unnecessary overengineering. The learning curve is smooth and the first-time users can jump into their work right away.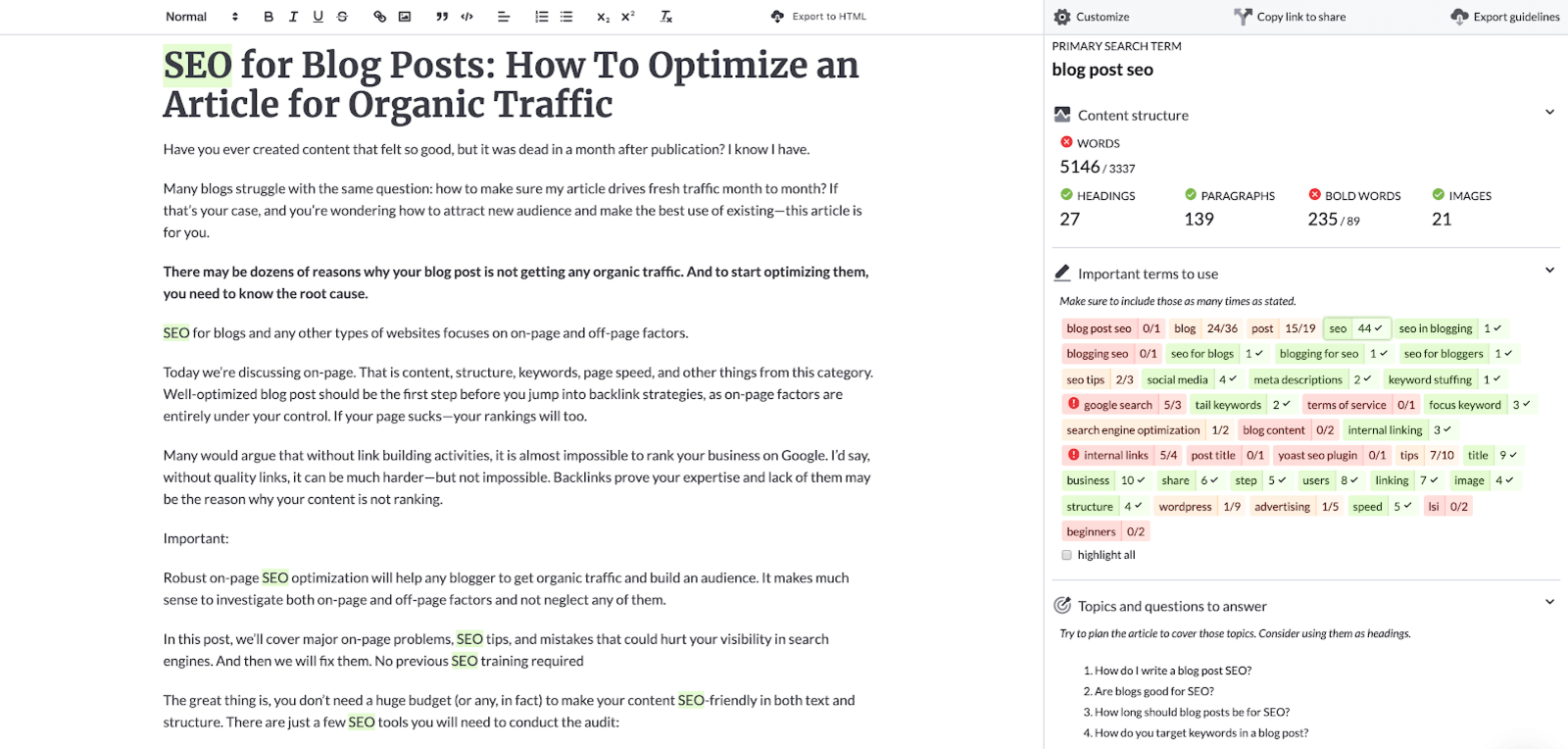 3. Content Recommendations Comparison
Now that you have a general idea what each app does and how they present, we can go through the recommendations, comparing feature by feature between our contestants.
Let's have a look on how detailed they are and what kind of recommendations they offer.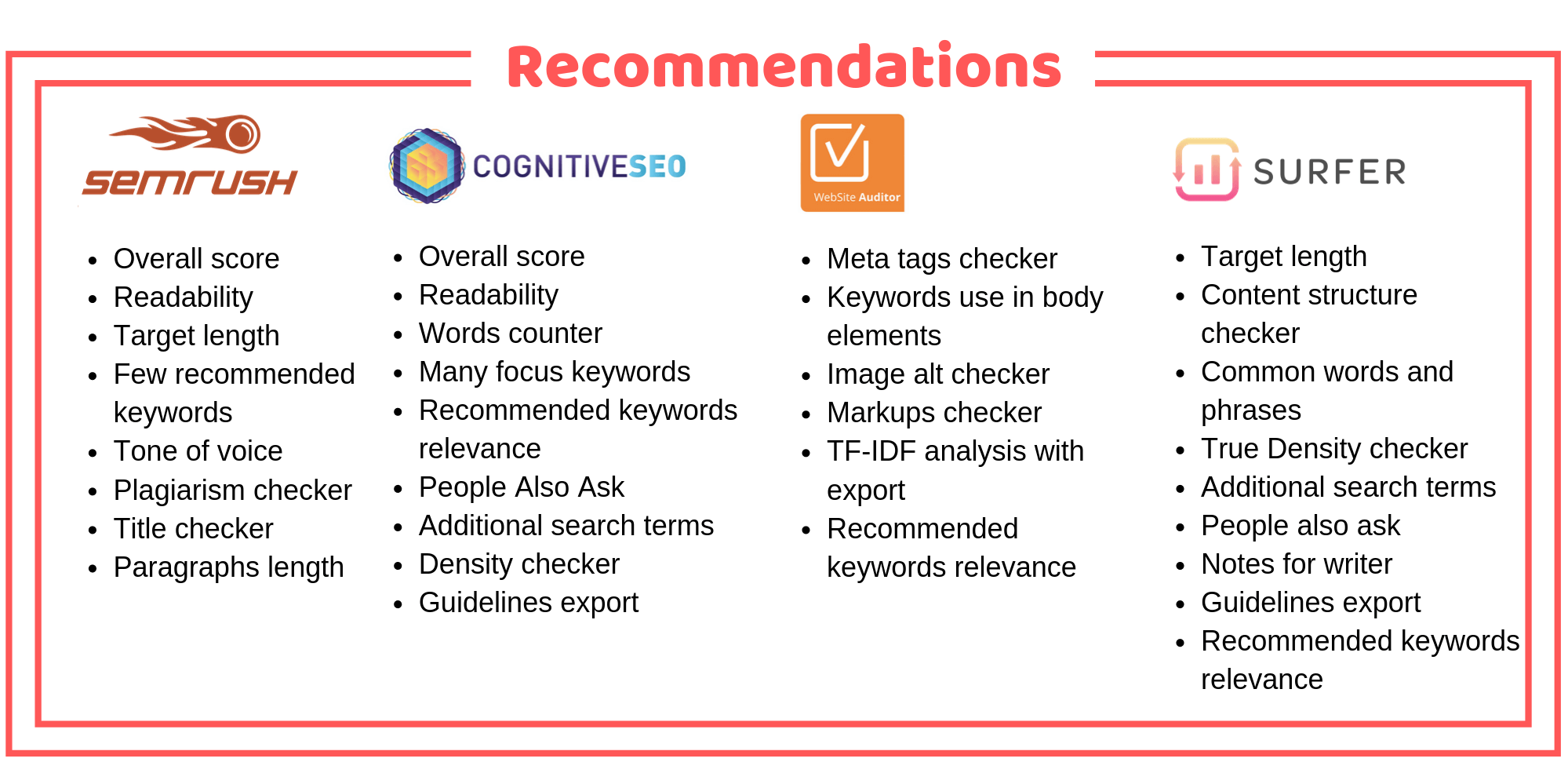 SEMrush
I must admit: the recommendations here are really nice, and they will live up to expectations of many writers.
However, if you know other tools from this list, you'll notice they are on a rather basic level. There is no exact information given to the user, as well as a lack of suggested keywords usage when you are looking to improve based on competitors analysis.
Additionally, there is no density check, which disqualifies any SEO editor in my eyes. Instead, it gives you some features that would be more suitable for Grammarly or Hemingway app like plagiarism checker, tone of voice, and readability. Very important aspects when it comes to user experience and SEO, too.
CognitiveSEO
Finally! We have some nice recommendations about the phrases and densities. I could definitely squeeze some SEO power and create a nice-ranking page.
The suggestions here are much more detailed compared to SEMrush, but I'm still missing details on words usage for a clear and accurate picture. Should I use a phrase once or ten times? That is a huge difference after all! But in CognitiveSEO you can just add or remove phrases. I love the idea of the content score, but I'm not sure how it's calculated. It seems to decrease after implementing some of their suggestions…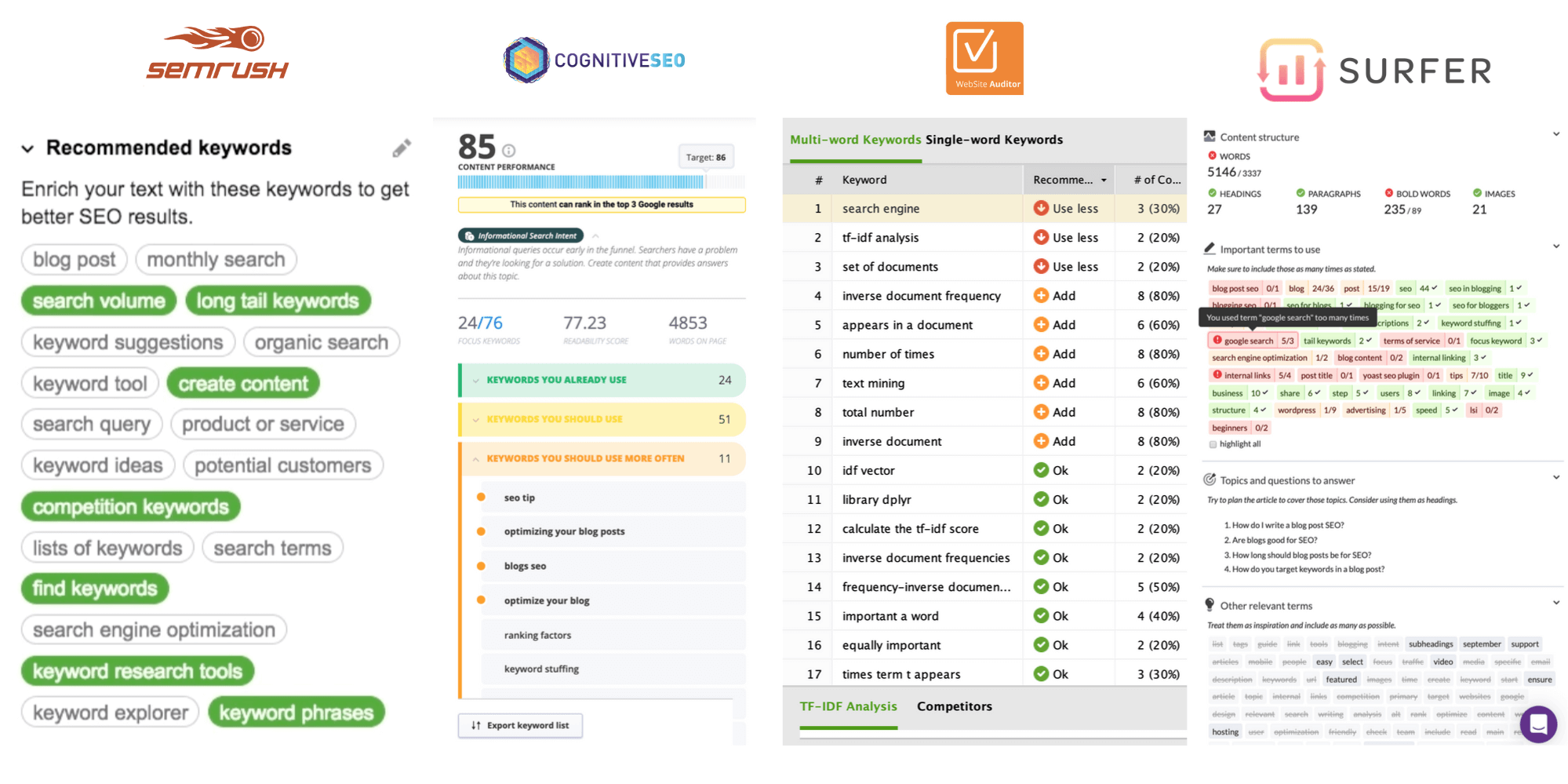 WebSite Auditor
WebSite Auditor bases its recommendations on a very popular concept of TF-IDF. It really helps you create well-ranking content as it suggests if the term is used the right number of times. There are some controversies around this method though. Some experts argue if Google may rely on TF-IDF at all and I'm not very convinced, either.
The biggest issue with this — and so the tool as a whole — is that it does not take the length of the articles into account. Instead, it extracts its information from competitors without recalculating the results against the article's length.
Therefore, it is easy to over or under-optimize your website.
Surfer
This tool uses what is called a True Density algorithm to figure out which terms to use on the content. On the contrary to WebSite Auditor, Surfer reverse-engineers the top result based on the targeted keyword and location.
There is also an additional step it takes that tools like WebSite Auditor are missing; recalculating the density based on the suggested content length. There are so many contextual recommendations that have an exact range of use, as well as the keyword explorer that will allow you to browse search terms.
You can even add your own keywords in order to see how your competitors are using them. I love the customizability here. But Surfer will not allow you to add your custom URLs that are not ranked in top 10. This may be troublesome if you have few pages in tops with the same user intent.
4. Content Editor Customization
All content editors give some useful SEO recommendations. They all offer some auto generated guidelines from the start which is pretty awesome. So, what about the customization of those guidelines? This is key because there isn't much worse than being stuck with a program you can't adjust to your needs.
Let's take a look and see how our four tools perform.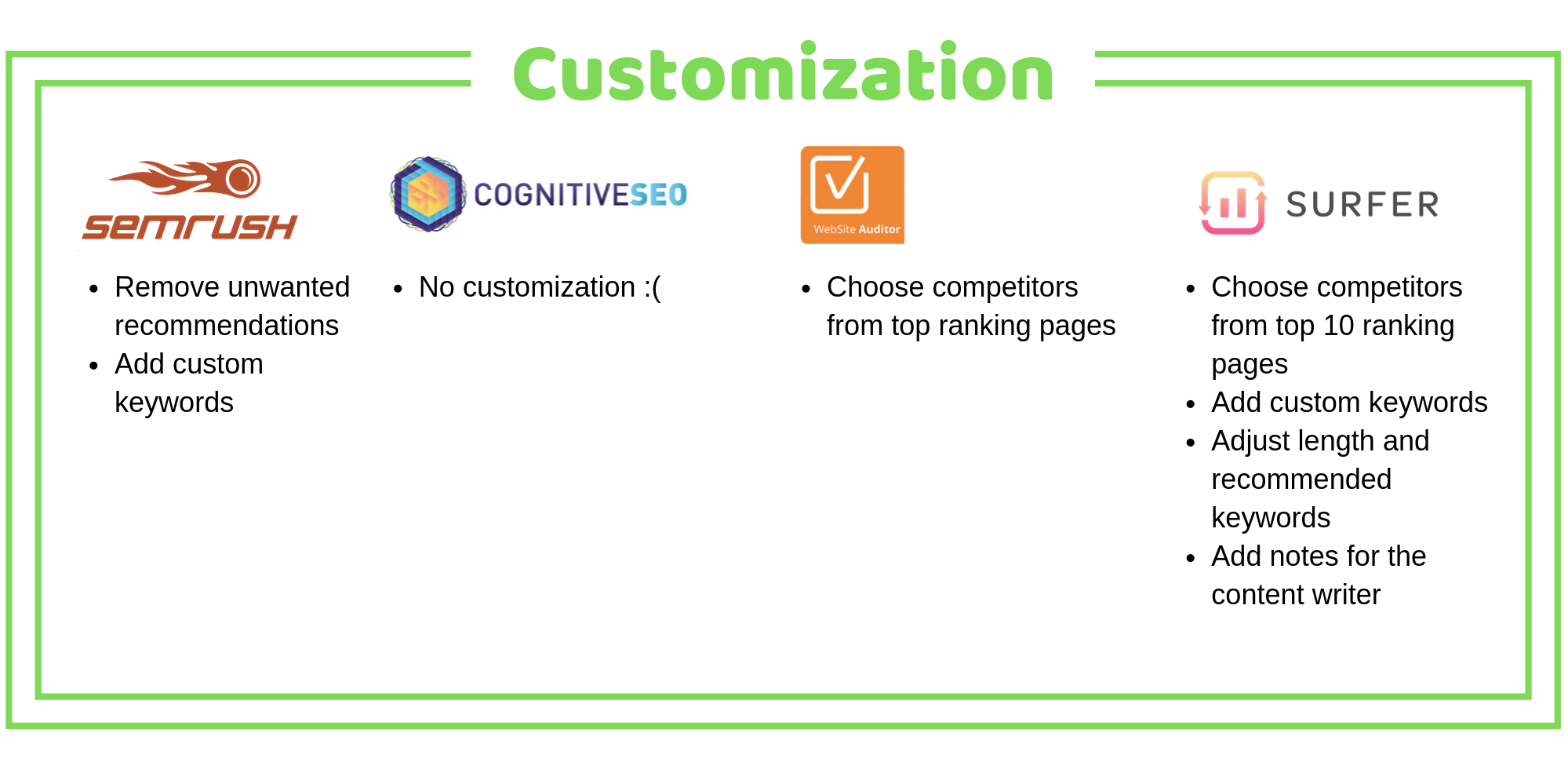 SEMrush
This tool will pull recommendations based on your targeted keywords and allow you to add or remove the ones you don't want.
Therefore, you aren't limited in terms of what you want to create, but it can be limiting for copywriters. If you're a copywriter yourself, you will get what I mean. We all have those customers that change their keywords when you're almost done with the copy. If they aren't listed in the recommendations, that leaves you a bit stuck.
CognitiveSEO
Here, you type in your keyword, and the tool scrapes ranking pages to provide SEO suggestions. You won't be able to remove pages from the list though. And the recommendations are non-negotiable, too.
This means that you cannot remove or add your own keywords. This can be a little frustrating, but it does have the keyword explorer. This is a pretty cool addition as it helps you find the best and most profitable keywords to use.
WebSite Auditor
WebSite Auditor offers more flexibility than CognitiveSEO. When you search for your keyword and the tool begins to scrape pages, you are actually able to include or exclude any of them.
Now that's what I'm talking about! This is way more flexible, and it means that you get the chance to enjoy a more diverse experience when optimizing your content.
Surfer
In Surfer you can customize suggested terms to really make your content editor your own.
There is a keyword explorer that bases its suggestions on the search terms that have the same results appearing in the top 20. There is also an option to add your own terms, change existing ones, and change the pages that have been taken into account by the scraping process. But, as I mentioned, you cannot add your own URLs to the analysis which is a bit of a pain.
5. Pricing Comparisons and Usage Limits
Finally, we get to take a look at the pricing as well as any limitations that come with it.
A tool can sound like it ticks all the right boxes, but it's pointless if it doesn't work with your budget. Prepare to be shocked and surprised by what you discover below.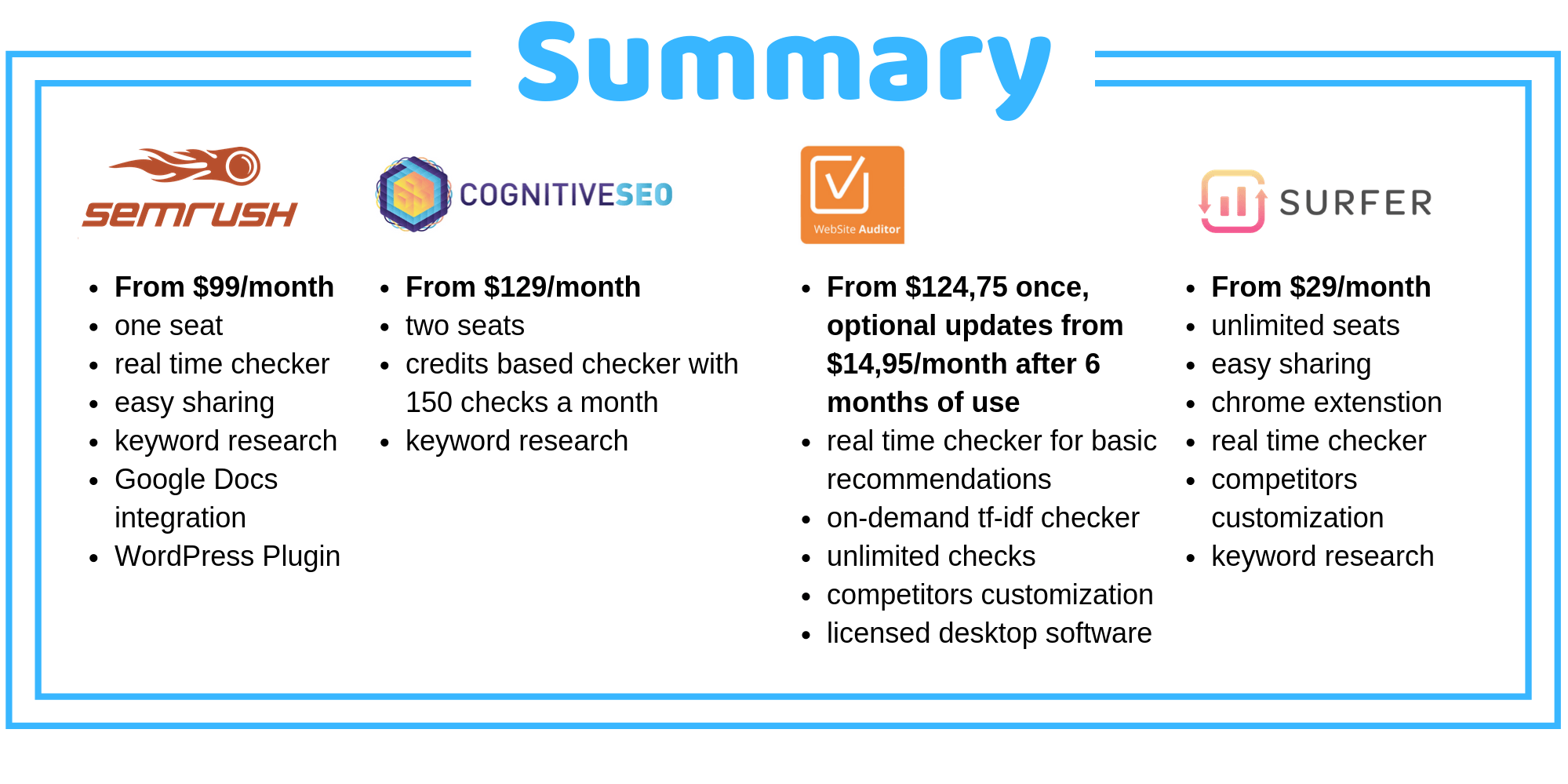 SEMrush
The content editor is actually part of the SEMrush tool, which is great news. The pricing starts at $99 per month, and there is an additional fee if you want to have another user gain access to the editor.
The nice thing about SEMrush is that it is essentially the swiss army knife of SEO, and has the new editor as a little addition. However, if you're looking for content editor specifically, the price may be just too much. But let me tell you this: if you learn other features offered by SEMrush, you'll be happy to pay those bucks.
CognitiveSEO
When we look at Cognitive's features, it is really similar to SEMrush. However, I am here to focus on the editor. This feature is billed for every check you make, and from the perspective of a writer, this makes it really hard to focus on your work. I was pretty stressed because for $129.99 I was given 150 credits, and I had to use each one carefully.
There are also only two seats allowed, which limits it to the client and the writer; no one else. It's amazing how fast you zoom through those credits. However, usually you'll need somewhere from 5 to 20 checks per content. That was my case at least.
WebSite Auditor
WA is a desktop tool – you pay for the license once that is supported with free updates for 6 months. Depending on the usage you can go with Professional or Enterprise plan that cost $124,75 and $299,75. If you want to be up to date with the search engine changes – there is a monthly update fee: $14,95 or $34,95 depending on your subscription plan.
Sounds complicated at first, but once you get used to how it works, the model becomes fair and easy to follow.
Surfer
What I like about Surfer is that there are unlimited users. You can have as many people sharing the editor with you as you like so that your entire team can work effectively.
This includes actually writing in the app (like Google Docs) as well as sharing unique links with writers that you have outsourced; no login necessary. The editor itself is limited each month, but you can start with a $29 plan that comes with 5 credits. Higher plans makes content editor usage cheaper. Surfer will also check your content with every letter you type (not like Cognitive), so you can perfect your work without the worry of an additional fee.
6. Tools Ranking and Summary
Each product has its own strengths and weaknesses.
SEMrush comes with Google Docs and WordPress plugin which is it's biggest advantage. If it provided more detailed recommendations and a bit of in-depth SEO, that would be a good choice.
CognitiveSEO is evolving constantly. Recommendations quality is at really rigid level as well as feel of the app. What is really annoying about CognitiveSEO editor is the way it checks your content. On demand credits based checker makes it limited, especially for the highest $129/mo price.
WebSite Auditor provides pretty effective TF-IDF analysis and the best URL fetching. The reason why it is not beating competitors is somewhere between the lack of real-time TF-IDF checker and not taking into account competitors content length. When optimized content has different length, you risk with over or under-optimization.
Last but not least – Surfer. I'd call it a runner-up to the crown thanks to real-time checker, rich recommendations, and user friendly interface with unlimited seats. Weak spots of Surfer are cheap plans limits ($29 plan get only 5 and when you want to get lower price per editor you have to invest more) and incomplete keyword research database for the United States.
The choice is yours!