10+ Design Resources for Marketers
Lists

In order to create a website with a good looking design, you can use different resources that can help you switch color settings, combine backgrounds, change button shapes, add lots of eye-pleasing design elements to the website outlook, etc.
In this post, we will talk about third-party visual elements you can use. Obviously, there is no website that can look complete without attention-grabbing images. Quality photos highlight your topics, illustrate text, and describe your ideas. Well, when chosen smartly, pictures literally catch an eye of a visitor.
By the way, it is not about photos only! Among the described visuals, you can meet icons, banners, buttons, infographics, counters, design bundles, and much more. Or you can try an online flyer maker tool. Every visual element of the website, project or presentation matters, as it makes the mark in viewer's mind. Given these points, we found for you 10+ voguish design resources for marketers:
Tonicons

Material Icons

Fotor

Font Awesome

Brandit

Freepic

Amazing Big Infographic Elements Pack

Logo

Design Contest

Visme

Canva

Crello

Piktochart

PSDDD

Coolors

Design Wizard

Ultimate Marketing Bundle

Turbologo

Picmaker
Would you like to see them? Let's do it!
Tonicons
Although icons are tiny elements, but they can both refine or ruin the look of the website at the drop of a hat, so pay special attention to these visuals. As you can see, Tonicons is a code-free stylish bundle, which contains over 2,000 icons. The components were divided into 5 icon sets that come in multiple sizes. Each visual is flexible. You can edit icons effortlessly and tweak any detail up to your taste thanks to a versatile design and .psd, .svg, and vector .eps formats. So this design resource for marketers offers you to choose from graphics, button, solid, long shadow, and flat icon styles.
Price: $28
The main features of Tonicons are:
ready-made and easy-to-manage icon sets that include more than 2,000 visuals
pre-designed and fully changeable graphic elements
CSS-ready iconfont for websites and mobile applications
all possible sizes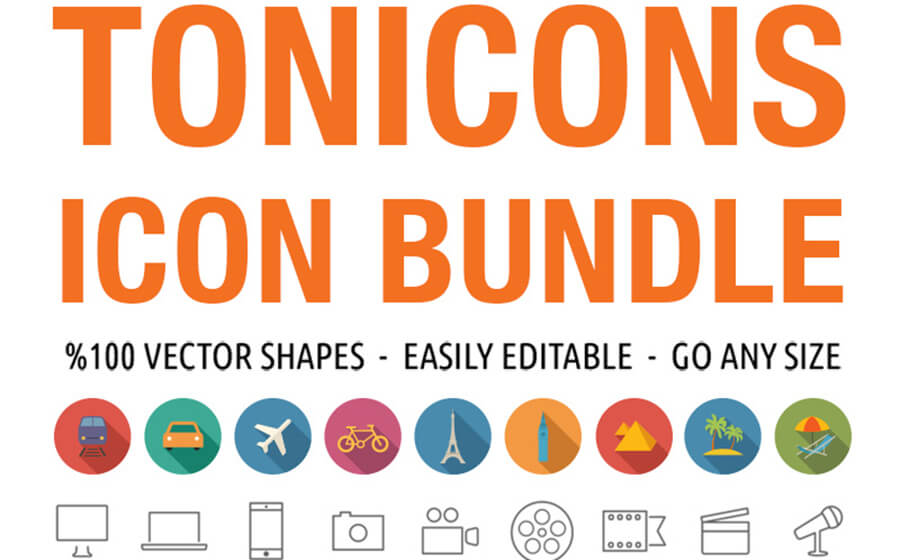 Material Icons
Here is a pleasant design resource for those who enjoy simplicity of material design. The pack is a wonderful freebie, which ideally fits both desktops and the small-screened gadgets. All the icons are available in 5 themes and have many sizes. They are available in .png and .svg formats.
Price: Free
Main options of Material Icons:
5 beautifully crafted icon themes
various downloadable sizes
integration with mobiles
easy customization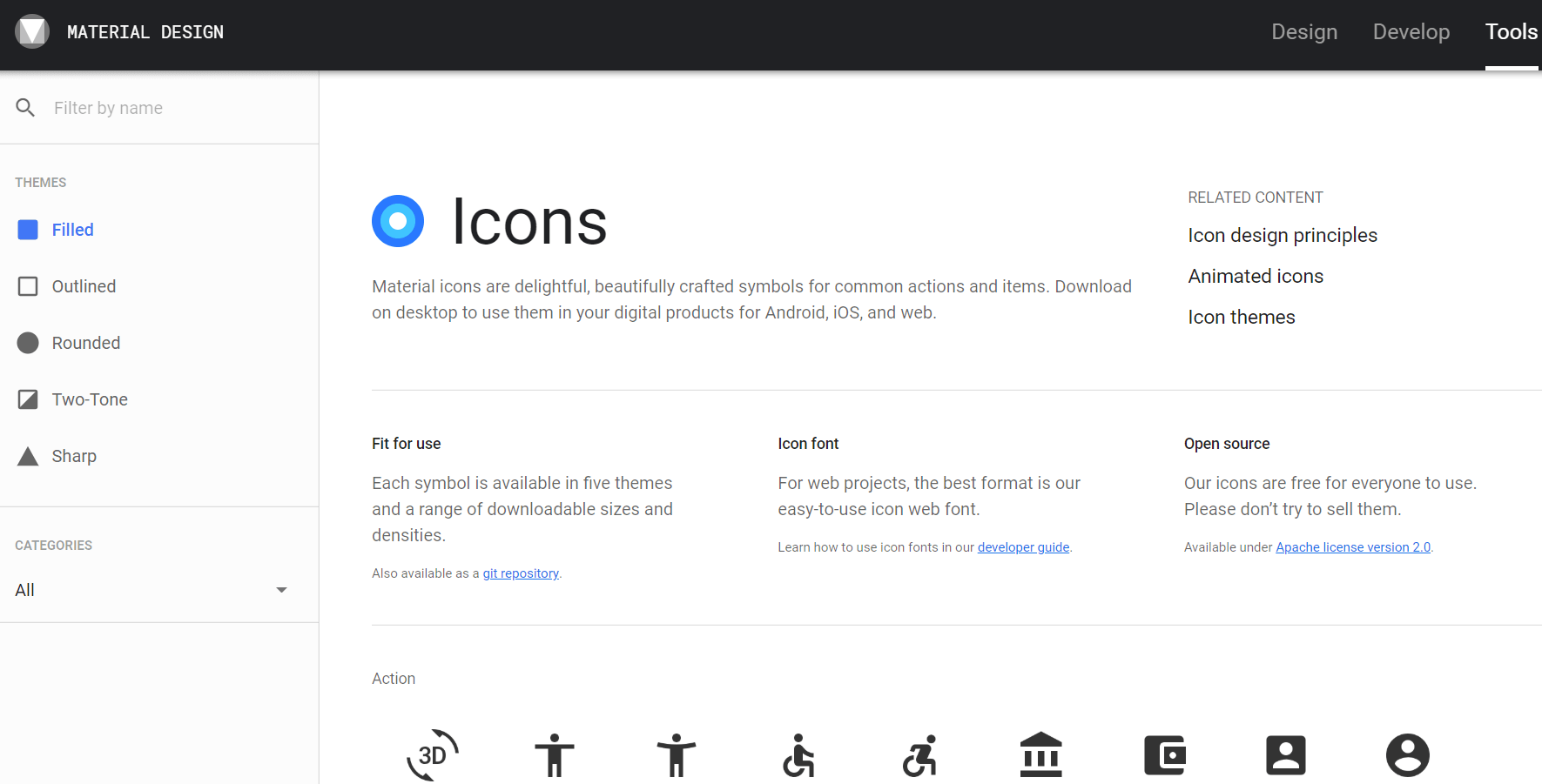 Fotor
Fotor enables quick and professional online photo editing and design. It provides tens of thousands of pre-set templates and assists in the customization and creation of excellent marketing graphics.
With Fotor, you can create a poster, logo, business card, flyer, brochure, coupon, ticket, media kit, cover, newsletter, gift certificate, email header, icon, advertisement, banner, and more.
It also allows you to compress and enlarge pictures, remove picture backgrounds, enhance picture quality, etc.
Price: Free and premium plans (from $8.99)
Features you can enjoy:
200+ editing features
300+ trendy fonts, shapes, and frames
100,000+ templates and design materials
1,000,000+ HD stock photos for personal and commercial use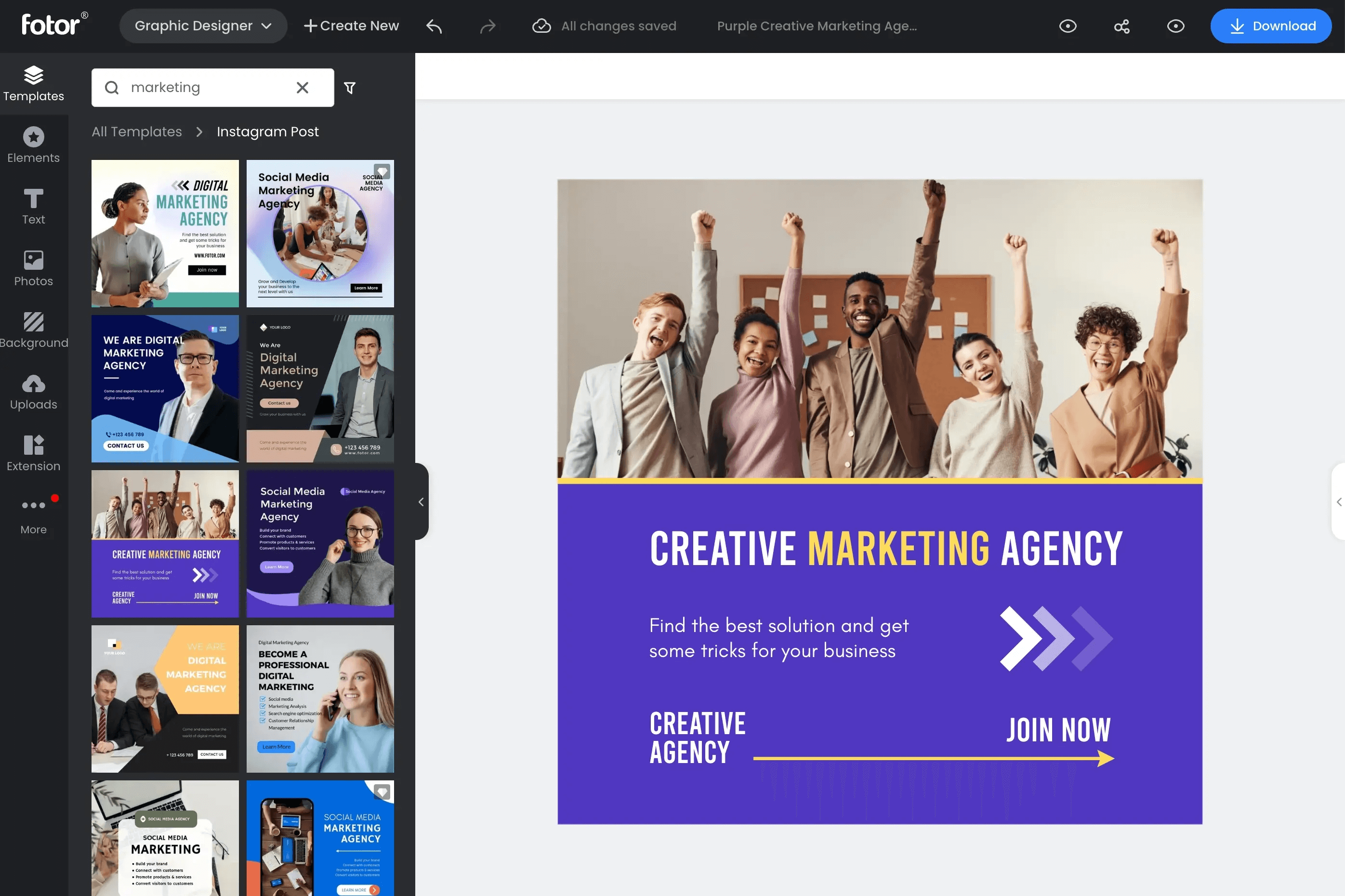 Font Awesome
This resource can give you vector icons and social logos. It includes free icons that can fit your online project. All visual components have .svg format and can be easily integrated with JS.
Price: Free and pro license ($60)
So, the main features of Font Awesome are:
1,109 free icons
5 popular resolutions
SVG with JavaScript
elegant design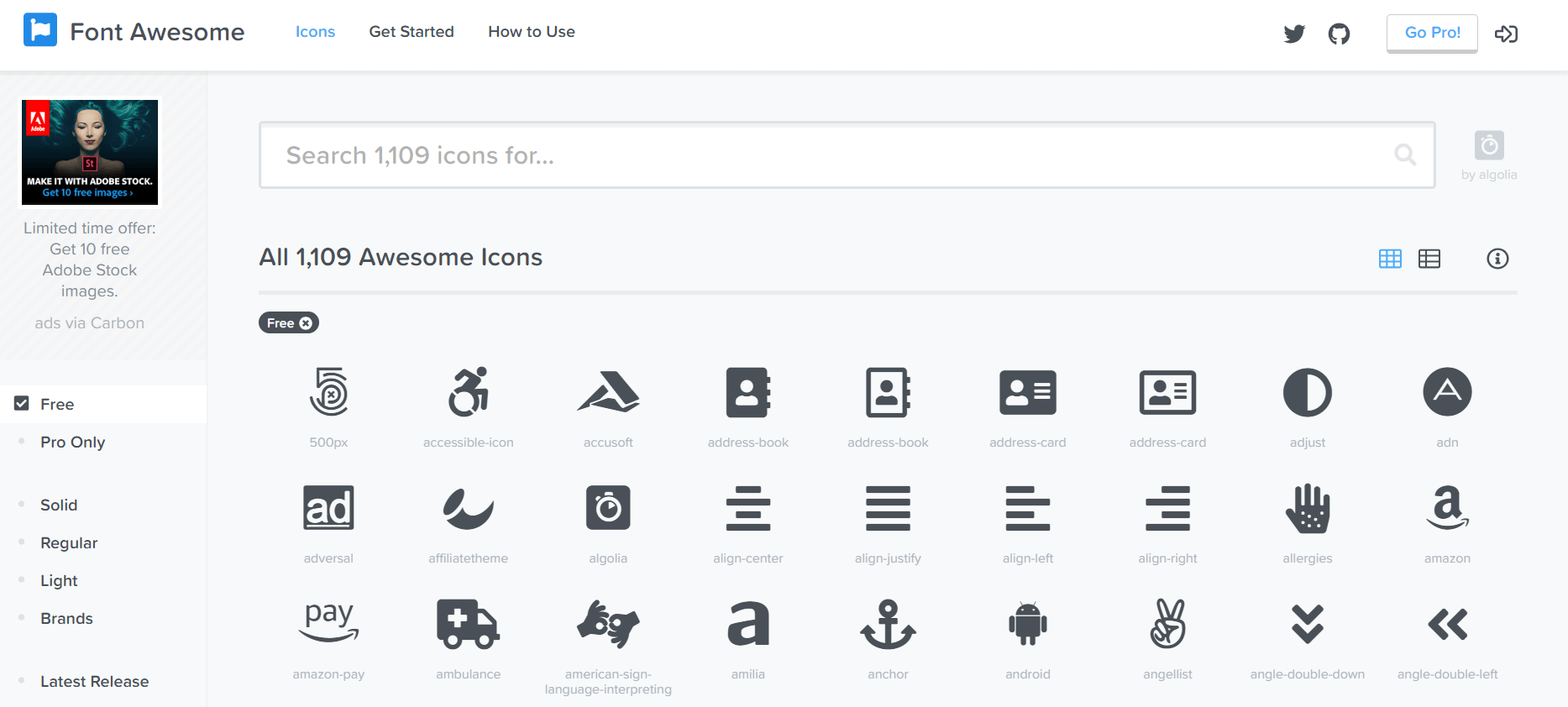 Brandit – Social Media Package
Should we explain you how much social media means today? To find new prospects and get more social traffic, we recommend you to feel the advantages of another famous web design visual element – banners. Above is your ready-to-use solution, called Brandit. This hip bundle contains 12 strikingly-colored styles for social networks banners. They are .psd files you can easily edit using Photoshop. Talking about such platforms as Facebook, Instagram, and Pinterest, Brandit is just what the doctor ordered.
Price: $11
Among its main features, you'll see:
12 Instagram templates (square)
12 Pinterest templates (vertical)
12 Facebook templates (horizontal)
3 easy-to-change mockups
above 7,000 clean icons
8 highly customizable logos
8 versatile badges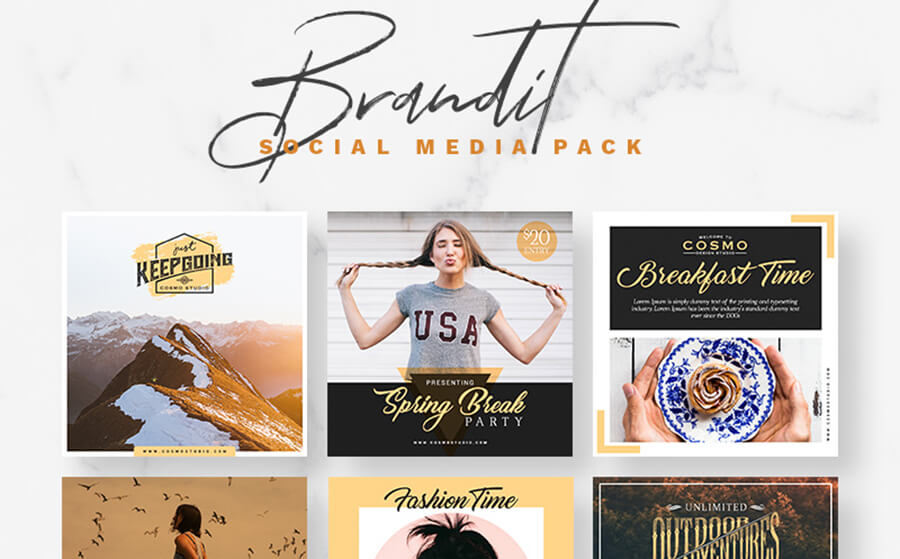 Freepic
If you need a free vector art, illustrations, icons, PSD or photos you can use Freepic as a resource of your visual elements. You can choose attractive template and add all necessary info using graphic editors.
Price: Free and premium plans
Main features users get:
exclusive templates
up to 5 downloads per day for non-registered users and 30 downloads per day for registered ones
flexible for editing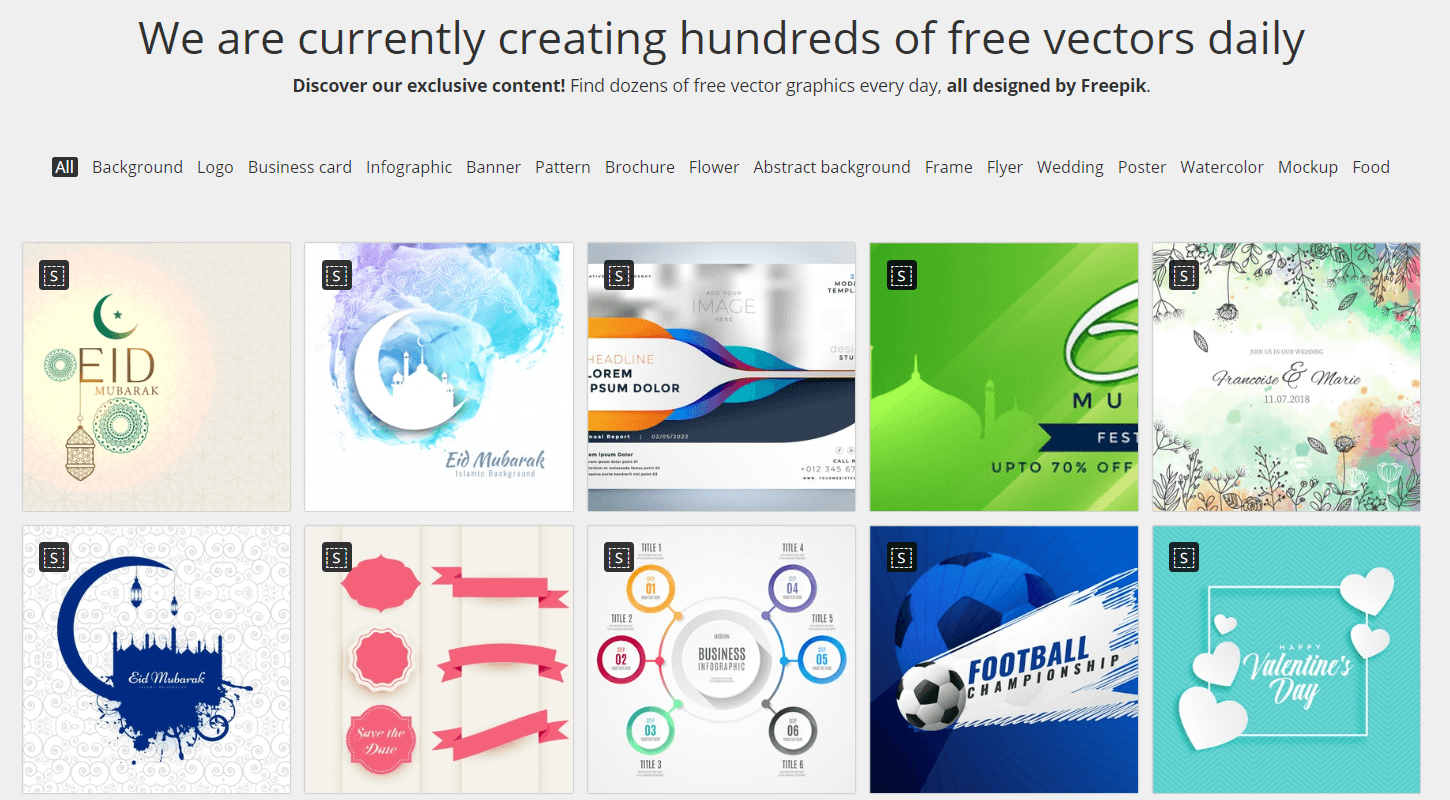 Amazing Big Infographic Elements Pack
Providing information in a bright but laconic way can help you enlarge your customers' list. For these reasons, infographics became another fashionable visual element. Basically, infographics showcase your info with bars, counters, graphs, etc. It's easy to edit the files in Abode Illustrator or any other photoshop online editor. By the way, the mentioned visual components can be used for a real-life presentation as well.
Price: $18
Traditionally, the main features of the infographic pack are:
40+ infographic elements
.psd, .eps, and AI CS5 formats
vector files
2 color schemes
8 unique elements to create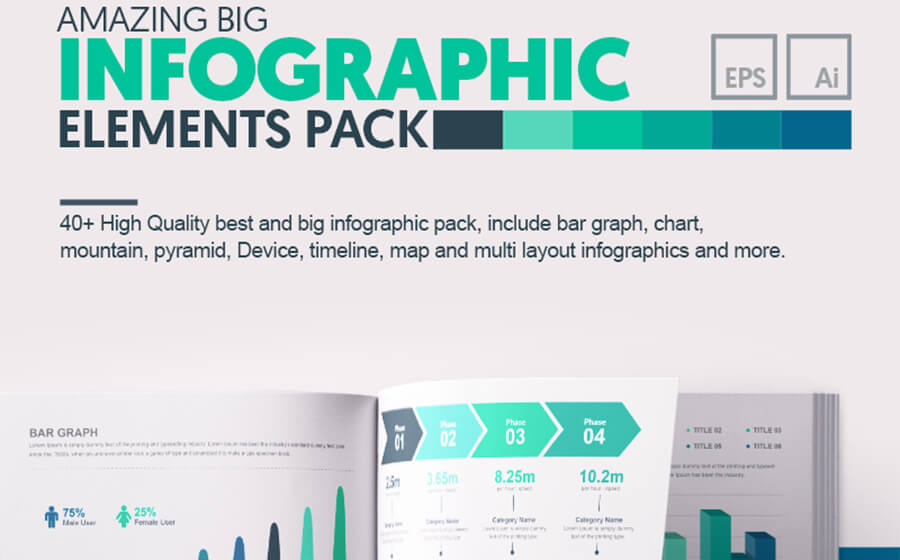 Logo – Branding Bundle
There is no secret that a remarkable appearance is a must-have feature for every startup. Thanks to an inimitable appearance, people will notice the company among its analogues. Thus, you may want to get Logo, which has everything and anything to stand out from the crowd. You can style every visual way you need using Adobe Photoshop, Adobe Illustrator or Adobe InDesign. This mockup template can make your company memorable without a hitch.
Price: $3.99
On average, there are 3,000 features inside Logo such as:
150 exclusive templates for logo
over 1,500 high-quality photographs
readable, user-friendly, and fully-editable web typography
35 slogan samples
40+ trendy icons for logo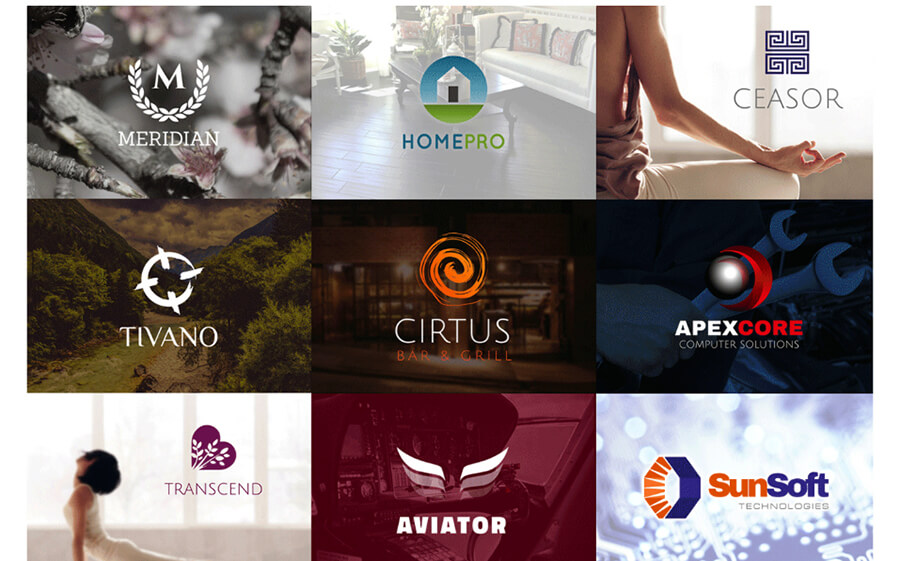 Design Contest
Design Contest makes it easy, fast, and very affordable to get the unique design you're looking for. Simply start a contest, pick your prize amount, and relax while dozens of design options are created by talented designers, especially for you, in just hours, instead of weeks. Once you see the design you love you can select it as a winner and close the contest. The designer will prepare the source files and sign design's copyrights transfer document to you.
Price: from $275
So you can run a contest and choose the best:
logo design
business cards
illustrations and contextual design
advertising materials
products design
and much more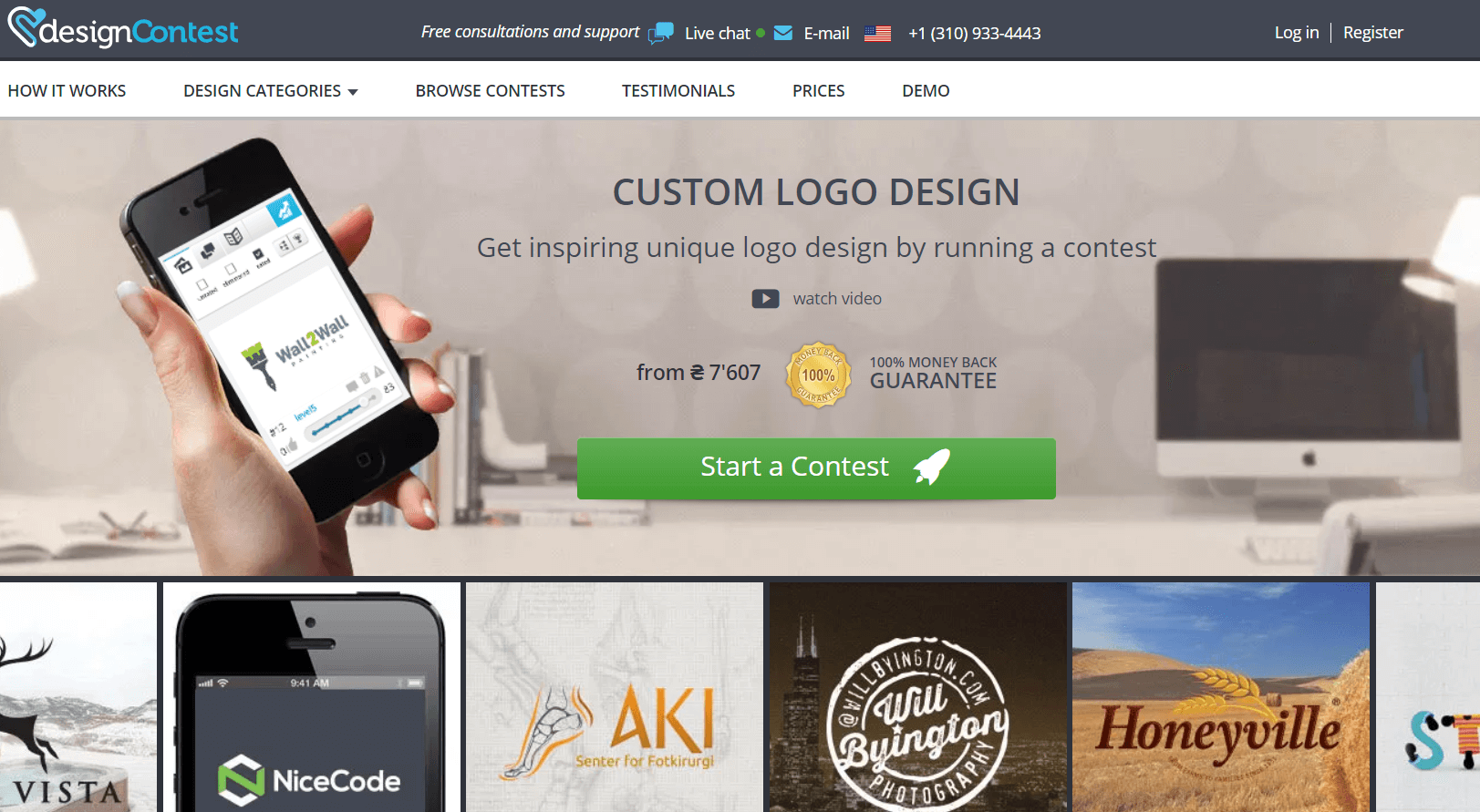 Visme
To get success, you should transform your content into a real visual story that will charm any online guest immediately. These days online space offers tons of tools to construct an upbeat presentation. One of such helpful design resources is Visme. This truly profitable item provides a user with hi-res mesmerizing visual design elements for all tastes. On the one hand, you can choose the needed content clocks. These crisp custom designs help one to create an unforgettable online appearance by hand. On the other hand, Visme features so many pre-designed elements like graphics, fonts, icons, etc. These components are creator-friendly. Users of all knowledge levels will be able to create something fantastic using the items.
Besides, working with Visme, you get such impressing visual content types as audio, video, maps, and charts. Thanks to the affluent structure of this web design tool, adding links or interactivity to the objects is as easy as falling off a log. As a result, you create different content-driven promos, reports, infographics, and much more.
Price: Different plans from $0 to $20
At last, here are some features user gets with this design tool:
more than 500 efficiently created templates
Privacy Controls option
over 100 examples of web typography
1000+ icons
above 50 charts
maps
data widgets
video, audio uploads
voice recording
all-time access
object animation, and more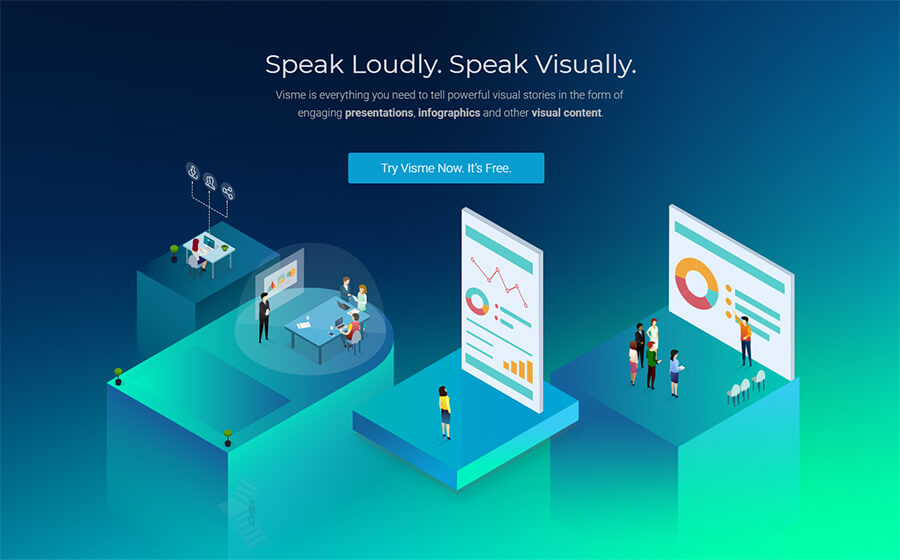 Canva
To put it briefly, Canva is a professional design resource, which will be a loyal friend of yours during fantastic designs creation. In addition, you can use Canva to manage good-looking documents. The package of the product contains unlimited layouts option. Have you ever tried working with drag-and-drop features? Being ultra convenient, easy, and quick, drag-and-drop has been the most voguish editing technique for years.
Price: Free. Paid (from $12.95) plan with extended features is available.
Talking about the kit of Canva, there are:
prepossessing photo filters
photo-editing functions to improve your pics
endless resources of images and fonts
illustrations and vectors
infographics
shapes
and icons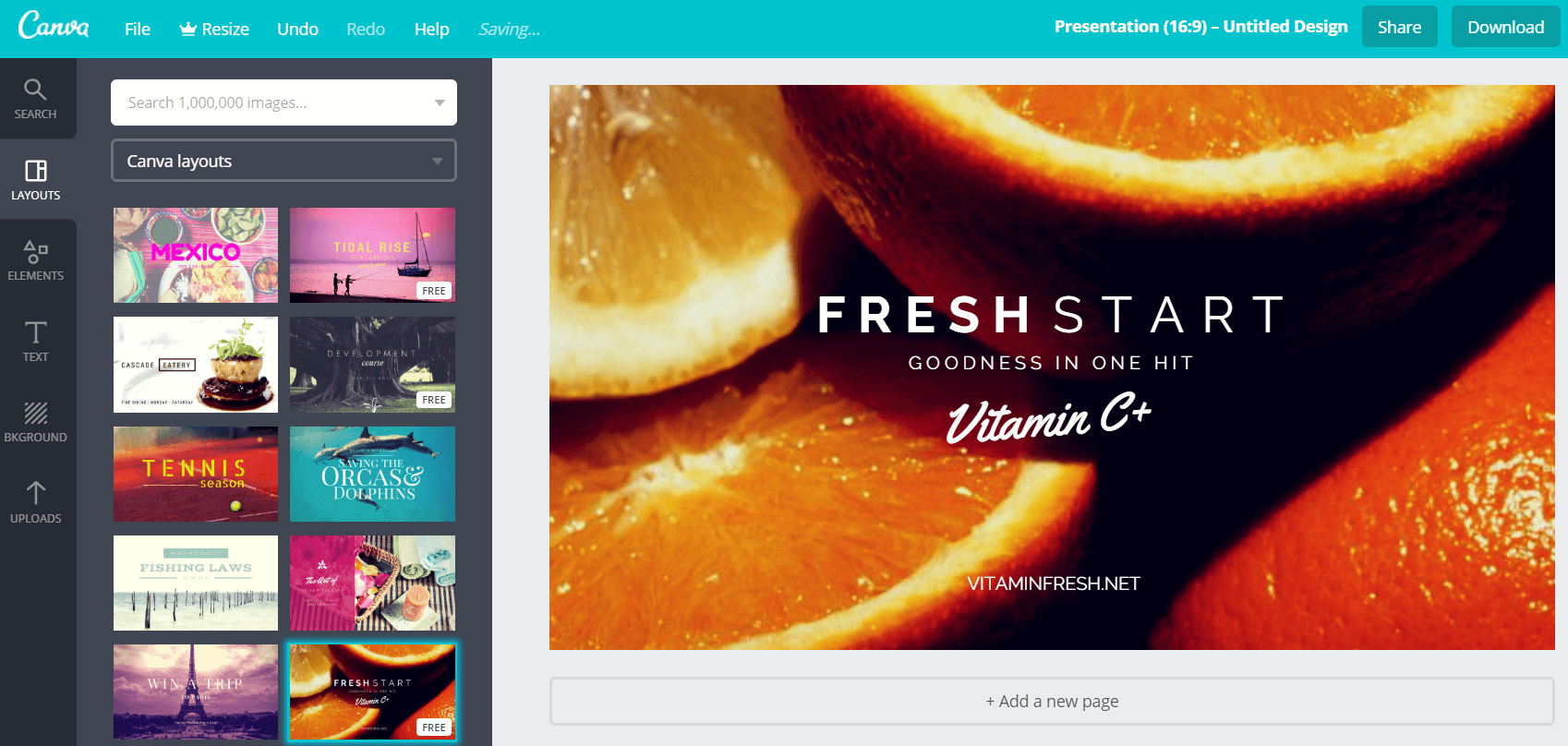 Crello
Using Crello you can create unique and eye-catching designs for social media, advertising, blog, emails, such prints as flyers, posters and business cards. Also, here is available handy and easy to use editor.
Price: Free
Features you can use:
33 design formats
cool animated design
11K templates
editing function
Piktochart
Piktochart is the next easy-to-use tool, which is a great weapon to build a marvelous web showcase. We already told you about the importance of a classy storytelling promotion. So, Piktochart can help one to create an earth-shaking visual impact. As always, there are a lot of ways you can use this design resource.
First things first, let's move to your presentation. Although nowadays being online is already a half of success, real-life promos still make sense. Now many users don't pay attention to this point. And it is a big mistake. Stop thinking that using poorly designed slides for an actual presentation is OK. Fortunately, now you don't need to sacrifice your time. Piktochart literally hands everything on a silver platter.
To continue, this intuitive software is going to help you with another part of creating a winning real-life presentation. Being fully equipped with all the supporting features, Piktochart is a full-blown print-maker. With it, you can design flyers, posters, brochures, etc.
Price: There are monthly and annually packages starting from $12.50
To end with, Piktochart features:
user-oriented design
friendly navigation
lots of infographic components
prints
pre-created visuals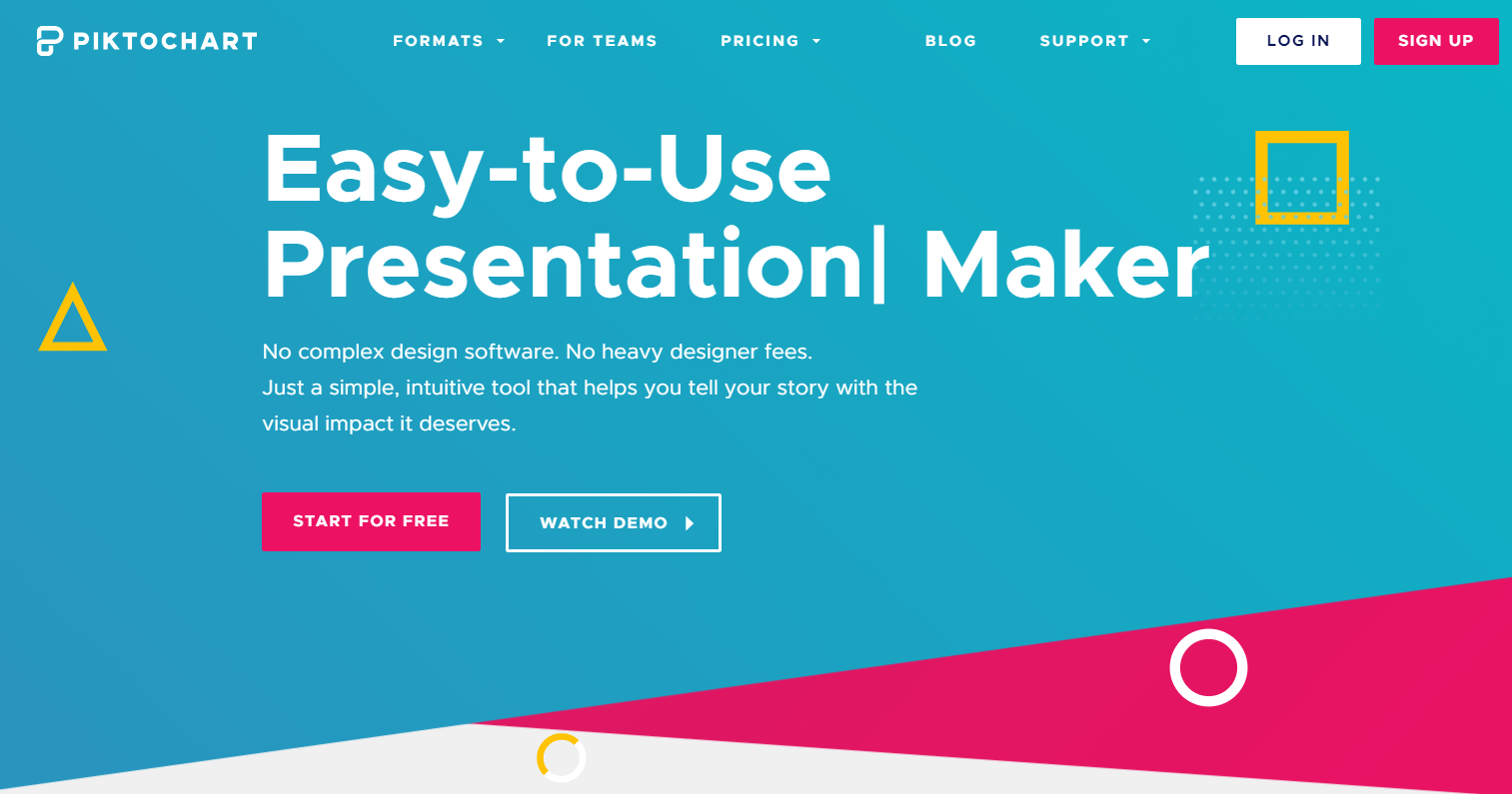 PSDDD
Needless to say that creating a texture-rich visual content is more than searching for ready-made items. Sometimes you need to work on your own photographs or illustration. To say more, even if you are not the one to take pictures, you will definitely need to edit them. That is why we recommend you to look for such helpful products as Photoshop and sketch UI templates.
Let us introduce you to PSDDD – an inspiring place that is a rich resource of… resources! Yep, that's it. PSDDD is a huge online library, which soaked up every piece of information that is somehow related to web design tools.
Price: Free
Here user finds:
mockup templates
UX templates
icon sets
font kits
web UI kits
style guide templates
wireframe templates
mobile UI kits, and more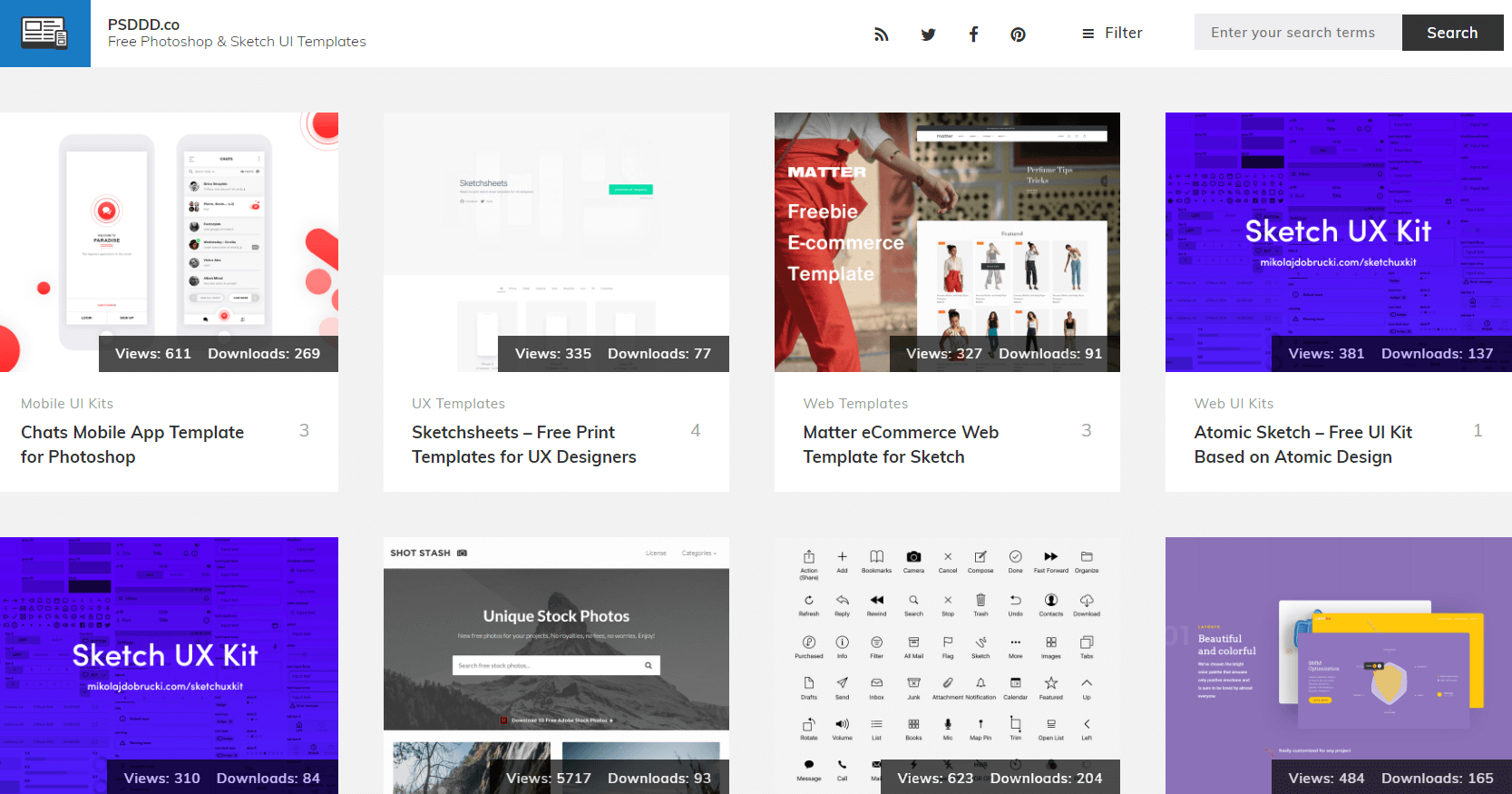 Coolors
Although almost each of the presented free and premium design resources has stylish color scheme sets, we want you to hear of color scheme generators. Everyone knows how colors can influence our mood. They power our emotions in so many ways. Creating the proper color combination, you will awake a particular emotion to catch prospect's attention. So what about Coolors?
This is a simple but well-working color generator that helps to pick up the right tones. It's also high-speed, so you will see the first color combination in a few seconds.
Price: Free
That is what you can do with the help of Coolors:
select original tones from a pic and see the most suitable color combinations
manage the chosen palette accurately, tweak hues, temperature, contrast, etc.
export the results in the needed format
customize personal color schemes collection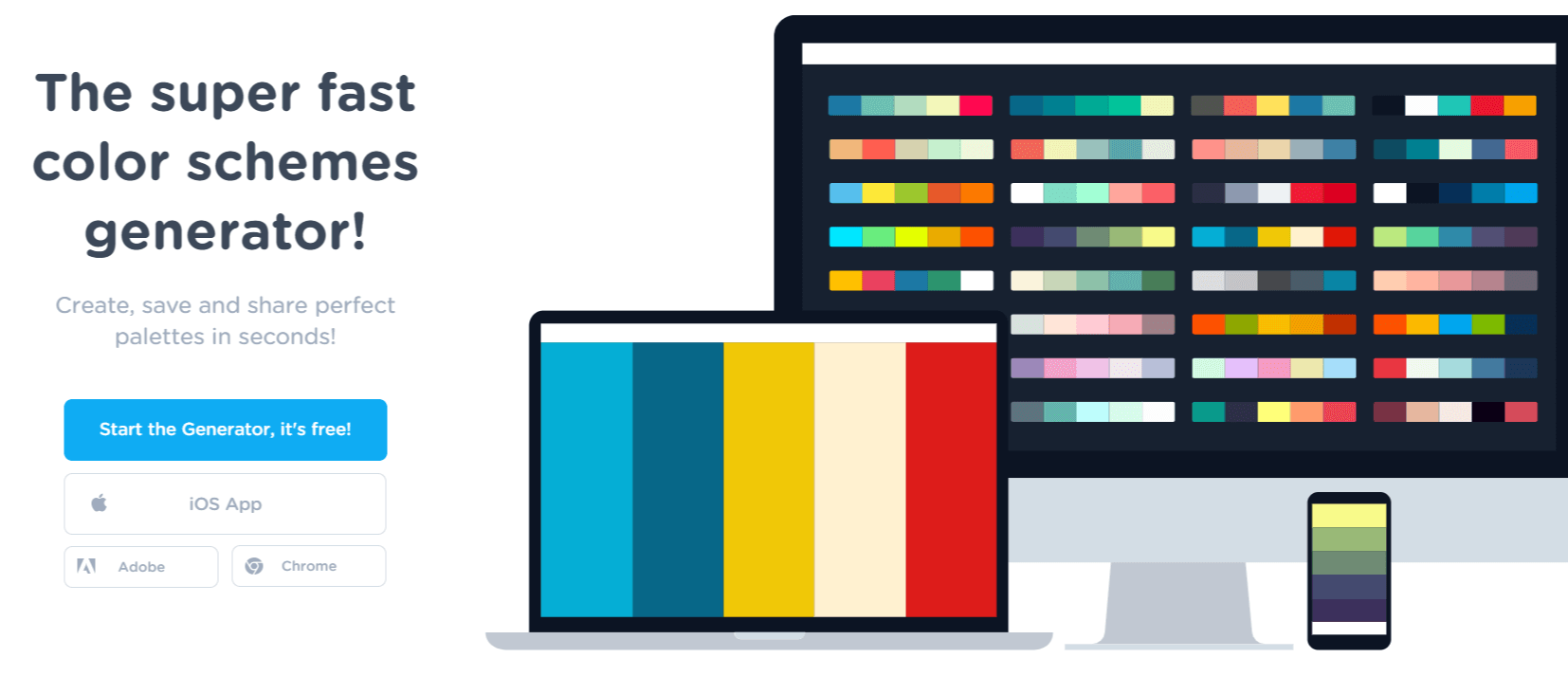 Design Wizard
Design Wizard is a great resource for online image and video editing. It aims to make graphic design software as easy as possible by having a large library of easy to edit image and video templates. There are over 1 million images in the library and hundreds of thousands of image templates. Also, integrations with Hubspot, Marketo, Buffer and Intercom are available.
Price: Paid (From $9.99/$16.95 per month) and free options
Design Wizard features that can ease your work:
Custom color palette
Free font library
Resize button
Upload feature
Help center
Simple perpetual use of licensing plan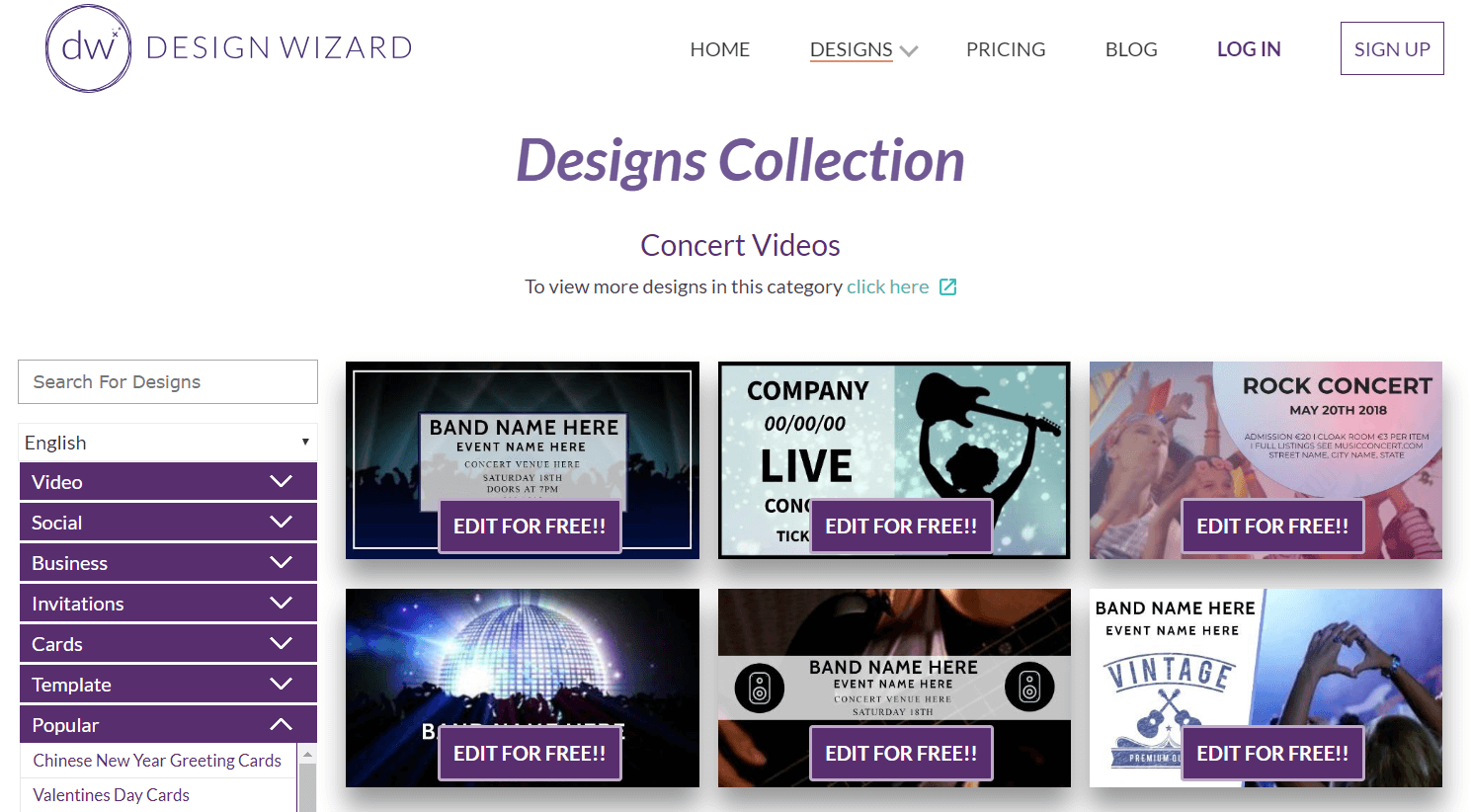 Ultimate Marketing Bundle
If you go for a no-brainer kit, which pulls all into one, this marketing bundle can be the right assistant. For a reasonable price ($99), you get:
9 fonts
7 animated banners
10 icons
15 landing page templates
20 illustrations
8 social media banners
6 mockups
15 newsletter templates
20 logos
25 flyers and brochures
All elements are editable. All templates are responsive. Content in the bundle is suitable for any business niche or personal purposes. Besides, you get a holiday calendar which includes all the major holidays. Detailed documentation is also included.
While you can have a winning marketing strategy, you might need more tools for its implementation. This kit gives you the instruments for effective marketing on social media, website, via email.
You can create a brand, a platform for communication with your audience, boost UX, add some dynamics to a website. With this bundle, you will save time and facilitate the implementation of the marketing strategy.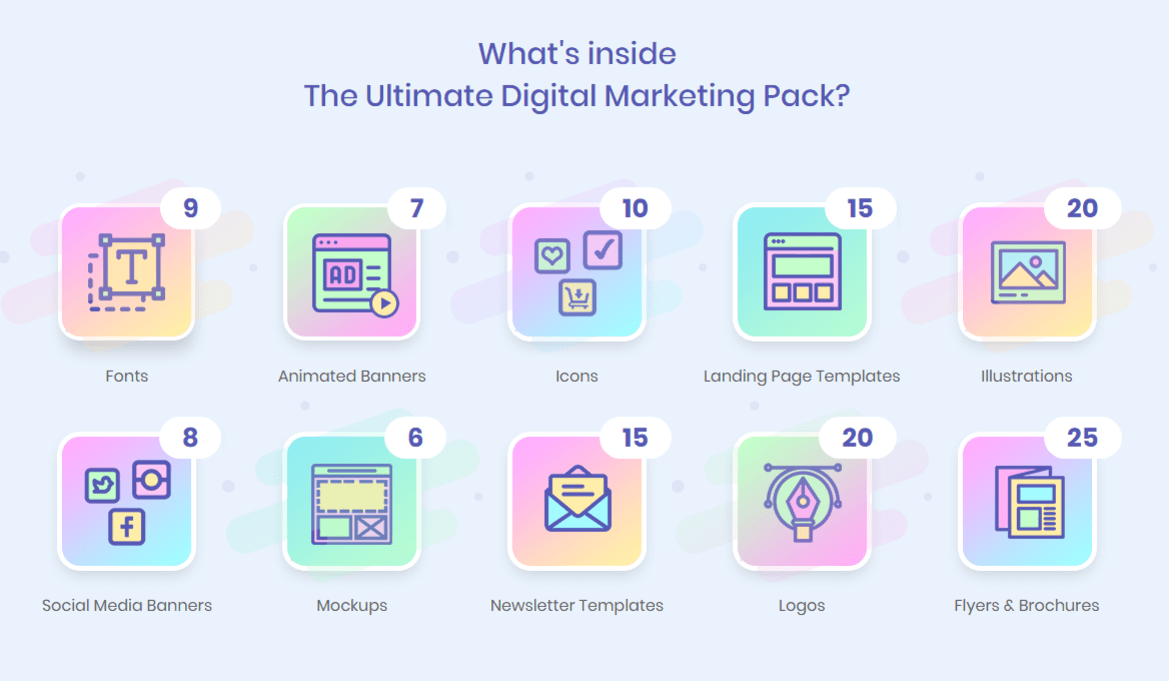 Turbologo
Turbologo is an online logo generator that allows you to create your own logo in minutes. Easily design and customize logos for any occasion from thousands of user-submitted designs or use the template library to place text or upload your image onto a completely new design, then edit it how you want it using customization options. It doesn't matter if you are a designer or not, with our app you will be able to create your own brand identity in minutes, so you can use it for all sorts of things small businesses need a logo for, from business cards and social media covers to letterheads and print publications.
Price: from $0 to $84
What Turbologo gives you:
Logo design
Social media kit
Logo files
Business cards design
Letterheads design
Envelopes design
Favicon
and much more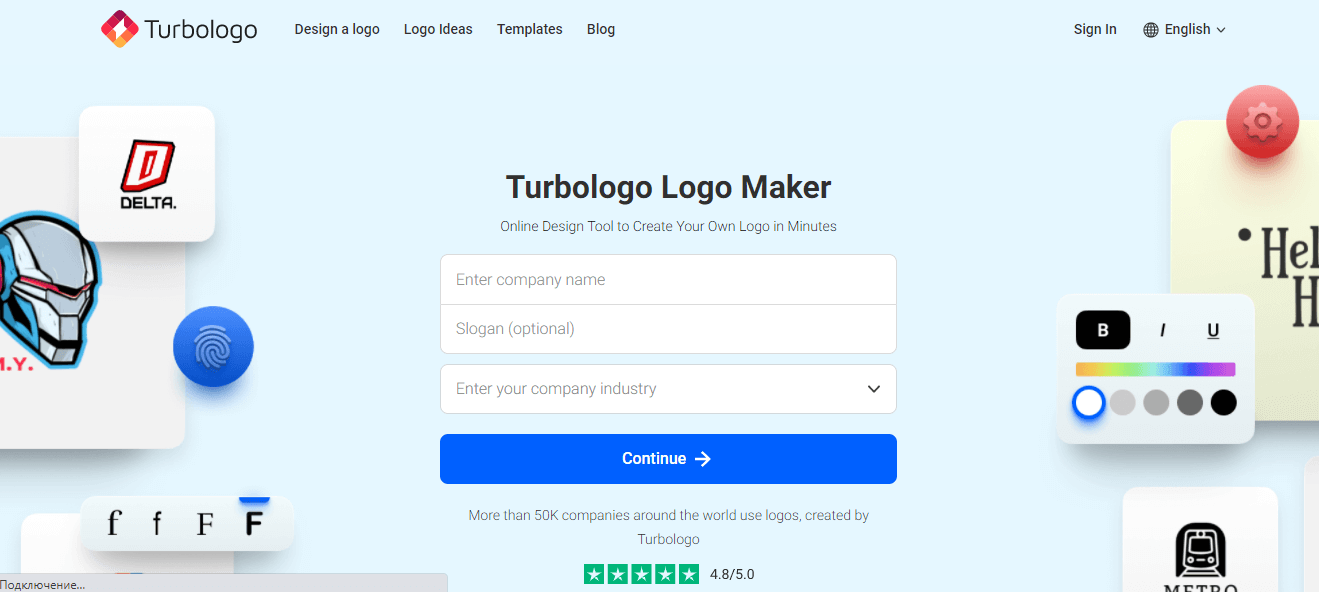 Picmaker
Are you looking for a platform where you can create unique, wow-worthy designs in 80+ categories? Picmaker is the one for you then. It is a new-age online graphic design platform that's powered by artificial intelligence. On Picmaker, you can create social media designs, posters, flyers, logos, greeting cards, ad banners, lesson plans, brochures, and much, much more.
MAD Button is Picmaker's differentiator. It is a one-click AI-based feature that allows anyone to create inimitable designs in a matter of minutes. You can change colors, fonts, and the entire look and feel of your design just with a single click of the button.
The platform offers three paid plans, in addition to the free plan: Starter, Pro, and Enterprise.
Some of the main features of Picmaker are:
MAD Button
Background Remover
Brand Kit
One-click Resize
Shared Workspaces
'Present' your design
Stickerify tool
100,000,000+ stock images
100,000 icons & illustrations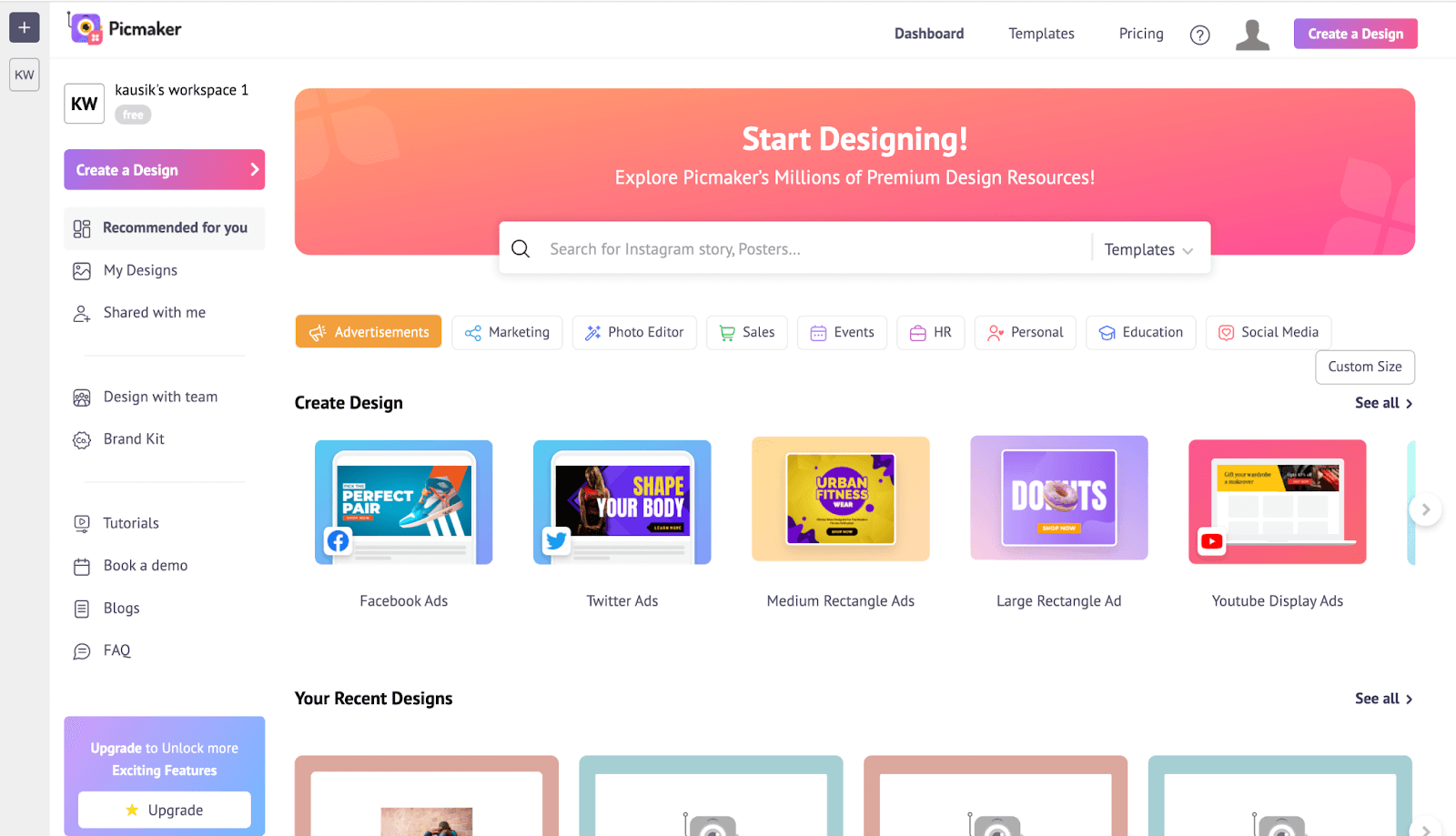 Are there any caring design resources we forgot to mention? What is your fav tool to style visuals?