Zombie Sale: up to 45% OFF Netpeak Spider & Checker
News

The wind is freely whistling through the empty streets, the pubs are closed, the doors are barred, and the silence is deafening… This is how the world looks like after a zombie apocalypse. And if you dared to leave your hideout, grin and bear this mission till the end. But don't worry, Netpeak Software team has got it covered and prepared the set of tools to protect you: massive sale of Netpeak Spider and Checker with up to 45% OFF under the codenames 'Baseball bat', 'Shotgun', 'Flamethrower.'
Discounts are valid for:
any product: Netpeak Spider (website crawler and scraper) and Netpeak Checker (bulk URL analyzer and SERP scraper)
any plan: Standard, Pro, Custom
up to May 1st inclusive
And now let's let a closer look at each package in turn.
1. What Package to Choose to Fight Zombies?
1.1. 🏏 Baseball Bat → 25% OFF
The package is valid for both products and plans – Standard and Pro – for the purchase of a monthly license with promocode (we call them cheats) Baseballbat. This is exactly the chance to try out all features of our tools if you didn't have courage previously (baseball bat cheers courage up, for reals).

Purchase 'Baseball Bat' and Save 25%
1.2.🔫 Shotgun → 35% OFF
If you battle against under-optimized websites, the shotgun is the tool that will pepper your confidence. We give a massive discount for both tools and licences for 12 months with a cheat Shotgun so that you can hoard for keeps.

Purchase 'Shotgun' and Save 35%
1.3.🔥 Flamethrower → 45% OFF
The most powerful tool for chosen ones. It grants a 45% discount (bet you have no chance to find a better deal). The discount is valid for two products for 12 months:
Netpeak Spider Standard + Checker Standard
or Netpeak Spider Pro + Checker Standard
The cheat: Flamethrower.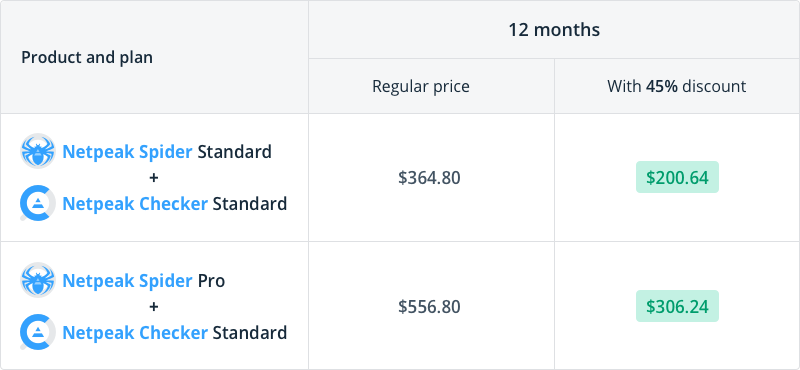 Purchase 'Flamethrower' and Save 45%
2. More about Our Plans
2.1. Standard Plan (for Netpeak Spider and Checker)
All basic features sufficient to complete main SEO tasks for optimizing projects are available in Netpeak Spider. They include:
crawling and scraping websites
spotting 80+ SEO issues
built-in instruments
an audit of the optimization quality in the PDF format, etc.
Netpeak Checker Standard plan gives access to the full functionality of the tool.
⛺ Standard support works via online chat and email on a first-come, first-served basis
2.2. Pro Plan (for Netpeak Spider)
In addition to all basic features, this plan includes a range of professional ones, such as:
white label reports that allow branding
multi-domain crawling
export of search queries from Google Search Console
a new feature that we keep in secret until the next release 😏
🏠 The users have access to Priority support: via online chat and email with priority in the queue.
2.3. Custom Plan
This plan implores an extensive list of advantages:
Access to 5+ devices for one account
Access to two products: Netpeak Spider Pro and Netpeak Checker Standard
Access to private chat with developers
Priority in feature requests, and many more
🏛 The users of Custom Plan can relish the charms of our VIP support and get:
consulting with top priority
a dedicated manager who will personally consult you on technical SEO of your project, inform about latest releases and teach how to use new features, compile learning materials, notify about major deals and offers
personal consulting via most suitable medium – popular messengers, video, phone, online chat, and email
In a Nutshell
We're moving heaven and earth to ensure you with the best working conditions even in case of zombie outbreak 🧟 Refusing from such dizzy discounts, you can easily lose the battle, mark our words. Take up a baseball bat, shotgun, or flamethrower – and head up to the top!
Have any questions about payment or want to discuss purchasing details? Reach us at
[email protected]
– our specialists will help you tackle any trouble. Besides, they can make you a really nice offer for a Custom plan.