What Are Orphan Pages and How Should You Deal with Them?
How to

When you run a website, your priority is to get more customers to not only visit your site but stay there for as long as possible. You want them to look around and hopefully decide to buy, sign up for your mailing list, or take some other desired action. However, some pages can cut this journey abruptly short, leaving your customer to switch to your competitor's site instead.
As an online business owner, you have a very limited time to convert a potential customer to a buyer. This means you need to ensure your site is optimized to make the process as pleasant and simple as possible. But what if there are some pages that are not linked to any section of your site? When a customer clicks on such a link, they will not be able to go any further. The result? They are likely to close the page and leave.
These pages are called orphan pages. Read on to learn how to identify and fix orphan pages on your site.
1. What Is an Orphan Page
Simply put, orphan pages are pages that are not linked to any other section on your website. The user cannot move on from this page to anywhere else to get more information, since there is no link to take them to another page.
Orphan pages exist in limbo – away from users and, perhaps even more importantly, away from search engine crawlers. This can spell trouble for your site.
2. Why Are Orphan Pages a Problem?
When a search engine drives a user to your site, you want them to stay. With nowhere else to go, a customer who finds themselves on an orphan page is likely to simply leave. Orphan pages represent a leak in your lead generation funnel. Since they have nowhere to go from the orphan page, they're likely to simply drop out of the funnel without taking any action.
In short, orphan pages create a major customer experience problem on your site. They represent a missed opportunity to add to your website's traffic and revenue.
PageRank is an algorithm that Google, the world's biggest search engine, uses to rank web pages in its search results (named after Google co-founder Larry Page). Though it is no longer the only algorithm used by the site, it still matters a great deal. And orphan pages are a big problem when it comes to PageRank. Google's 'link juice' can only reach a page if it's linked to from other pages within the site. In other words, when a website has no internal links, search engine crawlers will give it a miss. Your entire website's SEO could take a hit thanks to these pages leading to nowhere.
These pages are also the culprits for your SEO game in other ways. When a visitor leaves your website after viewing only one page, it impacts your bounce rate. This has a direct negative impact on your traffic, retention rates, and SEO.
While most of these pages are there unintentionally, orphan pages have also been used to hide certain pages from view. Some unscrupulous SEO reps create pages that violate keyword guidelines to boost their rankings and do not want these pages to be visible to the user. This is another reason why search engine algorithms take them with suspicion.
Hopefully, I've convinced you that it should be a top priority to fix orphan pages. Read on to learn how to identify them and solve the problem.
3. How to Detect Orphan Pages
Before you can fix orphan pages, you have to find them on your site. You will need to do a complete sweep of your website to find any lurking orphan pages. You can do this yourself or ask your web design agency or team to do it for you.
If you decide to do this yourself, you'll need the tools, such as Netpeak Spider, which has a built-in PageRank checker, so you can spot internal linking issues and find the pages which don't get any link equity.
You can calculate internal PageRank even in the free Netpeak Spider crawler that is not limited by the term of use and the number of analyzed URLs. Other basic features are also available in the Freemium version of the program.
To get access to free Netpeak Spider, you just need to sign up, download, and launch the program 😉
Sign Up and Download Freemium Version of Netpeak Spider
P.S. Right after signup, you'll also have the opportunity to try all paid functionality and then compare all our plans and pick the most suitable for you.
In the blog post 'Netpeak Spider & Checker Are Now Free,' you'll find a detailed description of what other tasks can be solved with the Freemium version.
To get access, you need to sign up and hit 'Try for Free' on the product page 😉
Simply run the program and place your website URL in the 'Initial URL' tab.
Choose the 'Internal PageRank' parameter in the 'Link' group, and 'Status Code' → hit the 'Start' button.

When the crawling is completed, run the 'Internal PageRank calculation' tool in the 'Tools' tab and you'll see all issues with your website internal infrastructure. Including orphan pages.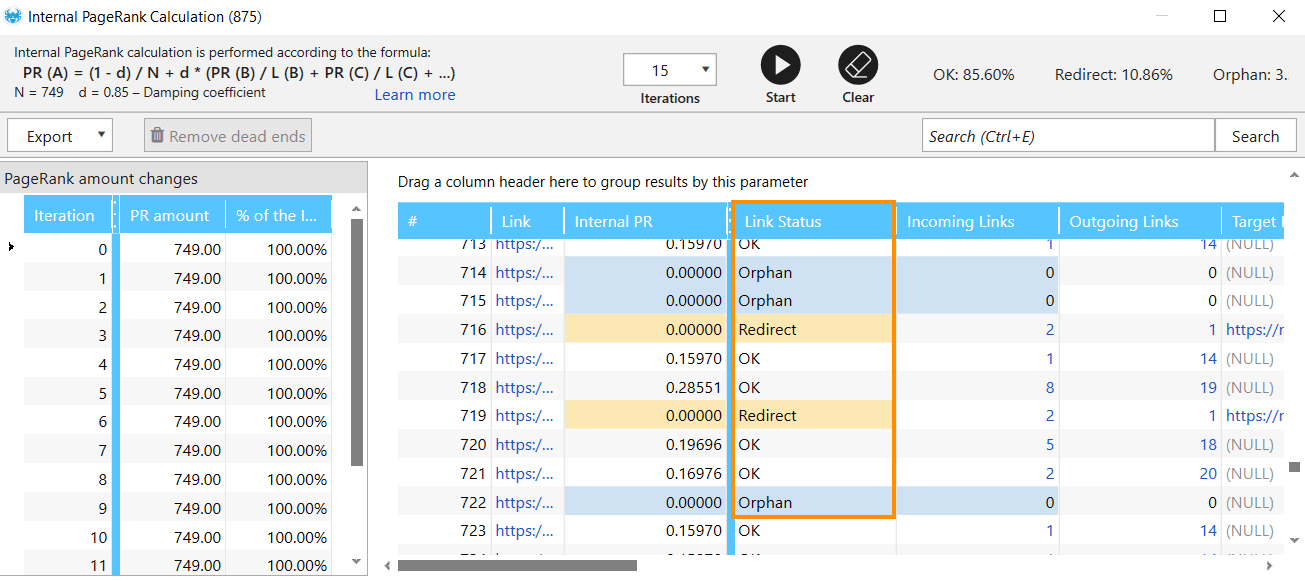 Here are some other ways to identify 'invisible' pages on your site:
URL mapping. First, do a thorough check of your website to identify all the pages and the ways in which they are linked together. Next, look at the search results page for your website on Google. Compare the two to find any pages that your internal crawl missed.
Duplicates, not orphans. Sometimes, orphan pages can crop up when page duplicates do not redirect to the same link. This can cause some pages to not be linked as the URLs are variants of the main address. You can remove or consolidate these duplicate pages.
Once you've located orphan pages on your site, you can fix them. In the next section, we'll look at five strategies to help you do that.
4. 5 Strategies to Avoid and Fix Orphan Pages
Many orphan pages will be old posts that you do not want to delete but also don't want to be on the client-facing side of your website. Instead of leaving them in no-man's land, there are a few ways in which you can prevent and fix them.
4.1. Pages that Have Expired Content
Some orphan pages consist of expired content, such as product descriptions from an old catalog. These still continue to show up in search results, but are not linked on your website anymore. They also do not return an error code like 404 or 410.
A simple solution to fix this type of orphan page is to remove the expired content and make sure the page returns a 404 or 410 error code.
Some pages also have a shorter lifespan due to the nature of the content they carry, such as classified ads. Worry about these only if their orphan status remains for a longer period of time.
4.2. Pages Left during Site Migration
Some pages may not have redirected after a site migration, meaning old content may still be available. This is remedied by creating a permanent redirect to a relevant URL, if possible, or using a 401 or 410 error status if not.
4.3. High-Quality Orphan Pages
Not all orphan pages are old or expired content. Some sites use navigation pages that redirect to a link only when certain criteria are met.
Take the case of categories pages. Some of these may also have a sub-categories section. This will only appear in the menu when the list is not empty or when a certain number of items are listed on the site. This may happen automatically and inadvertently lead to an orphan page.
Instead of leaving this to automation, you should check which pages are no longer important for boosting organic traffic. These pages should be removed for good. If you decide to keep them, ensure they contain links to other pages on your site.
4.4. Hide in Plain Sight
Some orphan pages are expected to go away with time. However, some are created as we focus more on the client-facing pages. If there is a page you want to keep, but do not want to be customer-facing, then the footer comes to the rescue. You can see examples of this when various pages are linked at the bottom of a website. This keeps them on the site, but away from visitors.
You can also create an archive homepage that lists the unwanted sections of the website and links. This can help you avoid orphan pages and maintain your SEO standing without deleting content entirely.
4.5. External Links to Pages that Don't Exist on Your Site
Sometimes an external website may link to a page on your site that does not exist as part of the main site any longer. This may lead to an orphan page as the page is not linked to any section on your site. However, since the old link exists on the external site, a search engine will pick it up.
The only way around this is to reach out to the external site owner and give them the updated link or ask them to remove the outdated one. Most site owners will be happy to help you out with this.
These are just some of the simple strategies you can use to help you identify and fix orphan pages on your site. While some of these pages are to be expected occasionally, too many orphan pages – or those that linger for too long – are cause for concern.
Wrapping Up
Orphan pages are inevitable and are bound to crop up occasionally despite your best efforts. As a business owner, you want your website to be inviting. An orphan page is a shut door. Not only does it lead to the loss of a potential customer, but it also takes away from your hard-earned SEO success.
In a world where competition is fierce and attention spans are short, it is difficult to keep a consumer's interest for long. People get bored, distracted, or annoyed easily. Your website should aim to provide a seamless experience to keep visitors invested as they move through the steps of your marketing funnel. Orphan pages are a major cause of leaks in that funnel and should be fixed promptly.
Make sure you undertake regular site audits to help you identify any of these broken links. Netpeak Spider is a tool that can help you keep your site in prime shape to welcome visitors.