Netpeak Spider 3.11: SEO Audit Data Enrichment and Export for Google Data Studio
Updates

We try to make Netpeak Spider more useful and customizable with every release – all to help our users audit the website more effectively and get important insights. This time we'll treat you to the new audit features, data export for Google Data Studio SEO report building, and other useful improvements.
1. Audit report enrichment (Pro plan)

2. Export for Google Data Studio

3. Saving projects and export to Google Drive for all plans

In a Nutshell
1. Audit report enrichment (Pro plan)
In this version we've enriched Netpeak Spider with new features! Great news for everyone who wanted to get data on backlinks, Core Web Vitals parameters, useful data summaries within the program and much more. We've added a feature, which helps you to upload your data from other Netpeak Spider services, merge and compare them to carry out more complex SEO audits. You can work with imported parameters just like you do with the main ones: filter, segment and analyze them.
1.1. How to use audit report enrichment
Open 'Project' tab → it's in the top right corner of the program.
Pick the 'Upload parameters to enrich data' point.
Pick a file with parameters on your computer → one or several at time.
Uploaded parameters will be shown on a side panel in the 'Data enrichment' segment.
Click on each parameter to see its columns with values in the table.
Next, you can filter and segment parameters to find more data on your project and analyze it.
Report Enrichment is available on Pro Plan. If you want to get access to this and other professional features (White label reports with SEO Audit, export of search queries from Google Search Console, multi-domain crawling etc.)? Then hurry up and subscribe!
1.2. Benefits and aspects of the feature
Program uploads only CSV files. These files have special requirements, that you can read about in our article 'SEO Audit Data Enrichment ', in which we also fully describe details of features.
You can upload up to 30 parameters into the program, but not more than 10 with the same type of data: 'Whole number', 'Decimal number', 'Row'.
If the imported files have a URL, which isn't present in the table, they will appear at the bottom of the table. We recommend scanning these URLs, so that you can filter them.
All the uploaded data will be stored in the RAM, so keep that in mind when uploading big files.
1.3. Use cases
You can add data, which isn't available in the program, directly into Netpeak Spider. For example, page parameters from the site admin, number of page visits by bots from server logs, the date of the last scan from Yandex.Webmaster.
You can import the data from Netpeak Checker → for example, parameters like indexing status in SE, the number of backlinks, Core Web Vitals parameters, etc.
You can also segment the audit report on the basis of parameters, which you've uploaded into the program. For example, you can manually appoint the page type (listing, articles, products etc.), upload them into audit and segment them based on this formatting while getting access to the insights – what types of issues are the most common for one or another type of page, what URL structures different page types have.
2. Export for Google Data Studio
Now Netpeak Spider has export which can easily help you build Google Data Studio SEO dashboard, as well as reports for clients and the dynamics of the parameters for smaller projects.
To upload data, open the 'Export' menu in the top right corner, choose 'Data Studio Parameters' and export results. Based on the data from the imported table, you can build a Google Data Studio SEO report.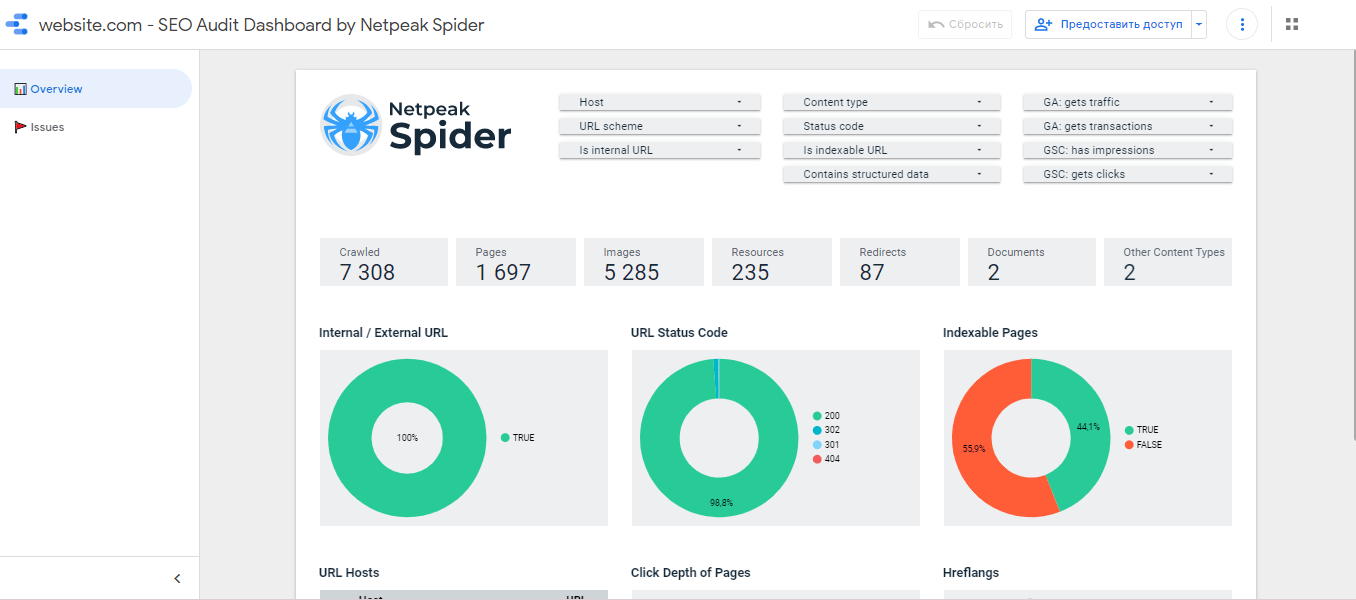 We also have a Google Data Studio SEO template for you, which you can copy and upload your export file into.
We'll be constantly improving the template, so if you have any suggestions or requests - let us know in the comments 😊
3. Saving projects and export to Google Drive for all plans
More freedom from this day on, all users can save the project. Also, Google Drive export is now available for all plans → PDF reports can be uploaded to Google Drive and shared with clients and colleagues)
This change will make export easier for Lite plan users. It will be especially convenient when uploading a new Google Data Studio SEO report, because it will make importing data from Google Spreadsheets easier, than from files on a local drive.
To find out more about the benefits of Google Drive export click
here
.
In a Nutshell
In a new version of Netpeak Spider 3.11 we've implemented:
Audit report enrichment → now you can upload different kind of data for better analysis and more complex audit.
Export of parameters for Google Data Studio → will help you easily build reports for clients and colleagues, see the dynamics of the parameters etc.
Saving projects and export to Google Drive for all plans → this one speaks for itself, so hurry up and install Netpeak Spider, if you still haven't 🤪
Share your impressions in the comments and leave your requests for future releases!