Netpeak Checker 3.2: 5 Integrations and 72 New Parameters
Updates

Guys, meet updated Netpeak Checker with new integrations, parameters, and functionality. We've prepared a short video review and post where we described all the new features ;)
1. SimilarWeb Integration

2. Google PageSpeed Insights Integration

3. Google Mobile-Friendly Test Integration

4. Google Safe Browsing Integration

5. LinkPad Integration

6. Phone Number Scraping and Improved Email Search on Pages

7. Using Prefixes with Queries in 'SE Scraper'

8. Getting Omitted Results from Google SERP

9. New Serpstat Parameters: Number of Domain Keywords in Top 10, 20, 50, 100

10. New SEMrush Parameters: Site Metrics and Backlinks

11. Serpstat and SEMrush Databases Moved to the 'Settings' Tab

12. Button to Display Columns with Data

13. Other Changes

In a Nutshell
1. SimilarWeb Integration
With SimilarWeb integration, you can automate data collection on website traffic and ease niche research, link building, or other tasks. Now you can analyze 14 parameters of this service in Netpeak Checker:
Global Rank
Category
Category Rank
Avg. Visit Duration
Pages per Visit
Bounce Rate
Total Visits
Direct Traffic
Referral Traffic
Organic Search Traffic
Paid Search Traffic
Social Traffic
Mail Traffic
Display Ads Traffic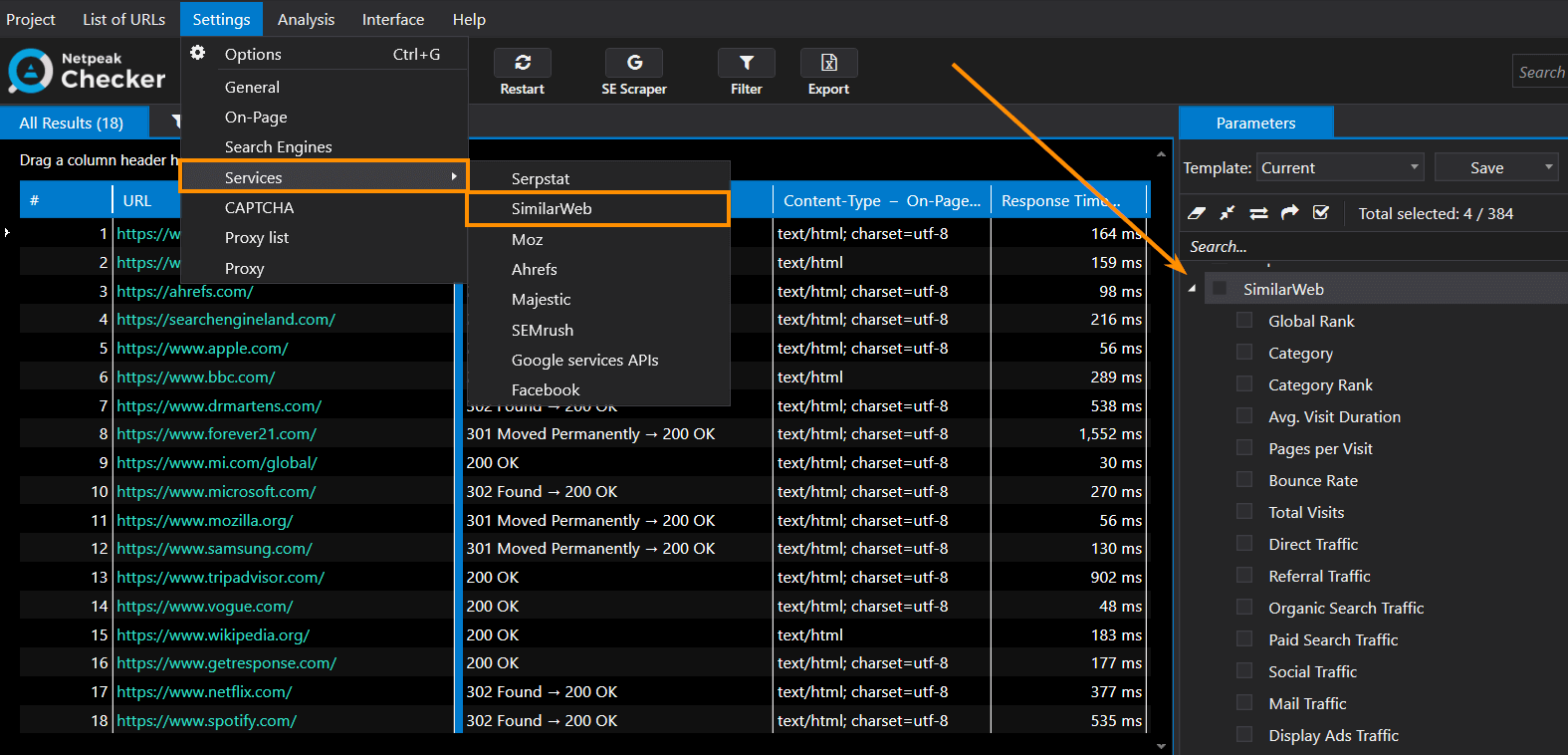 Note: only users with a paid subscription to SimilarWeb can get this data using their API key.
If you subscribe to Netpeak Checker
Pro plan
, you won't need other services to check website traffic → we've got it covered. Netpeak Checker shows approximate data on total website traffic or its subdomains by channels, the main country the website receives traffic from, and a thematic category.
Pro features in Netpeak Checker also include SERP scraping and export to Google Drive / Sheets 😍
2. Google PageSpeed Insights Integration
This integration allows you to collect data on URL load speed in bulk for site audit or comparison with competitors.
Now you can use Netpeak Checker and check the following PageSpeed Insights parameters for mobile and desktop site version for free:
Score
First Contentful Paint
First Meaningful Paint
Time to Interactive
To start using the new integration, you need to add your API key for Google services in the 'Settings' tab → 'Google Services API' and then just select the parameters of this service in the sidebar: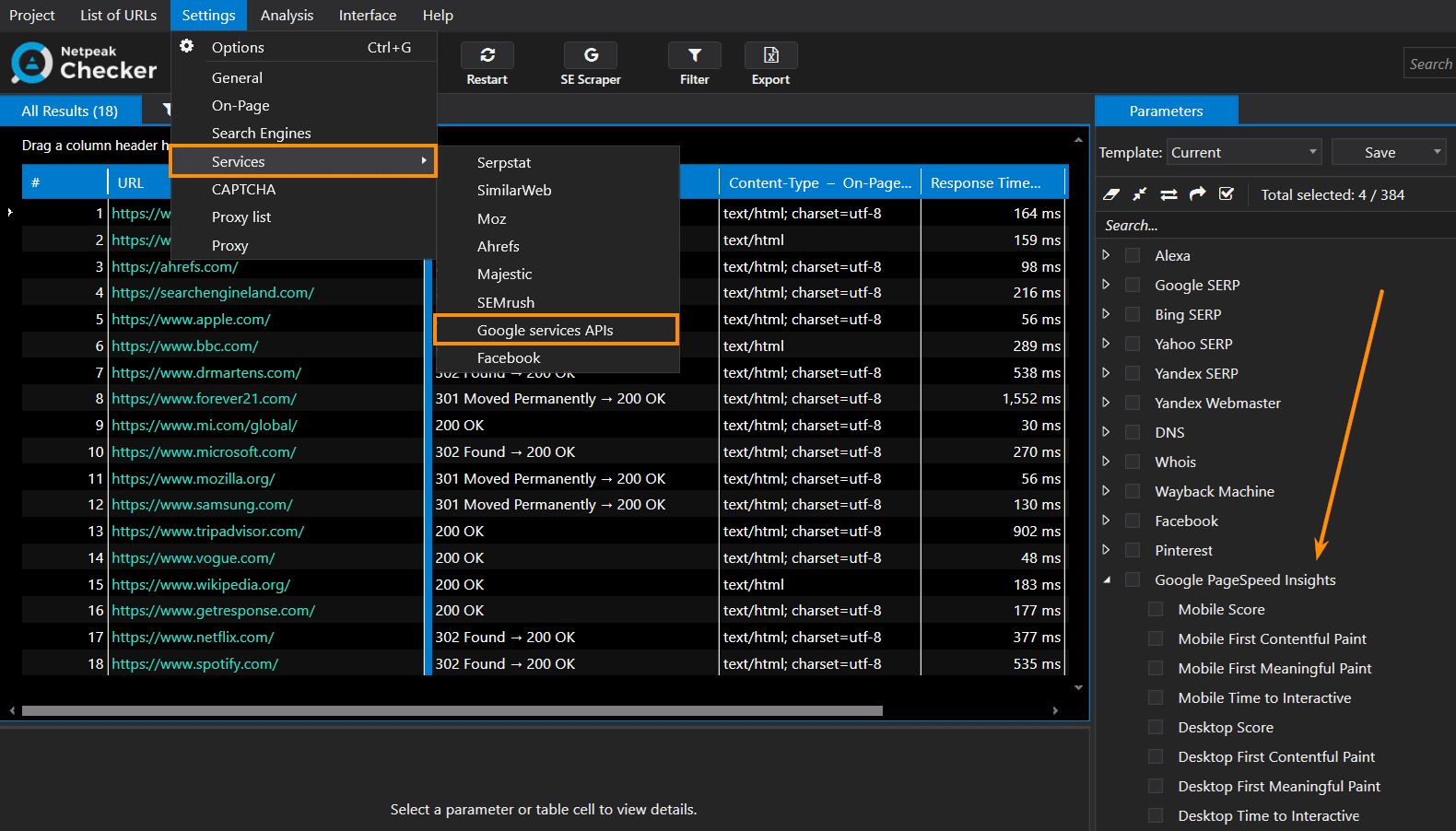 3. Google Mobile-Friendly Test Integration
To help you identify the pages that Google considers not optimized for mobile devices, we have added integration with the free Google Mobile-Friendly Test service.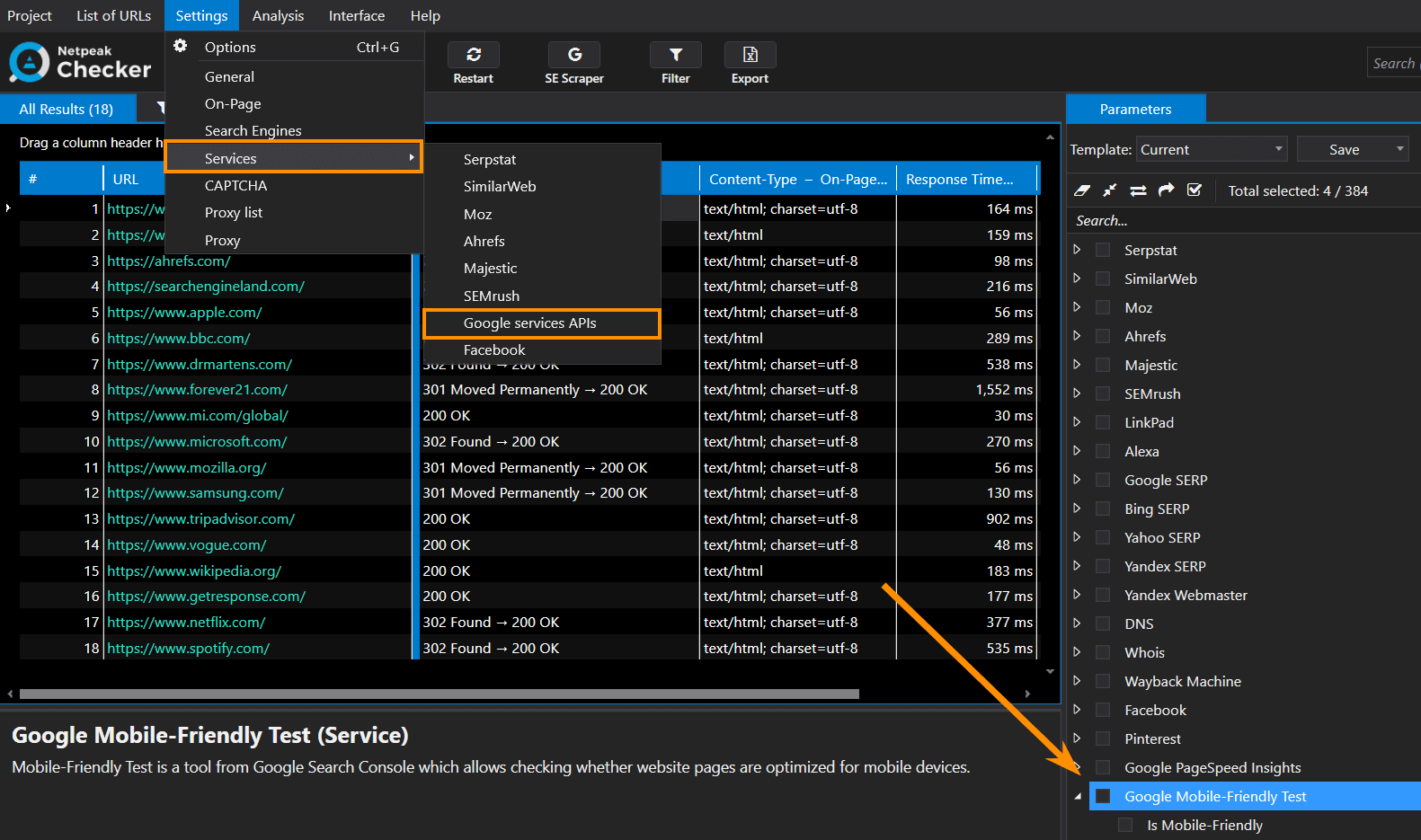 Note: if you want to check a lot of pages with Mobile-Friendly Test, it can take plenty of time because of strict service limits. That's why we recommend to make a list of different pages on your website (for example, categories, product pages, blog posts, etc.) and check their mobile optimization. So by fixing issues on one page of a certain type, it is possible to improve the performance of all such pages.
You can check your website 'health' for 50+ on-page parameters essential for website SEO optimization in the free version of Netpeak Checker that is not limited by the term of use and the number of analyzed URLs. Other basic features are also available in the Freemium version of the program.
To get access to free Netpeak Checker, you just need to sign up, download, and launch the program 😉
Sign Up and Download Freemium Version of Netpeak Checker
P.S. Right after signup, you'll also have the opportunity to try all paid functionality and then compare all our plans and pick the most suitable for you.
4. Google Safe Browsing Integration
We also added integration which allows you to make a quick Google blacklist check of the URL ('Google blacklist' is a constantly updated list of unsafe websites). It can be useful for a regular check of the most important URLs on your website, outgoing links, and sites for link building. And that's free of charge :)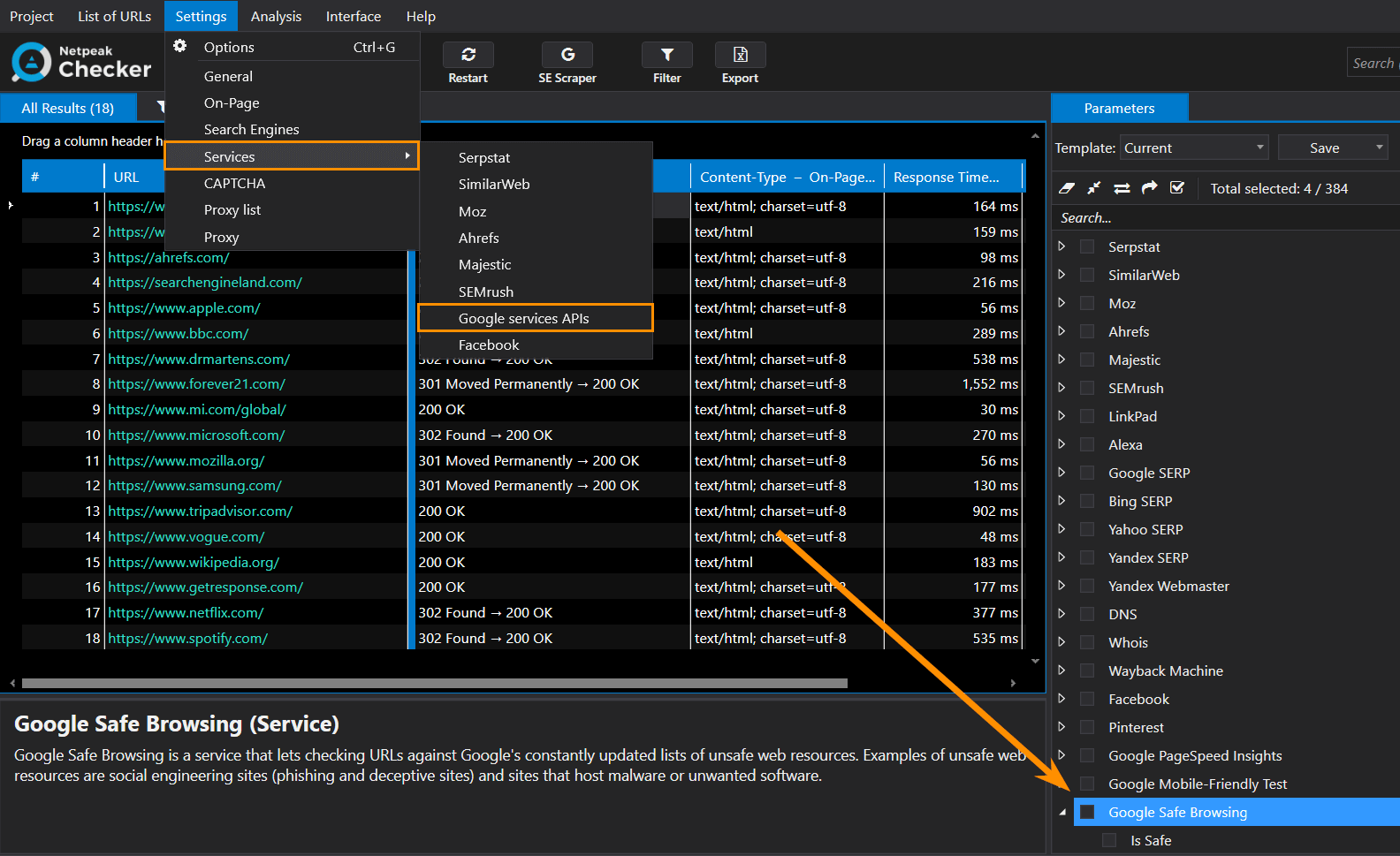 5. LinkPad Integration
LinkPad is a service that allows gathering data about backlinks for free. It is handy when you need to conduct competitor analysis and evaluate sites for link building.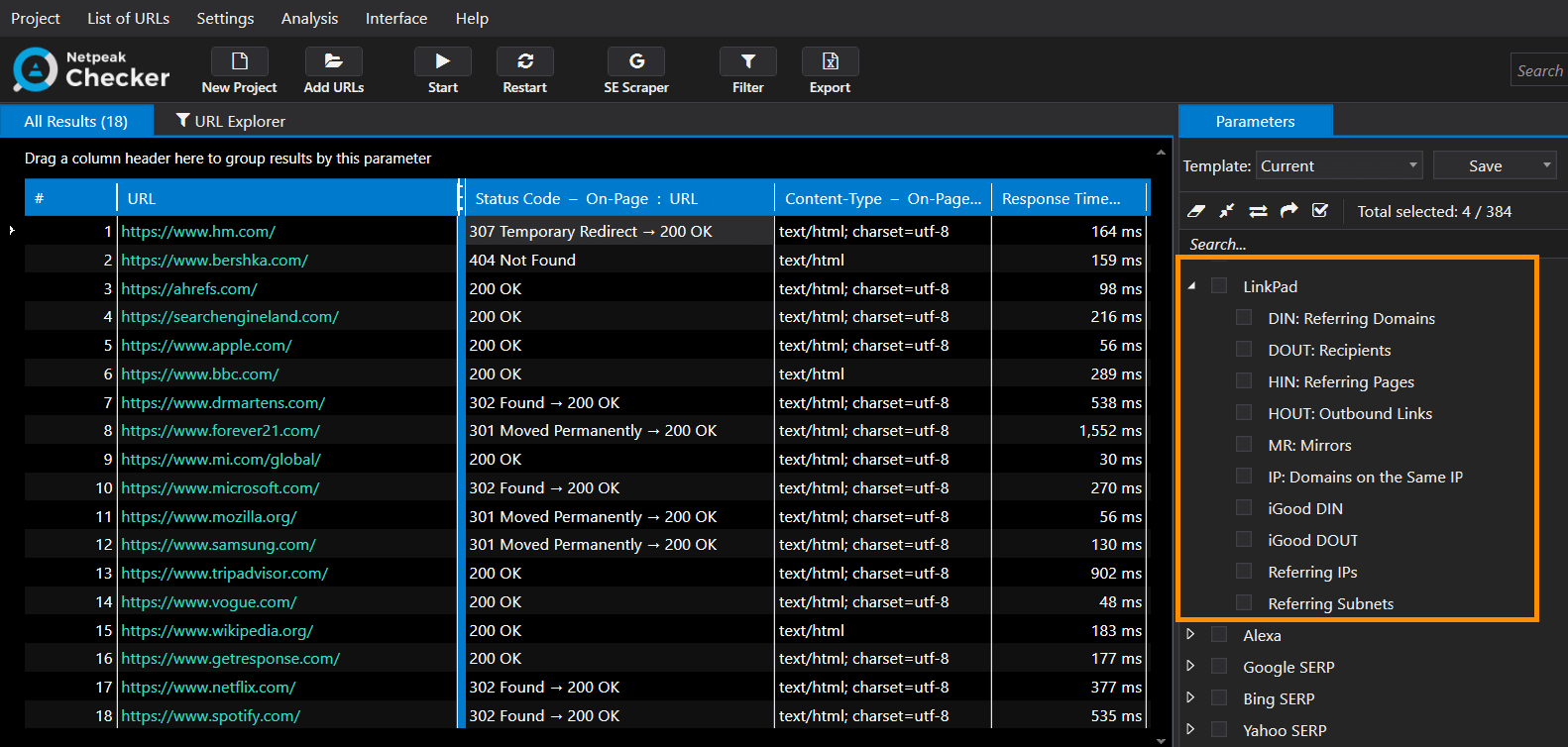 6. Phone Number Scraping and Improved Email Search on Pages
Now you can scrape phone numbers from pages automatically. With the 'SE Scraper' tool, it becomes easy to compile a base of cold contacts in almost every niche.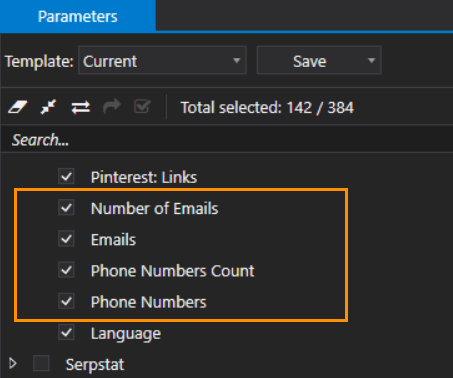 Moreover, we improved the email search feature. We added several ways of email scraping, so you'll definitely find the needed contacts :)
7. Using Prefixes with Queries in 'SE Scraper'
The new feature allows adding prefixes at the beginning of each search query. It can be one of the popular Google, Bing, Yahoo, Yandex operators (site:, inurl: and so on) or any other text.
This feature comes in handy when you need to quickly arrange search queries, for example, to find all indexed pages or use search restrictions by some filter. By the way, if you enter a space in the 'Prefix' field, you'll see the entire list of pre-configured operators.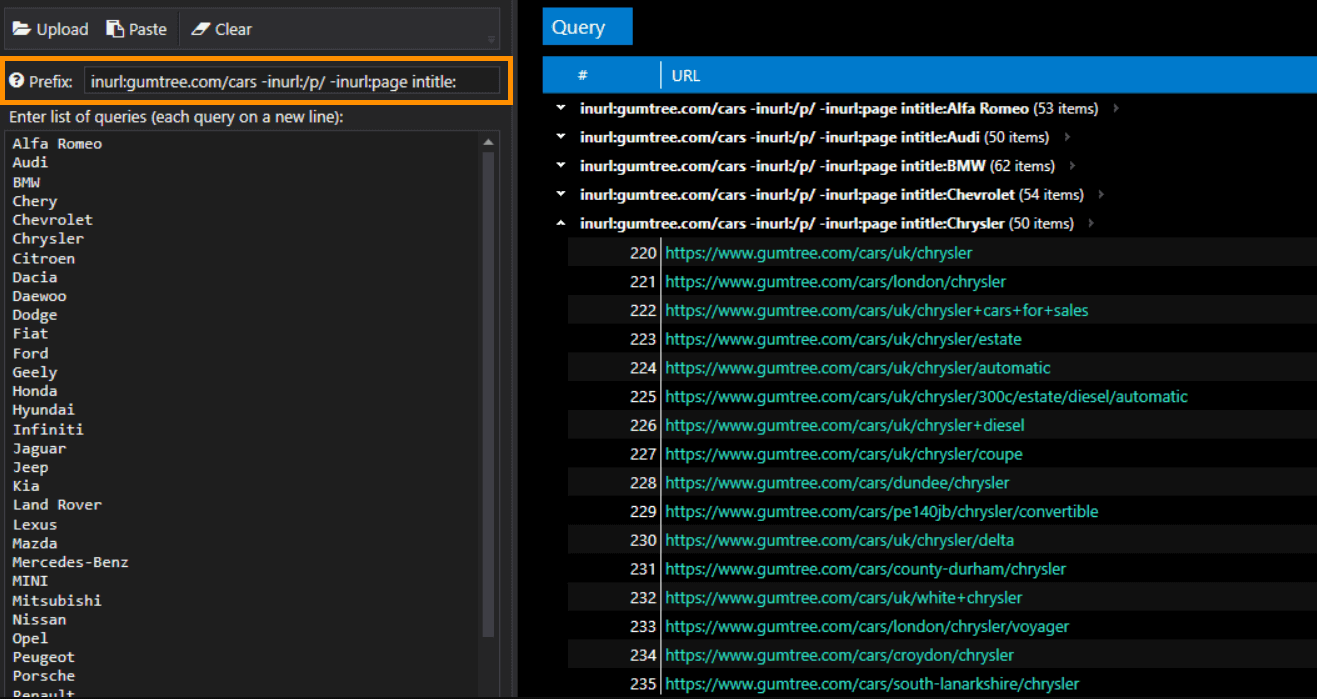 8. Getting Omitted Results from Google SERP
The new setting allows you to collect hidden search results during the scraping of Google SERP (of course, if these results are available). Google hides the results similar to others by default, so you can potentially get more data with this feature. This can also be useful when using search operators.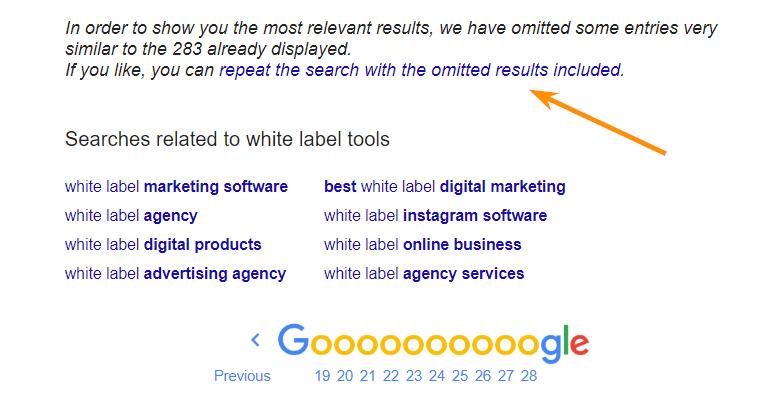 This setting is enabled by default. You can find it in the 'Settings' → 'Search Engines' → 'Google' field → 'Include omitted results' checkbox.
9. New Serpstat Parameters: Number of Domain Keywords in Top 10, 20, 50, 100
It's useful to see the distribution of domain positions while analyzing competitors. It helps evaluate site optimization and chances of visibility growth.
Serpstat has such domain diagram, but you can't upload the distribution for simultaneous analysis of several websites.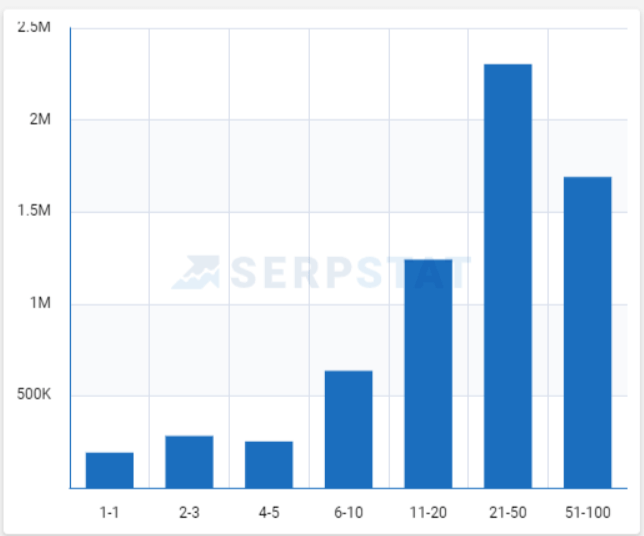 We decided to make things better and made special requests to the API to get the necessary data. As a result, we added the following Serpstat parameters to Netpeak Checker:
1-10 positions: number of keywords
11-20 positions: number of keywords
21-50 positions: number of keywords
51-100 positions: number of keywords
Also, the 'Organic Keywords' parameter has been renamed to 'Top 100: Number of Keywords' to reflect the essence of this parameter.
Serpstat has recently updated its databases, and now they
have search databases of all countries
. You can choose all new bases in Netpeak Checker. At the time of this writing, 239 databases are available in Serpstat.
10. New SEMrush Parameters: Site Metrics and Backlinks
We added SEMrush parameters that link builders will definitely like:
Domain Score
Trust Score
Total Backlinks
Referring Domains
Referring IPs
Follow Links
Nofollow Links
Form Links
Frame Links
Image Links
In the previous versions, you could get only host data from SEMrush. In Netpeak Checker 3.2, you can get the information about certain pages. As a result, all the parameters are divided into three groups: Root Domain, Host, URL.
11. Serpstat and SEMrush Databases Moved to the 'Settings' Tab
Previously, you could choose the Serpstat and SEMrush search databases (a combination of the search engine, region, and search results type) among other parameters in a sidebar. In the new version, we relocated search databases to the 'Settings' tab:
Note: some parameters directly depend on the search database, but some – don't. You can find it out on the 'Info' panel when choosing a parameter.
12. Button to Display Columns with Data
In the previous Netpeak Checker version 3.1, we implemented synchronizing tables with parameters option on the sidebar. It allows focusing on certain results without losing all gathered data. If you suddenly forget what parameters you analyzed or upload an old project, now you can display hidden columns that contain data in one click and check the parameters corresponding to these columns.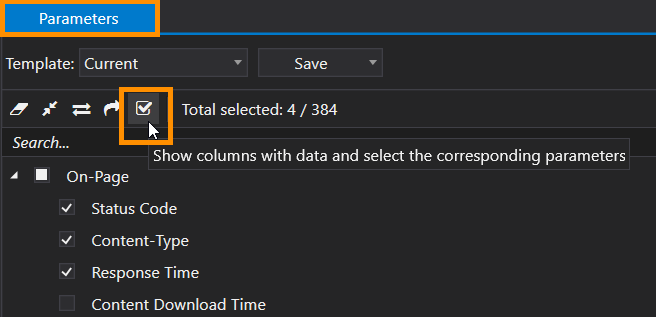 13. Other Changes
We always strive to implement as many useful features for our users as possible. To improve efficiency and keep our tool up-to-date, we used the .NET 4.5.2 framework. Therefore, the new Netpeak Checker can only work on the Windows operating system not lower than 7 SP1 version, since older versions of the OS do not support this framework.
Added new Facebook parameters 'Reactions' and 'Comments via Plugin'. Also, we fixed data receiving for old parameters due to Facebook API update.
Updated the 'All free' parameters template. By the way, now there are 163 free parameters in Netpeak Checker.
Implemented table customization. Now you can set the width and positions of columns, sort data in them, group results, and lock columns as you want.
Added the 'Number of threads' link to the 'SE Scraper' settings.
Deleted the 'Google Plus: Links' and 'Google Plus: Number of Links' On-Page parameters.
In a Nutshell
In Netpeak Checker 3.2 we:
Integrated SimilarWeb, LinkPad, and three Google services → PageSpeed Insights, Mobile-Friendly Test, Safe Browsing.
Automated phone number search and improved email scraping.
Improved the 'SE Scraper' tool → now you can add prefixes to the search queries and get omitted search results from Google.
Added new Serpstat parameters → number of domain keywords in top 10, 20, 50, 100.
Relocated Serpstat and SEMrush search databases to the 'Settings' tab.
Made more than 20 improvements in interface and usability.
Guys, thanks for your attention! We hope that now your work with Netpeak Checker will be more effective and comfortable ;) Feel free to share your feedback and suggestions in the comments below, we'll be happy to read them!
Digging This Update? Let's Discuss Netpeak Checker Perks in Person