Best Ways to Increase Website Traffic in 2019 [and Social Media Isn't in the List]
How to

When it comes to the question how to promote your website, businesses often think of social media as the starting point for communication with their audience, and that's quite reasonable – every day over 1.47 billion people (as of April 2019) from all over the globe logs in to Facebook. The average US user spends around 58 minutes on Facebook (and 53 minutes on Instagram) daily. These stats turn Mark Zuckerburg's creation into the third most-visited one in the world (after Google and Youtube).
Social media is a great start, but what comes next? After testing the water and finishing up your acquisition ad campaign the next step is moving to optimization. By optimizing, you split audiences and change creatives/ad messages. Even though you put in your best effort, the performance begins to drop. Your targeted audience is exhausted.
In this article, you'll find out alternative ways of getting quality traffic to reach an audience that can't be found on social media.
1. Quora: a Long-Term Traffic Booster
Quora can be one of the major traffic sources for almost any business if done wisely. It has a long term effect – even a year after you posted an answer, people can still find it, which will lead to potentially more traffic to your website. Here's why you need to take a closer look at Quora if you still haven't:
Quora has over 200 million monthly unique visitors. So the audience for content distribution is huge.
The top-rated Quora answers are visible for years and can drive you leads long after being posted. A helpful answer is likely to be quoted by media and viewed by users for as long as it's relevant.
Quora helps you discover the pain points of your target audience through their questions and concerns. With the vast variety of topics available, you can find your audience asking questions and answering them.
Establish yourself as a niche expert. If you post good content, Quora users start paying attention to what you are saying.

Feeling intrigued? Quora is an endless source for improving your professionalism and master your storytelling. The process for using it is the following:
Create your profile. Decide on which topic you want to be considered as an expert and choose the type of questions you'll be answering. The author bio should tell users that you're qualified enough to answer those questions. You have only 80 characters to say who you are, so choose the words wisely:
Find a relevant business niche. Find the one that you are a total expert in and devote some time examining questions and engaging with other users. Examine the most-viewed answers and discover the appropriate tone of voice for your future answers.
Choose questions to answer carefully. Before you start answering every single question, you need to find the answers that are attracting the most followers, views, and upvotes. When you select a popular question with thousands of followers, read the top answers carefully and decide if you can give a better answer. Use the picture in the header and insert a link to your website wisely. Make sure you provide enough value and details but don't give away all the details. Here is an example of the answer on Quora:
Post on regularly. Your writing skills will improve, and you will be able to find your perfect answer balance – users will see one answer, and if they like it, they can check out your other answers and even subscribe to your profile.
2. Reddit
With Reddit, everything is even easier. In short, Reddit allows users to submit anything in link form and discuss the latest news. It consists of multiple topics – subreddits with different topics.
Asking a question is a good way to get readers to click and to get them involved in your post: good discussion is always better than just presenting. Choose a controversial question or article: it will keep users engaged and a lot of comments will help your post get more visibility. To make sure that you don't break the rules, check out 'reddiquette'. The most significant takeaway is that redditors hate blind promotion. So never start your first Reddit post with it, unless you want to suffer the same fate as Woody Harrelson on Reddit ;)
3. Content Marketing
In 2019 content marketing remains the best-selling tactics for promoting businesses online. Think about 15-20 media where your intended audience spends time online. Reaching to media giants like Forbes, Techcrunch or Vogue isn't necessary. You may start with blogs with a smaller yet relevant audience and send the editorial team a pitch with an offer to contribute as a guest author.
Guest posting works excellent when you write for blogs that belong to companies focused on the same audience while not being your competitors. For example, if you sell online language courses, you'll probably find your audience on the websites of various travel providers. However, travel providers are not your competitors even though they sell their services to the same people.
Do you see any listings like 'Top-10 services of 2019' when googling your competitors? Make sure the name of your company is on all lists from the first page on Google.
If your potential customers spend hours on some specific forums or platforms, don't hesitate to break into comments gently.
4. Cross-Promotions for Business: Ideas for Better Partnerships
Cross-promotion means partnering with another business to create a promotion that benefits both of you. The best option here is to collaborate with someone who doesn't directly compete with you but has a similar target audience. Smart businesses of all sizes are trying more cross-promotion campaigns, to increase brand recognition and drive more sales.
Here are three ways of doing it right:
4.1. Emails
Make the most out of your email lists – co-produce a newsletter that organically ties your brands together. For example, if you run foreign language education courses, you could partner with an employment website and create an email about how knowing a foreign language can increase your salary. Read more interesting techniques about building an email list to make your newsletters loved by readers.
Don't forget about the marketing potential of your business correspondence. By adding clickable icons, interactive banners and call-to-action buttons to your email signature you can generate additional traffic to your landing page, gain leads and raise brand awareness.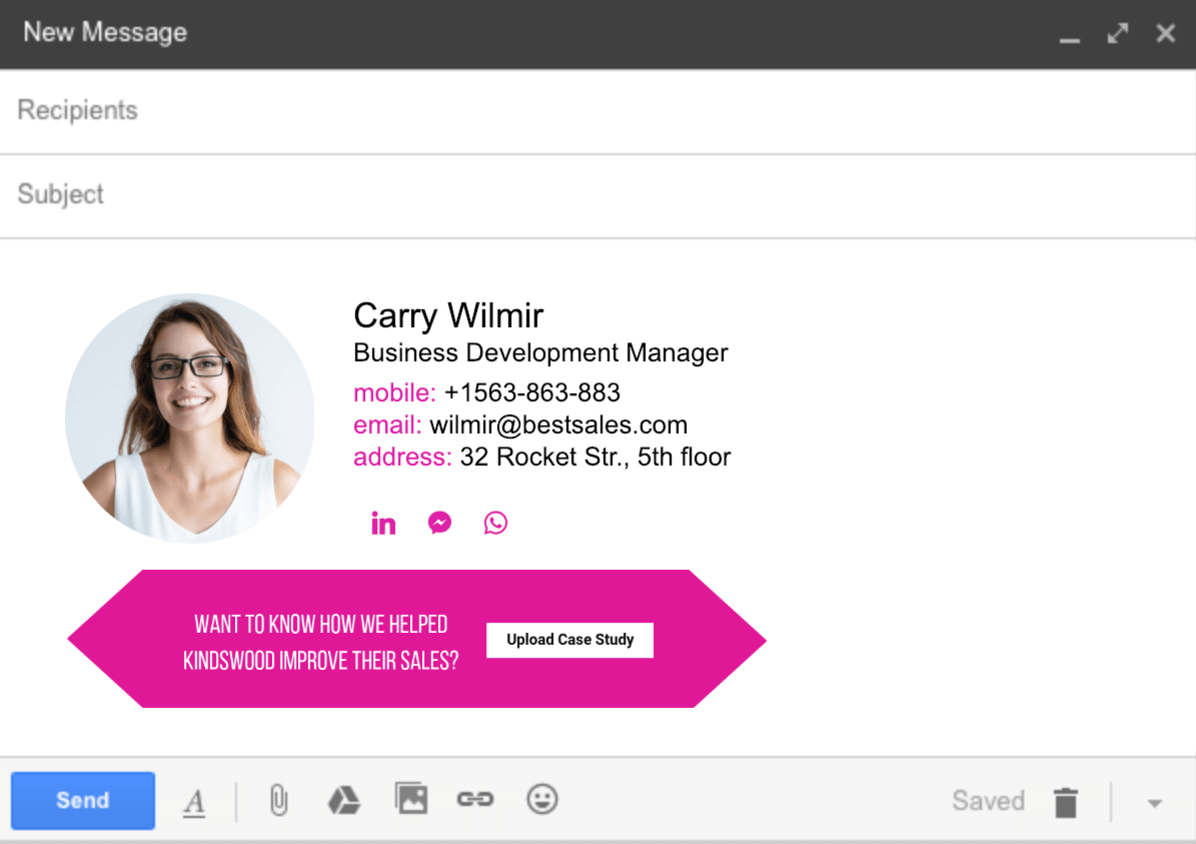 Online email signature generators like Newoldstamp allow to create professional sign-offs to add personal touch to your emails.
4.2. Social Media Posts
Social media cross-promotion is a good way of increasing your visibility and getting new customers. Cross-promotion doesn't simply mean shares. You need to carefully curate the process and create an original post that organically unveils the benefits of the business.
4.3. Provide a Reward for Other Company's Activity
A major engagement activator could be 'the giveaway reward': when your partner organizes the activity that includes easy, yet obligatory steps, like signing up to your company's Facebook page, etc. The winner gets your product/service for free. Note, that your reward should be valuable enough to bother, yet also be inexpensive for you. The whole point of co-sponsorships is increasing of subscribers and brand exposure. Double-check your partner's background and make all necessary arrangements beforehand: the history of co-sponsoring events is important.
5. Influencer Partnerships
Influencer marketing is on the rise, but the trick is that the effect is not easy to measure. You can arrange a cross-promotion with the influencer in your niche to reach each other's audiences. If the influencer is a big fan of your product and reviewing it for free, offer him additional benefits that will increase his loyalty. But you should take into account the credibility factor.
According to Tom Fishburne, marketer and cartoonist:
Last year, Unilever announced an effort to try to clean up influencer marketing, drawing attention to the widespread use of fake followers and bots. There has also been a shift to smaller classes of influencers, including micro-influencers and even nano-influencers (under 1,000 followers), which are inherently more difficult to regulate. Fyre Festival has come to epitomize a culture of influence marketing gone wrong.
6. YouTube
Every month over 1.9 billion people visit Youtube for the video content. This turns Youtube into the most visited video website in the world and second top-ranked website on the Internet (after Google). Talking to your audience through this channel is crucial, especially when it's mostly represented by Gen Zets. There are three main ways to promote your product on YouTube:
Run your channel and attract an audience with engaging videos.
Reach to YouTubers who have your targeting audience among their followers and ask to spread a word about your product.
Set up and manage paid ad campaigns on Google Ads.
When getting into Youtube, bear in mind that YouTube visitors take the quality of video content seriously. If you have a complicated tool, you can use YouTube as platform for your tutorials and describe useful tips. Ahrefs channel is a good example of how you can describe your tool using educational content. Having a vivid YouTube channel name also matters. With Youtube name generators, you'll easily come up with something catchy and professional.
Also, keep in mind that 15-20 second pre-rolls proved to be the most effective video ad format on YouTube. However, you should try to hook the watcher in the first 5 seconds.
7. Webinars
Webinars are good for many reasons. First, they help you sell your product without actually selling it hard. Second, they introduce you as an expert in your field. Third, they show your care about customers by providing them valuable content. On top of that, you keep your active consumers engaged.
Hosting a webinar is a piece of cake nowadays. All you need to do is:
Create a channel on YouTube.
Schedule live stream on YouTube and make it public.
Host the webinar and engage with your audience in Q&A.
Your video will be saved automatically, and you may use it for further promotion.
Three things to know before featuring the webinar:
The webinar should help watchers solve some problem. Educational webinars get the most views and keep attracting new leads long after being released.
Speaking about your product shouldn't last longer than 10% of the video duration.
To ensure a high number of visitors make sure people know the day and time when you are performing.
8. Email Marketing
Effective marketing emails could convert interested users into customers, and turn one-time buyers into loyal, raving fans or brand ambassadors. Segment your users into the groups based on their interests and create a highly personalized message to each of the group. Don't bomb your audience with emails, and make them mobile-optimized: heavy creatives won't look good on the smartphones with a limited internet connection.
9. Using DSP
If you operate with big traffic volumes and do cross-channel advertising, you may need a DSP (demand-side platform) to establish total control and transparency, while measuring real-time campaign performance and make data-driven optimization decisions.
A demand-side platform (DSP) is a system that allows buyers of digital advertising inventory to manage multiple ad exchange and data exchange accounts through one interface. In a programmatic landscape, demand-side platforms are just intermediaries between publishers and advertisers. Marketers can manage their bids for the banners and the pricing for the data that they are layering on to target their audiences. Like Paid Search, using DSPs allows users to optimize based on set Key Performance Indicators such as effective cost per click (eCPC), and effective cost per action (eCPA).
Here's the list of the most popular self-serve DSP for advertisers: Epom Market DSP, Reklamstore, Adform, Mediamath, and Rocketfuel. If you're interested in this way of promotion, you can read how to choose the best-in-line DSP for your online advertising.
10. Traditional Ways: Paid Search and SEO
Implementing new ways to promote online is a good strategy but don't forget to use 'traditional' ways to reach your audience online. And, yes, I mean Paid Search and SEO.
Pay-per-click ads are one of the most effective tools to grow your business in an increasingly competitive marketplace. When the user asks something via search engines (Google, Bing, Yahoo), paid ads are what he sees on the top of the search results. Note, that PPC ads work best with a motivated interest, for example, 'buy a pink teddy bear London', 'canal tours Amsterdam'. Before starting your ad campaign, you need to identify keywords which are extremely relevant to your business and define which expressions your customers-to-be are using when searching for your products. To help you find relevant keywords, use services like Free Keyword Tool or built-in keyword tool in your Google Ads Account. If you're running an affiliate campaign, and you want to boost business by advertising, you can use a native ad platform. This will facilitate the process of buying, tracking, and scaling your advertising so that you can buy traffic that converts from multiple networks and track their performance.
Search engine optimization is a long, but efficient way to reach the highest position in search engine search results organically, without paying for ads. SEO-principles should be implemented in the very beginning of your website development: take a trusted host, develop a clear website structure and make every page relevant to user needs.
In a Nutshell
In short, non-obvious traffic channels can help you reach the new audience with a minimum budget spent and better communicate with the existing ones. Posts on Reddit and Quora will help you establish yourself as an expert and discover the shifts in your industry almost instantly. Partnerships are a great investment in your future success, and it is an excellent opportunity to get additional exposure for close-to-zero expenses. Test-drive at least one of them: it's okay if you don't see instant results, the success comes with a dose of patience and consistency.
And how do you reach your audience online? Let us know in the comments below ;)