What Does CTR Mean in SEO?
How to
In digital marketing, it's vital to track goals that matter the most for business. CTR is a go-to metric for any type of digital specialist: PPC, email and content marketer, social media marketer, and, of course, SEO specialist. In this blog post, we'll focus on the latter one, and you'll learn what organic CTR is, how to measure and improve it. Let's start from the very beginning and get acquainted with the very entity of CTR.
1. What is CTR in SEO

2. Understanding Importance of Organic CTR

3. How to Calculate Click-Through Rate

4. How to Increase Organic CTR

Wrapping Up
Feel like bogging down in a billow of SEO topics? Sign up to receive our weekly newsletter with nonperishable cases and nifty how-to's.
1. What is CTR in SEO
Organic CTR or click-through rate is a ratio specifying how often people click on your website after they see it in search results.
CTR usually represents the number of clicks divided by the number of times your website has been shown (this very moment is called an 'impression'). For example, if your impression has gained 10 clicks for a keyword 'pink swimming suit' that 100 people search for every month, the total CTR is 10%.
organic clicks / organic impressions
Your organic CTR depends mainly on how you rank in the SERPs. A high CTR means that people find your content relevant, which causes them to click. By taking on board this metric, a website owner gets an opportunity to analyze what pages work well and define the ones that should be improved.
2. Understanding Importance of Organic CTR
Before sticking to any metric, give a bit time to thinking about your goals. It can be traffic, engagement, or conversion. For every goal, there are numerous metrics. For measuring all traffic-related things, these are used:
Clicks (CTR)
Unique visitors
Pageviews
First off, why measure traffic? Traffic brings you visitors, thus you have the opportunity to show them what your brand is about, engage them, and, most favorably, convert into leads and customers. This is a traditional sales funnel. So the traffic scope breeds awareness at the top of the funnel, which is the first and foremost step in walking your prospects through this journey. I'll put it into simple words: more clicks = more traffic.
Another reason to measure CTR is that it makes it easier to understand what content succeeds and what flounders. It makes it easier to optimize it and hence improve traffic.
However, to blow off your steam, organic CTR won't:
show you the quality of your traffic
help predict conversions
directly impact your ranking position (sadly)
But to prevent your head blowing from confusion, let's elaborate a bit more on the very concept 'directly impact.' The Internet is swamping with talks about whether CTR really matters in terms of website promotion. If you have been involved in the SEO community for a substantial period of time, you could notice that there are long and bitter disputes concerning CTR significance for the website promotion industry.
It's said that there are two groups of factors that influence your website ranking in search results: direct and indirect ranking factors.
Direct ranking factors basically include such methods as fostering pages with keyword phrases, getting links to your domain from trustworthy sites, increasing the speed of page loading, etc. All these factors directly contribute to your website position in search results by sending obvious signals to Google algorithms and proving the credible reputation of a domain.
Nevertheless, there are some other factors that may benefit your website promotion or not. Google does not officially disclose the mechanism used by search algorithms when operating and making decisions. Many users do not believe that CTR belongs to the direct ranking signals and influences search results ranking.
However, if you do thorough research on this issue, you will find convincing evidence for CTR benefits. At least, in terms of traffic boon.
Here are the most tangible reasons that cause CTR to fluctuate:
Branded keywords receive a lion's share of clicks. When a searcher types in a branded keyword, let's say, 'netpeak software,' they'll see our website #1 in search results.
Search intent also plays a role. For instance, informational intent most frequently gets into featured snippets because a search query usually starts with 'how to,' 'what is,' etc. A searcher receives an answer on the spot, the need to scroll deeper wanes. Meanwhile, commercial intent implies a comparison of products / prices / feedback, so a searcher is likely to click on many results.
Industry. There are more competitive industries and less. In the e-commerce industry, you have more chances to face neck-breaking competition than in any other.
Device. CTR usually differs on mobile and desktop devices due to screen size and usability.
3. How to Calculate Click-Through Rate
Let's recap four main entities that take part in organic CTR calculation: keywords you rank for, clicks, impressions, position.
To extract this data:
Go to Google Search Console and download it into a CSV file. Note that you can only download up to 1000 keywords.
Next, open the file and delete all branded keywords – they will distort the whole picture since they are biased.
Group keywords by rank.
Add up all the clicks for each position, and divide by its total number of impressions.
A pro tip:
You see that In GSC you're confined to a limited range of activities: export 1000 queries at a time and analyze main indicators either by URL or by search queries.
It's hardly a viable approach if you have a bigger website on stake. In Netpeak Spider, you can set up access to your GSC account and export absolutely all queries URL ranks for, and metrics into a single table. This is where an elbow room for true analysis appears. Follow a user guide to know how to tune the process: 'Google Analytics and Search Console integration.'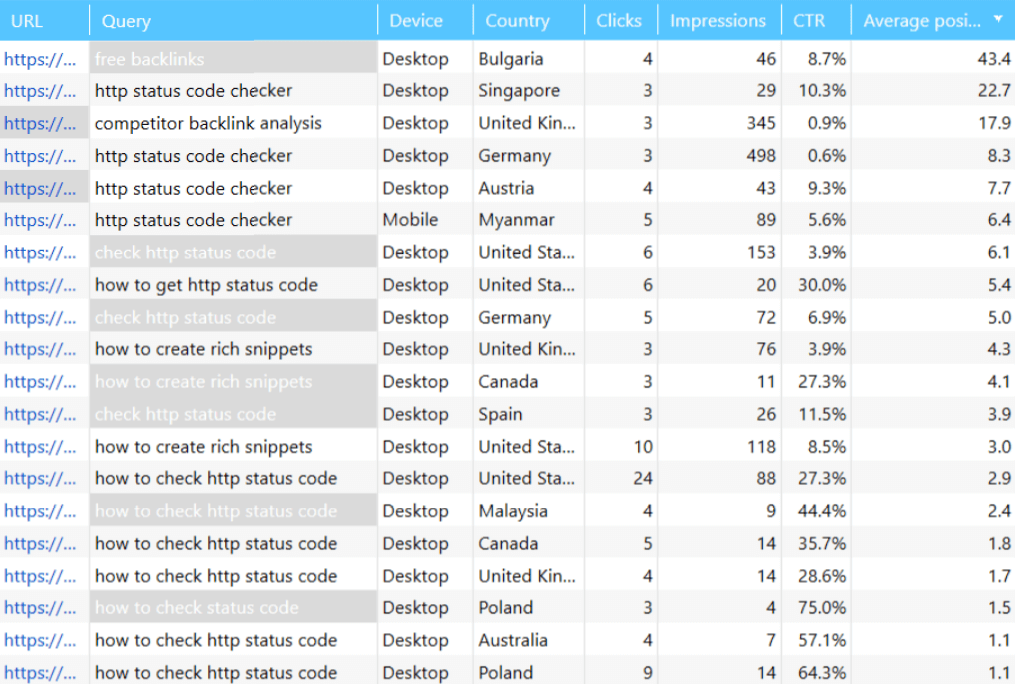 Export of search queries from Google Search Console and Yandex.Metrica is a Pro feature of Netpeak Spider. To have access to this and other Pro features such as white label reports, integration with Google Drive / Sheets, and multi-domain crawling, you need to subscribe to Netpeak Spider Pro plan.
Google Analytics is yet another tool to see how CTR correlates with an average position. To do so:
In the left menu, find an 'Acquisition' tab and click on it. Then go to the 'Search Console' → 'Queries.'

Having done it, you'll find yourself on the statistics page, which displays all data, including CTR, average position, the number of clicks, and many other things that are compiled in one place.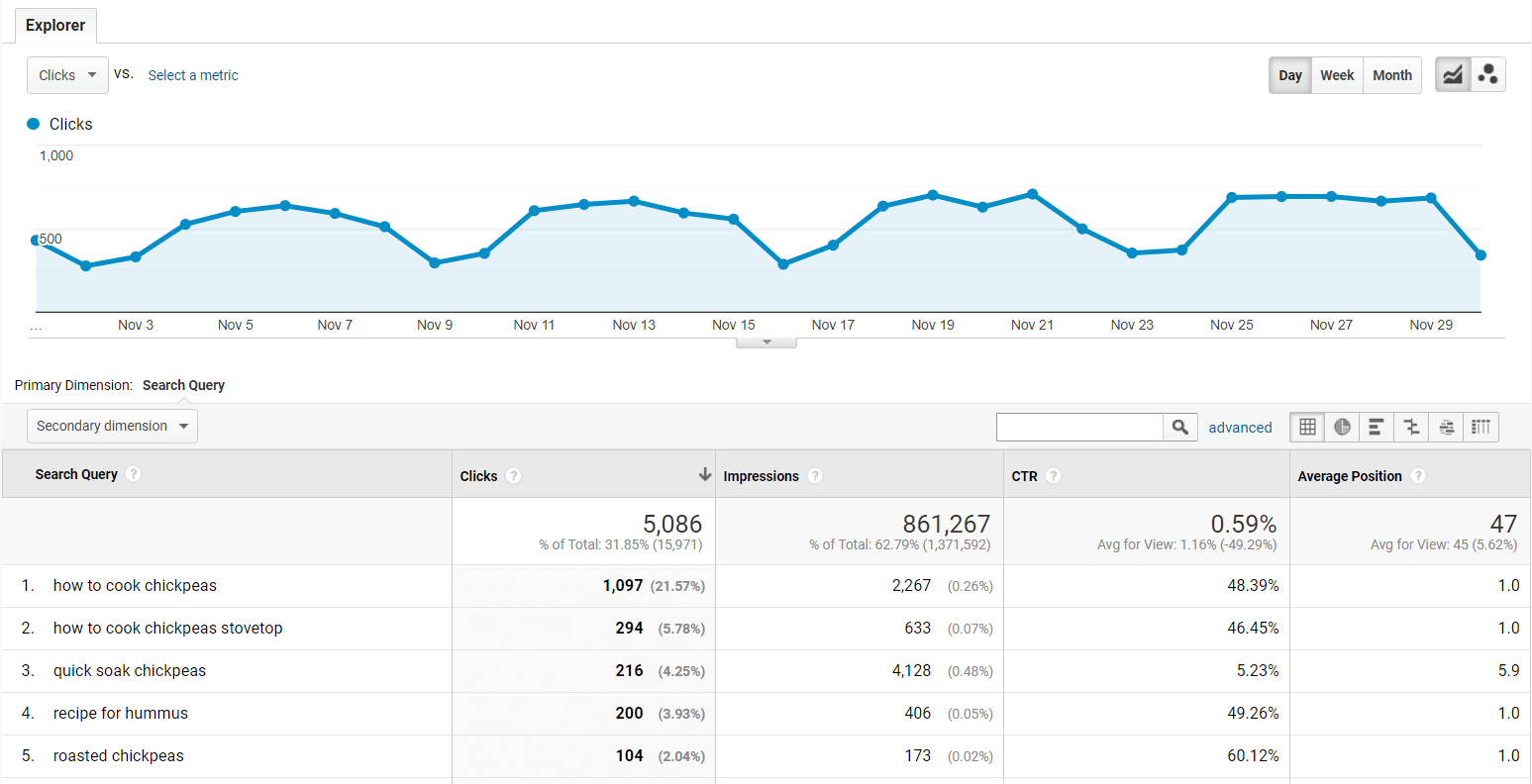 4. How to Increase Organic CTR
When it comes to improving your CTR, the driven question sounds like: 'What may draw the attention of my target audience?'
As a matter of fact, well-thought-out SEO performance doesn't mean improving your website conversion automatically. It's quite important to understand what users seek to include the right keyword in the title and meta description. Titles, URLs, rich snippets – everything does its own bit into honing the relevance of your webpage.
Here is more on what can increase relevance and induce a searcher to click:
Make your titles sharper. Titles are important because it's the first interaction with your brand online and your only chance to grab the audience's attention.
Avoid 'clutter' words in the title: simple, easy, magic, secret, amazing, etc. They distract and irritate.
Use brackets (rounded or squared) in the title to give a recap of what's inside the article, which gives another reason to click on your impression.

Use a 'human-readable' and descriptive URL: URLs with something unintelligible like 'https://somesite/category/490550tkf' lose the touch of safety and create ambiguity, so people are likely to ignore clicking.
Use keywords in title tags and meta descriptions. Research long-tail keywords since they have a bigger potential.
Write an effective description meta tag – it's not a place to bloviate, be succinct, and use your target keywords.
Use structured data to create rich and interactive snippets. Rating stars, pictures, price, any additional data in the snippet makes it an eye-stopper for searchers and increases your chances to get above all search results – into the featured snippet.

Optimize your website for mobile. As it's been already mentioned, the results look different on mobile and desktop devices, so does users' behavior – on desktop, they're more likely to dwell on the first result page, on mobile scroll further.
Reduce bounce rate. Yes, it's a whole different story that comes after that first click, but if you failed to grab searchers' attention or fooled them about his original intent, they'll immediately bounce off your website. That's why after improving a title, URL, and snippet for a nice impression in the SERPs, try even harder to optimize user experience on the landing page.
Wrapping Up
So to wrap this all, CTR depends on various factors:
Your position in the SERPs.
The temperature of competition.
Presence of featured snippets and ads.
Branded and unbranded searches.
Many other reasons.
You can optimize the pages for a better CTR performance. It's especially important when the pages receive impressions but no clicks. Think about improving title and meta description tags by implementing structured data and using the right keywords. Go for those pages that really need your watchful eye. The ones that already get win acclaim are better to leave for further analysis.