7 Ways to Improve Efficiency for Ecommerce Shopping Ad Campaigns
How to

Perhaps you've done some pay-per-click (PPC) campaigns advertising your online store already – you've run some campaigns on Google Ads, you might have run a social media campaign or two – or perhaps you're new to running paid advertising online completely. Either way, if you're looking to start selling products directly to shoppers through things like Google Shopping, you might be tempted to just do what worked for your PPC campaigns or follow a generic PPC guide. It's basically the same thing, right?
Unfortunately, PPC and Google Shopping don't work the same way. While both can be useful for attracting traffic and improving the conversion rates of your Ecommerce stores, you need to take a different approach to get the results you want if you're serious about using shopping ads.
1. PPC and Shopping Ads: What's the Difference?

2. How to Improve the Efficiency of Your Ecommerce Paid Campaigns

2.1. Optimize Product Data Feed

2.2. Explore the Power of Single Product Ad Groups (SPAGs)

2.3. Put the 'Gold Panning Technique' in Action

2.4. Discover Google Showcase Ads

2.5. Try Dynamic Search Ads

2.6. Bridge the Online-Offline Gap with Local Inventory Ads

2.7. Pay Attention to Your KPIs

Summing Up
1. PPC and Shopping Ads: What's the Difference?
PPC and Shopping ads can feel like night and day. There's a whole world of difference between them.
In PPC campaigns, finding (and bidding on) the right keywords can more or less assure you of a good outcome, but in Google Shopping campaigns, you can't even choose which keywords to use! Instead, Google determines which products are most relevant to the searcher's query based on your website and product data feeds.
Here's what a typical Google Shopping ad looks like when you search for 'Timberland boots':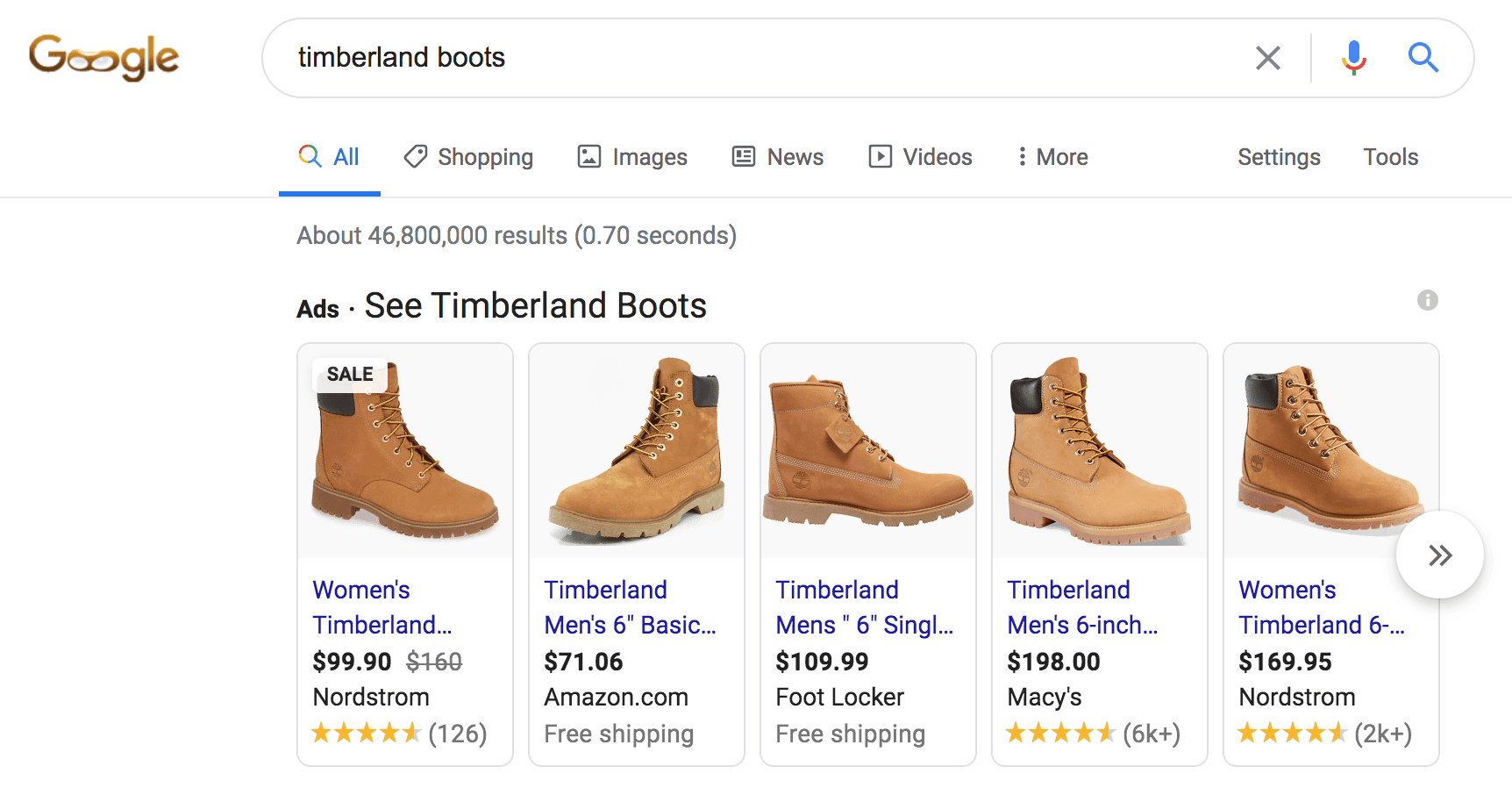 If you can't even set your keywords for your campaigns, why bother using Shopping ads? Why even waste your time? Actually, there are several reasons why you may want to use them.
Google Shopping Ads work exceptionally well for Ecommerce stores carrying a large volume of products. Can you imagine running a PPC ad for each product if you have thousands in your inventory? That will take up way too much of your time! In this case, it's more feasible to run a Shopping ads campaign.
A Shopping ad typically generates a higher click-through rate (CTR) and has a lower cost per click.
A Shopping ad typically performs better than text-based ads. Image-based ads can easily grab your audience's attention and have a higher conversion rate.
Shopping ads have a broader reach. Your ads can appear more than once for a single query. They may even show up for several related keywords you haven't even considered.
2. How to Improve the Efficiency of Your Ecommerce Paid Campaigns
2.1. Optimize Product Data Feed
The data in your Google Product Feed has a direct effect on the performance of your Shopping ads. It determines where your ads will be shown, affects your campaign performance, and determines your ROI. Thus, there's a strong need for proper optimization.
How do you do it? You can either go broad or go specific. Broad level optimization requires a little bit of keyword research to determine the most appropriate types, categories, and subcategories for listing your products. Alternatively, you can go the other way and optimize specific information for each product.
Here are some tips to ensure that all of your products are properly optimized.
Be informative without going overboard. Make it easy on your audience. Let them know everything they need about the product by just reading the title. Including as many details as possible in the title also helps you gain maximum visibility on Google. However, don't go overboard since you don't want to confuse your audience and make them lose their interest in the product.

Fill in the details. If you're using a spreadsheet rather than the actual Google Product Feed, you may include all the possible information (including color, size, material, GTIN, age range and gender of potential customers, etc.) about the product.
Use high-resolution images. Images are one of the most important components of your ads, so use high-resolution images in presenting your products. Google will love you more for it, and so will your customers. As a bonus, high-quality product images can positively affect your clickthrough and conversion rates as well. What's there not to love about it?
Pay attention to categories. Choose the right product categories and subcategories and align them with the appropriate product types. Do this if you want to penetrate your niche market and experience a serious boost in sales.

Track your performance. Use a quality Product Feed Management tool to keep an eye on and make the necessary adjustments to your shopping ad campaigns.
2.2. Explore the Power of Single Product Ad Groups (SPAGs)
While single keyword ad groups help improve the effectiveness of your PPC campaigns, single product ad groups or SPAGs can be the key to your Google Shopping ad campaigns! SPAGs are ad groups within your Google Shopping campaign containing no more than a single product.
By using SPAGs, your products will appear in relevant searches, allowing you to gain more control and get better results from your campaigns. Additionally, it will help you identify the exact terms people use in searching for your products, eliminate irrelevant search terms, and determine the profitability of each search term.
With the help of SPAGs, you can easily pinpoint your best sellers and separate them from non-performing products. It may take a lot of work, especially in the beginning when you're setting everything up, but the rewards (increased sales, improved ROAS, and lower cost per conversion) are worth it!

2.3. Put the 'Gold Panning Technique' in Action
If there's one thing you'd want to avoid when running a shopping ad campaign, it would be the so-called 'Mob Effect'. Sounds quite ominous, right? But what exactly is the 'Mob Effect', and what does it do to your campaign?
Basically, the 'Mob Effect' refers to a situation wherein you spend the majority of your ad budget on several products with high search volumes without getting the conversions you've hoped for. To make things worse, this situation steals the limelight from your best-selling products and 'hides' them away from potential buyers.
There's no way you can win in this situation – unless you know how to turn things around. To do this, you'll need to implement the 'Gold Panning Technique'.
In a nutshell, the 'Gold Panning Technique' works by uncovering high-intent searches by segmenting the traffic from your shopping campaigns into generic, branded, and product-specific searches. If you want to know how it works, this step-by-step guide will show you how it's done.
Use a multi-campaign setup. Create multiple campaigns to funnel searches with higher buying intent to the appropriate campaign. If you're in an industry where potential customers don't do product-specific searches, you can adopt a two-campaign structure (generic and branded campaigns). However, if you're in something like the electronics and appliance market, where product-name searches are more common, consider using a three-campaign structure (generic, branded, and SKU campaigns).

Set your priorities. Set your campaign priority through the shopping setting. Normally, you'll want to prioritize your generic campaigns over your brand and SKU campaigns to attract more traffic and explore your campaign's full potential.

Create a funnel. Drive higher-intent traffic to the appropriate campaign by funneling your searches through shared negative keyword lists. For best results, apply all the negative keyword lists (universal, brand, and SKU negatives) to your generic campaigns and use nothing but the universal negatives to SKU campaigns.

Adjust bids accordingly. Bid differently across levels, with the generic campaigns getting the lowest bid, and SKU campaigns the highest. To make sure Google sends the traffic to the right campaign, maintain a 60% to 80% difference in bids between levels.

Create a shared budget. You wouldn't want your brand and SKU campaigns to start pulling in generic traffic after your generic campaign exhausted its daily budget. Unfortunately, this normally happens when you allot separate budgets for separate campaigns. The solution: Create a shared budget to make sure that searches with higher intent will always land on the right campaign.

2.4. Discover Google Showcase Ads
People love window shopping, so if you want to improve the performance and efficiency of your paid campaigns, give Google Showcase Ads a try. With Google Showcase Ads, you'll have a digital storefront where you can highlight your products using high-quality digital images. Imagine how this can help improve your sales performance!
Google Showcase Ads usually show for broad, non-branded searches with high commercial intent. You'll see them at the top of the SERP, above the paid search ads. These ads feature the product images and prices directly on the results page. Upon clicking, the ad expands to show a custom description of the product and a catalog of related products.
To create a Showcase Shopping ad, select the Shopping Showcase ad group type upon creating a new ad group in your shopping campaign. Select which products are to be included in the ad and provide the required details. You'll be asked to provide a 1080 x 566 image, a URL to send your traffic to, and a 35-character display URL that will appear beneath the header image. You may or may not provide a headline and product description.
2.5. Try Dynamic Search Ads
Dynamic Search Ads or DSAs are similar to traditional text ads, but with a twist. While text ads use keywords in determining which results to show for a particular query, Google uses your actual website and/or product feeds in serving dynamically generated ads in response to matching queries.
DSAs are often indistinguishable from regular text ads. You may not be able to tell them apart when you see them in the search results on Google.
Dynamic search ads are ideal for Ecommerce businesses with a well-developed website or large inventory, particularly where branding is important. For example, consider Seal Skin Covers, an Ecommerce company that sells car covers for various brands. Car owners can be very tribalistic with high brand loyalty, so if you show Mustang ads to a Corvette owner, not only will you be unlikely to make a sale, you might even turn them off your store entirely!
One option would have been to run generic non-branded ads entirely. But as mentioned, car owners have high brand loyalty. Ads targeting their specific brand will probably be more effective at driving conversions.
Instead, Seal Skin chose to run a DSA campaign, where Google simply pulls in text from relevant product pages in response to a particular search query. So, whether the searcher is looking for a semi-custom car cover for their beloved BMW, Mercedes, or Mustang, the appropriate ad can be served, taking the advertiser a step closer to making a sale.

2.6. Bridge the Online-Offline Gap with Local Inventory Ads
Most shoppers are inclined to go to the in-store locations if they have an immediate need to buy a product, especially if they know that the retailer has that particular item in stock. If you have a physical location, how will it help improve the efficiency of your paid campaigns? Simple. You put up local inventory ads highlighting which products are available at nearby stores to attract potential customers' attention and drive traffic to your brick-and-mortar store.
These ads typically show on mobile queries with local commercial intent. As users click on your ad, they are directed to your local storefront page. There, they'll find all the information they need, which includes an image of the product and a product description, links to your website (in case they decide they'd rather buy a product without paying a visit to your physical store), contact information, business hours, and a map providing directions to your store.
2.7. Pay Attention to Your KPIs
While most Ecommerce store owners put massive importance and focus exclusively on their Return on Ad Spend (ROAS), doing so can undermine your ability to compete and adjust your strategies accordingly. After all, what is single-purchase ROAS? They are nothing but a metric indicating whether a single order made you money.
If you want to take your Ecommerce business to greater heights, use the data at your disposal to measure the key performance indicators or KPIs that are crucial to your success. The most useful KPIs have four major characteristics:
They have a significant impact on your bottom line and are essential to achieving your goal.
They are quantifiable, easy to track, and can be measured accurately.
They can be accessed in real-time.
They are actionable.
Which KPIs tick all the boxes? Here are some of them.
Conversion rate
Shopping cart abandonment rate
Average order value
Cost of customer acquisition
Customer lifetime value
Gross profit margin
Summing Up
Maximizing the efficiency of your Shopping Ad campaigns requires time and effort, but doing it correctly will pay off handsomely in the long run. Toil now and reap the rewards later. As the digital marketing space continues to evolve, expect to see many new strategies and techniques in the near future. But for now, these strategies can help you improve the efficiency of your paid campaigns, so apply them and see how they work!