4 Types of Search Queries You Need to Know to Generate Sales
How to

High traffic volume on your website doesn't always tie in with high income. Having an audience is nice, but you need an audience willing to spend money to earn a decent income. Once you have such an audience, you can effectively convert your website's traffic by selling your own products / services or monetizing your website through contextual advertising and affiliate marketing. To attract an audience that is ready to make a purchase, you need to target specific types of search queries.
In this article, we have collected all the main types of search queries and shared a strategy on how to use the right keywords to generate sales via SEO.
1. Types of Search Queries

2. How to Use Different Types of Search Queries

3. How to Find Search Queries that will Generate Sales

Recap
1. Types of Search Queries
All search queries can be divided into several categories. There are no right or wrong categories, but each has its own searcher, which directly affects your website's income potential.
These are four common types of search queries:
Type
Examples

Navigational

Delta Airlines
JFK airport
Airbnb

Informational

How to boil eggs
Baggage allowance Turkish airlines
How long is a half marathon

Transactional

Tickets to Madame Tussauds
Rent a car at Lisbon airport
Buy domain name

Investigational

Best hotel in Malibu
Where to buy a domain
Should I buy insurance
Different types of queries drive different types of audiences. If your main goal is to sell products and services, transactional and investigational search queries can be more effective than others. Still, each type of search query deserves your attention. Scroll further to find examples and tips for working with these types of search queries.
1.1. Navigational
No wonder these queries are used for navigation: a user knows exactly where they want to get but doesn't know the exact address of this page.
Navigational queries include brand / company names: 'Wikipedia' or 'Reddit' terms, for example, 'bloggers community Reddit'. Those users just use Google as a search tool to find something on the specific website.
If your site isn't where the user initially planned to go and the search engines correctly perceive their queries, you are unlikely to be able to compete with the target websites.
1.2. Informational
Informational search queries include everything that a user is seeking as an answer to a specific question. For example:
How long is the flight from New York to Los Angeles
What is a domain name
Why do Google reviews disappear
Looking at this query, you're unlikely to understand exactly where the user is in the process of making a purchase and whether they want to buy anything at all. However, you can clearly understand their intention.
The query itself shouldn't necessarily contain question words, such as how, what, why, when, etc. It can be, for example, 'time in Los Angeles'. Search intent, in this case, is to get information – WHAT time is it in LA. This search query works without WH question words as Google understands user queries and provides the relevant result pages.
And it's one of the most widespread. Many websites target these queries and provide guides, instructions, recommendations, tips, and other useful information to answer users' questions. For instance, it can be a guide on how to repair earphones at home, tips on how to save water, or simply the best Christmas cake recipe.
Among informational search queries, you can find excellent topics and keywords that generate a lot of traffic. The problem with such queries is that the traffic for them is heterogeneous – you have little chance to convert a user into a purchase, though there is still some monetization potential. For example, you attract the audience with the article 'Brownie cake recipe', but if you own a patisserie and you're interested in sales, this article can have call-to-actions enticing the readers not to waste time baking at home and order the brownie at your shop.
1.3. Transactional
Transactional or commercial search queries must be on your radar. Users ready to take action, such as making a purchase, are more likely to do transactional (commercial) search queries. Anyway, users may be at different levels of the conversion funnel:
someone is in two minds whether to go through with their purchase
someone is already at the final step and is literally getting their credit card out of the pocket
These queries often include the words 'buy' or 'book', but that's not required. Without those terms, there must be a straightforward search intent that indicates a user is ready to buy something or at least pines for product / service, etc.
For example, if a person is looking for a 'transfer in Budapest airport', then, even without the 'book' word, you can assume that the person needs a transfer.
1.4. Investigational
With the help of these queries, users can look for information that will help them decide on further actions. This type of query exists between informational and transactional queries since the user is willing to make a choice, but is not necessarily ready to take action.
With investigational search queries, people are looking for reviews for a specific product or list of the best products to investigate the product or service and make a decision.

2. How to Use Different Types of Search Queries
You may focus on all types of search queries if it fits your business strategy and you have a motley audience, which can be led down the marketing funnel to conversion goals. However, if your main goal is leads or sales, then transactional queries can give you a leg up. Visitors close to making a purchase are the most valuable to you (no matter how you monetize your website).
In case of selling your own services / products or monetizing traffic through affiliate programs, the effect of transactional queries is apparent – the more people ready to buy, the higher your potential income.
Let's look at the use of transactional queries and their effect on a travel blog. You make a content plan and collect topics for articles:
Time zone and current time in London
How old is Queen Elizabeth
How to get a visa to England
Ticket Manchester-London
Buy a ticket to Madame Tussauds
The first three search queries are informational, while the last two are transactional.
However, the third query can fit into both groups. It's clear that the user is seeking to obtain a visa to travel to England, for which a flight ticket is required. So, in this case, you know the reader's needs and try to convert them. For example, you can answer the question about preparing a visa and suggest buying a flight ticket through the Travelpayouts affiliate network. As a result, the reader receives an answer to their problem and a solution to their needs.
Therefore, when you focus on search queries that help you earn money, you should not break everything down into specific groups. Think about:
How exactly you can monetize the article in advance
What precisely each user is interested in typing their search query, and
How to predict what they would want to buy
If you have a small or new project with many uncovered topics, focusing on transactional or informational search queries with commercial potential is the finest strategy to reach a decent income quickly.
Other webmasters also know that transactional search queries generate more money. Therefore, you will probably fight for traffic on these queries, which may be especially hard for those with a small budget or young websites. However, there is a remedy. 👇
2.1. Long-Tail Keywords
Targeting long-tail keywords is a classic strategy that can be improved if you choose the right long-tail keywords and think about how you will monetize your content.
Long-tail keywords are low-frequency search terms that include two and more words. A single keyword usually won't generate thousands of visitors for you, but you can create many pages and use multiple long-tail keywords.
2.2. How to Find Long-Tail Keywords
You can gather long-tail keywords manually or automate the process with tools:
Manual way: write a focus keyword in Google, for example, 'buy ticket turkish', then the search engine will show you the options to continue so that you can collect different options for long-tail keywords.

Automated way with tools: the most popular SEO tools such as SEMRush, Ahrefs, Serpstat, and others can find long-tail keywords.
2.3. Check the Competition
It's also important to be mindful of your competition. You can pick up transactional queries that don't have a lot of competition in order to generate traffic with a small budget for promotion or even without a budget.
You can identify your top competitors for free by entering your primary keyword in the Google Keyword Planner Tool.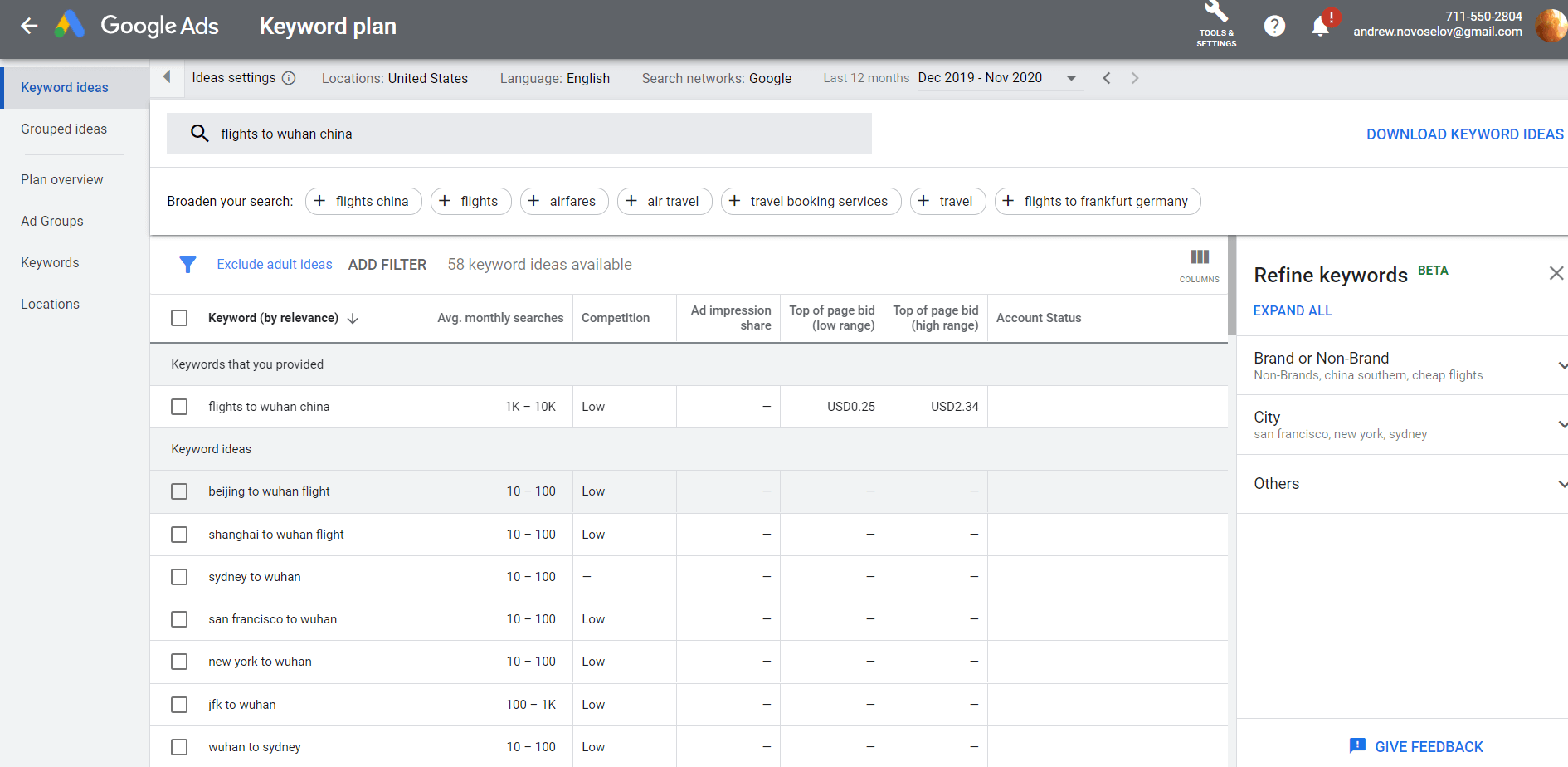 You don't need to launch an advertising campaign to use the tool → it's in the advertiser's account. The higher the CPC, the higher the competition within this topic.
If there are many queries or you want a more in-depth analysis of your competition, tools such as Serpstat, SERanking, Ahrefs, and others will help.
Ideally, you have to approach both competition and traffic volume when planning future articles.

3. How to Find Search Queries that will Generate Sales
Audience influx doesn't mean high income. You can drive traffic that is hard to convert.
So, think in advance about the income potential when you are choosing your keywords and article topics. There are several handy tools to find search queries that will generate sales:
Google Trends
Google Keyword Planner
SEMRush, Ahrefs, Serpstat, or their alternatives.
Google Trends is a fantastic source of trendy search queries and hot topics. To find the search queries, type the search term at the 'Explore' section, such as 'flights':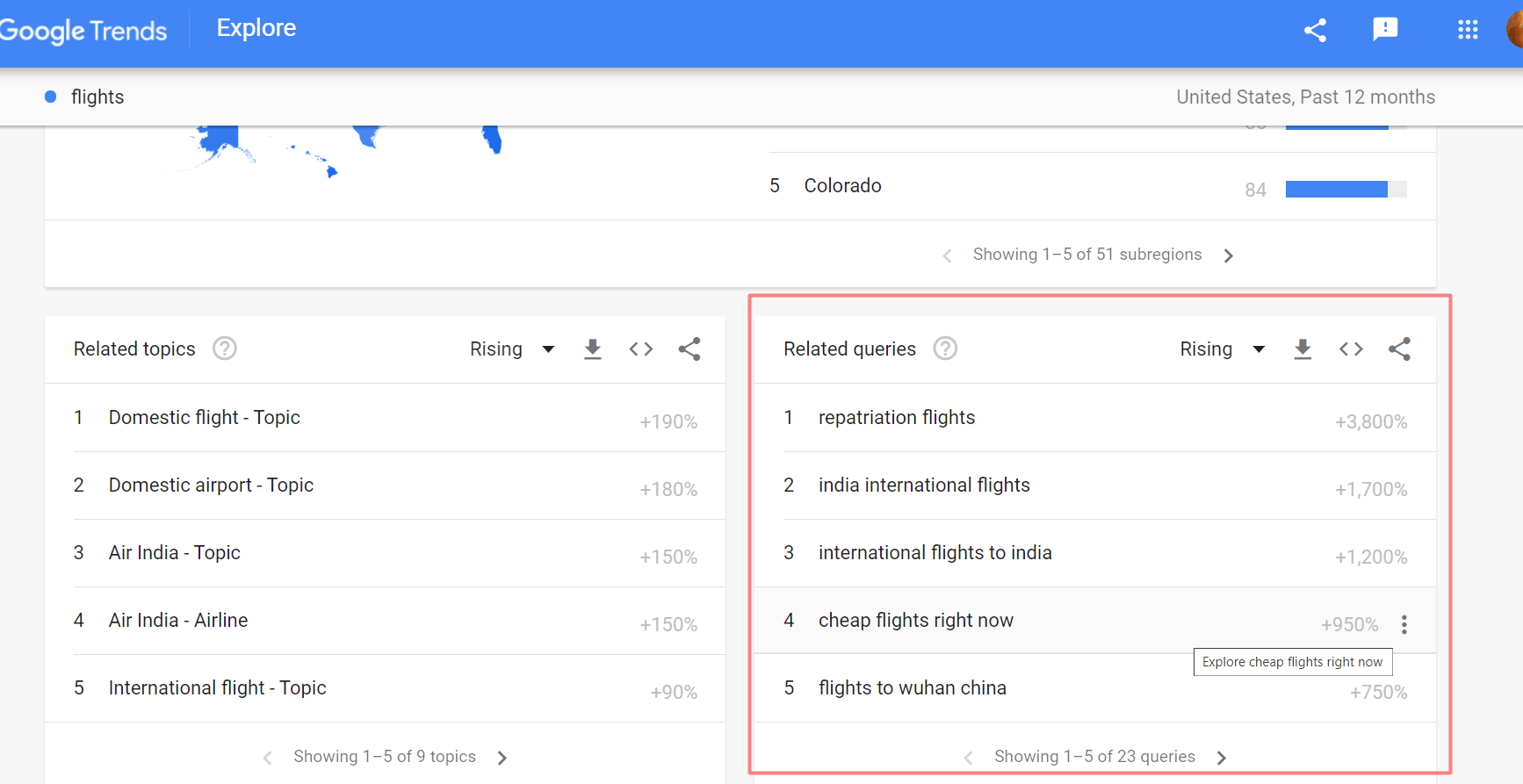 Using Google Keyword Planner, you'll be able to find out the average monthly searches and competition level.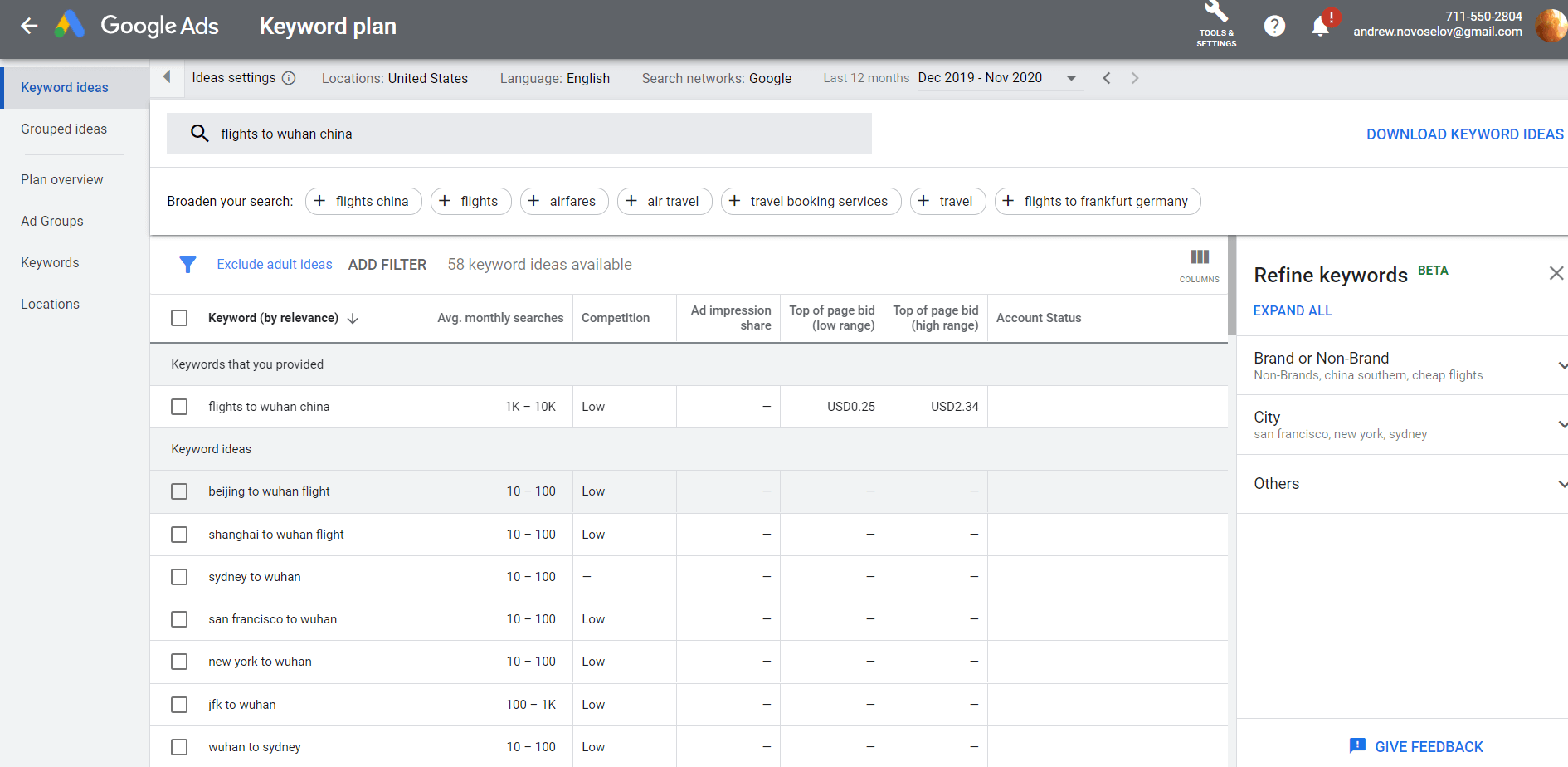 There you'll also get additional keywords that you may use later for your content strategy.
Select the topics and keywords that potentially will drive a person to the purchase. This should be reflected in his search intent. SEMRush, Ahrefs, Serpstat, and other SEO tools with detailed analytics on topics and keywords will help you find the appropriate keywords for future articles.
Recap
Summarizing the most important points:
Focus on transactional search queries if your main goal is leads or sales.
Don't ignore other types of search queries because they can help you attract traffic, which you can try to convert with other means.
Think in advance about how you can convert traffic.
To save your budget, look for low-competition search queries, and use long-tail keywords.
To generate decent revenue from your website, you need to attract visitors who have a high probability of converting into buyers. This is true whether or not you are selling your own products / services, working with a CPA model, or with any other monetization model.
A high-quality audience with the potential to take action is the key to high income for any website. However, in the pursuit of profit, don't forget about value. Create quality, useful content to keep your audience satisfied. Strive to provide practical, valuable information with future conversion goals in your mind, as this is the most effective strategy for promoting and monetizing your website.