Your Handy Domain IP Lookup Tool For A Fast Link Check
Get IP of website with no hassle! Our Netpeak Checker tool has everything you need for an efficient website crawling process. Check out how it works and how you can benefit from it.
The key features of IP Check tool
How can you quickly check the website IP address? This is when Netepak Checker comes in handy. Below, you'll see what else you can do with this tool.
IP-related information
Find IP of website and more additional data in just a few moments. Netpeak Checker will do the job by crawling any link you choose.
Extra on-page information
Our website IP address lookup tool helps retrieve detailed on-page information on any website you need. Some metrics you can access via the app include the web page's title and length, redirects and canonical URLs, information on the headings, internal or external links, images, etc.
Additional services data and metrics
Our website IP finder allows you to retrieve data from various external services, from Ahrefs and Google Services to Moz and Whois. Find the complete list of services in the Parameters section on the right side of the screen.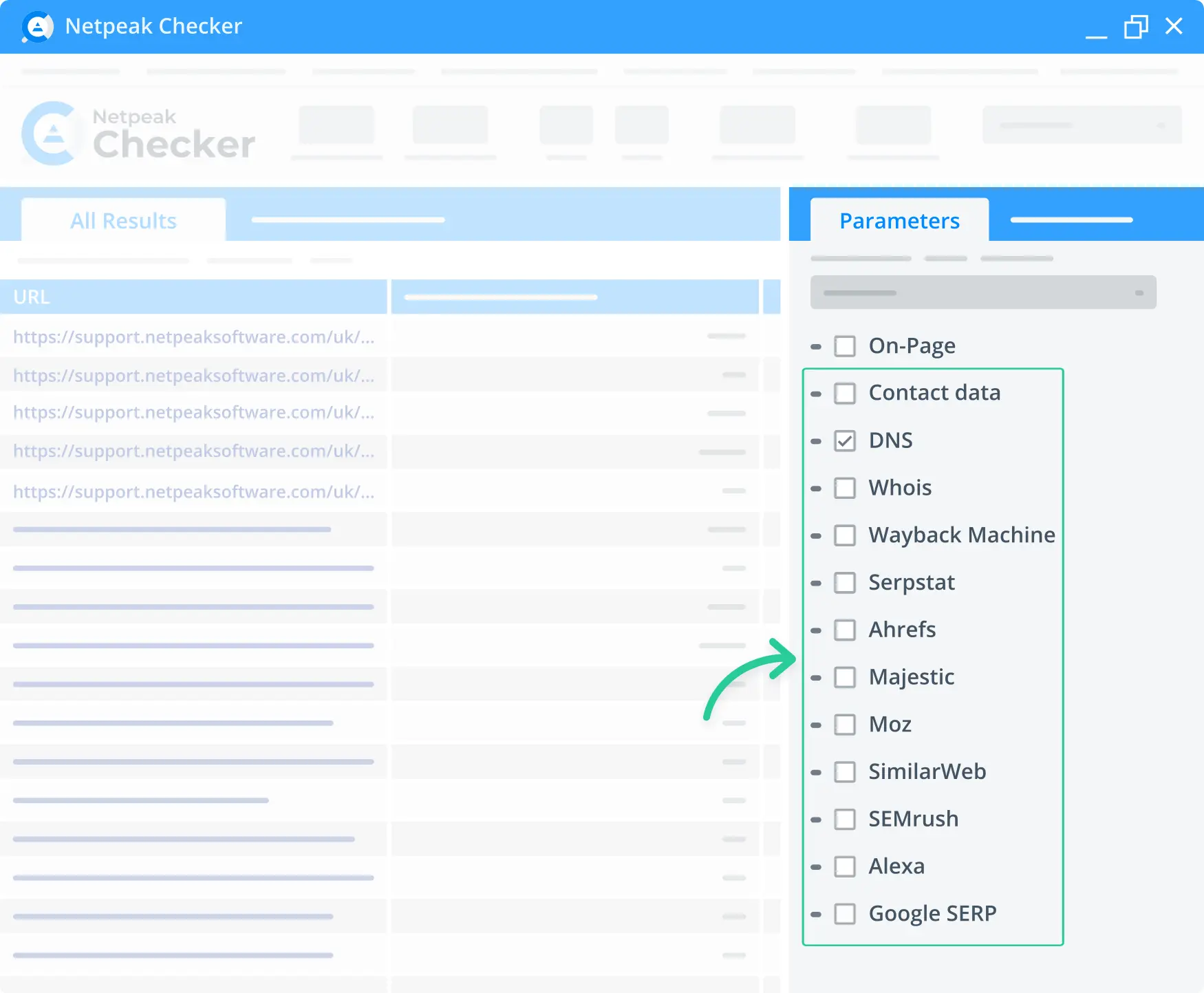 Try our website to IP lookup tool and retrieve useful domain information in no time
One of the quickest ways to extract the IP address of a website is Netpeak Checker; together with this feature, you'll also gain access to more domain-related insights. The website's country of origin, its ISO code, language, and other parameters — all of this information is available in one convenient app. Try Netpeak Checker via the free trial now and feel the difference.
Save up to 20%. Cancel anytime.
How to use our domain IP lookup app
Below is a step-by-step guide to using Netpeak Checker, a handy website IP checker.
1.

Launch Netpeak Checker and add the list of necessary URLs

Download our domain IP lookup tool and activate the free trial. Once you're ready, add the link you need to check. It's possible to add them in bulk by uploading a file or pasting the list from the clipboard. However, you can also add just one link at a time if you want.
2.

Select the necessary parameters and start crawling the website

If you need to find IP address of website, select "IP" in the Contact Data section of the app. To access this section, go to Parameters — you'll see this block on the right side of the screen. Apart from that, it's possible to select other necessary parameters: the website's ISO code, the country or continent of origin, etc. To check the IP address for website, click "Start" to run the analysis.
3.

Find and export the data

Once the analysis results are in, they appear in the form of a table to easily track the data related to every website you've added. It's also possible to download them as a separate file. Click the "Export" button and get the document on your laptop in a few moments.
Why our clients choose Netpeak Checker
Our numerous awards and reviews speak for themselves. Learn what industry leaders and top specialists appreciate about our tools
See all reviews