Black Friday: Get Technical SEO Audit and Core Web Vitals Check at the Lowest Possible Price
News

Not only do we start Black Friday earlier this year, we also keep celebrating it till December 3rd. Take your chance to conduct a technical SEO audit and check Core Web Vitals in bulk at the lowest possible prices. It's a limited-time offer, so hurry up, and pick the subscription plan that suits you best!
A sneak peek into the deal:
Limited-time offer: valid from 15.11.2022 until 3.12.2022
Netpeak Spider Offer → SEO audit for $48/year
Netpeak Checker Offer → bulk check of Core Web Vitals and On-page parameters for $24/year
Netpeak Software bundle (Spider + Checker) → $72/year
Now, let's dive into the details.
Netpeak Spider Black Friday Offer: SEO Audit and Custom Data Enrichment
Now you can get a professional tool for SEO website audit at an insanely low price! And that's not all. This special offer also allows you to upload custom data from other sources to enrich the data you obtained during the SEO audit of your project.
Learn how you can achieve better results by combining Netpeak Spider and Netpeak Checker.
Who will benefit from it
🛴 Beginners and students. You'll get a fast SEO audit at the lowest possible price. You'll get a hang of it pretty fast, as Netpeak Spider is specifically designed that way. The tool provides hints for every issue it discovers, and we've prepared video tutorials that will make your experience even smoother.
🛵 Marketing specialists, QA, webmasters, and bloggers. You'll be able to perform a routine check of projects for SEO errors, discover the issues, and assign tasks to developers to solve them. The program contains descriptions of all types of errors, so you won't even have to sweat understanding what they mean and how to solve them.
🏍️ SEO specialists. You'll get access to crawling as many as 10,000 pages, js-rendering, headline analysis, segmentation, and seamless work with data at an unbelievably low price. This option is best suited for regular technical SEO audits of smaller websites.
What you'll get
The table below compares the tasks that Netpeak Spider Black Friday and Netpeak Spider Starter can solve. Find more information about the plans on the pricing page.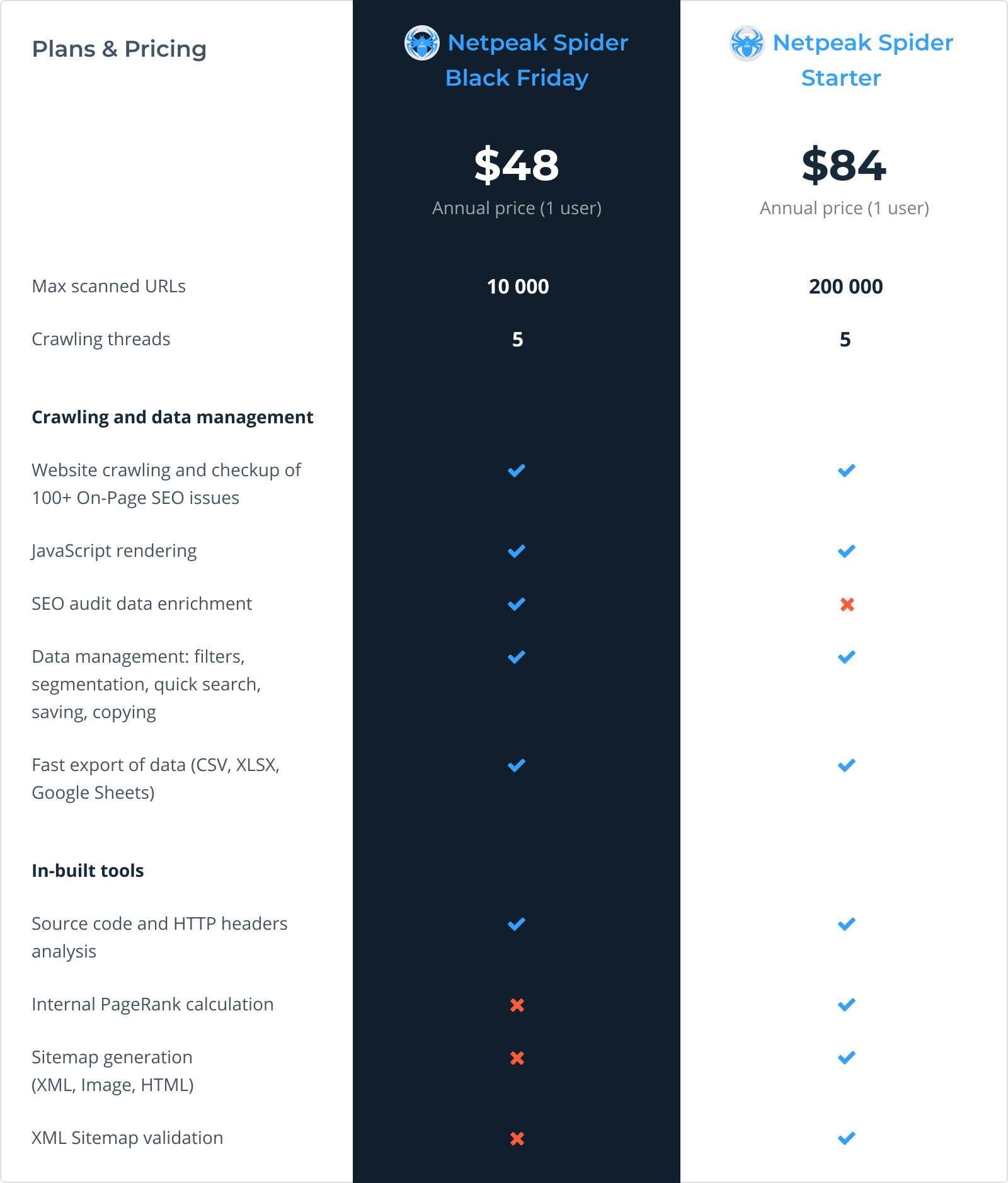 Get the Black Friday offer for Netpeak Spider now!
Netpeak Checker Black Friday Offer: Bulk Core Web Vitals Check for Any Website
Netpeak Checker is a tool for bulk URL analysis and comparison with a variety of parameters. This Black Friday you can buy a subscription that was tailored specifically for a webpage analysis using 50+ On-Page parameters, data from Google services, and webpage quality metrics – Core Web Vitals.
Who will benefit from it
This option is best for SEO specialists who have no time to waste and want to quickly check a list of URLs of their website or competitors, using Core Web Vitals and other SEO parameters. All these useful features are available in one tool at a sweet price. Hurry up to buy this offer and remember that it lasts till December 3rd.
What you'll get
The table below compares the tasks that Netpeak Checker Black Friday and Netpeak Checker Basic can solve. Find more information about the plans on the pricing page.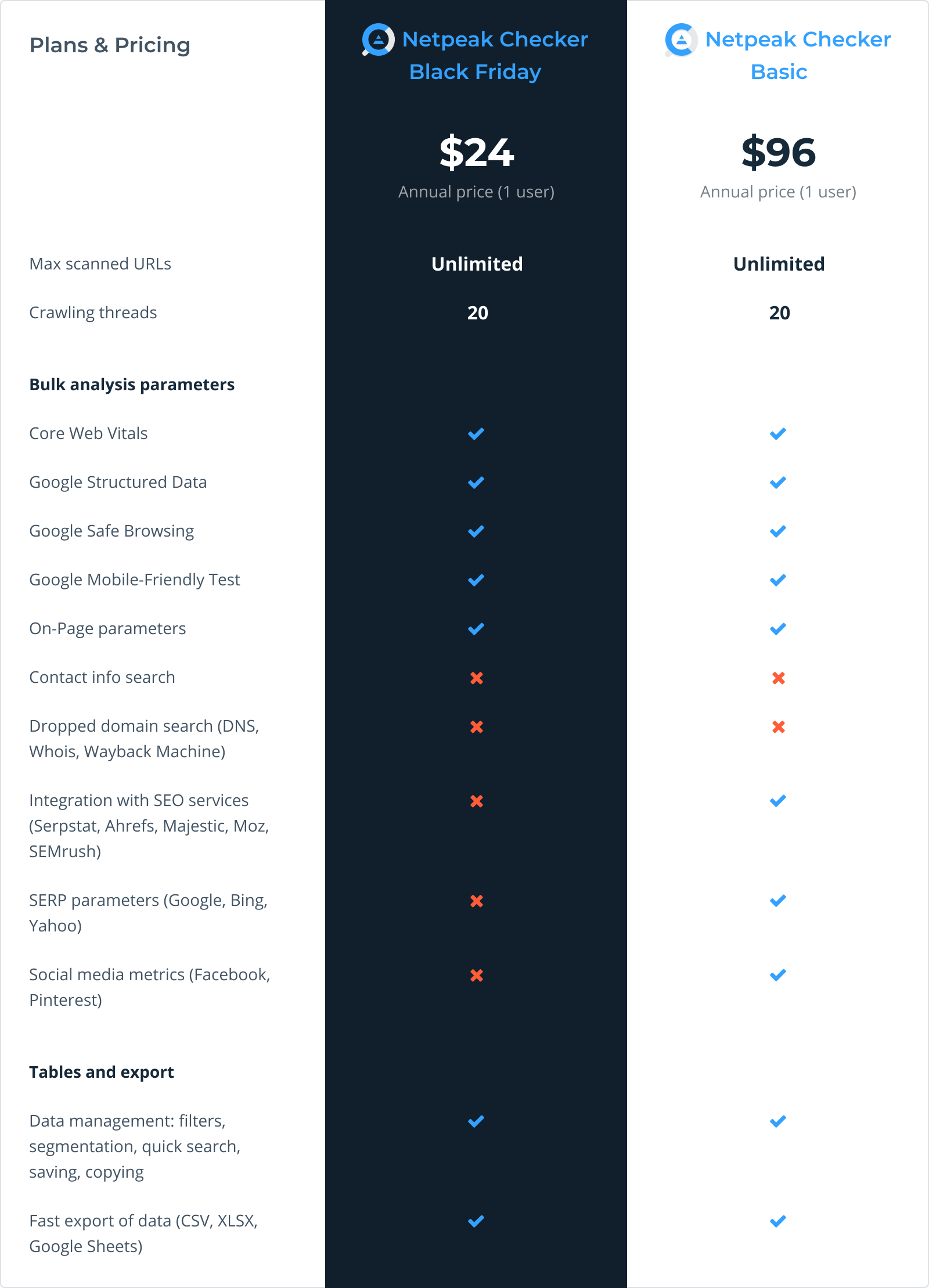 Save more than 50% with Black Friday offer for Netpeak Checker!
Netpeak Software Black Friday Bundle
According to our analytics, most of our clients use Netpeak Spider and Checker together. Why? Because combined, these tools deliver maximum results for website analysis. That's why we'd like to offer you a Bundle that unites both of these tools for $72/year.
Here're some of the perks you get by using both Netpeak Spider and Checker combined
You can perform a bulk URL check using Core Web Vitals parameters in Netpeak Checker and enrich SEO audit with additional data in Netpeak Spider.
You can extract all the necessary data in Checker (Core Web Vitals, Structured Data, and others) and enrich the audit by importing it into Spider. For example, this allows you to focus exclusively on pages with low loading speed or URLs with errors in structured data.
Get the Netpeak Software Black Friday Bundle now!
We've tried hard to make these Black Friday irresistible for you, and we hope you enjoy them! Both Netpeak Spider and Netpeak Checker will upgrade beginners with easy-to-navigate tools and equip professionals with all the necessary means for regular audits of their websites. You'll monitor SEO errors in Spider, check speed parameters in Checker, and combine the tools using the data enrichment feature.
Enjoy the skyrocketing results for your SEO, and remember that the offer is valid up to 3.12.2022!