30+ Black Friday and Cyber Monday Deals for Digital Marketers
Lists

These days are jumpy, huh? 😰
Do you feel like the whirl of discounts and square deals swallowed up your attention? If you didn't prepare the wish list beforehand, it could drive you to distraction. We care about our readers and want them to make the biggest possible deals on Black Friday. That's why we created this ready-to-use list with blog posts in which you can find the hottest discounts for the tools you use for work every day. Be all ears!
Get Netpeak Spider & Checker with 40% OFF
First off, don't miss the chance to buy Netpeak Spider and Checker with a 40% discount using promo code BlackFriday2019, and save up to $222! And we didn't settle just on huge discounts, it's also a giveaway time! You'll have the opportunity to win a limited Black Friday edition of wonderful owl-toys! Got interested? Read our post to stay tuned.
Plus, Black Friday and Cyber Monday Sale is a once-in-a-year chance at getting a deal with 30% OFF on Serpstat pricing plans.😜
Find Your Best SEO Deals in These Posts
| BF Deal Post | Who May Be Interested |
| --- | --- |
| GanttPRO | Digital marketers |
| TemplateMonster | SEOs, webmasters, digital marketers |
| Weblium | SEO, digital marketers |
| SEO Hacker | SEOs |
| Craig Campbell | SEOs |
| NinjaOutreach | SEOs, digital marketers |
| MyTemplateStorage | Digital marketers |
| Nichemarket | Digital marketers |
| Serp Rank | Digital marketers |
| Webbiquity | SEOs, webmasters, digital marketers |
| Elite Affiliate Hacks | Digital marketers |
| BloggingJOY | Digital marketers |
| Monetize.info | Digital marketers |
| Bloggersneed | Digital marketers |
| SalesHandy | Digital marketers |
| ClickTug | Digital marketers |
| Contentstudio | Digital marketers |
| Bootstrapps | Digital marketers |
| EarningGuys | SEOs, webmasters, digital marketers |
| Fat Frog Media | Digital marketers |
| Scan WP | SEOs, webmasters, WordPress specialists |
| SaaS Pirate | Digital marketers |
| Kasa Reviews | WordPress, SEO specialists |
| EngageBay | Digital marketers |
| WPExplorer | WordPress, SEO specialists |
| E-marketing Hacks | WordPress, SEO specialists |
| DigitalKube | SEOs, webmasters, digital marketers |
One Curious Tip: How to Find More Deals [Using Netpeak Checker]
If you want to find even more blog posts with Black Friday discounts, here's a little guidance on how we actually dug down to our links with the help of Netpeak Checker:
From the main program window, go to the SE Scraper tool tab.
Write down the queries for SERP scraping. If there are several words in the request, each word should be separated by a '+' sign without space.




Go to the 'Settings' tab, where you can select search engines, set the desired number of results, and select the type of snippet.




Click the 'Start' button to start scraping.
When completed, review the results in the table: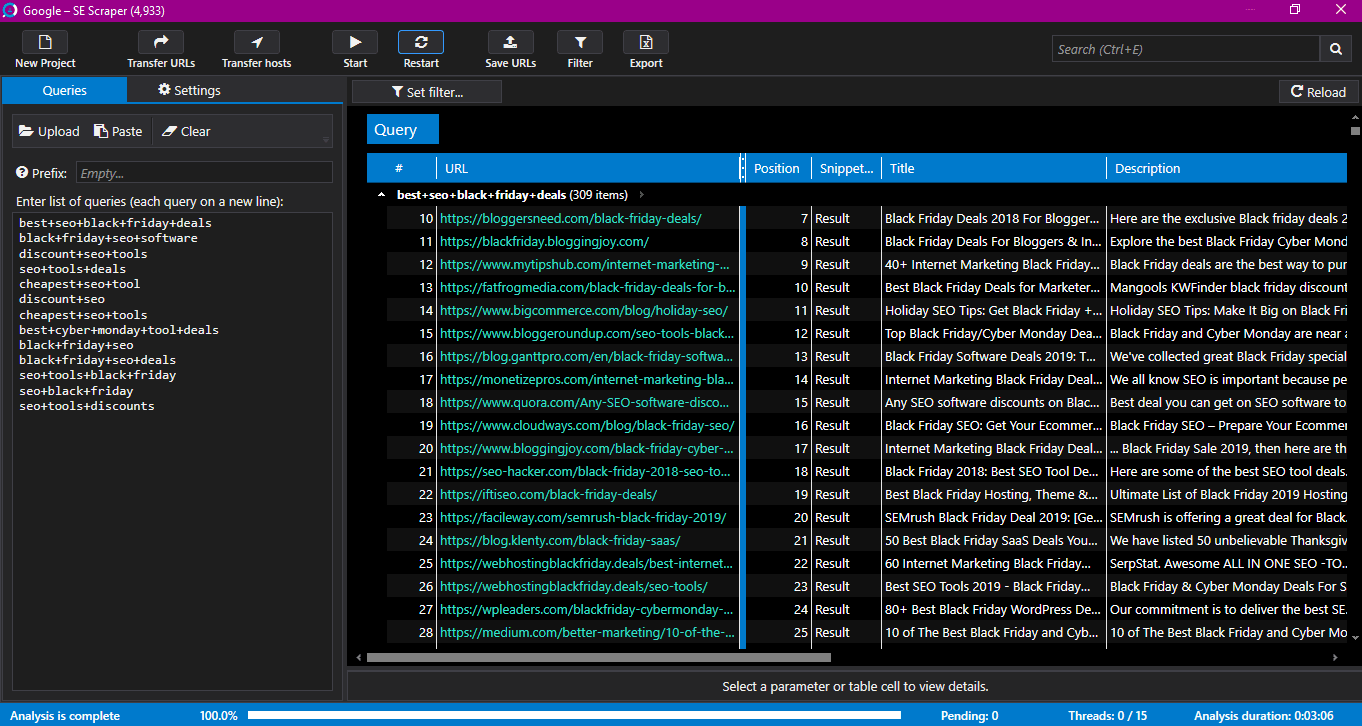 Hope this post came in handy and helped you gather all the tools in one basket 😎