During the last few months our brave web development team has been preparing something special for you – a new resource that will become an epicenter of our communication where we will share cool SEO and internet marketing tips and also tutorials and hacks for using Netpeak Software products. We didn't want to make just an ordinary blog, that's why we've analyzed dozens of websites and popular services to gather best features in one place.
And now, ladies and gentlemen, meet a new Netpeak Software blog where the user rules and where we are focusing on gradual developing content personalization. That's why our essential advice for you is to sign up to create your personal account and enjoy the awesomeness of our new blog. By the way, every registered user gets such benefits as:
Free and full access to Netpeak Spider and Netpeak Checker for 14 days.
Opportunity to participate in affiliate program (up to 30% commission).
Chance to become a post author and get a free access to our products.
Subscription to our newsletter with exciting special offers.
I will describe main features of our development down below.
1. Unread Posts
This is the essential feature of our blog: first of all you will see only unread posts. Once you've visited a post page, it will be automatically marked as read. It means that we will not press on you with this post again and again, recommending it in all blocks :)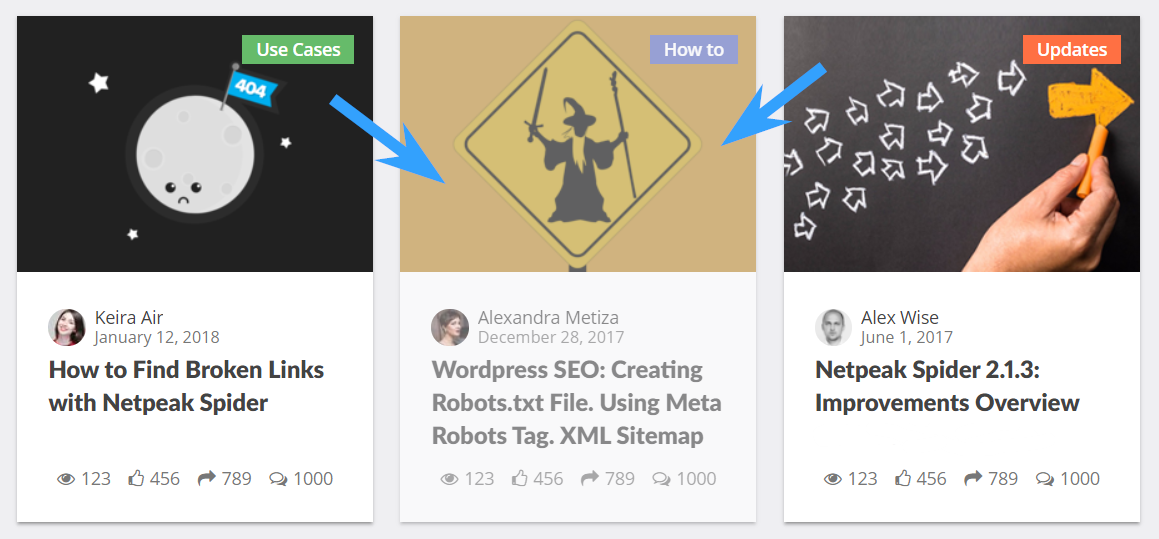 However, if you want, you can mark the post as 'unread' to get back to it later – just like you do with emails in email clients.
Main blog menu displays the number of all unread posts in this folder, if you have them, of course. We've also taken care of all our new readers and implemented a mechanism that counts the number of unread posts only since your registration. Don't worry, we won't immediately overwhelm you with dozens of unread posts.
2. Categories
We tried not to disperse your attention to tons of categories where you can easily get lost. We've picked out the following 'folders'.
Inbox
Yes, it's not a misprint! This is a merry old folder where all posts are automatically sorted by unread and by date, of course. As the saying goes, all events and characters are fictional and any coincidences with mail services are random ;)
Featured
Just imagine that we mark some posts with an asterisk. This category contains such posts. In the future you will be able to mark posts on your own and create lists of selected posts but for the time being you can rely on us!
Updates
This is the sweetest part: news about our updates you need to pay attention to, and also product updates digests where we gather a lot of information in an easy-to-understand way. Forewarned is forearmed, as they say!
How to
Here we aim to explain as clearly as possible how to get best results while solving certain tasks. This can be useful both for SEO newbies and professionals. Got you interested? We would not settle for anything less!
Use Cases
Here we present step-by-step guides about using Netpeak Spider & Checker features for SEO newbies and professionals. It's the most useful category to learn something new – something you probably never even thought of before.
Lists
Here we gather lists of useful tools for various online marketing tasks, their rating and side-by-side comparison. It's the best kind of content to make some noise, you know!
From Experts
This is where wise guys and gals share their grief (how to do this or optimize that), offer advice and express their expert opinion. Better be in the know and make sure not to go down that road!
News
Here we usually publish various news from Netpeak Software and our partners (and believe us, we don't post just anything). By the way, if you would like to know about our giveaways and special offers, make sure to drop by.
3. Community
Our new blog is the first step to create an SEO and online marketing community. It means we focus on our users:
Every registered user can become a post author (with our help, of course): just email us to

[email protected]

.
We implemented public profiles where you can see basic information about users and their comments and posts with all additional data (number of views, upvotes and shares).
Each user can upload a personal photo and fill additional information such as job position, the company name, social links and even his own website or his company's website. This information will be visible to other community members and provide better understanding among all users.
We want to make our blog clear and protected that's why only authorized users can leave comments and upvotes to posts. Thus, community members will be able to influence ratings of posts and comments.
4. Convenience
Here I listed a few important points:
We've worked a lot on responsive web design: for example, for mobile phones with a small screen resolution we've implemented another block for interaction with the post (to make upvote, share, etc.). And we've considered such details everywhere.
Blog has its own menu on the left – it is hidden by default while reading posts, so that it won't distract you from reading the content :)
We are extremely proud of our comments. You can easily add them, respond using quoting, upvote and share a link to them – we will scroll you down to the specific comment and highlight it. In a nutshell, try commenting and see for yourself!
Almost everything in on-page SEO depends on source code and we often show it in examples – now they will be much more visible, clear and highlighted with appropriate colors.
How to Subscribe to Our Blog
We will inform you about all new posts via our newsletter:
Simply sign up and you will be automatically subscribed.
If you have already registered and then unsubscribed, you can re-subscribe to our newsletter in email preferences in your account. Just tick 'News, product updates, special offers'.
And in the future we will make it possible for you to subscribe separately to all posts, certain category or even to a specific author.
In a Nutshell
Let's sum up the results:
We have launched a new blog with up-to-date feature of 'read'/'unread' content. In the future we are going to focus on its personalization.
We are building a community with the user as a center figure. Therefore, sign up, fill out your profile, add a photo and get feedback.
As you may have noticed, we are already posting and will continue to prepare clear manuals, case studies about our products, news updates, lists of various services and expert opinions.
Usability is a top priority for our team and we've developed our blog accordingly to it. Now we are waiting for your feedback!
Soon we will make posts describing blog functions for marketers and developers. Meanwhile, Netpeak Spider 3.0 is already undergoing testing, so stay tuned! ;)