New Control Panel and Changes in Purchasing the Products
Updates

Dear friends, while our developers are working hard on the new version of Netpeak Checker, our web development department decided to please you with an update which we've been working on for the last several months. So let's go ahead and find out the main changes to our website!
1. Products purchasing
1.1. Price revision
Previously, all the prices were rounded to the nearest dollar. For instance, when buying a yearly subscription of Netpeak Spider, you got a 30% discount, thus initial price $168 − 30% discount = $117.6, however, we used to round this price to $117.
Now due to the new system of purchasing the products, we've changed this logic in order to simplify the calculations and all the prices are shown with an accuracy of two decimal places: in fact, the prices increased by 60 cents maximum, and some of the prices decreased.
Please notice that:
since 3/15/2017 all the payments (including auto renewal) have been made in accordance with new prices specified on the Plans and Pricing page
10% discount for purchasing a bundle of products (Netpeak Spider + Netpeak Checker) is no longer available, we're working on a more pleasant discount system instead
1.2. Bulk purchase of licenses
Now you can buy up to 50 licenses under one order and then manage access to them in a special section of control panel. The possibility of buying several licenses at once will be particularly useful for the heads of small SEO teams or big agencies who want to provide the employees with the licenses keeping the precise control of license in case the employee leaves the company or takes up a new position without a neсcesity to use the tools.
Considering this system, we've implemented new discounts for bulk purchase:
5-14 licenses → 5% discount
15-29 licenses → 10% discount
30-50 licenses → 15% discount
need 50+ licenses? Just contact us!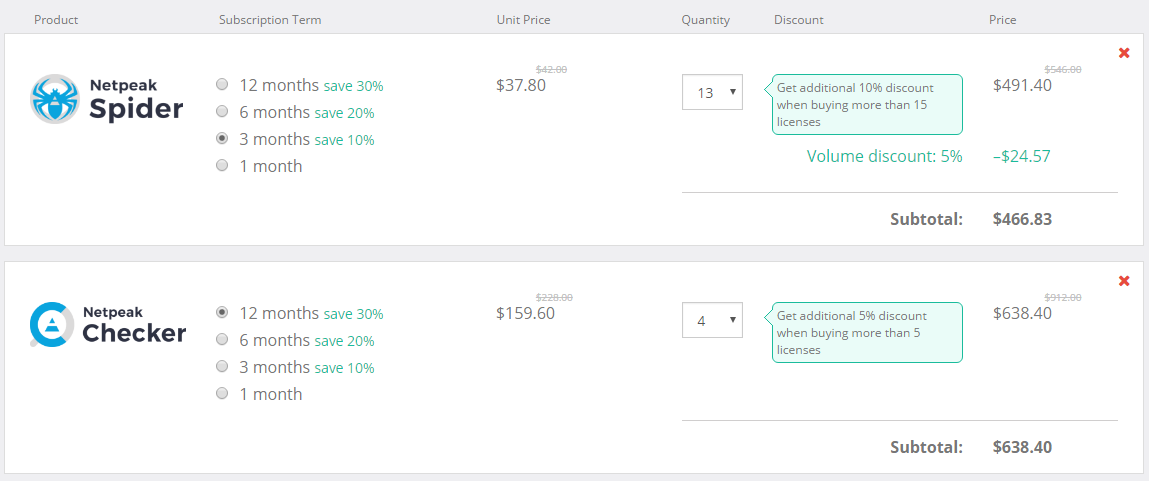 1.3. Price calculator
We've made a new price calculator on Plans and Pricing page where we display monthly prices and mark the most favorable offer. We tried to show you clearly how much you can save and how the prices are calculated – try to click dotted underlined numbers and you'll get a tooltip on the calculations: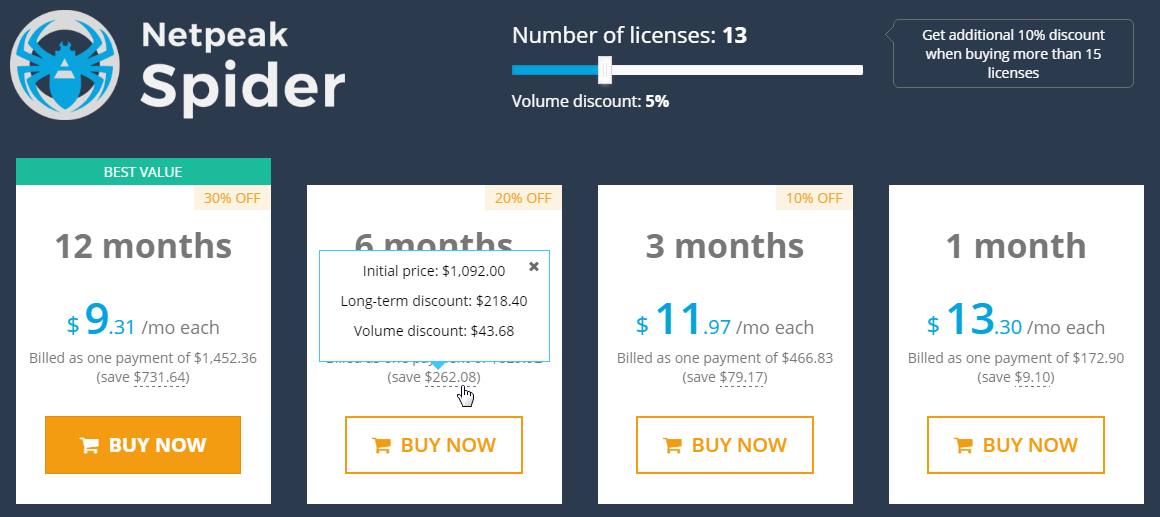 Please notice that when you choose several licenses or view 3/6/12 months plans, the price is calculated for one license for one month so you can easily compare the charges. The full amount of payment is specified below the monthly price.
1.4. Subscription auto renewal
To ensure the consistent work with our products, we've released a subscription auto renewal feature. If you make a purchase via payment card and activate the license, auto renewal is on by default. You can manage this option in the 'Subscriptions' section of Control Panel.
1.5. New payment method: PayPal
At the request of our users, we now provide an opportunity to effect payments via PayPal. However, there are some aspects you should take into consideration:
In case you pay via payment card, we instantly get the data whether the transaction was successful or not. But when purchasing via PayPal, there can be a certain delay in getting this data – PayPal itself asks to wait up to 30 minutes to receive the results of payment processing. Therefore, we add the licenses to your account only after having received the response from PayPal about successful payment.
Subscription auto renewal option is available only when you've got a default payment card in your account. That's why after making a purchase via PayPal, we recommend adding at least one payment card to your account so you could have a permanent access to Netpeak Software products.
1.6. Other changes in purchasing the tools
Let's take a quick look at other minor changes to the process of purchasing the tools:
We offer an opportunity to pay via bank transfer provided that the total amount of your order is above $250 – contact us to get more details on this matter.
After the successful purchase or auto renewal, you'll get an email with a detailed info on your order in more usual and convenient way for printing (if needed).
Any order retains its price and applied discounts for two weeks, during this time you'll still be able to pay old prices even if the prices increased. After this period, all the orders become expired and cannot be paid.
You have an opportunity to buy the license without its instant activation – if you have no active licenses, you will have an opportunity to activate the license when confirming an order. However, you can unсheck «Activate the License» so your license will be added to your list of licenses and you'll be able to manually activate it at any time.
On the page confirming a successful payment, you can always find the number of available licenses and state of subscription auto renewal feature.
2. New Control Panel
We're happy to introduce you a new control panel of Netpeak Software user! :)
2.1. Dashboard
We are steadily changing the main section of the control panel as we are planning to display there the most useful information on using our products. At present, it shows you the following:
links to the basic sections of the control panel
step-by-step instruction on what you need to do in order to use Netpeak Spider and Netpeak Checker (including your actions after free trial expiration); note that this instruction become hidden when you complete all the steps
data on your trial period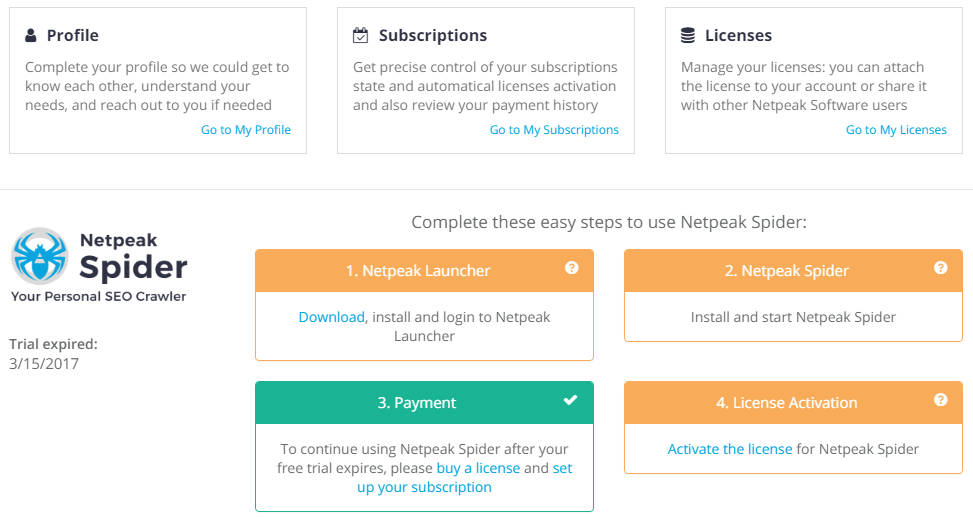 2.2. Profile
Design and functionality of this section were advanced, and now profile contains all the information about your account:
first and last name, these fields are required now, please fill them in to get access to all sections of the control panel
some new fields have been added and all the fields have become more convenient for filling in
a progress bar that shows your profile completion
We recommend taking a couple of minutes to complete your profile in order to:
we can know you better and thus better understand your needs and preferences
you could have a proper profile on our blog that is coming soon
get bonuses and additional discounts on purchasing our products (in development)

2.3. Subscriptions
This is an absolutely new section of control panel that allows you to:
manage auto renewal of your subscriptions, change the term of your next subscription, and revise dates of the next payments
control your subscription state
oversee auto activations of the licenses, if there are several available licenses for one product
review the history of your payments and orders; here you can also repeat one of the successful payments, retry failed ones, or complete a new payment within two weeks after its creation
2.4. Licenses
Another new section that lets you:
review your list of licenses – in this list, you will find all the available licenses with appropriate statuses
manage your licenses – attach the license to your account or share access to the license with another Netpeak Software user (keeping precise control of the license)
add licenses that were shared with you by other users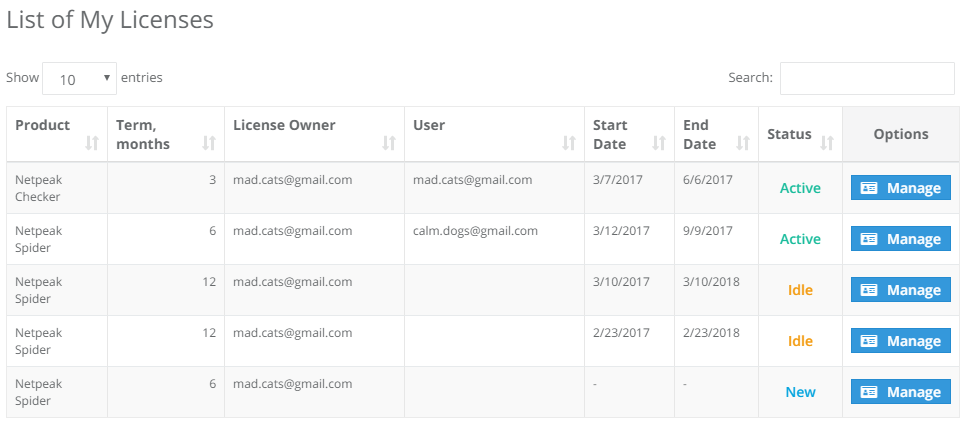 Please notice that licenses auto activation feature which is adjusted in 'Subscriptions' section takes the licenses one by one exactly from this list.
2.5. Payment cards
This is also a new section where your payment cards details are saved and where you can add/edit/delete cards and set a default card which will be used for the feature of subscription auto renewal.

2.6. Other changes
The control panel and the whole website have undergone the several changes:
small descriptions are now displayed in every section of the control panel: they usually contain the main functions available in the section
30+ different notifications have been added to control panel when working with subscriptions, licenses, profile, and payment cards
a limit on changing the email has been set – now it's possible to change your address once in seven days
common footer and header for the website and control panel have been released so now you can access all the important sections from any part of our website
3. Terms of Use and Privacy Policy
Please read carefully our updated Terms of Use and Privacy Policy.
In a nutshell
Let's make a quick recap of the changes in the process of purchasing the tools and updates in control panel:
Price revision. Now the prices are rounded to the nearest dollar. As a result, the prices increased by 60 cents maximum and some of the prices decreased.
Bulk purchase of the licenses. Now you've got an opportunity to buy up to 50 licenses with additional discount up to 15%.
Price calculator. On Plans and Pricing page the prices are displayed for one month and for one license, the most favorable offer is marked out. You can also clearly see how much you're saving.
Subscription auto renewal. This feature is on by default if you make payment via payment card and activate your license. You can adjust it to your needs in 'Subscription' settings.
New payment method: PayPal. Due to peculiarities of PayPal functioning, there are some delays in issuing the licenses after the payment.
New control panel. 'Dashboard' and 'Profile' sections have been updated and absolutely new sections – 'Subscriptions', 'Licenses', and 'Payment cards' – were added.
We'll come back to you soon with a long-awaited update of Netpeak Checker, launching of our blog, affiliate program, and system of discounts which you'll for sure love :) Stay tuned!