Netpeak Software Update Digest #1
Updates

As you know, we always describe major updates of our tools in details. But sometimes our developers' team release small updates that you might not notice in the tool. Moreover, we are constantly redesigning our website and preparing educational materials to make your experience with our products more convenient.
That's why we launch a new digest of Netpeak Software updates to keep you abreast of regular developments in our tools and website :)
1. Netpeak Spider Changes
Let's start with a global update to Netpeak Spider 3.0. So the main changes are:
Up to 30 times faster crawling, compared to 2.1.
Optimized RAM usage.
Option to resume crawling after opening the project.
Data segmentation.
Site structure report.
Dashboard (information about crawling process and diagrams after it's complete).
Exporting 10+ new reports and 60+ issue reports in two clicks.
Determining compliant URLs.
Special reports for every issue.
Custom templates for settings, filters / segments, and parameters.
Virtual robots.txt.
You can read more about this update in our detailed post or watch a video review ;)
Also, over the past few months, we have made several changes in Netpeak Spider.
Now, instead of removing unnecessary parameters manually, you can use the 'Untick All Parameters' button in the sidebar on the 'Parameters' tab.

Also, we've added a logo to the left of the address bar with the function of switching to the 'All results' tab for faster navigation and resetting the table in the program interface.

Earlier the default User Agent was NetpeakSpiderBot, now it's Google Chrome. Keep this in mind when crawling big sites :)
Now let's talk about fixing bugs:
The issue with encoding parameters in the URL has been fixed. Now if the text in the GET parameter in the URL is spelled with a '+', you will have no problems.
We've also solved the problem of importing URLs from some XLSX files that were not created in our programs.
Also, we've fixed:
problem with connecting through a proxy in Netpeak Launcher,
issue with crawling encoded links,
checking robots.txt for bots during crawling with browsers User Agent,
duplicating column names when exporting tables to a .xlsx file.
So these are the last changes in our crawler.
2. Netpeak Checker Changes
Recently we've released the new Netpeak Checker 3.0, which included the following changes:
'SE Scraper' tool (Google, Bing, Yahoo, Yandex)
'Search Engines' settings
'Proxy Anti-Ban' algorithm
Custom filter and parameter templates
'Filter by value' option
2 times less RAM consumption
Rechecking values, rows or columns
New SQI (Site Quality Index) parameter from Yandex.Webmaster
Displaying balance and limits for paid services
And a lot of other improvements about which you can read in a detailed post from our CEO Alex Wise or watch features use cases in the video review :)
Also, we've made a number of additional changes to the new tool:
The 'Rating (review snippet)' parameter no longer adds the price value to the cell. Previously, these data were pulled up into a table, since search engines did the same for this selector.

We have fixed detecting the 'Indexation' parameter of search engines for pages with a cyrillic URLs. Now сyrillic URLs are correctly encoded, and the information about them is displayed.
Also, now you can get only one Whois parameter.
We have also fixed:
issue with receiving Google Cache settings,
problem with the SEMrush API HTTP-protocol,
removed the Yandex Directory / Bar parameters, because Yandex closed this service along with the API.
By the way, something interesting is waiting for you very soon, so we highly recommend to follow our updates ;)
3. Website Changes
First I'll talk about a small but significant change in the refund process. Now we grant it within 14 days, not 7.
And now let's move on to other improvements.
3.1. Home Page Update
We have seriously improved the main page of our site, so it becomes easier for you to navigate and interact with. I will focus on the most important changes.

Now you can see the 'Who uses Netpeak Software?' interactive block on the main page. Have you found your specialty here? Just click on it to see which of your tasks we can help automate and solve with our programs.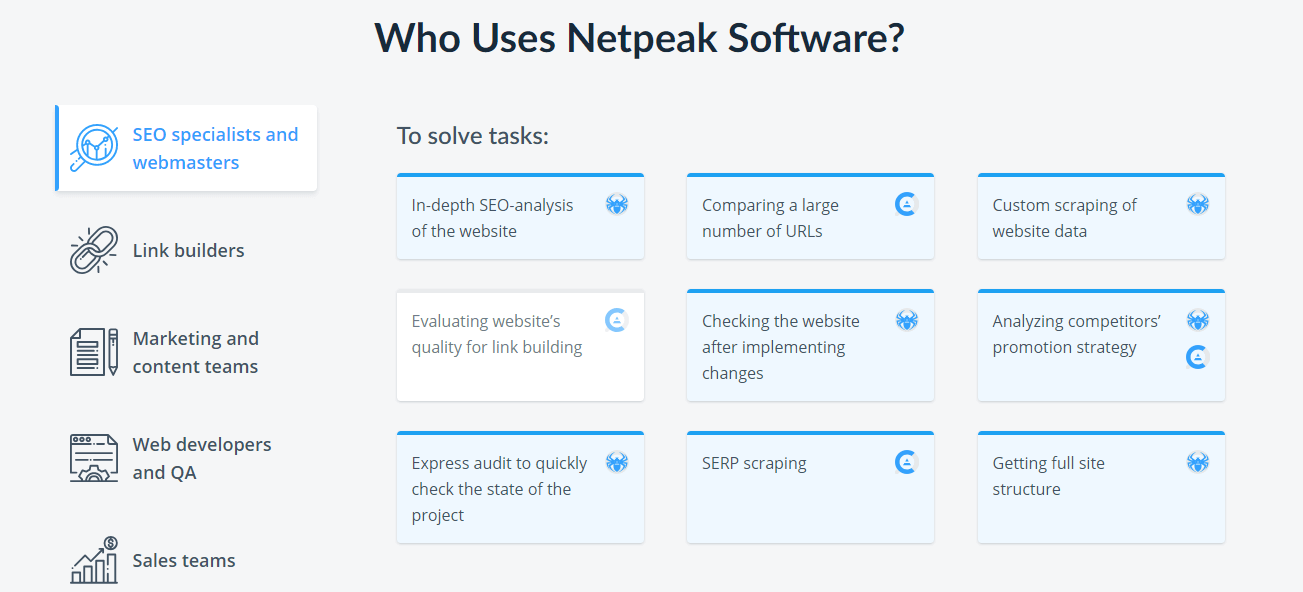 And in this block, we've collected information about all bonuses for our customers. Perhaps you have not yet joined our affiliate program or tried bonuses from our partners. So there is no time to spare!

Moreover, we've added a convenient block where you can find all ways to contact us.

3.2. New 'Customers' Page
We take our users' testimonials very seriously because they boost the improvement of our tools. And of course, we would like to share the feedback on our website on the brand new 'Customers' page. Find out why specialists from major companies choose us, as well as which projects our clients use Netpeak Spider and Checker for.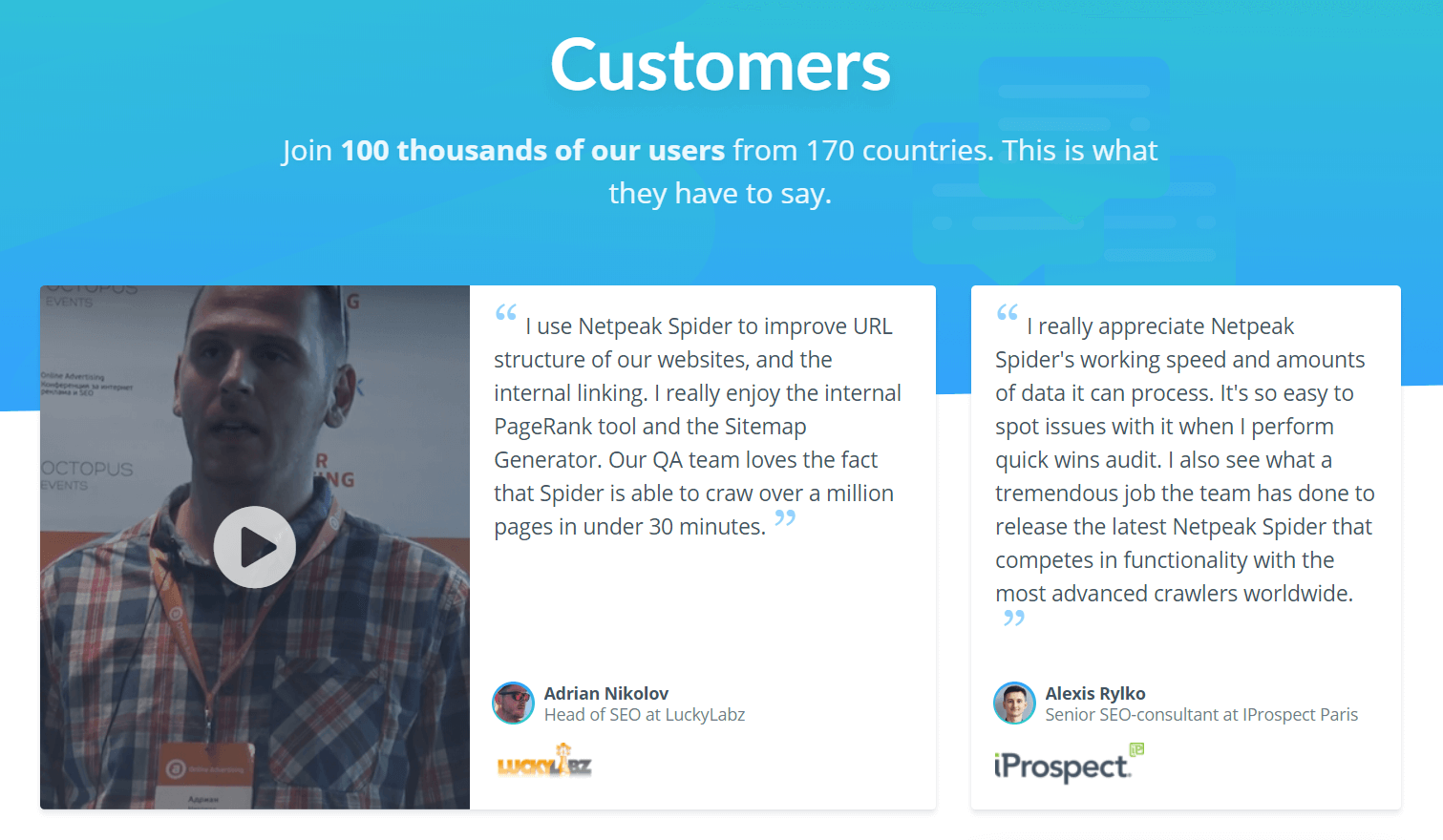 3.3. New Netpeak Software Academy
Within our Academy course, you will explore technical website optimization and learn how to implement it using Netpeak Spider and Checker.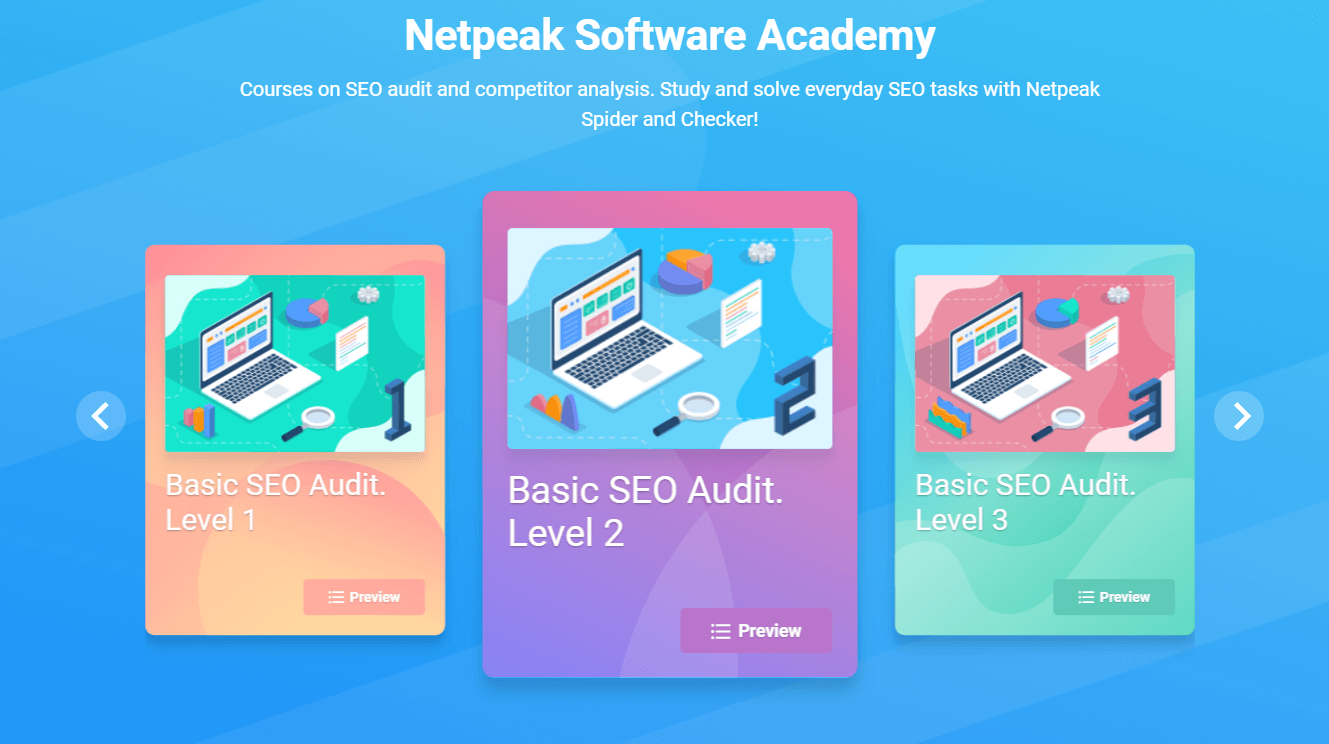 At the end of each module, consisting of several lessons, you will find a simple final test for self-checking and get a certificate.
3.4. FAQ
We've gathered more than 70 common questions about the use of our products, ordering or making payments, managing licenses, etc., and answered them in our new FAQ section in the Support Center. I advise you to look there when you face challenges while using our tools or your personal account. Perhaps we have already described how to solve your situation.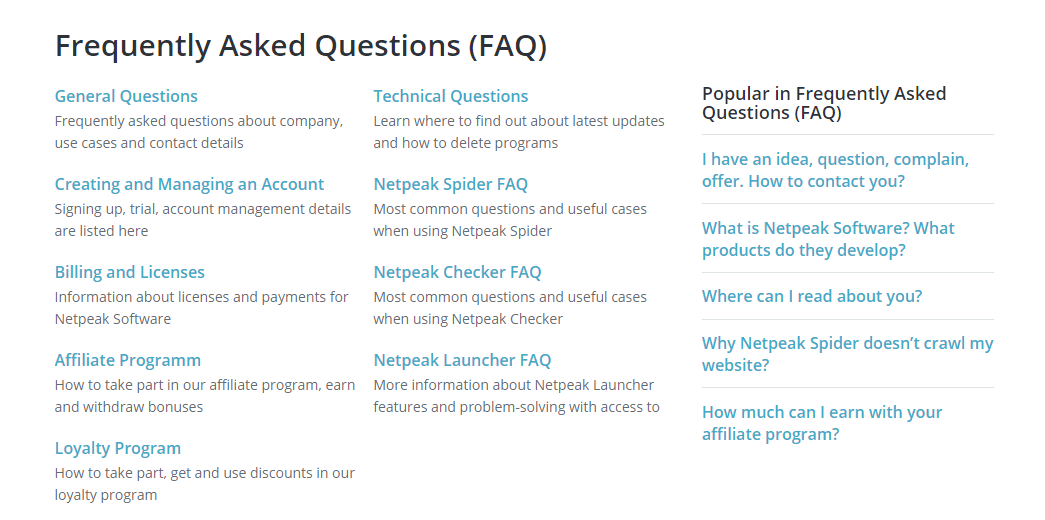 3.5. Changes According to GDPR
We've implemented the following functionality to meet the GDPR requirements:
We have added a notice on the site proposing to accept or reject the use of cookies.
Mail for applications [email protected] has been added to the user's personal account. According to the Privacy Policy, you can request uploading, deleting, or limiting the processing of your personal data.
4. Changes in Our Blog
We want to turn our blog into a community of SEO and PPC specialists, marketers and webmasters. Therefore, you may have noticed improvements that make it easier for community members to communicate ;)
Comments to posts are now displayed in three levels (by logic) and two levels (by type). Now all comments chains are clearly visible.
Now you can subscribe to email notifications about new comments: either all comments or only first level comments, to keep abreast of the discussion.
We Are Waiting for Your Feedback!
We carefully gather all wishes of our users and not only fix and improve current versions of tools but also in introduce new features ;) So do not hesitate to leave your comments with suggestions or even complaints at the bottom of this post, as well as directly to our Support Team.