Netpeak Checker 3.4: New Pro Plan + Data Backup, and Estimation of Website Traffic
Updates

Knock-knock! Have you ordered a crusty fresh-baked update from Netpeak Checker? So take it in! You'll find it kindly packed with plenty of cool stuff 😃
1. Project Backup to Ensure Your Data Integrity

2. Estimation of Website Traffic

3. Integration with Google Drive / Sheets

Perks for You

In a Nutshell
1. Project Backup to Ensure Your Data Integrity
It's been two weeks since we added data backup in Netpeak Spider 3.9, and the users already can't imagine their work without it!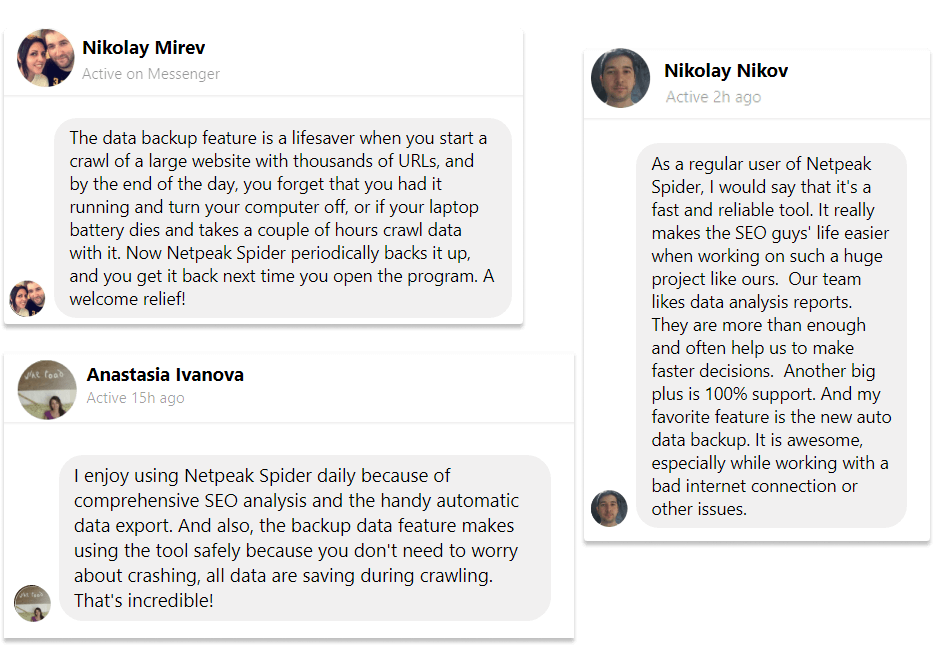 That's why we pulled our socks up, turned the turbo speed on, and implemented data backup in Netpeak Checker 😜 Now you don't risk losing the analysis results in case of an unexpected program quit because now you have a backup copy of the main table data.
The temporary project will open automatically after the next program start. You can continue crawling the website or save it as a regular project on your computer.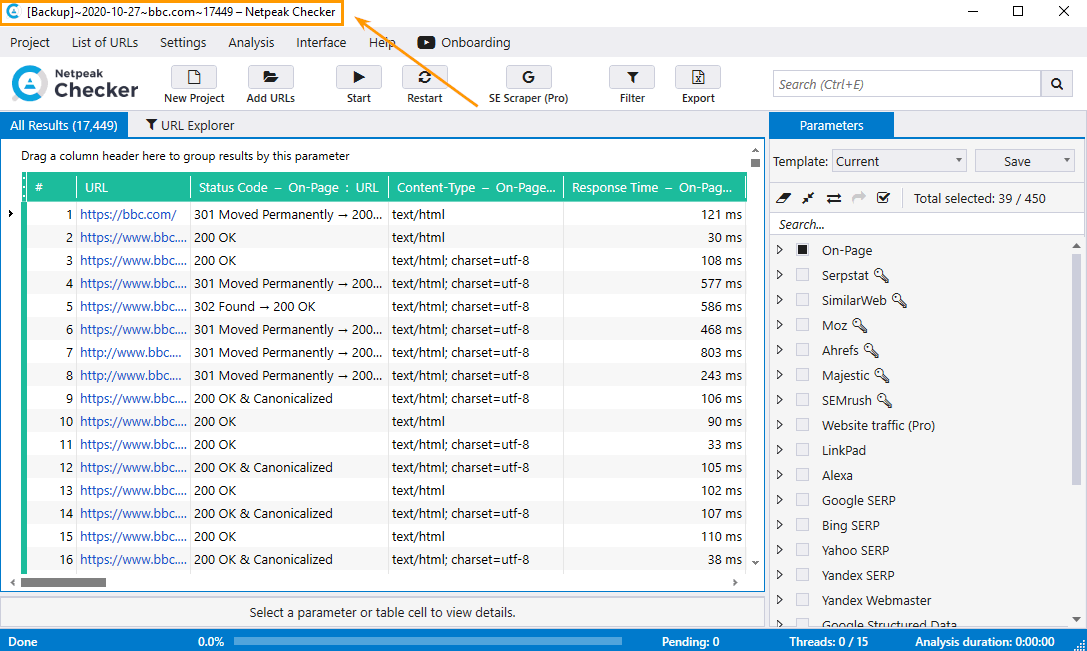 1.1. Peculiarities of Data Backup in Netpeak Checker
Data backup occurs every 5 minutes → we used such an interval on purpose because many of our clients use paid service limits, and it's particularly annoying to lose them.
The data also gets backed up when you stop or pause the analysis.
The feature allows you to back up analysis results only in the main table. But bear in mind that the program doesn't yet back up data from the 'SE Scraper'.
❓Many would ask: 'When are you going to implement backup in the 'SE Scraper' tool?' We're already thinking about how to implement this feature.
2. Estimation of Website Traffic
Suffice to say, this news is worth a drum roll, and maybe our CEO Alex Wise would even perform it for you. But now, let's cut to the chase. Netpeak Checker now shows approximate data on total website traffic or its subdomains by channels, the main country the website receives traffic from, and a thematic category.
Now you can quickly and easily peek at the potential donors' traffic for link building and analyze the traffic of competitors, looking at the percentage of each channel.
Just tick the necessary parameters from the 'Website traffic' group in the sidebar and start the analysis, the program will do the trick.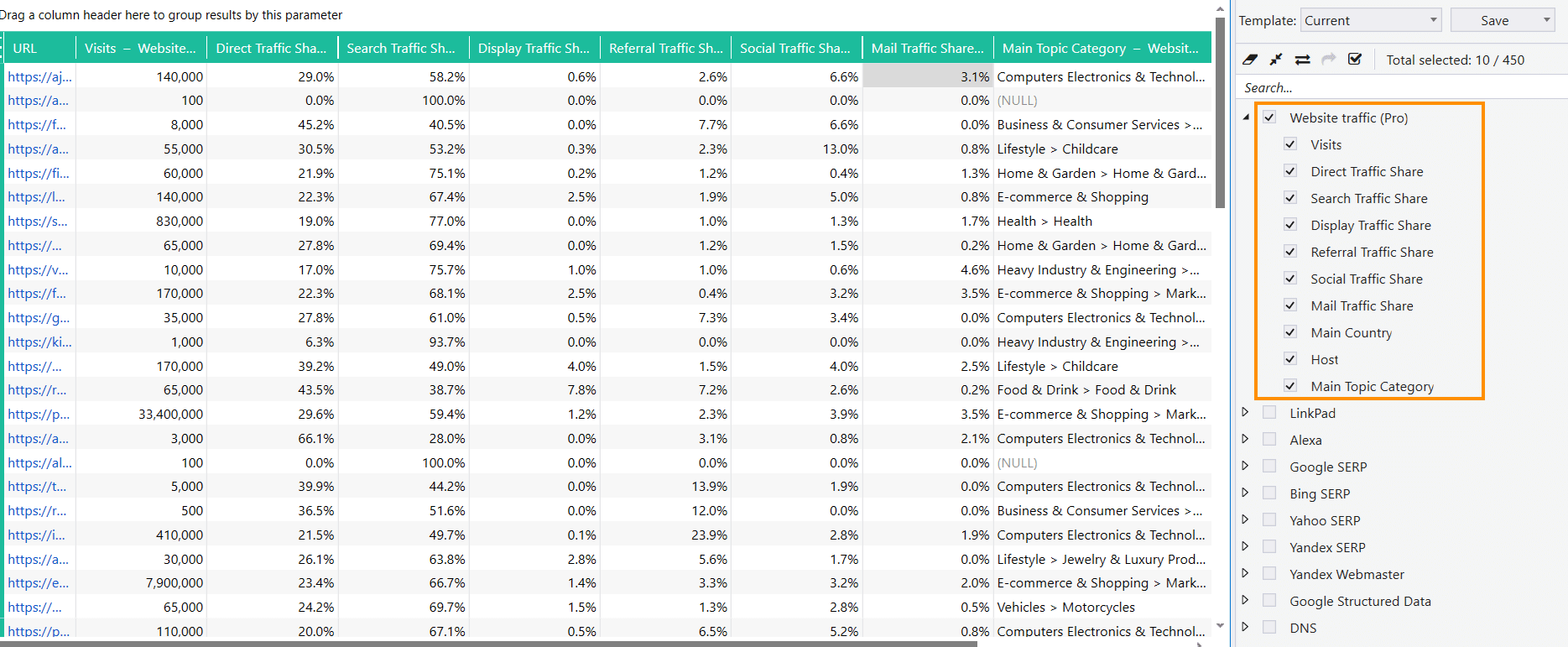 Mini-FAQ:
Where does website traffic data come from?
We don't have the right to disclose the source of data due to confidentiality restrictions. Everything is hyper serious, you know. We can only hint that the metrics correlate with a certain well-known service 😏
3. Integration with Google Drive / Sheets
Another feature we implemented in this update is export of reports to Google Drive! Thanks to this feature, you can export reports to Google Sheets in one fell swoop and share it with colleagues and / or clients.
To enable the feature:
Go to the 'Settings' → 'Export'.
On the 'File export format' tab, choose Google Sheets (Google Drive).
Add a Google account where the reports will be exported.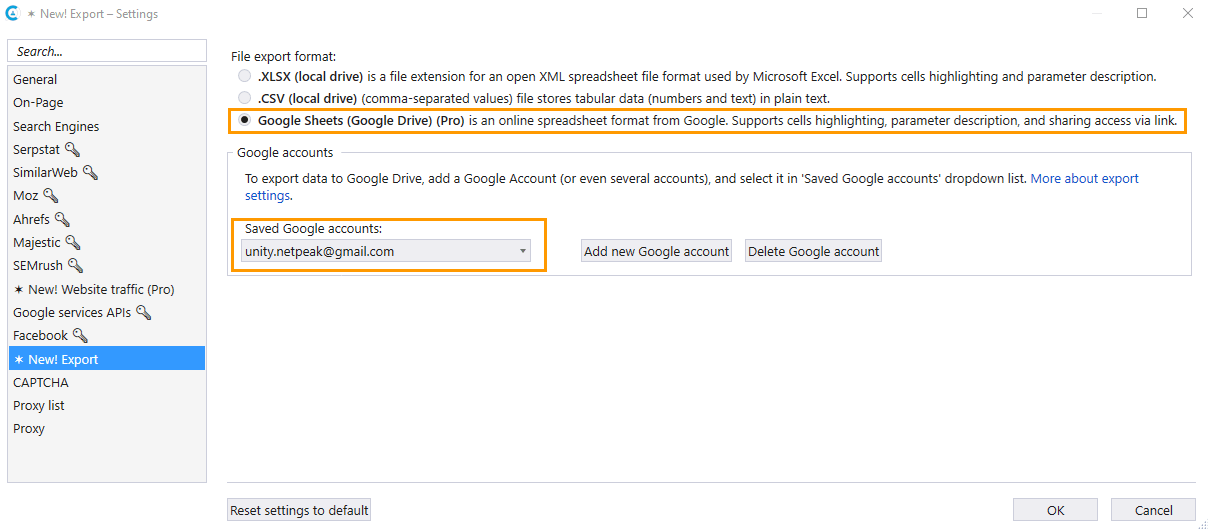 We described what tasks this feature helps solve in this blog post: 'Netpeak Spider 3.7: Structured Data and Integration with Google Drive'. For instance, much of the bonding between Steve and Harold (SEO specialist and website developer) was due to this feature. And it saved them loads of time. Be like Steve and Harold – switch to Google Drive and Google Sheets 😉
Perks for You
Buy Pro at the Price of Standard up to November 17, 2020
If you already have active access to Netpeak Checker Standard, then we'll give you access to three Pro-features till the expiration of the current license:
SE scraper
Estimation of website traffic
Export to Google Drive / Sheets
And other Pro features which we're going to add to this list in future releases
And if you buy Netpeak Checker Standard until November 17, 2020 we will also upgrade it to Pro for free. Yes, even if you buy Standard for three years – for all three years you'll have Pro plan ;)

Users who have chosen subscription auto-renewal will be charged for the previously selected Standard plan after the current access expires. If you want your current access to upgrade to Pro automatically, adjust corresponding settings in the User Control Panel.
Promo Code for Full Access
We grant all our users the promo code Netpeak-Checker-3-4 for full access so that you could see all new features at play (including Pro) up to November 6, inclusive. Apply promo code in your User Control Panel or hit the button right here, right now.
Sign Up if You Are Still out of the Boat
When the promo code that gives you full access to the program ends, you'll still be able to use the free version of our tools. So take matters into your own hands and sign up!
This blog post
describes what tasks you could solve with the Freemium version of Netpeak Checker.
Onboarding Video
Our Product Marketing Manager Kosta Bankovski has a magic touch with shooting educational videos. And so we harnessed this chance and shot some videos to help you master the tool. The links to these videos we placed right in Netpeak Checker – now they're always in sight if you have any questions. But don't put watching on the back burner if you can do it now.
Free Webinar
And how can we do without our specialists who are always ready to conduct a webinar and share nifty use cases with you? Click on the button, sign up for webinar and ask them anything about our products – they know all the angles.
In a Nutshell
So in Netpeak Checker 3.4, we implemented:
Project backup to ensure your data integrity → now, you can start data analysis and keep your cool knowing that a sudden program quit won't squander all limits of paid services.
Two new features:

Estimation of website traffic → get traffic data by channel, main source country, and resource topic category.
Integration with Google Drive / Sheets → export reports straight to Google Sheets and share them with your colleagues and clients.
☝ Switching to the Pro plan is free for all Standard users, even if you buy Standard access until November 17, inclusive.
If you get sick of long farewells, you'll change your mind with us. Because we have a couple of minor improvements for you that will help you put everything in the apple-pie order:
We added 🔑 key icons next to the services that require token or API → now you can see what services need access right in the sidebar. Note that this icon stands not only next to the paid services. For some of them, you need just a log-in to rack up data. For instance:

Facebook
Google PageSpeed
Google Mobile-Friendly
Google Safe Browsing
free parameters with Mozscape API: Domain Authority, Page Authority, MozRank, etc.

In the 'Proxy list' settings, we added the list of services (BuyProxies, AWM Proxy) we trust → use them to your heart's content.
We hope you're racing up to try new features we've just listed! If you're brimming over this update, don't keep it to yourself – your feedback would really hit the spot 😏